The Best Ways to Fly From Los Angeles (LAX) to Seattle (SEA)
Los Angeles International (LAX) to Seattle-Tacoma International (SEA) is one of the longest West Coast flights — and also one of the most trafficked. In fact, over 1.2 million people fly between the 2 cities every year, making it the fifth most frequented flight out of LAX and the most frequented flight out of SEA.
With 4 different airlines servicing the route, fares can usually be had for pretty cheap. However, when booking during peak season — think holidays and conferences — or at the last minute, fares can skyrocket. If you fly the route often, it's good to have a backup plan in place to book the route with miles and points, and that's just what we'll help you do in this article.
We'll show you all of the best ways to book the LAX to SEA route for free with miles and points. We've focused on finding the lowest cost, highest value awards so that you can get the most value for your hard-earned travel points.
Let's dive in!
Keep an Eye out for Low-Priced Delta SkyMiles Awards
Delta Air Lines moved to a dynamic award pricing structure in 2015. While this skyrocketed the price of many awards (think long-haul business class), it actually had the opposite effect on domestic award tickets within the U.S. In our research, we found that flights between LAX and SEA can be had for just 4,500 miles one-way in basic economy class and just $5.60 in taxes.
However, this rate is subject to change based on passenger load, peak dates, and booking at the last minute. There's no way to guarantee a low-priced Delta award, but we recommend searching for your award far in advance and traveling during off-peak times for the best results.
You don't need to look super far out. For example, we searched for LAX to SEA flights in early August 2019 for flights departing in September 2019. Nearly the entire month has 4,500 mile awards available!
You can transfer American Express Membership Rewards and Marriott points to Delta miles at varying rates. Also, be sure to check out our guide on all the other ways you can earn Delta SkyMiles.
Bottom Line: Low-cost Delta SkyMiles awards are the cheapest way to fly between LAX and SEA. So, always check Delta first if you have access to Delta miles or can transfer points in from American Express Membership Rewards or Marriott Bonvoy.
Book American Airlines Flights With British Airways Avios
American Airlines runs multiple non-stop flights between LAX and SEA daily and while you can use American Airlines AAdvantage miles to book the award, you'll actually get a better deal by using Oneworld partner British Airways' Avios currency to book the route.
Currently, North American flights 1,151 miles or less cost just 9,000 British Airways Avios. The LAX to SEA route clocks in at just 954 miles, putting it well within this award tier. You can book the award ticket by simply logging into your British Airways Executive Club account and searching for the award ticket on the Book with Avios page.
You can transfer points to British Airways Avios from American Express Membership Rewards, Chase Ultimate Rewards, and Marriott Bonvoy at varying rates. On top of this, you can transfer points from Iberia Avios to British Airways Avios so long as both accounts have been open for 90 days or more.
Plus, British Airways also has a co-branded credit card with Chase, too. You can use this credit card to earn Avios on everyday purchases, giving you more points to fuel your trip from LAX to SEA.
Book Alaska Airlines Awards on the Cheap
Alaska Airlines has hubs at both LAX and SEA, and naturally runs multiple flights between the 2 cities on a daily basis. These flights can be booked for as little at 7,500 Alaska Airlines Mileage Plan miles one-way in economy. However, like Delta, Alaska Airlines prices its award tickets dynamically, so these awards may cost more points during peak travel times.
There are many ways to earn Mileage Plan miles, but the most popular way is through credit cards. You can sign up for Alaska's personal or small business credit card — these cards come with varying points-earning ratios, sign-up bonuses, and other benefits like checked bags and companion certificates.
You can also transfer Marriott points to Alaska Airlines Mileage Plan at a 3:1 transfer ratio. You'll receive a 5,000-mile bonus when transferring 60,000 Marriott points (20,000 Mileage Plan miles). Check out our full guide to earning Marriott points for more info.
Hot Tip: Don't have Mileage Plan miles? Book your Alaska award ticket with Singapore Airlines KrisFlyer!
If you don't have Alaska Airlines miles but still want to book an Alaska award ticket, you can book an award ticket with partner Singapore Airlines. Its mileage program — KrisFlyer — can also be used to book the SEA to LAX route for 7,500 miles.
Despite the fact that the awards cost the same amount of miles, the KrisFlyer option is more attainable for many travelers as you can transfer miles to KrisFlyer from a variety of credit cards. More on that soon.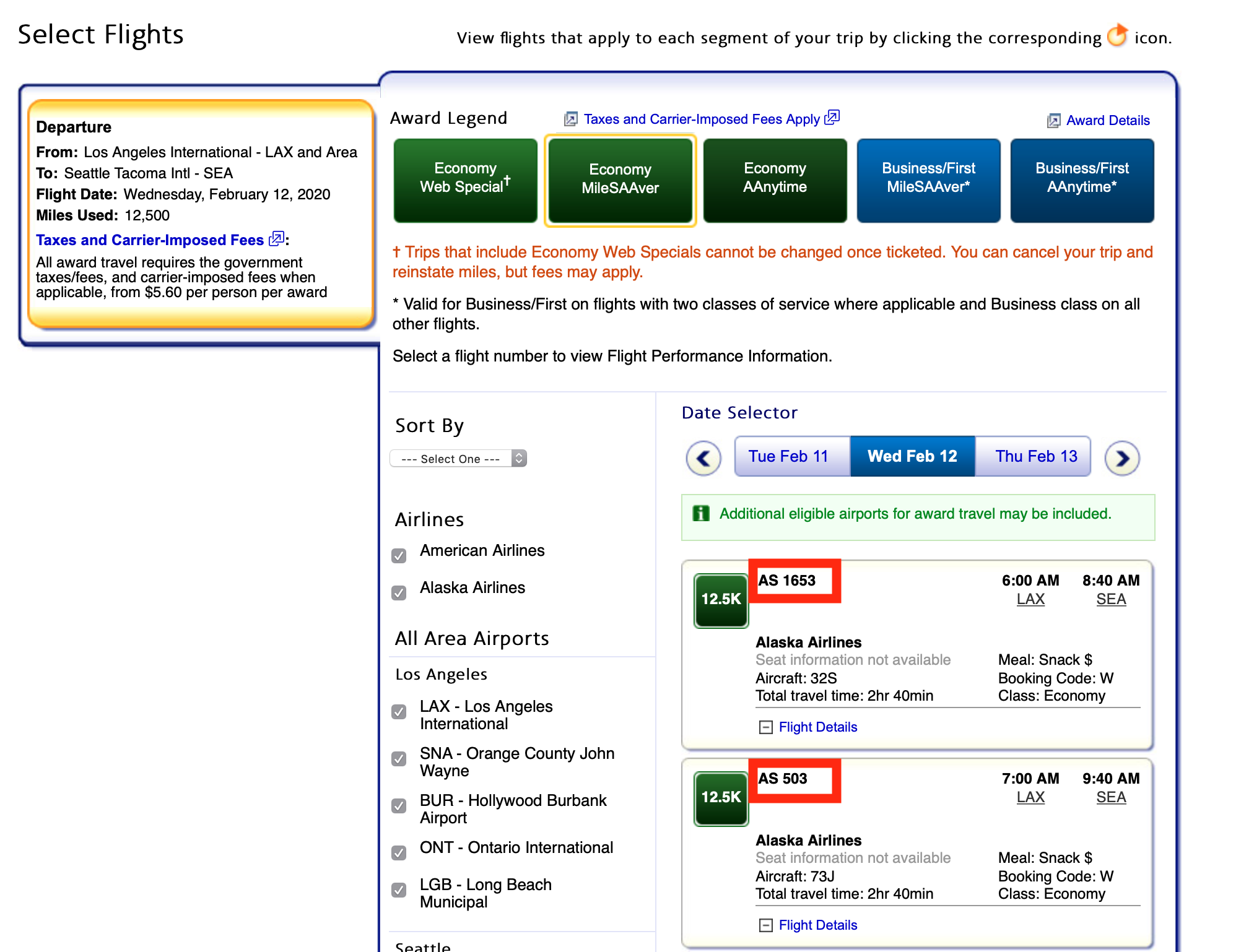 However, booking this award is a bit more complicated. First, check American Airlines' website for Mile SAAVer space on Alaska Airlines. Then, call Singapore Airlines to book the ticket. Do note that you can't use KrisFlyer miles to book American Airlines-operated flights, so keep an eye out for flights with Alaska flight numbers (beginning with "AS"). See the image above for more info.
Currently, you can transfer miles to Singapore Airlines KrisFlyer from American Express Membership Rewards, Chase Ultimate Rewards, Citi ThankYou, Capital One, and Marriott Bonvoy at varying rates. Note that transfers to KrisFlyer often take 24-36 hours to process.
Book Low-Cost Award Tickets Through the Chase Travel Portal
Flights between LAX and SEA can often be had for super cheap. In fact, when booking over a month out, we've found that flights are frequently priced between $65-$75 one-way on premier carriers like American Airlines, Alaska Airlines, Delta Air Lines, and United Airlines.
With that in mind, we always recommend searching for paid flights before you book using one of the above methods. This will ensure that you get the most value for your points, because think about it: your 9,000 British Airways Avios or 7,500 Alaska Airlines Mileage Plan miles are better spent on an expensive last-minute ticket versus a $70 flight booked in advance.
What if flights are cheap but you still want to use points to cover the cost? Look no further than the Chase Travel Portal.
You can use the Chase Travel Portal to use your Chase Ultimate Rewards points towards paid flights. The value you'll get for your points, however, depends on the type of Ultimate Rewards earning card you hold.
Currently, the Chase Sapphire Reserve® card can redeem on the portal for 1.5 cents per point, the Chase Sapphire Preferred® card can redeem for 1.25 cents per point, and all other personal cards can redeem for 1 cent per point.
As you can see in the example above, a Chase Sapphire Reserve cardholder can book a $68.30 flight on Delta Air Lines for just 4,533 miles. This makes the Chase Travel Portal the most cost-effective option on the list for booking cheap flights.
Hot Tip:
Search as far in advance as possible for paid LAX to SEA flights to find the cheapest flights.
Another awesome thing about using the Chase Travel Portal is that you're essentially buying a paid ticket. This means you can earn miles on your ticket, and you're not restricted to finding flights with saver space. Instead, you can book any flight you'd like on the airline of your choosing.
You can access the Chase Travel Portal on the Chase Ultimate Rewards dashboard in your Chase account.
Final Thoughts
In this article, we showed you all of the best ways to fly between LAX and SEA using miles and points. We highly recommend looking into low-cost Delta award tickets first, and then moving onto Alaska Airlines award tickets during peak travel times when flights are expensive.
However, if cash flights are cheap, look into using the Chase Travel Portal to cover your ticket. Again, these will often price lower than award tickets and you'll earn redeemable miles on the airline you fly with.
Safe travels!