The Best Ways to Travel From New York City to Boston
New York City and Boston are the East Coast's most iconic cities, and while they're relatively close, driving between the cities can be tough due to seemingly endless traffic. Because of this, a number of airlines have started offering near-hourly shuttle flights between the cities, making it easy for travelers to make the short hop at any time during the day.
Further, there's also frequent rail service between the cities. A number of Amtrak routes run between New York City and Boston, including the high-speed Acela Express service that offers both business and first class cabins.
Need to make a jump up or down the coast and have travel miles to spare? You're in the right place — here are the best ways to travel between New York City and Boston using miles and points.
Delta Air Lines Low-Priced SkyMiles Award Tickets
One of the best ways to fly domestically is with Delta SkyMiles award tickets. The airline uses a dynamic award chart for all of its award tickets, meaning that award ticket pricing varies based on passenger load, travel date, and other variables. It also means that Delta does not publish a standardized award chart for award tickets.
While this skyrocketed award ticket pricing for some awards (think long-haul business class), some tickets actually dropped in price significantly. One of the best examples of this is short-haul economy tickets and the NYC to Boston route is no exception.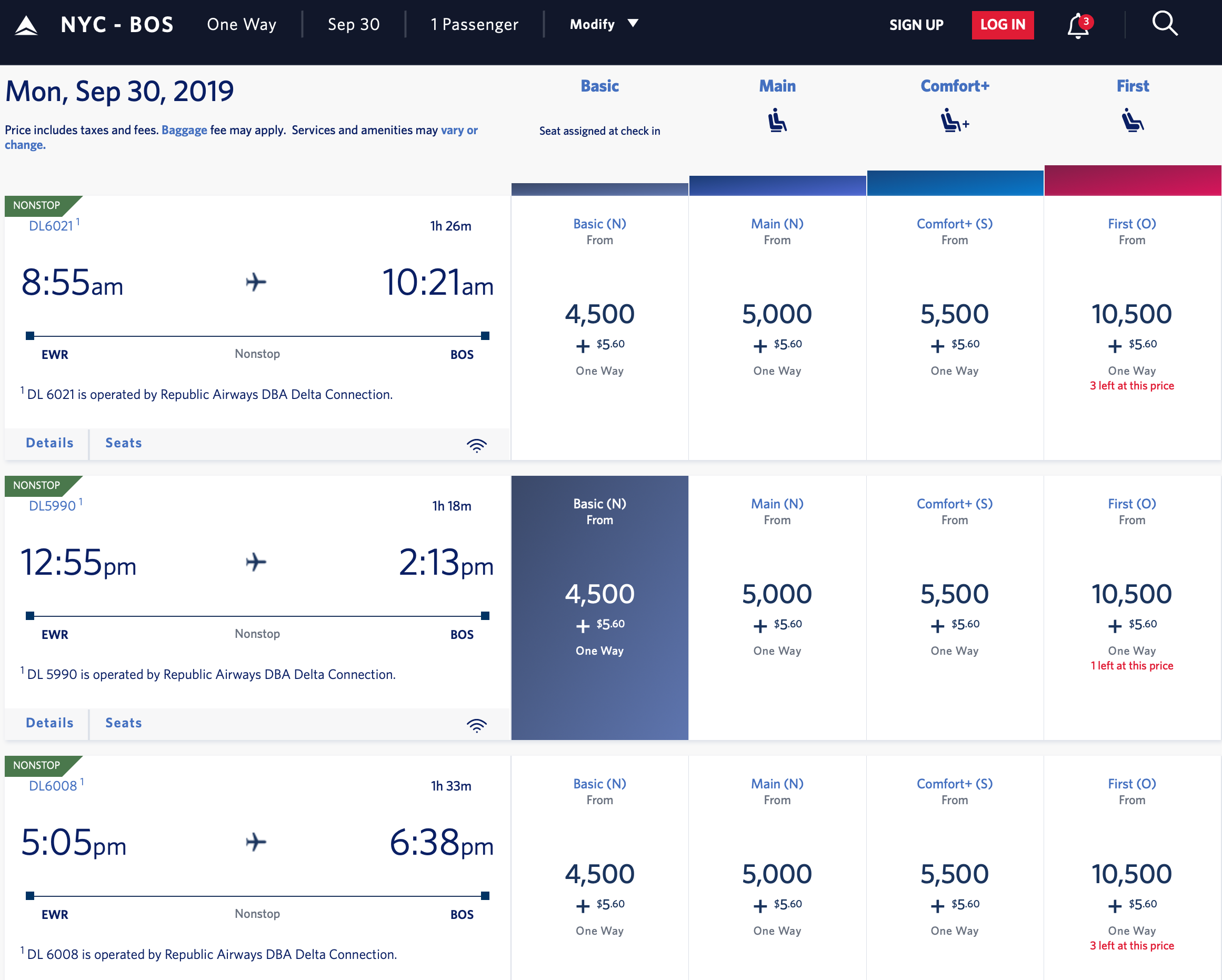 Currently, Delta Air Lines flies to Boston (BOS) from John F. Kennedy-New York (JFK), LaGuardia-New York (LGA), and Newark Liberty (EWR). When searching just over a month in advance, you can find one-way tickets priced at 4,500 SkyMiles one-way in Basic Economy. Better yet? You'll pay just $5.60 in taxes on these tickets.
Hot Tip: Book as far in advance as possible to get the lowest priced SkyMiles award tickets.
Need more Delta miles? You can transfer American Express Membership Rewards and Marriott points to Delta at varying rates. Plus, check out our full guide to earning miles with Delta SkyMiles to find even more ways to stock up.
American Airlines Economy Web Special Fares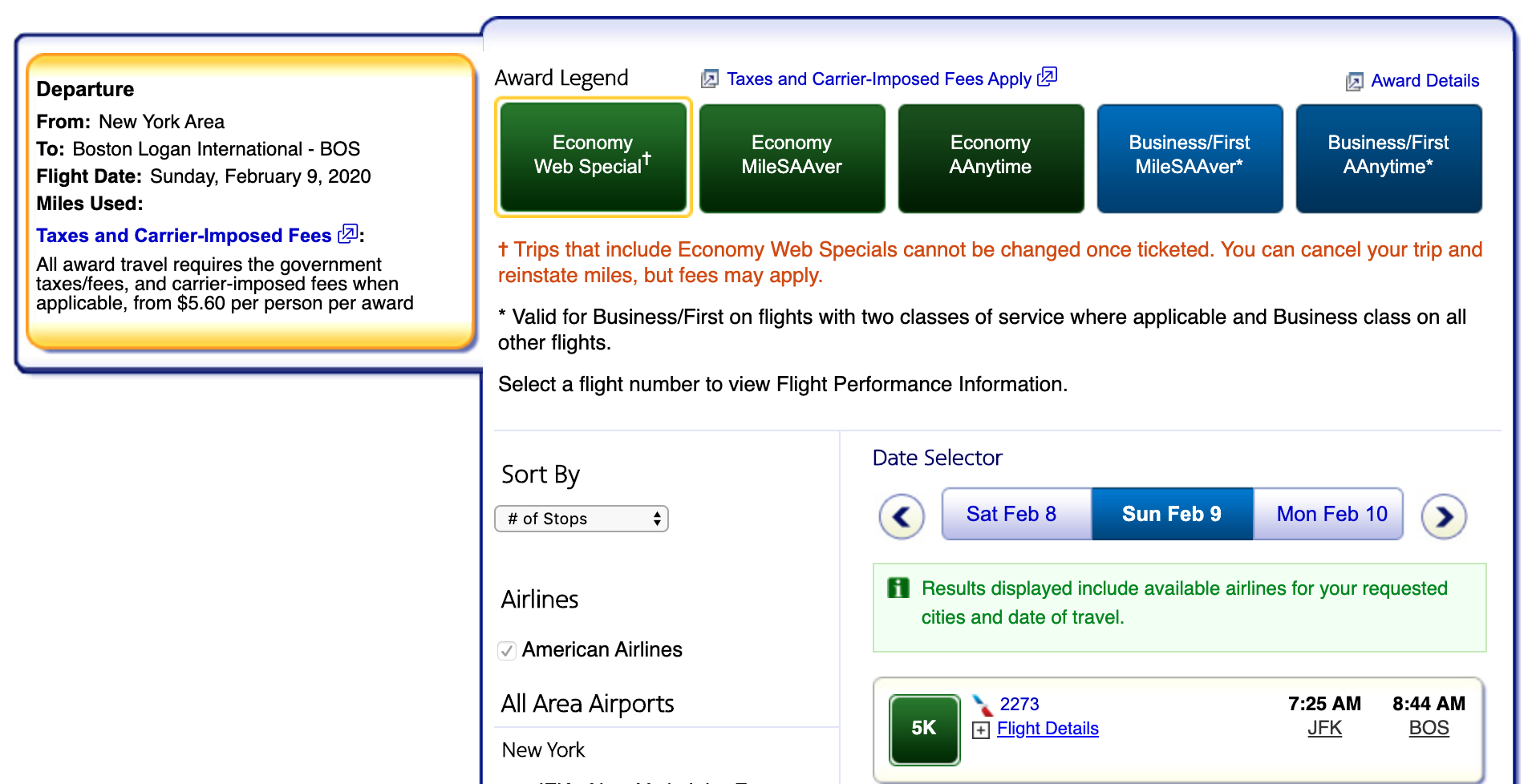 American Airlines flyers can book NYC to Boston on the cheap using the AAdvantage program. Last year the airline introduced Economy Web Special award tickets, bringing cheaper award tickets to select routes around the world. The LGA-BOS route frequently has these awards, and tickets are priced at just 5,000 AAdvantage miles one-way in economy.
You can find Economy Web Special fares as you would any other American Airlines award ticket: just search on the American website, simply input your dates and check the Redeem Miles box, and then look for the Economy Web Special box for the lowest priced award ticket.
Hot Tip: Economy Web Special fares are only bookable online and cannot be changed without a fee. However, mileage redeposit fees are waived for Executive Platinum members.
Do note that Economy Web Special award tickets are only available on specific dates and may not be permanently offered on this route. Thankfully, though, the NYC to Boston route prices as a short-haul award ticket when Economy Web Special fares aren't available. In this case, a standard MileSAAver award ticket costs just 7,500 AAdvantage miles one-way.
Marriott points transfer to American Airlines AAdvantage at a 3:1 ratio, with a 5,000-mile bonus for all 60,000 point (20,000 AAdvantage mile) transfers. If you need more miles to start planning your trip, explore our full guide to how to earn lots of AAdvantage miles.
United Airlines Discounts Point Tickets (EWR-BOS)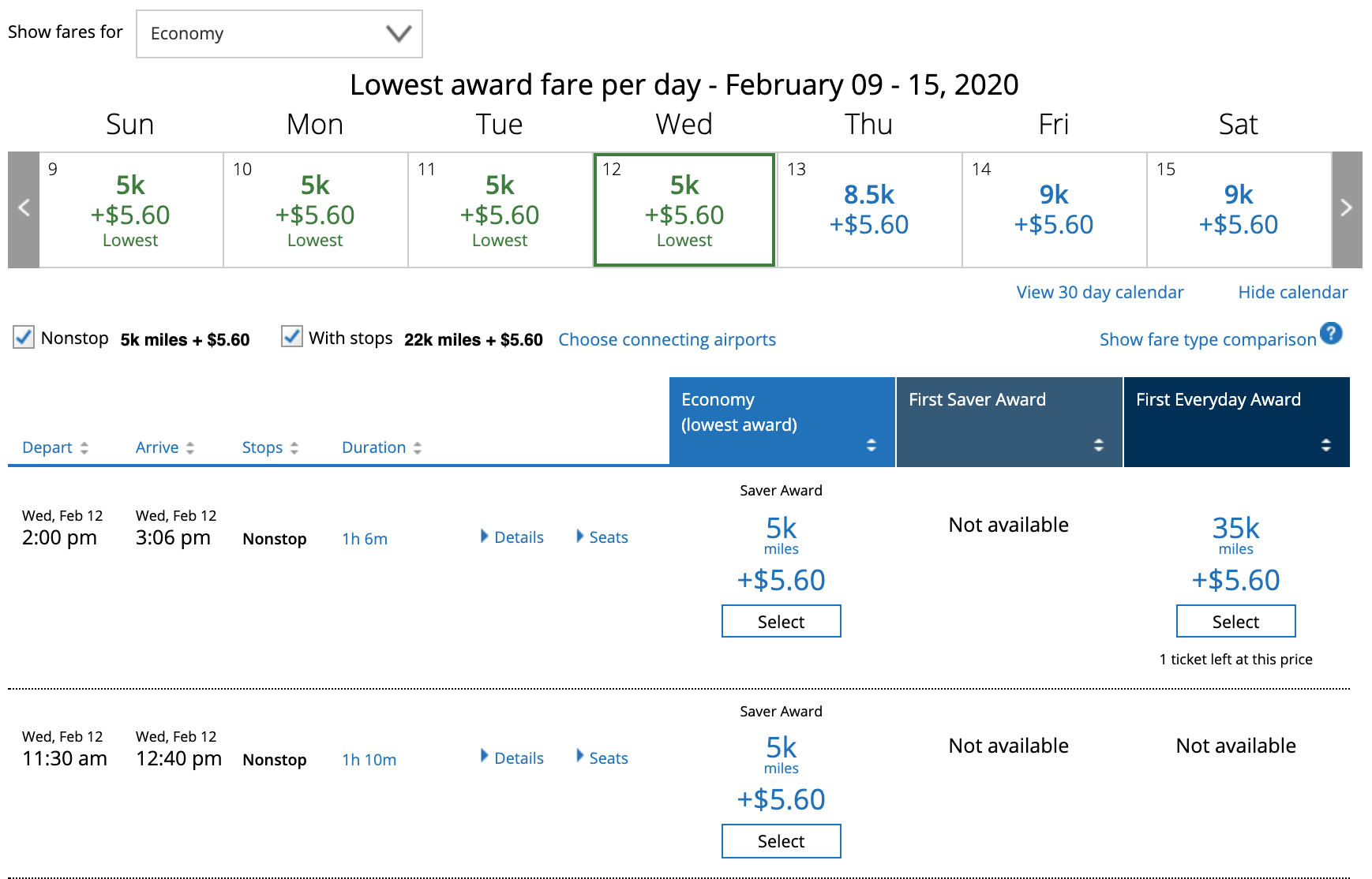 Like American, United Airlines and its MileagePlus loyalty program offer discounted NYC to Boston award tickets from its EWR hub. In fact, United has started matching American Airlines, and Saver award tickets can be booked for as low as 5,000 United MileagePlus miles one-way.
This pricing has come to light after United began implementing dynamic award pricing on its tickets, so you may see tickets price slightly above this low price-point. For example, when booking 3 months out, you'll find fares ranging from 5,000 to 9,000 MileagePlus miles one-way.
Hot Tip:United Airlines' co-branded credit cardholders and MileagePlus Premier Elite status members have expanded access to low-cost awards.
You can transfer miles to United MileagePlus from Chase Ultimate Rewards and Marriott Bonvoy at varying rates. There's a slew of other ways to earn extra MileagePlus miles, too.
Chase Travel Portal — Cheap Cash Fares
With so much competition on the route, NYC to Boston fares can often be quite cheap. In fact, you can find tickets as low as $59 one-way when booking over a month in advance. You may find that these low fares make little sense to book with points — especially if you plan to use United or American miles.
However, there is a way to justify covering low-priced cash tickets with points: the Chase Travel Portal.
This portal lets Chase cardholders redeem Chase Ultimate Rewards points towards any paid flight available on Expedia. Cardholders of the Chase Sapphire Reserve® card can redeem their points for 1.5 cents per point while those with the Chase Sapphire Preferred® card and Ink Business Preferred® Credit Card can redeem for 1.25 cents per point.
All other personal Chase-branded cardholders can redeem for 1.0 cents per point.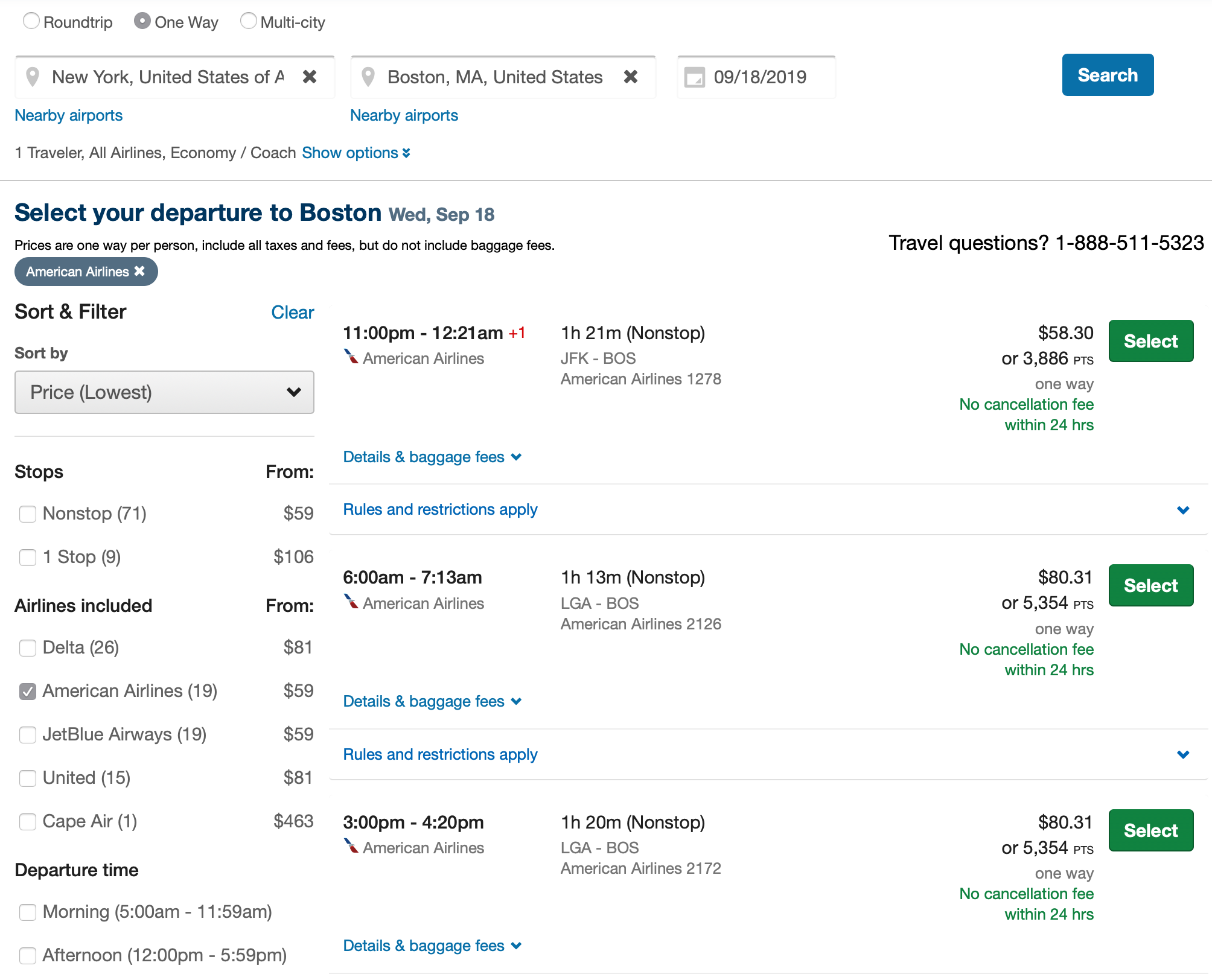 So, if you're a cardholder of the Chase Sapphire Reserve card, you can redeem just 3,886 Ultimate Rewards points for a $59 JFK-BOS flight on American Airlines. This is significantly cheaper than booking with AAdvantage miles, and since you're essentially buying a paid ticket, you'll still earn AAdvantage miles on this ticket.
Note that cardholders of the Citi Premier℠ Card can redeem ThankYou Points for paid flights through the Citi ThankYou Travel Center at 1.25 cents per point. This portal should show similar flights as the Chase Travel Portal, and you'll still earn miles on your tickets.
Bottom line:Make sure to add your frequent flyer number to tickets booked through the Chase Travel Portal. You'll earn redeemable and elite status-qualifying miles on all flights.
TrueBlue Points — Cheap Cash Fares (With Caution)
JetBlue maintains focus cities at both JFK and BOS and runs frequent flights from all 3 NYC airports to BOS. Because of this, there's a good chance that you'll end up on a JetBlue plane for your next jump up or down the coast.
Like the Chase Travel Portal, JetBlue's loyalty program, TrueBlue, prices award tickets based on the cost of the cash ticket. This means the more expensive a paid JetBlue ticket is, the more TrueBlue points it will cost.
You can transfer points to JetBlue TrueBlue from American Express Membership Rewards, Chase Ultimate Rewards, Citi ThankYou, and Marriott Bonvoy. However, should you do this is a different question entirely.
Currently, we value JetBlue TrueBlue points at 1.25 cents per point and since cardholders of the Chase Sapphire Reserve card can redeem Ultimate Rewards points at 1.5 cents per point through the Chase Travel Portal, it's not the best use of your miles to transfer your miles to TrueBlue.
However, don't write off TrueBlue miles altogether — you should most definitely use an existing stash of points to cover your paid JetBlue flight, especially if you can find low-priced NYC to Boston tickets.
Train Tickets With Amtrak Guest Rewards Points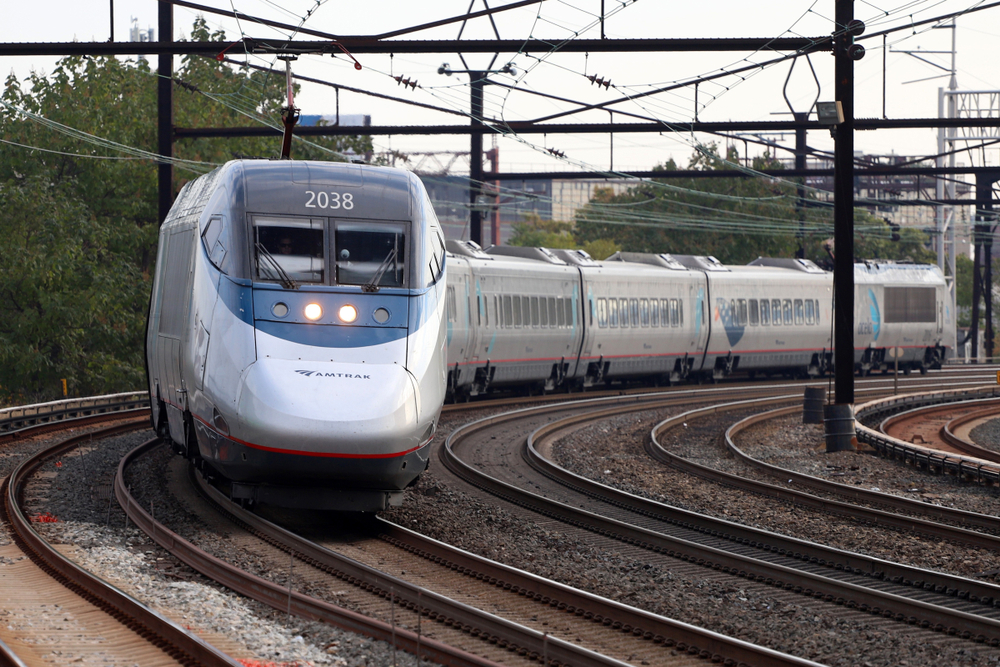 Don't want to head to the airport? Taking a train from New York's Penn Station to Boston's South Station on Amtrak can be an excellent option for your next journey. Standard train journeys take 4.5 hours between the cities, and the high-speed Acela Express option takes only 4 hours. When you consider time at the airport, this can be an excellent option — especially if you live near the train station.
Like airlines, Amtrak has its own loyalty program dubbed Amtrak Guest Rewards. The cost of an award train ticket depends on the cost of a paid ticket, and akin to JetBlue, the more a train ticket costs, the more the award ticket costs. Amtrak points are worth roughly 1.82 cents per point when redeemed on Acela routes and 1.92 when redeemed on standard Amtrak service.
You can earn Amtrak Guest Rewards points by traveling on Amtrak or by using the Amtrak Guest Rewards® World Mastercard® from Bank of America. This card has a varying welcome bonus and earns points on all purchases, including extra points for Amtrak and travel purchases.
For more information, check out our guide to finding cheap Amtrak tickets.
Final Thoughts
As you can see, there's no shortage of ways to travel between New York City and Boston for free. Check the Chase Travel Portal first and then Delta Air Lines and other options to price compare. Since it's such a short flight, the experience you get on all of these airlines will be relatively similar.
Remember, though: refrain from transferring new points to JetBlue TrueBlue, especially from Chase. These will generally give you a lower redemption rate than booking through the Chase Travel Portal and you won't earn new points on the ticket.
Safe travels!