How to Book Cheap Car Rentals in Chicago [Price Comparisons]
Booking a car rental when visiting Chicago allows you to explore beautiful Lake Michigan and provides transport to and from the 2 major airports that serve the Chicago area — Chicago O'Hare International Airport (ORD) and Chicago Midway International Airport (MDW).
When staying in the city, you may not need to rent a car, as public transport and taxis are plentiful. If your plans change, or you fancy taking a day trip out of the city, neighborhood rental offices provide the option to rent last minute.
Chicago O'Hare International Airport Car Rentals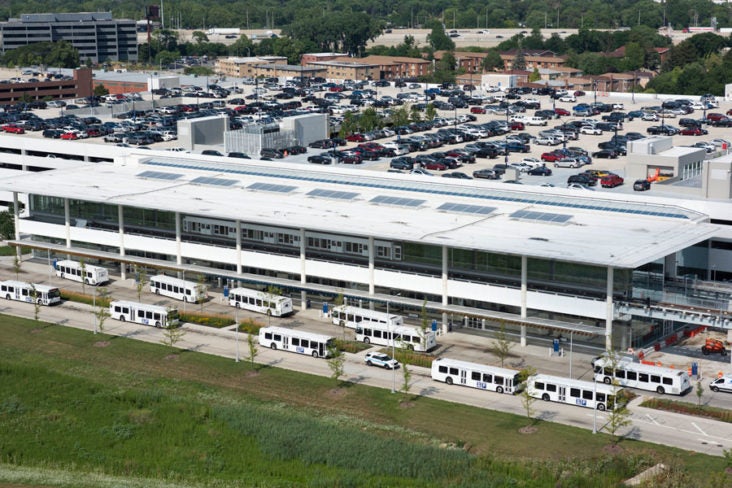 Chicago O'Hare International Airport Car Rental Center
O'Hare's Multi-Modal Facility houses most of its on-site car rental companies. The facility is located a couple of miles from the terminals — northeast on airport property — and can be accessed by riding a courtesy shuttle bus from any of the terminals. There are a few rental agencies that are dotted around other locations across the airport, such as Budget and Routes Car Rental.
O'Hare has 15 on-site car rental agencies. We compared prices for a 7-day rental for a standard vehicle to see which agencies provided the most competitive rates.
Price Comparison for On-Airport Property Car Rentals
Advantage Rent-A-Car and E-Z Rent-A-Car were excluded from the price comparison as searches returned no results across multiple dates.
Fox offered the cheapest prepaid and pay on arrival rates for rentals from the Multi-Modal Facility. Regular shuttle buses serve the facility 24-hours a day, so it is the most convenient option for renting a car when arriving into O'Hare.
Price Comparison for Off-Airport Property Car Rentals
| | | |
| --- | --- | --- |
| Rental Company | Prepay Rate | Pay on Arrival Rate |
| ACE Rent A Car | N/A | $223.45 |
| Budget | $305.09 | $338.99 |
| Routes Car Rental | $220.21 | $244 |
There are a few car rental agencies that are not within the Multi-Modal Facility but can be found just a few miles away, off airport property. These rental agencies provide shuttle buses to and from the airport and often provide cheaper rates than the agencies found in the rental car facility.
Routes Car Rental offered the lowest price at $220.21 if you're willing to pay in advance. This rate can be canceled free of charge up to 48 hours before the vehicle's collection, otherwise, the first-day rental is payable. ACE Rent A Car offered the cheapest pay on arrival rate of $223.45.
Chicago Midway International Airport Car Rentals
Chicago Midway is located a little closer to downtown Chicago than O'Hare; however, public transport isn't as extensive with no trains serving the airport. Renting a car might be preferred to taking a taxi or a public bus.
Chicago Midway International Airport Car Rental Center
The car rental facility is located north of the terminal, and passengers must ride the courtesy shuttle bus that operates every 15 minutes. The rental agencies below are located on airport property, and we've compared prices for the same search criteria as we did for O'Hare.
Price Comparison for On-Airport Property Car Rentals
| | | |
| --- | --- | --- |
| Rental Company | Prepay Rate | Pay on Arrival Rate |
| Alamo | $310.91 | $327.27 |
| Avis | $406.99 | $555.99 |
| Budget | $305.09 | $338.99 |
| Dollar | N/A | $531.89 |
| Enterprise | N/A | $510.35 |
| Hertz | $427.13 | $444.18 |
| National Car Rental | N/A | $381.29 |
| Thrifty | N/A | $521.09 |
We found that many car rental agencies at Midway offered cheaper rates compared to renting at O'Hare, while a few offered the same price. With the likes of Alamo, where pay on arrival rates are $170 cheaper than renting from O'Hare, this could be a factor in choosing which airport to fly into when visiting Chicago.
Hot Tip: What are the best hotels in Chicago to book with points? Take a look at our guide to the best hotels in Chicago to book with points for maximum value.
Chicago Neighborhood Car Rentals
If you're traveling onwards from Chicago or are looking to take a day trip from the city, you may need to rent a car from a neighborhood rental office. You're in luck if you do, as neighborhood rentals can be significantly cheaper than renting from the airport.
With smaller offices, you may not get the range of vehicles available at the airport without booking ahead, but for many, lower prices often outweigh the reduction in choice. Be sure to check the opening hours as neighborhood offices can sometimes be closed at the weekends or operate with reduced hours.
Price Comparison for Neighborhood Car Rentals
| | | |
| --- | --- | --- |
| Rental Company | Prepay Rate | Pay on Arrival Rate |
| Avis | $355.29 | $373.99 |
| Budget | $175.49 | $194.99 |
| Enterprise | N/A | $389.40 |
| Hertz | $426.95 | $444.18 |
When running searches with the same criteria, we found Budget to be $144 cheaper than the O'Hare airport rate, and Enterprise was a whopping $168 cheaper.
Book Direct With the Car Rental Company
It's a known fact that booking direct does not always get you the cheapest rate. Still, many agencies do offer a price match guarantee for the same make, model, and rental terms, so it's worth making that call if you're keen to book with a particular agency.
Booking direct can also offer you some long-term benefits in the form of loyalty programs. Avis and Dollar reward customers with points for every dollar spent that can be redeemed against free future rentals. Other agencies such as Advantage and Enterprise have elite tier statuses that reward qualifying regular renters with additional perks such as free car upgrades.
Book With an Online Travel Agent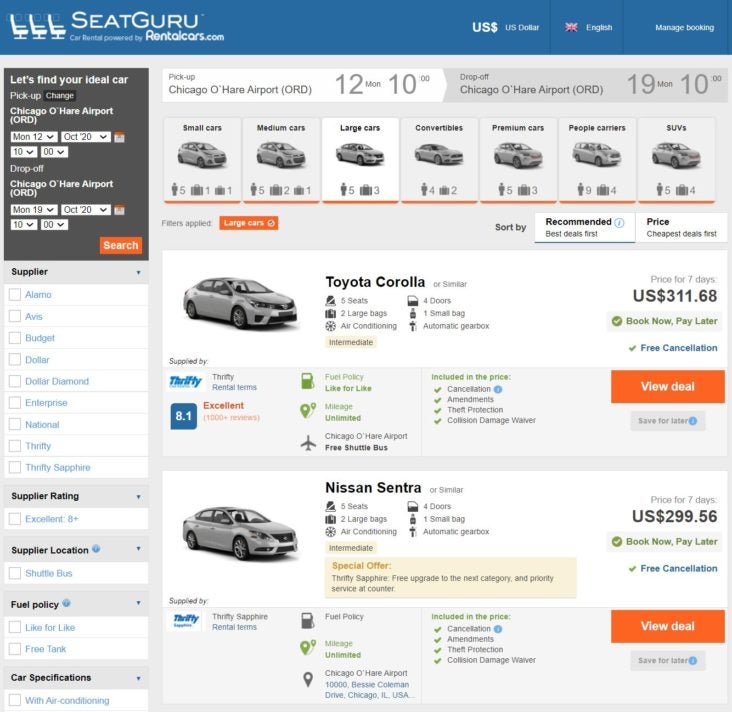 Rentalcars.com is a handy website to compare deals from a wide range of rental agencies. After completing your rental dates and locations, you're presented with the search results that you can refine using the search filters. Choose to see rental agencies that have an excellent customer rating or only vehicles that meet a specific specification.
The best price for a standard car from O'Hare was $301.51, renting with Thrifty. This rate was over $190 cheaper than booking directly with the rental agency and included a complimentary upgrade to the next category.
Although the website doesn't have a loyalty program, you can usually quite easily find Rentalcars.com promo codes offering 5% or 10% off your rental rate.
Hot Tip: Not all rental agencies based at O'Hare are included in the search results, so you're not getting price comparisons for all rental options.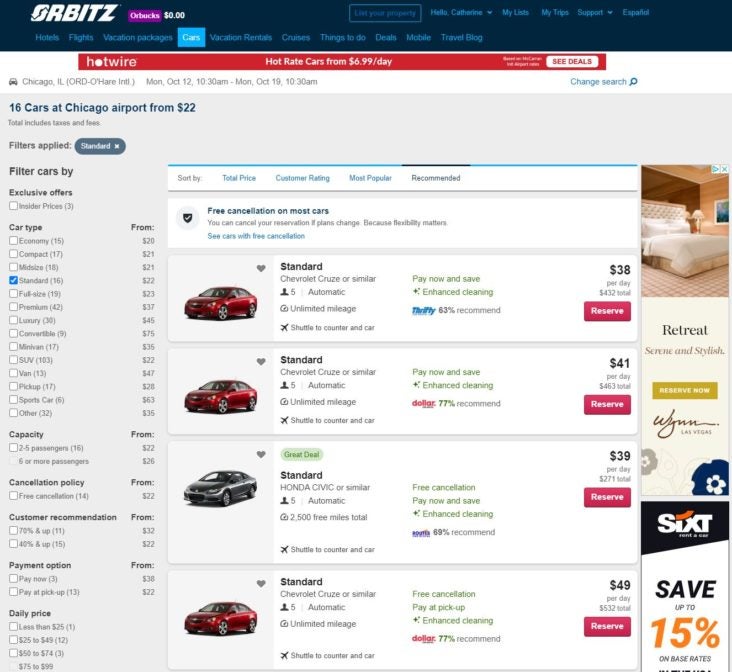 Orbitz is your 1-stop-shop for all your travel needs, as it provides deals on flights, hotels, vacation packages, car rental, and more.
Join Orbitz Rewards to see special member prices that are displayed in the search results when logged in to your account. Although you can't earn Orbucks when booking car rental independently, you'll earn them when booking it as part of a vacation bundle and can redeem them against free future hotel stays.
We found that the cheapest rate with Orbitz was more expensive ($271) than going direct to the rental agency, Routes Car Rental ($244). If you're able to find a 10% voucher for Orbitz, the rate would be the same.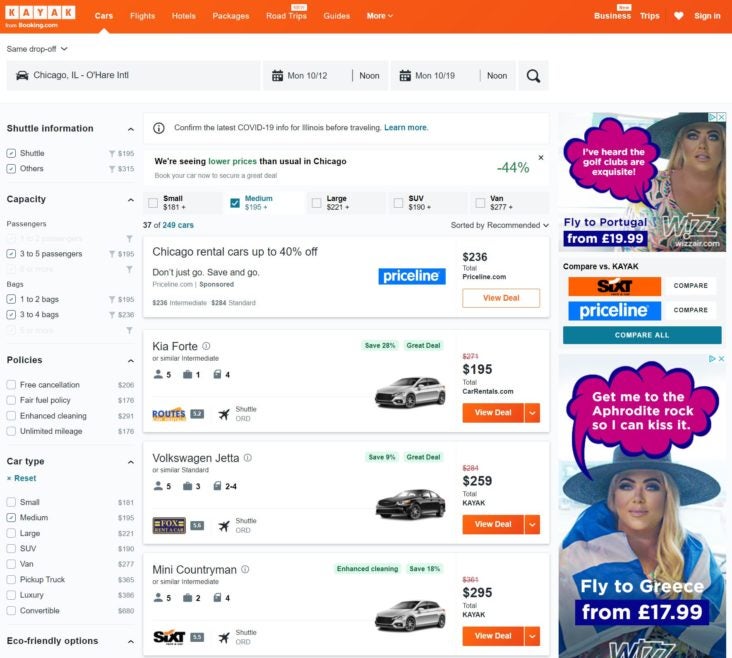 With online travel agents, bookings are usually completed on the respective website, but Kayak is a little different. As a metasearch site, Kayak searches and returns results from a multitude of rental agencies and online travel agents before directing the customer to the appropriate website to complete the booking (most of the time).
Kayak returned one of the cheapest rates across all websites and direct bookings. Kayak matched Fox Rent A Car's prepaid price of $259, with booking required directly with Kayak.
If you're not in a rush to book, you can set up a Kayak price alert to receive email notifications of when the price increases or decreases for your search criteria.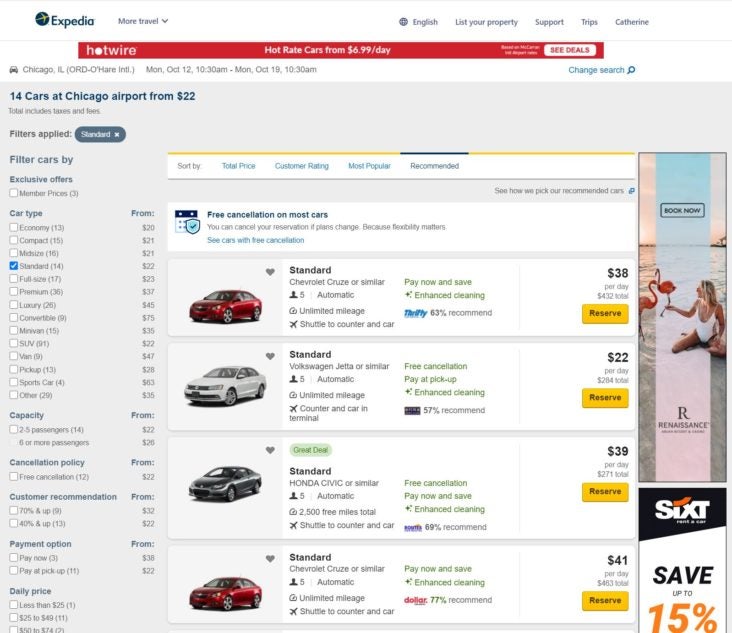 As Expedia and Orbitz are part of the Expedia Group, they pull from the same pricing database. You'll often find the same offers available across both websites, but the big difference with Expedia is the Expedia Rewards Program.
Members earn 2 points per every $1 spent on car rental, as well as on booking hotels, vacation packages, and more. Flights have a lower earning rate of 1 point per $5 spent. You can use your points to part-pay an Expedia booking (hotels, car rental, vacation package, or excursion) or wait until you've saved up enough points to cover your booking entirely (required for flight bookings).
Similar to Orbitz, we found the lowest price of $271 to be more expensive than booking directly with Routes Car Rental. Occasionally you might find an Expedia promo code to bring down the offer price, and Expedia Rewards members receive up to 10% off selected member offers.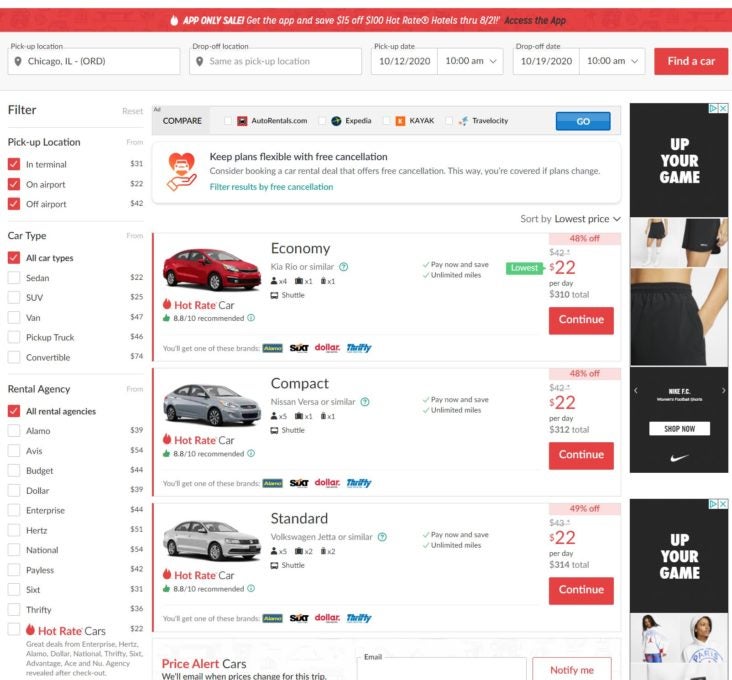 Hotwire is another popular travel site for booking car rentals, flights, accommodation, and vacations. It's another website owned by the Expedia Group, but you won't find the same pricing or booking experience.
The cheapest rate available was $314, which was higher than its sister sites. The offer was an opaque "Hot Rate Car" deal, so you're guaranteed one of 4 rental agencies displayed, but you won't know which it is until you complete the booking. We had a possible Alamo, SIXT, Dollar, or Thrifty, and the rate of $314 was cheaper than booking directly with any of these providers — significantly so for Alamo, Dollar, and Thrifty.
Price Comparison for Online Travel Agents
Final Thoughts
When searching for car rental, it's wise not to book the first price you find as you may be able to find it cheaper elsewhere. Use an online travel agent to compare prices, and when you've found an attractive offer, check with the rental agency to see if it can price match the rate.
If you regularly rent with a particular agency, it may be in your best interest to book direct at a higher rate, as your loyalty program benefits may outweigh small monetary savings.
Customer service can often be an essential factor when renting a car, so be sure to check the customer ratings for a particular agency location, especially if the price looks too good to be true. Many rental agencies are franchises, so you can't always guarantee the service levels will be the same from branch to branch.