Redress Number: What Is It and Do I Need To Apply For One?
TSA PreCheck and Global Entry are both very popular programs that can help you breeze through airport security checkpoints. You might have even heard of Mobile Passport or CLEAR — but have you heard of a Redress Number?
While a Redress Number won't be necessary for the vast majority of travelers, it can be necessary to remove some of the stress of airport security for a select few.
Let's take a look at all the things you need to know about the program so you can decide if it would be useful to you.
What Is a Redress Number?
A Redress Control Number, more commonly known as a Redress Number, is actually a case number. The Transportation Security Administration (TSA) matches travelers to their case number via the Secure Flight program.
Occasionally, TSA's Secure Flight program will misidentify travelers as a possible risk, which leads to additional security checks. If your name and information match that of another person who is on a watchlist, you might be misidentified.
A Redress Number can help prevent this from happening.
When Should You Get a Redress Number?
If you regularly have trouble getting through TSA security checkpoints or returning to the United States through Customs and Border Protection checkpoints, you should consider applying for a Redress Number.
While Global Entry and TSA PreCheck are great tools for travelers, they won't prevent these inconveniences if your name is identified by Secure Flight for secondary screening measures.
The Department of Homeland Security (DHS) suggests a number of reasons why you should use the Traveler Redress Inquiry Program (TRIP):

The scenarios you might face when flying include:
Denied or delayed boarding
Repeatedly being identified for secondary screening
Received SSSS on your boarding pass
Unable to print your boarding pass at home or an airport kiosk
Access your boarding pass on your mobile device

Additionally, at ports of entry, immigration, customs, or border patrol, you might run into issues such as:
Additional screening when clearing Customs and Border Protection
Denied entry into the United States
Your Electronic System for Travel Authorization (ESTA) application was denied
Unable to travel due to your status as a foreign student or exchange visitor
Fortunately, most travelers will not face these issues regularly, if at all. However, for those that do, a Redress Number could help provide a smoother travel experience.
Applying for a Redress Number
If you've decided that you might need a Redress Number, you can apply online or with a paper application.
Submitting an online application will be processed faster than an emailed or mailed application. If you plan to email or mail it, you must sign the document first. You can email the applications to [email protected] or mail it to:
DHS Traveler Redress Inquiry Program (TRIP)
601 South 12th Street, TSA-901
Arlington, VA 20598-6901
It can take more than a month for DHS TRIP to process your application, so don't hesitate to apply. DHS TRIP will notify you via email once they have received your application. This email will include your Redress Number in the subject line. Once a decision has been made, you will receive a letter in the mail.
Now, let's go through the steps to apply. We'll be using the paper application in this example, but you will need to provide the same information for the online application.
Step 1: Your Travel Experience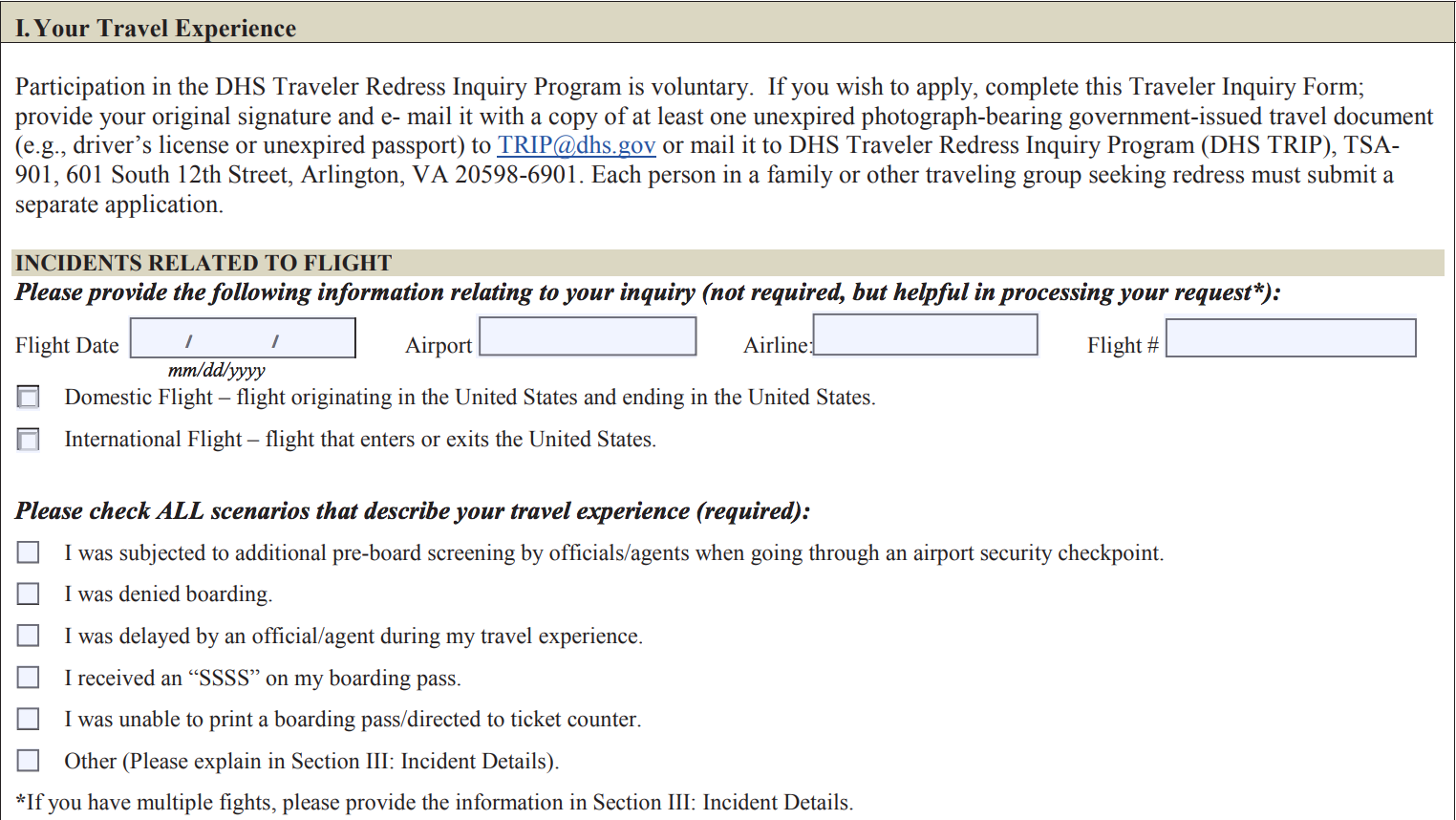 The first step of the application is to select the scenarios that you have experienced during your travels. While you don't have to provide specific flight details of the incident(s) (including dates, airport, airline, and flight number), it does help DHS TRIP process your request.
You are required to select each scenario that you have experienced.
Step 2: Incidents Related to Privacy

If you felt that your privacy was violated by an official or agent who exposed or inappropriately shared your personal information, this is the section to note that. If this is the case, you won't need to provide more than your name.
Step 3: Incident Details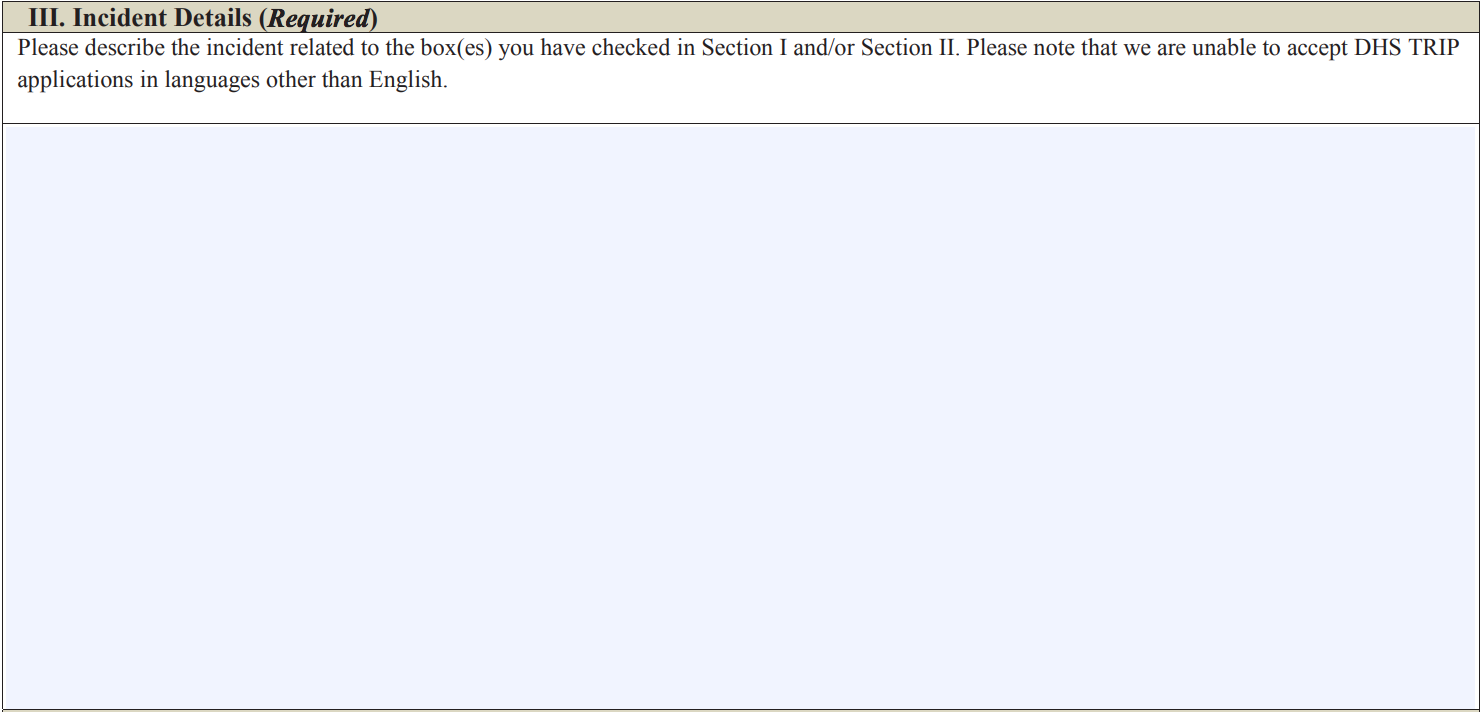 In Step 3, you'll need to explain any of the flight or privacy incidents for which you checked a box in Step 1 and Step 2. This section is required for DHS to review your application for a Redress Number.
Step 4: Personal Information

Step 4 is where you will provide all of your personal information including full name, birthdate, birthplace, and gender. You'll also need to share your height, weight, hair color, eye color, and whether you're a U.S. person (legal permanent resident or U.S. citizen).
Step 5: Contact Information

The contact information you need to provide is pretty simple. Just provide your mailing address and physical address (if different). You can also provide your email address, but this is optional. Providing your email address will make communication quicker if you choose to mail the application.
Step 6: Attorney/Representative Information (Required if Applicable)

If you have an attorney or representative helping you with the DHS TRIP application, you can provide their name and contact information in Step 6. You will also need to authorize the release of information to this person. You can do this by completing the DHS Form 590 Authorization To Release Information To Another Person.
Step 7: Identity Documentation

If you have a passport (unexpired), you can provide a copy of it in Step 7. Other eligible documents (with a photo) for the application include:
Passport card
Driver's license
Birth certificate (only for those under the age of 18)
Military ID card
Government ID card
Certificate of citizenship
Naturalization certificate
Immigrant/non-immigrant visa
Alien registration
SENTRI
FAST
Border crossing card
Additional supplemental documents
DHS TRIP specifically mentions that you should NOT provide copies of Social Security cards, tax information, or personal financial documents.
Step 8: Acknowledgement

If emailing or mailing your application, you will need to sign and date the application before sending; otherwise, your application cannot be processed.
Using Your Redress Number
Similar to how you use your Known Traveler Number for Global Entry or TSA PreCheck, you can save your Redress Number to your frequent flyer accounts or add it your individual bookings
Unlike Global Entry and TSA PreCheck, using your Redress Number does not guarantee that you'll be able to enjoy expedited security. However, you'll at least be more likely to avoid getting SSSS on your boarding pass and being required to go through secondary screening.
Final Thoughts
Airport security is a hassle for everyone, but getting pulled for additional screening almost every time you travel can be a real inconvenience. While Global Entry and TSA PreCheck are fantastic tools to make the experience quicker, they won't be able to help you if you repeatedly get the dreaded SSSS or are denied boarding.
If you regularly experience problems like those discussed above, applying for a Redress Number might be the right move for you. It doesn't guarantee a quick security experience, but it certainly increases your chances.
---
Like this Post? Pin it on Pinterest!