SeatSpy Review: Finding Reward Flight Availability [AA, United, Virgin & More]
Raise your hand if you're tired of trying to search for award seat availability on an airline. Just kidding — we all are!
While using your hard-earned miles can be an especially lucrative way to save money, fly in first class, or swing an around-the-world trip, actually finding available seats for your flights can be a nightmarish experience. This is especially true for those who aren't neck-deep in distance-based award charts, airline sweet spots, or dynamic pricing.
In short: finding that elusive award space can basically be a full-time job, and it's exhausting. Sure, there are some ways to make it easier, such as using ExpertFlyer's award and upgrade availability search or knowing which airlines will publish a monthly fare calendar so that you can search more than a day at a time.
But there's a new service out there that's seeking to help travelers with their award searches: SeatSpy. While it's still a pretty new program, it can offer some pretty great benefits to both newbies and veterans alike. Let's take a look at what it has to offer, how to use it, and whether it's worth signing up for the site.
What Is SeatSpy?

SeatSpy is a website dedicated to finding award availability for a number of different airlines. Like a number of other services, like Award Nexus and ExpertFlyer, you'll need to put in your information, such as airline and cabin class, before hitting the search bar.
Unlike other services, however, you don't need to input any dates. This is because SeatSpy searches an entire year of inventory at once and returns the results to you in a handy calendar format. Gone are the days of United's laggy saver fare calendar — SeatSpy loads it all up at once so you can check out the results without having to search again. This is true for both outbound and inbound flights — you'll get the whole year all at once.
As anyone who has ever tried to book an award flight knows, flexibility is key, and knowing exactly what dates and how many seats are available can save hours of search time. This is especially pertinent for those hard-to-find flights where award availability can be rare, such as United's nonstop from San Francisco (SFO) to Tel Aviv (TLV).
SeatSpy also has a robust search alert function, which means you can create an alert for your route and dates and receive an email, text, or WhatsApp you as soon as there's availability. These dates are as flexible as your original searches — so you can set an alert for any time within the next year and the site will keep tabs on it for you.
Available Airlines
SeatSpy currently works for the following airlines:
SeatSpy is a British company, so its focus is on airlines that route to the U.K. It's a little disappointing that it doesn't cover Delta, for example, but it's a newer company and there's certainly room to grow.
Although SeatSpy states that it's searching only a specific carrier's routes, when it pulls information for your route, it actually pulls inventory that includes codeshare flights. This can be especially helpful if you're looking for limited or rare award space, such as Lufthansa's fabulous first class product that it only releases to partners 14 days in advance.
By taking advantage of codeshare results, you can use the United search to find award flights for any Star Alliance carrier, such as Air Canada, ANA, and Lufthansa.
The same is true for American, whose Oneworld partners, such as Cathay Pacific, Japan Airlines, and Qatar Airways can also be searched.
Hot Tip: You can also use codeshare flights to search for Delta seats. As a SkyTeam member, you'll be able to search for Air France and KLM flights that can pull Delta award availability. This also works with Virgin Atlantic, with whom Delta has a non-alliance partnership.
Unfortunately, at this time SeatSpy will only search for a route if the specified airline flies it — and any codeshare results you get are a bonus. This means that if you want to find an ANA flight from Honolulu (HNL) to Tokyo-Haneda (HND), you're out of luck. If, however, you want an ANA flight from San Francisco (SFO) to Tokyo (NRT), which is a route United flies, you can find availability using SeatSpy.
Here's the flight on SeatSpy: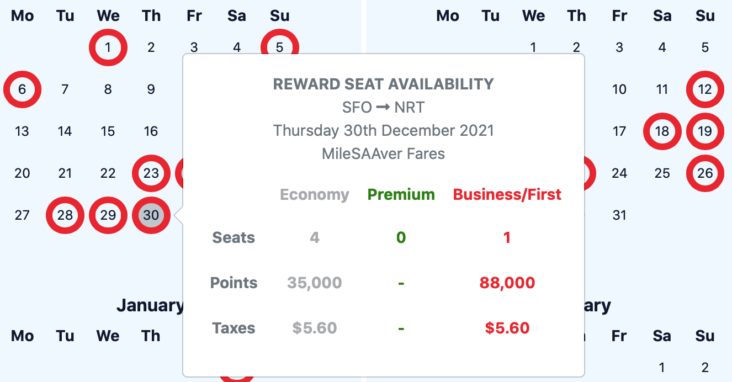 Here's that same flight on United's website, which shows you it's operated by ANA:

Additionally, SeatSpy will only show you nonstop flights — not connections. This is fine if you're already planning on starting at a large airport and know your routing, but if you're looking to fly from a small regional airport you're going to have to look separately for that leg or pay cash for a positioning flight.
Bottom Line: Although it has a few limitations, SeatSpy can be a fantastic tool and a great addition to your award search arsenal.
How Much Does SeatSpy Cost?

Although you can complete a few searches without registering for an account, your opportunities will max out pretty quickly. Your best bet is to sign up for at least the free version so that you can continue to search for different routings.
SeatSpy has 3 different pricing levels, depending on how many features you'd like to access. Its most basic plan is free, though it's pretty bare-bones. Its 2 other levels are charged on a monthly basis, which you can choose to have billed annually.
Exclusive Subscription Discount
Upgraded Points has managed to snag an exclusive discount for our readers that will give you a discounted price for life. The rates differ depending on whether you opt for a monthly or yearly subscription.
Premium is $2.99 per month or $29.90 per year (equivalent to $2.49 per month)
First Class is $4.99 per month or $49.90 per year (equivalent to $4.16 per month)
The features you get with each tier are pretty varied:
| | | | |
| --- | --- | --- | --- |
| Subscription Level | Economy | Premium | First Class |
| Airline searches | Restricted | Unlimited | Unlimited |
| Active alerts | No | 5 | Unlimited |
| "Where Can I Go" search | No | Yes | Yes |
| Alert frequency | No | Hourly | Instant |
| WhatsApp alerts | No | Yes | Yes |
| Text alerts | No | No | Yes |
| Future airline alerts included | No | Yes | Yes |
| Future hotel alerts included | No | No | Yes |
Anecdotally, although SeatSpy does say that its Economy subscribers have a limited amount of airline searches available, we completed 6 searches in a half-hour span and did not bump up against any restrictions. At this time, SeatSpy does not publicly publish how limited your searches will be.
How Does SeatSpy Work?
Using SeatSpy is simple. First, you'll need to sign up for an account. You'll do so by clicking the Sign Up button on the website's landing page.

You'll then select which subscription you'd like — either the free version or one of the paid ones. This will take you to the signup page where you'll need to input your e-mail address and a password.
That's it! Once you've created an account, you can begin searching for flights.
Search for Reward Flights
First, you'll select your airline, then put in your routing.
Hot Tip: The website will automatically limit your available routing choice based on what it has in its system. If there's a route that you know your airline is flying and SeatSpy doesn't have it, you can send an email to have it added.
Since SeatSpy searches an entire year at once, you won't need to put in specific dates. You'll then select which cabin you'd like to search for: economy, premium economy, business, or first.
SeatSpy only differentiates between business and first class seat availability on the airlines it officially searches that also feature first class. This means that you can search for first on British Airways, for example, but only business/first on United. It's a little unfortunate that it doesn't break them apart in the cases where you're looking for codeshare flights, such as ANA's awesome first class product, but that's to be expected because SeatSpy doesn't promise results for anything other than its advertised airlines.
You can also dictate how many seats you'd like to search for, with the ability to select up to 9 passengers. If you're traveling with a family or group this is especially awesome, since finding multiple seat availability is always tougher.
You'll also want to select whether you're traveling one-way or return. If flying round-trip, SeatSpy will display a side-by-side calendar for all flights for the year.
Once you've put in all your information, you'll hit Search Reward Seats Now.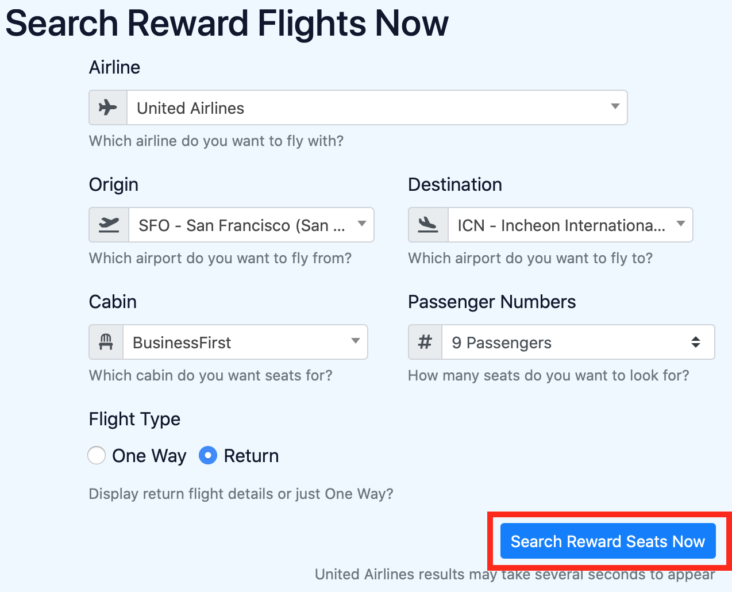 View Reward Flight Search Results
As the website warns, it does take a minute or so for United Airlines' availability to display. All other airlines' results come in pretty quickly otherwise.
Once the results have loaded, this is what you'll see: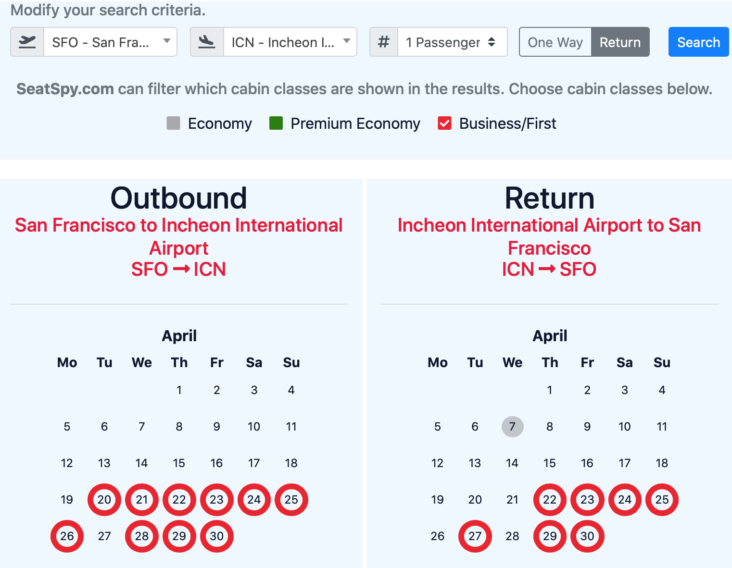 You can scroll down to see award availability results all the way until the end of the airline's calendar, or 365 days, whichever is nearer.
The legend above will show you the different options you have for viewing seat awards. In the above example, we're only searching for first/business class flights. Here is what it looks like with economy enabled: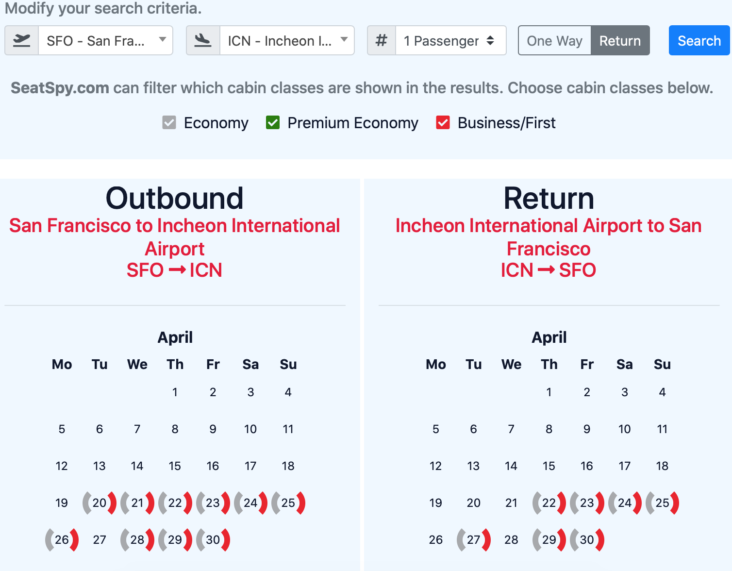 By hovering over any day, you'll get a popup that shows all the available seats, as well as taxes and fees (if the airline provides it):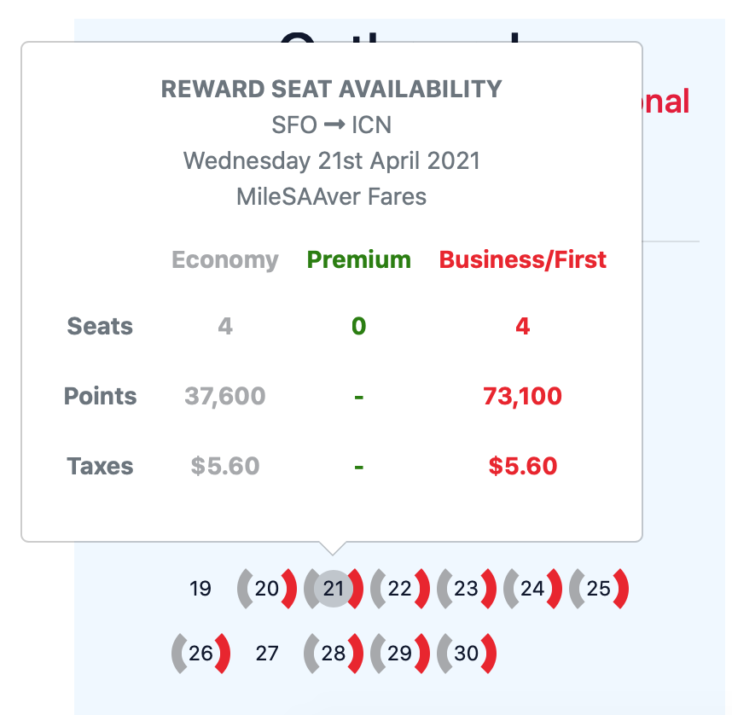 Note that all these results are for an airline that doesn't actively differentiate between peak/off-peak fares. It looks a little different when you search for one that does, such as American: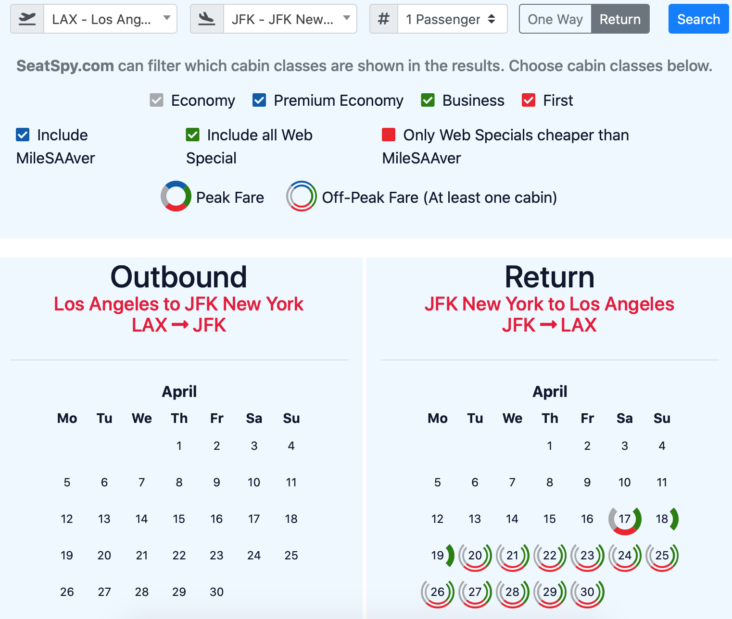 SeatSpy also tailors its results to each airline, so you'll see specific language depending on what you're searching.
Book the Reward Flight
Once you've found the availability you're looking for, you can click the logo on the airline's popup page and be redirected to its website.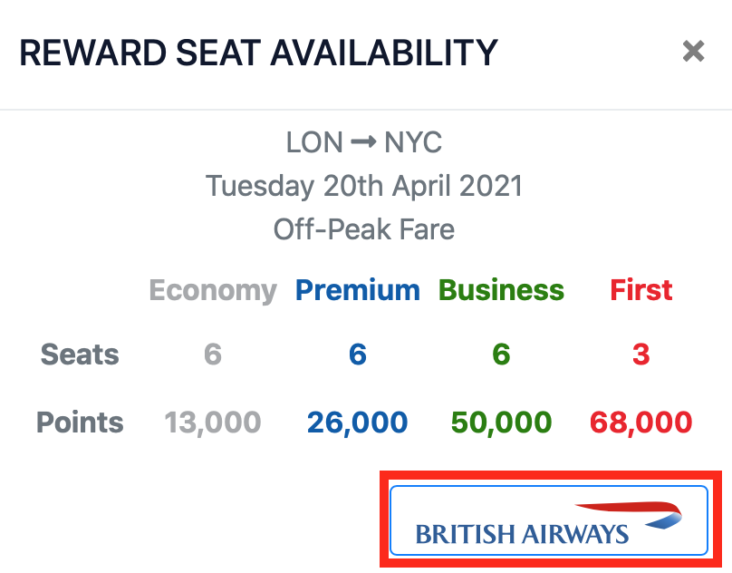 In theory, this is meant to redirect you to a page that will display the results of your search. Although this works with Etihad, United (you must log in), and Virgin Atlantic, for Air France, American, British Airways, and KLM you'll simply be taken to the landing page and will have to input your information again.
Once you've arrived at the airline's website, you'll be able to book the seats you want. Overall, it's a really simple process, and especially good for those with limited time/desire to spend buckets of time searching for routes each day.
Bottom Line: Searching for award flights using SeatSpy is fast and easy. Even better, SeatSpy will show you an entire year of results at once. 
Seat Alerts
Although the ability to search for all seats within a year is great, plenty of us don't have time to go back and look again to see when award availability opens up. Like many other services, SeatSpy gives you the ability to set an alert to let you know when the seats you'd like become available.
Depending on which subscription you've purchased, you'll be able to set up 5 (Premium) or unlimited (First Class) seat alerts. Free accounts don't receive this perk, unfortunately. Frequency also varies based on your subscription: hourly for Premium members and instantly for First Class.
SeatSpy's alert service is fairly comprehensive. You'll select your airports, date range, cabin class, passenger count, and whether you're traveling one-way or round-trip.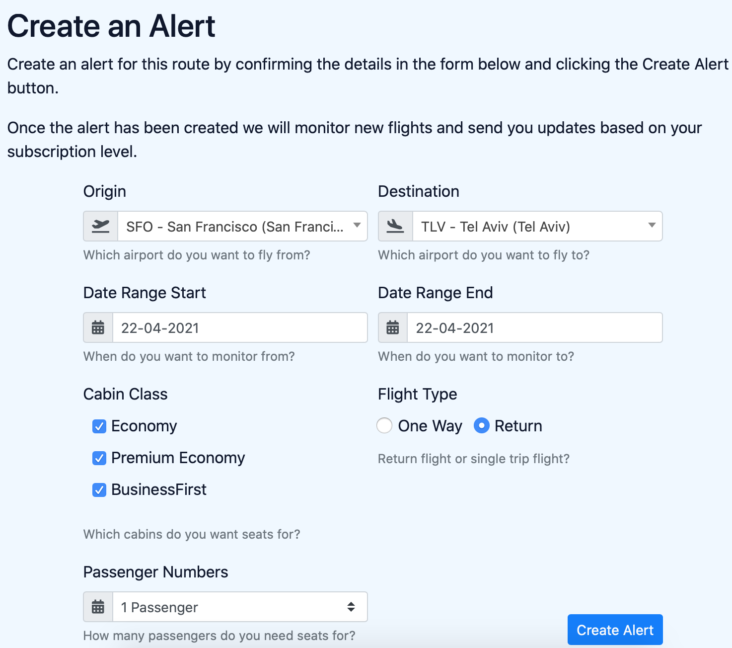 Excitingly, you can also set your date range for a full year. This means that if you've got the flexibility, you'll have the best chances of finding whatever rare award seat you're looking for as soon as it opens up.
You can choose how SeatSpy sends your alerts; it will automatically send them to your email, but you can also choose to enable SMS text messages or WhatsApp messages. To do this, you'll hit the Account button on the top of your page.

You'll then scroll down the page and enter your phone number, then check either of the available boxes for WhatsApp or SMS messages.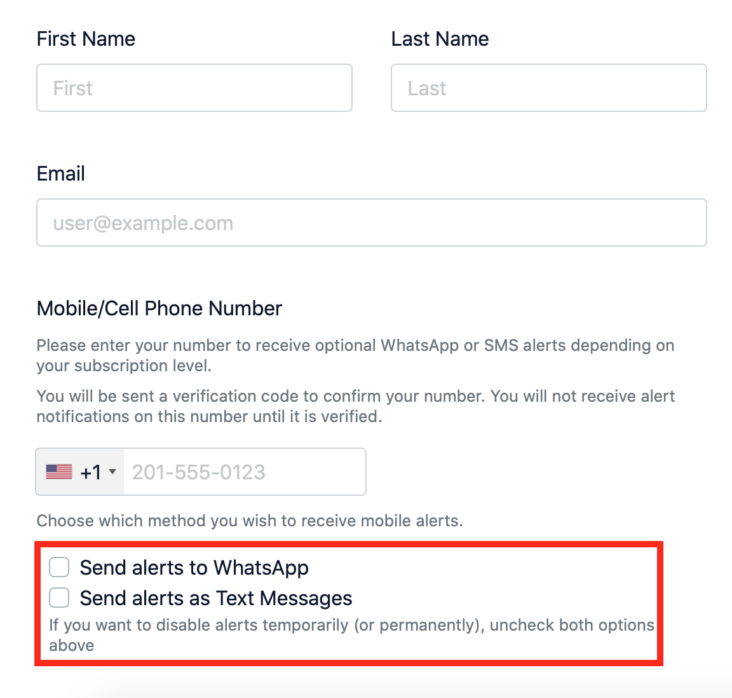 For First Class subscribers, the ability to receive instant text messages when there's availability can make a huge difference in finding seats.
You can always check on which alerts you have set up by hitting the My Alerts button at the top of your page. This will take you to your personal page, where you can edit, delete, or manually check each alert.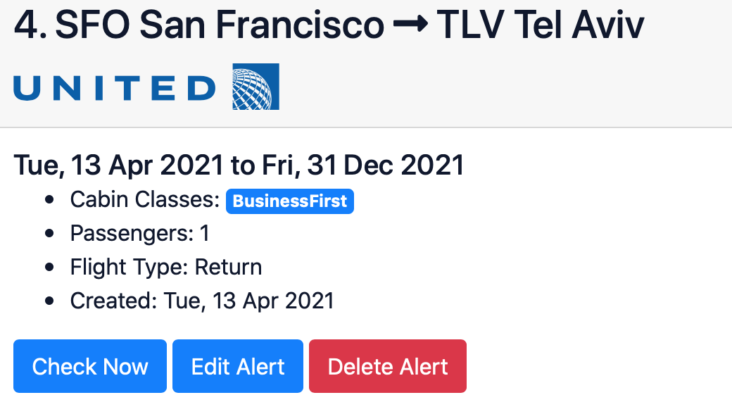 Where Can I Go?
SeatSpy has 1 other nifty feature, though its use remains limited for U.S.-based flyers. By selecting the Where Can I Go? button, the system will search all routes on an airline for available award seats during a given date range.

The website will then load a page that lets you input all your pertinent information.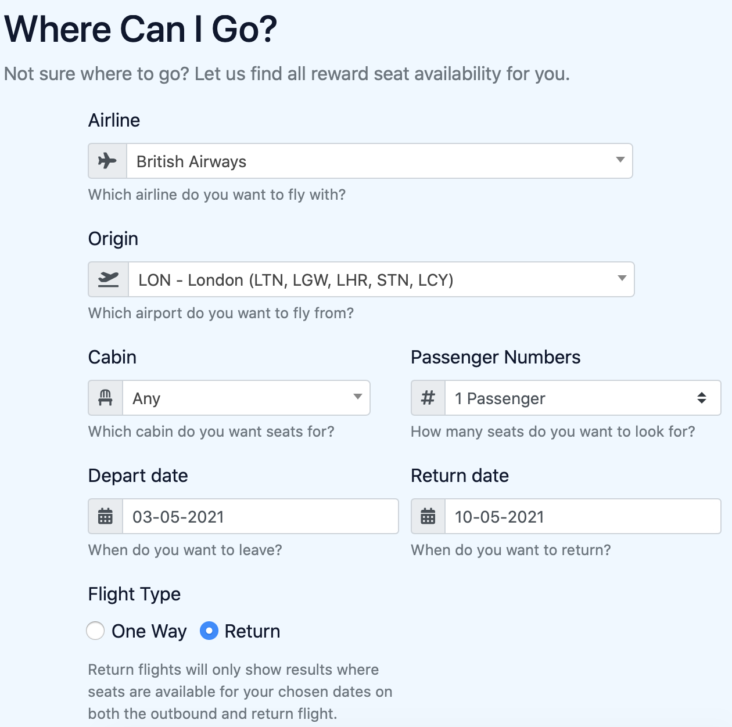 Once you've entered everything, SeatSpy will give you both a map and a list summary of all available destinations.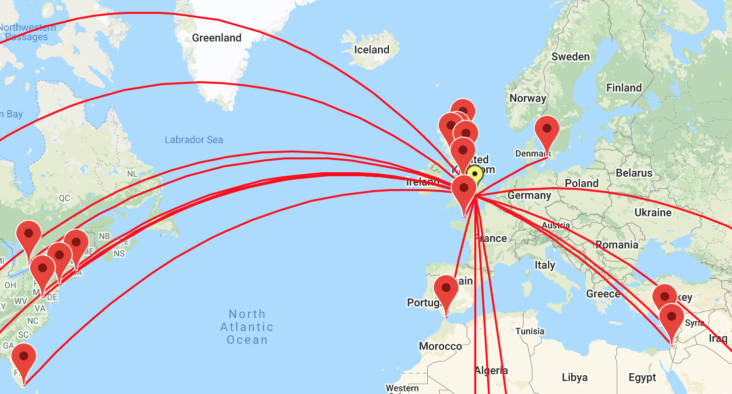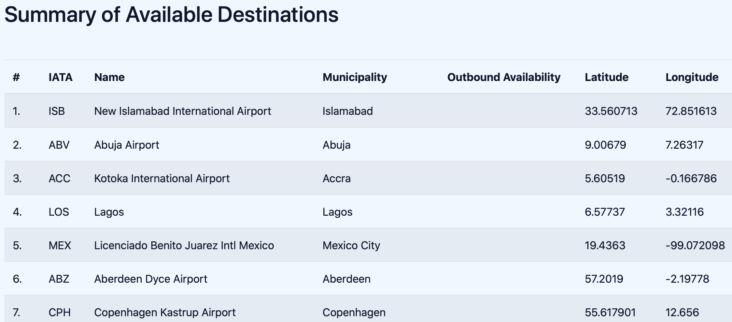 At this time, Where Can I Go? only works for British Airways and Virgin Atlantic, which isn't necessarily much help if you're not U.K.-based. That said, you may still be able to find some limited use if you're looking to fly with either airline.
Is SeatSpy Worth It?
This is the big question. SeatSpy originated in the U.K. and that's pretty obvious, since most of its searches are oriented around European travel. That being said, there is still huge potential here for value.
If you're a United or American Airlines flyer, this is a no-brainer. While each website already has a pretty decent search feature, SeatSpy knocks them both out of the park with its easy-to-use and extensive search system.
And although Delta isn't explicitly listed here, you can work around this by using its SkyTeam partners and codeshare flights.
The ability to set seat alerts spanning a whole year is great — and to have unlimited, instant seat alerts for $4 a month makes this service a steal, especially if the seats you're trying to find are uncommon. The same can be said for families looking to travel together — searching up to 9 seats at once is excellent.
However, if you live near and travel via a small regional airport, SeatSpy is not going to be your friend. Since SeatSpy only searches nonstop routes, and most regional airports connect to a hub to route onwards, this service won't work for you. If you're willing to look (and possibly book) separately for your regional connection, it can still be useful. However, you may want to consider signing up for the free account instead of the paid version.
Final Thoughts
Although it's still a fairly young company, SeatSpy offers a strong award seat search feature. Its ability to show an entire year of award availability, coupled with its detailed results — including peak and off-peak fares, availability by cabin, and the number of seats — makes searching for those elusive rewards simple. It also employs a robust seat alert service that can notify you instantly when the award you want becomes available.
Even if you're not interested in paying for an account, you can still sign up for a free subscription to access SeatSpy's search service. This makes it a no-brainer for every award traveler, whether you're a seasoned veteran or a slightly overwhelmed newbie. Do yourself a favor and sign up.