Uber, Lyft, Via — Picking A Rideshare Subscription Service For Your Commute
Competition in the rideshare industry is heating up — and with that, the rideshare giants are looking for ways to retain loyal customers.
Over the past year or so, we've seen rideshare companies like Lyft, Uber, and Via add subscription services to their platforms. These subscription services offer loyal rideshare customers a way to save on all of their rides with a specific rideshare operator for a low monthly fee.
In the end, these services offer money-saving opportunities for the rider and guaranteed loyalty for the rideshare company in question.
But this begs the question: which is the best rideshare subscription service? And more importantly, are these services worth it?
In this article, we'll answer all those questions and more. We'll start by giving you an overview of all the major rideshare subscription services and discuss their benefits, price, and cost-to-benefit ratios.
Then, we'll compare all of these services, giving you an easy way to find which is best for your rideshare needs.
Lyft Pink — Discounts and Benefits for Lyft Loyalists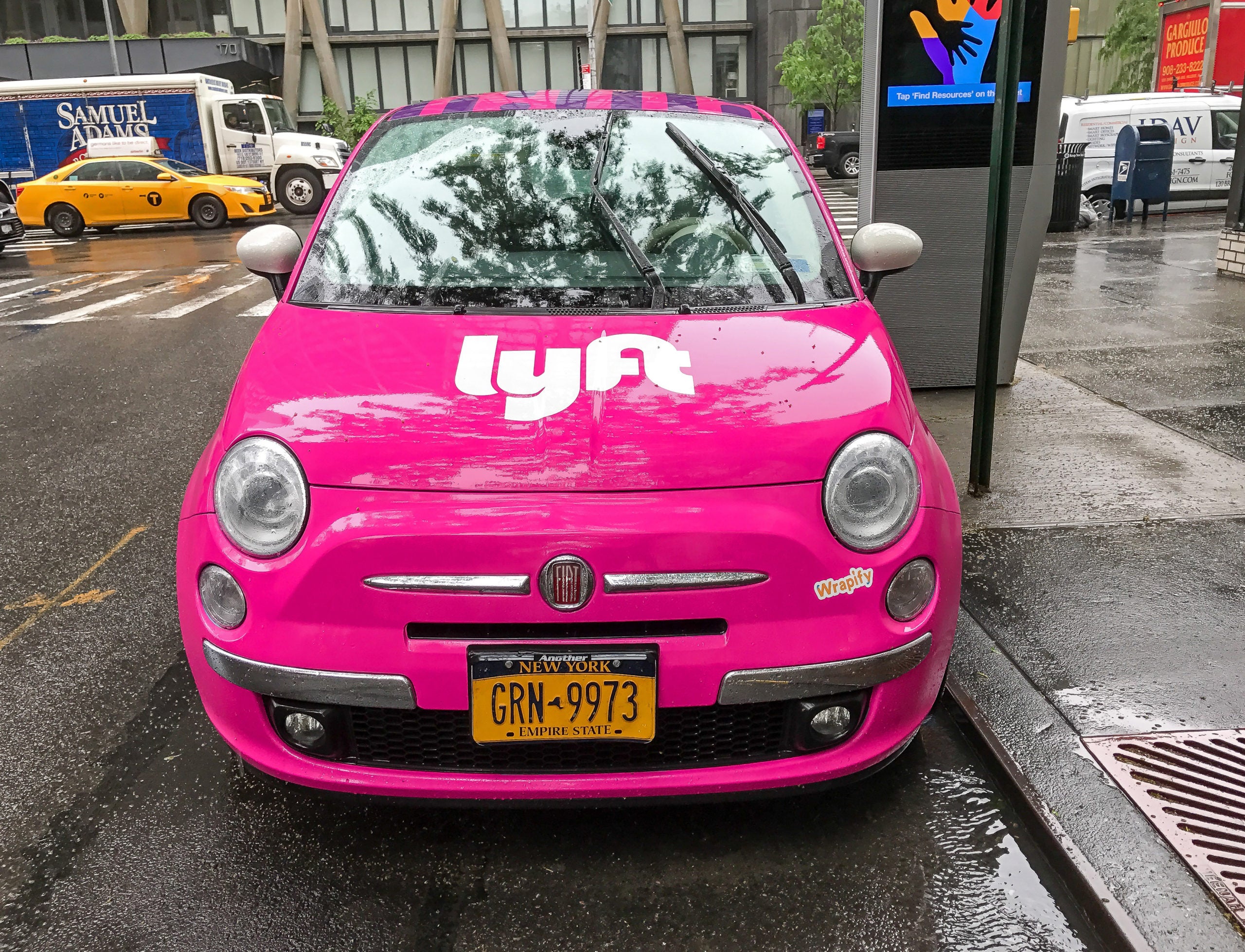 Lyft Pink is Lyft's subscription service that launched in 2019 and replaced its ill-fated All-Access plan.
The service costs $19.99 per month and includes a handful of benefits that are useful to the Lyft loyalist. These benefits include:
15% off car rides — 15% off all Lyft rideshare rides, regardless of class
Priority airport pickups — priority pickup at participating airports
Relaxed cancellations – no cancellation fees on 3 ride cancellations per month if you rebook within 15 minutes
Surprise offers — exclusive offers and discounts
Waived lost and found fees — waived lost and found fee if you forget something in a Lyft vehicle (and it's returned to you)
Free bike and scooter rides – 3 free Lyft-operated bike and scooter rides in select markets up to 30 minutes in length
Free delivery and discounts with Grubhub+ and Seamless+ – enjoy unlimited free delivery ($12 minimum order) and exclusive member Perks
The biggest benefit for most Lyft Pink members is undoubtedly the 15% discount on all rides, including Shared and Lux. This can help you save money on your daily rides and will help you beat surge pricing when you ride during peak hours.
In order for you to make your subscription fee back though, you'll have to spend just under $135 on Lyft rides in a given month. So, we don't recommend subscribing to Lyft Pink if you don't spend more than this on Lyft rides each month. But if you're a frequent Lyft rider, this could end up saving you tons of money every month.
Another major benefit of Lyft Pink is priority airport pickups. Think about it: rideshare lines at major hubs like Chicago O'Hare (ORD), New York (JFK), and Los Angeles (LAX) can be an absolute nightmare on heavy business travel days. This benefit could mean the difference between an immediate pickup and an extended wait in the rideshare lot, so it's a nice perk when combined with the 15% discount.
Finally, free bike and scooter rides is an interesting addition. Lyft operates electric scooter and bike-share programs in a handful of cities around the United States. For example, Citi Bike in New York City is operated by Lyft, so this benefit would give you 3 free 30-minute Citi Bike rides per month — not bad if you're already planning on taking these rides.
On the other hand, the waived lost and found fee is a nice addition, but unlikely something you'll ever have to use. Likewise, the "surprise offers" benefits are largely unspecified and there are no examples given — something that's disappointing given that it's listed as a benefit of a paid subscription service.
How to Get Lyft Pink for Free
Chase Sapphire Reserve® cardmembers get a free 1-year membership to Lyft Pink. This gives you just under $240 in value and helps offset a large part of the card's high annual fee. Plus, the Chase Sapphire Reserve card includes some other lucrative benefits like a $300 travel credit, DoorDash DashPass membership, and 10x points per dollar spent on Lyft purchases.
Here's a look at the card's fees, welcome bonus, and more:
Credit Card
Benefits & Info
Chase Sapphire Reserve®


Learn More

(at Chase's secure site)

Earn 50,000 bonus points after you spend $4,000 on purchases in the first 3 months from account opening. That's $750 toward travel when you redeem through Chase Ultimate Rewards®
$300 Annual Travel Credit as reimbursement for travel purchases charged to your card each account anniversary year. Through 12/31/21, gas station & grocery store purchases will also count towards earning your Travel Credit
Earn 5x total points on air travel and 10X total points on hotels and car rentals when you purchase travel through Chase Ultimate Rewards® immediately after the first $300 is spent on travel purchases annually. Earn 3x points on other travel and dining & 1 point per $1 spent on all other purchases
Get 50% more value when you redeem your points for travel through Chase Ultimate Rewards. For example, 50,000 points are worth $750 toward travel
Access to 1,300+ airport lounges worldwide after an easy, one-time enrollment in Priority Pass™ Select and up to $100 application fee credit for Global Entry or TSA Pre✓®
Excellent Credit Recommended (740-850)
Annual Fee: $550


$1,000

Must Reads: For more on the Chase Sapphire Reserve, see our thoughts on its benefits, global airport lounge access, and travel insurance protection. Take a look here for our full review.
Uber Ride Pass — Large Discounts, Price Protection, and Bike Rides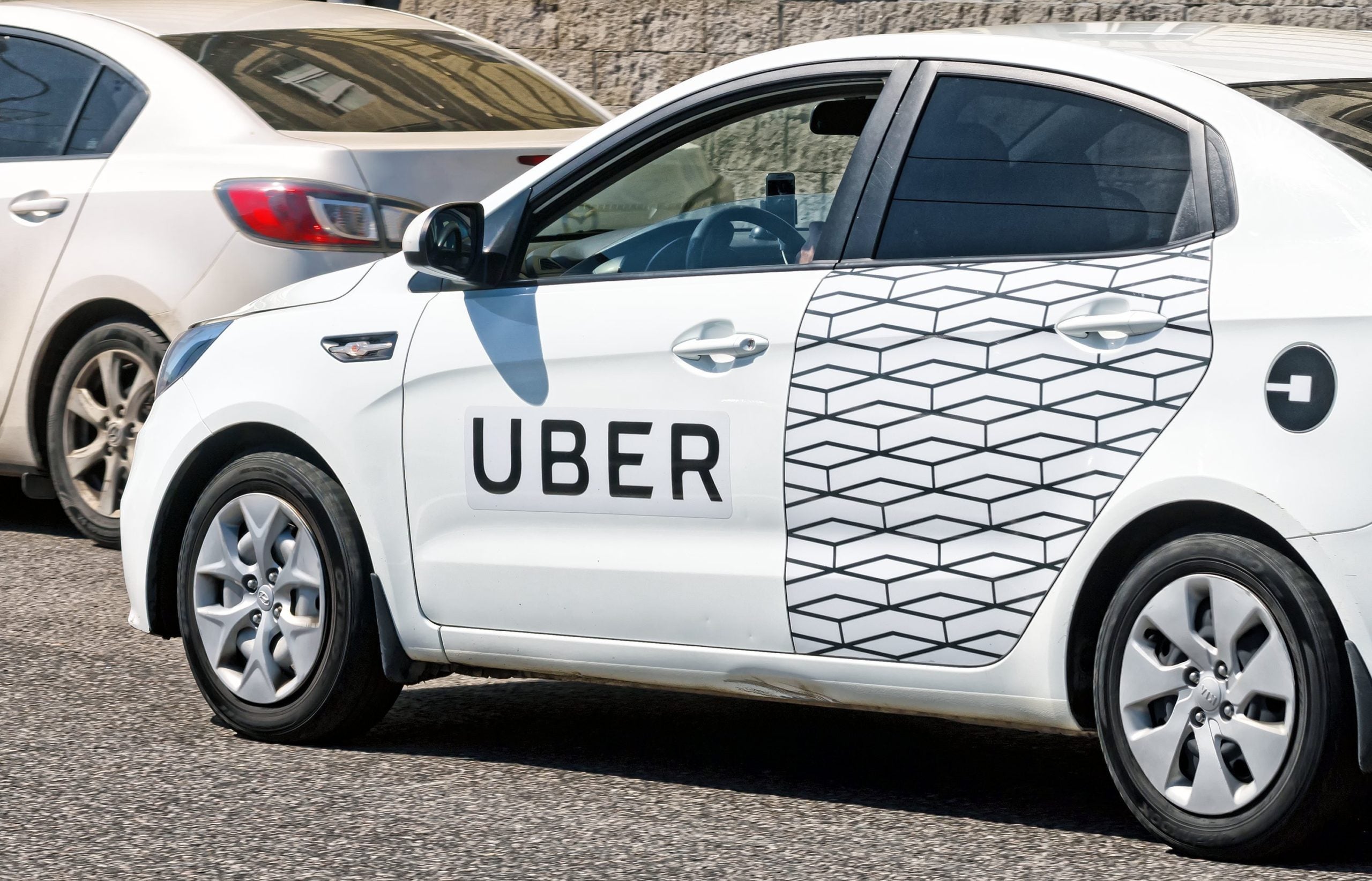 The Uber Ride Pass is a subscription service that's similar to Lyft Pink, but it differs from city-to-city. For the purpose of this article, we'll focus on the Ride Pass that's available in New York City as of January 2020.
In New York, you can subscribe to Uber Ride Pass for $24.99 per month. You'll receive the following benefits with your subscription:
Price protection — you'll never pay surge or otherwise increased prices during high traffic, bad weather, or rush hour
Up to 20% off each ride — a discount each time you ride with Uber
Free JUMP bike rides — you can ride JUMP bikes in the borough of Staten Island for free, up to 30 minutes per ride
Hot Tip: Uber Ride passes are only available in the city in which they were purchased, meaning that you can't use a New York City ride pass in Chicago. 
The biggest of Uber Ride Pass is price protection. No matter when you ride, you'll pay the standard, non-surged price. This can be especially useful in large cities during rush hour and bad weather when drivers are limited. So if you often find yourself riding with Uber during these times, you may want to buy a Ride Pass.
However, we're not big fans of the "up to 20% off" wording. We take this to mean that sometimes you'll save 20% on rides, but you may save significantly less other times. There's nothing in the Ride Pass terms and conditions that provides transparency on how much you'll save, so we recommend that you tread lightly if you're subscribing for a discount.
Finally, Uber offers free JUMP bike rides to Ride Pass members in most Ride Pass-eligible cities. These are Uber's fleet of dockless electric-assisted bicycles that are placed around different metro areas.
In New York City's case, all Ride Pass members are entitled to unlimited 30-minute JUMP bike rides in the borough of Staten Island. This may be useful for Staten Island residents, but it isn't particularly useful if you live in the rest of the city. So, the value of this benefit is highly subjective.
Ride Passes aren't available in all cities just yet — you can see if your city is eligible if there's a Ride Pass option in your Uber app's sidebar.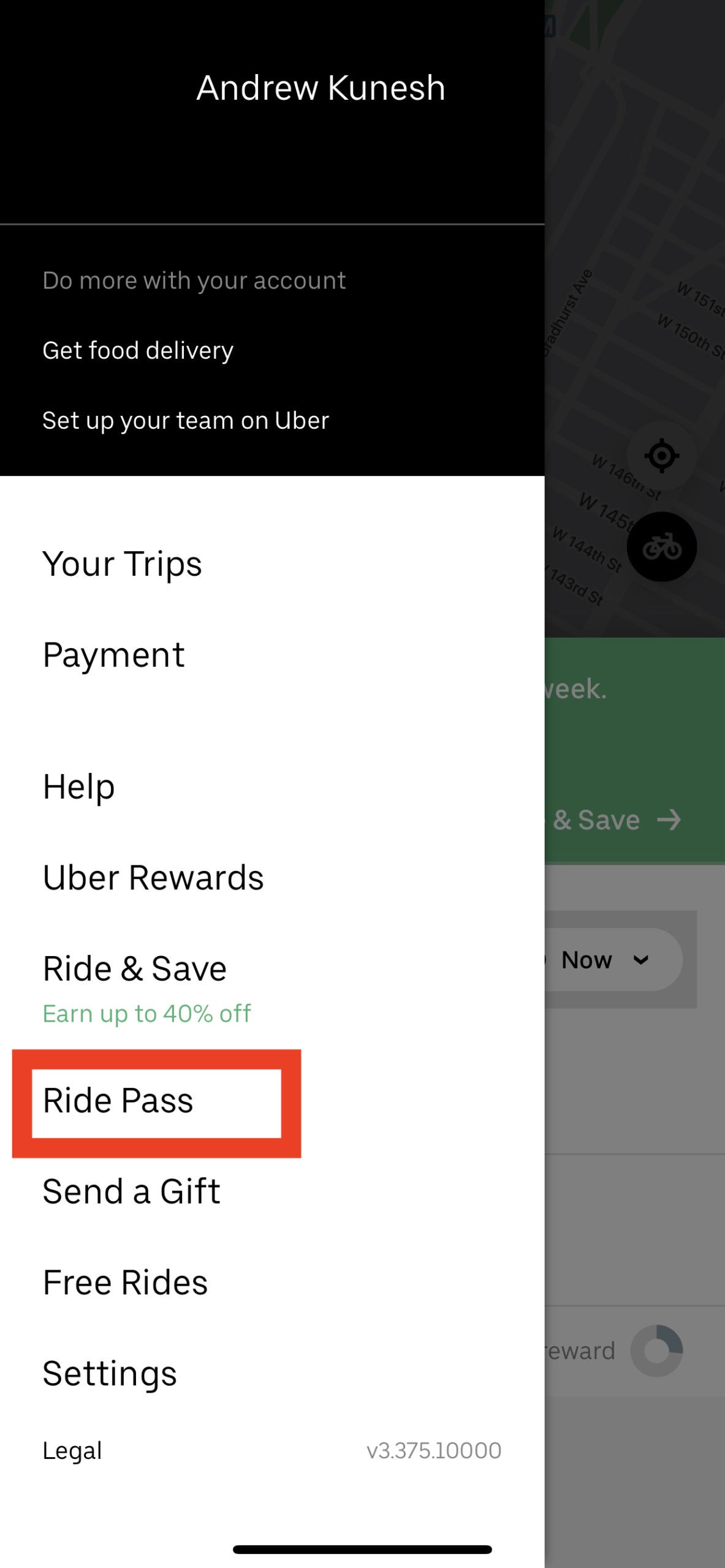 Uber Ride Pass vs. UberVIP and Uber Rewards
You may know that Uber has 2 other loyalty programs: UberVIP and Uber Rewards. Here's how they compare (or don't compare) to the Uber Ride Pass.
Uber Ride Pass vs. UberVIP
UberVIP is awarded to Uber riders who take 10+ rides in a given month or who have completed 100+ rides in a single metro area. Likewise, anyone who holds The Platinum Card® from American Express is eligible for complimentary UberVIP status (as well as a $15 monthly Uber credit).
UberVIP gives frequent Uber riders access to top-rated UberX and Uber Black drivers; members will see a UberX VIP and Uber Black VIP option in their Uber app.
When selected, members will only be matched to Uber drivers with a 4.9 star or above rating. These rides are the same price as a standard Uber ride and are still subject to surge pricing.
With that in mind, there's no real overlap between Uber Ride Pass and UberVIP, so they don't really compare. However, you can use the 2 programs in-tandem to ride with top-rated drivers during peak hours.
Bottom Line: UberVIP doesn't save you any money, but it does provide a better rider experience.
Uber Ride Pass vs. Uber Rewards
Uber Rewards is Uber's loyalty program in the United States. It's free to join, and you'll earn Uber Rewards points towards all of your rides. Here's how many Uber Rewards points you can earn on each type of Uber ride:
Uber Eats delivery — 1 point per $1 spent
UberPool rides — 1 point per $1 spent
UberX, UberXL, and Uber Comfort rides — 2 points per $1 spent
Uber Black and Black SUV rides — 3 points per $1 spent
You can choose from a set of different Uber rewards when you have 500 points in your account. This includes things like $5 off your next ride, free Uber Eats delivery, and upgrades to Uber Comfort.
Hot Tip: You can earn Uber Rewards points on rides outside of the U.S.!
Plus, you'll also earn status points towards Uber Gold, Platinum, and Diamond status. Here's a quick look at what benefits each status tier receives:
Uber Gold — earned at 500 points earned per year
Priority support — you'll hear back from a support representative faster
Flexible cancellations — no cancellation fees if you rebook a ride in 15 mins or less; not applicable to UberPool rides
Uber Platinum — earned at 2,500 points earned per year
UberX price protection between 2 places — choose 1 Uber route for price protection and you'll never be charged a surge price when you ride between those 2 places
Priority airport pickup — you'll receive faster pickups at select airports in the U.S.
Uber Diamond — earned at 7,500 points earned per year
Premium support — receive the best possible Uber support experience
High rated drivers — similar to UberVIP, you'll only ride with the best drivers
Complimentary upgrades — enjoy upgrades to Uber Comfort and other classes
Free delivery on 3 Uber Eats deliveries per month — pay no delivery fees on 3 Uber Eats orders per month
Depending on your Uber Rewards status tier, you may see some overlap between Uber Ride Pass and Uber Rewards. For example, UberX price protection is included with Uber Platinum, but only between 2 places. So if you only use Uber to get to work, you may be better off with Uber Platinum status (if you can earn it).
It's also worth noting that you can have an Uber Ride Pass and still enjoy the benefits of your Uber Rewards status and UberVIP. So if you're an Uber loyalist that rides with Uber a lot, you may get tons of value by combining these 3 programs.
Hot Tip: Make sure you're earning lots of points each time you ride with the best credit cards for Uber and Lyft rides.
Via ViaPass — Perfect for Commuters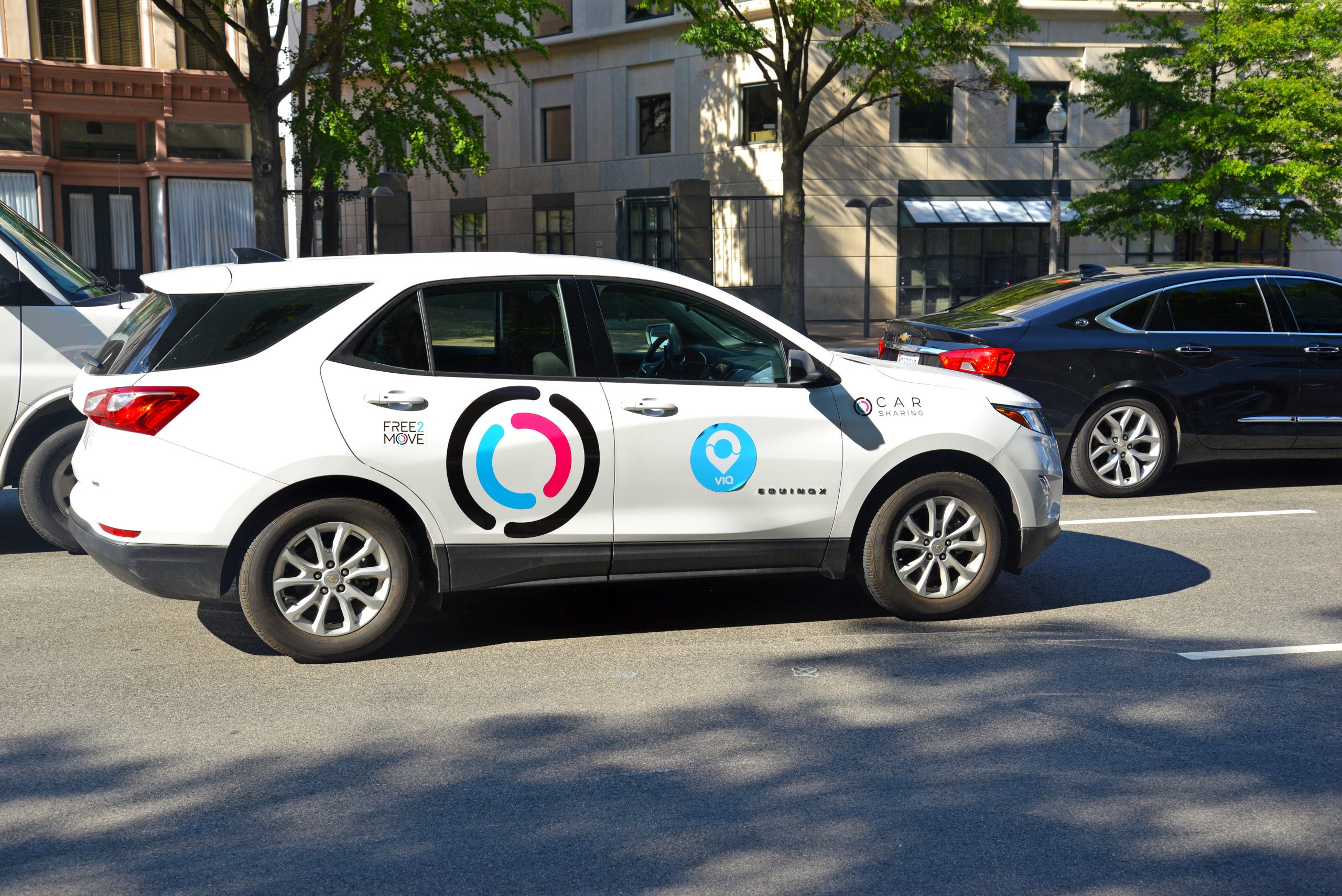 Finally, we have the underdog of the rideshare industry: Via.
Via is a rideshare service that focuses on shared rides. It operates in Chicago, New York City, and Washington, D.C. at cheaper rates than competitors.
This is because most Via rides are shared in larger cars and vans, and often times are on a set route. This means that you may be dropped off somewhere near your destination instead of right out front.
The service has become popular amongst commuters in the cities it operates in due to its cheap fares and ViaPass.
ViaPass lets riders buy unlimited ride passes in the city of their choosing for a flat monthly rate. These rates vary by city, and you can choose between 24/7 passes and Commuter passes (valid 6 a.m. to 9 p.m.).
Additionally, you're capped to 4 free rides per day with a maximum value per ride. All rides past these limits will be charged at a set discount.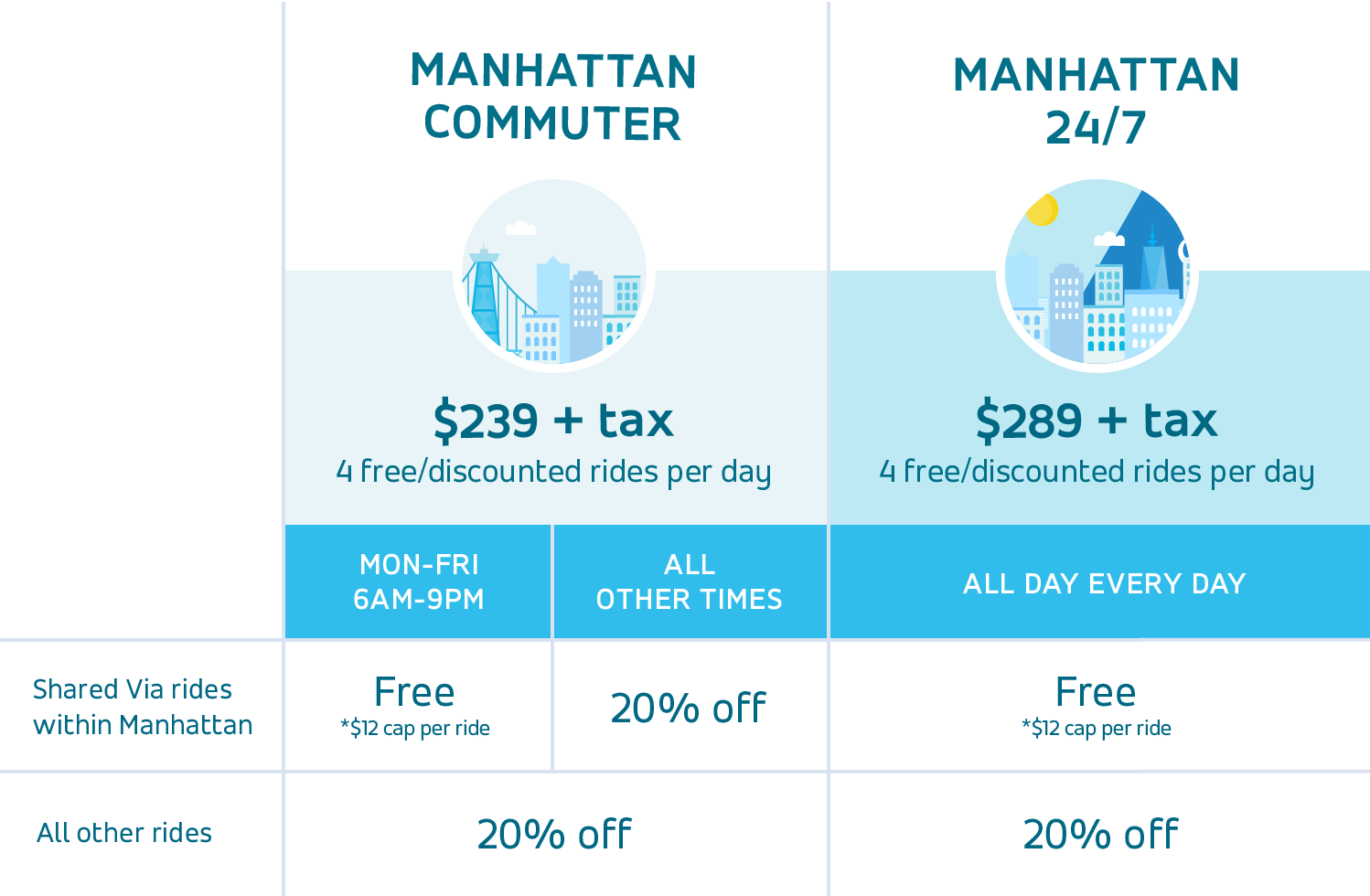 In Manhattan, for example, a Commuter pass costs $239 plus tax per month while a 24/7 pass costs $289 plus tax per month. Each ride has a $12 cap, and rides beyond that are charged at a 20% discount. Note that rides over $12 will receive a $12 discount if you haven't used your 4 rides for the day.
This makes the Manhattan ViaPass perfect for someone that lives, works, and commutes in Manhattan. $289 plus tax for the 24/7 pass means that you can ride 4 times per day without worrying about going over budget or taking the subway. We're also fans of how there's a 20% discount on extra rides, including rides to the airport and other areas outside of the Manhattan service zone.
The Chicago pass is also useful. There's no 24/7 pass offered, but the Commuter pass costs just $189 per month. This plan includes 4 rides per day up to $7 per ride, with all rides beyond that — including airport rides — being discounted by 10%. Again, this pass is useful for someone that commutes within the Chicago Via service zone Monday to Friday.
One thing to note about ViaPass is that that the passes only work for specific regions of the city they serve. For example, the New York City pass only serves Manhattan while the Chicago pass only serves the north side and parts of the south and west sides of the city.
Plus, you have to take into account the cost cap per ride, so make sure to do your research and price out your commute before you buy a pass.
And there you have it: all of the major rideshare subscription services. Now, it's time to decide which service is best for your ridesharing needs.
Below we've listed pros, cons, and example use cases for each subscription service covered in this article. Use this to help guide your decision when shopping for a rideshare subscription service.
Pros and Cons of Lyft Pink
Pros:
15% discount on all Lyft rides, regardless of class
Discount applies in all U.S. cities
3 free Lyft bike or scooter rides in the U.S. every month
Priority airport pickups
Waived cancellation fees on 3 cancellations per month
Free 1-year subscription with the Chase Sapphire Reserve card
Cons:
No price protection during peak hours
Have to spend at least $135 per month on Lyft rides to break even on the subscription cost
Bottom Line: Lyft Pink is perfect for anyone who spends $135 per month or more on Lyft rides, or anyone with a Chase Sapphire Reserve card.
Pros and Cons of Uber Ride Pass
Pros:
Price protection during peak hours on all Uber rides
Free JUMP bike rides in your city
Cons:
Unspecified ride discount
Your Uber Ride pass only works in the city it was purchased in
Bottom Line: Uber Ride Pass is perfect for the Uber loyalists who commutes during peak rush hour traffic.
Pros and Cons of Via ViaPass
Pros:
Up to 4 rides per day are included with each pass
Discounts are included with all additional rides
Cons:
Limited service zones
Low cap on ride cost for included rides
Your ViaPass only works in the city it was purchased in
Bottom Line: Via ViaPass is perfect for the commuter who takes short rides within the Via service zone.
Final Thoughts
In this article, we showed you all of the major ridesharing subscription services, broke down their benefits, and compared them.
These services are only worth it if you use 1 rideshare app enough to justify the monthly cost. A good way to see this is by taking your average monthly rideshare spend and figuring the discount you'd receive from one of these services. Then, compare this discount to the monthly cost of the subscription service.
For example, Lyft Pink costs $19.99 per month out of pocket. In this case, you'd need to spend $135 or more per month in order to get more than $19.99 of benefit out of the service. So if you spend any less than this, you should steer clear of the subscription service.
Now it's your turn: in the comments, let us know what rideshare subscription service you use!