How to Use the United MileagePlus Shopping Portal to Earn More Miles [2020]
If you're planning to shop online, what would you say if we told you you could earn extra miles just by clicking a few extra buttons? Pretty sweet, huh?
This article will teach you how to use the United Airlines MileagePlus Shopping portal to do just that!
How to Log in and the Basics of Using MileagePlus Shopping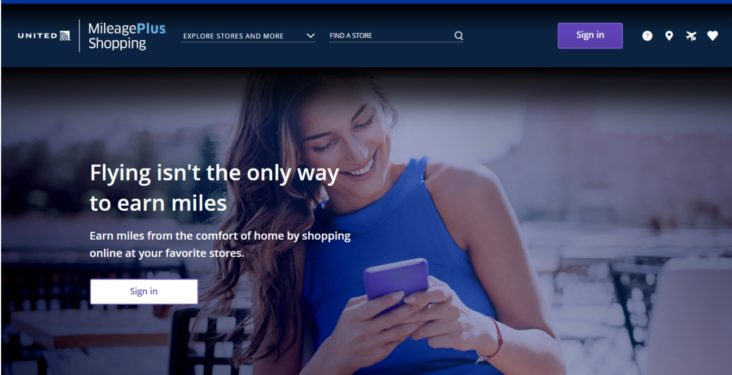 You can view the bonus miles offered for shopping at various retailers without logging in, but you will need to log in to actually earn rewards when you're ready to shop.
If you already have a MileagePlus frequent flyer account with United, you're in luck! You won't need to create a new account to log in and start shopping. The login details for the MileagePlus Shopping portal are the same as for your account on united.com.

Once you are logged in to MileagePlus Shopping, you just need to search for the retailer you want to shop with to see the number of bonus miles you can earn for purchases!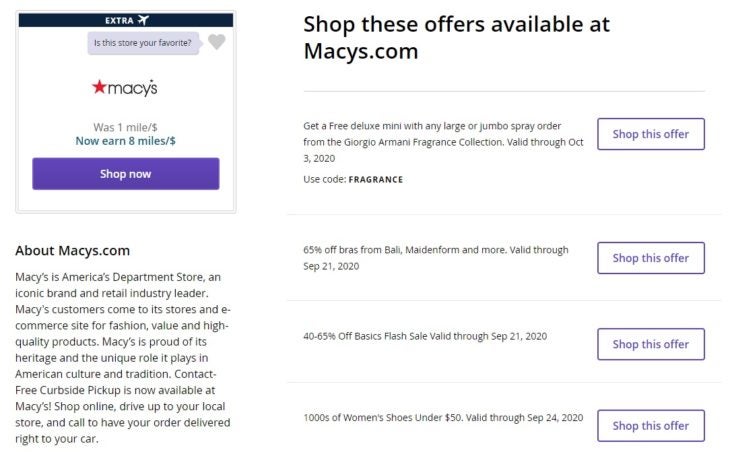 Let's say you are interested in shopping at Macy's. At the time of writing, we found a bonus of 8 United miles for each dollar spent on macys.com purchases, which is a huge bump over its usual offer.
To earn the bonus miles, click "Shop this offer" to be redirected to the Macy's online store, then complete your purchase in the new window. You don't need to do anything else to earn the bonus!
Hot Tip: Only coupon codes provided by MileagePlus Shopping will be eligible for your purchase to earn miles. 
Occasionally the MileagePlus Shopping portal will offer bonus miles for spending various amounts of money. These offers come and go throughout the year.
You should keep an eye out for United's special MileagePlus Shopping bonuses; they make it easy to earn even more miles!
Here are some examples of past bonuses to be on the lookout for:
Spend $125 in the next 2 weeks and earn 500 bonus miles
Spend $150 and earn 500 bonus miles; spend $750 and earn 2,500 bonus miles; spend $1,500 and earn 5,000 bonus miles.
Example Retailers

The number of miles earned through the online shop and the available retailers change regularly. At the time of writing, here are some of the better bonuses being offered through MileagePlus Shopping!
AT&T: 2,600 miles
ESPN+: 400 miles
Nike: 12 miles per $1
Florists.com: 10 miles per $1
Aveda: 9 miles per $1
Grubhub: 5 miles per $1
Hot Tip: If you are curious how these bonuses compare to other portals, use CashBack Monitor to easily check over 40 different shopping portals.
United MileagePlus Shopping Button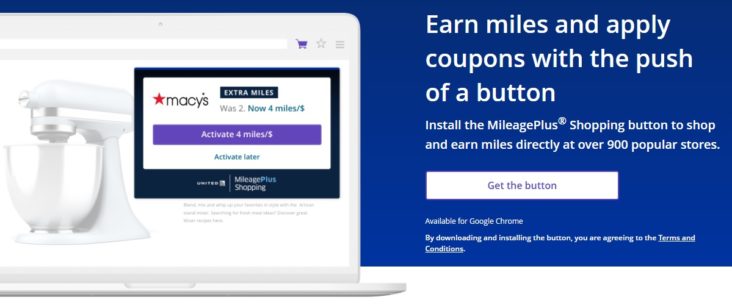 Don't miss out on extra miles by downloading United's MileagePlus Shopping button.
If you're the type of person that forgets to login to your account and click through via the normal shopping portal, download this browser extension for Chrome and you'll never miss out on another mile again!
Every time you visit a retailer's website that is part of the program you'll get an alert telling you that can earn miles when shopping on the website. Everything then happens automatically when you purchase on the retailer's website. It's that simple!
Earning In-Store Miles at Brick-and-Mortar Retailers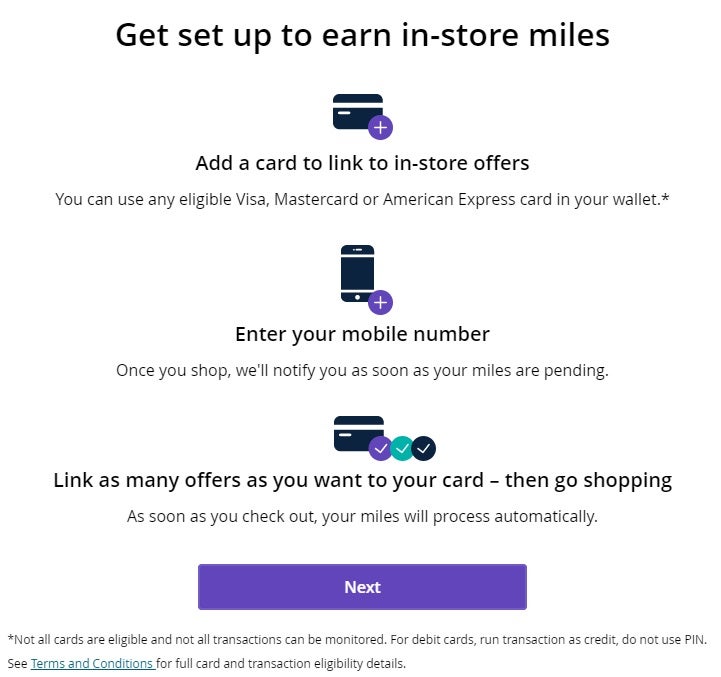 MileagePlus members can also now earn miles when shopping at traditional brick-and-mortar stores. Login to your MileagePlus Shopping account, add 1 or more credit or debit cards to your profile, and link any desired in-store offers to your cards.
When browsing stores, in-store retailers will have a black store icon to indicate that the offer is in-store only. The earning rates can vary between in-store and online, so see which scenario works best for you before making your purchase.

When you make an eligible in-store purchase, paid for by a linked card, you will automatically earn miles on qualified purchases.
Every offer you link is only valid to redeem for 1 single in-store purchase. Members can even receive SMS notifications of their in-store purchase transactions.
Using Credit Cards to Earn Extra Miles and Points
Even though you'll be earning bonuses through MileagePlus Shopping, that isn't an excuse to put your charges on a debit card! You'll want to make sure you're paying with a credit card that will give you rewards for spending, too.
If your main focus is earning United miles, you should use cards that earn United miles directly or cards that earn Chase Ultimate Rewards points that can be transferred to United at a 1:1 ratio.
Consider whether your earnings can be multiplied further by taking advantage of a specific credit card category bonuses, too!
Below you'll find rewards cards that earn United miles as well as Chase Ultimate Rewards points.
Chase Ultimate Rewards Cards
Recommended Chase Cards (Personal)
Chase Sapphire Preferred® - This is our favorite beginners travel rewards card, which is currently offering a 60,000 point bonus after you spend $4,000 on purchases in the first 3 months from account opening.

Plus, the Chase Sapphire Preferred earns 2x points per $1 on travel and dining worldwide, eligible delivery services, take out and dining out, plus other travel benefits such as excellent travel insurance coverage and no foreign transaction fees.

The sign up bonus is worth $750 in travel purchases (flights, hotels, car rentals etc) when you redeem your points through Chase's travel portal, which works like Expedia.

Chase Sapphire Reserve® - This premium card will get you access to 1,000+ airport lounges. as well as a number of other card benefits. The current sign up bonus is 50,000 points after you spend $4,000 on purchases in the first 3 months from account opening. You'll also get a $300 travel credit per year which wipes away a big chunk of the $550 annual fee.
Chase Freedom Unlimited® - A fantastic, no annual fee card that earns you a $200 bonus after you spend $500 in your first 3 months. Earn 5% cash-back on travel purchases through Chase Ultimate Rewards, 3% cash-back on dining and drugstore purchases, and 1.5% cash-back on all other purchases, but you won't get any travel benefits with this card.
If you're a business owner, Chase has several business credit cards too.
Hot Tip: Don't miss a chance to earn extra Ultimate Rewards points when you shop at a MileagePlus Shopping retailer! Check your Chase Offers before any online purchases to activate any special deals or discounts for popular online retailers.
United MileagePlus Cards
CREDIT CARD
BENEFITS & INFO
UnitedSM Explorer Card


Learn More

(at Chase's secure site)

Earn 40,000 bonus miles after you spend $2,000 on purchases in the first 3 months your account is open.
Earn 2 miles per $1 spent at restaurants, on hotel stays, and on United purchases
Free first checked bag — save up to $140 per roundtrip
2 United Club one-time passes each anniversary
Annual Fee: $0 Intro for the first year, then $95

UnitedSM Business Card


Apply Now

(at Chase's secure site)

Earn 75,000 bonus miles after $5,000 in purchases within the first 3 months of account opening
Earn 2 miles per $1 spent on United purchases, at gas stations, office supply stores and more. Plus, you'll earn 2 miles per $1 spent at restaurants including eligible delivery services
Earn 1 mile per $1 spent on all other purchases.
Earn a $100 United travel credit after 7 flight purchases of $100 or more each anniversary year.
5,000 mile loyalty anniversary bonus when you have the new United Business Card and a personal United credit card.
Annual Fee: $0 Intro for the first year, then $99

United ClubSM Infinite Card Card


Apply Now

(at Chase's secure site)

Earn 4 miles per $1 spent on United purchases including tickets, Economy Plus, inflight food, beverages and Wi-Fi, and other United charges.
Earn 2 miles per $1 spent on all other travel and on dining at restaurants and eligible delivery services including GrubHub, Caviar, Seamless, and DoorDash. Earn 1 mile per $1 on all over purchases.
Up to $100 Global Entry or TSA PreCheckTM fee credit.
25% back as a statement credit on purchases of food, beverages, and Wi-Fi onboard United-operated flights when using your card.
Annual Fee: $0 intro annual fee, then $525
Final Thoughts
Utilizing MileagePlus Shopping is an easy way to earn an extra mile or more per dollar spent on most of the purchases you're already making online. You may also want to check out United's dining program to really maximize your awards.
The more rewards you earn, the closer you will get to redeeming your United miles for a much-deserved vacation!