The 16 Best Hardside and Hard Shell Luggage in 2021 [Carry-On and Checked]
The luggage you use for your annual vacation to the sun, a weekend away, or longer adventures in faraway places is almost as important as the belongings you take with you. Whether you choose to check your luggage or carry it in the cabin, there are many benefits to traveling with hardside luggage.
Why Buy Hardside Luggage?
Hardside luggage has a rigid exterior that is stiff and solid rather than the soft and flexible exterior of more traditional fabric suitcases. Although slightly heavier even when empty, hardside cases offer an extra layer of protection for your precious possessions and are often much more durable than their softer-sided counterparts.
Here are some of the very best reasons to choose hardside luggage on your next adventure.
Keep Your Belongings Really Safe
If you are planning on taking valuables like your laptop, camera, or other electronics with you, a hardside or hard shell suitcase offers the highest level of protection against damage in transit. A good quality case will also help to keep your most prized possessions dry in wet or humid conditions.
Bottom Line: These types of cases offer an increased level of protection against theft, as would-be thieves can't slash the sides of the case, and locks are usually harder to break into.
Use the Space the Way You Want
Most hardside cases open like a book, offering a 50/50 split that allows you to fill both sides equally. The space is also incredibly usable as there are no fabric folds to contend with.
Find Your Case on the Carousel
Of course, there will always be lots of similar or identical cases on any carousel, but with hardside cases you can go all out and wear your style on your case with bright colors, bold designs, and even personalized printed images, making it super easy to find at baggage claim. If this wasn't enough you can also use some unique and creative luggage tags.
Move it With Ease
Hard cases offer a much smoother ride than other types of wheeled luggage. Built to remain upright and even balance with the weight of their contents, hardside suitcases often have 4 wheels and a super-strong handle making them easy to roll along next to you.
Things to Consider With Hardside Luggage
Because not all hardside suitcases are equal, and no 2 trips are the same, there are many things to consider before you invest in your next suitcase.
Size
Most suitcase manufacturers will offer a range of sizes across each of their ranges. Small cases are usually designed for those who want to take carry-on luggage only and are not looking to check their luggage on arrival.
Small cases usually measure around 22 x 18 x 10 inches. Never assume, though, that any "cabin-sized" hardside suitcase will automatically be accepted in the overhead bins — always check the size restrictions of the airline you are traveling with.
Medium cases can measure 25- 27 inches while large cases can go up to as much as 32 inches in length. While there may not be any restrictions in terms of size when it comes to checked cases, there are restrictions on the weight of the case, and how many you can take with you. If your cases are too heavy, you will be subject to additional fees.
Another thing to remember when it comes to hardside luggage is the fact that the internal dimensions may be slightly smaller overall than those found in soft shell and cases. Softside cases can also expand a little when full, allowing you to squeeze in the odd extra item here and there.
Bottom Line: It is the exact lack of flexibility and stretching that appeals to hard shell luggage lovers, as a solid structure leads to better security for your belongings in transit.
Weight
It is a common misconception that all hardside suitcases are much heavier than similarly sized soft-sided ones. The truth is that at most there is usually only a very small difference in the weight of the 2. Hardside cases weigh an average of 2-5 pounds more than soft-sided alternatives.
It should also be noted that the latest generations of hardside cases are actually incredibly lightweight, while still being supremely durable. Those made from ABS materials are generally lighter than those made from more polycarbonate but the difference is minuscule and the latter is more hard-wearing.
Number of Wheels
It seems unfathomable to think about carrying your case these days, with spinning wheels being available on almost all modern-day suitcases. The 2-wheeled cases can easily be pulled along behind you, as you gently tip the case towards you as you roll. These are easy to use and smooth to maneuver.
If you really want to wheel with ease though, a 4-wheeled spinning case gives you the ultimate experience in smooth rolling capabilities. You can keep the case close to your side on your journey through the concourse. You can even push 1 case while you pull another if you need to, and 4-wheeled spinning wheels are much easy to maneuver in tight spaces and crowded airports.
Hot Tip: If you opt for a 4-wheel spinner instead of a 2-wheel, you may find the internal space is squeezed a little more with the 4 recessed wheels taking a few more inches out of the overall packing space.
Handles
Because you will want to pull your suitcase along with you, the handle needs to be strong enough to withstand numerous trips and adventures. The handle should be able to slot away quickly once you have finished pulling or pushing your suitcase.
Bottom Line: The best telescopic handles are usually made of high-grade aluminum and have a super smooth mechanism.
Zippers
The zipper of your suitcase should be well engineered and designed to last through multiple uses. It should also be set back into the body of the suitcase when shut, and strong enough to withstand any attempt to be slashed or opened by would-be thieves in transit. Some of the latest generations of hardside cases don't even have zippers, meaning they shut tight by clipping down and using a lock.
Locks
Speaking of locks, they are a must-have on any suitcase, and the lock you choose will need to be TSA-approved. These types of locks are accessible by transport authority agents should they need to check the contents of your case, but will still protect your belongings from theft or damage.
TSA locks have a keyhole at the bottom that allows agents to use a special TSA key to unlock your suitcase. Although you can buy these locks to use on any type of case, some hardside cases have them already built-in.
Material and Durability
Hardside cases can be made from a variety of materials.
Aluminum — the heaviest of all hard cases, these are also the strongest and usually the most expensive. These cases look impressive, but they can scratch easily and do not always fair particularly well against the rough and tumble of air travel.
Polycarbonate — offering high-level impact resistance and impressive durability, polycarbonate cases are available in a wide range of colors and styles, all of which offer excellent protection against bumps, dings, heat, and moisture. As one of the most durable materials on the market, polycarbonate cases are virtually unbreakable.
ABS — being made from a mixture of 3 plastics, these cases are resistant to heat and impact and have a sophisticated, high gloss finish. ABS cases can be cheaper than some other materials, but they are not as strong as polycarbonate or aluminum cases and should only be bought if you are on a budget.
The Best Hardside Luggage
There are a whole host of different hardside suitcases out there to choose from, with various sizes to suit every budget. Here are some of the best.
Under $100
A Great Value Set for Travelers on a Budget
Rockland Luggage 20 Inch and 28 Inch 2 Piece Expandable Spinner Set
This impressive and super useful 2-piece expandable spinner set is perfect for short breaks and vacations for you and your family. Offering more packing space for your money, the set comprises:
1 large expandable spinner case measuring 28 x 17 x 12 inches
1 small expandable spinner case measuring 20 x 13 x 10 inches
Both cases are made from extremely lightweight ABS that will protect your belongings from damage in transit. They also feature 8 multi-directional spinner wheels that can rotate a full 360 degrees for easy maneuverability and a guaranteed smooth ride. The telescoping push-button handle also makes it easy for you to find the most comfortable position to wheel your cases with you, wherever you may go.
On the inside, the clamshell design of both cases makes packing a cinch, and the expandable dimensions mean you can squeeze even more clothes or souvenirs in there when you really need to.
Bottom Line: Fully lined interiors and stunning exteriors make this a great value set for travelers on a budget.
Basic by Name Only
Amazon Basics Hardside Spinner 20 Inch Suitcase
As part of the ever-popular Amazon Basics range, this cabin-sized hardside spinner is perfect for frequent flyers, business travelers, and holiday-makers alike. Made from extra-thick ABS this incredibly affordable, good looking carry-on case offers enhanced strength and durability.
Measuring a compact 14.4 x 9.2 x 21.6 inches, and weighing just 9.74 pounds, this hard shell suitcase even features a scratch-resistant finish to help it stay looking as good as new for many years to come.
On the inside, there is a fully lined interior with a divider and an incredibly durable 150D-polyester organizer with 3 zippered pockets for keeping your smaller items safe in transit.
With 4 double spinner wheels, this suitcase glides effortlessly in any direction, and the telescopic handle tucks away into the body of the case when you are not using it. Even more exciting, this little case has a handy expandable body, meaning you can squeeze an extra 20% capacity out of it when you need additional space for souvenirs on your way home.
Bottom Line: Basic in name only, this is a great little case for travelers on a budget.
Bold, Bright, and Ready for Anything
American Tourister Moonlight Expandable Hardside Luggage With Spinner Wheels
Designed to take you anywhere you want to go, this hardside suitcase range comes in a choice of 3 sizes:
The Carry-On Case measuring 20 x 14 x 9 inches and weighing 8.2 pounds.
The Checked-Medium Case measuring 24 x 16 x 11 inches and weighing 9.5 pounds.
The Checked-Large Case measuring 25 x 19.5 x 12.5 inches and weighing 11.5 pounds.
Available in a variety of attractive and eye-catching colors and prints, the American Tourister Hardside range is made using highly durable ABS and PC material. These cases also expand for added packing capacity and the deep main compartment and large interior pocket make light work of organizing everything you need for your next adventure.
The top of the range 360-degree spinner wheels help the suitcase to glide effortlessly, and the multi-stage aluminum pull handle with a wide, ergonomic grip means you can keep this baby close by your side at all times. With an ultra-strong zipper closure and the ability to add your own TSA-approved locks, these are great looking, practical and hard-wearing suitcases.
Bottom Line: These suitcases look a lot more expensive than they actually are — bold cases for big adventures.
Pretty on the Outside, Spacious on the Inside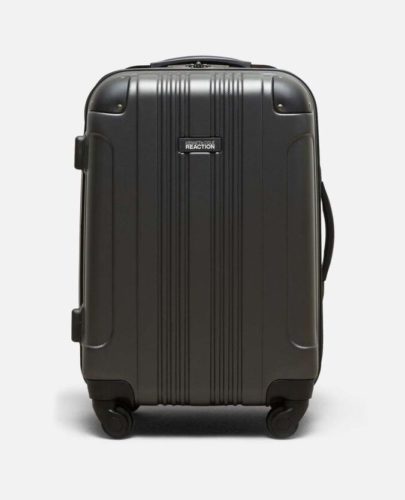 These multi-direction 8-wheel spinners offer super smooth 360-degree handling over any terrain, making them an excellent choice for both long-haul explorers and weekend adventurers alike. Available in a choice of sizes, the Reaction series will have the right size case to suit your requirements. Choose from:
The Small Carry-On measuring 17.25 x 13 x 9 inches and weighing 6.55 pounds.
The Large Carry-On measuring 22 x 17 x 12.0 inches and weighing 7.65 pounds.
The Medium Checked measuring 26 x 18.5 x 14 inches and weighing 8.9 pounds.
The Large Checked measuring 30 x 21.5 x 15 inches and weighing 11 pounds.
With protective hard shell cases made from lightweight and water-resistant materials, complete with molded edges for extra protection, these cases are able to easily stand up to the knocks and bumps of airline travel. Zippers are designed to be long-lasting and durable and you can use your own TSA-approved locks to keep your items safe in transit.
With 2 spacious, fully-lined interior compartments, as well as a choice of large mesh zipper pockets, this is an excellent hard shell case choice for travelers who need that little bit extra, as the case also expands up to 2 inches for that all-important, extra capacity.
Bottom Line: These attractive Kenneth Cole suitcases are strong yet spacious.
A Compact Carry-On, Perfect for a Weekend Away
Olympia Apache Ii 21″ Carry-On Spinner
This hardside suitcase from the luggage experts at Olympia features their unique "hidden compartment" feature, offering a secure space for your most prized possessions. Made from rugged and durable, lightweight ABS material, this suitcase also expands to give you the crucial extra space to hold everything you need for your next trip.
Measuring a compact but convenient 9 x 14 x 21 inches and weighing just 6.2 pounds, this carry-on case adheres to authority regulations and has enough room to hold all you need for a short break or weekend away. The interior is fully padded, giving it an upscale feel and the hidden pocket, buckle tie-downs, and useful wet zip pouch will keep your clothes organized on the journey.
The 4-wheel spinner design helps it glide effortlessly along next to you, while the high-quality aluminum locking handle system makes it easy to find the most comfortable position to suit your height. This little carry-on has enough space for everything you need.
The Apache series of suitcases also offers 2 further sizes:
25-inch spinner check-in measuring 25 x 17 x 10 inches and weighing 7.9 pounds.
29-inch spinner check-in measuring 29 x 19 x 12 inches and weighing 9.7 pounds.
Bottom Line: With its rugged good looks and durable construction, this little case is well equipped to deal with many years of airline travel.
Go Anywhere With the Goplus Range
Goplus 20″ Expandable Carry-On Luggage, Hardside Suitcase
Made with a lightweight, durable ABS hard shell and a selection of colors to choose from, the Goplus luggage series is a brilliant budget option for travelers who want high quality at low prices.
The carry-on case measures 16 x 10 x 23 inches. Not enough space for your belongings? Each of the cases in the Goplus range is expandable, giving you extra space when you need it most.
On the inside, there are several multi-use compartments and zippered pockets for keeping your belongings well organized, and the cross straps secure tightly to prevent your clothing from moving around in transit.
Bottom Line: The 4 flexible 360-degree universal wheels make it easy for you to roll the case alongside you through the concourse, and the premium metal pull rod and handle are designed to last through many years of international adventures.
From $100
Sophisticated Suitcases for the Discerning Traveler (Top Pick)
The Delsey Paris Helium Aero range is made from lightweight and durable polycarbonate, that is extremely resilient to cracking, breaking, and the usual bumps and rigors of air travel. Choose from a variety of different sizes, including the:
For even more valuable space for your travel belongings, each of these Delsey cases expands up to 2 inches for additional packing space.
Double spinner wheels assure smooth maneuverability no matter what the terrain, and the sophisticated handle system has 2 locking positions to help you find the most comfortable height for pulling.
Inside the case, there are 2 large, fully-lined compartments with multiple pockets that allow easy access and organization for all of your items. To protect your belongings in transit, these Delsey cases also offer TSA-approved locks that only allow access to TSA agents and will keep your belongings safe from intruders along the way.
Bottom Line: Delsey offers good-looking premium suitcases that are built to last and have a large collection of luggage items.
Upscale Cases With an Affordable Price Tag
This elegant and upscale hardside suitcase is perfect for the stylish traveler and those that appreciate the finer things in life. With leather-like accents and a deluxe interior, this 100% virgin polycarbonate case is one of the best your money can buy.
Available in a selection of sizes and colors, you can choose from:
If you really want to travel in style, invest in the complete set.
Not only blessed with stylish good looks, the Paris range also comes with some unique features. The award-winning brake system, for example, is button activated and will prevent your case from rolling away from you in transit, and the recessed integrated TSA-accepted lock and SECURITECH zipper offers maximum security for your belongings.
Finally, these case are pretty impressive on the inside, too. Designed for those who are really going places, the interior features a removable hanger, 2 full packing compartments with tie-down straps, as well as separate laundry and shoe bags.
Bottom Line: Upscale luggage from Delsey is perfect for the stylish traveler who wants to look great and buy quality.
Attractive Minimalist Aesthetic and Super Functional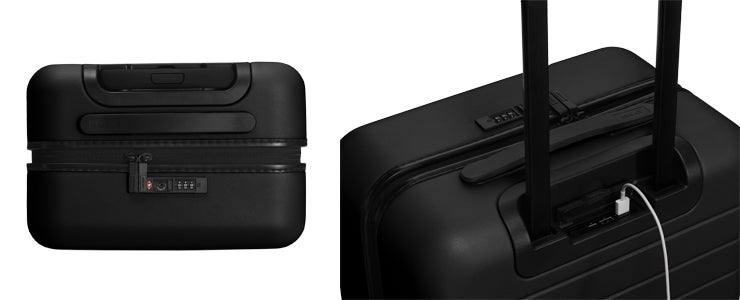 The Away Travel hardside suitcase range comes in a variety of colors and sizes and is built to last. Choose from:
Made from a high quality and extremely durable polycarbonate shell, all of the cases in the Away range are built to see you through many adventures. To keep your belongings safe, the cases also feature tough and durable zippers that slot directly into a TSA-approved combination locks that can be opened only when necessary.
On the inside of the cases, the buckle-down compression pads and straps help to keep your clothes well organized and wrinkle-free, and the hidden laundry bag will keep your damp or dirty items separate from the rest.
The whisper-quiet wheels roll along smoothly, and design touches like black leather luggage tags enhance the upscale look and feel across the range.
For Frequent Flyers Who Want Chic Design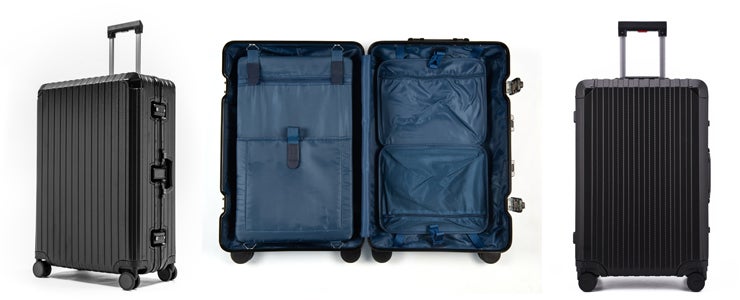 Use Our Special Promo Code: "UP25" for 25% off!
Made from an extremely high-grade aluminum alloy hard shell exterior, this range of cases is perfect for the stylish traveler who expects first-class performance from their luggage. The unbreakable aluminum-magnesium alloy shell is designed to withstand many years of bumps and knocks and the suitcases in this range come with a 5-year warranty.
Available in 3 different sizes, travelers can choose from:
The TREK Carry-On measures a compact 22 x 14 x 8.7 inches and offers a 39.7-liter capacity while weighing just 9.6 pounds.
The TREK Medium Checked is perfect for short trips away. This case measures 26.8 x 18.9 x 9.4 inches, weighs just 7 pounds, and has a useful 71.1-liter capacity.
The TREK Large Checked case is big enough to cope with all your family travel needs. Offering an impressive 104.6-liter capacity, and measuring just 29.5 x 20.9 x 11.4 inches, this remains a reasonably lightweight case with a weight of just 14 pounds.
Wheel your TREK case effortlessly with the ultra-smooth 360-degree spinner wheels and the aluminum telescoping handle. Reinforced corners help to protect your case from damage on the go, and the zipper-less closure offers state of the art, super-secure protection for your possessions.
With dual TSA-approved combination locks, your TREK case offers easy access when necessary, and supreme protection from damage and theft when you are traveling.
Bottom Line: TREK has a great range of hardside luggage with impressive features and incredibly durable construction.
Stylish Design With Military-Grade Materials
Spinner Suitcases by Chester
With a choice of both carry-on and checked luggage options available, these Chester cases feature a military-grade polycarbonate hard shell that is designed to protect your belongings wherever you may take them.
If you like to keep your belongings close at hand the Chester Carry-On measures 21.5 x 13.5 x 8.5 inches, meeting both the TSA and IATA cabin baggage guidelines. Weighing in at just 7 pounds, this lightweight but durable cabin case is perfect for short trips and frequent flyers.
If you need more space for your next adventure, the Chester Checked Spinner Suitcase has an impressive 76-liter capacity and neat 11 x 18 x 26 inches dimensions. The checked case weighs just 9.5 pounds.
Both cases come complete with silent 360-degree spinner wheels designed to glide effortlessly over any terrain and the 100% aluminum telescoping ergonomic handle offers superb control and maneuverability. The larger case also comes with a recessed TSA-approved lock to help you fly through TSA security without any problems.
On the inside, the case offers 2 zippered compartments, a flexible divider, and even a laundry pouch to keep your dirty clothes in.
Bottom Line: Modern design, lightweight, secure, and easy to maneuver, these spinner suitcases are a fine offering from Chester.
Big Brand Cases With Brilliant Credentials
Samsonite Winfield 2 Hardside Luggage With Spinner Wheels
Made from 100% lightweight polycarbonate materials, the Winfield collection offers a choice of 3 different cases to suit all of your traveling requirements. Choose from:
The Winfield Carry-On measuring just 20 x 13.5 x 9 inches and weighing a feather-light 6.7 pounds.
The Winfield Checked Medium measuring 24 x 16.5 x 11 inches and weighing just 9.3 pounds.
The Winfield Checked Large that offers a vast amount of storage space within its 28 x 19 x 12 inches dimensions with a respectable weight of 11.5 pounds.
Each of the 3 available cases offers the same high-quality construction that Samsonite is so famous for, and you will be able to wheel your luggage anywhere using the 4 multi-directional spinner wheels and engineered, telescopic handle. There is also a strong and durable zipper closure that has a side-mounted TSA-approved combination lock to ensure your belongings are never tampered with in transit.
On the inside, there are 10 oversized zipper and interior dividers and pockets that will keep your belongings well organized. All of the Winfield range also comes with a 10-year warranty against defects in materials and workmanship.
Bottom Line: The Winfield collection offers a choice of affordable, high-quality, hardside cases from the brand leaders at Samsonite — a big brand with brilliant cases.
Affordable and Impressive Suitcases From Samsonite
Samsonite Omni Expandable Hardside Luggage With Spinner Wheels
Designed to take on even the harshest of travel conditions, the Omni range from Samsonite takes form and function to the next level. Made from light but durable polycarbonate, these cases also feature a micro-diamond texture that is extremely scratch-resistant. 
Available in a variety of sizes, you can choose from:
The Cabin Bag measuring 19 x 14.5 x 9.75 inches and weighing 6.81 pounds.
The Checked Medium measuring 24 x 17.5 x 11.5 inches and weighing 8.34 pounds.
The Checked Large measuring 28.5 x 20.5 x 13.5 inches and weighing 10.35 pounds.
Each of the suitcases in this range has top and side handles for easy lifting, as well as heavyweight 360-degree spinner wheels that allow the case to glide effortlessly next to you while you travel. For added security, the flush-mounted Travel Sentry® combination lock will keep your belongings safe in transit while still allowing access by TSA agents if required.
This case is not just good looking on the outside — it is equally as impressive on the inside. With a full-zip interior divider and cross-straps to keep your clothes in place, the clamshell design makes this case super easy to pack and unpack as many times as you need to.
Bottom Line: The Omni is another great range of affordable and durable hardside suitcases from the experts at Samsonite.
Geometric Design for the Modern-day Traveler
Samsonite Centric Expandable Hardside Luggage With Spinner Wheels
Made by the luggage giants at Samsonite, this range of hardside suitcases offers all the premium quality and sophisticated good looks you would expect. Available in a selection of sizes and colors, you can choose from:
The Carry-On Case measuring 19.6 x 14.75 x 9.5 inches and weighing 7.5 pounds.
The Medium-Checked Case measuring 24 x 16.5 x 11 inches and weighing 9.0 pounds.
The Large-Checked Case measuring 27.75 x 19.6 x 12.4 inches and weighing 10.8 pounds.
With curiously geometric angles and a polycarbonate construction that is built to last, the Centric range is scratch and water-resistant and designed to withstand many years of air travel.
For additional security, the cases feature side-mounted TSA combination locks that require no keys, and the well-thought-out design also include an expansion on all sizes for that much needed extra space.
The 360 spinner wheels allow you to pull the case along next to you, and the telescopic handle helps to make it a comfortable ride.
Bottom Line: The Centric ranges is another winning selection of hardside suitcases from Samsonite. It's hard to go wrong with this brand.
Slim, Sophisticated, and Surprisingly Spacious
Samsonite Luggage Inova Hs Spinner 20 Metallic Silver
Made from 100% Makrolon polycarbonate, these cases are highly resistant to knocks, bumps, damp conditions, and other environmental impacts.
Perfect for travelers who like to keep their possessions close by, the Inova HS Spinner measures in at 20 x 15 x 7.5 inches and weighs just 6.6 pounds, making it one of the lightest carry-on luggage around.
360-degree easy-pivot spinning wheels make it super easy to take the case with you, and the handles fold flat so as not to impact on the external dimensions. The textured shell brushed finish also helps to reduce the visibility of scratches.
On the inside, the case offers a lined divider and cross straps to keep your clothes free from wrinkles in transit, as well as extra pockets to keep your gear in order. To ensure the safety of your stuff wherever you are headed, the case also comes with an integrated 3-digit TSA lock for your peace of mind.
Bottom Line: As part of Samsonite's lightest ever polycarbonate collection, the Inova suitcases have a slim profile, while still offering spacious interiors and outstanding performance.
A Good All-Rounder for Every Type of Traveler
Briggs & Riley Torq Hardside Spinner Luggage
This sleek and sophisticated hardside spinner case is the perfect blend of fashionable good looks and well-built practicality. Made from durable polycarbonate material, travelers can choose from:
The Torq International Cabin Case measuring 21 x 14 x 9 inches and weighing 6.9 pounds.
The Torq Checked-Medium Case measuring 27.5 x 18.5 x 11.5 inches and weighing 8.9 pounds.
The Torq Checked-Large Case measuring 30.5 x 20 x 12.5 inches and weighing 10.5 pounds.
With stylish good looks, a retractable handle and smooth, and quiet double spinner wheels, the Torq range are as good as any other on the market, but what sets these apart from the competition is the unique internal layout.
The 80/20 lid opening makes it easy to pack this case on your luggage rack and the top lid features pockets to help keep your belongings well organized. These cases also come complete with built-in garment hanging loops that hold suits or other items.
There is also a privacy pocket, a TSA-approved combination lock for added security, and the patented Smartlink System that allows you to transport 2 bags as 1 easily.
Bottom Line: The Tory is a great case for all of your carry-on requirements from a trusted brand.
Final Thoughts
Hardside suitcases offer tons of practical space when it comes to packing and superior protection for your prized possessions. While they can be a little more expensive to buy and a pound or 2 heavier to carry, modern-day hard shell cases offer some of the best carry-on and checked luggage solutions for every kind of traveler.
See things differently with an attractive and easy to maneuver hardside suitcase for your next adventure.