27 Benefits of the Amex Business Gold Credit Card – [$7,500+ Value] [2021]
The American Express® Business Gold Card isn't one of those showy new credit cards with a giant welcome bonus, hotel elite status, and airport lounge access (Priority Pass, Amex Centurion, etc.) — you'll have to dig deeper to find the real value your business can use with this card.
Fortunately, though, for the right business, the value is definitely there. In fact, if your business can use the offered benefits, you can save thousands of dollars during your first year of card membership.
But with that being said, this card isn't going to be valuable to all businesses.
Just like any business credit card, your spending categories need to align with the bonus categories, you'll need to use the offered benefits, and you have to find enough value in the benefits to offset the annual fee.
But with up to 4x earnings, rebates on airfare, and the ability to transfer points to travel partners, the card still offers plenty of value.
So that begs the question: does this card offer enough to be a valuable asset to your business?
We'll help you find the answer to that question in this article. Here, we'll take a look at all of the Amex Business Gold card's benefits and help you see if it delivers enough value for your business to justify applying.
Let's get started!
Amex Business Gold Card
Credit Card
Benefits & Info
American Express® Business Gold Card


Learn More

(at Amex's secure site)

Earn 70,000 Membership Rewards® points after you spend $10,000 on eligible purchases with the Business Gold Card within the first 3 months of Card Membership.
More Rewards: Get 4X Membership Rewards® points on the 2 select categories where your business spent the most each month
4X points apply to the first $150,000 in combined purchases from these 2 categories each calendar year.
Pay Over Time Option: A flexible payment option to help manage cash flow on purchases of $100 or more.
Good to Excellent Credit Recommended (670-840)
Annual Fee: $295
Terms Apply. For rates and fees of the Amex Business Gold card, click here.

$1,540

Must Reads: For more info on the Amex Business Gold Card see our guide on its benefits, top FAQ's and our full review.
Earning Valuable Membership Rewards Points
Membership Rewards points earned on this card are some of the most flexible and valuable points you can earn — and there are plenty of ways to earn them.
Earning rewards may not be the only reason you decided to acquire a business credit card, but it's always near the top of the list of card benefits.
That's because rewards can help offset bottom line costs such as travel expenses, or even fund an annual vacation you'd otherwise pay cash for.
A Generous Welcome Bonus — [$1,540]
While welcome bonuses vary, a 70,000 point welcome bonus can deliver tremendous value according to our latest valuations. You can earn the bonus by meeting minimum spending requirements within the first 3 months after card approval.
Accelerated Earnings in 2 Business Spending Categories — [$4,400]
There are 6 business expense categories that are eligible to earn 4x Membership Rewards Points per dollar spent. Earnings are applied automatically each statement period based on your 2 highest expenses.
If your business spends $50,000 in 4x bonus categories in a year, you'll earn 200,000 Membership Rewards points worth approximately $4,400.
$150,000 Bonus Spending Limit
You can earn 4x points per $1 spent on up to $150,000 in total purchases for all 4x qualifying business bonus spending categories each calendar year.
Elevated Earnings on Amex Travel Purchases — [$440]
Qualifying purchases made on Amex Travel using the card receive 2 Membership Rewards points per dollar spent. If you were to spend $10,000 on travel, you would earn 20,000 Membership Rewards points on your purchases.
Unlimited Earnings on Every Purchase — [$440]
All purchases earn at least 1 Membership Reward point per $1 spent, including bonus category spending that exceeds the annual $150,000 limit. There is no limit on how many points you can earn. If your business spent just $10,000 in non-bonus category spending or on 4x bonus purchases above $150,000 in a calendar year, you would earn 20,000 Membership Rewards points.
Hot Tip: From how to qualify to benefits and perks, our guide will walk you through all the frequently asked questions about the Amex Business Gold card.
Receive Big Value on Membership Rewards Redemptions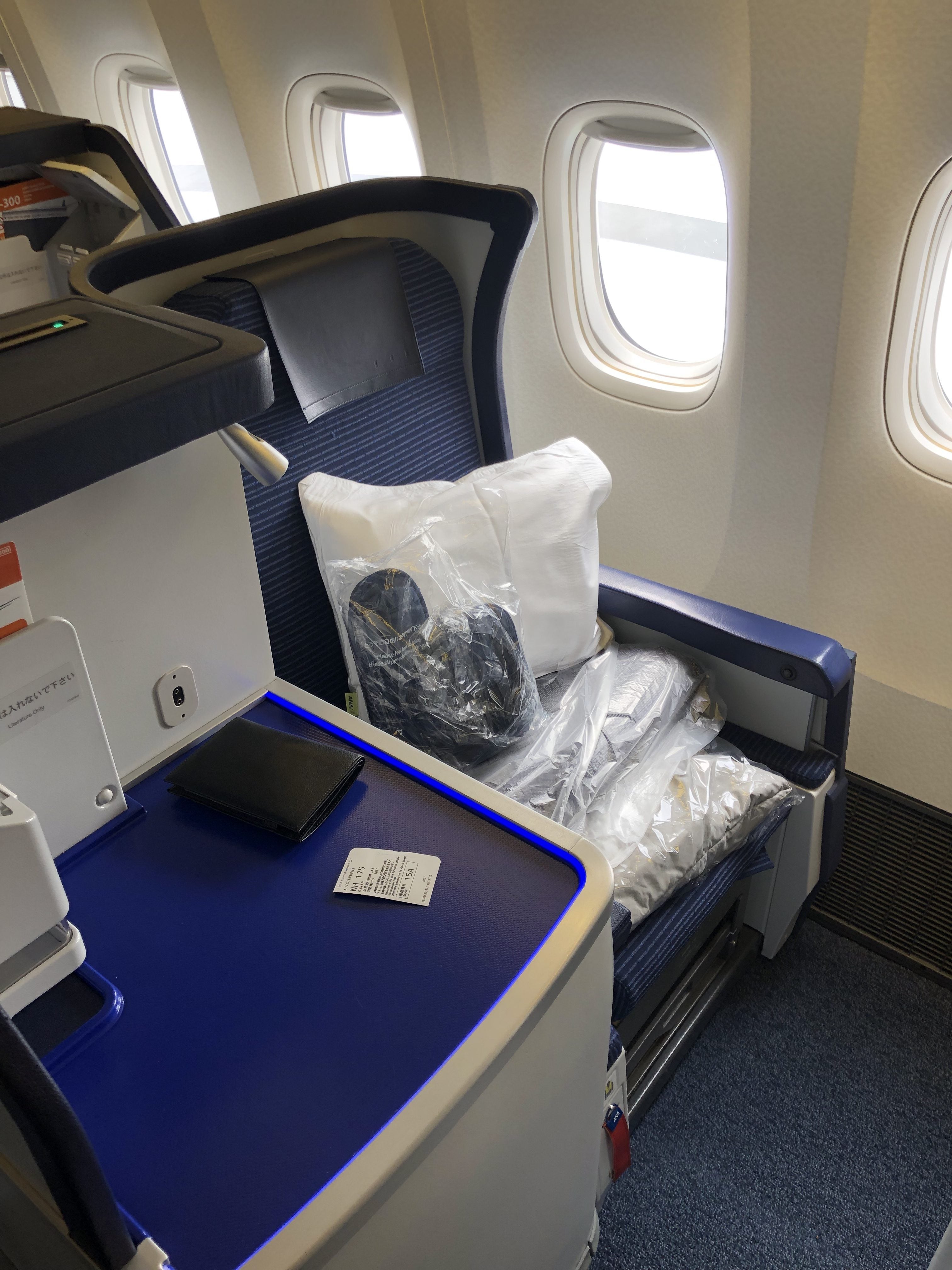 One of the best features of Membership Rewards points is that you can transfer your points to airline and hotel partners. You can use these transfer partners to redeem for luxurious travel experiences like ANA first class to Tokyo or a long weekend in Hawaii.
Below you'll find all of the Membership Rewards transfer partners:
Transfer to Airline Partners
Amex Airline Transfer Partner
Min Transfer
Transfer Ratio
(Amex > Partner)
Transfer Time
AeroMexico
1,000
1:1.6
2-12 days
Air Canada
1,000
1:1
Almost Instant
Alitalia
1,000
1:1
Almost Instant
Aer Lingus
1,000
1:1
Almost Instant
ANA
1,000
1:1
3 days
Avianca LifeMiles
1,000
1:1
Almost instant
British Airways

1,000
1:1
Almost Instant
Cathay Pacific
1,000
1:1
Up to 1 Week
Delta Air Lines
1,000
1:1
Almost Instant
Emirates
1,000
1:1
Almost Instant
Etihad Airways
1,000
1:1
Almost Instant
Flying Blue Air France/KLM
1,000
1:1
Almost Instant
Hawaiian
1,000
1:1
Almost Instant
Iberia
1,000
1:1
1-3 days
JetBlue
250
1:0.8
Almost Instant
Qantas
500
1:1
Almost Instant
Singapore Airlines
1,000
1:1
1-2 days
Virgin Atlantic
1,000
1:1
1-2 days
Transfer to Hotel Partners
While you have the ability to transfer your Membership Rewards points to hotel partners, it's not the best value for your points. Having the option is a positive though — especially if you need to top off your hotel rewards account for a specific redemption.
25% Airline Redemption Rebate on Amex Travel
You can redeem Membership Rewards points at 1 cent per point on Amex Travel. Using this booking portal, you can book airfare, hotels, cruises, and more with your Membership Rewards points.
Further, Amex Business Gold cardmembers will receive a 25% points rebate when redeeming points for first or business class airfare through Amex Travel. This means that you can effectively redeem Membership Rewards at 1.25 cents per point through Amex Travel.
Generally, though, you'll still find better value when transferring your Membership Rewards points to the transfer partners we mentioned earlier.
Hot Tip: Amex Travel purchases covered with points are still paid tickets. This means that you'll earn airline miles on your Amex Travel airfare, so make sure to add your frequent flyer number after booking.
Travel Protections and Benefits
Travel Protections — [$175]
Car Rental Loss and Damage Insurance — Secondary coverage on eligible rental vehicles with the option to purchase Premium Protection for 1 low fee that covers the entire rental period. Prices range from $12.95 to $24.95 depending on location and level of coverages selected. On a 10-day rental, you could save, for example, ~$200 by not having to select the agency's LDW coverage (at $20 per day).
Global Assist Hotline — Receive general travel, legal, medical, and financial assistance if things go wrong while you're traveling.
Baggage Insurance Plan — You are covered for lost, stolen, or damaged luggage up to $1,250 per covered person.
Travel Benefits — [$200]
The Travel Collection
You would normally have to pay $295 for an annual membership with The Travel Collection by Travel Leaders Group. Fortunately, you'll enjoy complimentary membership for as long as you have your Amex Business Gold card. Having membership alone won't add any value, but if you book a flight and hotel with The Travel Collection you're sure to save a couple of hundred dollars each year.
Airfare Discounts — Enjoy airfare discounts on several international airlines and on United Airlines. Ticketing fees are currently waived for cardholders.
Hotel Benefits — Receive room upgrades, complimentary breakfast, free Wi-Fi, and a room credit (2-night stay required).
Travel Discounts — Receive discounted pricing on car rentals, vacation packages, cruises, and escorted tours.
Personalized Travel Planning — Receive professional assistance before, during, and after your travels.
You must call 877-485-8053 to register and get access to The Travel Collection members-only website.
The Hotel Collection 
Book a prepaid hotel stay of 2 nights or more through qualifying American Express Travel providers, pay with your Amex Business Gold card, and receive room upgrades and a credit at checkout for select charges. Read more about Amex's Hotel Collection.
Receive an upgraded room and other amenities based on availability
$100 hotel credit on all stays for use on dining, spa, or other on-site resort purchases
Bookings made on AmexTravel.com receive 2 Membership Rewards points per $1 spent, or the stay can be paid for with the Pay with Points option
Shopping Benefits and Protections
Shopping Protections — [$100]
Extended Warranty — On qualifying items purchased with your card, the manufacturer's warranty of less than 5 years is extended by 1 year.
Purchase Protection — Receive coverage for eligible items purchased with the Amex Business Gold card for accidental damage or theft, up to 90 days from the date of purchase; coverage is up to $1,000 per item and $50,000 per year.
Shopping Benefits — [$300+]
Amex Offers

Too big of a deal to miss out on, Amex Offers can literally save you thousands a year. You'll find these offers listed on your account home page; just scroll down the page and select the offers that interest you.
Just add the offer to your card and follow the purchasing terms and conditions to receive statement credits or additional Membership Rewards points.
Business Expense Management Tools
If time is money, having the right business management tools can deliver economic value.
Connect to Quickbooks — Transfer data from your Amex account to your Quickbooks account
Free Employee Cards — Earn rewards faster and manage every expense with extra cards for your employees
American Express Business App — Add receipts and notes to your transaction via desktop or mobile device
Online and Year-End Statements — View your spending history and access reports to help at tax time
Mobile Account Management — Access your account from anywhere
Account Alerts — Set up account alerts for unusual spending, payment reminders, or to monitor employee spending
Hot Tip: Wondering how this card stacks up against The Business Platinum Card® from American Express? Check out our comparison here: Amex Business Platinum card vs. Amex Business Gold card.

Additional Travel and Entertainment Perks
Your business could realize additional savings if it makes foreign purchases as no foreign transaction fees will be charged.
No Foreign Transaction Fees — Use your card anywhere in the world with no transaction fees added
Event and Entertainment Access — Ticket presale privileges, VIP event access, and preferred seating
Cash Flow and Finance Benefits
Pay Over Time — When this benefit is turned on, purchases of $100 or more automatically qualify to be paid back over time with interest.
No Preset Spending Limit — Your spending power adjusts as you use your card
Vendor Payment — Have American Express pay your vendors even if they don't take credit cards, then repay American Express within 30, 60, or 90 days
Terms and conditions apply to all protections/benefits. You can access full descriptions and links to terms and conditions for each protection and benefit mentioned here.
Final Thoughts
The Amex Business Gold card is one of the most feature-packed business cards on the market, but you should still review its benefits and earning potential carefully to see if it makes sense for your business.
You'll find benefits with elevated earnings of 4x on select bonus categories, Amex Offers, business management tools, and some ancillary travel benefits.
If you'll spend more than $7,500 a year in 4x categories, take advantage of a few Amex Offers, and receive a discount on airfare through The Travel Collection, you will find plenty of value in the card.
Obviously, our value estimates are based on theoretical business spending scenarios. The value you actually receive will depend on how you utilize the card.
To check out other business credit cards for comparison, we've put together a full lineup of the best small business cards for maximum rewards and cash-back.
---
For rates and fees of the American Express® Business Gold Card, please click here.