How to Find the 80k (Or Even 100k) Welcome Bonus Offer for the Delta Reserve Card [2021]
The Delta SkyMiles® Reserve American Express Card is a premium credit card designed for those who are frequent Delta flyers and want a card that enhances their flight experience and makes it easier to attain elite status with Delta.
If you're interested in the Delta Reserve card, you should know that the welcome bonus offered can fluctuate. But in this post, we will outline a few ways to help you get the biggest bonus possible.
Benefits of the Delta Reserve Card
Before we discuss the ways to find the highest bonus possible, you'll want to make certain that the Delta Reserve card is a good fit for you. Here are some of the best benefits of the card.
CREDIT CARD
CARD INFO

Delta SkyMiles® Reserve American Express Card


Apply Now

(at Amex's secure site)

Limited Time Offer: Earn 80,000 Bonus Miles and 20,000 Medallion® Qualification Miles (MQMs) after you spend $5,000 in purchases on your new Card in your first 3 months and a $200 statement credit after you make a Delta purchase with your new Card within your first 3 months. Offer expires 7/28/2021.
Complimentary access into the Delta SkyClubs® for you when traveling on a Delta flight.
Enjoy complimentary access to The Centurion® Lounge when you book your Delta flight with your Reserve Card.
Fee Credit for Global Entry or TSA PreCheck®.
Enjoy your first checked bag free on Delta flights.
Earn 3X Miles on Delta purchases.
Earn 1X Mile on all other eligible purchases.
Good to Excellent Credit Recommended (670-850)
Annual Fee: $550
Terms Apply. For rates and fees of the Delta Reserve card, click here.

Must Reads: For more info on the Delta Reserve card, see our insights on its benefits and our full review.
Other Key Benefits
Complimentary Delta Sky Club Access: Visit Delta Sky Clubs for free anytime you fly with Delta. You'll also receive 2 Delta Sky Club 1-Time Guest Passes each year.
Complimentary Access to Amex Centurion Lounges: Visit any Amex Centurion Lounge when you book your Delta flight with your Delta Reserve card.
Annual Companion Certificate: Receive a domestic first class, Comfort+ or main cabin round-trip companion certificate each year upon card renewal.
Global Entry/TSA PreCheck Credit: Receive a statement credit of $100 for Global Entry or $85 for TSA PreCheck.
Upgrade Priority: Receive upgrade priority over other Medallion members within the same Medallion level and fare class grouping.
Access to Complimentary Upgrades: If you don't have Medallion Status, your Delta Reserve card adds you to the Complimentary Upgrade list, after Medallion Members.
First Checked Bag Free: On all Delta-marketed and Delta-operated flights, you and up to 8 others on the same reservation will get your first checked bag free of charge (saving up to $60 per passenger, per trip).
Priority Boarding: You will be placed in the Main Cabin 1 boarding group on flights operated by Delta and Delta Connection. This benefit also applies to up to 8 traveling companions on the same reservation.
20% Back on Inflight Purchases: You'll receive 20% back when you use your card to pay for items like food, beverages, or Wi-Fi.
How to Find the 80,000 or 100,000 Delta Reserve Card Bonus Offer
If you're looking to get a higher welcome bonus than the current public offer, here are a few ways to track down an increased bonus!
Increased Public Welcome Offer
Occasionally, American Express will run a limited-time promotion where it increases the public offer on the American Express website. If you happen to get the timing right, this is a perfect time to apply for the Delta Reserve card. Otherwise, you'll have to wait until it runs another promotion.
Utilizing CardMatch (Recommended)
CardMatch, is a credit card matching tool offered by the website CreditCards.com. Its primary service is to match you with targeted credit card offers from major U.S. banks like American Express and Chase.
With CardMatch, depending on your eligibility, you could see offers up to 100,000 SkyMiles for the Delta Reserve card.
Not only does CardMatch show you offers that you're targeted for, but it also shows you credit cards that you're pre-qualified for. Why is that helpful? Put simply, pre-qualified offers are offers that you're very likely to be approved for. Of course, approval is never guaranteed, but if you're pre-qualified you're much more likely to be approved than an applicant who is not pre-qualified.
Just to clarify, when using CardMatch, there's no guarantee that you'll see better offers than what is offered publicly. But it is worth the few minutes it takes to check, especially since the service is free and your credit doesn't get pulled.
Using the CardMatch tool is quite easy, and requires just 3 pieces of information:
Full Name
Address
Last 4 digits of your Social Security number
If you're worried about security concerns with providing any of this information, you'll take comfort knowing that the entire CreditCards.com website is secured using 256-bit encryption is a PCI Level 1 Compliant organization. This is the same level of security offered by most banks and other financial organizations.
Lastly, if you're worried about this adding a new inquiry to your credit report — you have no need to worry! When you use the CardMatch tool, you will not receive a hard pull or new inquiry on your credit report. This information is only used to determine what credit offers you've been targeted or pre-qualified for.
Hot Tip: For a step-by-step guide on how to get personalized offers through CardMatch, explore our detailed guide on CardMatch.
Targeted Offers at the Delta/American Express Website
Delta and American Express have teamed up to put together a helpful landing page designed entirely to match you with targeted offers for the Delta co-branded American Express cards. Here's how it works.
Step 1: Sign Up for a Delta SkyMiles Account
For starters, if you do not already have a Delta SkyMiles account, you're going to need one. The website will not allow you to check for targeted offers without entering a Delta SkyMiles number. Plus, it is free to sign up and you cannot earn miles when flying with Delta without one!
To sign-up, visit the Delta SkyMiles enrollment website.
Step 2: Visit the Delta/Amex Website to See If You Have Targeted Offers
Once you've signed up for a SkyMiles account, or if you already had one, you'll want to head to the Delta/American Express website. Once there, all you need to do is enter your Delta SkyMiles number and your last name, then click View My Offer.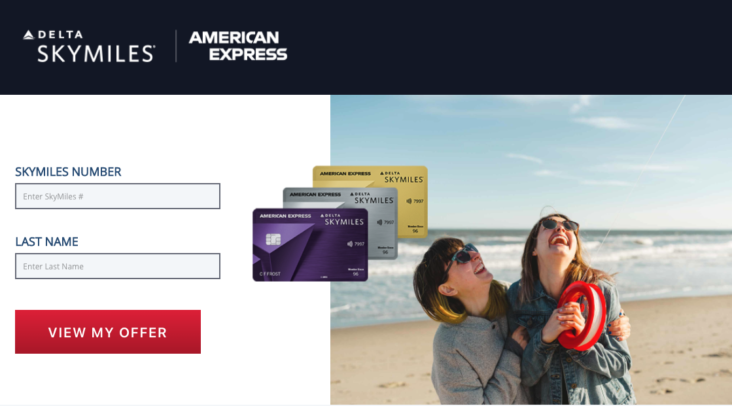 Step 3: Review Your Offers 
After you click View My Offer, the page will load any and all targeted offers that you're eligible for. If no offers appear and the page gives an error message which reads "Please Verify The Information You Entered Is Correct And Try Again," that means you are not targeted for any offers at this time.
Bottom Line: If your SkyMiles account is not targeted for any offers at this time, do not let that discourage you from trying again in the future. Targeted offers, just like public offers, can change often — so it is always worth taking the time to check!
Targeted Mailings From American Express
If you want American Express to contact you directly anytime you have a targeted offer for one of their credit cards, you should strongly consider opting in to receive mailings from American Express.
That's right — if you opt-in to receive these offers, American Express will send you mailers with exclusive offers tied specifically to your account — but only if you opt-in.
If you want to opt-in, head to the communications preferences in your American Express account and enable communication via mail and email.
Check for Pre-Qualified Offers With American Express
American Express also allows you to check for pre-qualified offers directly on their website and, occasionally, these pre-qualified offers also come with an increased welcome offer!
Checking for pre-qualified offers on the American Express website is easy. First, head to the American Express website, then click Cards, followed by Check for Pre-Qualified Credit Card Offers. This will allow you to see all the cards you have pre-qualified offers for, across the entire suite of American Express personal cards.

Reasons You May Not Be Able to Get a Higher Welcome Offer
The Current Public Offer Is Not an Increased Offer
If the current public offer from American Express is not an increased offer, then obviously, that makes it a bit more difficult to track 1 down.
In this case, you could check CardMatch, wait until you receive a targeted offer, or wait for American Express to bring back a higher welcome offer.
Low Credit
This one is that people can fail to consider but, if you have a low credit score, it is very unlikely that you will be approved for the Delta Reserve card, regardless of the offer you are applying for.
So what should you do if you get denied or think you're unlikely to get approved with your current score? Focus on improving your credit score first! Work on paying down any current credit card debt you might have, and make sure you're paying your credit card statements on time each and every month.
You've Opted out of Marketing Offers
If you don't take it upon yourself to opt-in to marketing offers from American Express, then you are not going to receive any and could be missing out on targeted offers. If you want to make sure you receive these targeted offers, then you need to opt-in!
Final Thoughts
The Delta Reserve card is one of the best cards on the market for frequent Delta flyers. Those with the card will find it easier to reach higher status levels with Delta, and can even get on the upgrade list without having any status at all!
So, if the Delta Reserve card sounds like a perfect fit for you and your needs, it's worth taking some extra time to make sure you're getting the best offer possible!
Once you've got a nice stockpile of Delta SkyMiles, here are a few ways you can redeem those SkyMiles for huge value!
---
For rates and fees of the Delta SkyMiles® Reserve Card, please click here.