First Progress Platinum Secured Cards (Prestige, Select, and Elite)
First Progress Platinum secured cards are full-service credit cards that secure credit against a security deposit rather than relying on an individual's credit history. They're a good option for individuals who have a poor credit rating, or for those who are just starting out on the credit ladder.
These cards don't require a credit check on application and approvals are not based on a minimum credit score, so they are very accessible for those who might otherwise be rejected after a credit inquiry. All cards report activity to the 3 big credit bureaus each month to help establish or restore credit history.
First Progress Platinum Secured Cards at a Glance
Platinum Secured Cards come in 3 options — Prestige, Select, and Elite — each offering different interest rates and monthly fees. By choosing a higher monthly fee, you're buying down the monthly interest rate, which is useful if you don't plan to pay off the balance each month.
The cards work by granting credit up to the value of a security deposit that is submitted by the customer at the time of application (and can be increased afterward). This limits the risk to the credit card provider as they always have the funds to cover the outstanding balance, should the customer fail to pay this off.
Applying for a First Progress Platinum Secured Card
Applicants must be at least 18 years old (19 in Alabama and Nebraska) and have a valid Social Security number
Applicants must be a resident of a U.S. state (excluding Arkansas, Iowa, New York, or Wisconsin where the program is not yet available)
Applicants may be ineligible if they applied for another credit card issued by First Progress within the last 30 days
To apply, complete your information within this online form that requires your name, address, date of birth, Social Security number, and information about your income and expenditures. Once you have accepted the terms and conditions, you'll need to pay your deposit, which will be returned to you if you're not approved for the card.
Applications can take up to 3 weeks to process, or you can pay $19.95 for an expedited service taking 7 days or less. A bank account is required to make monthly payments to pay off your balance.
Security Deposit and Credit Limit
All First Progress Platinum secured cards require a security deposit to open the card, and credit is secured against these deposited funds. A minimum deposit of $200 is required, which would mean that your credit limit would also be $200 (less your annual card fee). The maximum amount that can be deposited is $2,000, and deposits can be increased after the initial application, by calling First Progress at 866-706-5543.
When you come to close your card account, the full deposit will be returned to you, provided there is not an outstanding balance to settle. If an outstanding balance is due, then the deposit will be returned minus the amount due.
First Progress Platinum Secured Cards Features and Drawbacks
No credit check is required for application and approval is not based on your credit history
Card account activity is reported to all 3 credit bureaus (Experian, TransUnion, and Equifax) to help you build on your credit rating
Payment due dates are at least 25 days after the balance closes and no interest is charged if you pay off your balance monthly
Minimum interest is $1.50 per month when carrying over a balance
As with most credit cards, First Progress has a variable APR based on the market rate, so you need to be aware that charges and repayments are subject to change
A bank account is required to make monthly payments
All 3 cards are basic credit cards for building credit, so customers won't earn any rewards for spending
First Progress Platinum Secured Cards Online Account
Customers can register their card for online account management by clicking the Customer Center button at the top right corner of the First Progress website. From here, customers can view account information and pay bills.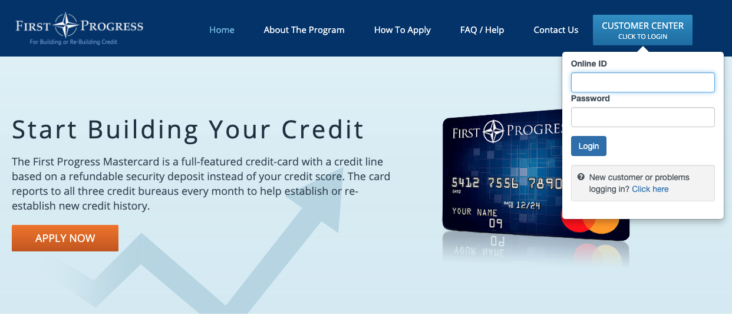 Which First Progress Platinum Secured Card Should I Choose?
If you are approved for one of the First Progress Platinum secured cards, then you would also qualify for either of the other cards available, should your situation change and a different interest rate/monthly payment be more suitable.
If you're confident that you'll repay your balance every month, then opt for the First Progress Platinum Elite card that offers the lowest annual fee. If you pay back your balance every month, then the high-interest rate wouldn't impact you, but if your financial situation changes, do take into consideration that the First Progress Platinum Select card.
With the average interest rate for a secured credit card at around 18%, the First Progress Platinum Prestige card is a good option if you are looking for a low-interest credit card if you need to carry your balance.
Other Secured Cards (Our Recommendations)
If you're interested in some other secured card options, then consider the OpenSky® Secured Visa® Credit Card, which does not pull your credit when you apply, allows you to set your own credit limit, reports your payments to all 3 credit bureaus, and has an annual fee of just $35.
Looking for a no-annual-fee option? The Secured Mastercard® from Capital One® does not charge an annual fee, offers an initial credit line of $200 after making the security deposit, and gives you access to a higher credit limit after the first 5 months of on-time payments.
Hot Tip: Curious what other secured card options are available to you? Check out our post on the best secured credit cards for those with low credit or no credit at all. 
Final Thoughts
First Progress Platinum secured cards are useful if you need to build-up a non-existent or damaged credit history, or if you have a tendency to spend beyond your means.
With your credit limit matched against your security deposit, this can help manage over-spending — however, it can also prevent cardholders from achieving the ideal credit utilization ratio. It's recommended to spend 10-30% of your credit allowance to have the most positive impact on your credit rating, but this can be tricky to do if you've only got a $200 credit limit.
So if you're a sensible-spender, it's worth putting down a higher security deposit if you can to achieve a lower credit utilization, and pay off your balance on a monthly basis. Once you've built-up a favorable credit history, then you can start to think about applying for a non-secured credit card that may offer spending rewards and other perks.