21 Benefits of the Amex Delta Gold Business Card
If your business involves travel, having a travel rewards credit card should be a priority for many reasons. Earning rewards on every purchase your business makes and taking advantage of perks that make your travel more comfortable are just a couple of the benefits.
If your business involves frequent travel on Delta Air Lines, there can be additional reasons to consider a Delta-branded business credit card.
American Express issues several Delta-branded credit cards that are designed to provide flight benefits for Delta flyers, accelerate the earning of Delta SkyMiles, and even make it easier to qualify for Delta Medallion elite status.
But for today we're going to talk specifically about Delta's entry-level business card, the Delta SkyMiles® Gold Business American Express Card.
The card offers value for the Delta business flyer who doesn't want to pay a high annual fee but would still enjoy Delta benefits, earning Delta SkyMiles, and savings.
Let's look at what the card has to offer and if it's an appropriate match for your level of Delta travel.
Earning Delta SkyMiles
1. A Generous Welcome Bonus
Welcome bonuses change, but after meeting minimum spending requirements, you can expect to receive Delta SkyMiles.
CREDIT CARD
CARD INFO

Delta SkyMiles® Gold Business American Express Card


Learn More

(at Amex's secure site)

Limited Time Offer: Earn 70,000 bonus miles, and a $50 statement credit after spending $2,000 in purchases on your new Card in your first 3 months. Offer Ends 11/10/2021.
Additionally, take $100 off your next Delta flight – after you spend $10,000 in purchases on your Card in a calendar year, you will earn a $100 Delta Flight Credit to use toward future travel.
Earn 2 Miles on every dollar spent on eligible purchases made directly with Delta, on every dollar spent on eligible U.S. purchases for advertising in select media, on every dollar spent on eligible U.S. shipping purchases, on every eligible dollar spent at restaurants. Earn 1 Mile on every eligible dollar spent on other purchases.
Check or stow your bag with ease: First Checked Bag Free + Main Cabin 1 Priority Boarding.
Pay no foreign transaction fees when you travel overseas.
Good to Excellent Credit Recommended (670-840)
Annual Fee: $0 introductory annual fee for the first year, then $99.
Terms Apply. For rates and fees of the Delta Gold Business Card, click here.


$700
This spending requirement must be met within the first 3 months after card approval. Once completed, the welcome bonus miles will be deposited into your SkyMiles frequent flyer account, ready to redeem.
2. Earn More on Delta Purchases
You'll earn 2 miles per dollar spent on your card for all Delta purchases. Qualifying purchases include any purchase where Delta is the vendor. This includes flights, Delta vacations, Sky Club memberships, inflight beverages, headsets, inflight food, and purchasing miles.
3. Earn Double Miles on Specific Business Categories
You'll also earn 2 miles per dollar spent on U.S. shipping purchases and U.S. select media advertising. Qualifying media includes television, online advertising, and radio ads.
4. Earn When Dining Worldwide
Restaurant purchases worldwide will earn 2 miles for every dollar spent on the card.
5. Earn on Every Purchase You Make
All purchases other than the previously mentioned bonus categories earn 1 mile per dollar spent on the card.
6. No Limit on Earning Miles
You'll always be earning SkyMiles when spending on your card as there is no limit to how many miles you can earn each year.
7. Earn for Referring a Friend
Earn at least 5,000 Delta SkyMiles or more when a friend you refer is approved for the Gold Delta Business card or other eligible Delta Amex card.
8. Additional Users
There is no charge to add additional users to your card (see rates and fees). Adding employees can help you control and track expenses, plus you'll be earning additional SkyMiles.
Bottom Line: Earn double miles on Delta purchases, U.S. shipping purchases, U.S. select media advertising, and restaurant purchases worldwide. 
Delta Travel Benefits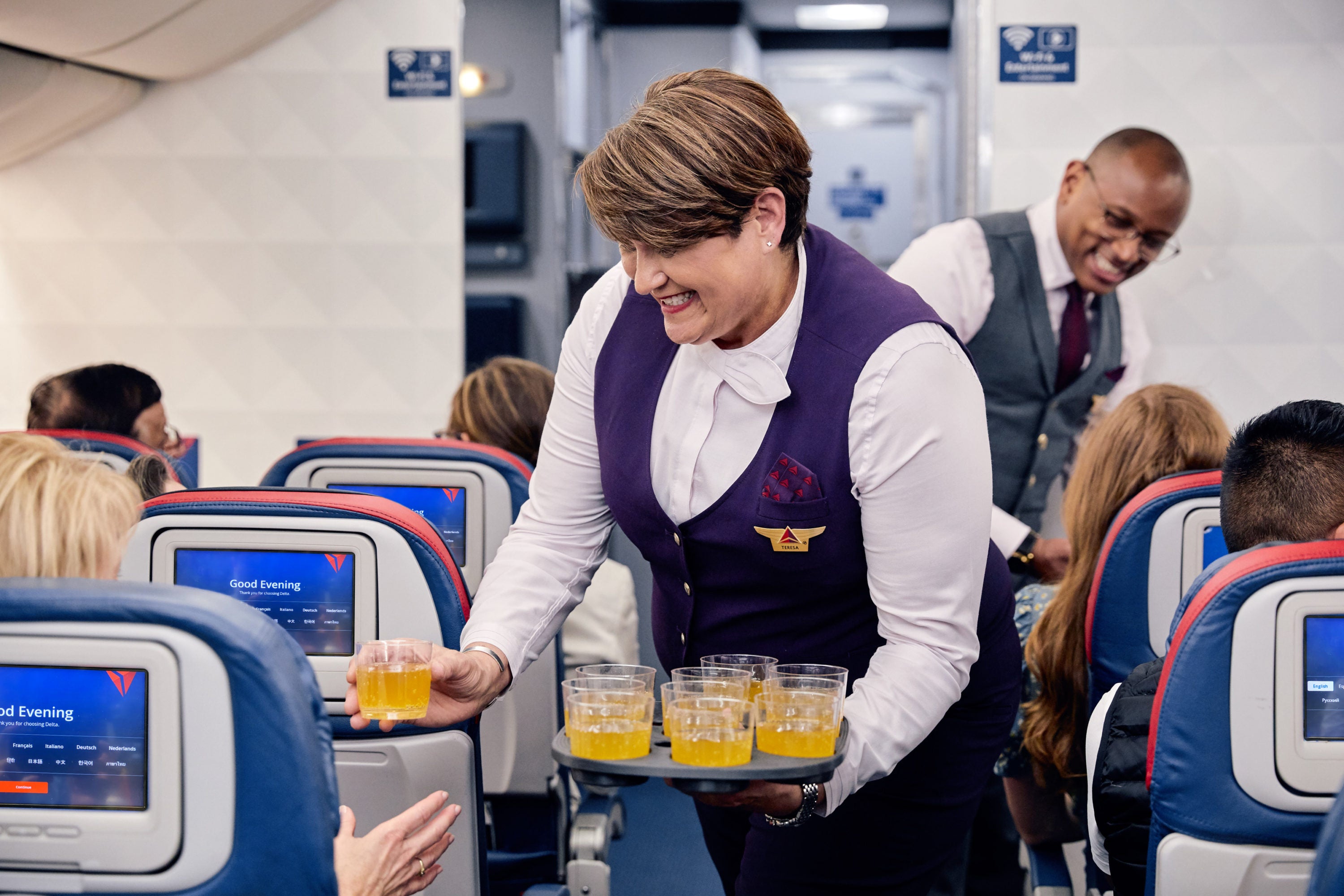 Travel benefits that come with the card can save you money and make your trip more pleasant. You can expect these benefits by having the Gold Delta Business card.
9. Priority Boarding
Board the plane early with Main Cabin 1 priority boarding for you and up to 8 of your traveling companions on the same reservation.
10. Free Checked Bag
Checking bags can be expensive. The free checked bag benefit that comes with your card could save you hundreds of dollars each year if you're a frequent Delta traveler.
Receive 1 free checked bag for you and up to 8 companions traveling on the same reservation.
11. Delta Flight Credit
Spend $10,000 in a calendar year on your card and receive a $100 credit towards a future flight.
12. Inflight Discounts
Purchase beverages, inflight meals, or headsets during your flight and receive a 20% statement credit based on the total amount of your purchases.
13. Discounted CLEAR Membership
Bypass the line at the security checkpoint with CLEAR membership. CLEAR is an expedited security clearance system that allows you to validate your ID with just your eyes or your fingerprints. An annual membership costs $179 but cardholders receive discounted membership for $109.
CLEAR kiosks are currently available at over 30 locations.
Bottom Line: Having the Gold Delta Business card can save you money with a free checked bag for you and your traveling companions, a flight savings voucher, discounts on inflight purchases, and discounted CLEAR membership.
14. Redeeming Your Miles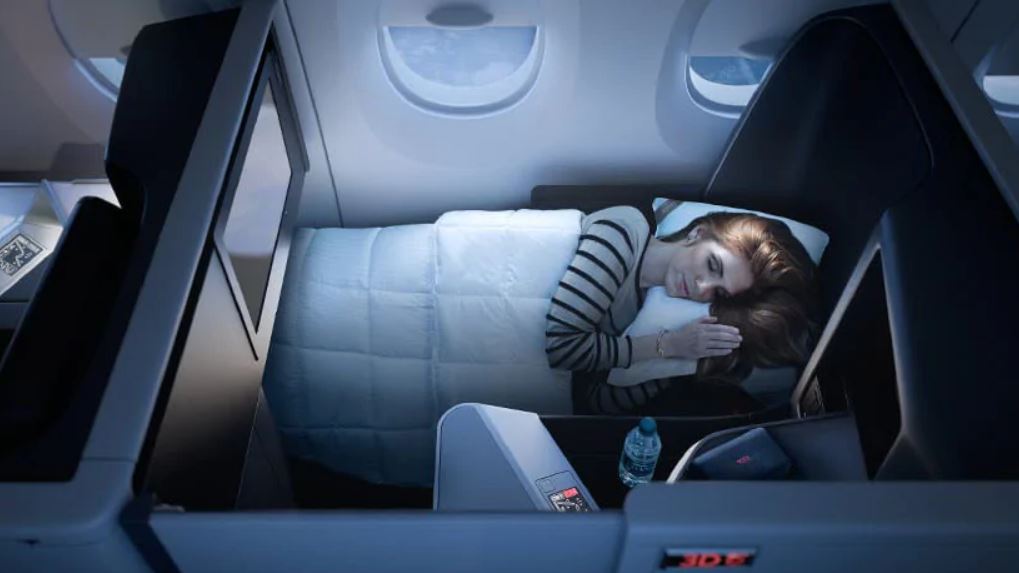 You'll be earning a lot of SkyMiles on your Gold Delta Business card and, fortunately, there are scores of ways to redeem them.
While most of these redemption options are not specifically card benefits, we're including the options so you get the full scope of available options for redeeming your SkyMiles.
Pay for Your Flights With Miles
The Pay With Miles benefit that comes with your card is a key feature that allows you to use miles to pay for eligible flights. Each 5,000-mile increment results in a $50 credit towards the cost of your flight. You can pay for just a portion of your flight cost or the entire flight.
Best of all, you'll earn bonus miles when you fly your Pay with Miles itinerary and Medallion Qualifying Miles on the portion you paid for with your card.
Redeem Miles for Delta Award Flights
Delta award flight pricing is quite dynamic, and while there is no published award chart, you can find flights starting at just 10,000 SkyMiles.
For international itineraries, you'll pay much more, of course, but you can still find good value and tremendous deals when Delta runs their flash sales.
Redeem Miles for Flights With SkyTeam Alliance and Partner Airlines
Your SkyMiles can take you around the world when you redeem miles for award flights with partner and SkyTeam Alliance airlines.
Redeem for Seat Upgrades and Ticket Fees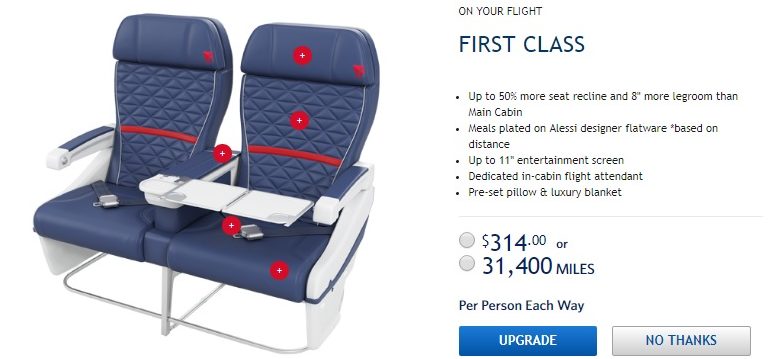 With the Upgrade with Miles benefit, you can use miles to upgrade your flights during the booking process. Eligible flights will automatically offer this option when you are logged in to your SkyMiles account.
You can also use miles to upgrade an existing reservation. If a flight is eligible, you will see a banner at the top of your reservation indicating the cost of the upgrade.
Additionally, miles can be used for ticket changes fees, same-day flight confirmation fees, and award redeposit fees.
For more information on upgrading to business and first class with Delta, you'll not want to miss our article on this hot topic.
Redeem for Sky Club Membership and Premium Drinks
If you travel frequently on Delta, chances are you value Delta Sky Club access. You may even currently be paying for an annual Sky Club membership.
While the Gold Delta Business card does not come with complimentary or discounted Sky Club access, there is an option to use SkyMiles earned on your card to pay for an annual Sky Club membership. It will cost you 84,500 miles (or $845) to purchase an Executive Membership that allows complimentary access for you and up to 2 guests. For an Individual Membership that allows only access for the cardholder, the price is 54,500 miles (or $545).
You can also use miles to treat yourself to premium drinks in the Sky Club. Order a glass of Dom Perignon Champagne and it will set you back just 1,750 miles (or $35) — a good value redemption for your miles.
Redeem Miles at the SkyMiles Marketplace and More
Gold Delta Business card and Medallion Elite members enjoy access to the SkyMiles Marketplace where over 6,000 products and services are available including car rentals, cruises, hotels, merchandise, and more. Redeem your miles wisely on the marketplace as not all redemption options are a good value.
You can also redeem your miles for gift cards and magazines.
Hot Tip: There are so many ways to redeem your SkyMiles but the best value can be realized when redeeming for Delta and partner airline flights. Never redeem your SkyMiles for less than 1 cent each as there is much better value possible. For ideas on maximizing your SkyMiles, we've put together a collection of options to consider. 
A Faster Path to Delta Medallion Elite Status
The Gold Delta Business card does not offer the ability to earn Medallion Qualifying Miles (MQM) or waive the Medallion elite revenue requirement (MQD) necessary for attaining Delta elite status.
These features can be found on the Delta SkyMiles® Platinum American Express Card, Delta SkyMiles® Platinum Business American Express Card, Delta SkyMiles® Reserve American Express Card, and the Delta SkyMiles® Reserve Business American Express Card.
15. Business Benefits
The Gold Delta Business card comes with benefits specifically designed to help you manage your business expenses:
Free employee cards
Mobile account management
Set alerts for unusual transactions
Upload receipt images, add notes, and organize your transaction with ReceiptMatch
Add an account manager other than the cardholder
Online monthly and year-end summary statements
Connect to Quickbooks
Pay vendors digitally
Having a business credit card is essential for a lot of reasons and we've written extensively on the topic. Check out our overview of why you'd want a business credit card and our recommendations to consider.
Travel Protection and Benefits
Your Gold Delta Business card provides valuable travel and shopping benefits when you use your card to purchase travel or for eligible items.
16. Car Rental Loss and Damage Insurance
Use your card to reserve and pay for your rental car, decline the agency's collision damage waiver coverage, and receive coverage for damage, theft, or loss of use.
Coverage is secondary to any other insurance you have that would cover the loss.
Having the Gold Delta Business card, however, allows you access to purchase Amex Premium Car Rental Protection for a low fee that covers the entire rental period. This premium coverage is primary and is a good value with pricing that ranges from $12.25 to $24.95 each rental period.
Hot Tip: If you rent cars frequently, you'll want to read our article on the best credit cards for primary car rental insurance.
17. Baggage Insurance Plan
Pay for your entire common carrier fare with your eligible card and receive up to $1,250 for carry-on baggage and $500 for checked baggage for theft, loss, or damage.
Coverage is secondary to any other coverage that may apply, including the airline's coverage.
18. Global Assist® Hotline
Receive assistance planning your trip or help 24/7 when you're traveling more than 100 miles from home. Services include help after losing a passport, emergency transportation assistance, and medical/legal referrals.
19. No Foreign Transaction Fees
With no foreign transaction fees to worry about, you can use your card when traveling abroad (see rates and fees).
Shopping Protections and Benefits
Have peace of mind knowing your purchases made with the card will receive these added protections.
20. Purchase Protection
It can be frustrating to purchase an item and have it break shortly after you acquire it. Having Amex Purchase Protection can be a real saver if an item you buy with your card is damaged or stolen in the first 90 days after purchase.
Coverage is provided for up to $10,000 per covered purchase for a maximum of $50,000 per eligible card.
21. Extended Warranty
Manufacturer's warranties of 5 years or less will be extended for 1 additional year for eligible items purchased with your card. Coverage limits are $10,000 per purchase, $50,000 maximum per eligible card.
Note that this list is not totally inclusive of all benefits and protections that come with the card and we've also abbreviated the coverage descriptions. The ultimate source for the terms and conditions that dictate coverage can be found in the card's Guide to Benefits.
Final Thoughts
If you haven't considered a Delta-branded credit card lately, it's time to take a fresh look at the new earning enhancements, benefits, and expanded redemption options.
The Delta Gold Business card lacks some of the benefits that come with other Delta-branded business cards such as discounted or complimentary Sky Club access, an annual companion flight certificate, a faster path to elite status, and TSA PreCheck or Global Entry fee reimbursement. If these are important to you, one of the other Delta-branded cards would serve you better.
Also, if you have elite status with Delta, you may already be receiving benefits that come with a Delta-branded card such as priority boarding, free checked bag, or Sky Club access. You might also be flying more airlines than just Delta Air Lines.
If so, you may want to consider The Platinum Card® from American Express or The Business Platinum Card® from American Express that also offer Sky Club and Centurion lounge access plus additional premium travel benefits such as hotel elite status and flight redemption rebates.
---
For rates and fees of the Delta SkyMiles® Gold Business American Express Card, please click here.