The Mattress Firm Credit Card – Is It Worth It? [Review]
If you are looking to upgrade your mattress, you might be thinking about getting a credit card from Mattress Firm. The Mattress Firm Credit Card is a good option since it doesn't have an annual fee and it allows you to finance your mattress purchase at 0% APR for up to 5 years.
Card issuer Synchrony Bank provides over 120 credit card options to consumers. Many of these cards are linked to other popular brands including Amazon, eBay, and PayPal. Synchrony Bank is also considered a bank that is more likely to approve applicants and cards can be obtained by people with poor to fair credit.
There are some major drawbacks to this card, though. Mainly, this card doesn't come with any rewards, has a very high APR, and you can only use it at Mattress Firm. We'll break down all the pros and cons of this card for you to decide if this is the right card for you.
Mattress Firm Credit Card at a Glance
Credit Card
Benefits and Info
Mattress Firm card

No annual fee
Interest Rate: 29.99% variable APR
Recommended Credit Scores: 400+
Fees:

Late Payment Fee: $38
Introductory Rate: 0% APR for up to 60 months
Balance Transfer Rate: 0% APR for up to 60 months
The Mattress Firm card lets you finance all of your Mattress Firm purchases, whether you are purchasing a mattress, bedding, or products for babies and kids. The card is described as a "dedicated credit line to use again for any future bedding needs." The card can only be used at Mattress Firm.
Bottom Line: Since this card is only valid at Mattress Firm, you are unable to use this card at other retailers or to take out cash at an ATM.
There are no fees associated with opening an account or keeping an account open. As with all credit cards, you must make on-time payments to avoid interest and other fees. However, if you qualify for special financing offers and make regular monthly payments, you can defer the interest payments for the associated periods noted below.
No matter how much you spend, you can always take advantage of the following financing offers (depending on how much you want your monthly payments to be):
No interest if paid in full within 6 months
No interest if paid in full within 12 months
The Mattress Firm card does not have an expiration date and is valid as long as you use it.
Credit Score Requirements
This card is issued by Synchrony Bank, which is known for its high approval odds. This is good news for people with poor to fair credit (400+) as they will likely be approved for this card!
Synchrony Bank notes that your credit limit can be decreased or your account closed if you aren't using your card or if your credit changes dramatically, though, so be sure to keep an eye on your credit score — even if you already have the card!
Current Financing Offers
If you are planning on making a big purchase at Mattress Firm, you might consider taking advantage of its limited-time financing offers, featured on its website.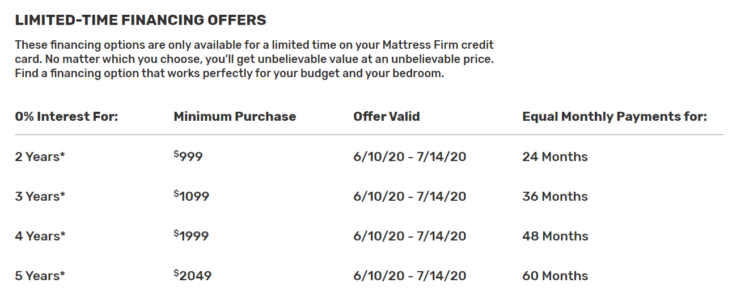 A sample of offered plans recently available with minimum purchase thresholds (current offers may vary):
No interest if paid in full within 24 months with a minimum purchase of $999
No interest if paid in full within 36 months with a minimum purchase of $1,099
No interest if paid in full within 48 months with a minimum purchase of $1,999
No interest if paid in full within 60 months with a minimum purchase of $2,049
Hot Tip: Financing offers are valid on single transaction totals only and must be paid off in equal monthly installments.
Mattress Firm notes that "interest will be charged on the promo purchase from the purchase date." This means that if you miss a monthly payment or don't pay off your balance in the times noted above, you will be subject to deferred interest on the entire balance retroactively from the time you opened your account. You will be required to pay all of the interest you would have incurred during the plan. Unfortunately, even if you've made payments, you will still be stuck with paying interest on the full amount.
If you don't think you can make timely and consistent monthly payments, you might want to steer clear of this card. Interest fees can add up quickly because of the high APR that this card charges.
Mattress Firm Credit Card Application
Applying for the Mattress Firm card is simple — head over to the website or apply at Mattress Firm store near you.

Unfortunately, with Synchrony Bank, there is no "shopping cart trick" like with Comenity Bank, so if you apply for this card, you will be hit with a hard credit inquiry.
Hot Tip: Hard inquiries can lower your credit score, so try to limit the number of new credit cards you apply for during a short time period.
To give yourself the best chance of approval, make sure you take care of your credit score. However, even if you have poor credit, it is relatively easy to qualify for this card. You will still need to provide certain information, including:
Planned purchase amount

Your name

Address

Personal contact information (such as phone number and email address)

Date of birth

Social Security number

Monthly net income
If you receive your card and it has a sticker on the front, you will need to call the number listed on the sticker to verify your information and activate your account.
Paying Off Your Card
There are many convenient ways to pay off your Mattress Firm bill thanks to its partnership with Synchrony Bank.
Online
Once you've logged on to your account (or via the mobile app as we've described above), you can set up autopay via bank transfer or electronic payment. You can also make a 1-time payment or set up multiple payments at once.
You can make online payments 24 hours a day, 7 days a week. You can also enable Pay Without Login to expedite future payments through your online account.
Pay as a Guest
You can also pay your bill without logging into your online account by clicking here. You will have to enter some identifying information, such as the last 4 digits of your Social Security number, zip code, and card number.
You will not be able to do anything other than paying your balance when you log on in this manner.
By Phone
You can make payments and manage your account by calling the number on the back of your card or 866-396-8254. There is a fee associated with phone payments.
By Mail
Send your payment (via check, money order, Western Union, or Walmart Bill Pay) to the following address:
Mattress Firm Credit Card
P.O. Box 960061
Orlando, FL, 32896-0061
Benefits of the Card
If you make a big purchase from Mattress Firm, the Mattress Firm card can be a good way to take advantage of free financing and improve your credit score — while not paying an annual fee.
High Approval Odds
Even if you have poor credit, you will likely be approved for this card.
Up to 60 Months Free Financing
If you can pay off your entire balance within the time frame noted on your promotional offer and you are consistent with making timely payments, you can take advantage of free 0% financing! This is an incredibly long promotional period compared to other store credit cards as well.
No Annual Fee
While the lack of an annual fee is nice, hardly any store credit cards have annual fees.
Reports to All Credit Bureaus
Synchrony Bank reports your account activity to the 3 major credit reporting agencies (Equifax, Experian, and TransUnion). This means that making regular on-time payments will demonstrate your financial responsibility and can help improve your credit score.
Drawbacks of the Card
This card has some big downsides, including the limited use and a high potential for fees with little reward.
Deferred Interest Financing
The Mattress Firm card offers an introductory rate of 0% on new purchases for 6 to 60 months, depending on the cost of what you buy. But because of deferred interest, if you don't pay off your balance in full or you miss a monthly payment, the shockingly high APR of 29.99% will retroactively apply to your entire original purchase amount.
Can Only Use at Mattress Firm
While Mattress Firm pitches this card as a "dedicated credit line to use again and again for your bedding needs," what this really means is that you can't use this card anywhere besides Mattress Firm.
Zero Rewards
Unlike many credit cards, you don't earn rewards on every purchase when you use this card. There is not an initial signup bonus or the opportunity to earn other rewards/cashback incentives.
Log On/Manage Your Account
To access your account, you can log on to your account online. There is also a mobile app available for iOS and Android.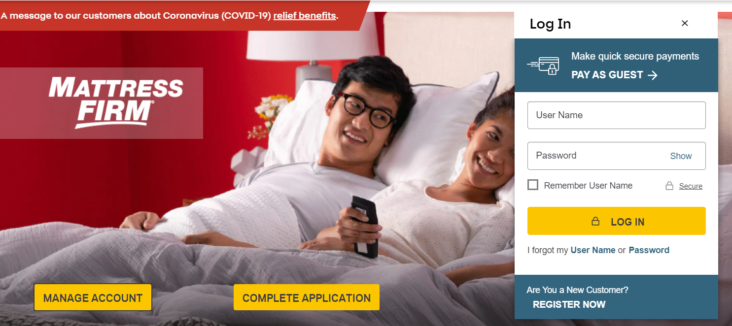 From either of these options, you can access your monthly bills, see payment due dates, enroll to receive paperless statements, set up your payments, monitor when your promotional financing period, and set up account alerts.
You can access your online account 24 hours a day, 7 days a week.
How to Contact Mattress Firm Card's Customer Service
To contact Customer Service directly, you can go online and chat or send a secure email.
You can also call Customer Service at 1-866-419-4096. Representatives are available to chat Monday through Friday from 8 a.m. to 12 a.m. EST.
Alternative Credit Cards (Our Recommendations)
The main benefit of the Mattress Firm card is access to 60 months of financing.
Not many cards offer this length of financing, but if you are looking to obtain a card that is more versatile, the Citi® Double Cash card is a great option that earns 2% cash-back (1% when you buy, 1% when you pay) on all of your purchases. This card makes it easy to offset your initial purchase by redeeming your cash-back rewards. The benefits of this card are hard to beat on a card with no annual fee.
The Chase Freedom Unlimited® card is also a good choice because it offers 0% APR for 15 months. The card also frequently offers a $200 welcome bonus after you spend $500, in addition to 5% cash-back on travel through Chase Ultimate Rewards, 3% back on dining and drugstore purchases, and 1.5% cash-back on all other purchases. This card does not have an annual fee and can be used at a variety of retailers (as opposed to just at Mattress Firm).
Final Thoughts
While you can only use this card at Mattress Firm, if you're hoping to finance your large purchase, you will be able to take advantage of generous promotional financing offers. The high approval odds, no annual fee, and credit-building aspects of this card make it an appealing choice.
However, if you aren't sure if you can make timely payments or pay off your card by the end of the financing period, this card could add up to huge fees because of the high APR and deferred interest. If you qualify for a card that offers rewards, you might be better served with another card.
---
The information regarding the Mattress Firm Credit Card, and Chase Freedom Unlimited® was independently collected by Upgraded Points and not provided nor reviewed by the issuer.