Wayfair Credit Card Review – Is It Worth It? [In-Depth]
The Wayfair Credit Card is a good option for those people who frequently shop at Wayfair and are looking to receive rewards for their spending. This card doesn't have an annual fee, allows you to get free interest (for a set time period) on your spending, and comes with rewards, like free shipping.
Card issuer Comenity Bank works with hundreds of well-known companies to offer rewards and financing promotions for each retail partner — in this case, Wayfair. The card is targeted for people in the good to excellent credit (580 to 850) range and you can even get pre-approved without a credit check.
There are some major drawbacks to this card, though. This card can only be used at Wayfair managed brands, has a very high APR, and comes with the potential for high fees due to deferred interest. We'll breakdown all the pros and cons of this card in order for you to decide if this is the right card for you.
Wayfair Card at a Glance
CREDIT CARD
CARD INFO
 Wayfair card 

$40 off your first order of $250 or more
Free shipping every day, no minimums
Choice of 3% back in rewards or special financing
Apply in as little as 1 minute
Interest Rate: 26.99% variable APR
Recommended Credit Scores: 580+
Fees:

Late Payment Fee: up to $40
Returned Payment Fee: up to $40
The Wayfair card lets you enjoy exclusive cardmember offers and receive special financing while shopping at Wayfair.
This rewards card can only be used at Wayfair and the Wayfair family of brands, including Joss & Main, AllModern, Birch Lane, and Perigold.
Bottom Line: Since this card is only valid at Wayfair and its family brands, you are unable to use this card at other retailers or to take out cash at an ATM.
You can also earn an introductory offer for $40 off your first order when you spend over $250 (without taking part in the special financing promotion).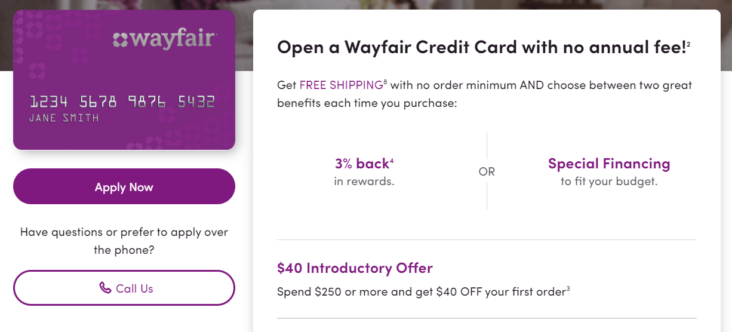 If you choose to take advantage of the 3% rewards (as opposed to the special financing), you'll earn 3% back in rewards every time you make an eligible purchase on your personal Wayfair card. You can redeem these rewards on any of its retail sites.
The Wayfair card interest rate of 26.99% is high compared to other credit cards but in line with other store cards. There are no fees associated with opening an account or keeping an account open.
As with all credit cards, you must make on-time payments to avoid interest and other fees. However, if you qualify for special financing offers, you are able to defer the interest payments for the associated time periods noted below.
Financing Offers
If you are planning on making a big purchase from Wayfair, taking advantage of the special financing might be appealing to you.
Promotional financing is offered on a periodic basis. However, 6-month special financing on orders over $60 and 12-month special financing on orders over $499is always offered.
The following plans were available as of July 2020 with minimum purchase thresholds:
6-month special financing on orders over $60
12-month special financing on orders over $499
24-month special financing on orders over $949
24-month special financing on orders with Nora, Simmons, Sealy, Serta, Stearns & Foster, or Tempur-Pedic mattresses over $949
36-month special financing on orders over $1,399
36-month special financing on orders with Nora, Simmons, Sealy, Serta, Stearns & Foster, or Tempur-Pedic mattresses over $1,399
48-month special financing on orders over $1,899
Hot Tip: In order to take advantage of the special financing, pay with your Wayfair card at checkout and select the financing option.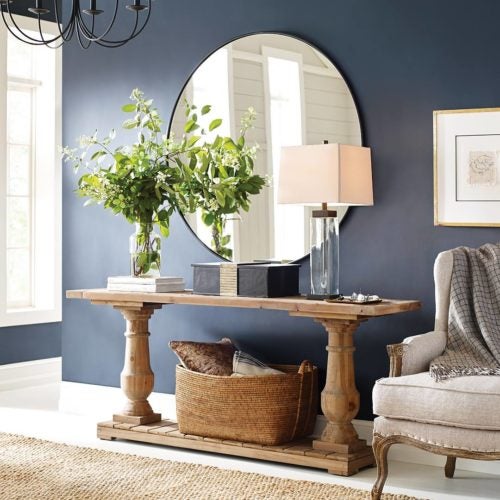 Comenity notes that "interest will be accrued on the original purchase amount." This means that this card has something known as deferred interest. If you don't pay off the balance in the time periods noted above, you will be required to pay all of the interest you would have incurred during the plan.
Bottom Line: Even if you've made payments, but don't pay off the balance in time, you will still be stuck with paying interest on the full amount. 
Comenity further states "to avoid paying total accrued interest charges, you must pay the balance of your deferred-interest plan(s) in full by each plan's expiration date." This is a big deal because it means that even if you miss a single payment, you can be hit with big interest fees.
So don't be fooled. This "no interest financing" can quickly add up if you aren't prompt with your payments — especially considering the high APR that this card charges.
How to Apply for a Wayfair Card
Applying for the Wayfair card is simple; just head over to the Wayfair website. Fill out a bit of personal information and you can see if you qualify in as little as 60 seconds.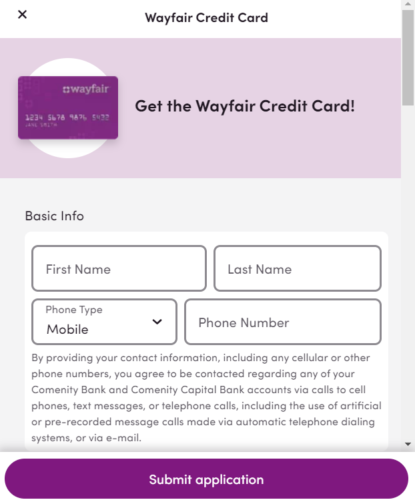 You can also try the "shopping cart trick." This means that a credit card offer from Comenity Bank may pop up with an incentive to apply as you are online shopping. Since you qualify before entering any personal information, this won't result in a hard credit inquiry.
Hot Tip: If the offer requires you to input your full Social Security number, it will likely result in a hard pull on your credit report. 
The Wayfair card approval odds are high, particularly if you have a credit score over 580. Even though it is relatively easy to qualify for this card, you will still need to meet other minimum requirements.
You must provide:
Your name

Address

Personal contact information

Date of birth

Social Security number (unless you use a pre-qualification link)

Annual income
Note that the Wayfair card program is cardless. Once you are approved, your card will automatically be added to your account for immediate use. Your account number and other account information will be mailed to you in your welcome packet within 10 days via U.S. mail.
Signing in to Your Wayfair Card Account
To access your account you can log on to your Comenity Bank account online. There is not a mobile app, but you can access the website from a mobile device.

Once you set up and access your account, you can:
Pay your bill
Set up your online Wayfair card in the Account Center
Obtain a copy of your billing statement
Answer questions about your account
Answer questions about your bill or transactions, including special financing transactions
Update your account information
Request a change to your credit limit
How to Pay My Wayfair Card
There are multiple options you can use to make payments on your card. All payments must be received by 8 p.m. EST on your due date to avoid fees!
Online
To access your account, you can log on to your account online.
From here, you can access your monthly bills, enroll to receive paperless statements, and make payments via bank transfer or electronic payment. You can make online payments 24 hours a day, 7 days a week.
Unfortunately, you cannot make a payment with a debit card or from banks located outside of the U.S.
EasyPay
If you don't want to log on to your account (or haven't registered your account online), there is also the option to use Comenity's EasyPay tool.
It will ask for a few pieces of identifying information, then provide just enough access to make a payment without giving access to any other information from your account.
Bottom Line: You can only make payments by using EasyPay, so you must create an online account or call customer service if you needed to make other changes to your account.
By Phone
You can contact the Wayfair card's customer care team to pay by phone at 844-271-2567. They are available Monday to Saturday from 8 a.m. to 9 p.m. EST.
Benefits of the Wayfair Card
If you are a regular shopper at Wayfair or its family of stores, the Wayfair card can be a good way to earn some small rewards, take advantage of free financing, and improve your credit score.
Approval Odds/Quick Approval
If you have a good to excellent credit score (meaning 580 or higher), you will likely be approved for this card. Because conditional credit approval is automated on the website, you may get a decision on your application within 60 seconds!
In addition, you may also be able to bypass a hard credit inquiry and be pre-approved via the shopping cart trick noted above.
Up to 48 Months Free Financing
If you make a large purchase from Wayfair and you are able to pay off your entire balance within the timeframe noted on your promotional offer, you can take advantage of free 0% financing!
Initial Discount Offers
The Wayfair card gives you $40 back in rewards on your first Wayfair order of $250 and above without financing. That's not the biggest first-purchase bonus available from a store credit card, but it's definitely not terrible, either.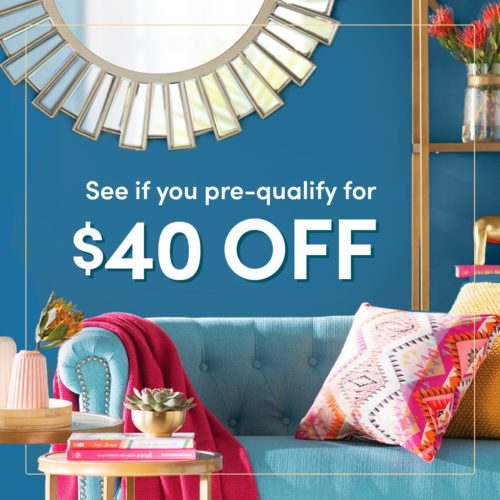 Free Shipping
If you have this card, your order will automatically include free delivery on all eligible purchases. The card's terms list flooring, large fixtures, and "non-standard items" as exclusions. Free shipping doesn't apply to returns.
Bottom Line: Free delivery is already available to all Wayfair customers on purchases over $35, so this benefit may not be significant.
No Annual Fee
Wayfair can be a great option for people looking for a low-maintenance card. It gives you the benefits of a credit card, but you don't have to pay an annual fee for the privilege.
Reports to All Credit Bureaus
Your account activity will be reported by Comenity Bank (who issues the Wayfair card) to the 3 major credit reporting agencies (Equifax, Experian, and TransUnion). You can slowly improve your credit score and demonstrate your financial responsibility by making regular on-time payments.
Drawbacks of the Card
This card has some distinct disadvantages, including restricted use and a high probability for fees with little reward.
Can Only Use at Wayfair Family Brands
This one is pretty self-explanatory, but you can only use this card at Wayfair, Joss & Main, AllModern, Birch Lane, and Perigold. This means you can't use it at any other retailer (and don't even receive a physical card)!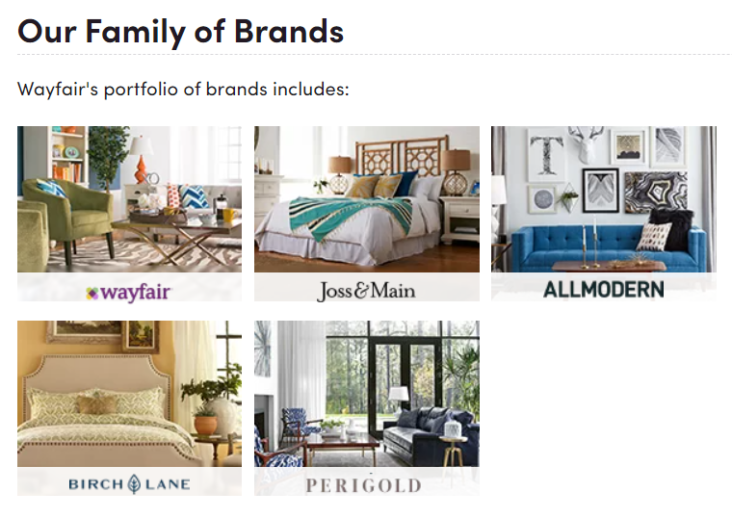 Deferred Interest Financing
The Wayfair card offers an introductory rate of 0% on new purchases for 6 to 48 months, depending on the cost of what you buy. But because of the card's deferred interest, if you miss a monthly payment or don't pay off your balance in full, the high APR will retroactively apply to your entire original purchase amount.
Limited Rewards
If you don't take advantage of the promotional financing, you can elect to receive 3% cash-back in Rewards Dollars for all eligible purchases from Wayfair, Joss & Main, AllModern, Birch Lane, and Perigold. This is decent, but many other rewards cards offer incentives for all of your day-to-day purchases.
Wayfair Card Customer Service and Phone Number
To contact customer service directly, call 844-271-2567. Customer care specialists are available Monday to Saturday from 8 a.m. to 9 p.m. EST.
You can also use the Wayfair customer service number above to cancel your Wayfair card at any time.
If you prefer to contact by mail:
Comenity Capital Bank
P.O. Box 183003
Columbus, OH 43218-3003
Alternative Credit Cards (Our Recommendations)
You do receive a few benefits from the Wayfair card, including access to up to 48 months of financing, free shipping, and welcome rewards.
If you are able to qualify for it, the Chase Freedom Unlimited® card is also a more versatile choice that also offers an introductory APR.
Credit Card
Benefits & Info
Chase Freedom Unlimited®


Learn More

(at Chase's secure site)

Earn a $200 Bonus after you spend $500 on purchases in your first 3 months from account opening.
Earn 5% cash back on grocery store purchases (not including Target® or Walmart® purchases) on up to $12,000 spent in the first year.
Earn unlimited 1.5% cash back on all other purchases.
Earn 5% on Chase travel purchased through Ultimate Rewards®, 3% on dining and drugstores, and 1.5% on all other purchases.
0% Intro APR for 15 months from account opening on purchases, then a variable APR of 14.99 - 23.74%.
No minimum to redeem for cash back. Cash Back rewards do not expire as long as your account is open.
Annual Fee: $0


Must Reads: For more info on the Chase Freedom Unlimited, see our thoughts on its benefits and our full review.
The card also features cash-back on travel purchases through Chase Ultimate Rewards, dining, drugstores, and all other purchases, plus it can be used at a variety of retailers (not just Wayfair brands) and does not have an annual fee.
The Citi® Double Cash card is another great option. Cardmembers earn 2% cash-back (1% when you buy, 1% when you pay) on all of your purchases that you can then use to offset your purchases. The additional benefits of this card are hard to beat on a card with no annual fee.
Hot Tip: If you are an eligible cardholder, check your Chase Offers or Amex Offers to see if you are eligible for an extra Wayfair discount or earning opportunity!
Final Thoughts
If you make regular purchases from Wayfair or the Wayfair family of stores, you'll find some small perks with this store card. The welcome rewards, no annual fee, and special financing make this card appealing if you're planning on making a big purchase. It is also a good way to build credit since Comenity reports your credit history to all 3 credit bureaus.
The Wayfair card offers a mediocre rewards rate on Wayfair purchases and deferred-interest financing plans that can be dangerous given the card's high APR. However, if you can't qualify for a more flexible reward or credit-building card like we've noted above, this card might be a good option for you.
---
The information regarding the Wayfair Credit Card, and Chase Freedom Unlimited® was independently collected by Upgraded Points and not provided nor reviewed by the issuer.