How to Get a Targeted Welcome Bonus on Delta Business Credit Cards
If you're a business owner that's always on the go, and you've chosen Delta as your preferred airline, keeping a Delta credit card in your wallet is a no brainer.
There are multiple Delta business credit cards to choose from, and the welcome bonuses offered for each can vary greatly. Fortunately, you could receive a targeted offer of up to 70,000-100,000 miles!
So how can you find out if you're targeted for these increased offers? Here are the steps to take to land that increased welcome bonus offer, along with benefits of having a Delta business card.
How to Get Targeted Welcome Bonuses for Business Delta Credit Cards
The standard welcome bonus offer for the Delta business credit cards can be anywhere from 30,000-40,000 miles, so you see why a targeted offer of 70,000-100,000 miles is highly sought after — receiving one can double the miles you earn!
Here are the highest recorded welcome offers on the Delta Business credit cards:
Delta SkyMiles® Gold Business American Express Card — 70,000 miles
Delta SkyMiles® Platinum Business American Express Card — 100,000 miles
Delta SkyMiles® Reserve Business American Express Card — 100,000 miles
There are 2 main ways to receive a targeted welcome bonus for one of the Delta business credit cards:
Checking for targeted offers at a Delta/American Express landing page using your SkyMiles number
Receiving a targeted mailing
Checking for Targeted Offers at the Delta/American Express Website
The easiest way to see if you're targeted for an increased welcome bonus is to visit the dedicated website for SkyMiles members! Here's how it works:
Step 1: Sign-Up for a Delta SkyMiles Account
In order to be eligible to check and see if you're targeted for an increased welcome offer, you must have a Delta SkyMiles account. Don't have a SkyMiles account already? No problem, simply visit Delta's website to set up your account.
Step 2: Visit the Delta/Amex Website to See If You're Targeted for Any Increased Offers
Head to the Delta/American Express page and enter your SkyMiles number and your last name to see if your account is targeted for any offers.
Bottom Line: If you receive 1 or more targeted offers then congrats! You can click right through to apply for your new card. If you enter your information and see "Please Verify The Information You Entered Is Correct And Try Again" it means your account is not targeted for an increased welcome offer.
Targeted Mailings from American Express
Another way that many people receive targeted Delta card offers is in the mail. All you need to do is opt-in to receive credit card offers from American Express. Just visit the communications preferences in your American Express account and make sure you've enabled communication via mail.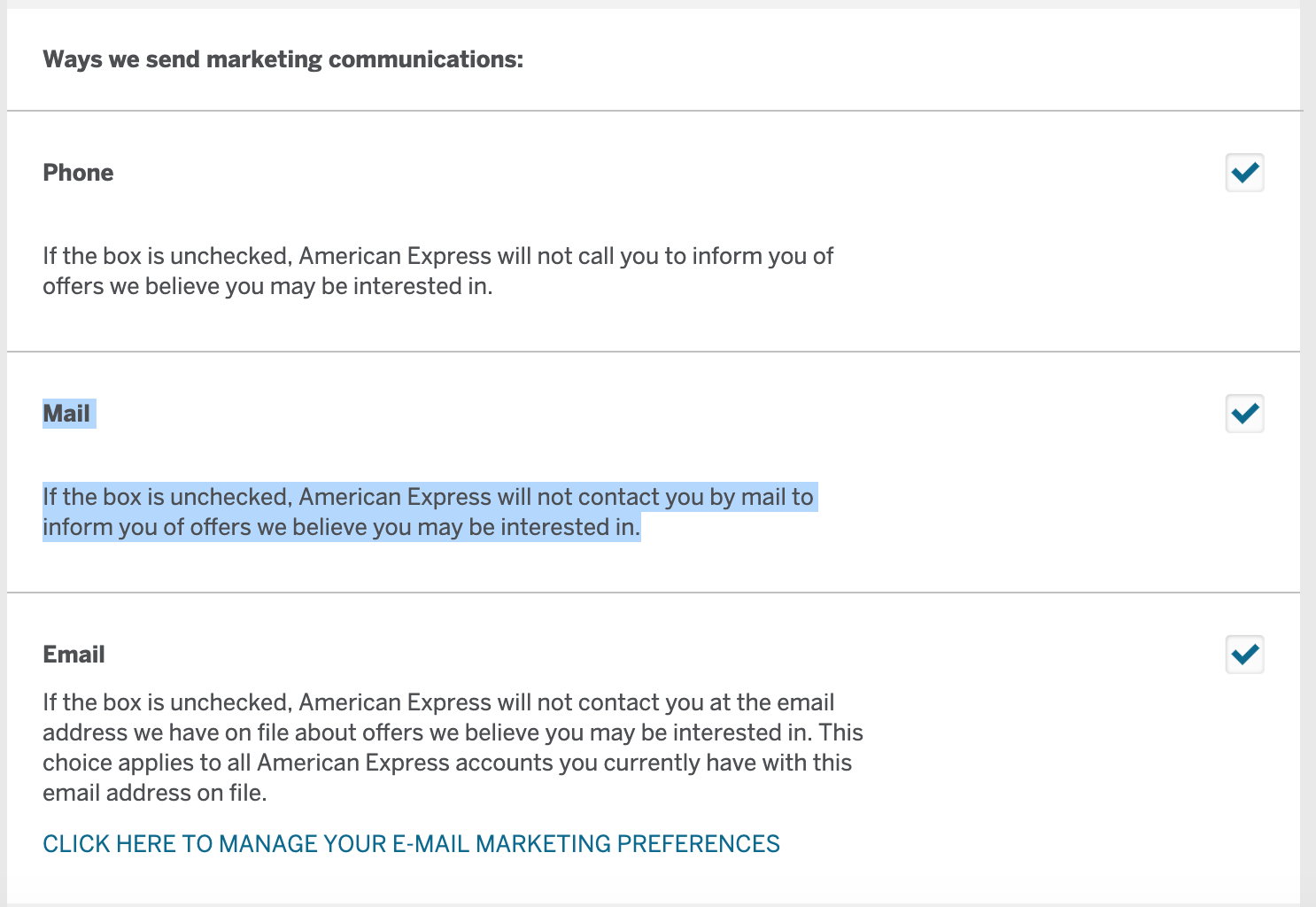 Reasons You May Not Get Targeted for an Increased Welcome Offer
You've opted out of marketing offers: As mentioned before, you could be missing out on some fantastic credit card offers if you have not opted-in to receive offers from American Express, so make sure you have opted-in to receive both email and mail offers!
Low credit: If you don't have a high credit score, you're not just less likely to be targeted for the offer, but you'll have a difficult time just getting approved for the card. As always, you want to keep your credit score as high as possible. You should be using your current credit responsibly and paying off your bill in full and on time each month. Plus, if you're applying with an EIN, you'll need to work to build up your business credit score too.
Benefits of Delta Credit Cards
Deciding on which Delta Business card is right for your business can seem tricky. However, when evaluating, you should find the card with perks that you can take advantage of the most; this ensures you're getting the most return with the card. You can read more about each individual cards in our card reviews.
However, here's a quick breakdown of the perks of the Delta Business cards. Keep in mind that all 3 cards earn 2x miles per $1 spent on Delta purchases, then 1x per $1 on all other purchases.
Perks
First checked bag free
No foreign transaction fees
20% inflight savings
Access to Delta Sky Club at an exclusive rate
Baggage and travel accident insurance
Car rental loss and damage insurance
Feel like you don't travel enough to justify cards with a high annual fee? Then the Gold Delta Business Card could be a fantastic option for you. It offers a free checked bag, priority boarding, and 20% inflight savings, among other benefits, so you can easily offset the annual fee with just a few flights each year. The annual fee is also waived in the first year so you can try the card out with no commitment.
In addition to all the perks listed above for the Gold Delta SkyMiles Business card, you also receive the following:
Perks
Annual Miles Boost (10,000 bonus miles and 10,000 MQMs if qualified)
If your business needs require consistent travel, the Platinum Delta Business Card might be more your speed. The inclusion of the annual companion certificate that allows you to bring a companion on any domestic main cabin round-trip ticket makes for great added value.
In addition to all the perks listed above for the Gold Delta Business card and Platinum Delta Business card, you also receive the following:
Perks
The Delta Reserve Business card also features complimentary Delta Sky Club access and a premium concierge service to assist with any of your needs.
Hot Tip: Need a more in-depth analysis of which Delta credit card is best for your needs? We've got you covered! Check out our post breaking down the best credit card options for Delta flyers.
Final Thoughts
Delta business credit cards from American Express offer a number of perks and benefits that will prove very beneficial for Delta loyalists. If you're both a business owner and a frequent Delta flyer then one of these card options is likely to be a good fit for you, even more so if you're eligible for an increased welcome offer! Once you've secured that large welcome bonus, now you can start redeeming your Delta miles for huge value!