American Airlines 777-200ER Flagship Business Class Review [GIG to MIA]
Airline: American Airlines
Aircraft: Boeing 777-200ER
Flight #: AA904
Route: RIOgaleão – Tom Jobim International Airport (GIG) > Miami International Airport (MIA)
Date: March 15, 2021
Duration: 8hrs 45mins
Cabin and Layout: American Flagship Business, 37-seat capacity across 10 rows in a 1-2-1 configuration
Seat: 8A
Miles Used: 0
Total With Taxes and Fees Paid: $540.55
Typical Business Class Cost: $5,000 (round-trip)
American's Return to Rio
The coronavirus (COVID-19) pandemic hit Rio airports hard. All airlines reduced flights to the Marvelous City and many stopped flying to the city altogether and focused instead on São Paulo (GRU).
Since Brazilians haven't been allowed in the U.S. since May of 2020, demand has plummeted and American Airlines had suspended its flights to Rio until relaunching in December 2020.
The return also brought a 787 Dreamliner (a first for AA at GIG), but catching a ride on that wasn't an option for any of the dates I was looking at. Regardless, I was happy to be able to once again get a direct flight from Rio to the States again.
Booking My Flight
For a couple of weeks, I had been casually looking for fares back to the U.S. to take care of some things. One night during my regularly scheduled Google Flights searches, I stumbled across some incredible business class fares from Rio de Janeiro and São Paulo to many U.S. cities.
With prices starting at $400 for Flagship Business, I quickly put a few dates on hold and alerted members in our private Facebook Group, Level UP Travel.
After weighing all of my options, I booked a roundtrip Flagship Business flight to Orlando (via Miami) for $540.55. I have paid double this amount in the past to fly economy, so needless to say, I was happy with the price.
Hot Tip: Join our private Facebook Group, Level UP Travel, for insider tips, exclusive tutorials, and a place to talk about travel with the pros.
Which Credit Card To Use
To pay for the ticket, I used my Citi Prestige® Card to take advantage of the remaining $240 of my annual $250 travel credit. Since Citi is temporarily allowing the credit to be used towards supermarket and restaurant purchases, I had unknowingly already spent $10.
Additionally, the Citi Prestige card earns 5x points on travel, so that relatively small purchase earned me over 2,700 ThankYou Points towards future travel.
Total Paid
All said and done, a roundtrip flight from Rio de Janeiro to Miami (MIA) to Orlando (MCO) in American Airlines Flagship Business cost me $300 out of pocket. Not bad.
Before the Flight
Before the flight, my only concerns were selecting a seat and getting a negative COVID-19 test in order to enter the U.S.
Since the flight was pretty much empty, I had no issue getting my preferred seat (10A) in the back of the cabin, though I did end up moving to 9A because I actually prefer flying backwards on overnight flights.
COVID-19 Test
As of January 26, 2021, all international travelers arriving in the U.S. by air must provide a negative coronavirus (COVID-19) test taken 3 calendar days before their flight, or provide proof that they have recovered from the coronavirus.
Since my flight was on a Monday, I took a PCR test on Friday and the results were available on Saturday. I immediately uploaded my test results to the VeriFLY app and they were reviewed and confirmed in less than 15 minutes.
Although other types of SARS-CoV-2 tests are accepted, I opted for the full PCR because that was what the lab closest to my home was offering. The cost was R$360 ($65).
VeriFLY App
To help make the process of navigating international COVID-19 testing and documentation requirements easier, American Airlines has teamed up with VeriFLY to simplify things.
VeriFLY is a mobile health passport app that you can download to your phone, input your travel information, and it will tell you exactly what is needed for your trip.
Since requirements vary by country, having a simple checklist can save some headaches when you arrive at the airport. Using VeriFLY is not mandatory, but it is quite convenient.
When flying from Brazil to the U.S., the VeriFLY app requested the following details:
Flight details
COVID-19 test results
Travel attestation (saying that I took a test or recovered from COVID-19)
Before you go to the airport checklist (passport, COVID-19 test, etc.)
All said and done, it is an extra piece of technology aimed to help make travel easier, which I am all for. It was also nice to see all of the requirements marked in green so I knew I wasn't missing anything.
That being said, nobody asked to see it during check-in. When I asked about needing to show it, the agent glanced and saw that everything was green so I was good to go. From that point on nobody asked to see anything COVID-19 related.
Rio de Janeiro International Airport (GIG)
As I mentioned above, Rio de Janeiro International Airport (GIG) has really taken a hit since the start of the pandemic and although flights are resuming, many are still quite empty — especially international flights.
So it was no real surprise that the terminal and check-in counter were quite empty when I arrived 3 hours before my flight.
COVID-19 Precautions
COVID-19 precautions are pretty standard nowadays. There was plenty of hand sanitizer throughout the airport with social distancing markers and plenty of signs reminding passengers to keep their masks on.
One additional item that I hadn't seen before in Brazil was a full-body temperature scanner that passengers had to walk by after they passed through security.
Lounge Options at GIG
Although it was sad to see the airport so empty, it was also nice because I got from check-in through security in about 10 minutes. That meant I would have plenty of time in the lounge… right? Wrong.
Unfortunately, due to lack of demand (and probably combined with the occasional lockdown in Rio), all of the lounges and most of the restaurants after security were closed.
Fortunately, there was a little cafe that was open that served some decent snacks to hold me over until the flight.
Boarding Rio to Miami
After sitting in the terminal for a couple of hours, it was finally time to board the flight to Miami.
Since the flight was so empty (I would guess that it was about 20% full), boarding was quick and orderly. It was also much easier to social distance when there were not 300 passengers trying to get on the same plane.
American Flagship Business [GIG to MIA]
Having family in both the U.S. and Brazil, I have flown this route many times, however, often in economy class with 2 kids in tow. So I was pretty excited to enjoy a nice business class experience flying solo.
Unfortunately, due to the coronavirus (budget cuts, if we are being honest), there was still no pre-departure beverage, so I quickly got settled in my seat and started scrolling through the movie options.
Flagship Business Seat
I had originally selected seat 10A which was a window seat at the back of the cabin. I like sitting towards the back as it tends to be quieter and I can get a view of the rest of the cabin, as well.
However, I also really like flying backward (especially on overnight flights) because I find it more comfortable when the seat is in bed mode as my head is slightly elevated due to the pitch of the nose of the plane. And since the plane was empty, I decided to switch to 9A instead.
Regardless of the seat you choose, they are all quite comfortable. My only note would be that the forward-facing seats have slightly less privacy due to the angle of the seat.
If you are flying with someone else, selecting an even-numbered row with rear-facing seats would be the best option as they are angled closer together than the odd-numbered rows.
Hot Tip: Our ultimate guide to SeatGuru can help you find the best seat on any plane!
Around the seat were various little storage areas, with this being the main one that had 2 AC outlets and 2 USB plugs — this is where I ended up storing and charging my phone and watch.
Cleanliness
I have become quite accustomed to giving my seats a good wipe down with my own sanitizing wipes, so the wipes provided by the airline are a bonus.
Upon boarding, the crew handed out individual sanitizing wipes, and business class passengers who received Bang & Olufsen noise-canceling headphones also receive a headset wipe, which is a nice touch to be honest — even in non-COVID-19 times.
While it's nice to give everything a good wipe down, it didn't take away from the fact that I felt like I was on a plane that could have used some serious deep cleaning.
Aside from the grimy inflight magazines wedged next to my seat, the vents that doubled as armrests (and probably cupholders for some) were disgusting and filled with dust, food, and who knows what else.
I would be grossed even if we aren't in the middle of a pandemic, so it just makes you wonder how much cleaning AA is really doing and how much is for show.
Hot Tip: To see what your favorite airline is doing in response to the coronavirus pandemic, read about all the airline policy changes here. 
Flagship Business Amenities
The amenities in American Airlines Flagship Business were really quite nice for an American carrier.
In addition to the relatively comfortable and private lie-flat seats, passengers received a Casper blanket and pillow, Bang & Olufsen noise-canceling headphones, and an amenity kit from This Is Ground.
While the first few items stay on the plane when you leave, you can bring the leather amenity kit home with you, which makes a great travel case, or, if you already have one, a great hygiene kit to donate to a local homeless shelter.
Inside the This Is Ground amenity kit was:
Lotion from Allies of Skin
Lip balm
Dental kit
Eye mask
Socks
Earplugs
Mouthwash
Pen
Tissue pack
Overall, a pretty solid amenity kit for a quick overnight flight.
Wi-Fi was offered on this flight, but as with previous trips on this route, I was unable to connect and had no real need to keep trying since I needed to get to sleep.
Food & Beverage
After not being able to eat at the airport, I was actually quite looking forward to getting a decent (or at least filling) meal on the flight.
Shortly after boarding, the flight attendant came over to take my dinner and breakfast order. After quickly looking at the menu, I asked for a recommendation and was told "All of the options on this route are disgusting. I won't be offended if you spit it out." I laughed because I thought he was joking, then I became a bit shocked… and then ordered the beef stew as it seemed like the safest option.
At least the luke-warm Champagne was consistently filled to the brim of my plastic cup.
Dinner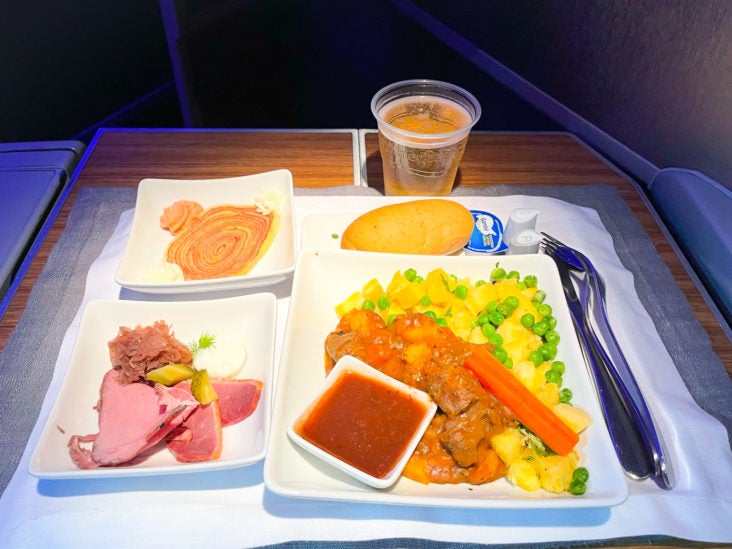 Despite the recommendations of the crew, I actually tried the dinner. To give credit where credit is due, the crew member was right, it was not good.
I ordered the atolada beef stew that came with roasted cassava, baby carrots, and green peas. The beef was very fatty, the cassava was dry, and the veggies were… meh (although they did pair well with the frozen bread and butter that accompanied them).
For the side, there was a unique plate of smoked duck and sliced pastrami. Also not very good.
On the menu, dessert was listed as sweet lemon mousse panna cotta, but what was served was actually "bolo de rolo," a typical Brazilian dessert from the state of Pernambuco. I had no complaints about this as it was actually quite tasty.
Snack Station
After dinner, the lights were turned down and almost everyone went to sleep. However, if passengers got a little hungry in the middle of the night there was a cute little snack station set up in the galley.
There were extra water bottles (always welcome), sanitizing wipes, and a basket of chips and cookies.
Breakfast
After experiencing dinner, I had no desire to wake up early for breakfast, especially since I was planning on stopping by the Admirals Club when I arrived in Miami.
Entertainment & Service
American does a good job when it comes to its IFE and content selection. Every month new releases are uploaded to the system, so the options are always pretty fresh.
Entertainment
The 15.4-inch screen was certainly big enough to enjoy when sitting up and eating, but it is a bit hard to see when laying down because it does not articulate down at all.
The IFE was easy to use and had a retractable remote available if you didn't want to lean forward to change the channel, although I found the remote to be less intuitive than the main IFE touchscreen.
As usual, I scrolled for about 20 minutes and then watched the same movie I always watch — "Goodfellas."
Service
Service is always hit or miss (in my experience) with American Airlines.
The AA ground team in Rio is always awesome and really makes the departure experience enjoyable. But whenever I board, I feel like I need to cross my fingers and hope that the crew is in a good mood.
Overall, I had a positive service experience on this flight (for American Airlines). When I boarded, one of the flight attendants "jokingly" gave me a hard time because I asked to switch my seat from 10A to 9A in a completely empty cabin. But after that, the crew was great.
While I was shocked at first about the flight attendant's response to my question about the food, it did allow me to lower my expectations, which I appreciated. I certainly prefer that over being lied to.
Also, that same flight attendant saw me making my bed (nicely, so I could take this photo) and grabbed me some extra blankets from Premium Economy to spruce up the shot. Notice that dark gray Casper throw blanket? That was his touch!
Besides that, it was a pretty standard flight experience during COVID-19. Service was limited, Champagne was served in plastic cups, meals were served all at once, and then the crew stayed in the galley.
Arrival
When we landed in Miami, there were no announcements about social distancing while deplaning — everyone just grabbed their things are started walking off. To be fair, the plane was so empty that there wasn't much crowding anyways.
Since there were no mentions of health declarations, temperature checks, or the need to show my negative COVID-19 test, I felt like I was walking through MIA just as I had in pre-COVID-19 times.
Within minutes of stepping off the 777, I had breezed through Global Entry and was on my way to the Admirals Club for some avocado toast!
Final Thoughts
Rio de Janeiro to Miami is normally a very popular route and American Airlines is the only airline with a nonstop flight… and they know it. If you want to get from point A to point B as quickly as possible, AA will get you there on time (most of the time), but don't expect a luxury experience even in business class.
While the Flagship Business seats are certainly comfortable, they were dirty and the food that was served was just embarrassing — even if it was served in economy class.
When you combine that with service that can be hit or miss, it is hard for me to justify going out of my way to fly American Airlines. I guess that's why I finally stopped chasing status with them.
If you can get a cheap flight with cash or miles and have appropriate expectations, this is a good option to get to and from Brazil. Good, but not great.
With competition from Delta, United, LATAM, and more, my next flight will be based on connections and price — not loyalty to AA.