American Airlines Boeing 787 First Class Review [PHX to OGG]
During the busy travel season to Hawaii in December, American Airlines usually operates a 787-8 aircraft from Phoenix (PHX) to Maui (OGG). This flat-bed equipped aircraft is one of the most comfortable ways to get to Maui and is how I traveled to this lush paradise in December 2020.
Airline: American Airlines (AA)
Aircraft: Boeing 787-8
Flight #: AA432
Route: Phoenix Sky Harbor Airport (PHX) to Kahului Airport (OGG)
Date: December 13, 2020
Duration: 6 hrs 57 min
Cabin & Layout: First class, 20 seats, 1-2-1 config
Seat(s): 3A
Typical Retail Cost: ~$1,100 per person one-way (I paid $300 for economy class and used a systemwide upgrade to sit in first class)
I was flying to Maui as part of a larger trip to Hawaii, first starting in Maui, and then flying over to Oahu to spend time in Honolulu. Because of the ongoing COVID-19 pandemic, I started my journey in Maui to avoid having to retest when flying into Oahu.
This flight was definitely one of my preferred ways to get to Maui, and I had a very great flight experience. We'll take a look at the aircraft, the onboard service, and the arrival procedures for Maui in this review.
Introduction
American Airlines flies to Maui (OGG) out of 3 of its hubs — Los Angeles (LAX), Phoenix (PHX), and Dallas Ft. Worth (DFW). I live in Washington, D.C., and to help break up the very long journey to Hawaii, I decided to fly from Ronald Reagan Washington National Airport (DCA) to Phoenix, overnight there, and then continue on the following day from Phoenix to Maui. This was a great decision — not only does it build in plenty of padding in case of delays, but it allows you to get a full night of rest during what otherwise is an endless travel day.
Booking
This particular flight was booked as part of a larger one-way itinerary originating in Washington, D.C. Because of the long distance to Hawaii, I find it incredibly refreshing to be able to break up the journey in both directions. You may need to search multiple segments when you book to come up with this itinerary. For example, searching one day for DCA-PHX, and then the following day for PHX-OGG, instead of just simply searching for DCA-OGG.
Fortunately, this is a valid connection, and when you're searching on AA.com, this type of itinerary is fairly typical, whether you choose either Dallas, Phoenix, or Los Angeles as your connecting point.
The Phoenix to Maui leg will either be operated by an A321 Neo, or a 787 during the high-season. It's worth noting that the A321 Neo first class seats are simply traditional recliner seats, and aren't the greatest for a 6+ hour journey. While the 787 may not be available at all times during the year, it's a far superior product, so you should keep your eye out when you're booking.
Bottom Line: You may have a choice of 2 aircraft types to Maui — 1 that features a recliner first class product and 1 that features a flat-bed first class product. If you want more comfort, select the widebody 787 plane.
At the Airport
Because I had checked in the previous day in Washington, D.C. and wasn't checking a bag on this flight to Maui, I could proceed directly through security without having to visit an agent. This is one of the advantages of booking this type of itinerary, and since the Phoenix airport is known to be busy during peak season, it might be a reason you'd consider breaking up your journey.
Only certain gates are equipped for wide-body flights at Phoenix airport, and for this flight, I was leaving out of the farthest pier to the right-hand side, home to the Centurion Lounge.
Centurion Lounge Phoenix
Prior to my flight, I used the Centurion Lounge Phoenix for about 1 hour prior to heading down to board. The Centurion Lounge is in Terminal 4, right across from gate B22 (and conveniently I was boarding from B23).
To access the lounge, you need either The Business Platinum Card® from American Express, The Platinum Card® from American Express, or the Centurion Card® from American Express.
You can only enter up to 3 hours prior to your departure, and you're allowed to take 2 guests with you. I was with a companion that also had one of the eligible credit cards to enter, so we both scanned our credentials separately.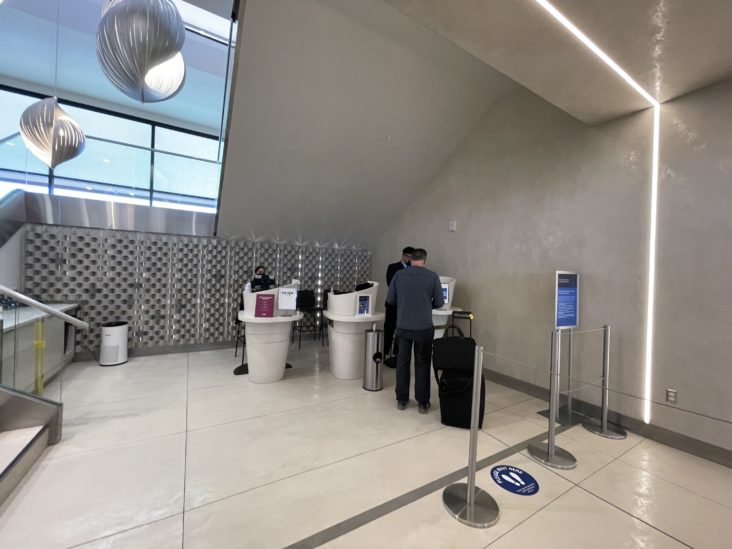 The Centurion Lounge PHX is actually rather small, and there are 2 distinct areas — the main seating area and then a dining and bar area. The seating area features a variety of bench seats, couches, tables, conference tables, and swivel chairs, and I didn't notice it being terribly crowded during my visit (but I'm sure it would be extraordinarily busy during non-COVID-19 times).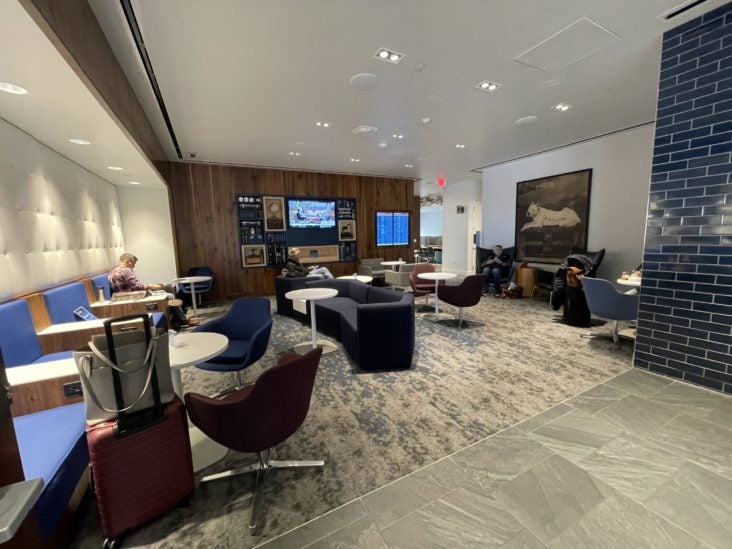 If you'd like to keep up on the latest news, there is a television directly behind the green wall as you enter. Outlets are available at pretty much opportunity, so you can easily charge up before your flights. The lounge was far from crowded during my visit — I had my pick of where to sit and chose a table in the dining area.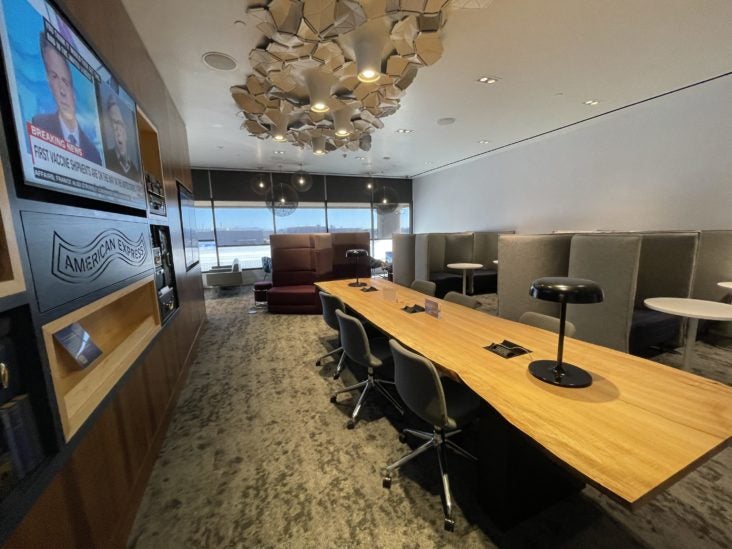 For food and beverage, there is a bar and buffet line at the back of the lounge that all entrants can avail themselves to. All beverages and meals are complimentary, though alcohol isn't offered until the afternoon due to local laws.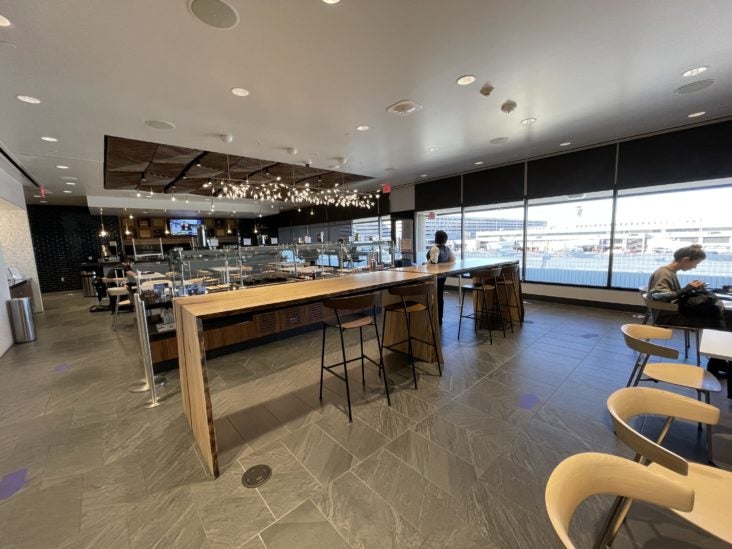 Due to COVID-19, all meals were served by a representative, and there was a choice of pancakes, egg scrambles, fruit, yogurt, and pastries. I selected the pancakes along with a side of bacon, and really enjoyed my breakfast.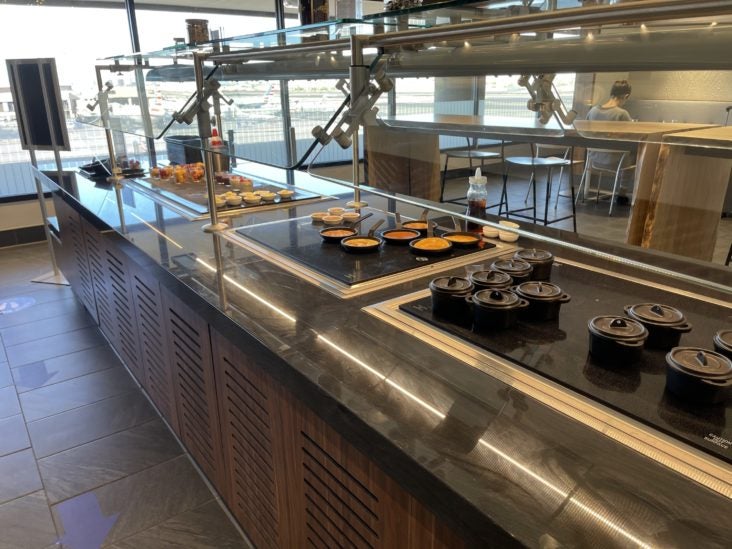 Mask usage and social distancing was quite lackluster during my visit. Folks didn't seem to understand the procedure to wait in line, spaced apart, to get food, and there were a number of times when I noticed folks get up from their tables forgetting to put their masks on. Aside from this, there were plenty of social distancing markers, both on the floor and furniture, and hand sanitizer stations throughout.
The Centurion Lounge is by far the nicest airport lounge at Phoenix Sky Harbor, so if you've got enough time before your flight, be sure to check it out.
At The Gate
At the gate, there were numerous announcements about Hawaii's COVID-19 protocols and testing requirements, though there was some confusion as one of the gate agents went off-script about her personal experience, causing several questions among passengers waiting to board thinking they had the wrong tests. As of this writing, Hawaii requires a COVID-19 test from an approved state partner within 72 hours of arrival or a 10-day quarantine once you land.
Obviously, the COVID-19 test exemption is the preferred method, though you'll want to make sure you get it right so that there are no hold-ups.
Bottom Line: Before you book your trip, visit the state of Hawaii's information portal for the latest requirements for your journey. 
Flight
Aircraft
This particular flight to Hawaii was operated by a Boeing 787-8 aircraft, featuring 20 first class seats, 28 premium economy class seats, 48 Main Cabin Extra seats, and 138 traditional Main Cabin seats.
Because this particular flight isn't one of American's Flagship services to Hawaii, there were only 2 classes of service sold — first class and economy class. The premium economy seats were able to be chosen by anyone who was willing to pay a small premium, though the service was a standard economy class offering.
Boarding
Boarding for this flight began on-time, starting with first class and uniformed military personnel. I boarded with this first group, and as I approached the gate podium with my boarding pass, I still noticed considerable confusion amongst passengers about the testing and quarantine requirements.
This particular plane boards with a single jet bridge, and once on board I was directed to turn left into the first class cabin.
AA 787-8 First Class
The 787-8 aircraft features 20 open suites, each with a pitch of about 60 inches and a bed length of about 77 inches. The seat width is approximately 21 inches. These seats fold into a fully flat bed, making this a perfect seat for those wanting to get some rest.
Keep in mind that if you're in the center pair of seats, there is no overhead bin access over rows 1 and 2, so you'll need to use the bins located over the single seats on the side or in the center, aft of row 3.
The seats in this cabin are laid out in a staggered format, with every other seat facing a different direction. Starting in row 1, these seats face forward, while the seats in row 2 face the rear, with row 3 facing forward again, and alternating up to row 5.
I selected seat 2A for this flight, a rear-facing seat on the left-hand side of the aircraft. I have flown this plane before and actually like the privacy of the rear-facing seats since you're seated farther away from the aisle. If you're a nervous flyer or think you may have motion sickness from facing backward, you'll want to select one of the forward-facing seats.
One of the major flaws of these particular seats is that because the seats alternate in how they face, the mechanics of the "pairs" of seats are tied together. When the person nearest you reclines their seat, your seat may feel a slight jolt — this is a well-known problem with this configuration.
Hot Tip: We advise that you choose seats next to your traveling companion — this way, you're seated facing a familiar passenger should your seat start to move.
These are the seats you'll want to keep in mind when you book your flight:
Attached window seats — 1A and 2A, 3A and 4A, 1L and 2L, 3L and 4L
Non-attached window seats — 5A, 5L
Attached center seats — 2D and 3D, 4D and 5D, 2H and 3H, 4H and 5H
Non-attached center seats — 1D, 1H
Each seat is equipped with a large television monitor for movies, a tray table that extends out from the side console, and several surrounding storage pockets for menus, laptops, and shoes.
There is a power outlet immediately next to the seat so your devices can stay fully charged.
Bottom Line: If you're traveling solo, select a window seat so you can have privacy and your own window. If you're traveling with a companion, be sure to select a pair of seats where the backs of each seat are against each other, to reduce the annoyance of the seats rocking when moved.
Amenities
This flight had limited amenities due to COVID-19, but there were a few enhancements. At each seat was a flimsy pillow and blanket, and there was also a pair of noise-canceling headphones. A sanitizing wipe was provided, as is standard on all American flights during COVID-19.
These headphones were collected about 45 minutes prior to landing in Maui, so if you're looking to continue watching any films, you'll want to bring your own headset for the journey. This is a consistent complaint I have about flying American — on many flights, the headphones are picked up so early that they really detract from your ability to watch entertainment. This flight was no exception as the headphones were picked up well before the descent.
Entertainment
On this aircraft, each first class seat was equipped with a touchscreen television monitor that swung out from the side panel. American usually stocks a wide variety of movies and television shows on these monitors, though it's worth noting that due to the COVID-19 pandemic, the live television feature had been turned off.
One of the downsides about how this plane is configured is that the monitor must be stowed for takeoff and landing. Because of this, it's difficult to watch any shows upon departure or landing, though the television does stow at an angle, so you could awkwardly watch any show in the meantime.
To control the television, simply touch the screen. It's fairly responsive, though I've noticed some aircraft where the screens aren't as responsible, presumably after lots of use. You can see what is playing on your flight by visiting American's entertainment website.
Hot Tip: If you wish to watch a movie throughout your entire flight, bring a pair of your own headphones — this way you can continue to listen to the inflight entertainment even when the onboard headphones are collected.
Meal and Service
Ordinarily, in non-COVID-19 times, this flight would feature a full-plated meal service. Thanks to the pandemic, this has been scaled back significantly, and the only flights that have full meal service to Maui are from Dallas.
On this flight, there was a full beverage service offered, though everything was served in plastic cups. For food, there was a choice of a packaged cheese plate or a turkey, Havarti cheese, and arugula sandwich. The sandwich came with a chocolate chip cookie for dessert, and truth be told, this was the real reason I wanted to select this item. Unfortunately, only the cheese plate was left by the time the flight attendant got to my seat.
There are limited quantities of each, and I noticed they ran out of 1 item about halfway through the cabin, so be prepared to not have a choice for food. These are really heavier snack-like items and aren't a full meal, so if you're particularly hungry, you'll want to stock up in the terminal prior to boarding.
The cheese plate featured 3 kinds of cheeses, crackers, grapes, nuts and a small chocolate candy.
Passengers on this flight seemed to take the wearing of masks seriously, though I did notice some passengers being fairly lax with wearing one. Having been on a few Hawaii flights since the pandemic began, I tend to think this is because these passengers assume that they are safe because most other passengers have tested negative prior to entry into Hawaii.
I found the service on this flight to be very abrupt — flight attendants served the beverage and meal service, but really were not out in the aisle other than this. They could have been more proactive.
Final Thoughts
While there are certain precautions in place to limit contact due to the COVID-19 pandemic, it's certainly nice to have a flat-bed seat to the Hawaiian Islands!
If you're flying to Hawaii, make sure to specifically look at airports that offer one of these widebody planes as it will be well worth it to arrive rested and ready to start your vacation.
---
The information regarding the Centurion Card® from American Express was independently collected by Upgraded Points and not provided nor reviewed by the issuer.