The American Express Centurion Lounge at Melbourne Airport (MEL) – Location, Hours, Amenities, and More
You may be familiar with the Centurion Lounges offered by American Express. Amex also operates these lounges aboard, including 2 in Australia: 1 in Sydney and 1 in Melbourne.
American Express lounges are open to eligible cardmembers and provide a higher-end airport lounge experience featuring complimentary food, an open bar, and plentiful seating.
This post will take a look inside the American Express Centurion Lounge at Melbourne Airport (MEL).
We'll review:
Where the lounge is located
How to access the lounge
What amenities the lounge offers
How to maximize your visit so you can make the most of it
How to Access the American Express Centurion Lounge at Melbourne Airport
Similar to Centurion Lounges, you must have either The Platinum Card® from American Express, The Business Platinum Card® from American Express, or Centurion® Card from American Express to access the lounge. These can be issued from any country.
American Express provides a chart posted outside the lounge with the different variants of the Australian versions of cards you can use to access the lounge. The list is also available online.
In most American Express Lounges, you can normally only use the lounge within 3 hours of departure. You can't use it upon arrival, though those terms appear to run a bit different here since this is not a full Centurion Lounge location. The "3 hours before departure" rule doesn't appear to be enforced as many users have had luck entering at times beyond this.
If you're connecting onto another international flight, you should be able to use the lounge, though you may need to clear and re-clear customs and immigration while transiting, depending on your circumstances.
If you're bringing in guests, you're in luck — the Amex Platinum card allows you to bring in 2 guests of your choosing, and the Centurion card allows you to bring in either 2 guests, or your immediate family, whichever you prefer.
Where the Lounge Is Located
The lounge is located airside in Terminal 2, opposite gate 7. Since it is located airside, you must clear security before accessing the terminal and lounge. It is located near the lounges for Air New Zealand, Cathay Pacific, Plaza Premium, Qantas Business, and Singapore Airlines.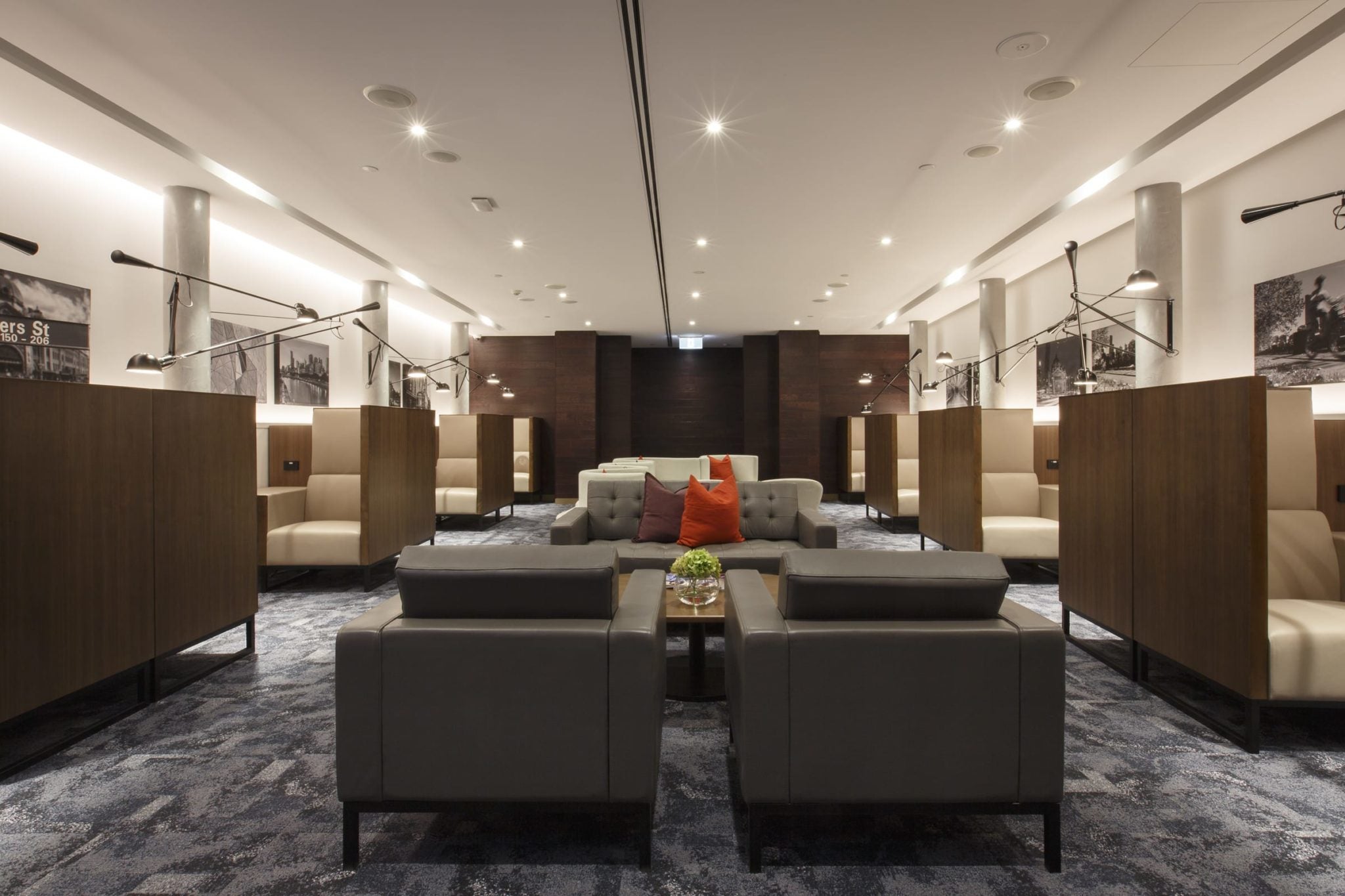 Lounge Hours
The lounge is open from 6 a.m. until 11 p.m. everyday. Since it is open nearly the entire day, you should be able to utilize it no matter the time of your flight, save for a few extra early departures.
Entering the Lounge
Once you come up the escalator, you're greeted with a large wall with the American Express logo on it and a check-in desk with the familiar wall of greenery behind it.
At check-in, the agent will ask to see your boarding pass, your identification, and your eligible card to enter. Once you provide these, and after a few formalities, you'll be greeted into the lounge.
Since this lounge is technically run by a third-party company, the check-in desk, which can usually answer card-related questions or account inquiries, can't answer anything beyond admitting you into the lounge.
If you do have card-related questions, we recommend you call the number on the back of your card for assistance. 
Seating
Beyond the check-in area is the dining area, and then some traditional seating options. It's worth noting that this lounge is much smaller than other Centurion Lounges or other American Express airport lounges, so this lounge can become incredibly crowded. If you want to use this lounge, arrive early and have a backup plan if it's filled.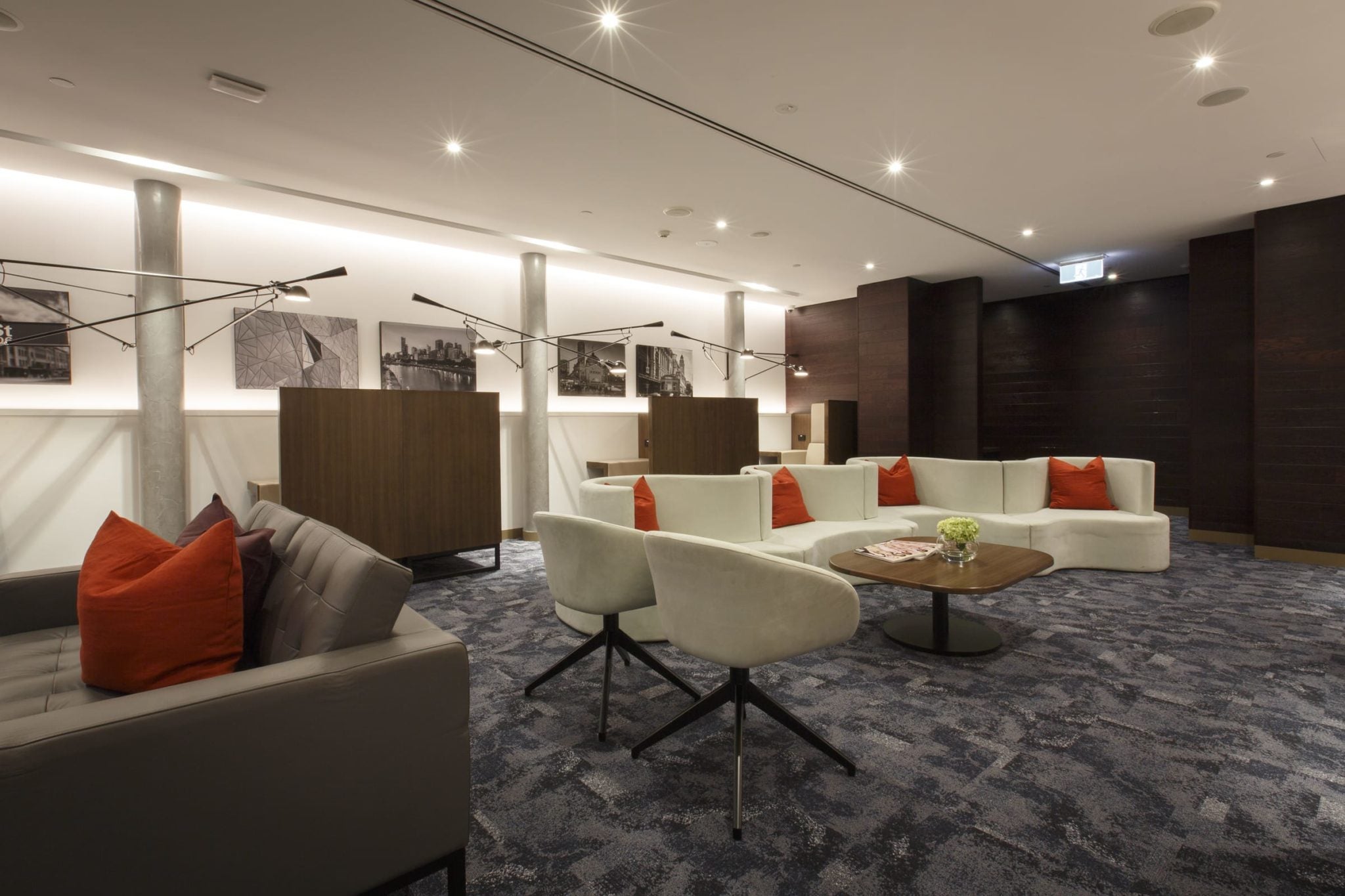 Food and Beverage
All of the food and beverage in this lounge is complimentary, so you can eat as much as you'd like to fill up before your flight.
On your left will be the bar, featuring made-to-order drinks, and a barista to make coffee. Complimentary to all guests are all spirits, beers, liquors, and mixed drinks.
For the non-alcohol drinkers, there's a refrigerator with bottled water, Pellegrino, Fanta, Coke, Sprite, Coke Zero, Diet Coke, and an assortment of juices, including orange and carrot juice.
In general, the food spread here isn't as good as other lounges, and there are no made-to-order options. 
For the breakfast selection, there are:
Pastries, breads, muffins, and danishes, complete with traditional toppings and condiments
A pancake machine, where you press a button to have a freshly made pancake
Cereals and milk
Fruit salad
Plain yogurt and flavored yogurt with granola

 

A selection of cheese and dried fruits
Eggs, potatoes, sausage, and bacon
Porridge
For lunch and dinner, there are:
An assortment of breads, cheeses, and fruits

 

Cold sandwiches, meats, and condiments

 

Tomato and mozzarella salad and other assorted salads
Pastas, chicken, beef, and other hot dishes, depending on the day
A selection of pastries and desserts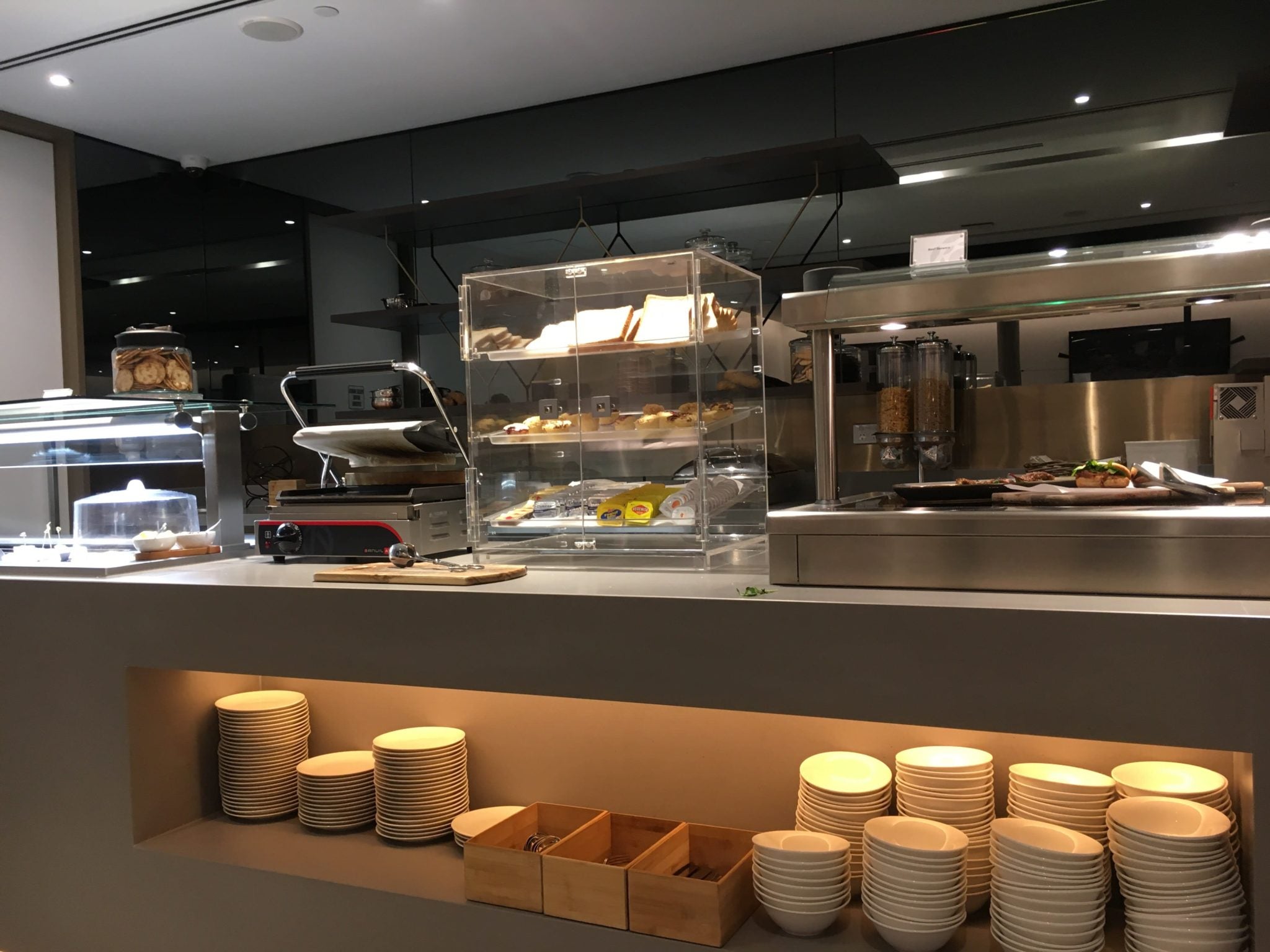 Restrooms
The lounge, oddly, shares restrooms with the next-door Plaza Premium Lounge, a lounge you can access with the Priority Pass program. The restrooms are clean and modern, so you don't have to worry about them being anything less than what you'd expect in an American Express Lounge, with the exception that you'll see customers from both sides using it. 
Unfortunately, and this is a downside, and unlike many other American Express Lounges, the Melbourne American Express Lounge does not have any showers or spa facilities.
This means that if you're flying out and want to shower before your flight, you'll need to use one of the airline-specific lounges, such as the Qantas First or Business Lounge.
Bottom Line: The Melbourne American Express Lounge does not have any shower or spa facilities. 
Maximizing Your Visit
Because this lounge doesn't offer as many amenities as other lounges within the airport, it's difficult to recommend this lounge as the go-to lounge when you're transiting Melbourne. That said, the lounge is good for several things:
There are plenty of charging facilities, so if you need a quick charge, you can surely find it.
The Wi-Fi is reported to be consistently fast, so if you're looking to download or upload something, this lounge is perfect for that.
Outside of these 2 major benefits, you may want to look at what other lounges you have access to while visiting the airport. Accessible with your Amex Platinum card are several other lounges, including the Plaza Premium Lounge, The House, and the REX Lounge. You can enter these with your Priority Pass membership, which is a benefit of the card.
As a reminder, the American Express lounge in Melbourne does not offer conferencing facilities, a spa facility, a phone room, or any of the other major benefits you'll find in other American Express lounges.
Final Thoughts
It's a benefit to have an American Express Lounge at one of Australia's largest airports. That said, the lounge is small, and food options are much more limited compared to other American Express Lounges worldwide.
If you've got access to another airline lounge, or a specific business class or better lounge, you'll probably want to stop there first, but otherwise, this is a great alternative for those with an eligible American Express card.