Andaz Savannah [In-Depth Review]
Savannah, Georgia is a city known for its historic charm and southern hospitality. Located along the banks of the Savannah River that separates Georgia from South Carolina, this city makes a great place for a weekend getaway.
I spent 2 nights at the Andaz Savannah while exploring the area. The city is exploding with shops and restaurants and there are lots of guided tours available —  historic walking tours, bike tours, and ghost tours are some of the most popular.
The Andaz Savannah is well-known among points and miles enthusiasts for being one of the best locations to use World of Hyatt Category 1-4 free night certificates, which is exactly why I chose it. In this review, I'll give you the scoop on how to book this hotel with points, as well as what I thought about my stay.
Andaz Hotels
Andaz is a boutique hotel brand within the Hyatt family of brands. Each location aims to reflect the neighborhood in which it's located. Rooms at Andaz hotels tend to feel more like upscale apartments than hotel rooms. With less than 30 locations across the U.S., Latin America, Europe, and Asia, Andaz hotels are a truly unique experience.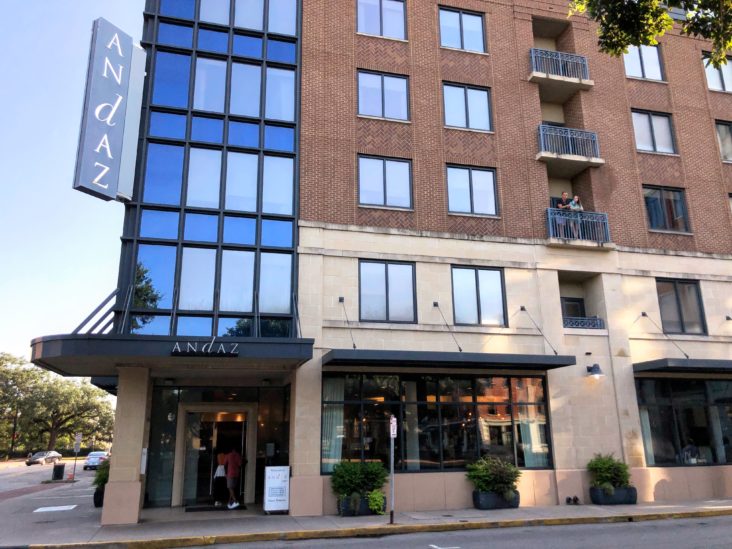 Location
The Andaz Savannah is located in the heart of Savannah's historic district, next to Ellis Square. It's within walking distance to Savannah's top attractions like Forsyth Park, City Market, River Street shopping, and the waterfront.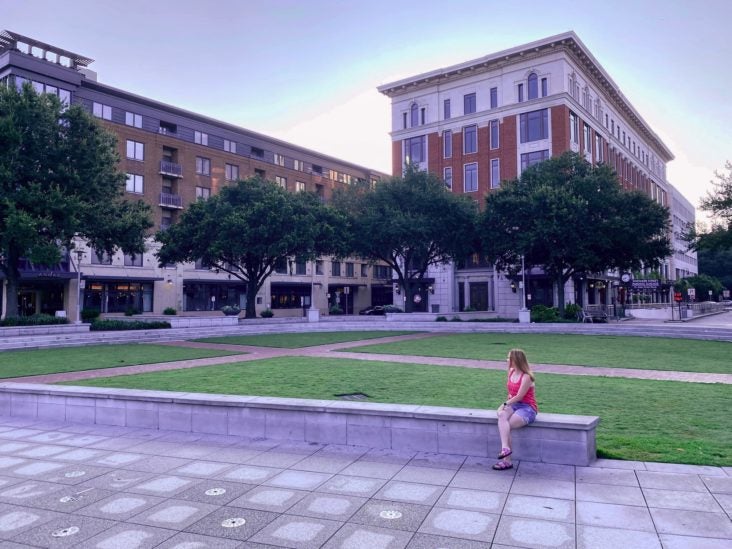 The hotel is only 20 minutes from Savannah/Hilton Head International Airport (SAV). While you can rent a car, it's not needed to get around Savannah. Instead, just take a rideshare service from the airport and explore on foot.
Don't forget that many credit cards like The Platinum Card® from American Express offer monthly rideshare benefits so that you can save some money on your trip.
Booking
Depending on the day, you'll pay anywhere from $200 to $500 per night for a basic room. During my stay, rooms were going for $459 per night.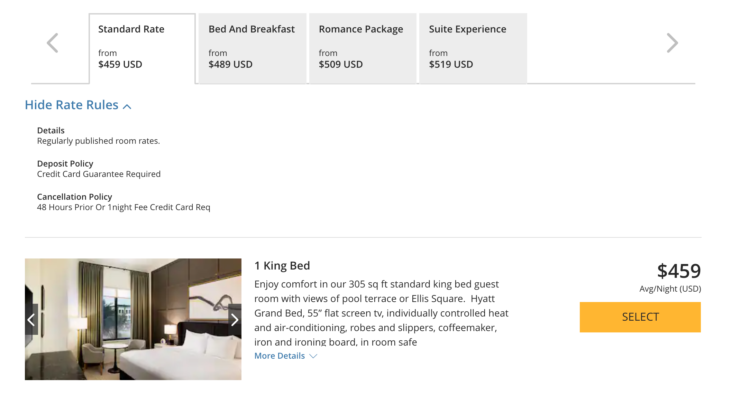 As a part of the Hyatt family of brands, you can use World of Hyatt points to book your room at this property. It's a Category 4 hotel, so you'll pay 15,000 points per night, or you can use Hyatt's free night certificates at this location.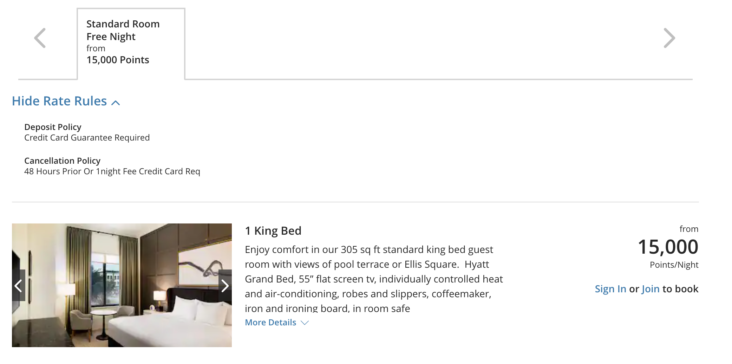 I opted to use a couple of free night certificates instead of paying the cash rate. Since rooms cost $459 per night and the certificates had a value of 15,000 points, I essentially got 3.06 cents per point in value! This is an awesome redemption since we generally value World of Hyatt points around 1.5 cents each.
Bottom Line: Andaz Savannah is a World of Hyatt Category 4 hotel. You can spend 15,000 World of Hyatt points for an award night or use a Category 1-4 free night certificate. If you're short on points, check out our guide to earning lots of World of Hyatt points.
Check-In
As I entered the bright and airy lobby I was greeted by the friendly staff at the front desk.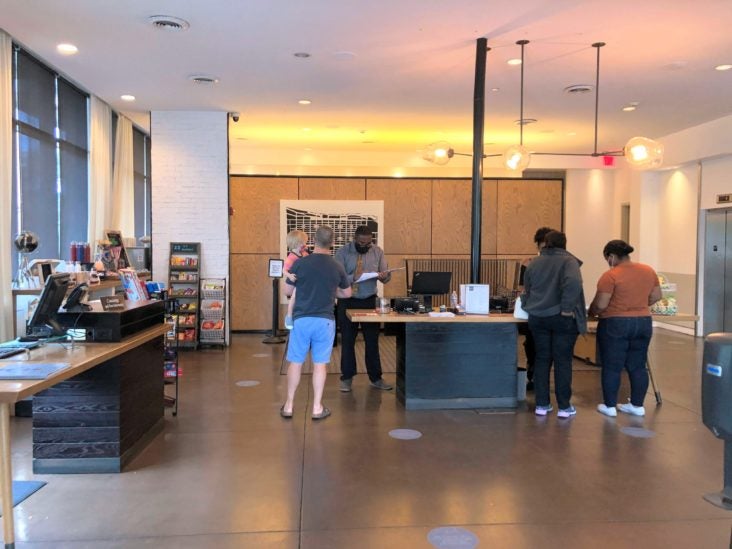 My room wasn't upgraded, but I was happy that it was available, as I arrived early around 11:00 a.m. I got a quick rundown of the hotel's amenities and was given an information card to take to my room. It also had QR codes with links to guest room information and restaurant menus.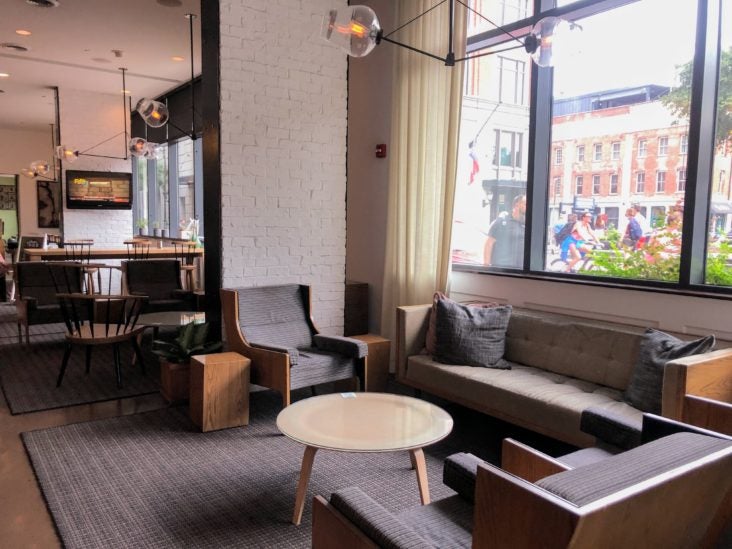 Elite Benefits
I have Discoverist elite status thanks to The World of Hyatt Credit Card. My status was recognized right away and I was thanked for being an elite member. I was offered a late 2 p.m. checkout, which I didn't actually need, but it was nice that it was offered without me having to ask.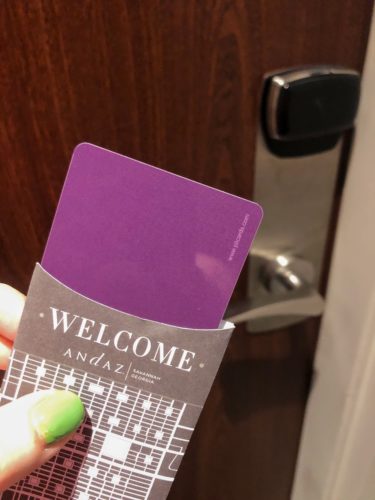 I was also given a free locally-made chocolate treat as an elite welcome amenity.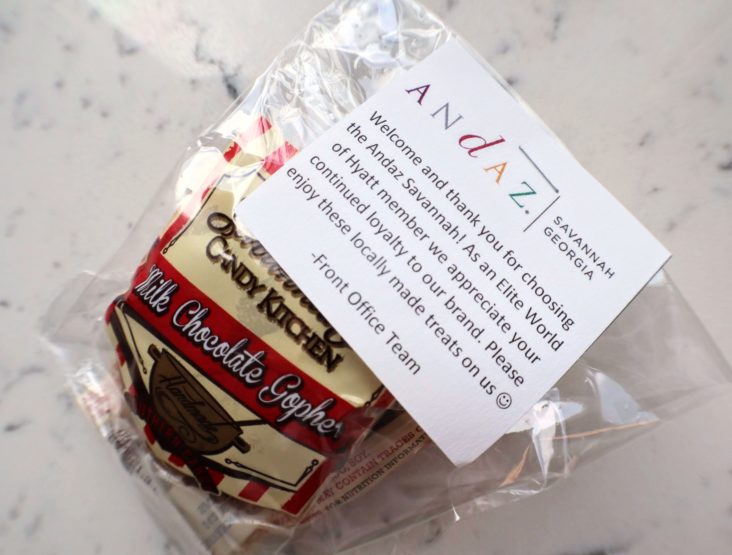 While Discoverist is the lowest World of Hyatt elite-status tier you can have, it's always nice to have status recognized, and any perks offered — even small ones — are a welcome treat.
Hot Tip: Elite status makes any hotel stay better. For more information, check out our guide on how to earn World of Hyatt elite status.
Amenities at Andaz Savannah
Fitness Center
The fitness center at Andaz Savannah was small and basic with just a handful of pieces of cardio equipment, plus a couple of extras like weights and kettlebells. The gym was open from 5 a.m. to 10 p.m daily.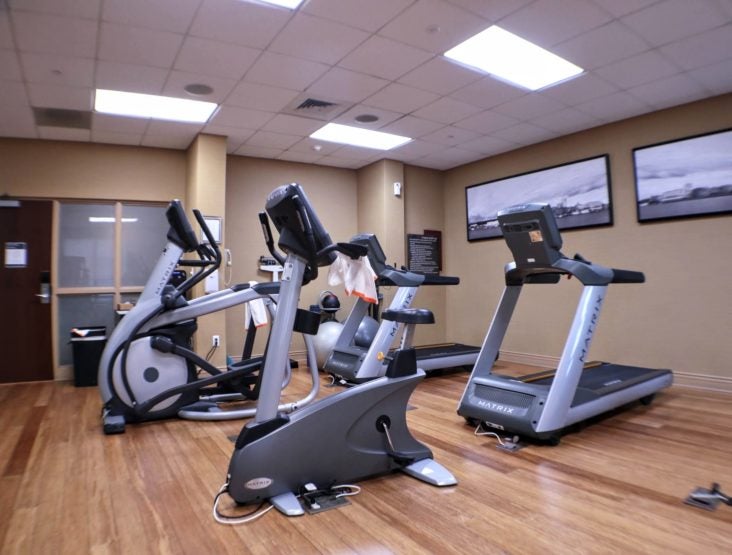 Yoga
A free yoga class was offered on Saturday mornings for hotel guests from 8:30 a.m. to 9:30 a.m. on the pool terrace.
Outdoor Pool
The outdoor pool at Andaz Savannah is located on the second-floor rooftop and offered city-chic vibes.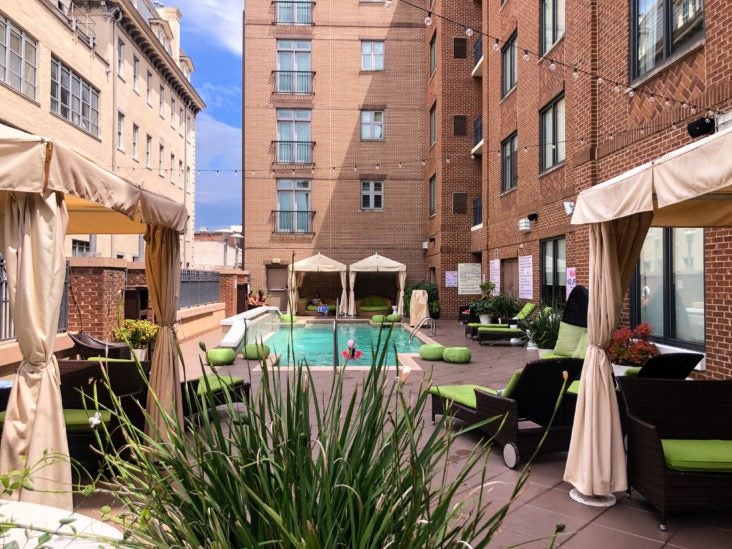 The pool, which was open from 9 a.m. to 10 p.m. daily, was surrounded by comfy cabanas and lounge chairs for guests to enjoy during hot Savannah summer days.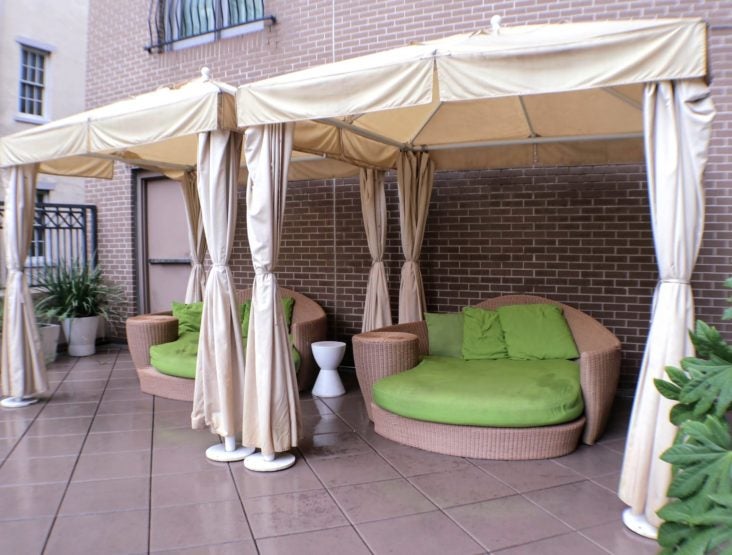 Fire Pit
The second-floor outdoor terrace also had a fire pit for guests to enjoy. It's located on the opposite side of the terrace from the pool.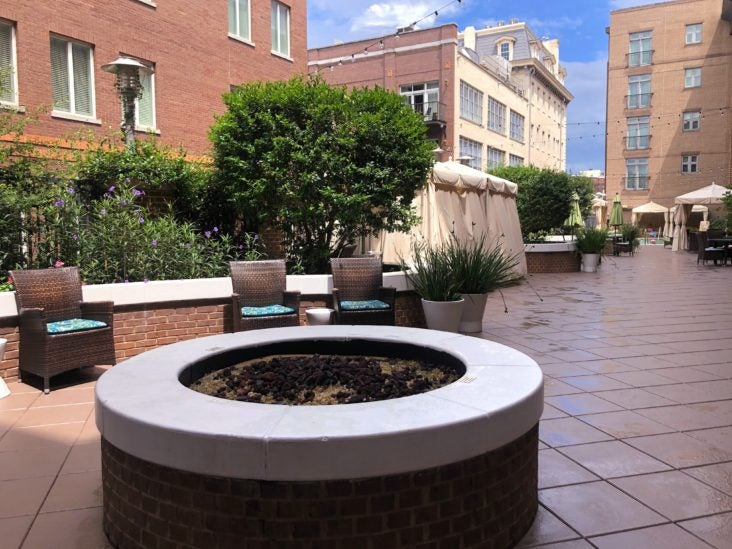 22 Square Market
22 Square Market is a small area behind the front desk that had grab-and-go snacks and drinks. Water, soda, and juice were complimentary for all guests.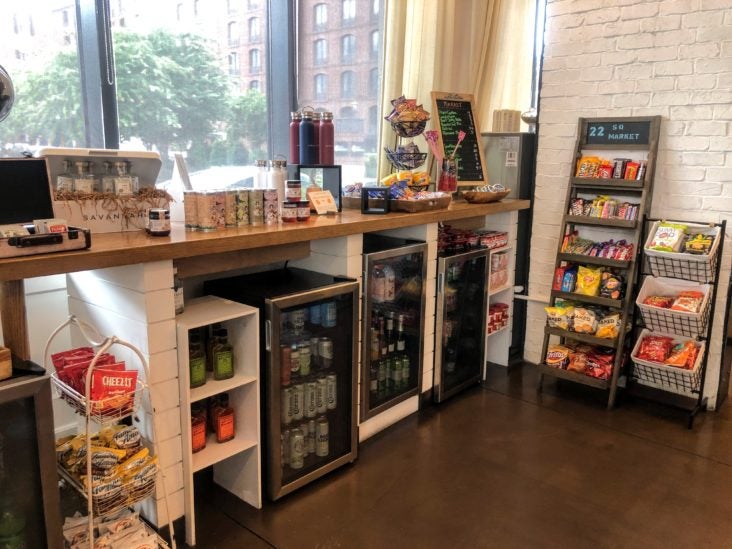 Pet-Friendly
Andaz Savannah is one of Hyatt's pet-friendly locations. There was a $150 non-refundable pet fee per stay up to 6 nights. For stays of 7 to 30 nights, the fee was $300. Dogs under 50 pounds are welcome, or you can bring 2 dogs as long as their total weight is less than 75 pounds. You'll need to register your pet with the hotel and hang a "pet occupied" sign on your door.
Water Station
As part of Hyatt's sustainability efforts, there was a water station in the lobby at which you could fill your reusable water bottles free of charge.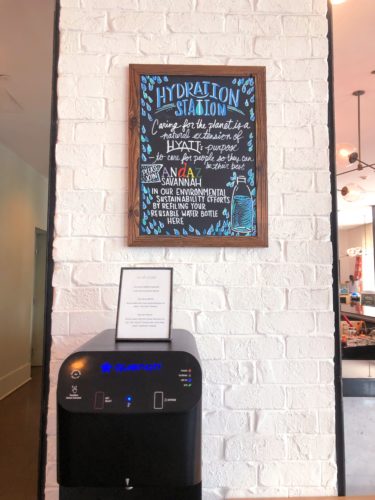 Parking
Valet parking was available for $37 per night. This fee was waived for Hyatt Globalists when booking an award night. You can also self-park at any of the local parking facilities.
Tour Desk
There was a tour desk next to the front desk in the lobby to help with sightseeing suggestions and tour reservations.
Complimentary Wi-Fi
Wi-Fi came complimentary for all guests at Andaz Savannah, and the speed was fine for browsing the internet after a long day of sightseeing.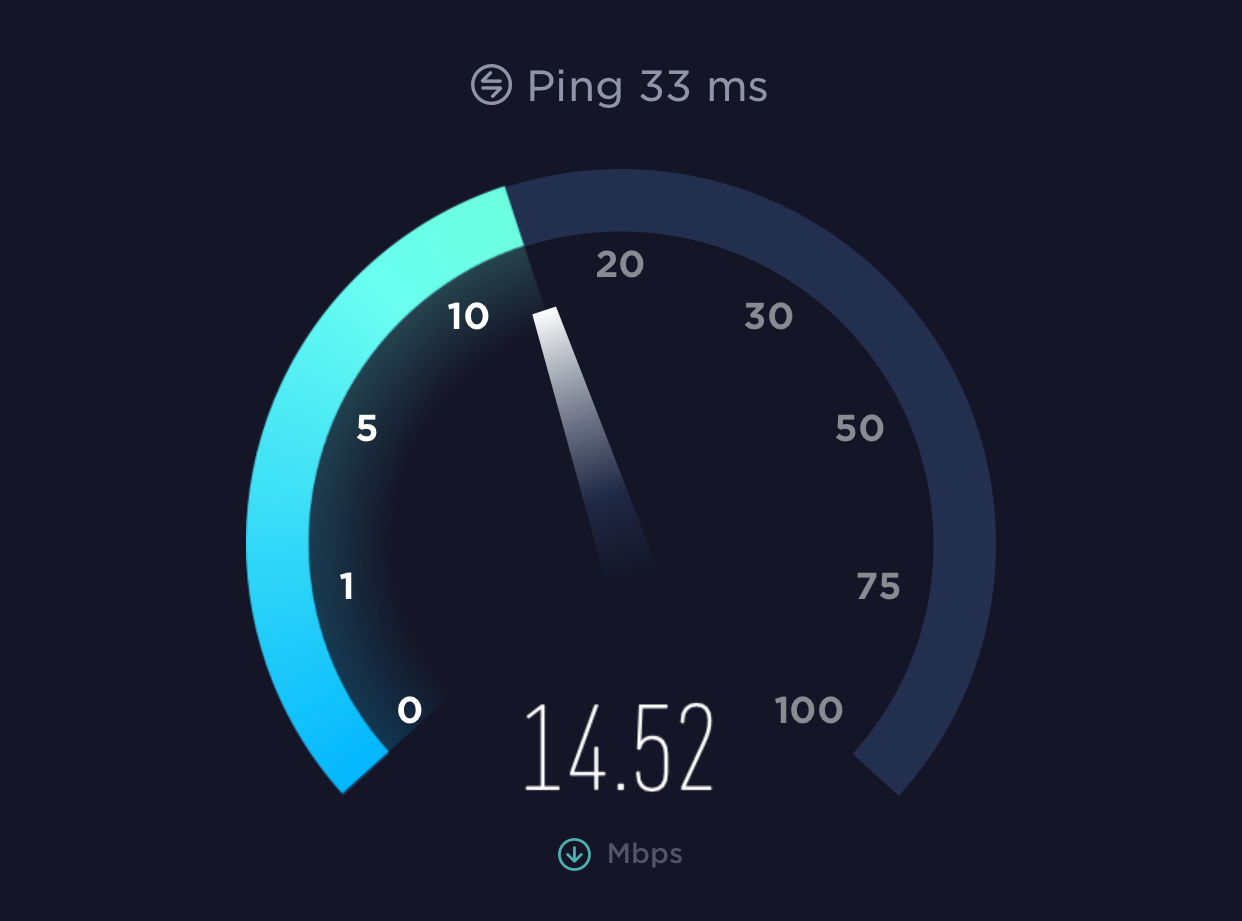 Standard Room With 1 King Bed
Andaz Savannah has 151 guest rooms including 37 suites. I booked a Standard 1 King Bed room. At 305 square feet, the room wasn't huge, but it was plenty of space for 2 people. As soon as I walked into the room, I noticed the big windows with views of Ellis Square. And the contemporary decor made it feel more like a bedroom at home than a hotel room.
The focal point of the room was the beautiful gray accent wall behind the bed. This on-trend design feature helped make the room warm and inviting. The king-size bed was made up with crisp white sheets and a thick comforter. There were 4 pillows on the bed — 2 soft and 2 firm. No matter which type of pillow you prefer, you shouldn't have a difficult time getting comfortable.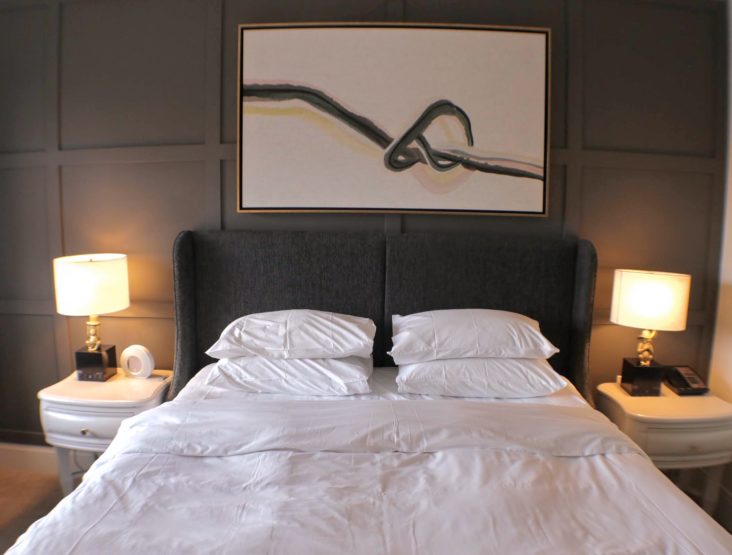 The bed also had motion-activated lights on the bottom frame. If I got up at night, there was a little bit of light so I wouldn't have to fumble around for a light switch in the dark. It was a very nice touch.
There were nightstands on each side of the bed with whimsical lamps that had plugs and a USB port in the base. This made it very convenient to charge phones and watches. These lamps made up 2 of the 3 "see no evil, hear no evil, speak no evil" monkeys in the room (the third was located in the bathroom).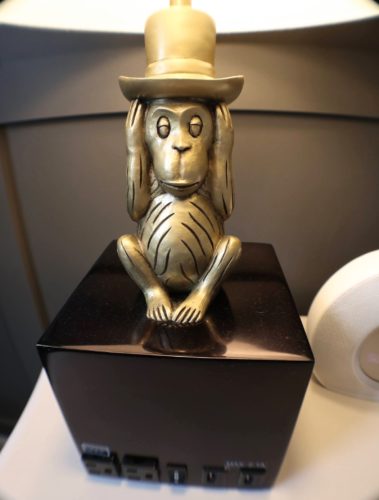 Next to the large windows that overlooked Ellis Square was a bistro table and 2 upholstered chairs. It was a comfortable spot to enjoy coffee in the morning.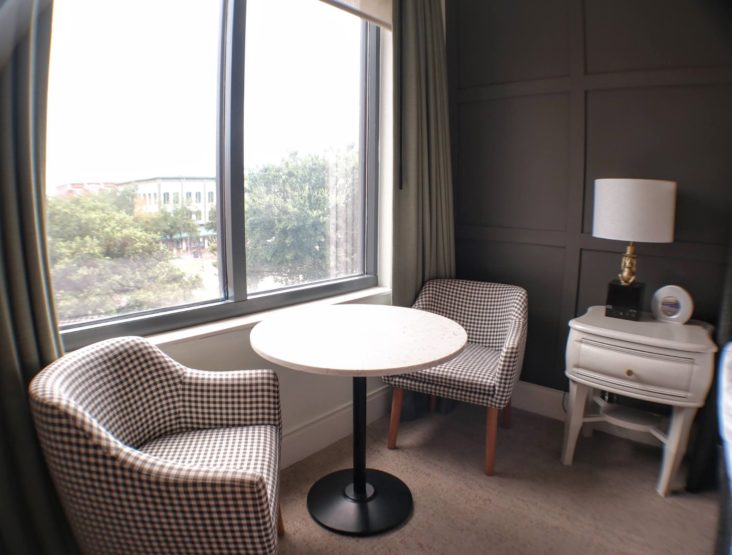 Speaking of coffee, the room came with a Keurig coffee maker that was stocked with regular and decaf coffee, as well as tea, sugar, and individual containers of half and half, both flavored and regular. There was also a wine opener available.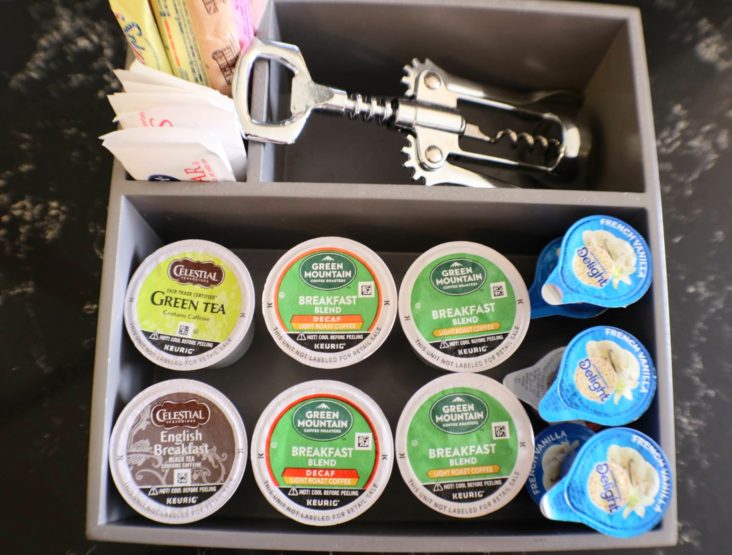 The closet had a luggage rack as well as an iron and ironing board.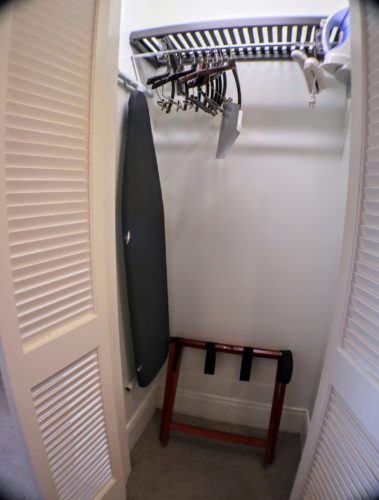 The room also featured a large TV, mini-fridge, and in-room safe.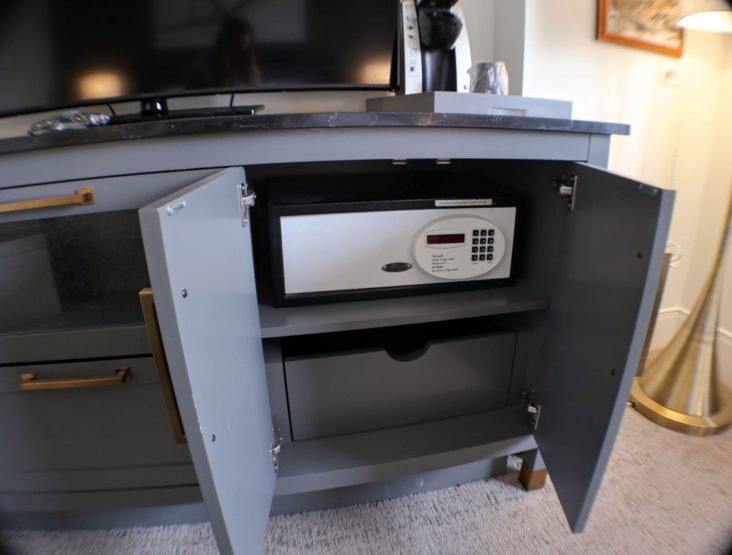 Bathroom
The bathroom was spacious and had a modern walk-in shower. Next to the shower was a hook that was handy for hanging up toiletry bags.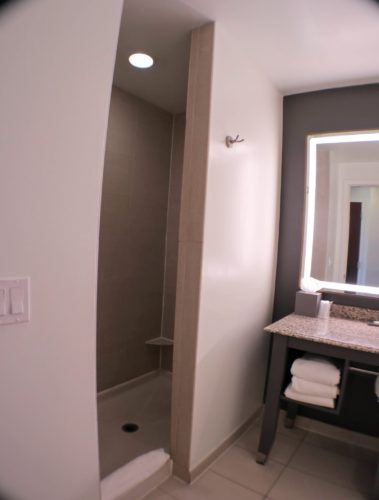 The single sink had lots of counter space, as well as a lighted makeup mirror. The only thing I didn't like about the bathroom was that there were no towel bars except for an awkwardly placed one under the sink that held clean towels.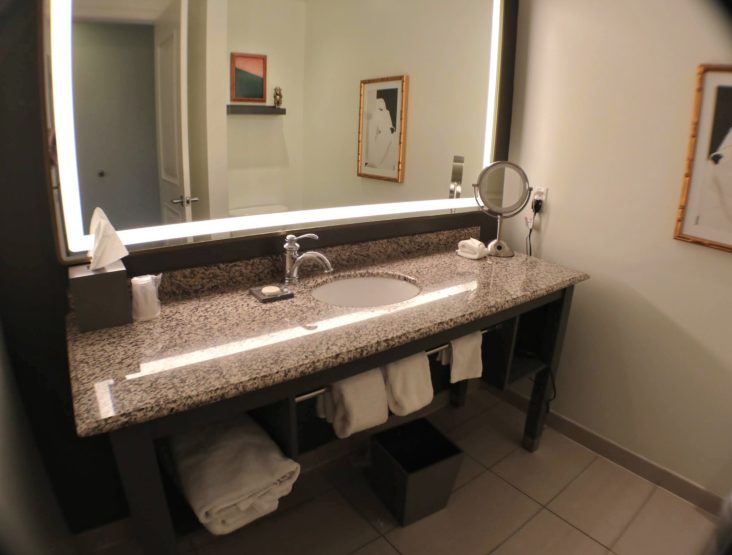 The shower and vanity area were stocked with ZERO% bath products.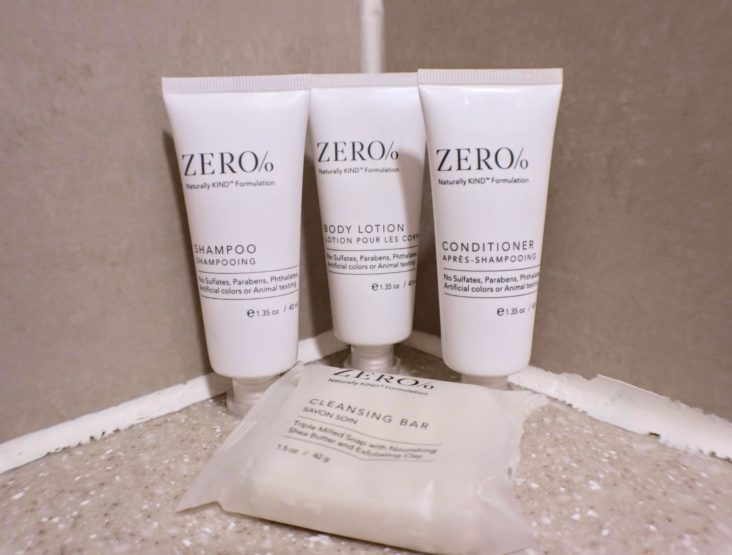 Food and Beverage
22 Square Lounge
22 Square Lounge, located in the Andaz Savannah lobby, is open for cocktails from 3 p.m. to 10 p.m. daily. Dinner is also available in the lounge starting at 5 p.m. each day.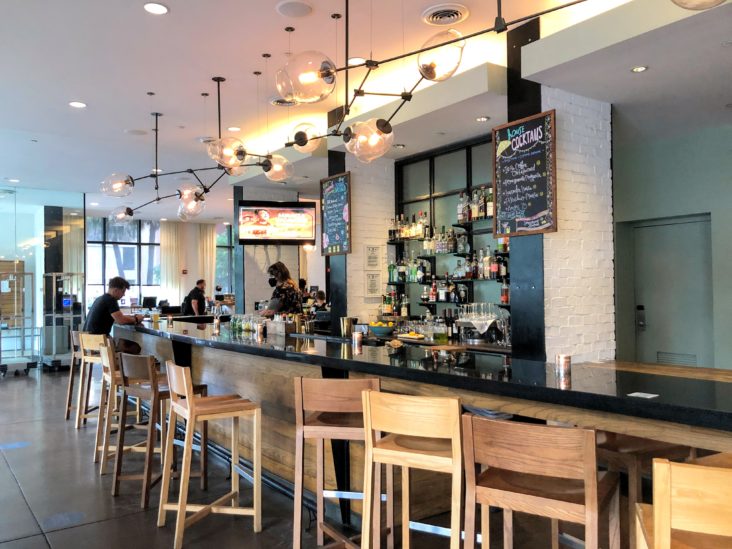 22 Square Restaurant
22 Square Restaurant is a small restaurant located in the lobby of Andaz Savannah. It serves southern-inspired favorites for breakfast, brunch, and dinner.
Breakfast is served from 6:30 a.m. to 11 a.m. daily
Dinner is served from 5 p.m. to 10 p.m. daily
Sunday Brunch is served from 11:30 a.m to 2 p.m.
Due to social distancing, seating was limited.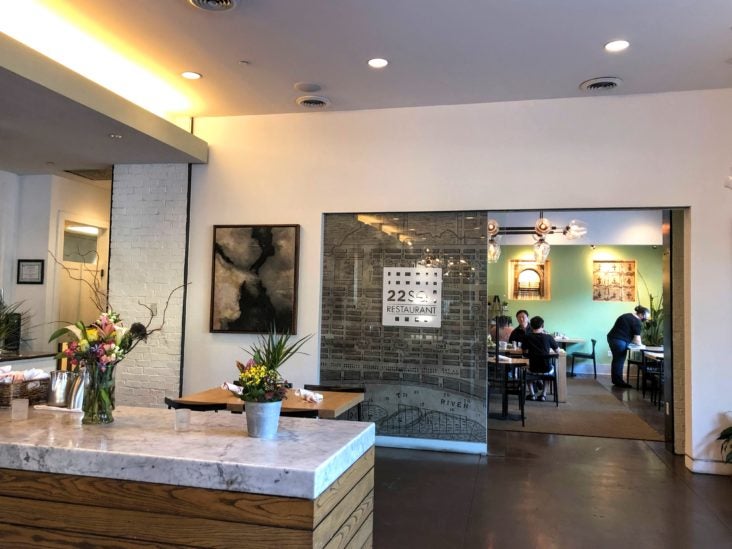 Service
The service I experienced at Andaz Savannah was great. The front desk staff was friendly and welcoming, and I loved the daily room refresh.
Housekeeping
Like most hotels, housekeeping at Andaz Savannah has changed a little due to COVID-19. During my stay, full housekeeping service was provided after the third night unless requested otherwise. However, a daily room refresh that included garbage removal, coffee station restocking, and new towels was offered. While I personally miss the daily housekeeping of years past, I was happy to have new towels and restocked coffee daily.
COVID-19 Protocols
There were a few COVID-19 protocols in place at Andaz Savannah:
Full housekeeping services have been reduced
In-room dining was suspended
Hand sanitizer was available throughout the hotel
Final Thoughts
I really enjoyed my stay at Andaz Savannah and thought it was a great use of my World of Hyatt free night certificates. While the hotel wasn't huge, the location was fantastic, the service was great, and the rooms were very comfortable.
If you're visiting Savannah and looking for a unique hotel with a great location, Andaz Savannah could be a great fit — especially if you've got World of Hyatt points or free night certificates.