Virgin Atlantic Boarding Process and Groups – Everything You Need To Know
Virgin Atlantic may be the underdog of U.K. long-haul airlines, but it has long strived to give its passengers a hip cabin and delightful service across all classes. This made the airline a favorite for many U.S. and U.K. based travelers, letting it quickly expand to destinations across the United Kingdom, North America, Asia, the Caribbean, and the Middle East.
If you have an upcoming flight to the U.K. (namely, London or Manchester), there's a decent chance that you'll find yourself on a Virgin Atlantic plane. No matter what class of service you choose to book, one thing rings true: you're going to have to physically board the plane before the Virgin Atlantic experience begins.
However, Virgin Atlantic has a somewhat untraditional boarding process that makes it different from British Airways, United Airlines, and others that fly from the U.S. to the U.K.
In this article, we'll show you how the Virgin Atlantic boarding process works, saving you some major confusion at the airport.
Without further ado, let's dive in!
Virgin Atlantic Boarding Zones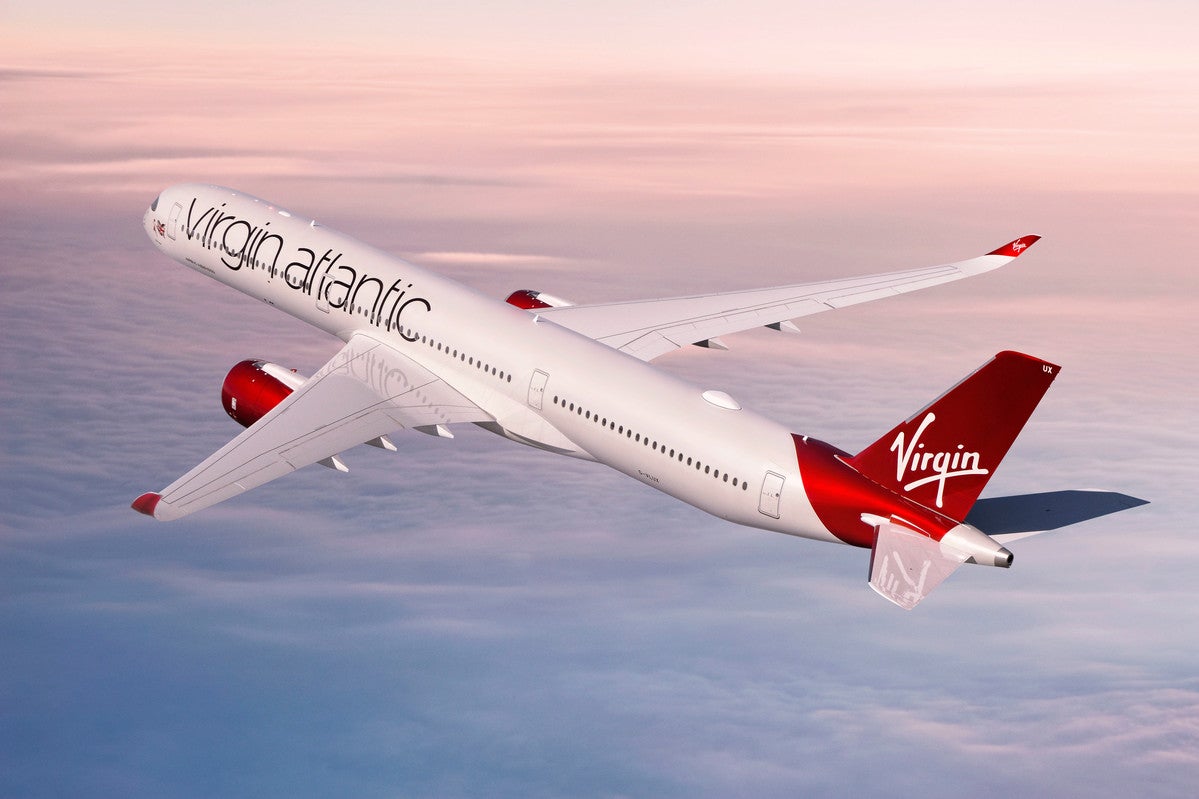 As you'd expect, Virgin Atlantic breaks up its boarding zones class-by-class. However, there are a couple of things that make this different than other airlines — namely that economy boarding is split up by the type of economy fare you choose to purchase. So with that in mind, make sure you know what type of economy fare you've purchased before you go to board.
However, like most airlines, those with status can board ahead of their purchased class of service. Here's how the boarding process works:
First to Board
Upper Class (Virgin Atlantic's term for business class) passengers
Families with small children
Delta Diamond, Platinum, Gold, and Silver Medallion Members
Virgin Atlantic Gold and Silver tier members
Second to Board
Premium (Virgin Atlantic's version of premium economy) class passengers
Third to Board
Economy Delight passengers
Fourth to Board
Economy Classic passengers
Economy Lite passengers
Note that Economy Classic and Economy Lite passengers are called by row, starting from the back to front.
Priority Boarding
Currently, there is no way to buy priority boarding outright. Instead, you'll have to either earn frequent flier status on Virgin Atlantic or Delta or purchase an Upper Class, Premium, or Economy Delight ticket.
How to Build up Your Virgin Atlantic "Flying Club" Balance
Flying on Virgin Atlantic — whether in economy, Premium, or Upper Class — doesn't need to be an expensive feat. In fact, you can book tickets on the airline using the airline's mileage currency —Flying Club — to fly on the airline for a relatively low amount of miles.
You can earn Flying Club miles in a variety of ways, the first being by flying on Virgin Atlantic or one of its airline partners. The airline partners with a number of different airlines like Delta Airlines, Singapore Airlines, Virgin Australia, and others. You can view the full list of airline partners on Virgin Atlantic's website.
Hot Tip: You can use your Flying Club miles to redeem for flights on Delta Airlines, Singapore Airlines, ANA, and other Virgin Atlantic partner airlines. Check out our Virgin Atlantic redemption guide for more info.
However, the most popular earning method for most Flying Club members is transferring in miles from a number of credit card and hotel transfer partners like American Express Membership Rewards, Chase Ultimate Rewards, Citi ThankYou, and Marriott Bonvoy. Each of these transfer at varying rates, and offer bonus deals from time to time.
Further, you can also earn Flying Club miles by signing up for a Virgin Atlantic co-branded credit card from Bank of America. The Virgin Atlantic World Elite Mastercard® has a solid sign up bonus and earns bonus miles on Virgin Atlantic purchases.
These are our recommended cards for earning Virgin Atlantic miles:
Virgin Atlantic Credit Card
As mentioned earlier, Virgin Atlantic has one co-branded credit card with Bank of America. This card — dubbed the Virgin Atlantic World Elite Mastercard® — earns 3x points on Virgin Atlantic purchases and 1.5x points everywhere else. It offers a varying signup bonus, too, so it's a good way to earn Virgin Atlantic Flying Club points relatively quickly.
On top of this, there's a 15,000 point anniversary bonus issued upon account renewal, and spend bonuses that let you earn upgrade certificates and companion fares. The card currently has a relatively low annual fee of $90.
Chase Ultimate Rewards Credit Cards
Chase Ultimate Rewards points transfer to Virgin Atlantic at a 1:1 ratio. You can use these credit cards to earn Ultimate Rewards points quickly through sign up bonuses and everyday spend:
Recommended Chase Cards (Personal)
Chase Sapphire Preferred® Card - This is our favorite beginners travel rewards card which has a 60,000 point bonus (highest ever) after you spend $4,000 on purchases in the first 3 months from account opening.

This sign up bonus is worth $750 in travel purchases (flights, hotels, car rentals etc) when you redeem your points through Chase's travel portal, which works like Expedia. The bonus alone could get you multiple round-trip flights or hotel stays.
Chase Sapphire Reserve® - Consider this premium card if you want to get into a lot of airport lounges. The current sign up bonus is 50,000 points after you spend $4,000 on purchases in the first 3 months from account opening. You'll also get a $300 travel credit per year which wipes away a big chunk of the $550 annual fee.
Chase Freedom Unlimited® - A simple, no annual fee card that earns you a $150 bonus after you spend $500 in your first 3 months. Earn 1.5% cash-back on all purchases, but you won't get any travel benefits or the ability to earn bonus points with this card.
Recommended Chase Cards (Business)
Ink Business Preferred® Credit Card - This is our #1 recommended business card and right now comes with a 100,000 sign up bonus after you spend $15,000 on purchases in the first 3 months after account opening. This bonus is worth $1,250 when you redeem through Chase Ultimate Rewards for travel purchases (flights, hotels etc). Pay your cell phone bill with this card to receive up to $600 in cell phone insurance coverage per year.
Ink Business Cash℠ Credit Card - earn $500 bonus cash back after you spend $3,000 on purchases in the first 3 months after account opening. This no annual fee business card earns up to 5% cash back on a range of business expenses such as office supply stores, internet, cable, and phone services.
Amex Membership Rewards Credit Cards
You can transfer Amex Membership Rewards points to Virgin Atlantic at a 1:1 transfer ratio. See our post on how to earn lots of Amex points where credit cards are a great tool for that.
Citi ThankYou Points Credit Cards
Like Amex and Chase, Citi ThankYou points can be transferred to Virgin Atlantic at a 1:1 transfer ratio. See our article on the best Citi credit cards to top up your ThankYou point balance.
Marriott Bonvoy Credit Cards
Marriott Bonvoy points transfer to Virgin Atlantic Flying Club at a 3:1 ratio, with a 5,000-mile bonus awarded for every 20,000 miles (60,000 Bonvoy points) transferred.
You can earn Marriott Bonvoy points by staying at Marriott hotels or by signing up for a Marriott Bonvoy co-branded credit card from Chase or American Express.
Final Thoughts
The United Kingdom is one of the most popular international destinations for American tourists, and Virgin Atlantic is one of the most comfortable ways to cross the pond.
Before you head to the airport though, it's important to know what to expect so that you're not caught off guard. While Virgin Atlantic has a largely standard boarding process, its decision to split up different types of economy passengers may throw off some first time Virgin Atlantic flyers.
We really hope this will help get your next Virgin Atlantic trip to the U.K. off to an enjoyable and stress-free start — safe travels!