The Mexico City, Mexico (MEX) American Express Centurion Club at International Terminal 1 [Location, Hours, Amenities]
American Express has several Centurion Lounges and International American Express Lounges worldwide, including Houston (IAH), Las Vegas (LAS), Miami (MIA), Sydney (SYD), Melbourne (MEL), Hong Kong (HKG), and Monterrey (MTY), to name a few. These lounges are operated by American Express and feature a variety of amenities including comfortable seating, showers, complimentary food and drink, and plenty of places where you can work.
In this post, we'll be looking at 1 of 3 Centurion Clubs at Mexico City International Airport — the location at International Terminal 1. The lounge is certainly a great respite in the busy airport and is accessible with several premium American Express cards.
After a long day of flying or a layover with more than enough time to spare, the American Express Centurion Club is the place to go for comfortable seating, a full bar, food for purchase, and spa services.
How to Access the Centurion Club Mexico City
To access any Centurion Club in Mexico City, you need The Platinum Card® from American Express, The Business Platinum Card® from American Express, or Centurion® Card from American Express, issued in any country worldwide. This also includes any co-branded partnerships, such as the one with Charles Schwab.
Lounge Location
The lounge is located in International Terminal 1, before security. Because it is located before security, you'll need to monitor the security queues to ensure you leave enough time to get to your gate.
Hours of Operation
The lounge is open from 5:00 a.m. to 11:00 p.m., which allows you to use the lounge at pretty much all hours of the day.
Lounge Amenities
The lounge features a variety of amenities including:
Made-to-order meals
Complimentary bar, including beer, wine, spirits, and non-alcoholic beverages
Restrooms and shower facilities
High-speed Wi-Fi
Flight monitor boards
Workspaces
Seating
The lounge is divided into 3 areas — an Amex Platinum cardholder area, a Centurion cardholder area, and a general seating area. There are a variety of seating options including couches, armchairs, lounge chairs, and high-top chairs, and there are plenty of outlets around the lounge for those who need to charge up. You can definitely feel that this lounge has a "retro dated" feel to it, reminiscent of several years back.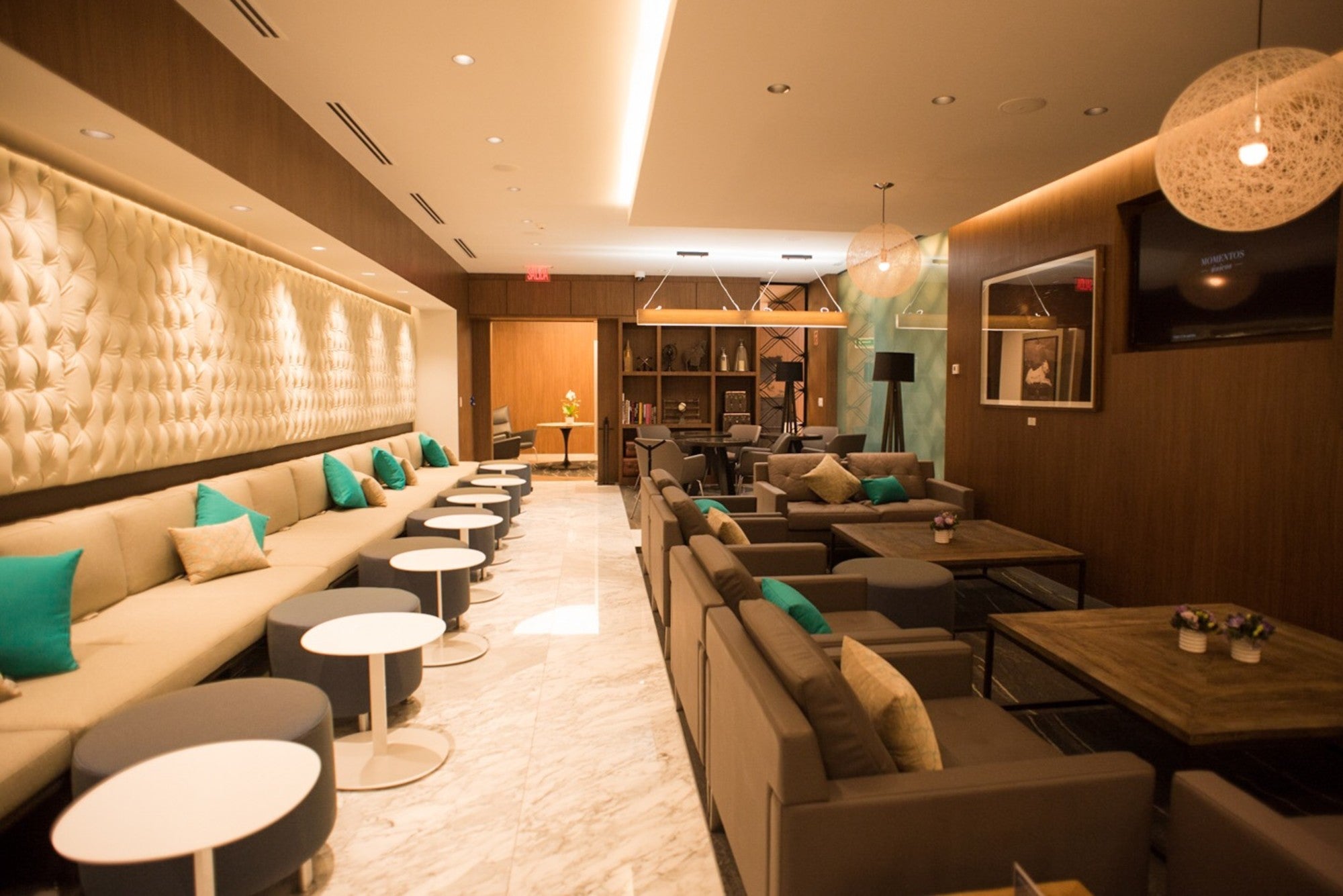 Wi-Fi
The lounge features complimentary high-speed Wi-Fi, perfect for catching up on work prior to your flight. Users report speeds that are fairly fast, good for downloading large files or entertainment, too.
Club Room
This Centurion Club features a game room for children, which has an Xbox video game system, various toys, a television with movies, and other things to keep your kids occupied.
Hot Tip: To access the club room, you don't need to pre-reserve anything. Simply bring in your kids and they can play as long as they like. You don't have to worry about any time-limits or signing up beforehand.
Restroom and Shower
Male and female restrooms are offered in this lounge, and in addition, there is a shower suite you can reserve. The shower suite is complete with a toilet, vanity, and shower, and also comes with towels and basic toiletries so you can freshen up before your flight.
The shower suite is first come, first served and to reserve it you'll need to speak with the staff at the front desk. During busy periods, there may be a wait to use the showers, so Amex has a suggested 30-minute use per passenger to help speed things up.
Flight Monitor Boards
Since this lounge is located before security, monitoring your departure time is super important. Flight schedule boards are located throughout the lounge, allowing you to keep track of the estimated boarding and departure times so you can leave well in advance of your flight.
Hot Tip: Depending on the volume at security, it's advisable to leave the lounge at least a minimum of a half-hour prior to scheduled boarding to ensure that you have enough time to clear security or immigration and walk to your gate.
Seating
The lounge offers a variety of seating options, including large single-person couches, chairs with tables, and stools at the bar. There are power outlets scattered throughout to charge devices, too.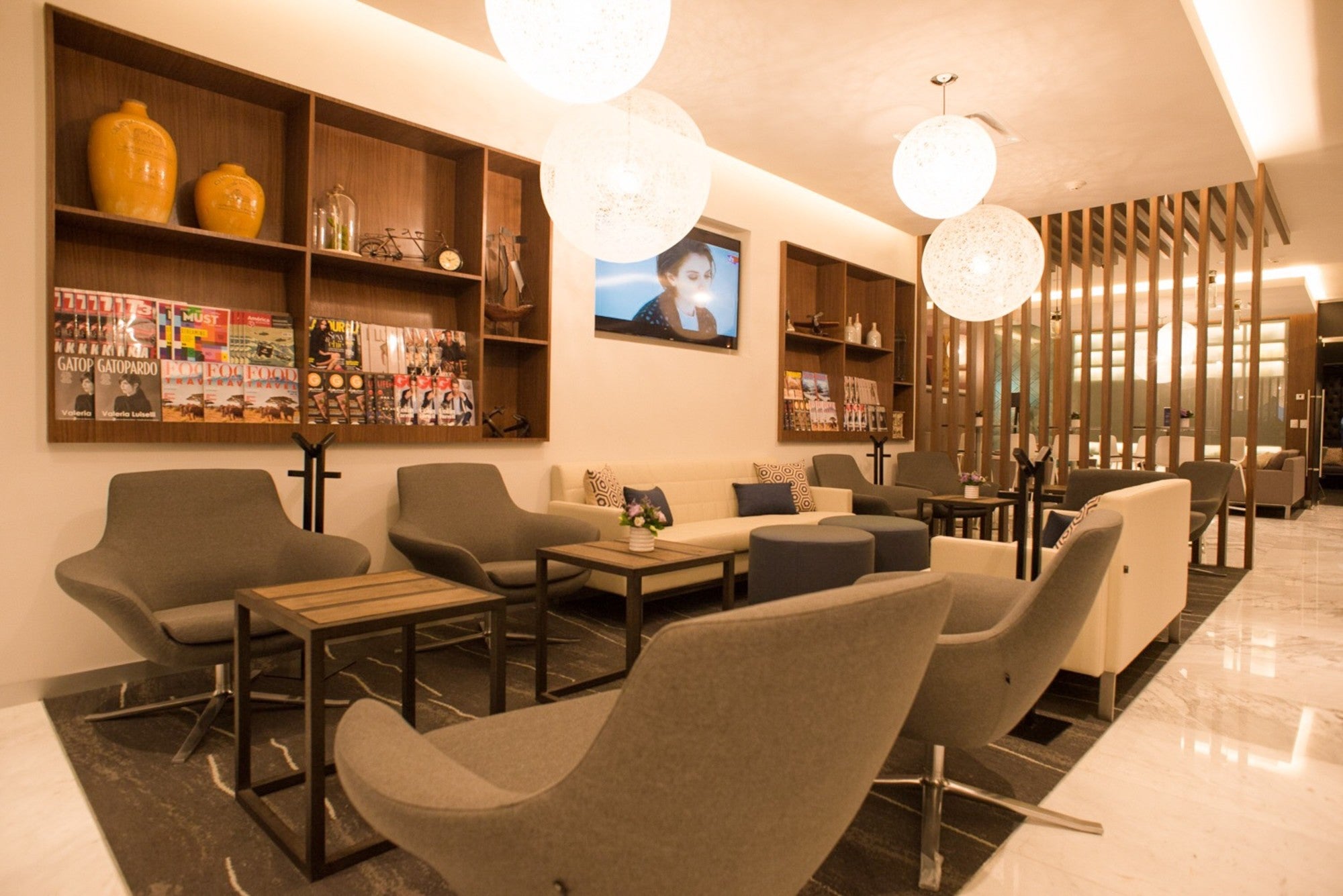 Spa
There is a spa featuring a variety of complimentary and pay-per-use massage and aesthetics services.
Amex Platinum card and Centurion cardholders may choose one of the following complimentary services (subject to availability):
15-minute massage
Contour cleaning and sideburn trimming
Bang trim
Nail trim or polish (fingers or toes)
Additional massage time, hair styling and haircuts, and manicures and pedicures are available at an additional cost. Centurion cardholders may receive some of these additional treatments for free, while Amex Platinum cardholders may receive a discount off of the paid price.
Food and Drink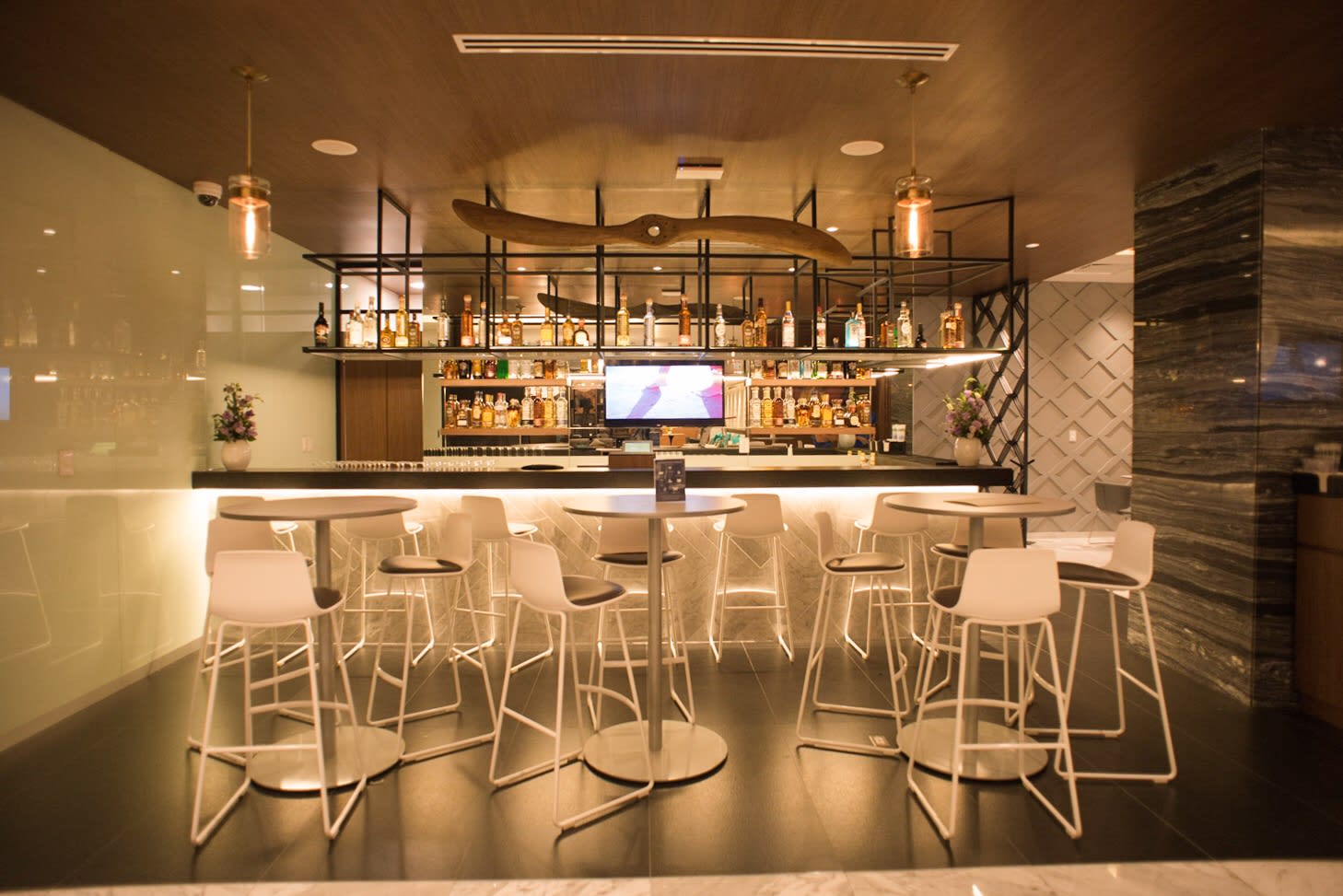 Unlike other lounges, this lounge requires members to order and pay for most of their food. There is a decent offering, and menus are scattered throughout the lounge.
For breakfast, a sample menu may include:
Eggs and omelets
Yogurt and granola
Chilaquiles
French toast
Fruits and pastries
For lunch and dinner, you'll find:
Salads and soups
Assorted pasta
Assorted pizza
While there is a paid menu, a limited number of menu items may be complimentary to Amex Platinum card or Centurion cardholders. Those cardholders will be given a voucher at check-in to give to their server (indicating eligibility), and from there one can choose from either yogurt/granola and scrambled eggs for breakfast, or rigatoni, a margarita pizza, or a simple salad for lunch and dinner.
If you're looking for a heartier meal with bigger portions and more options, you can make a selection from the paid menu. Payment is required with an Amex card and some guests report that tipping is only accepted with cash.
Enrique Olvera is the Executive Chef and creator behind the food on offer. He studied at the Culinary Institute of America and owns Pujol, which is one of the best restaurants in Mexico City, consistently also ranked as one of the world's best.
Soft drinks, beer, wine, and basic mixed drinks are complimentary. If you want something super fancy — a high-end liquor, for example — you may be asked to pay.
Bottom Line: The Centurion Club in Mexico City is one of the few American Express lounges that charges for food. If you wish to eat here, you will need to pay.
Final Thoughts
The American Express Centurion Club in Mexico City is different from other American Express Centurion lounges, though it is definitely upscale with comfortable seats, free Wi-Fi and a full bar. The lounge does charge for most food, but for a decent meal, this may be something that is worthwhile for a hungry traveler. Still, if you just want to munch on something, there are a few free items to tide you over.
This is one of the better lounges in Mexico City, so as an Amex Platinum card or Centurion cardholder, you may want to make time to visit the Centurion Club in Terminal 1 before your flight.
---
The information regarding the Centurion® Card from American Express was independently collected by Upgraded Points and is not provided nor reviewed by the issuer.