Best Ways to Book British Airways First Class With Points [Step-by-Step]
British Airways (BA) usually provides a great service in their premium classes, with first class obviously being the most luxurious way to fly with them.
Before we dive into the best ways to fly British Airways using points, let's take a quick look at some of the greatest parts of this experience.
A Look Inside British Airways First Class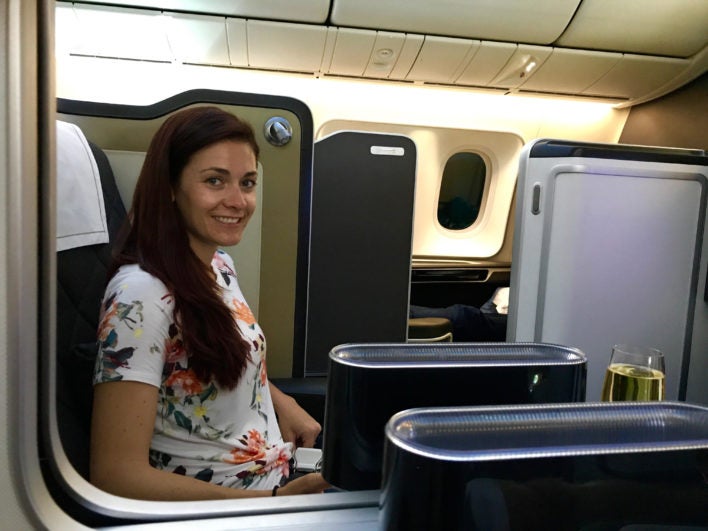 The spacious first class suite on the British Airways 787-9 Dreamliner is all about comfort and style. With only 8 first class seats on the Dreamliner (compared to the usual 14), passengers will find themselves pampered even more.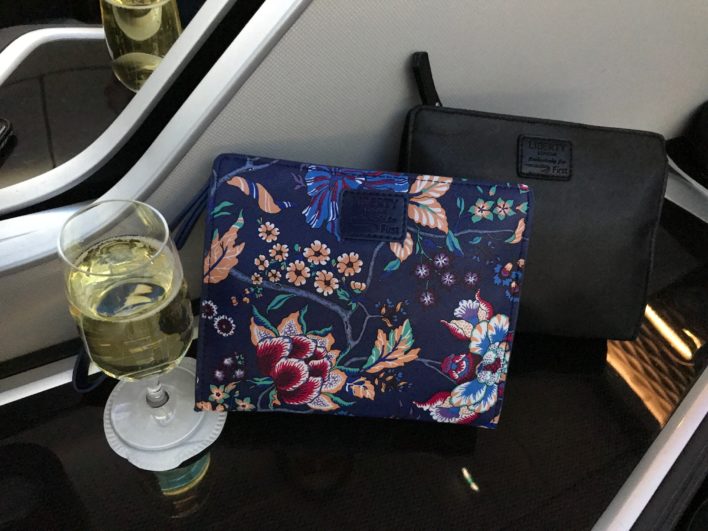 With distinct options for men and women, the new Liberty London amenity kits contain selected Aromatherapy Associates essentials. These kits were designed exclusively for first class and are only available on British Airways.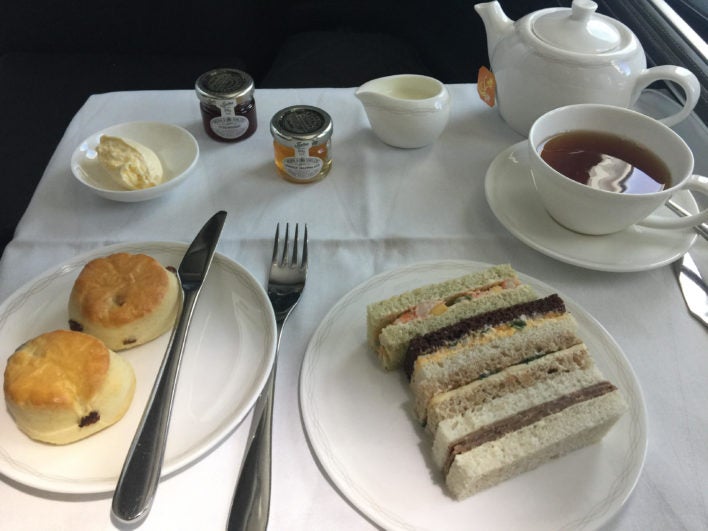 When flying British Airways first class, you'd expect to find a few English customs here and there. In addition to the regular meal services, first class passengers can also experience a traditional afternoon tea service.
How to Fly British Airways First Class Using Points
British Airways is a member of the Oneworld alliance, which means you can use miles from any of the Oneworld carriers along with their own Executive Club Avios to book flights. In addition to OneWorld partners, BA also partners with Alaska Airlines, Aer Lingus, and Meridiana.
When booking an award ticket on BA-operated flights, you may notice the taxes and fees are higher than you would expect. This is because British Airways adds significant fuel surcharges to their flight prices. These surcharges are now $700-$1,000 one-way for BA business and first class flights from the US.
BA considers these charges to be separate from the ticket price, so they'll be added on to award tickets as well. This often means economy award tickets are too expensive to make sense, but the fees are much more reasonable when you're redeeming for first class.
While some airlines don't pass on the carrier-imposed surcharges on award tickets, British Airways does. Additionally, you will have to pay the British Air Passenger Duty when departing the UK on a flight that is over 2,000 miles if you are flying business or first class. This fee is £156 (roughly $200).
Hot Tip: To avoid this massive fee, you can begin your journey from another European city such as Paris or Amsterdam.
Keep in mind when using British Airways' Travel Together Ticket that you will be required to pay the fee for both passengers.
British Airways Executive Club
| | | | |
| --- | --- | --- | --- |
| Zone | Distance (Miles) | Off-Peak | Peak |
| 1 | 1 to 650 | 15,500 | 18,000 |
| 2 | 651 to 1,150 | 25,500 | 30,000 |
| 3 | 1,151 to 2000 | 34,000 | 40,000 |
| 4 | 2,001 to 3,000 | 42,500 | 50,000 |
| 5 | 3,000 to 4,000 | 68,000 | 80,000 |
| 6 | 4,001 to 5,500 | 85,000 | 100,000 |
| 7 | 5,501 to 6,500 | 102,000 | 120,000 |
| 8 | 6,501 to 7,000 | 119,000 | 140,000 |
| 9 | 7,001 and greater | 170,000 | 200,000 |
One of the easiest ways to book British Airways first class is through their own frequent flyer program. Their mileage currency is called Avios.
Unlike major U.S. airlines, British Airways Executive Club uses a distance-based award chart (shown above) for first class redemptions. The award pricing can get quite complex depending on how many different partners you are flying with, but for our purposes we'll just look at flights operated by British Airways. After all, we are trying to experience British Airways first class!
British Airways flights are individually priced based on the distance between origin and destination and what class of service you want to fly. This means if you want to book a flight that has a connection, each flight segment will be priced separately, and the 2 award prices will be added together.
In addition to the above guidelines, British Airways has peak and off-peak pricing depending on when the flights will take place. To check your dates and see if they qualify for off-peak pricing, find a link here under the section titled "Working Out the Cost."
It appears that off-peak dates include most of September, all of November, and about half of October and December.
British Airways awards can be booked online following the steps outlined below:
Go to the British Airways website
Log in to your account (in the upper right corner)
Scroll down and select Spend Avios in the center column
Choose Book a Reward Flight
Enter your origin and destination airports, dates, and select first class
Click on Get Flights
Select the button for the available first class flight you want and click Next
Agree to the terms and conditions and click Continue
Enter your passenger information and click Continue
Confirm your flight details and make your payment
Not only do the mileage prices add up for each flight segment, but taxes and fees (including fuel surcharges) add up as well. Multi-segment flights booked with Avios quickly become outlandishly expensive, so British Airways Avios are best used for direct flights or single connections.
Japan Airlines Mileage Bank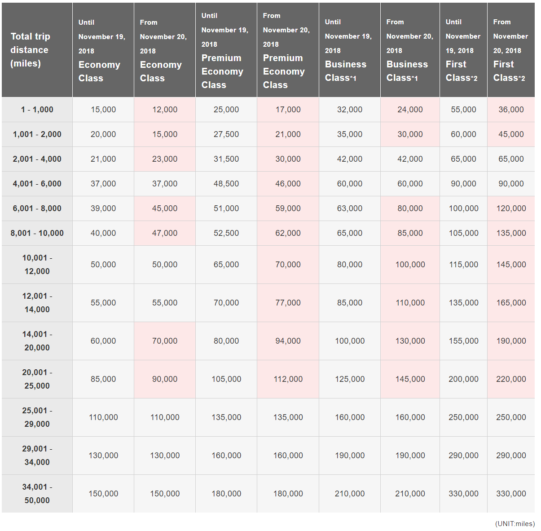 Like British Airways Executive Club, the Japan Airlines Mileage Bank program uses a distance-based award chart. This award chart is broken into tiers based on how many miles you're flying.
Note that if you fly multiple segments, you'll also need to account for the distance between each airport.
Japan Airlines requires you to call to book award flights with partner airlines, but this is easy if you follow the steps below:
Go to the Japan Airlines website
Log in to your JAL Mileage Bank account
Select JMB Partner Airlines Award Ticket Reservation
Select British Airways under Partner Airlines
Select first class, your travel dates, and the departure and destination airports
Select your flights and hit Next
Confirm the Mileage Bank miles and taxes/fees required
If your booking involves a connection on another partner of Japan Airlines such as American Airlines, you will have to call to complete the booking
Japan Airlines allows stopovers, so you can see multiple destinations on your trip for the same price as if you only had short layovers.
Hot Tip: For other ways to earn Japan Airlines miles, read our best ways to earn JAL miles. If you need some other ways to use your Mileage Bank miles, check out our best ways to redeem Japan Airlines miles.
Alaska Airlines Mileage Plan
Another great way to book British Airways first class is through the Alaska Airlines Mileage Plan program. British Airways flights between North America and either Europe, Africa, or the Middle East are bookable on the Alaska Airlines website.
Flying between North America and Europe will cost 70,000 Alaska Miles each way. North America to or from either Africa or the Middle East will cost 80,000 miles each way. Fuel surcharges from British Airways are collected when booking with Alaska miles as well.
To book, go to Alaska's website and follow these simple steps:
Go to the Alaska Airlines website
Sign in to your account
Search for your desired route (make sure you select Use Miles)
Select your desired flight and click Add To Cart
Pay the necessary taxes/fees and complete your booking
Not only are Alaska's award prices often better than BA's own, but you can also book a stopover on your award redemption.
If you need some other ideas for using your Alaska miles, check out our best ways to redeem Alaska miles.
American Airlines AAdvantage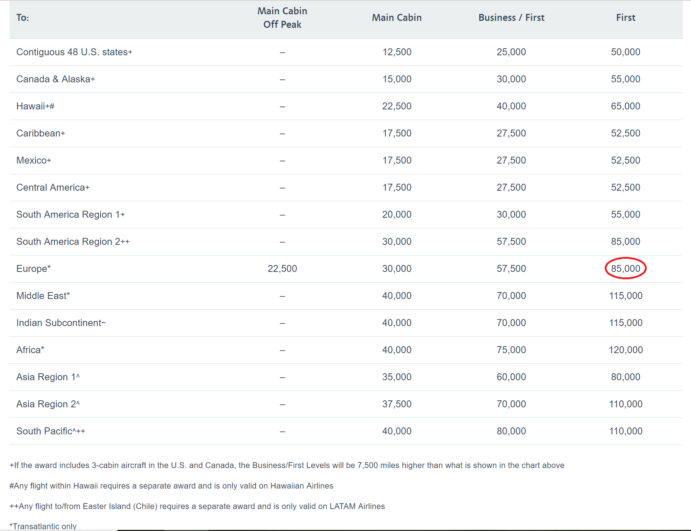 We like AA because of their reasonable award rates to Europe in business class. You will be able to fly for 85,000 miles each way. Unfortunately, you will be on the hook for all fuel surcharges, as AA passes them on for BA flights.
You'll do best searching for award availability on BA.com instead of AA.com. American is known for hiding partner availability, especially for routes that it operates its own flights on.
Here's the best way to search for award availability:
Go to the British Airways website.
Log in to your account (upper right corner)
Scroll down and select Spend Avios in the center column.
Choose Book a Reward Flight.
Enter your origin and destination airports, dates, and select first class.
Click on Get Flights. Write down the desired flights, dates, and times.
Call American Airlines at 1-800-882-8880. If transferring points, you are allowed to hold your reservation for 5 days.
Confirm your flight details and make your payment.
AA does not allow stopovers, so you will need to pay for each segment if you want to plan a stop in London before heading to another destination.
For other ways to earn American Airlines miles, read our best ways to earn AA miles. If you need other ways to use your AA miles, check out our best ways to redeem American Airlines miles.
Other Options for Booking British Airways Flights
Since British Airways is a member of the Oneworld Alliance, you can use miles from any of the member programs to book awards.
Cathay Pacific's Asia Miles, for example, also uses a distance-based award chart that has some great sweet spot redemptions. Asia Miles is a complex program with many different award charts depending on which partners you are flying with, but if you're only looking for British Airways flights, then they are bookable online. They do impose fuel surcharges on awards.
Other Oneworld partners tend to be less competitive in their award charts, but are worth checking out if you find yourself with a large stockpile of miles in a specific program.
Great British Airways First Class Redemptions
Now that you know how to book your British Airways first class flights, let's take a look at a few of the best routing options.
North America to Europe
This ticket will cost 65,000 Japan Airlines miles or 70,000 Alaska Airlines miles. Compared to 80,000 United miles or 85,000 American Airlines miles, this is one of the best options from the U.S. to Europe.
North America to Dubai
You can book this route for just 80,000 Alaska Airlines miles. Compared to 115,000 American Airlines miles or 140,000 United miles for a partner award, this is a great deal for long-haul first class travel.
London to Hawaii
For 70,000 Alaska Airlines miles, combine a British Airways first class flight from London to the U.S. West Coast with an Alaska Airlines first class flight from there to Honolulu. Out of the cheapest options for redemption on this route, you probably have the best chance of finding first class availability with British Airways and Alaska Airlines.
How to Earn Enough Miles for British Airways First Class
If you need more Avios to complete a first class booking with British Airways, you have plenty of options to earn more.
British Airways Avios can be earned directly with the British Airways Visa Signature® Card.
BA Avios can also be transferred from Chase Ultimate Rewards, American Express Membership Rewards (both at a rate of 1:1), or from Marriott at a transfer rate of 3:1.
By transferring from Marriott at a rate of 3:1 plus the transfer bonus, this will net you 25,000 AA miles for 60,000 Marriott points.
You can also earn American Airlines miles directly with Citi and Barclays credit card offerings.
Chase Ultimate Rewards
Recommended Chase Cards (Personal)
Chase Sapphire Preferred® Card - This is our favorite beginners travel rewards card, which is currently offering a 60,000 point bonus after you spend $4,000 on purchases in the first 3 months from account opening.

The card earns 2x points on dining at restaurants including eligible delivery services, takeout and dining out and travel and 1 point per dollar spent on all other purchases. From November 1, 2020, through April 30, 2021, earn 2x total points on up to $1,000 in grocery store purchases per month (including eligible pick-up and delivery services). With offering other travel benefits such as excellent travel insurance coverage and no foreign transaction fees, this card is a very rewarding Chase credit card.

The sign up bonus is worth $750 in travel purchases (flights, hotels, car rentals etc) when you redeem your points through Chase's travel portal, which works like Expedia.

Chase Sapphire Reserve® - This premium card will get you access to 1,000+ airport lounges. as well as a number of other card benefits. The current sign up bonus is 50,000 points after you spend $4,000 on purchases in the first 3 months from account opening. You'll also get a $300 travel credit per year which wipes away a big chunk of the $550 annual fee. As an extra bonus, from 6/1/20 through 6/30/21, gas station & grocery store purchases will also count towards earning your Travel Credit.
Chase Freedom Unlimited® - A fantastic, no annual fee card that earns you a $200 bonus after you spend $500 in your first 3 months. Earn 5% cash-back on travel purchases through Chase Ultimate Rewards, 3% cash-back on dining and drugstore purchases, and 1.5% cash-back on all other purchases, but you won't get any travel benefits with this card.
If you're a business owner, see Chase business credit cards that we recommend.
Amex Membership Rewards
Recommended Amex Cards (Personal)
The Platinum Card® from American Express - There's currently a new welcome bonus offer of 60,000 75,000 Membership Rewards Points after spending $5,000 on purchases in your first 6 months of Card Membership. Plus, earn 10x points in the first 6 months on eligible purchases at U.S. Gas Stations and U.S. Supermarkets (on up to $15,000 in combined purchases).

This is our #1 card for accessing 1,300+ airport lounges worldwide (including Priority Pass). We leverage ~$3,000+ in benefits and perks from the card every year. Terms Apply. For rates and fees of the Amex Platinum Card, click here.

American Express® Gold Card - This card has a new welcome bonus of 35,000 60,000 Membership Rewards points after spending $4,000 on purchases in your first 6 months of Card Membership.

We love using this card as it earns 4x points at Restaurants worldwide, including takeout and delivery, plus, earn 4X points for Uber Eats purchases too, and 4x points at U.S. supermarkets (up to $25,000 per calendar year; then 1x. Terms Apply).

There's no better card in our opinion if you eat out and/or shop at supermarkets regularly; and you'll have access to many benefits and perks. For rates and fees of the Amex Gold, click here.
There are a number of Amex business credit cards too.
Marriott
There are also numerous Marriott cards available; we go into detail on our earn Marriott points article.
When Should You Search for Award Space?
Between the U.S. and Europe, British Airways is fairly generous about releasing award seats. If you are flexible with your departure city and timing, you can fly from New York JFK, Philadelphia, or Washington IAD multiple days per month throughout the whole schedule.
If you want more than 2 seats or need to fly on a specific day, it may make sense to search closer to when the schedule is released.
What Makes This a Great Redemption?
With 2 seats in first class from the U.S. to London available several days each month, British Airways is one of the easier first class awards to find. You'll have to pay the high taxes and fees, but you'll experience solid first class service.
No More Lines
First class passengers have dedicated check-in desks at most airports; Fast Track security at London Heathrow, London Gatwick, and New York JFK; and Fast Track arrivals at London Heathrow for non-EU passport holders.
Priority boarding is available for all flights. The First Wing at London Heathrow streamlines the check-in process with a private check-in area, dedicated security lines, and a walkway that leads directly to the Galleries First Lounge and Concorde Room.
All the Bags You Need
When traveling in first class, British Airways allows you to bring 1 full sized carry-on, 1 laptop or handbag, and up to 3 additional checked bags. That means plenty of room for an extended family vacation (or maybe a few extra souvenirs to bring home).
787 Dreamliner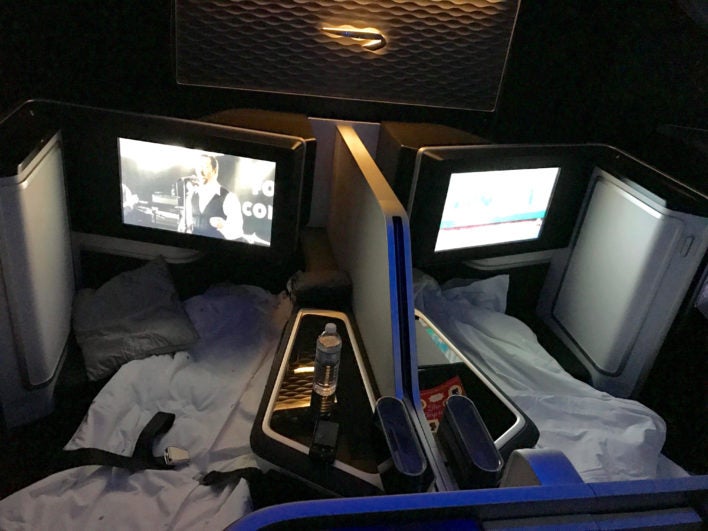 Travel Together Ticket
One of the more interesting options with British Airways Executive Club is their Travel Together Ticket. Each year that you spend $30,000 (or $20,000 within your first year of account opening) on your British Airways Visa Card, you will receive a Travel Together Ticket.
The ticket is good for 2 years, and it gives you the ability to book a complimentary second ticket for a companion when you book an award flight on British Airways. The companion must be booked into the same class of service and on the same flight as your ticket.
Also, the award flights must originate and return to the U.S. You do still have to pay the taxes and fees on the second ticket, which can easily top $1,500-$2,000 for premium cabin travel (especially if your return is from London). However, without having to use any additional miles, this is still a pretty good price to pay for a round-trip first-class flight on British Airways!
First Class Service
Impeccable service, elegant surroundings, fine dining…when you fly first class, British Airways wants to give you the absolute best experience possible.
First Class Suite
Each suite can be transformed into a 6'6″ fully flat bed. Quilted mattresses, cotton duvets, and soft pajamas mean even taller passengers will be able to rest comfortably while they fly.
Onboard Entertainment
A 15-inch personal screen, noise-canceling headphones, and more entertainment options than you could ever need (including films, documentaries, television, music, audiobooks, and games) mean you'll never be bored during your flight. Added USB connections, RCA jacks, and power ports allow passengers to enjoy their own devices ranging from iPods to laptops.
Inflight Dining
British Airways has worked with top chefs to design breakfasts, lunches, dinners, and of course an afternoon English tea service. Passengers can also dine on their own schedule with an a la carte menu and a selection of lighter options.
Fine champagnes, wines, spirits, beers, and a variety of non-alcoholic drinks round out the dining experience.
Galleries First Lounge
British Airways wants to provide their first class passengers with an exceptional experience at the airport before their flights too; the Galleries First Lounge is designed to do just that.
Luxurious furniture in rich velvets and classically tailored herringbone, top-notch service, and the best foods, wines, and champagnes ensure that you relax in comfort.
For those who need to use their time to work, complimentary internet, printers, copiers, and fax machines will make it seem like you're still at the office.
Finally, if you are departing from London Heathrow after 8 p.m. or from New York JFK, Newark, Philadelphia, Washington, Toronto, Chicago, or Boston after 6 p.m., you can take advantage of pre-flight waiter dining service in the lounge.
The Concorde Room
At New York JFK and London Heathrow Terminal 5, first class passengers can experience the epitome of excellence in the exclusive Concorde Room.
Inspired by 5-star boutique hotels, the Concorde Room is designed to be your home away from home. Fine art, luxury furniture, and exquisite chandeliers create an area of calm and comfort. Private cabanas with a day bed and en-suite bath are available at London Heathrow.
Before your flight, you can enjoy intimate booths for private dining with full waiter service. If you need to do some work before you fly, take advantage of the state-of-the-art business suite. Either way, relax in comfort until it's time to board your flight.
Arrival Lounges
In both Terminals 3 and 5 at London Heathrow, passengers can visit the arrivals lounge when they disembark from their flights. This is an excellent option when arriving early morning on a red-eye from the U.S.
Showers are available to refresh yourself after a long flight. For those who need to head straight to a meeting, the clothes-pressing services are a must-have. There are, of course, a variety of dining options as well.
Final Thoughts
British Airways makes it their goal to provide a luxurious service to first class passengers from the moment they arrive at the airport to the moment they depart at their final destination.
It is a great option to fly, but when booking awards in BA first class you really need to watch out for high taxes and fees. By paying attention to the airports you are flying between and weighing the value of what you're getting for the miles and fees you're paying, it is quite possible to fly British Airways first class with miles for pennies on the dollar.
So next time you're booking award flights, make sure you take a look at British Airways first class. If you have a chance to experience what they offer, let us know what you think!
---
Like this Post? Pin it on Pinterest!