How To Maximize the Hilton Aspire Card Resort Credit for Multiple Night Stays
The Hilton Honors American Express Aspire Card is one of our favorites here at Upgraded Points, and for good reason. Although it comes with a hefty annual fee, it also sports a dozen different perks that mean it outclasses every other travel card out there. 
One of its many benefits is the annual resort credit, a $250 credit usable at any of Hilton's resorts. While this isn't as broad as the free night certificate offered by the Marriott Bonvoy Brilliant™ American Express® Card, savvy travelers can make great use of the Hilton credit for stays of multiple nights — with nothing out of pocket. 
Let's break down what the credit is, how to use it, and the best places for you to maximize your Hilton Aspire card's annual resort credit.
Hilton Aspire Card Benefits
Credit Card
Benefits & Info
Hilton Honors American Express Aspire Card


Learn More

(at Amex's secure site)

Earn 150,000 Hilton Honors Bonus Points after spending $4,000 on eligible purchases within your first 3 months of card membership
Enjoy a free Weekend Night Reward within your first year and every year after renewal.
Earn 14x Hilton Honors Bonus Points on eligible purchases at participating hotels or resorts within the Hilton Portfolio.
Earn 7x Hilton Honors Bonus Points on eligible purchases: on flights booked directly with airlines or amextravel.com, on car rentals booked directly from select car rental companies & at U.S. restaurants.
Earn 3x Hilton Honors Bonus Points on all other eligible purchases
Annual Fee: $450
Good to Excellent Credit Recommended (670-850)
Terms Apply. For rates and fees of the Hilton Aspire Card, please click here.

Must Reads: For more info on the Hilton Aspire Card, see our insights on its benefits and our full review.
Before we launch into the resort credit, it's a good idea to break down all the benefits the actual card offers. Why? Because these benefits are going to affect your stay. As a cardholder, you are entitled to Diamond status, Hilton's top-tier elite status, as long as you hold the card. This means you're going to get things like free breakfast (soon to be a food and beverage credit in the U.S.) and executive lounge access wherever you go.
Here are all the perks that the Hilton Aspire card offers:
A $250 Hilton Resort statement credit each cardmember anniversary
Complimentary Hilton Diamond status
A $250 airline fee credit every calendar year
1 Free Weekend Night Award every cardmember anniversary
$100 credit at Waldorf Astoria and Conrad properties
$20 back per month at U.S. restaurants (through December 31, 2021)
The card also features a welcome bonus of 150,000 Hilton Honors Bonus Points after you use your new card to make $4,000 in eligible purchases within the first 3 months of card membership, as well as a free night certificate during your first year of ownership.
Note that not all of these benefits have to do with Hilton hotels; as you can see, there are airline fee credits and a Priority Pass membership, both of which will go a long way toward making your journey to the hotel much more comfortable.
Bottom Line: The Hilton Aspire card has industry-leading benefits that make it well-worth holding, despite its high annual fee. 
What Is the Hilton Aspire Card Resort Credit?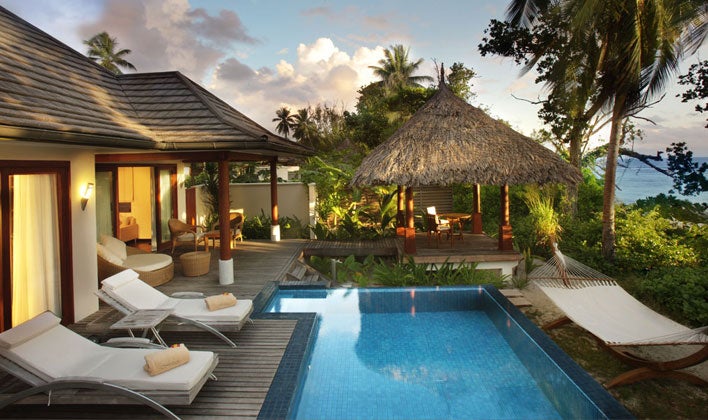 The resort credit, which renews each cardmember anniversary, provides a statement credit for up to $250 in eligible charges at nearly 250 Hilton Resorts. Hotels that are not on this list do not qualify for the statement credit. 
While a lot of people focus on using the credit for incidentals such as food or beverage charges, the credit can actually be much more useful.
When the card initially launched, the resort credit could be used for any room charges, including advanced and prepaid room rates. After the first year, however, Hilton altered the terms of the credit so that this was no longer the case.
Although this is unfortunate, you are still able to use the resort statement credit for room rates — as long as they aren't prepaid. This includes special rates that the hotel offers, such as discounts for extended stays, AAA membership discounts, and more. This is important because oftentimes you'll find better deals using those sales rather than Hilton's "best available rate."
A good rule of thumb is if the rate your booking does not charge you for the entirety of the stay upfront, then it should qualify for the Hilton Resort credit.
Bottom Line: You can redeem your Hilton Resort credit for up to $250 each year in incidentals at one of nearly 250 Hilton Resorts. 
How Does the Hilton Aspire Card Resort Credit Work?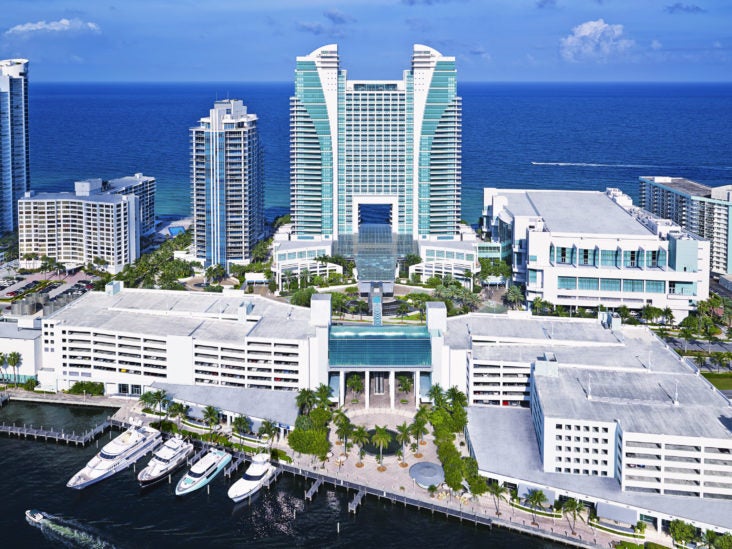 The resort credit is very simple to use — you just need to pay with your card at an eligible hotel and the credit will be automatically applied as a statement credit.
This is better than simply having $250 because, in addition to the perks you receive as a Hilton Aspire cardholder, you'll also earn 14x Hilton Honors points on all Hilton purchases.
Since the credit is offered after the fact, you'll still earn points on your charges, for a total of 3,500 points. Although we only value Hilton Honors points at a half-cent each, that's still $17.50 in free bonus points.
Of course, those are in addition to the bonus points you'll earn as a Diamond member. As a top-tier elite, you'll earn 20 points per dollar spent at Hilton hotels, which means you'll earn a further 5,000 bonus points for your stay of $250.
All in, you'll receive 8,500 bonus points that we value at $42.50. That's pretty good for $250 in reimbursed charges.
Hot Tip: Standard room rewards start at 5,000 points, which means you'll have earned enough for a free night once you've redeemed your credit. 
Finally, we've already mentioned this, but it bears repeating: the Hilton Aspire card resort credit is valid only at the nearly 250 hotels listed on Hilton's website. It doesn't matter if the hotel you've stayed at has the word "resort" in its name, if it has a plethora of pools, or it's located in some exotic, far-flung destination. If it is not on the list, your credit will not be applied.
Bottom Line: The Hilton Resort credit is automatically applied when you pay your room charges with your Hilton Aspire card. 
What Can You Use the Hilton Aspire Resort Credit for?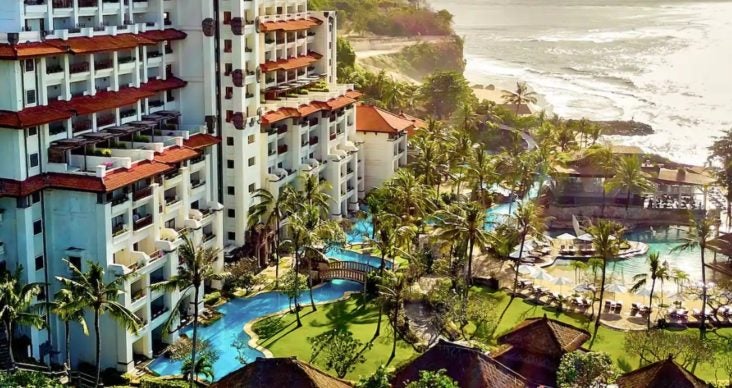 We've already mentioned a few different uses of the Hilton Aspire card resort credit, but aside from room rates and restaurant charges, the credit is quite flexible.
There are 3 main requirements for using this credit:
The charge must be made at an eligible resort
The cost must be charged to your room
You must pay for your room using your Hilton Aspire card
This opens up some interesting options for use if you're not planning on using the resort credit for your hotel stay — if, for example, you're using points so that your room rate is covered, you can still take advantage of the credit for various activities.
In places like Hawaii, if you charge the cost of any excursions to your room, they'll be covered by the credit. This can be great for cultural activities such as luaus or city tours. Meanwhile, in Rome, you can splurge on a Michelin-starred meal at La Pergola that's eligible for reimbursement.
Spa charges also qualify, as do room service and the cash cost of an upgrade — so go ahead and treat yourself to that corner room — it's covered.
Bottom Line: As long as it can be charged to your room and paid for with your card at an eligible hotel, the $250 Hilton Resort credit applies.
How To Choose Eligible Room Rates
We've already mentioned that prepaid and advance rates are not eligible for the credit, but a number of others are. When choosing your room rate, there are a number of factors you'll want to consider. In some cases, the "best available rate" can be the best option, but Hilton offers frequent sales that'll still be eligible for the credit, so make sure that you're booking the best rate for you.
For example, at the Hilton Sharks Bay Resort in Egypt, you'll find that the cheapest room rate includes breakfast and has a waived early departure fee: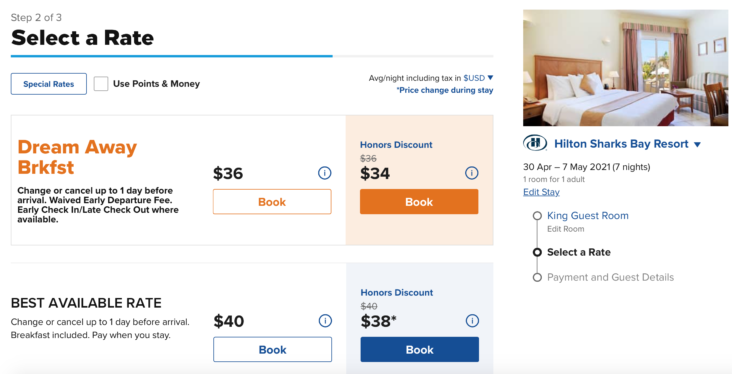 While we wouldn't normally recommend booking a rate that includes breakfast, since as a Diamond elite you're already entitled to free breakfast for you and another adult, in this case, it'll actually save you money.
At other hotels, like the DoubleTree by Hilton Mazatlán, this feature will cost you more and add no value to your stay: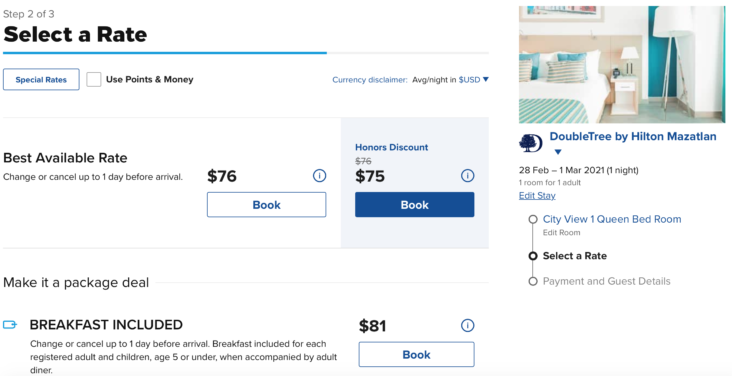 However, there may be some situations in which you'll want to pay a little more for your room rate. The DoubleTree Mazatlán, for example, will give you a daily $50 resort credit for a little over $25 more per night than its cheapest rate: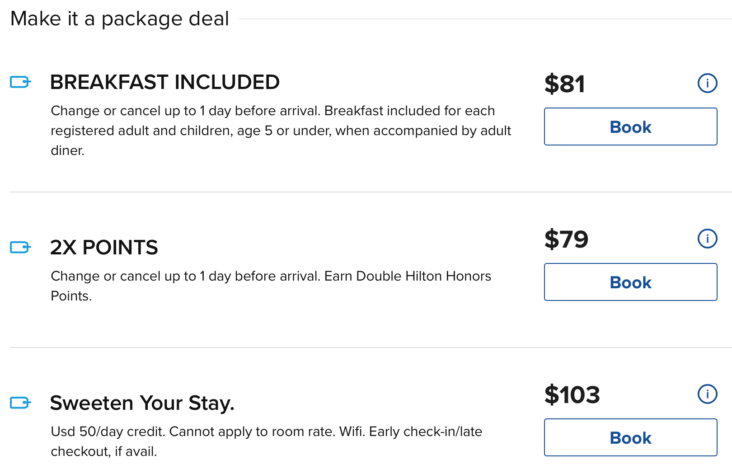 Even if you chose to stay 3 nights and ended up paying that $59 out of pocket for the increased room rate, you'll be getting an additional $150 in credits to use. That's $400 in value between your Hilton Aspire card resort credit and the room rate resort credit. Not bad!
You can also choose to build up your stash of Hilton points by paying for the double points rate, which would mean on a $250 stay you'd end up with 10,000 bonus points as a Diamond elite, in addition to the 3,500 you'd get from your Hilton Aspire card.
We value those points at $67.50, but you can absolutely redeem them for more than that — Hilton reward nights start at just 5,000 points per night, so by choosing this 2x point rate you'll earn nearly enough points for 3 free nights!
Bottom Line: There are plenty of things to consider when choosing the room rate for your resort, so make sure you're choosing the best rate for you, even if it's not the cheapest.
How To Maximize the Hilton Aspire Card Resort Credit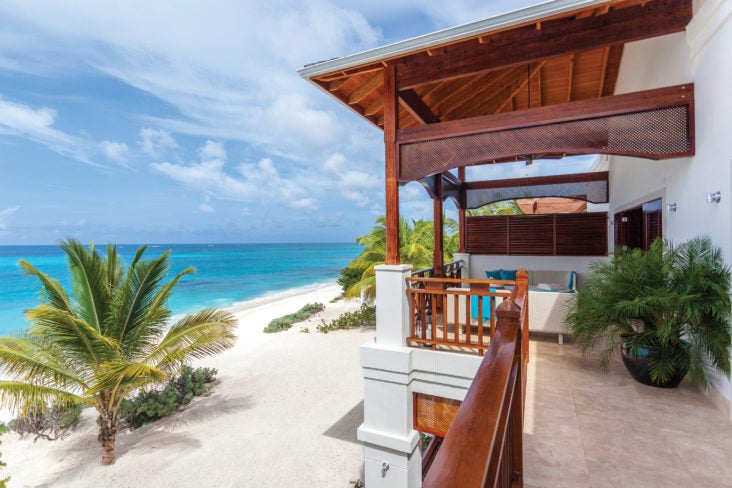 If you're not going to be using points for your stay, the Hilton Aspire resort credit can be an excellent way to cover your hotel costs. At first glance, the list of Hilton Resorts seems eye-waveringly expensive. At the Ho'olei at Grand Wailea, for example, your $250 credit isn't going to do much for the $1,986 nightly room rate.
Dig into this list, however, and you'll see that there are a number of resorts that are extremely affordable, which means that you can turn that $250 into a hotel stay spanning 3, 6, or even 7 nights.
Now let's take a look at some ways you can maximize your Hilton Aspire resort credit at these hotels.

Phuket is one of Thailand's most well-known tourist destinations, and for good reason. Its fabulous beaches and scuba diving combine with Thailand's low-costs to provide a high-end experience for affordable prices.
There is perhaps a no better example of this than the DoubleTree Phuket, where room rates start as low as $39 per night. We found some great rates at this hotel — if you're simply looking for length, you can book the base room for 6 full nights and still be under the $250 threshold.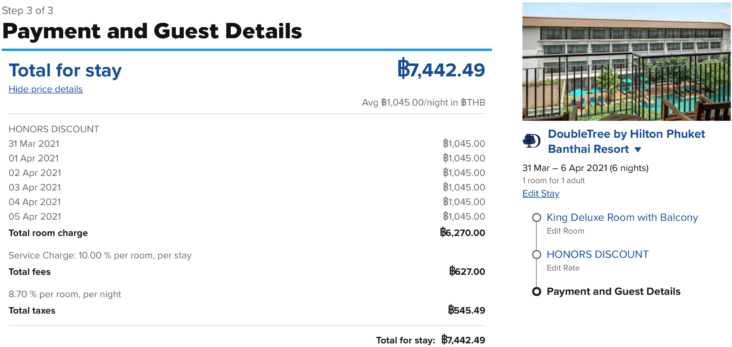 But since the hotel is going to be reimbursed anyway, why not splurge and go for a premium room with swim-up pool access? You can still swing 4 nights while enjoying the perks of direct pool access (first to the swim-up bar, anyone?).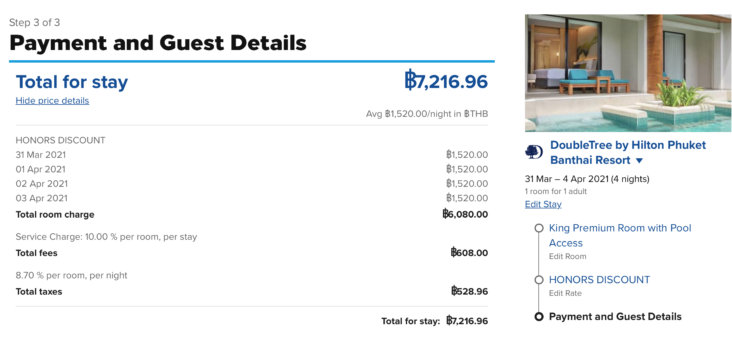 Regardless of the rate you choose, you'll be able to stay for multiple nights and really maximize your credit.
Bottom Line: Enjoy a luxurious experience for less by taking your credit all the way to the DoubleTree Phuket, where you can stay for 6 nights with your resort credit.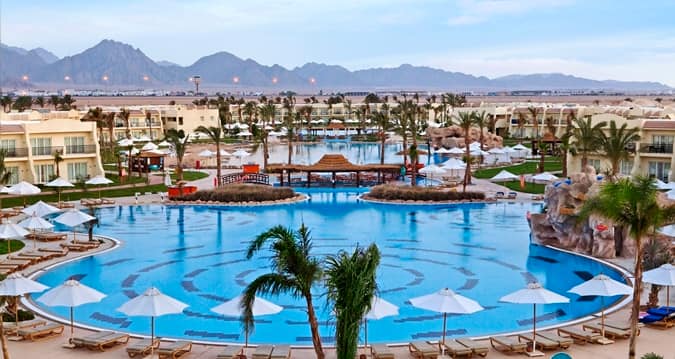 Long a mainstay on our must-visit list, the Hilton Sharks Bay Resort features a private beach, 7 different pools, and 10 restaurants. Sharm El-Sheikh was a hugely popular tourist destination prior to the Arab Spring, and it shows with this resort, whose luxurious facilities come with ridiculously low prices.
You can stay an entire week here for less than $250.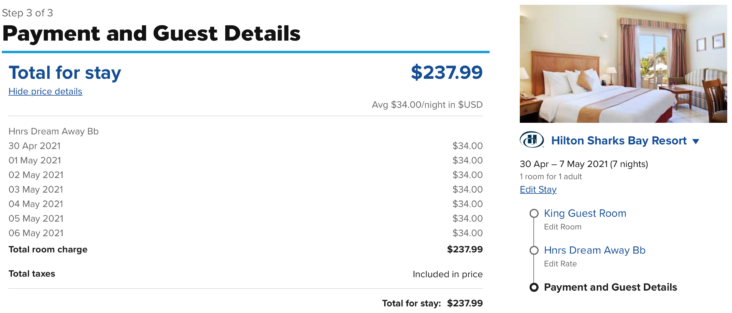 Considering you'll be enjoying a private beach on the Red Sea — home to fabulous diving and snorkeling — this is an absolute steal.
As an aside, this hotel is one of the cheapest you'll find on points. At just 8,000 points a night, you can throw an additional 5 nights onto your stay and take advantage of Hilton's fifth-night free benefit to pay just 32,000 points: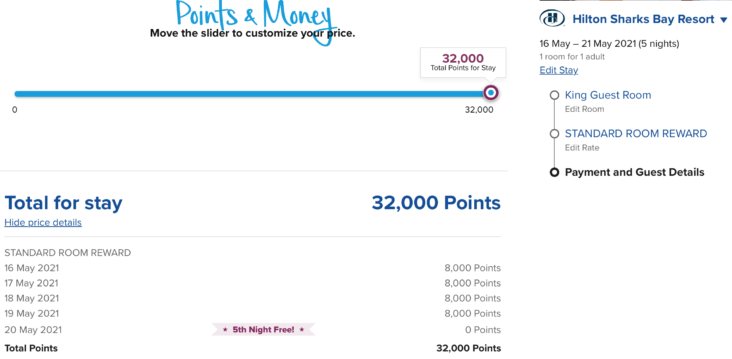 Now, 12 nights may be a bit long for anyone to stay anywhere, but the mere fact that you could swing this for 32,000 points and a $250 statement credit is awesome.
Bottom Line: Marvel at the massive Sharks Bay Resort, whose private beach opens to the Red Sea. Your resort credit can snag you a full week at this hotel. 

If you'd prefer to stay closer to home, the DoubleTree SeaWorld is an affordable resort with which to use your credit. Orlando is known for having a vast range of hotels — from cheap hotels to the Waldorf Astoria Orlando (which, by the way, is also included in Hilton's resort list). Rather than paying out of pocket for your whole stay, however, you can take advantage of the resort credit to stay 4 nights for just a few dollars.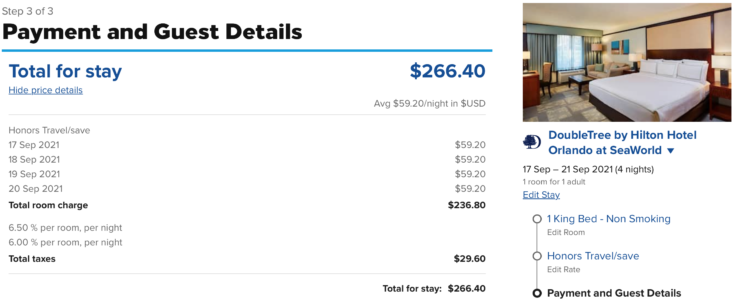 If you're heading to Universal Orlando or Walt Disney World, you'll still need to arrange transportation, but you'll be saving on hotel costs so you can still afford to enter the parks and feed your children.
Bottom Line: For a low-cost theme park trip, consider the DoubleTree SeaWorld, where you can stay 4 nights and pay from just $16 out of pocket.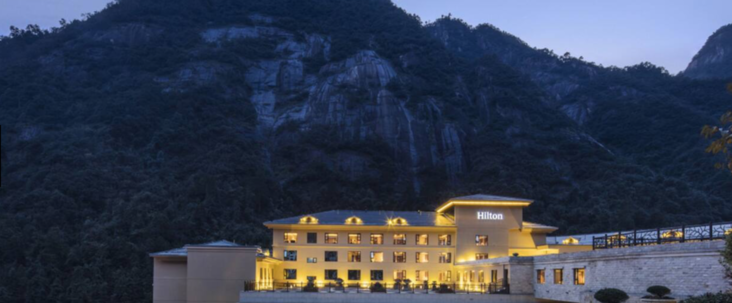 If you, like us, had never heard of Sanqingshan, you probably had no idea what you've been missing out on. A UNESCO world heritage site and sacred Taoist mountain, the whole park looks like a fantastical otherworld. Fortunately for Hilton Aspire cardholders, Hilton has a resort located just outside the park — the Hilton Sanqingshan Resort is a 5-star hotel located just feet from the mountain's cable car.
A 4-night stay here will run you ¥1,856, which comes out to $286.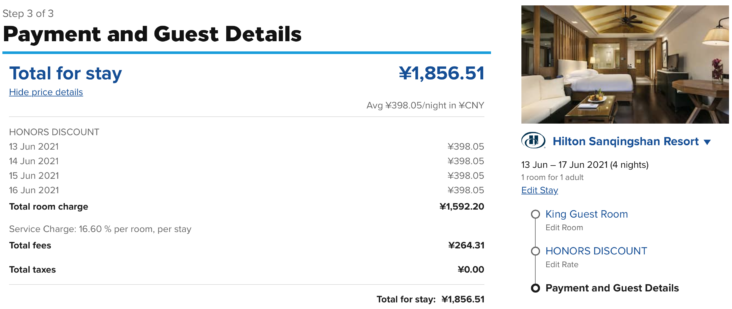 That may be pushing it a little, since you'll be nearly $36 dollars out of pocket, but there is 1 really excellent thing about this resort: unlike the other properties we've mentioned, it has an executive lounge.
For the uninitiated, an executive lounge, also known as a club lounge, is a separate area dedicated to top-tier elites and those who pay more for club-access rooms. As a Hilton Aspire cardholder, you're granted automatic Diamond status, which means you're entitled to lounge access.
These lounges provide savvy hotel guests tons of value because they're stocked with both food and drinks most, if not all, of the day. Generally speaking, hot food is set out in the morning and evening, and snacks are available throughout the day.
Even better, executive lounges provide both alcoholic and non-alcoholic drinks to guests. If you've ever thrown 1 back at a hotel bar, you know how quickly those tabs will rack up. For a party of 2 staying several nights, access to free food and drinks can end up saving you hundreds of dollars.
Bottom Line: Explore a UNESCO World Heritage site and enjoy the executive lounge at this resort, where 4 nights will run you from $36 out of pocket.

If you've taken advantage of status matching to gain elite status at Caesars, you'll probably want to venture over to Las Vegas at least once a year to enjoy your free celebration dinner and show tickets. And although Caesars Diamond status will eliminate parking and resort fees, you'd still be out of pocket for room rates.
If you want to go for a truly free experience in Vegas, consider staying instead at the Tropicana. Located directly on the strip, the hotel features free parking and a horrific $37 per night resort fee that will be reimbursed as part of your statement credit.
You can swing up to 3 nights here from under $250: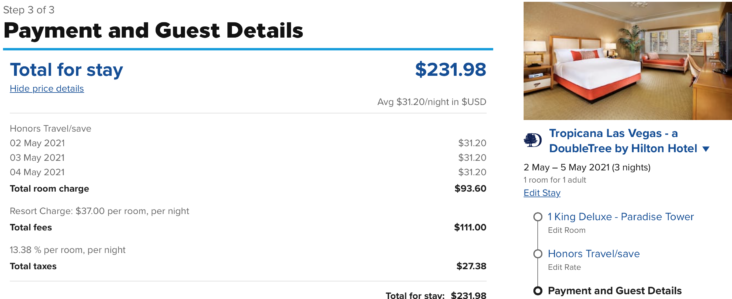 At least you'll get 2 for 1 drinks at the pool, right?

This hotel becomes a much better proposition without elite status at Caesars and MGM, as properties at both these chains will charge upwards of $65+ per day between parking and resort fees, in addition to your room rate.
Either way, you can opt to spend 3 nights in Las Vegas directly on the Strip without paying a penny out of pocket. That's pretty good, even if you don't take advantage of those discounted pool drinks.
Bottom Line: Although you can only stay for 3 nights without incurring a cost, the Tropicana hotel is phenomenally-located and your credit will even cover resort fees. 
Final Thoughts
Plenty of people don't put enough stock into the Hilton Aspire card resort credit. While it isn't as broad as, say, the Marriott Bonvoy Brilliant card's free night certificate, you can still get plenty of use out of your annual $250. It's valid for tons of really cool activities, like dinners at Michelin-starred restaurants, but perhaps its most valuable feature is the ability to use it for hotel room rates. 
Take advantage of exotic locales and spend up to a week away without shelling out any cash. Or, if you're wanting to travel domestically, enjoy a long weekend at some choice resorts and save yourself the airfare.
No matter how you spend it, the Hilton Aspire card resort credit is an excellent benefit that adds significant value to an already incredible card.
---
The information regarding the Hilton Honors American Express Aspire Card was independently collected by Upgraded Points and not provided nor reviewed by the issuer.