The Green Dot Platinum Secured Credit Card – Is It Worth It?
The Green Dot Platinum® Secured Credit Card is a good option for those with no credit or bad credit. Not only does it have a very reasonable APR for a secured credit card, but it doesn't require a credit check.
It is also a good choice if you don't have a bank account since it offers payment options at over 90,000 retailers via cash or prepaid card. Let's dive into some of the reasons to get (or not to get) this card.
The Green Dot Platinum Secured Card at a Glance
Credit Card
Benefits and Info
Green Dot Platinum Secured card

No credit check needed, and no activation fee
You are approved for a credit limit, linked to your security deposit
Reports monthly to all 3 major credit bureaus
Interest Rate: 19.99% fixed APR
Security Deposit: $200-$5,000
Fees:

In-Person Payment Fee: $4.95
Foreign Transaction Fee: 3%
Cash Advance Fee: $6 or 5%, whichever is higher
Late Payment Fee: up to $27
Returned Payment Fee: up to $27
Annual Fee: $39
The Green Dot Platinum Secured card is a secured card, which just means that it is backed by a cash deposit in case you can't make payments. For this specific card, you will be approved for a credit limit based on your application, but can choose a minimum deposit as low as $200 to open an account.
The security deposit you choose to make is tied directly to your credit limit. For example, if you make a $1,000 deposit, you will also have a $1,000 credit limit. Any charges that would take you over your credit limit will likely be declined.
You are also able to take out cash at an ATM, but you will get hit with high cash advance fees of the higher of $5 or 5% each time you withdraw money. You can make 2 withdrawals each day — each for half of your available credit limit.
Your security deposit is fully refundable if you don't carry a balance at the time of account closure. If you carry a balance, your deposit will be used to pay off the balance first and any leftover amount will be refunded. All refunds will be sent within 6 weeks of account closure.
Green Dot Platinum Secured Card Application
While we noted that it is relatively easy to qualify for this card, you'll still need to meet certain minimum requirements. You have to:
Be at least 18 years old
Have a verifiable physical U.S. home address
Pay a security deposit
Provide:

Your Name

Address

Date of Birth

Social Security number

Monthly income and expenses (to determine approved credit limit)
How to Fund Your Security Deposit
The last step requires you to fund your security deposit. According to the Green Dot Platinum Secured card website, this must be received within 60 days or you have to reapply. Please refer to the Paying Off Your Card section below for all of the options for paying your initial security deposit.
After your security deposit has been processed, you should receive your card within 7-10 business days.
How to Increase Your Credit Limit
Head over to the Green Dot website to request a credit limit increase. You will need to enter your account information to see if you qualify.
If you qualify, you will have 60 days to fund your deposit for the additional amount. This can be done in the same way you make payments for your account — please reference the Paying Off Your Card section directly below for details.
Paying Off Your Card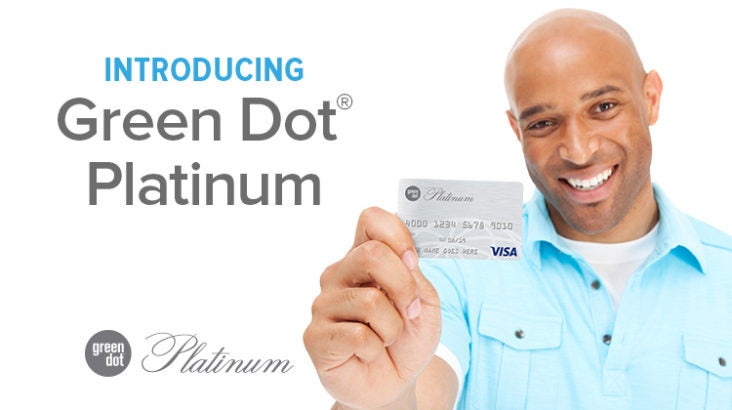 There are multiple options you can use to make payments or deposits on your card.
Online
To access your account, you can either log in to your account online or through the app (iOS or Android). From here you can access your monthly bills and enroll to receive paperless statements. You can log on to your online account in order to make payments via direct deposit or bank transfer.
To make a payment via debit card, you must visit greendotcredit.com.
In-Person
You can also make deposits and payments at various retailers such as Walmart, CVS, 7-Eleven, Rite Aid and Walgreens. See here for a complete listing of these [email protected] locations.
Be aware that there is a $4.95 fee each time you use this option.
MoneyPak
You can purchase a reloadable Green Dot MoneyPak prepaid card to deposit up to $500 onto your card. These are sold at many retailers, but there is an initial purchasing fee of $5.95 and an additional monthly fee of $5.95. You can then use this card to pay at the same [email protected] locations noted above.
By Mail
You can send a deposit slip and check to the address indicated on the deposit slip.
Benefits of the Card
Because this is a secured card, it doesn't have the kind of perks and features unsecured cards do. However, this card does a good job of credit-building and has a variety of payment options.
No Credit Check
Green Dot won't check your credit when you apply. When you're trying to rebuild or establish your credit, the fewer hard inquiries on your credit report, the better.
This means that you won't be declined based on your credit score alone.
Convenient Payment Options
If you have a bank account, you can schedule an ACH payment, use your debit card online, or mail in a check.
What makes this card unique is that if you don't have a bank account, you can also use a Green Dot prepaid MoneyPak or make a cash payment to pay your bill (for a fee) at over 90,000 partnering retail locations.
Credit Building
Green Dot reports to all 3 major credit bureaus each month when your billing statement is generated. The 3 major consumer credit bureaus (TransUnion, Equifax, and Experian) calculate your credit score and good payment habits can help you build credit.
Drawbacks of the Card
There are some major drawbacks to this card. Not only will you pay fees each time you pay in person and not earn any additional benefits, but you are unable to upgrade your card to an unsecured card over time.
Payment Fees
While the card offers the convenience of paying in person, this comes at a price. Each time you make a payment at a retailer, you will be charged a $4.95 fee. In addition, if you use the MoneyPak prepaid card option, you will pay a $5.95 fee initially and each month following.
There are free options, but they require a bank account to process.
Annual Fee
This card is charged an annual fee of $39 as soon as you open the card. This means that if you've made an initial security deposit of $200, your available credit when you first get the card would be only $161 (instead of $200) until you pay off the annual fee.
No Upgrade Opportunities
Some secured credit cards offer the ability to transition to an unsecured account (and get your security deposit back) once you've built up a good payment history. Since this isn't an option with this card, you'll need to pay off your balance and close your account before you can get your deposit back.
Hot Tip: Closing accounts can hurt your credit score, so try to limit account closures.
How to Contact Green Dot Customer Service
To contact Customer Service directly, call 866-795-7597.
If you prefer to contact by mail:
Green Dot
P.O. Box 5100
Pasadena, CA 91117
Alternative Credit Cards (Our Recommendations)
If you're interested in other card options, the Secured Mastercard® from Capital One charges no annual fee and provides access to a higher credit limit in as little as 6 months, with no additional deposits needed.
For a secured credit card that doesn't require a credit check, look into the First Progress Platinum secured cards. These cards extend credit against a security deposit rather than your credit status.
Another solid option is the Capital One Platinum Credit Card. The card offers no annual fee, fraud coverage, and access to a higher credit limit in as little as 6 months. Unlike the Green Dot Platinum Secured card, the CapOne Platinum card is not a secured card, so you do not need to come up with a security deposit in order to be approved.
Final Thoughts
The Green Dot Platinum Secured card could mostly benefit those who want to work on their credit but who don't have a bank account or a debit card because they can make a deposit and pay their bills in person. In addition, since Green Dot reports your payment history to the major credit bureaus each month, you will see results quickly from being a responsible credit card user.
However, there are secured cards that offer the opportunity to upgrade to an unsecured card over time and don't charge annual fees. If you can qualify for any of these cards, they might be better options.
---
The information regarding the Green Dot Platinum® Secured Credit Card was independently collected by Upgraded Points and not provided nor reviewed by the issuer.