JetBlue Airways Review – Amenities, Baggage Fees, Seats, Customer Service, & More
In the few short years JetBlue has been around, this airline has become quite popular. Founded in 2000 with the goal of "bringing humanity back to air travel," JetBlue has won quite a few awards, including a number in the customer satisfaction realm.
In this review, we aim to take a look at JetBlue from the customer's perspective. We're answering your questions, such as:
What are JetBlue's baggage policies like?
Will I get snacks on JetBlue?
Does JetBlue have Wi-Fi?
…and a whole lot more!
We'll outline basic company info, ticketing options, how to earn TrueBlue points, baggage fees and other extras, seat specs, inflight amenities — and a big dose of consumer satisfaction information.
Read on to find out more about JetBlue Airways!
Basic Info
Airline: JetBlue Airways
Alliance: none
Category: Low-Cost Airline
Frequent Flyer Program: JetBlue TrueBlue
Tag Line: You Above All; Inspiring Humanity
About/Mission Statement: "JetBlue Airways exists to provide superior service in every aspect of our customer's air travel experience… JetBlue Airways is dedicated to inspiring humanity. We strive to make every part of your experience as simple and as pleasant as possible." (source)
Fleet: 235
Main Hub: John F. Kennedy International Airport (JFK)
Daily Departures: 1,000+
Destinations: 101 (North, Central, & South America, including the Caribbean)
JetBlue Ticketing Options
While JetBlue is considered a low-cost carrier, there's nothing minimal about the basic flight experience itself! JetBlue includes brand name snacks, entertainment, power outlets, and more on all their flights! You will, however, pay extra for checked bags, just like with other low-cost carriers.
JetBlue offers 3 basic fare options:
Additionally, on select coast-to-coast and Caribbean routes, JetBlue offers an upper-class fare option called "Mint Experience."
So How Do These 4 Fares Differ?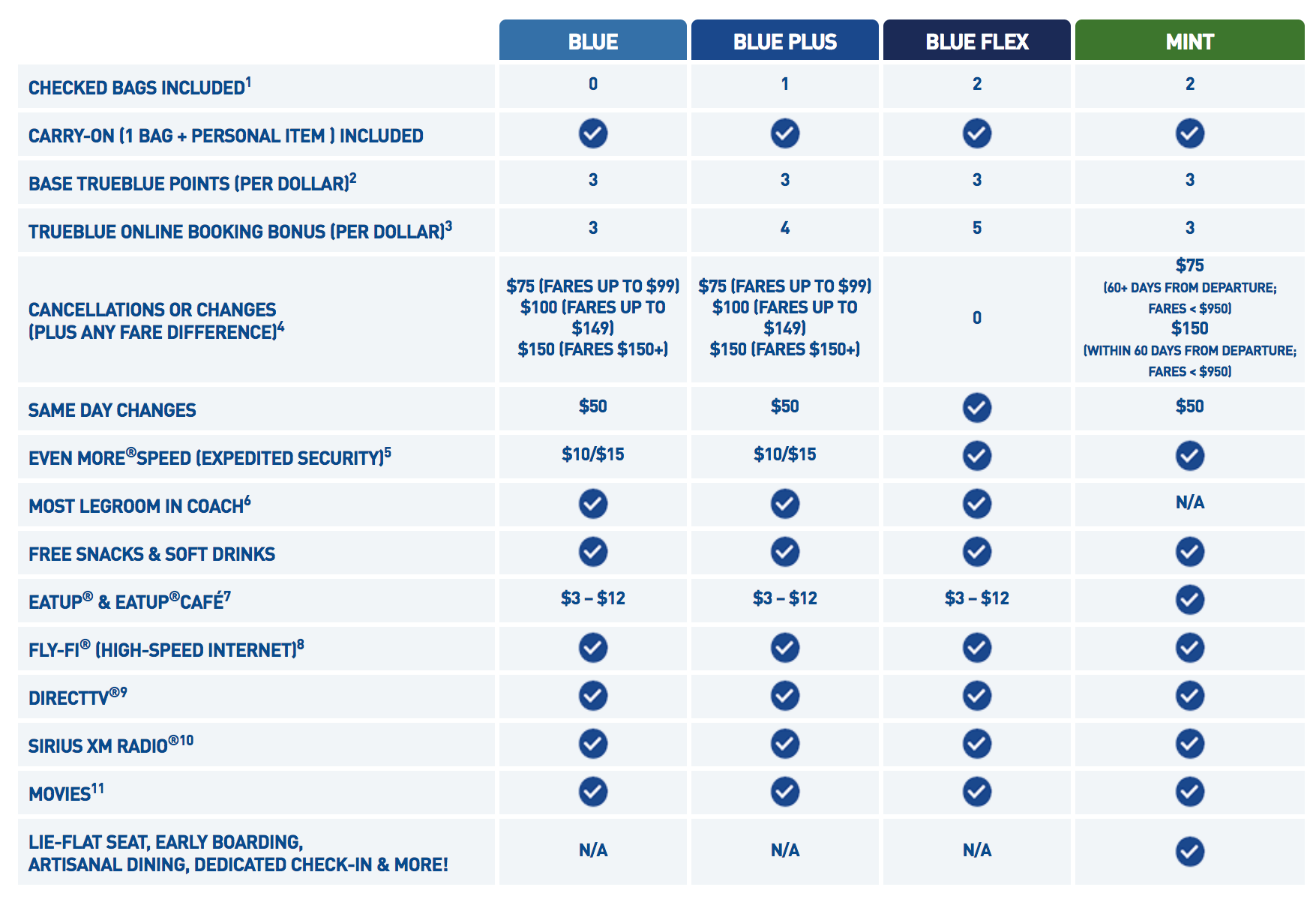 Hot Tip: In response to the COVID-19 pandemic, if you have a JetBlue flight scheduled anytime through February 28, 2021, you'll be able to change or cancel it without a fee. 
Blue (Basic): Blue is JetBlue's most basic fare. You get a carry-on and a personal item but no checked bag. Additionally, as we mentioned above, you get all of the basic perks allotted to all JetBlue flights like great legroom, snacks, Wi-Fi, movies (flights 2+ hours), etc. As the chart shows, you will pay for any changes made to your itinerary (waived through February 28, 2021).
Blue Plus: Blue Plus is a small step above Blue, in that you're allowed 1 checked bag included in the fare. You can also earn 4 bonus points per dollar (vs. 3 for Blue) when you book online. Again, as the chart shows, you will pay for any changes made to your itinerary (waived through February 28, 2021).
Blue Flex: Blue Flex is the most generous of the basic fares. Passengers are allowed 2 checked bags included in the fare and you can earn 5 bonus points per dollar for booking online. Additionally, no fees are applied for cancellations or changes to the booking. Blue Flex also includes expedited security where applicable.
Mint Experience: JetBlue Mint is clearly the most glamorous ticket option, but it's only available on select flights.
With JetBlue's Mint Experience, customers are allowed 2 checked bags, but will not earn additional bonus points over the standard 3 per dollar for booking online. Also, as you'll note above, it appears change/cancellation fees do still apply (waived through February 28, 2021).
That being said, passengers flying Mint get the added benefits of dedicated check-in counters, expedited security (where available), early boarding, lie-flat seats, artisanal dining, priority baggage, 15″ flat-screen TVs, amenity kits, and more.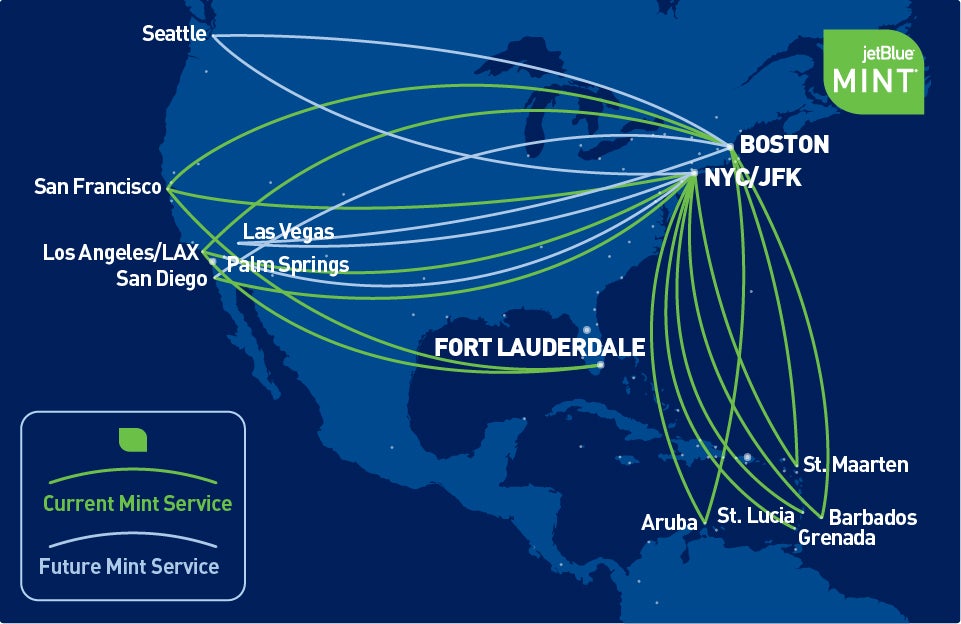 Earning TrueBlue Points
There are plenty of ways to earn JetBlue TrueBlue points, but the quickest and most efficient way is through credit card sign-ups and spending. Here's the good news: there are a couple of options to choose from. Plus, you then have the option of earning extra points through category bonuses!
Need even more points? Try shopping via JetBlue's portal, dining out with JetBlue's dining program, or utilizing JetBlue for other travels, car rentals, partner hotels, etc.
Since JetBlue doesn't have any airline partners, remember that points you earn specifically for your TrueBlue account are only redeemable on JetBlue flights.
A Bit More About TrueBlue 
You can learn more about Mosiac Status, the JetPaws program, JetBlue's innovative customer interaction techniques (including their loyalty badges), and more in our JetBlue TrueBlue review.
JetBlue Baggage & Other Fees/Add-Ons
JetBlue is a low-cost airline, so while some perks are included, you will find certain extra fees and charges here and there. As with any other low-cost airline, considering the add-ons in advance will keep you from undue disappointment once you reach the final purchase page for your fare.
Baggage Fees
While they do charge for bags if customers choose the basic fare, JetBlue's baggage policy is pretty straightforward.
| | | | |
| --- | --- | --- | --- |
| Fare | 1st Bag | 2nd Bag | 3rd+ Bags |
| Blue | $25 | $35 | $100 |
| Blue Plus | FREE | $35 | $100 |
| Blue Flex | FREE | FREE | $100 |
| Mint | FREE | FREE | $100 |
JetBlue Passengers should consider the following size/weight restrictions for luggage:
Personal Item: 17″ x 13″ x 8″; weight limit undisclosed
Carry On: 22″ x 14″ x 9″; weight limit undisclosed
Checked Bag: 62″ (max linear dimensions); 50lb
Overweight Bag: $100 per bag (51lb-99lb)
Oversized Bag: $100 per bag (63″-80″ total linear dimensions)
If a bag is overweight and oversized, note that both fees will apply.
JetBlue does have some special considerations relating to sporting equipment. Generally, certain pieces of equipment can count as one of your checked bags without being charged oversized fees.
Hot Tip: JetBlue has partnered with Bags VIP (a luggage delivery service) if you're interested in relieving the stress of picking up your luggage at the carousel. 
Other Fees & Add-Ons
A number of the added fees can be seen in the fare chart above. In an effort to be thorough, we've also listed them below, in addition to some other add-on expenses not shown above.
"Even More" Space (seats): starting at $10
"Even More" Speed (expedited security): starting at $10 (select airports)
Cancellation Fee: Free (through February 28, 2021)
Same-Day Change Fee: $75 (waived for Mosaic members)
Unaccompanied Minor: $100
Pet Fee: $100
Hot Tip: Need to cancel? Check out this guide to canceling your JetBlue flight.
How to Avoid Paying Excess JetBlue Fees & Expenses
The JetBlue Plus Card comes with many perks, such as earning 6 points per dollar spent on JetBlue purchases. But if you're looking to avoid paying excess fees, the card also gets you:
50% savings on eligible inflight purchases like cocktails and food
First checked bag free for the primary cardmember on JetBlue-operated flights.
If you're flying JetBlue regularly, these savings will really add up!
Your other option is to use the Barclaycard Arrival Plus® World Elite Mastercard®, since you can use your miles to cover any qualifying travel purchases of $100 or more, including baggage fees.
JetBlue Seat Specs & Inflight Amenities
As it turns out, the general feedback about flying JetBlue is pretty darned positive. So what will your inflight experience look like?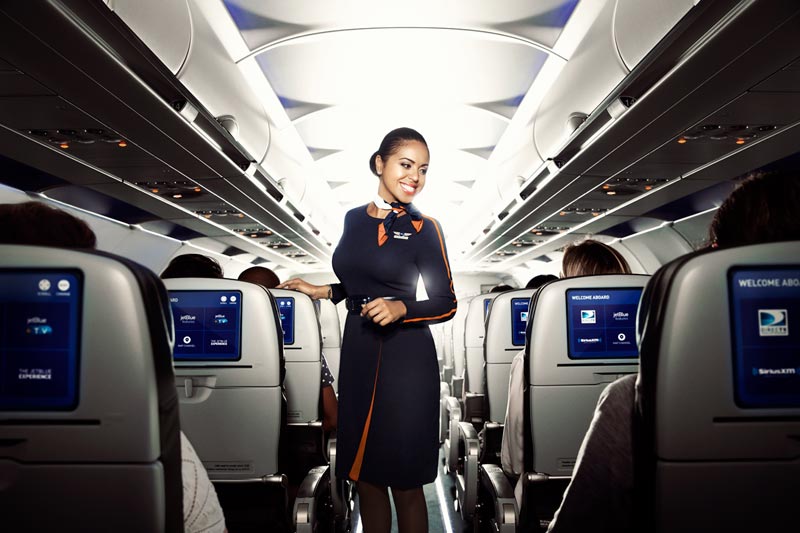 Seat Specs
When it comes to comfort, JetBlue claims to have the widest seats and most legroom in coach (based on average seat width/pitch across the industry).
JetBlue operates a fleet of narrow-body jets with 2-3 different seating options. The number of seating options available and pitch/width measurements will be based on the aircraft/route you're flying.
Aircraft
Total Seats
Economy
Even More Space
Mint Standard
Mint Suite

Airbus

A320

150

108




Pitch: 32″-33″




Width: 17.8″

42




Pitch: 38″-39″




Width: 17.8″

n/a

n/a

Airbus

A321




Transcon

159

102




Pitch: 33″




Width: 18″

41




Pitch: 37″-41″




Width: 18″

12




Pitch/Bed: 58″/80″




Width: 20.5″

4




Pitch/Bed: 60″/80″




Width: 22″

Airbus

A321




V2

200

158




Pitch: 32″




Width: 18″

42




Pitch: 37″-41″




Width: 18″

n/a

n/a

Embraer

E-190

100

84




Pitch: 32″




Width: 18.25″

16




Pitch: 39″




Width: 18.25″

n/a

n/a
If you're interested in finding the best seat on the plane, the good people at SeatGuru have some great insights!
JetBlue Economy Seats 
JetBlue has recently done a refresh of its A321 V2, and plans to begin A320 restyling soon. They anticipated an early 2017 start, but that plan has hit a couple of bumps along the way.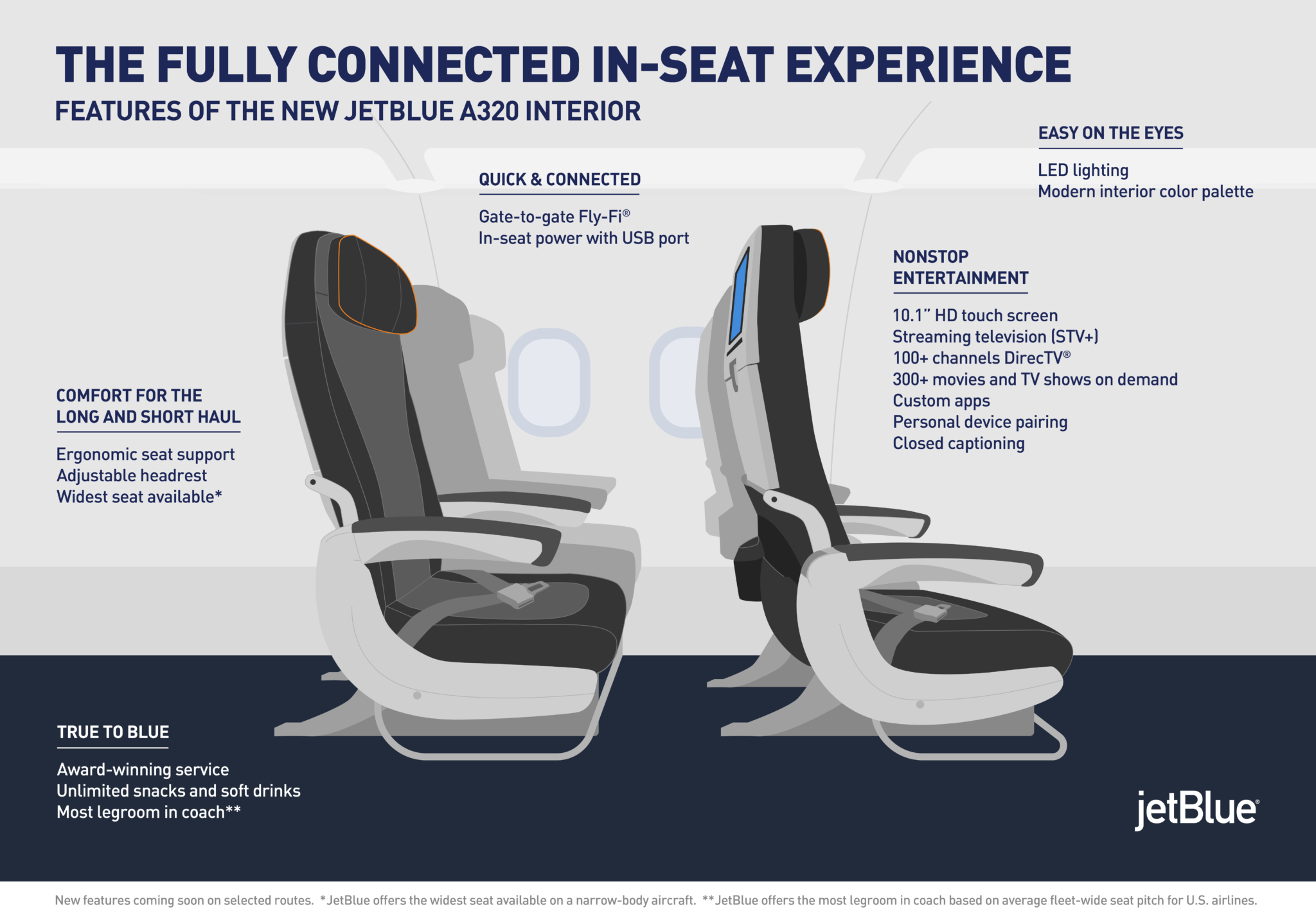 As you can see in the photos below, there's quite a big difference in terms of style. You'll find the older A320 cabins look like the top photo, and A321 refresh looks like the bottom photo in both cases.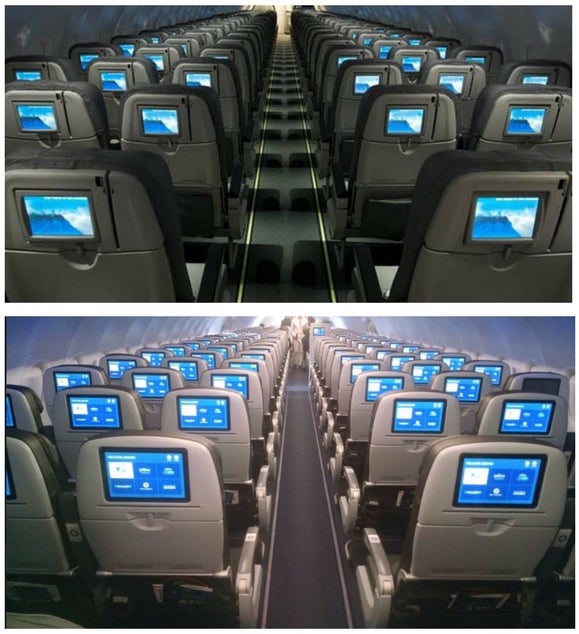 With the refresh came a slight reduction in pitch, but JetBlue claims with their new "ergonomic seats" it won't feel like you've lost the inches. The new seats also come with 10.1″ touchscreen TVs.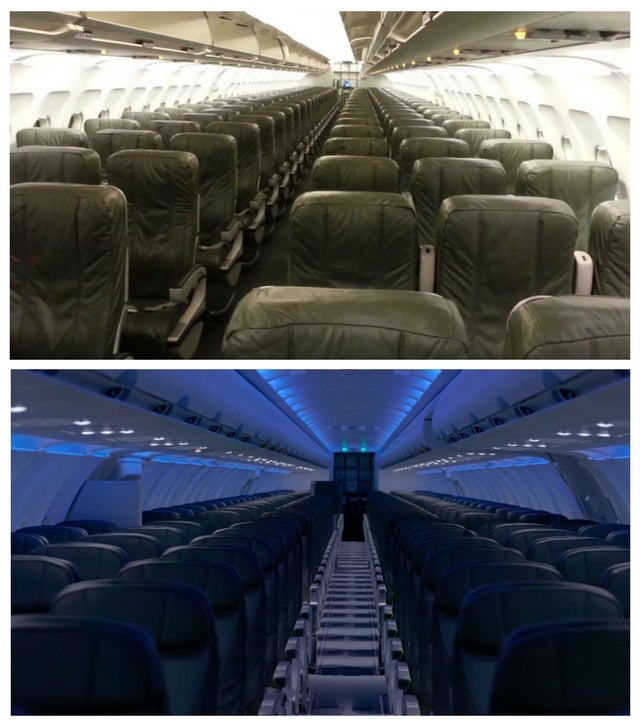 The refresh also brought AC power outlets to every economy seat on the A321 planes. The current A320 series and the E-190 series do not have AC power outlets.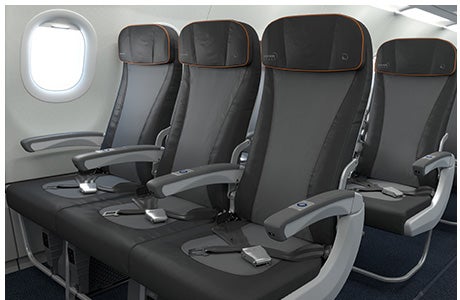 JetBlue Mint Seats
With the Mint Experience, JetBlue claims to give customers the only private suite among U.S. airlines and the "longest lie-flat seats on domestic premium flights," at 6′ 8″. The cushions of the seat are also adjustable, and each seat has a 15″ touchscreen TV.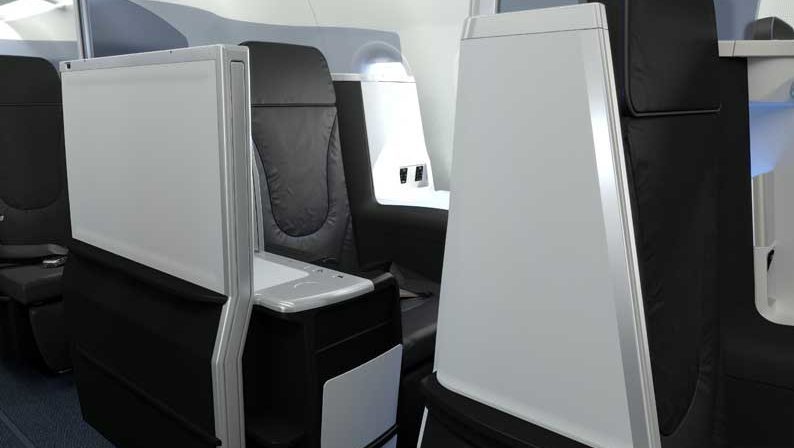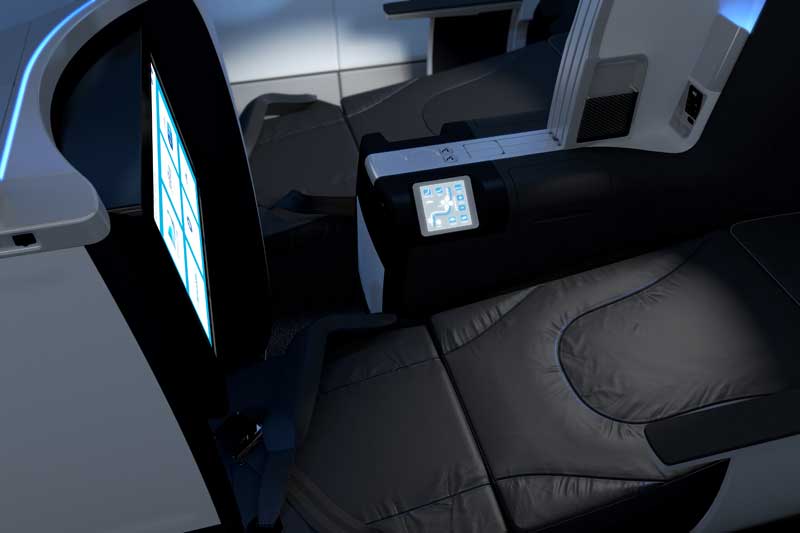 JetBlue Inflight Amenities
Economy
For a low-cost airline, JetBlue certainly does inflight cabin service right. Each economy ticket comes with the following included amenities:
Entire fleet equipped with FlyFi, JetBlue's gate-to-gate Wi-Fi service*
Library of on-demand movies, TV shows, live Direct TV*, Sirius XM radio*
Free unlimited brand-name snacks and soft drinks
*Not available on flights outside the contiguous U.S.
Economy customers can also opt for additional paid snacks/beverages:
EatUp Boxes: A grouping of upgraded snacks for $5-$7
EatUp Cafe*: Slightly more substantial foods like small sandwiches, salads, etc. for $4-$12
Beer, wine, and spirits: $7-$9
*On select flights only
Mint Experience
Mint Experience customers have a variety of upgraded inflight amenities served by specially trained Mint Staff:
Entire fleet equipped with FlyFi, JetBlue's gate-to-gate Wi-Fi service*
Library of on-demand movies, TV shows, 100+ Direct TV channels*, 100+ Sirius XM radio channels*
Plush comforter and pillow to accompany the fully lie-flat seats
Hand-crafted SR60e headphones from Grado Labs in Brooklyn
Amenity kits by Hayward & Hopper
Complimentary pre-departure drink (premium spirit)
Tapas style dining by NYC restaurant Saxon + Parole
Sweets and juices by Milk Bar, plus local artisanal ice creams
Brooklyn Roasting Company espresso beverages
Specially curated wines
*Not available on flights outside the contiguous U.S.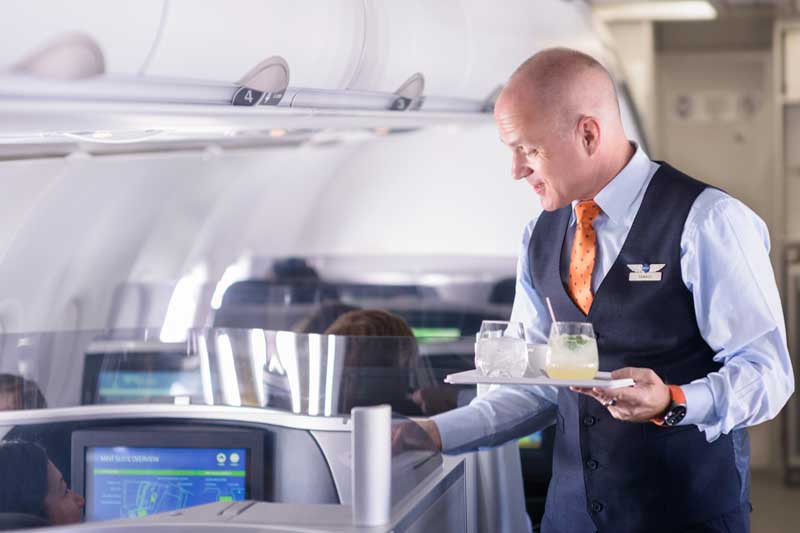 Hot Tip: For in-depth information on JetBlue's Boarding Groups & Process, see our article here. 
JetBlue Customer Satisfaction
JetBlue has a very positive history when it comes to customer satisfaction. In fact, JetBlue Airways has taken the top spot in the J.D. Power North America Airline Satisfaction StudySM for 12 consecutive years — an incredible feat!
Of course, you'll still find complaints — customers can't be happy all the time — but JetBlue certainly has fewer than most!

Consumer Rankings, Ratings, Etc.
ACSI Rating (American Consumer Satisfaction Index): 82% (Highest of 12 largest U.S. carriers for 12-month period ending March 2017)
AQR (Airline Quality Ranking): 4th of 12 largest U.S. carriers
Skytrax Ranking: 4 Star Airline
Skytrax Customer Rating: 6/10 (of 454 reviews)
Kayak Customer Rating: 8.1/10 avg (of 6,778 reviews; Kayak deems this rating "excellent")
Trip Advisor Airline Review Rating: 4/5 avg (of 6,115 reviews)
Recent Awards
Here are just a few recent accolades JetBlue Airways has been awarded:
Top Low-Cost Airline in the J.D. Power North America Airline Satisfaction Study: 12 consecutive yrs (2004-2016)
J.D. Power 2017 North America Airline Satisfaction Study: 2nd Place, Low-Cost Airline Category
2017 TripAdvisor Traveller's Choice Top 10 Airlines In The World: #4
2017 TripAdvisor Traveller's Choice Best Mid-Size/Low-Cost Airline in North America
Forbes 2017 List of America's Best Employers: #12 (on Top 20 list 3 consecutive yrs)
Forbes 2017 Best Company to Work For – Transportation & Logistics: #1
Human Rights Campaign Foundation: Named a Best Employer for LGBTQ Workplace Equality with a 100% scorecard (6 consecutive yrs)
2016 Business Traveler Best Airline for North American Travel
Most Common Complaints
While JetBlue consistently leads the pack when it comes to customer satisfaction, there will always be complaints. So where do the majority stem from?
The DOT Air Travel Consumer Report from August 2017 ranked JetBlue 5th best (of the 12 major U.S. carriers) relating to consumer complaints from January-June 2017. While 5th best may not seem great, that's still only 1.4 complaints per 100,000 enplanements. Comparatively, low-cost competitor Southwest Airlines came in best of 12 with just 0.5/100,000, while competitor Spirit came in worst of 12 with 6.74/100,000.
(These reported numbers may sound low, so we'll explain a bit further. The DOT report states these statistics come from data compiled by the OAEP's Aviation Consumer Protection Division. So, the above numbers are provided keeping in mind the majority of people aren't filing official complaints but utilizing social media and the like to grumble…see consumer rankings/ratings above.)
The same DOT analysis ranks JetBlue 3rd best of 12 when it comes to mishandled baggage for Jan-June 2017, so they're coming in quite favorably in that category as well. However, when looking at data related to passengers who were denied boarding for that same time period, JetBlue ranks 10th of 12 — not too great!
Let's take a look at the complaints filed by category for this January-June 2017 time period:
Flight Problems (cancellation, delay, or misconnection): 95 / 45.5%
Customer Service: 26 / 12.4%
Baggage: 24 / 11.5%
Reservation, Ticketing, Boarding: 21 / 10.0%
Disability: 21 / 10.0%
Fares: 9 / 4.3%
Refunds: 7 / 3.3%
Oversales: 2 / 0.95%
"Other": 2 / 0.95%
Discrimination: 1 / 0.5%
Advertising: 1 / 0.5%
Performance
As you can see from the data above, JetBlue's biggest issue seems to be Flight Problems, making up over 45% of the complaints.
The DOT August 2017 Air Travel Consumer report ranks JetBlue 11/12 for OTP. Specifically, JetBlue flights arrived on time 72.2% of the time (calculated from reporting airports for the 12 months ending June 2017). The most chronically delayed routes appear to be JFK>SYR followed by BOS>JFK, JFK>CHS, and LGB>SFO (no longer flown as of October 2020).
In June alone, JetBlue flights were on time just 60.6% of the time (from 67 reporting airports). Of the 39.4% remaining flights, the largest delay issue was related to late arriving aircraft at 14.97%. Air-carrier delays (i.e., the cause of the cancellation or delay was due to circumstances within the airline's control) made up 10.13%, and the National Aviation Systems delays made up 10.71%. The remaining percentages were due to extreme weather, security delays, diversions, and cancellations.
Concerning cancellations, JetBlue flights appear to have been canceled 2.5% of the time (of the same 67 airports reporting). This places the airline 11th of the 12 carriers, coming in just above Spirit.
Final Thoughts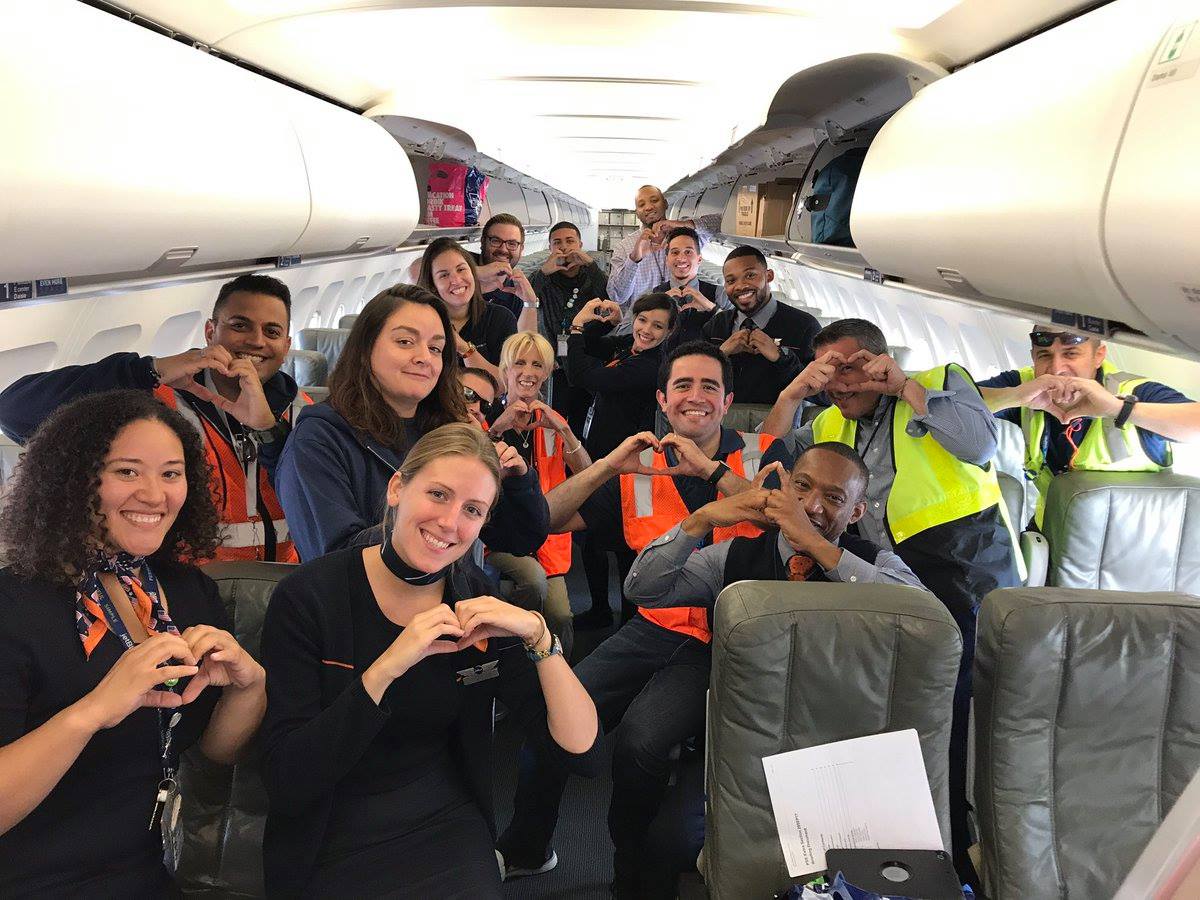 All in all, it's tough to beat JetBlue Airways when looking for an enjoyable low-cost airline experience.
JetBlue includes quite a few standard inflight economy perks and provides an impressive "business class" product with their Mint Experience. Additionally, they have a fairly decent frequent flyer program that's built for optimal user interaction. Plus, JetBlue proves their worth with high consumer ratings, tons of positive reviews, and countless awards.
So it seems that what JetBlue lacks in on-time performance, they more than make up for in other areas. We'll take it!