How to Book Cheap Car Rentals in San Diego [Price Comparisons]
Many visitors to San Diego choose to rent a car to enjoy day trips to the coastal areas of La Jolla and Del Mar. Cuyamaca Rancho State Park is also less than an hour's drive from San Diego with fantastic hiking and camping.
Renting a car gives you the freedom to explore the city and surrounding regions without taking a bus or a taxi. With so many rental agencies available in San Diego, we compared prices renting with each major chain and looked at whether it's cheaper to rent from the airport or at a neighborhood office.
San Diego International Airport Car Rentals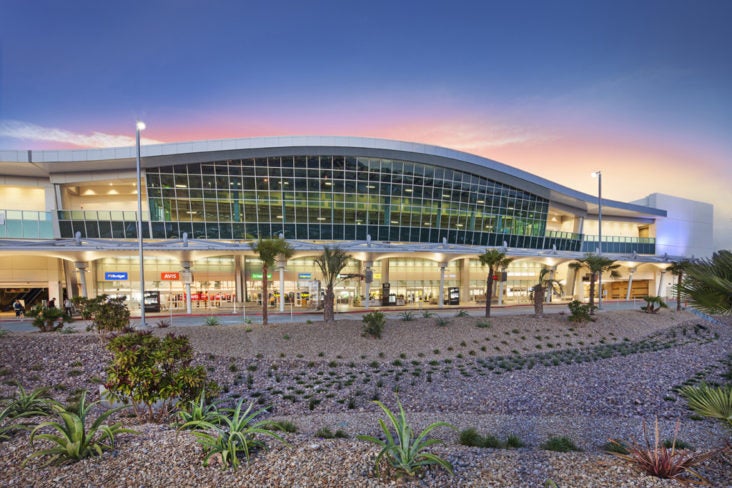 San Diego International Airport Rental Car Center
San Diego International Airport (SAN) has a consolidated rental car center located northeast of the airport terminals. Passengers can ride frequent shuttle buses that operate between the terminals and the rental car center, with the journey taking around 5 minutes, depending on traffic.
13 car rental agencies are based at the facility, offering passengers plenty of options. Renting from the facility is by far the most convenient location if you're flying into San Diego.
Some off-airport rental agencies will provide courtesy shuttle buses to and from the airport. We compared prices directly from on and off-airport rental agencies to see which offer the best rate for a 7- day rental of a standard vehicle.
Price Comparison for On-Airport Property Car Rentals
Advantage Rent-A-Car and E-Z Rent-A-Car were excluded from the price comparison as searches returned no results across multiple dates.
Fox offered the cheapest available rates when renting from the airport with a prepaid rate of $241.12 and a pay on arrival rate of $261.46. Avis had a reasonably competitive prepaid rate of $292.52, but paying on arrival increased the rate by a whopping 125%!
Hot Tip: If you want to find out which car rental companies have the best loyalty program, customer service, or the cheapest optional extras, check out our guide to the best car rental companies. 
Price Comparison for Off-Airport Property Car Rentals
There are a few rental agencies that are not based in the rental car center but are located not too far from the airport. These rental agencies provide free courtesy shuttle buses that depart from outside the terminals.
| | | |
| --- | --- | --- |
| Rental Company | Prepay Rate | Pay on Arrival Rate |
| Ace Rent-A-Car | N/A | $260.20 |
| Mex Rent-A-Car | N/A | $261.35 |
| Nu Car Rentals | $228.58 | N/A |
Off-airport rental agencies often provide cheaper rates than airport-based providers, and this is the case with San Diego. Nu Car Rentals offers a prepaid rate of $228.58, and the pay on arrival rates are also quite a bit cheaper than all airport-based agencies, excluding Fox.
San Diego Neighborhood Car Rentals
If you plan to stay downtown, then you may not require a rental car, as public transport is pretty good to/from the airport and it's not that far if you plan to take a taxi.
If you're looking to head up the coast to La Jolla, you'll need a rental car to get about, and there may be a convenient neighborhood location that you can rent from near your hotel.
Price Comparison for Neighborhood Car Rentals
Typically, it can be up to 30% cheaper to rent from neighborhood offices compared to renting at the airport. This was the case for most rental agencies, excluding Avis, where it was cheaper to rent from the airport.
If you're renting mid-way through your trip, it would be more cost-effective and convenient to rent from a neighborhood location. Just be aware that some neighborhood offices are closed on Sundays.
Hot Tip: Need itinerary suggestions for your trip? Check out our guides of things to do in San Diego and visiting San Diego with kids.
Book Direct with the Car Rental Company
Booking directly is not always known to give you the cheapest rates, but some rental companies offer a price match guarantee if you find the same rental cheaper elsewhere. You'll even get an extra 10% off with Thrifty, Budget, and Hertz, so making that phone call to price match could be worth your while.
Booking direct allows you to take advantage of loyalty program benefits that may not give you initial discounts but can provide long-term gains. Many loyalty programs reward members with points for every rental, which can be redeemed against free future rental days. Dollar and Thrify's loyalty programs both have a low weekend day redemption rate of 500 points, though many other agencies start at around 700 points.
Hot Tip: Do you also need an inexpensive place to stay? Be sure to check out the best cheap hotels in San Diego.
Book With an Online Travel Agent
If you're short on time and are looking for the cheapest car rental deal, online travel agents and metasearch sites can be useful. You can refine your rental requirements using filters, and these sites will aggregate hundreds of results from various rental agencies.
We used the same search criteria to find deals on 5 of the most popular sites for car rental.
Expedia is a 1-stop-shop for all your travel requirements as you can book flights, hotels, excursions, and car rentals. You won't always get a discount on your car rental by booking a package, but it can be convenient having all your information on a single reservation.
By booking through Expedia, you won't benefit from loyalty points directly with the rental agency, but you can join the Expedia Rewards Program. Members receive 2 points per dollar spent on all travel components, excluding flights, which offers 1 point per $5 spent.
Expedia's rates are on a "reserve now, pay later" basis, and this offers flexibility with free cancellation, but it does mean that you might miss out on those cheaper prepaid rates.
Hot Tip: If you book via the Expedia app, you'll earn double reward points. At that rate, you'll be heading towards your free rental days in half the time!
Hotwire features deals for prepaid and pay later rentals with free cancellation. The prepaid deals are called Hot Rate Cars and the rental provider is not revealed until after the booking has been made.
You're not kept entirely in the dark, as the confirmed rental provider will be one of the brands featured on the deal. When we searched, Hot Rate Car deals were offering up to 56% off, so you can benefit from significant savings if you don't mind which agency you rent with.
For a standard vehicle, the cheapest Hot Rate Car deal was $224, which is less expensive than the rate available going direct to Nu Rental or Ace Rent-A-Car.
Kayak is a metasearch engine that returns results from hundreds of travel sites. When you click View Deal, Kayak will most of the time direct you to the website offering the deal to complete your booking.
Kayak has some excellent rates available through its private deals. These are often exclusive offers where Kayak will take your booking and payment details, but you'll still receive the booking confirmation from the third party.
Kayak's private deal for a standard vehicle was available for $197 with Mex Rent-A-Car. This was over $60 cheaper than booking directly with the rental company.
Orbitz is another travel site where you can book pretty much everything you need, from car rentals to flights and hotels to cruises. If you regularly book your travel with Orbitz, you'll want to sign up for Orbitz Rewards to be eligible for special insider prices.
All vehicles are available on a pay later rate, which gives you the flexibility to cancel at any time. However, you might miss out on the cheaper prepaid rates that some rental agencies provide by booking direct.
Orbitz and Expedia pull from the same databases as they are both owned by the Expedia Group, so you'll often find the same deals on both websites. Unfortunately, you only earn Orbitz Rewards on flights, hotels, and packages, so if you're looking for car rental rewards, you'll probably want to book with Expedia instead.
As the name suggests, Rentalcars.com is a dedicated site for car rental deals. Bookings are made with Rentalcars.com with a free cancellation policy up to 48 hours before the rental date.
On the results page, you can see at a glance what's included in the price, such as free cancellation and amendments, theft protection, and a collision damage waiver. The cheapest rate for a standard vehicle was $287.07 renting with Avis, and the rate is over 100% cheaper than booking direct and paying on arrival.
Price Comparison for Online Travel Agents
Final Thoughts
Finding a good deal for your car rental needn't be a chore. If you're looking for the cheapest rate, check an online travel agent such as Expedia or Rentalcars.com, where you can compare prices for numerous rental agencies. If you're keen to book direct, then it's always worth asking if the company will price match the offer you have found, provided the details of the rental are exactly the same.
You'll find the cheapest rates will be available at neighborhood offices compared to renting at the airport, so it's worth considering, especially if you only need a rental car for part of your trip.