WoodSpring Suites: 11 Most Popular Hotel Locations [2021 Guide]
Choice Hotels is one of the largest hotel chains worldwide, with more than 7,000 properties across 14 brands under its wing. Among these brands is WoodSpring Suites — a relatively recent addition to the Choice hotel portfolio and one of the company's fastest-growing branches.
At its core, WoodSpring Suites is an extended-stay economy hotel chain that targets long-term travelers looking to maximize value and convenience during their multi-night stay. At first glance, everything about WoodSpring, from the roster of included amenities to guest room design is as bare-bones as it gets, but loyalists couldn't care less about bells and whistles or stylish surrounds. Rather, they're satisfied with just the basics so long as they can score it for an affordable price. Low rates are what makes WoodSpring Suites so appealing.
Based in the U.S., WoodSpring Suites currently operates more than 400 new-build hotels in 38 states around the country and is adding more locations every day.
Below, we'll go into detail about what a stay at a WoodSpring Suites hotel is like, the most popular locations across America, and details behind Choice Hotels' Choice Privileges loyalty program.
Everything You Need to Know About WoodSpring Suites
Founded in 2003, WoodSpring Suites is the brainchild of Jack Deboer, the same pioneering hotelier behind other extended-stay brands like Residence Inn and Candlewood Suites. Originally called Value Place, the brand was officially renamed WoodSpring Suites in 2015.
In 2018, WoodSpring Hotels (which includes both WoodSpring Suites and the slightly more upscale WoodSpring Suites Signature) was acquired by Choice Hotels, joining the company's other economy brands including Comfort Inn, Quality Inn, and Econo Lodge — Choice Hotels' flagship economy brand. WoodSpring's main competitors include Extended Stay America and other economy-level brands that occupy the extended-stay space.
Above all, WoodSpring's concept is all about cost-saving functionality. Both the brand's business model and overall design provide guests exactly what they need — no more, no less. This includes ample storage space, kitchens in every guest room, on-site laundry facilities, and 24-hour access to staff. Features you won't find at any WoodSpring include restaurants, bars, pools, spas, or any other costly and unnecessary extras.
Because of this, most WoodSpring Suites guests are those staying in the area for an extended but still temporary amount of time and are fine cooking for themselves. In addition to leisure travelers, WoodSpring checks in those who are between residences, searching for a more permanent place to live, traveling on business, or planning to make frequent visits to a nearby hospital or medical facility.
Back to Basics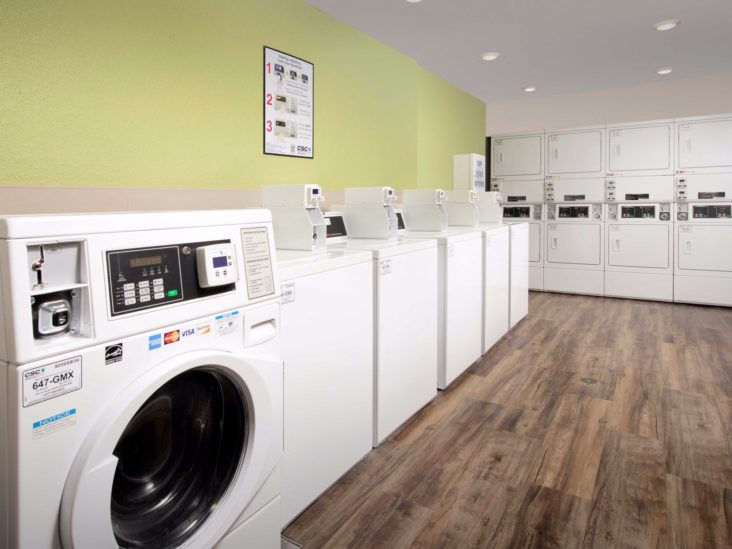 As its name implies, every guest room at a WoodSpring Suites hotel is a suite, and every suite is as minimalist as they come. Aside from beds, dressers, and TV stands, in-suite features are limited to a fully-equipped kitchen, cabinet and storage space, and workspace. Housekeeping is provided bi-weekly.
Every WoodSpring location also provides free Wi-Fi, free parking, a 24-hour guest laundry room, and vending machines. In rarer cases, a small but up-to-date fitness center and dishwashers are available. Many locations are also pet-friendly and 100% smoke-free — an additional perk of being a completely new-build brand.
Unlike many hotel chains, however, WoodSpring rooms do not provide coffee makers. Instead, complimentary, self-serve coffee stations are provided in some hotel lobbies, while personal coffee machines can be purchased at the front desk during opening hours. Other items you have to request from staff if you need them include irons, ironing boards, and hair dryers.
Term-Based Rates
One of the biggest perks about staying at a place like WoodSpring Suites is the option to pay nightly, weekly, or monthly rates depending on the length of your stay. In other words, the longer you stay, the cheaper the rate. In this way, guests can take advantage of even more savings on top of WoodSpring's already deeply discounted rates.
Kitchenware for Sale
One of biggest reasons why WoodSpring's rates are so low is that the brand implements cost-saving measures wherever it can. One such measure includes limiting kitchenware in guest rooms. After all, why spend the money on items that take up space if some guests won't even use them — or plan on bringing their own?
Even if you find yourself caught unaware, you needn't worry about forgetting your supplies. In a pinch, the front desk at every WoodSpring Suites hotel comes to the rescue with for-sale coffee makers as well as "Simply Cooking" and "Simply Dining" kits.
"Simply Cooking" kits provide essential items you need to prepare a simple meal including a skillet, saucepan, spatula, cooking spoon, can opener, dishcloth, and hand towel. The "Simply Dining" pack, meanwhile, acts as a single-person place setting and includes a drinking glass, mug, plate, bowl, and 1 set of stainless steel cutlery.
Choice Privileges Loyalty Program
Members of Choice Privileges, Choice Hotels' rewards program, have the ability to earn and redeem points for unique benefits like free hotel stays at participating brands and properties.
It is important to note, however, that because all Choice Hotel locations are independently owned and operated, not all Choice Hotel brands or properties participate in Choice Privileges, and point-earning includes restrictions based on the amount you pay per night (you cannot, for example, earn any points on an overnight booking that is $40 or less).
WoodSpring Suites does not currently participate in the program, meaning members cannot earn or redeem points during stays at WoodSpring properties. However, at the low price you'd pay to stay at a WoodSpring Suites, you're still able to enjoy incredible value.
How to Use Points for WoodSpring Suites Stays
Even though WoodSpring Suites doesn't participate in the Choice Privileges loyalty program, you can still use points for your stay by redeeming bank points via their own travel portals or as a statement credit.
Chase Ultimate Rewards Points
Cardholders of the Chase Sapphire Reserve® can get a redemption value of 1.5 cents per point when the stay is booked through the Chase travel portal.
Similarly, cardholders of the Chase Sapphire Preferred® Card and Ink Business Preferred® Credit Card get 1.25 cents per point in value.
Cardholders of the Chase Freedom® card (no longer open to new applicants), Chase Freedom Flex℠ Credit Card, Chase Freedom Unlimited® card, Ink Business Unlimited® Credit Card, or Ink Business Cash® Credit Card can still get a solid value of 1 cent per point.
Citi ThankYou Points
If you hold the Citi Premier℠ Card or Citi Prestige® Card, you can book your stay with Citi ThankYou Points via the travel portal to can get up to 1 cent per point in value.
Amex Membership Rewards
Amex cardholders can book through Amex Travel for a value of 1 cent per Membership Rewards point.
Capital One Miles
With Capital One miles, you can use the Purchase Eraser tool to redeem points for your stay at a value of 1 cent per point. You can see some of our recommended Capital one credit cards in our in-depth article.
Bottom Line: With WoodSpring Suites' low cash rates, you may want to save your points for a higher value redemption where you can maximize their value. Check out our travel points and miles valuations to see what your points could be worth!
The 11 Most Popular WoodSpring Suites Hotel Locations
WoodSpring Suites is a U.S.-based brand, and although you'll find multiple locations in most states across the country, the most popular properties — at least according to search volume and demand — are concentrated near major cities and city suburbs in the South.
Let's check them out!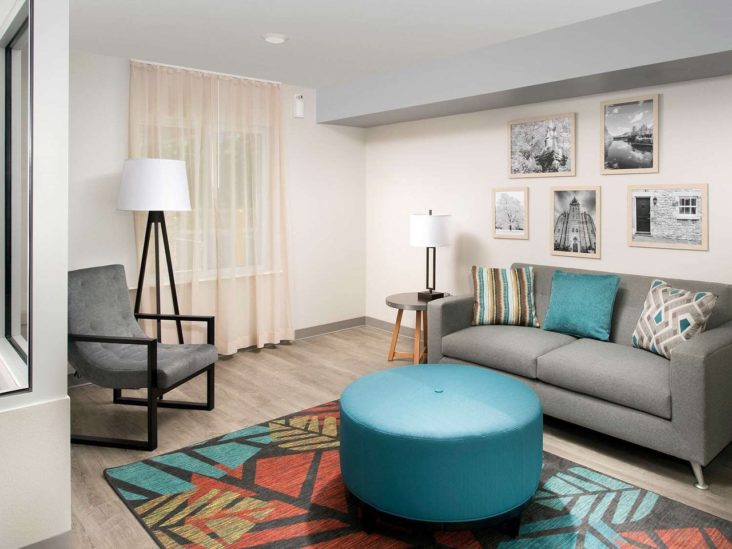 Have you ever dreamed of spending a week or more exploring Walt Disney World Resort? If you skip the fancy hotels and book a room at WoodSpring Suites Orlando International Drive, you might even be able to afford it!
Opened in April 2019, this relatively new Orlando addition puts guests within 10 minutes of Disney's park entrances as well as just 15 minutes from Universal Studios Florida.
For those who prefer to save money on meals, this spot provides it all — from kitchen-equipped non-smoking suites with queen- or king-size beds to on-site vending machines. You'll also enjoy free Wi-Fi and parking, laundry facilities, and a 24-hour front desk along with a coffee station in the lobby.
Although pets are not welcome at this location aside from service animals, the hotel does have an outdoor pool — a rarity among existing WoodSpring properties that's become a big hit with families. Business travelers also appreciate that the hotel is just a 10-minute drive from the Orange County Convention Center.
Paid rates at WoodSpring Suites Orlando International Drive hover around $96 for a standard suite.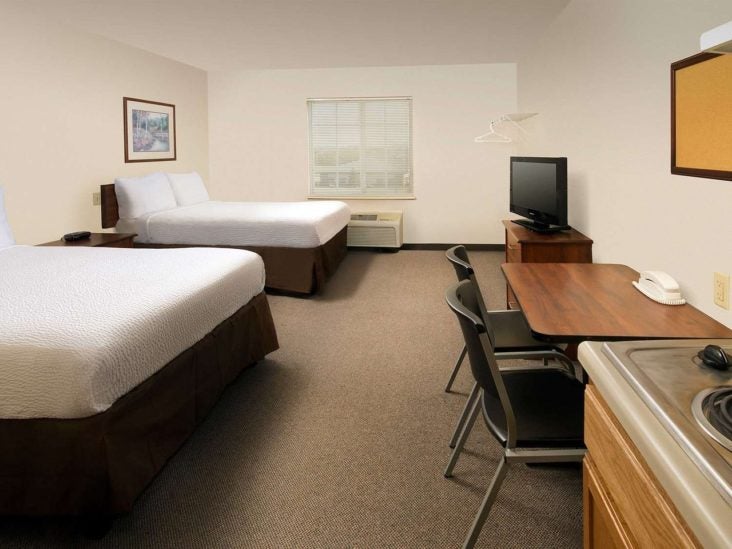 Despite its Disney-centric reputation, there's more to Orlando than its world-class theme parks. Take Clarcona, for example — a park-filled suburb just a half-hour drive northwest of downtown. If you have business or extended plans in town, WoodSpring Suites Orlando Clarcona is an affordable spot to base yourself for the long haul.
In addition to nightly, weekly, and monthly rates, this location offers long-term accommodation for those intending to stay 32 nights or more. All 105 rooms are suites featuring full beds and kitchens and are divided into 3 categories — 1-bed suites, 2-bed suites, and 2-bed suites with sleeper sofas. Hotel rooms here are also smoke-free and pet-friendly.
Free Wi-Fi and parking, as well as a 24-hour front desk and laundry room, come standard. From here, you can get to both Universal Studios Florida and Walt Disney World Resort in just a half-hour, while Orlando International Airport (MCO) is a 40-minute drive away.
Cash rates average around $50 per night for a 1-bed suite at WoodSpring Suites Orlando Clarcona.
Hot Tip: Service pets are welcome free of charge at WoodSpring's Clarcona location. Otherwise, guest pets are limited to 2 dogs under 50 pounds per room at a tiered rate of $50 for the first 6 nights, $100 for 7 to 27 nights, $200 for 28 nights, and $5 per night for each night after your 28th consecutive overnight stay.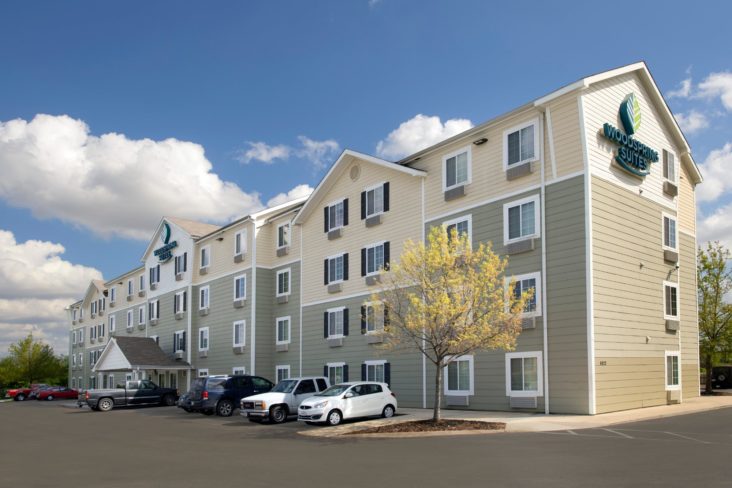 Whether you need a quick place to rest your eyes off of I-35 or plan to spend a chunk of time in the San Antonio area, you'll be hard-pressed to find a more affordable — or convenient — place to lay your head than at WoodSpring Suites San Antonio North Live Oak I-35.
Randolph Air Force Base is just a 14-minute drive south, and you're even closer to the Forum at Olympia Parkway and Live Oak Crossing — open malls lined with shops, restaurants, and entertainment. Heads up, families: Six Flags Fiesta Texas is within a half-hour drive, as is San Antonio International Airport (SAT) in the other direction.
Inside, you'll find 3 guest room categories — 1-bed suites, 2-bed suites, and 1-bed suites with sleeper sofas that all come with kitchens — along with free parking and Wi-Fi, a 24-hour laundry room, and vending machines. This hotel is also pet-friendly, allowing 2 dogs under 75 pounds per room for $50 upfront and $10 for every night they stay.
Standard suites at this property average about $50 per night.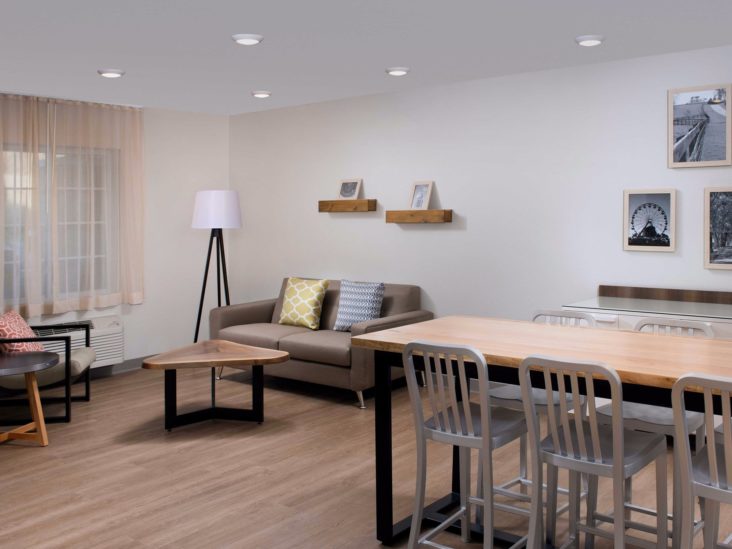 A hop and a skip north of Louisville International Airport, WoodSpring Suites Louisville Airport is an ideal hotel for those who want to stick close to SDF without being right on top of it. Visitors can choose between 2 room options — a 1-bed or 2-bed suite — though all come with queen-size beds and kitchens with full refrigerators and stovetops.
Some rooms are also pet-friendly, though limitations include 2 dogs maximum per room (80 pounds and under) for a $50 fee the first 7 nights and an additional $20 each week after that.
In addition to typical WoodSpring features including free Wi-Fi, free parking, laundry room, and vending machines, guests also have access to a 24-hour fitness center stocked with a treadmill, elliptical, and weighted medicine balls. Not up for cooking in your room but craving something substantial? A score of fast-food restaurants are just minutes in either direction down Preston Highway.
You're not far from major local attractions, either. The airport, the University of Louisville, and downtown Louisville are all within a 10-minute drive.
Room rates at this property average around $53 per night.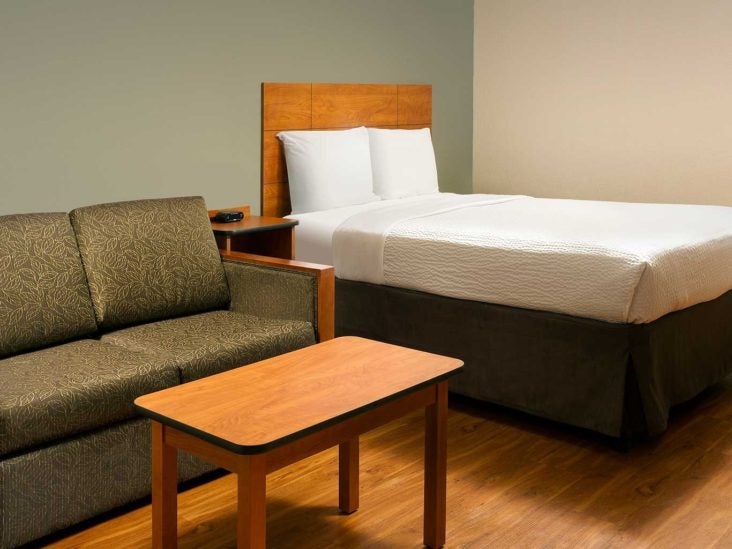 Business travelers love that WoodSpring Suites Louisville Jeffersontown sits just 15 minutes from the Kentucky Truck Plant, while downtown Louisville and the airport are both within a 20-minute drive.
Every room is a suite with a full kitchen and full beds (some include sleeper sofas), parking and Wi-Fi are free, and the monthly rate option is a great incentive for longer-term visitors looking to save on the property's normal nightly fees.
Per the pet-friendly policy, 2 dogs per room 80 pounds and under are allowed, though they incur a $50 nonrefundable fee and $20 for each additional week you stay after the first 7 days.
Cash rates at WoodSpring Suites Louisville Jeffersontown hover around $84 for a standard suite.
Hot Tip: This location offers both smoking and non-smoking guest rooms, so be sure to request the category you want if that is important to you.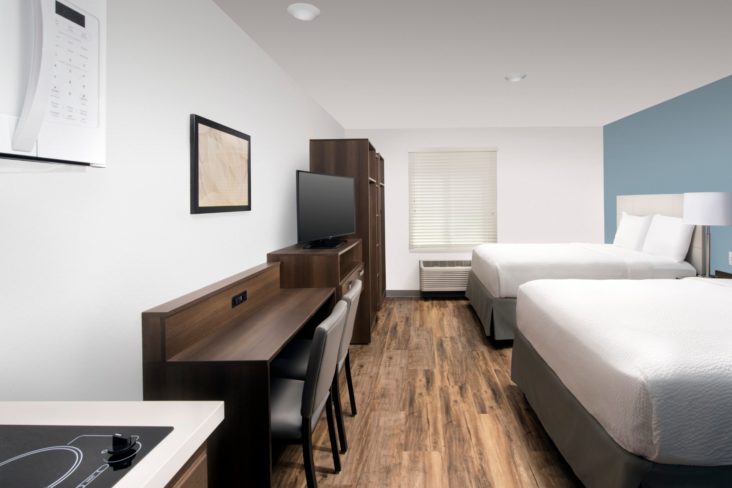 Families dominate the guest list at WoodSpring Suites Tampa Northeast for 2 big reasons — the University of South Florida and Busch Gardens Tampa Bay are both within a 10-minute drive.
Whether you're here for commencement, graduation, or a week's worth of theme park thrills, WoodSpring's low rates and flexible accommodations make multi-night stays a breeze. All suites are non-smoking, come with kitchens, and feature queen- or king-size beds that can sleep up to 4 guests.
There's even a 24-hour fitness center — a rare addition to the location's roster of otherwise standard WoodSpring amenities including self-serve laundry, complimentary Wi-Fi, and free parking.
Another unique feature: the pet-friendly policy welcomes cats as well as dogs for a $10 per-pet fee per night.
Paid rates for a standard suite at WoodSpring Suites Tampa Northeast hover around $65 per night on average.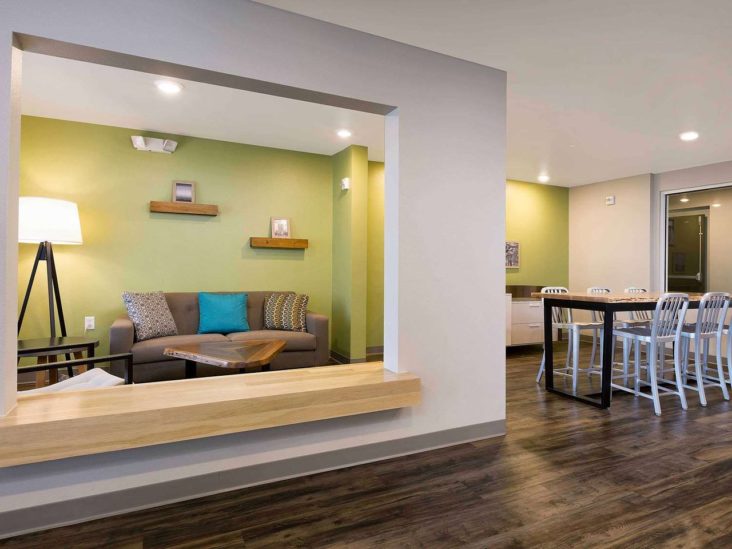 Right off of I-75 in the Tampa suburb of Brandon, WoodSpring Suites Tampa Brandon offers no-nonsense accommodations outside of Florida's third-largest city.
The 122 non-smoking suites are divided into 3 room categories — 1-bed suites, 2-bed suites, and 1-bed suites with sleeper sofas. No matter which one you choose to book, you'll enjoy access to a full kitchen and free Wi-Fi. Some suites are designated pet-friendly rooms. This location allows 2 cats or dogs per room (under 80 pounds) and charges $10 per night per pet for however long you stay.
As a relatively new build, this location also features a fitness center in addition to laundry facilities, a lobby coffee station, and free parking. Tampa International Airport (TPA) is about a 30-minute drive from the hotel, while downtown Tampa is half that distance — about 15 minutes or 8 miles west.
Cash rates hover around $70 per night for a 1-bed suite at WoodSpring Suites Tampa Brandon.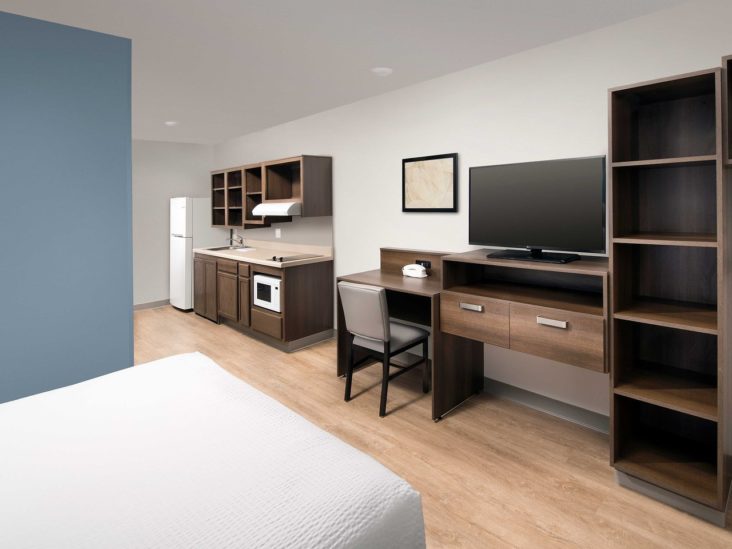 Roughly 20 minutes east of downtown Naples, you're a bit removed from the action when you check into this WoodSpring Suites location, but for some travelers, that's exactly what they're looking for.
Instead of city life, the hotel gets you closer to nature. The hiking trails and campgrounds of Picayune Strand State Forest are a short 15-minute drive, while the hotel cuts a few minutes off the driving distance to Everglades National Park's Gulf Coast Visitor Center compared to what you'd need to cover if you were staying downtown.
Along with weekly and monthly rates that improve upon the already affordable nightly rates, this hotel offers all-suite and completely non-smoking rooms with full kitchens as well as free Wi-Fi, parking, laundry facilities, vending machines, and a pet-friendly policy that welcomes 2 dogs under 75 pounds per room for $50 per pet plus $10 per pet per night of your stay.
Cash rates for a standard suite here hover around $60 per night.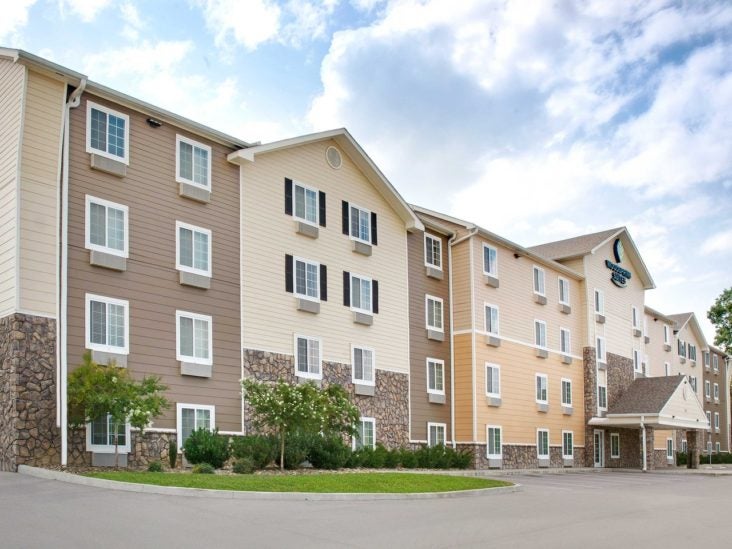 It's all in the name at WoodSpring Suites Nashville Airport. Located at the far southern end of Nashville International Airport (BNA), this property offers incredible access to the region. It sits right off I-24, putting it less than 20 minutes from both the airport and downtown and within range of multiple hospitals and universities.
Whether you're checking in for a night or a month, as an independent traveler, you'll find essential amenities for making your stay here as seamless as possible. This includes varying price points between nightly, weekly, and monthly rates, in-room kitchens, non-smoking rooms, a laundry room, and on-site vending machines.
That said, this location does lack a few amenities offered by newer WoodSpring properties. For example, there is no fitness center at this location and pets are not allowed, other than service animals.
Paid rates average about $75 per night for a standard suite at WoodSpring Suites Nashville Airport.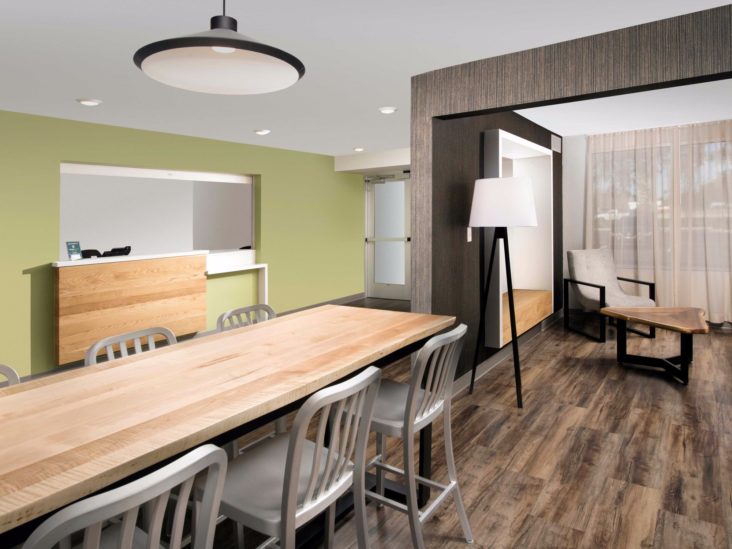 Staying in Miami Beach is practical if you're looking forward to spending most of your time on the sand. However, for travelers with lots of sightseeing on the agenda — say, combining Miami with national parks as well as the Florida Keys — it pays to stay somewhere right in the middle.
When you check into WoodSpring Suites Miami Southeast, you'll be less than an hour's drive from Miami Beach, both the Everglades and Key Biscayne national parks, and Key Largo. Even closer is Zoo Miami, just an 11-minute drive down the road. For students and college parents, the University of Miami is less than a half-hour's drive.
There's lots of room to drop and store your belongings in this location's multi-category suites, which include access to free Wi-Fi and on-site parking, a self-serve laundry room, and complimentary coffee in the lobby. Guests are welcome to bring up to 2 dogs per room (75 pounds and under) as long as they pay an initial $50 fee and $10 per pet per night after that.
Expect to cash in around $62 per night on average for a standard suite at WoodSpring Suites Miami Southeast.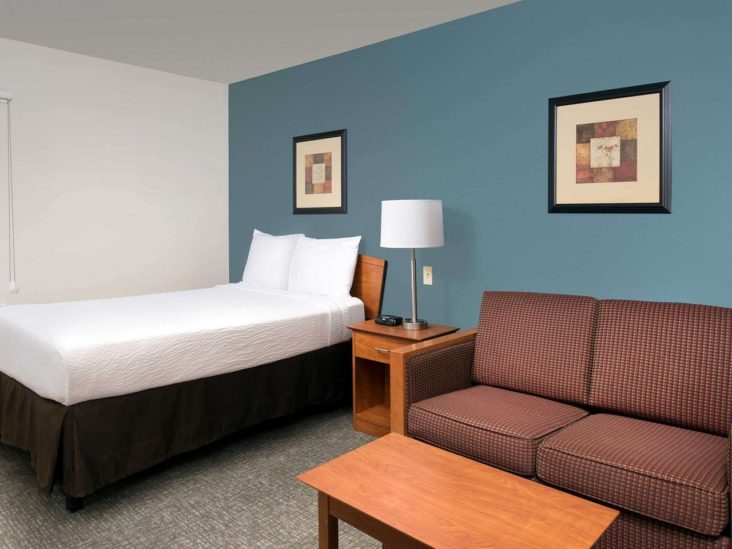 Gainesville, Florida may not share a world-famous reputation with neighbors like Orlando or Miami, but it has its own claim to fame in the University of Florida, which draws scores of current and prospective students, families, and employees throughout the school year.
The university is just a 10-minute drive from WoodSpring Suiters Gainesville I-75, which sits directly off the interstate and makes reaching other big-name cities — Jacksonville and Orlando are both about an hour and a half away — a cinch.
Here, every room is a non-smoking suite with a full kitchen, and standard features include free Wi-Fi and parking, guest laundry, and vending machines. Be aware that no pets are allowed at this location aside from service animals. The policy also excludes emotional support animals.
Cash rates for a standard suite at WoodSpring Suites Gainesville I-75 hover around $68 per night.
Final Thoughts
Limited facilities and simple, basic amenities might be a turn-off for some, but WoodSpring Suites knows exactly what type of guests it serves — long-term travelers who are conscious about their budget and only need (and care about) the absolute necessities.
In-room kitchens, free parking, and 24-hour laundry rooms — not to mention ample living space — go a long way towards making anyone checking in for consecutive nights feel right at home.
If you're relocating to a city, in town for an undetermined amount of time, or simply want a no-fuss stay for an overnight or week-long visit that won't break the bank, it might be time to see what WoodSpring Suites has to offer.