The Best Ways to Fly from Los Angeles (LAX) to New York (JFK)
The Los Angeles International (LAX) to John F. Kennedy International (JFK) route is one of the most frequented flights in the world — and it's easy to see why. These are the 2 most populated cities in the United States, and nearly all major airlines in the U.S. operate the route nonstop.
Even with so much competition on the route, LAX to JFK can still be costly to fly. This is in large part because the flight is nearly as long as flights from the East Coast to Europe, and it's super business-heavy.
Don't worry; a coast-to-coast trip doesn't have to break the bank if you have miles and points. In this article, you'll find all of the best ways to redeem points and miles for a free jaunt from Los Angeles to New York City in both business and economy class.
Etihad Guest Makes It Easy to Fly American Airlines
American Airlines operates a proper 3-cabin plane between JFK and LAX. This plane features economy, business, and first class seating. Business and first class feature proper lie-flat seating and dining that's comparable to international service on American Airlines.
The best way to book American Airlines' upgraded transcontinental service — whether in economy, business, or first class — is with Etihad Guest. Awards can be booked for 12,500, 25,000, and 32,5000 miles for a one-way ticket in economy, business, or first class respectively, requiring fewer miles to book awards with Etihad Guest than American Airlines' own miles.
To book an American Airlines award using Etihad Guest miles, find MileSAAver availability on American Airlines' website and call Etihad Guest to book. The Australian, British, and Serbian Etihad call centers are the best for booking this award as these locations generally have the easiest time seeing partner availability.
Want to book one of these awards for yourself? You can transfer in miles to Etihad Guest from American Express Membership Rewards, Capital One, Citi ThankYou, and Marriott Bonvoy at varying rates. Etihad Guest does not currently have a U.S.-based co-branded credit card, but there are plenty of other ways to earn Etihad Guest miles.
Book Delta Air Lines Tickets with Virgin Atlantic

Delta Air Lines flies a mixture of Boeing 757 and wide-body Boeing 767 planes between JFK and LAX. In business class, branded as Delta One, travelers can expect a lie-flat seat and meal service comparable to that of an international flight. However, Delta SkyMiles are rarely the best way to fly Delta between JFK and LAX — instead, check Virgin Atlantic Flying Club.
You can book business class for 45,000 one-way, or economy for 12,500 one-way. The economy pricing is pretty standard, but it is worth noting that business class seats are significantly more expensive than booking American Airlines tickets via Etihad Guest.
Thankfully, Virgin Atlantic Flying Club miles are pretty easy to come by. Currently, American Express Membership Rewards, Chase Ultimate Rewards, Citi ThankYou, and Marriott Bonvoy points all transfer to Virgin Atlantic at varying rates. Further, there is a Virgin Atlantic co-branded Mastercard from Bank of America that has a fluctuating sign-up bonus.
Use KrisFlyer Miles to Fly United's 787-10 (Into Newark)
While United Airlines doesn't service JFK, it does operate transcontinental service from LAX to Newark Liberty International (EWR). This airport is located just 15 miles from downtown Manhattan and is connected by taxi, Uber/Lyft, an express bus, and NJ Transit trains. Oftentimes, this can actually be faster than taking a taxi or the subway in from JFK.
United is also the only carrier to offer regularly scheduled service between Los Angeles and New York on a 787-10. This plane is equipped with United's flagship Polaris business class and Premium Plus premium economy product, making it one of the most luxurious ways to cross the United States.
Hot Tip: Some LAX-EWR United flights are operated by a 777-200 or 757-200. These planes still offer lie-flat seating in business class.
Don't use United miles to fly between the cities, though. Instead, travelers can use Singapore Airlines KrisFlyer miles to fly United from coast-to-coast. Currently, this flight costs just 25,000 one-way in business class or 12,500 miles when booked in economy class. It's not yet possible to book Premium Plus award tickets on the LAX-EWR route.
You can transfer miles from American Express Membership Rewards, Chase Ultimate Rewards, Citi ThankYou, and Marriott Bonvoy to Singapore Airlines KriFlyer. Just note that these transfers can take 24 hours or more to process, so transfer as soon as you find a flight you'd like to book.
Use KrisFlyer Miles to Book on Alaska Airlines
Alternatively, you can use KrisFlyer miles to fly on Alaska Airlines between LAX and JFK. Currently, Alaska Airlines flies between LAX and both JFK and EWR. However, the airline does only operate Boeing 737 aircraft between the two cities, so the flight experience is more similar to a standard domestic flight.
Thankfully, though, economy awards cost just 12,000 Krisflyer miles in economy class and 20,000 in business class. This makes it the cheapest redemption on this list and by far the best value in business class.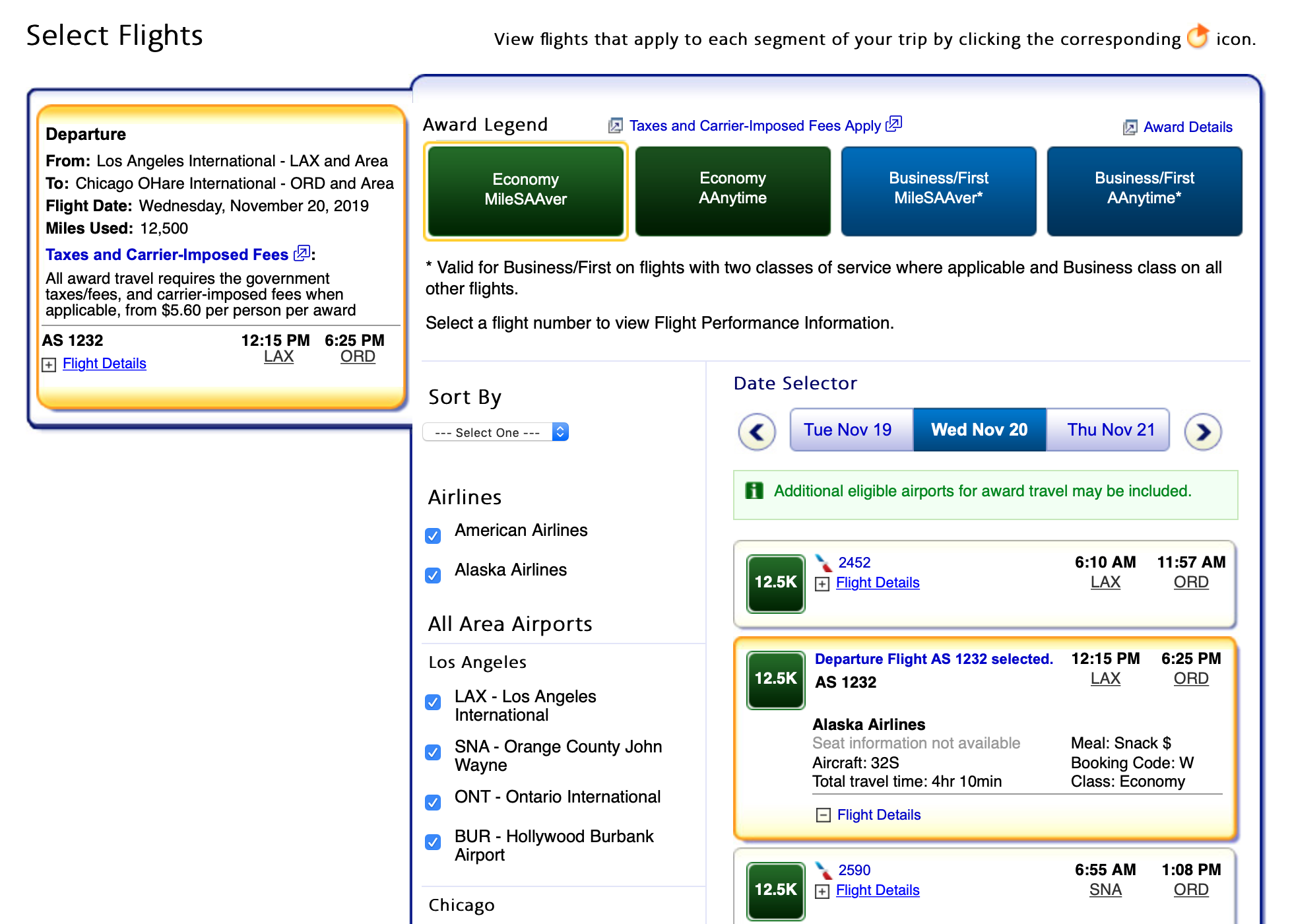 To book this award, check American Airlines' website for Mile SAAVer space on Alaska Airlines and call Singapore Airlines to book the ticket. Unfortunately, American Airlines tickets are not bookable with Krisflyer miles, so only look for flights with an AS flight number — see the screenshot above for a visual.
You can transfer miles to Singapore Airlines KrisFlyer from American Express Membership Rewards, Chase Ultimate Rewards, Citi ThankYou, Capital One, and Marriott Bonvoy at varying rates.
Book Cheap Tickets Using JetBlue Points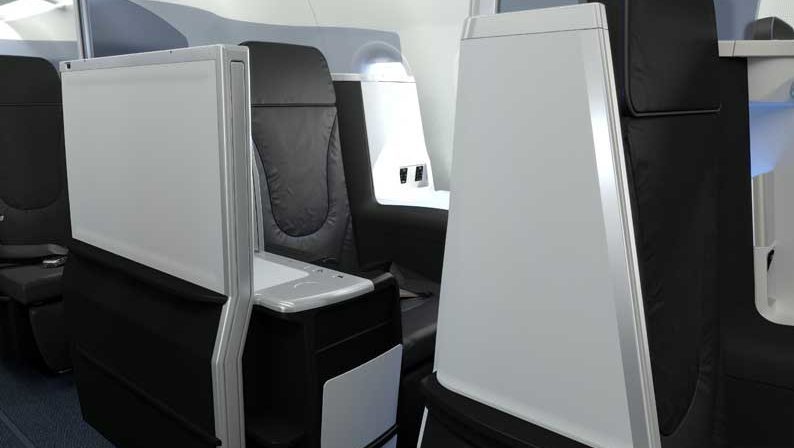 JetBlue prices its award tickets based on the price of a paid ticket, meaning that more expensive tickets cost more TrueBlue points. When searching for a ticket 3 months in advance, you can generally find that economy tickets cost 9,200 points while business class tickets (in JetBlue Mint) cost a whopping 68,400 points one-way.
On the other hand, these same flights cost $137 and $699 in economy and business class respectively. This means that you'll receive somewhere between 1.42 and 1.0 cents per point in value when redeeming TrueBlue points.
You can transfer points to JetBlue from Amex Membership Rewards, Chase Ultimate Rewards, Citi ThankYou, and Marriott at varying rates. Additionally, you can earn JetBlue TrueBlue points through a JetBlue co-branded credit card or by using one of these various methods.
Do note that you can redeem Chase Ultimate Rewards towards paid flights at 1.5 cents per point if you have a Chase Sapphire Reserve® card, making it a far better deal than transferring to JetBlue.
Final Thoughts
There is no shortage of ways to fly from LAX to JFK. Stick with the Etihad Guest on American Airlines option for business class awards, and Singapore Airlines KrisFlyer on Alaska Airlines for economy redemptions. No matter what you choose, though, you'll get a safe, quick, and nearly free flight between the 2 largest cities in the United States.
What are your favorite ways to fly between LAX and JFK? Let us know in the comments below!