The Best Ways to Fly from New York (LGA) to Chicago (ORD)
Flights from the Windy City to the Big Apple are plentiful. Currently, 5 domestic airlines operate nonstop service between the cities, with American Airlines, Delta Air Lines, and United Airlines all offering near-hourly services between the 2 cities.
With so many flights between the 2 cities, you'd think that flights would be dirt cheap. Thankfully, this is the case for much of the year; when booking months out, you can usually find flights for under $200 round-trip. However, this isn't the case when booking last-minute flights, flights during holidays, or business-heavy times like large conventions and trade shows.
Thankfully though, you have plenty of options for redeeming points between the 2 cities at relatively low rates.
So to help you find the best fit for your travel plans and mileage account balances, here's a run through the best ways to fly from LaGuardia Airport (LGA) to Chicago O'Hare International Airport (ORD), with other New York City airports added to the mix, using miles and points in this article.
Get the Best Flat Rate Value with British Airways Avios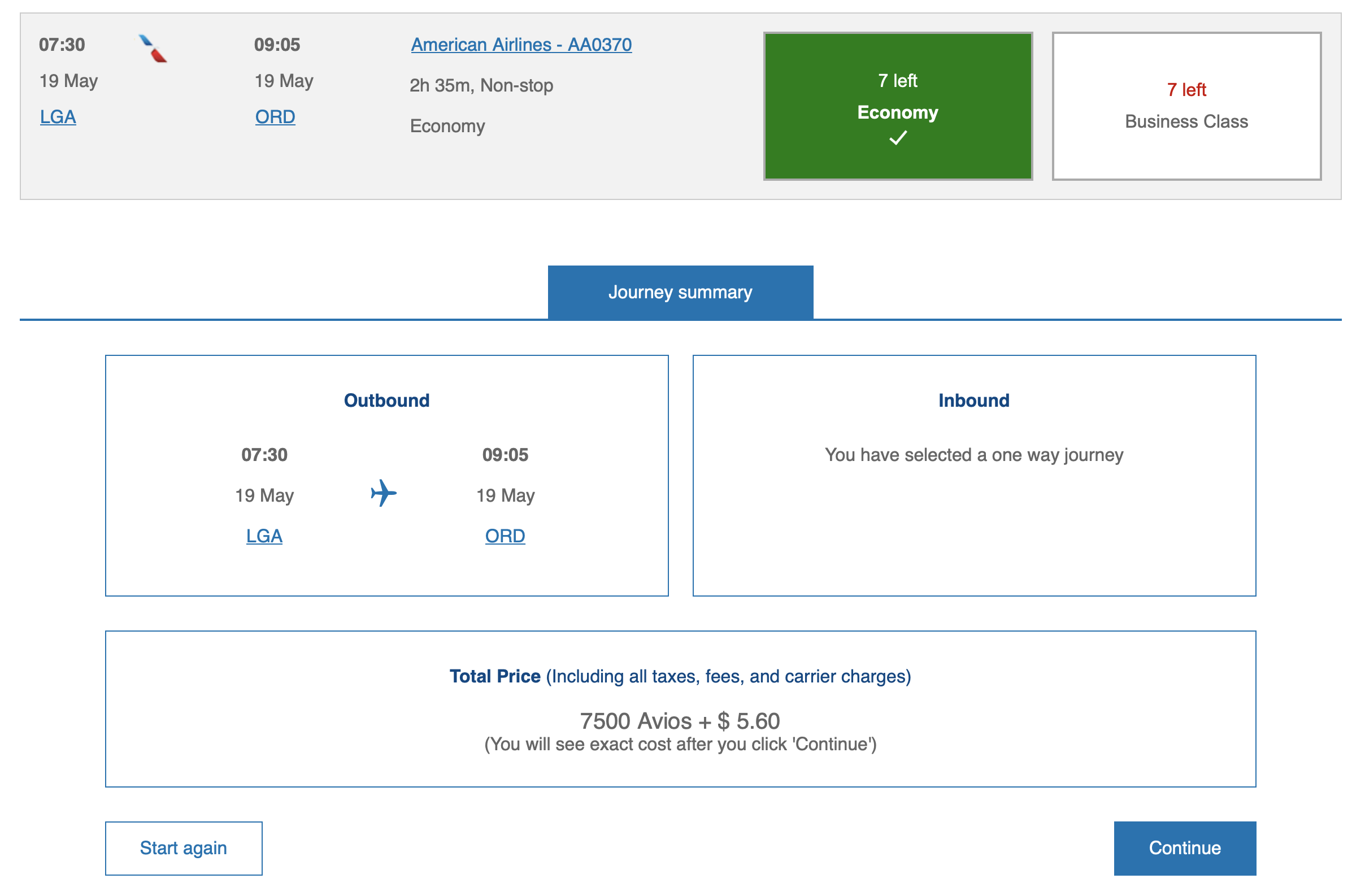 British Airways may not be the first airline that comes to mind when you think of domestic U.S. flights, but its loyalty program is one of the best ways to redeem for short- and medium- haul trips within the United States.
All North American flights under 1,151 miles cost just 7,500 British Airways Avios and $5.60 in taxes, and since LGA to ORD clocks in at 733 miles, it's within this low-tier range.
Of course, British Airways cannot operate domestic flights within the U.S., so with that in mind, you'll fly the route on Oneworld partner, American Airlines. The airline currently operates non-stop flights between ORG and LGA, John F. Kennedy International Airport (JFK), and Newark Liberty International Airport (EWR).
Don't have British Airways Avios? Don't worry; it's a transfer partner of American Express Membership Rewards®, Chase Ultimate Rewards, and Marriott Bonvoy™.
Even cooler, you can transfer Iberia Avios to British Airways Avios so long as both accounts have been open for 90 days or longer, so you have plenty of options for booking British Airways awards.
British Airways also has its own co-branded credit card from Chase. The card's current sign-up bonus is a bit unconventional, though: it awards 4x points per dollar spent on your first $30,000 purchases in the first year of being a cardholder. This means you can earn up to 120,000 Avios in your first year, or, enough for 16 one-way trips between LGA and ORD.
Keep an Eye Out for Delta Promotion Awards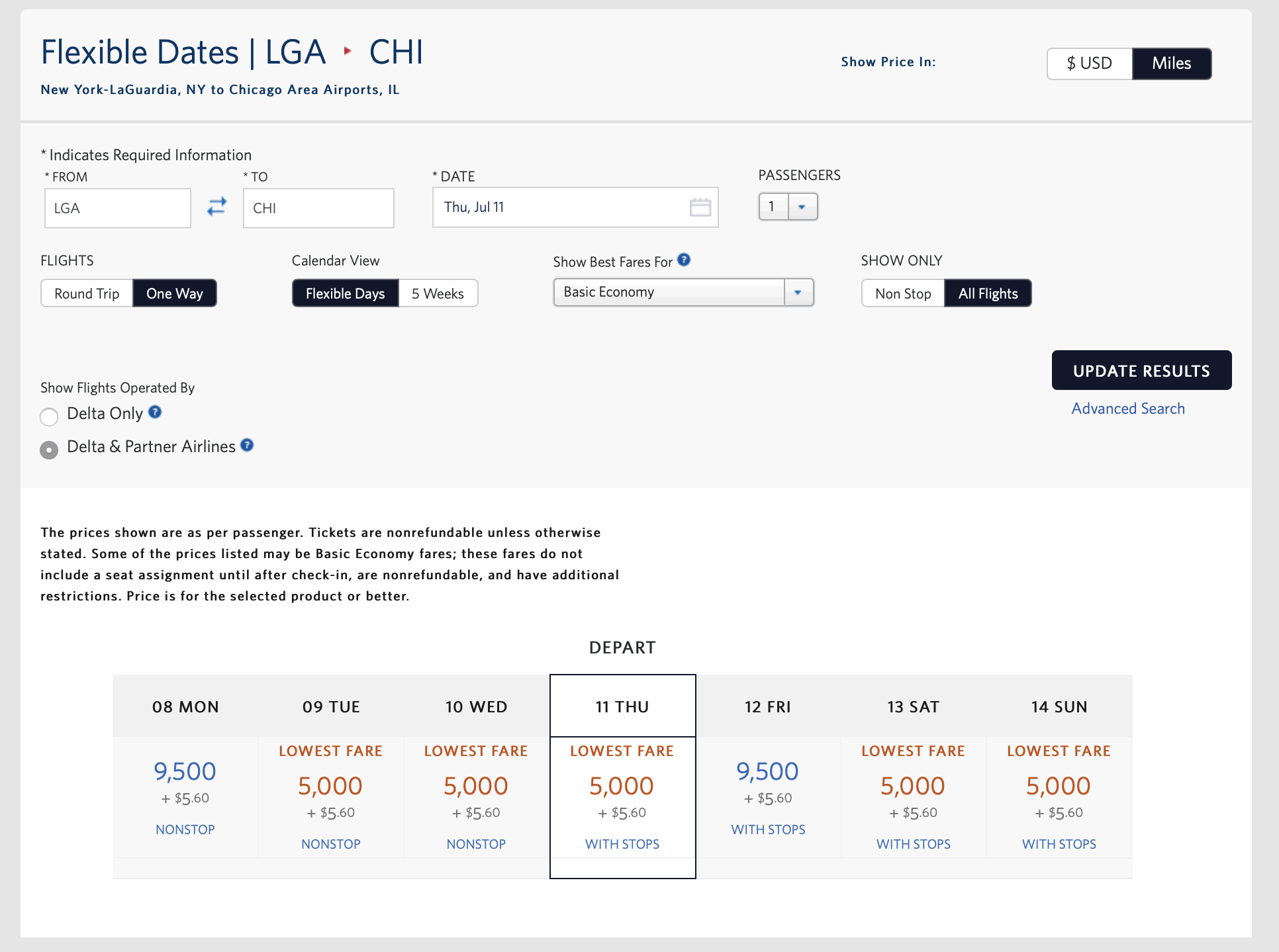 Delta may not be a favorite loyalty program, but it frequently offers amazing deals between JFK or LGA and ORD. Award tickets start at just 5,000 Delta SkyMiles®, but will may be higher depending on when you book. This is because Delta's award tickets are priced dynamically based on passenger load, date of booking, and a number of other factors.
Hot Tip: Delta operates a special shuttle service between LGA and ORD. These flights operate hourly and offer upgraded service with complementary alcoholic beverages and a dedicated security lane.
However, if you're booking well in advance, you have a good shot at booking a Delta SkyMiles award ticket at a low rate. In doing some research, there were 5,000 mile one-way award tickets when booking three months out. See the screen shot above for an example.
You can earn Delta SkyMiles through Delta's suite of co-branded American Express credit cards.
Delta SkyMiles® Gold American Express Card- use this card to get one free checked bag for you and up to 8 companions on your itinerary, which we see as a "must-have" if you fly Delta regularly. Earn 35,000 bonus miles after you spend $1,000 in purchases on your new Card in your first 3 months. $0 introductory annual fee for the first year, then $99. Terms Apply. For rates and fees of the Delta Gold card, click here.
Delta SkyMiles® Platinum American Express Card- Earn 40,000 bonus miles and 5,000 Medallion Qualification Miles (MQMs) after you spend $2,000 in purchases on your new Card in your first 3 months. Plus, earn a $100 statement credit after you make a Delta purchase with your new Card within your first 3 months.

Enjoy your first checked bag free and a lot of other benefits and perks, such as fee credit for Global Entry and TSA PreCheck. The annual fee is $250. For rates and fees of the Delta Platinum card, click here.
Further, you can transfer in miles from American Express Membership Rewards and Marriott Bonvoy.
Book United Awards with Avianca LifeMiles
Prefer booking Star Alliance awards? Avianca LifeMiles is your best bet. U.S. domestic routes on United can be booked starting at just 10,000 Avianca LifeMiles.
The airline flies between both LGA and EWR to ORD, giving you plenty of options for transit between the 2 cities. As you'd expect, the taxes and fees are the standard $5.60 each way.
Hot Tip: Have United Airlines elite status? Add your MileagePlus® number to your LifeMiles award ticket and you'll be eligible for priority seating, upgrades, free checked bags, and other elite status benefits.
You can also transfer Citi ThankYou®, American Express Membership Rewards, and Marriott Bonvoy points to Avianca LifeMiles.
Additionally, Avianca LifeMiles has a U.S. credit card, the Avianca Vuela Visa® Card, that offers 40,000 LifeMiles after your first card use and 2x points on grocery store and gas station purchases.
Use JetBlue TrueBlue or Southwest Rapid Rewards points to Cover Cheap Tickets
JetBlue TrueBlue and Southwest Rapid Rewards have surprisingly similar loyalty programs. Both airlines price awards based on how much the paid ticket costs, so if a paid ticket is expensive, so will the award ticket. However, no matter the award cost, you'll only pay $5.60 in taxes for tickets on either airline.
Booking New York to Chicago on JetBlue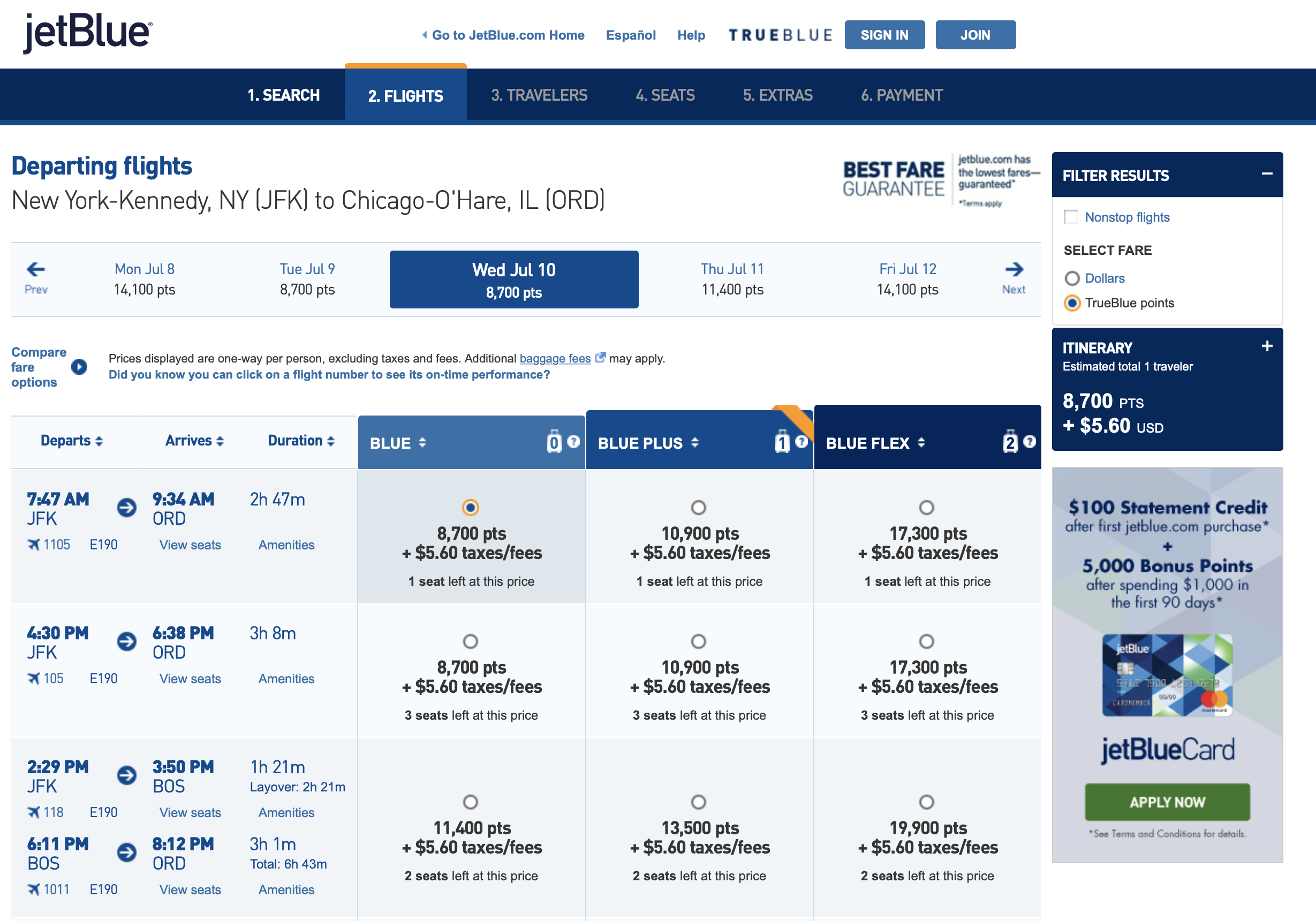 On the JetBlue side, the airline operates flights between JFK and ORD. Unfortunately, there is no EWR or LGA service offered to ORD at this time. You can transfer points from American Express Membership Rewards, Chase Ultimate Rewards, Citi ThankYou, and Marriott Bonvoy to JetBlue.
When booking 3 months out, there were JetBlue tickets between New York and Chicago pricing at around 8,700 points one-way. This puts them a little above a British Airways award ticket, but still makes them a cheaper option than redeeming miles for a flight using American Airlines or United Airlines miles at 12,500 miles one-way.
The same 8,700 point one-way ticket costs $127 when booked with cash. This means you'll get just under 1.4 cents per point in value for your points, so we don't recommend transferring Chase Ultimate Rewards miles to book this award. Why? Simple: you can book the ticket through the Chase Travel Portal for less points. More on that later!
Booking New York to Chicago on Southwest Airlines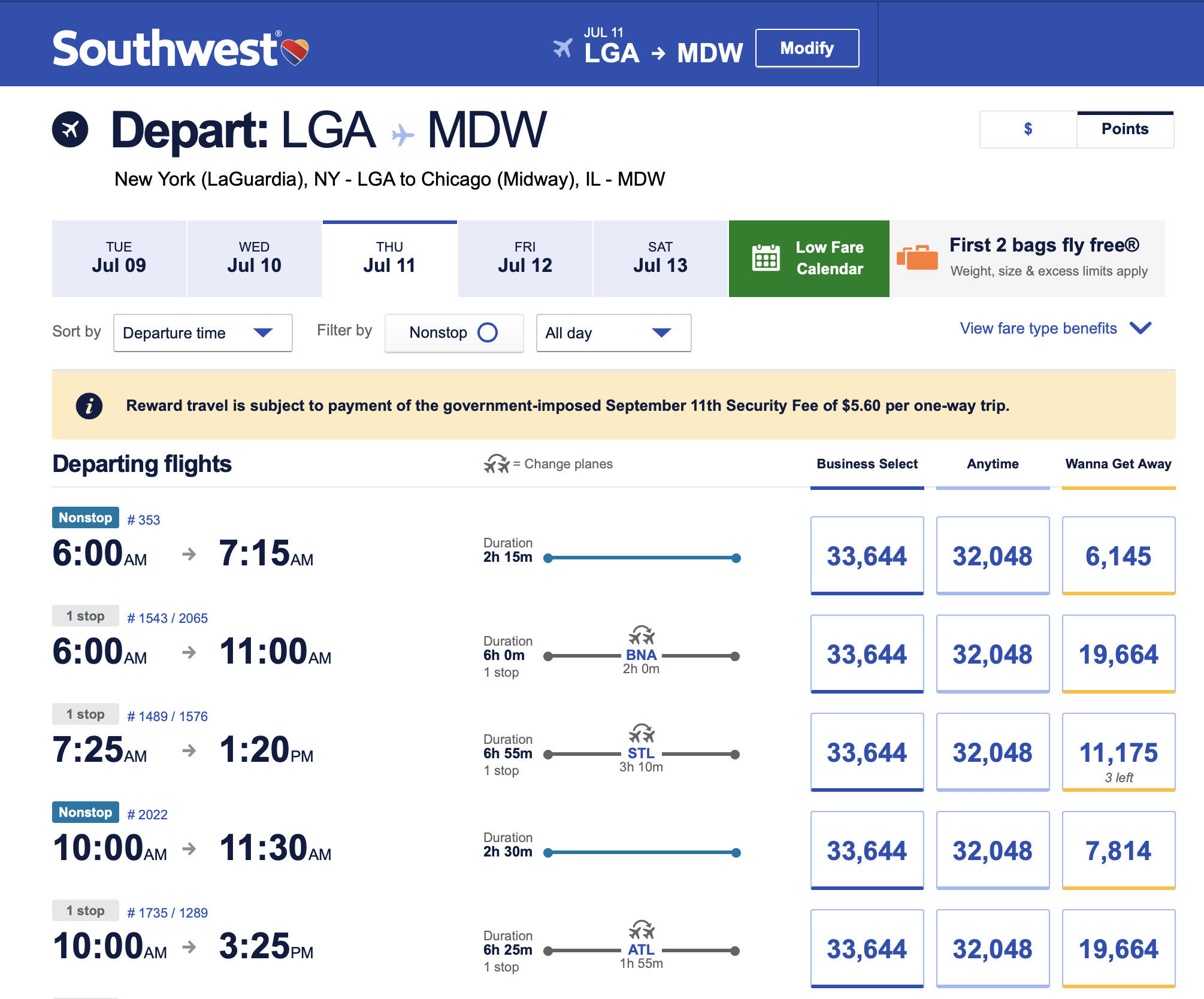 On the other hand, Southwest Airlines flies between LGA and EWR and Chicago Midway International Airport (MDW) multiple times per day. Southwest has a suite of co-branded credit cards with Chase, and points transfer in from Chase Ultimate Rewards and Marriott Bonvoy.
There were flights for just 6,145 miles one-way when booking three months out, with the same paid ticket being $99. This gives you a 1.5 cent per point value for your Southwest points, so like JetBlue, tread lightly if you plan on transferring in points from Chase Ultimate Rewards.
Book with the Chase Travel Portal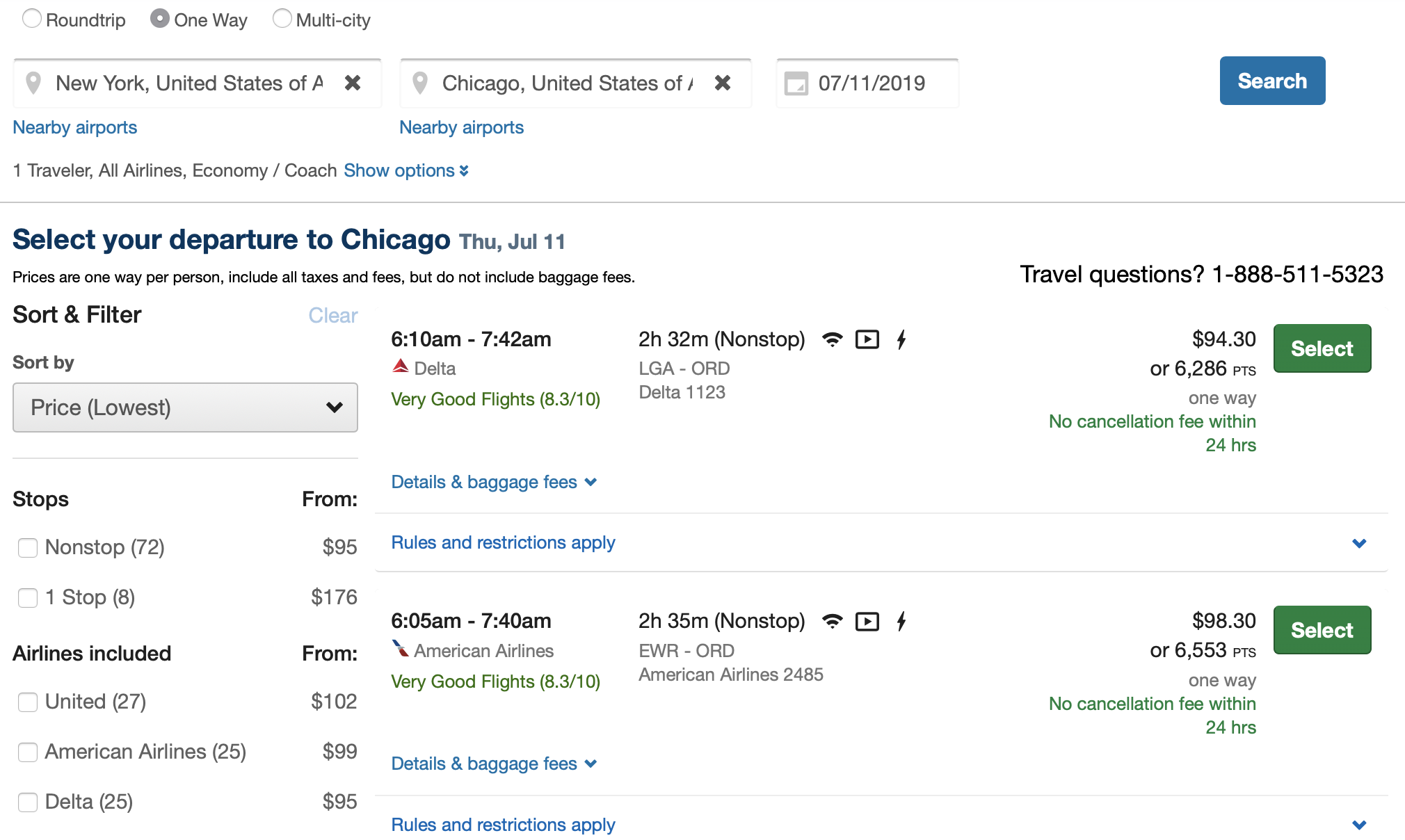 If you have a Chase Ultimate Rewards earning card, you can redeem your points towards paid flights on virtually any airline that flies between New York City and Chicago. The portal is powered by Expedia and will let you book flights on any ticket that Expedia sells using your Chase Ultimate Rewards points.
However, the cent-per-point value you get from the portal depends on the Chase Ultimate Rewards earning card you have. The Chase Sapphire Reserve® gets 1.5 cents per point towards flights, the Chase Sapphire Preferred® gets 1.25 cents per point, and all other cards get 1 cent per point.
These redemptions many be worthwhile if you want to redeem points for a cheap ticket. For example, a $94.30 one-way ticket on Delta would cost 6,286 Chase Ultimate Rewards points if you have a Chase Sapphire Reserve. This is over 1,000 points less than redeeming points for a similar flight through British Airways.
Further, note that you'll still earn points when redeeming these flights. This is because Chase essentially pays for a paid ticket for you, so make sure to add your frequent flier number to any tickets you book through the Chase Travel Portal.
The only downside with booking through the Chase Travel Portal is that you may be losing some point value when compared to using transfer partners. You can often get 2+ cents per point in value when redeeming Chase Ultimate Rewards with transfer partners, so consider your options if you plan on splurging for a more exciting award in the future.
Final Thoughts
In this article, you saw the best ways to redeem miles for flights between New York and Chicago. Generally, stick to British Airways redemptions if possible; this will generally provide the best value, and let you travel between the 2 cities for just 7,500 Avios one-way.
However, remember that these flights can be purchases for cheap if you book far enough in advance. So if time's on your side, definitely check paid flights first and assess if the price is worth using your points for, or just purchasing the ticket outright.