American Airlines Boeing 777-200 Economy Class Review [GIG to MIA]
Airline: American Airlines (AA)
Aircraft: Boeing 777-223
Flight #: AA904
Route: Rio de Janeiro Galeão International Airport (GIG) > Miami International Airport (MIA), connecting to Boston (BOS) on the same ticket
Date: November 22, 2019
Duration: 8hrs 40mins
Cabin and Layout: American Airlines Main Cabin Economy Class, 146 seat capacity across 23 rows, 3-4-3 configuration
Seat: 21D, 21E, 21G, and 21H
Miles Used: 37,500 AAdvantage Miles
Taxes and Fees Paid: $51.95 per ticket
Typical Economy Cost: $900 (round-trip)
Flying Home for the Holidays
Living abroad means flying home for the holidays! When you have 2 young children, that also means that grandparents on both sides are always jockeying for prime holiday attention.
So far we have been able to balance living in Brazil by rotating Christmas between Rio de Janeiro and Boston. For the years we spend Christmas in Brazil, we head home to New England for Thanksgiving which has been working out well since we don't celebrate Thanksgiving in Brazil, obviously.
In the past, we had been more flexible with our travel dates, but now that our oldest child is in school, we need to be more conscious about how much time she misses. That used to mean we could find the cheapest flight and build our travels around that date, but now we are a little more restricted as to when we should leave and come home.
Fortunately, there are plenty of options for us to fly between Brazil and the US. Whether paying with points or cash, rates have been pretty good lately. Let's jump into why we decided to fly American Airlines in economy (gasp!).
Booking Our Flights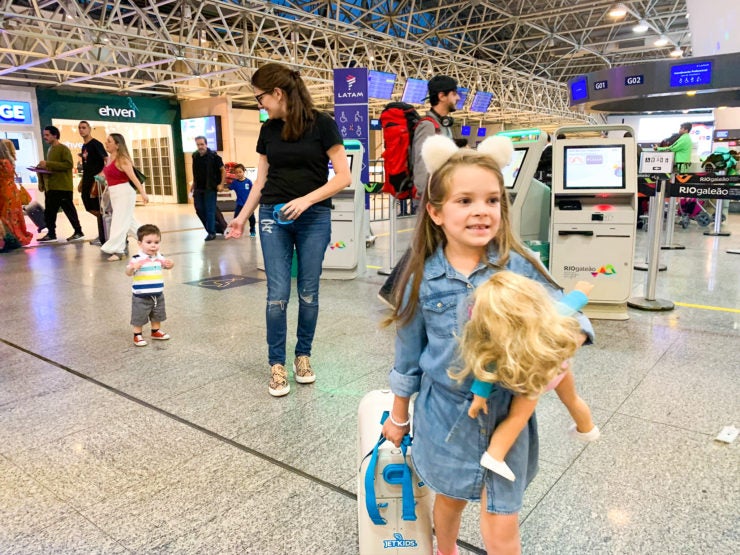 When I finally got around to booking our flights, it was already October. It's not like I knew we were going home for Thanksgiving for over a year, right?!
That being said, there were still quite a few good options for us. If we wanted to pay in cash (for the exact dates we wanted) there were options around $700, but flying Copa with a connection in Panama — not ideal. American was closer to $900, but that was more than I want to spend on an economy ticket.
On top of that, I was hoping to book a multi-city ticket since we were going to end our trip in Vermont and I didn't want to drive from Burlington to Boston just to catch our flight. That is when I started searching for flights with points and miles.
Since most of our miles are still with American, I logged into AA.com and was happy to see that they had some award seats for 37,500 miles each way (GIG-MIA-BOS and BTV-CLT-MIA-GIG). Normally a SAAver ticket is 30k between the U.S. and Brazil, so an extra 7,500 for an AAnytime ticket for the exact dates we wanted seemed reasonable. Plus, we would have the flexibility of flying back from Burlington, saving us a 1-way car rental as well. 
Changing an Award Ticket
After I put the flight on hold I remembered that we had 3 award tickets from Miami to Rio which I had booked a long time ago (and had already moved twice). It was, at the time, booked for February and needed to be used or lost by March. I must have subconsciously been hoping for a trip to Disney to pop up!
I called American Airlines and explained my situation, hoping for some pity since I thought I knew that we couldn't change the departing city of that award ticket. But to my surprise, since the new ticket (37,500 miles) was an AAnytime ticket, the agent was able to waive the redeposit fees and book the new trip for us!
I'm not sure if this is standard practice (I would guess not) or if I got really lucky with my agent, but I was happy!
Adding an Infant
Normally, I book our flights online and will call later to add my son, Tommy, as a lap child since that can't be done without getting a quote from the fare desk. Since I was already on the phone with a very capable American Airlines agent, I was able to add Tommy at the same time, for the first time.
By booking the lap child at the same time, the system automatically blocked a seat for him. In the past, when I would call to add a lap child, the agent could make a request but we had never actually had a seat for him.
On this flight, however, even though it was completely full, the system maintained his blocked seat and we ended up with 4 seats in the middle of the cabin while only paying for 3 and the 10% of a normal fare plus taxes for Tommy!
Hot Tip: When booking a lap child on American Airlines, do so at the same time that you pay for the adult tickets to increase your chance of the system blocking out a seat for your little one!
Total Paid
All said and done, for our flight from Rio to Miami and then continuing on to Boston on the same ticket, we paid 37,500 American miles plus taxes each for my wife, 5-year-old daughter, and myself.
For Tommy, as a lap child, we paid (in theory) 10% of what our multi-city ticket was selling for at the time, which came out to $141.25.
Typically on American Airlines, and many others, when adding an infant to an award ticket, the agent will call the fare desk and price out your full itinerary (regardless of if it has domestic connections) to determine the cost of the lap child.
Depending on the cabin you are flying in, this can vary by hundreds, or even thousands, of dollars based on when you call if the price tends to fluctuate.
When we received our receipt it showed $76 for "equivalent fare" and $65.25 for "taxes and carrier-imposed fees," therefore the round-trip, multi-city ticket was pricing out to around $760 which was certainly a lot less than what we were seeing.
I'm not exactly sure where AA gets these prices, as they tend to change based on the agent, but we just were happy to be booked.
That meant for a total of 112,50 miles + $315 in taxes we would be flying our family of 4 "home" for Thanksgiving week (taxes are very high flying out of Brazil)!
Certainly not the cheapest we have paid and, unfortunately, it wasn't in business class, but we were happy to get the exact dates we wanted with the added flexibility of flying home from a different airport.
Now, let's get into the actual flight details!
Checking in at GIG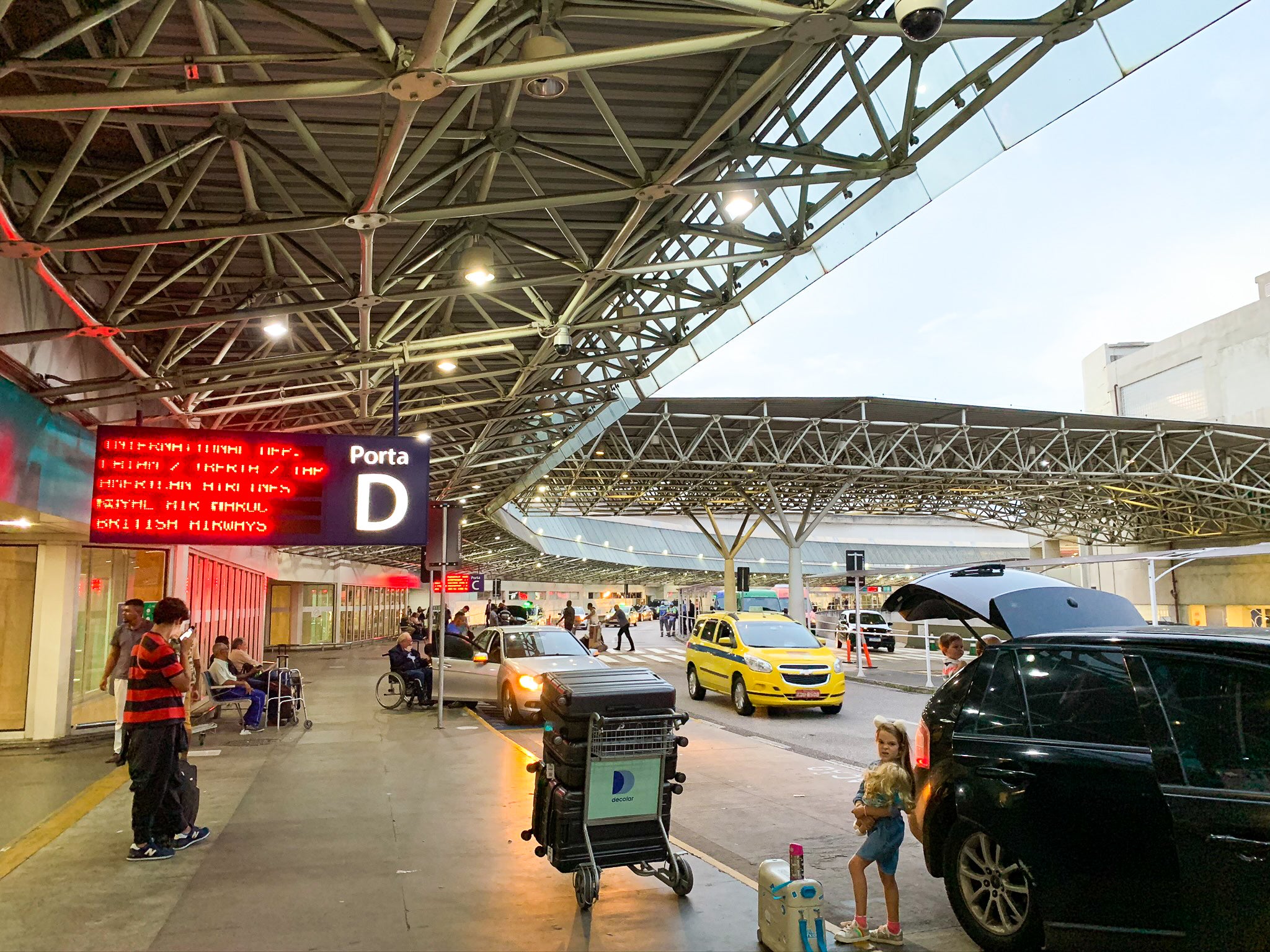 I have a love/hate relationship with Rio Galeão International (GIG). While pickup and dropoff are still quite hectic, the passenger experience once you are inside is 1000% better than it was 5 years ago.
Thanks to the World Cup and Olympics, the airports in Brazil have seen a lot of improvement — and that's about it, unfortunately.
All international flights leave from Terminal 2, which has been completely redone and looks brand new.
Hot Tip: Terminal 2 at GIG is HUGE, so be prepared to walk a lot! 
The American Airlines counter is indicated as one of the doors when pulling up by car, so look for the last door and then turn left.
If you have status and/or priority, check-in is quite easy. If not, lines can get quite long at this airport.
Checking a Car Seat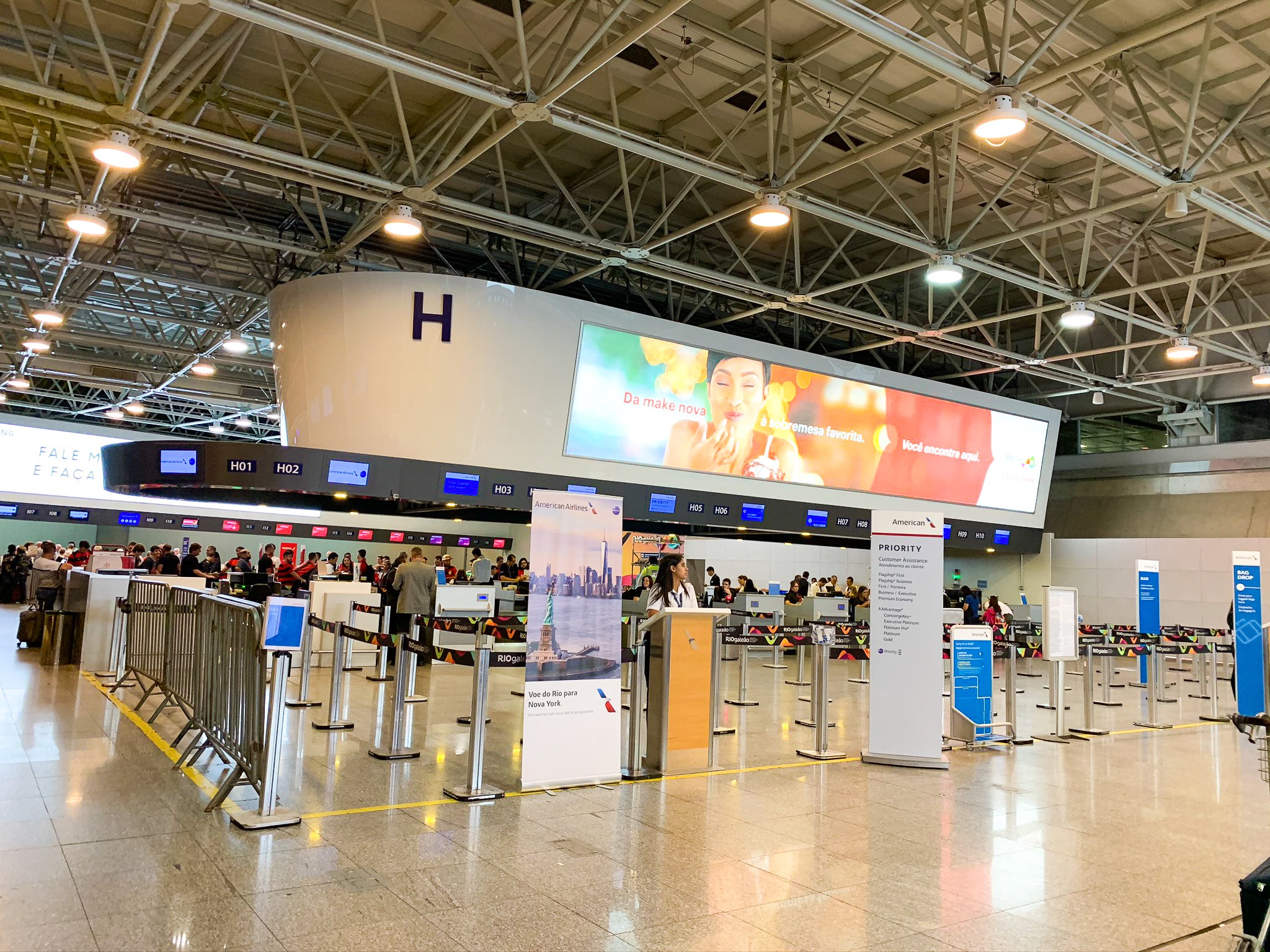 Since this was going to be a quick trip home, we wanted to travel as light as possible. We thought it would be a good opportunity to experiment traveling without a stroller because we would only really need it in the airports and we could probably survive by just carrying Tommy in a sling.
Spoiler: We regretted this decision almost immediately.
While we have gotten quite good at the security line and the process of gate-checking strollers and car seats, it is much more work than not having to do so.
A normal trip through the terminal for our family of 4 has Tommy in his car seat, connected to his stroller, and me pulling my daughter Emily's car seat behind us.
Since we already eliminated the stroller, we didn't want to carry Tommy's car seat, so we checked it at the ticket counter. We knew that the worst-case-scenario was that the airline could lose our luggage, but my mom would be picking us up in Boston and she had car seats for both kids in her car.
Since my mom had a new booster seat that we would be bringing back with us, we left Emily's in our car at the airport. We took Tommy's with us because we would be flying out of BTV on the way home and needed to leave his car seat with Grandma.
All of sudden, we were a family of 4 heading towards security 1 stroller and 2 car seats lighter than normal, only with our carry-ons — what a liberating (and nerve-wracking feeling!).
Security at GIG
Getting through security is already generally quicker in Brazil thanks to priority lines for families. Add in the fact that we were traveling light and we were on our way to immigration in no time.
In Brazil, you need to pass immigration on your way out of the country as well. Again, there are family lines so this process was also quick.
Post-Security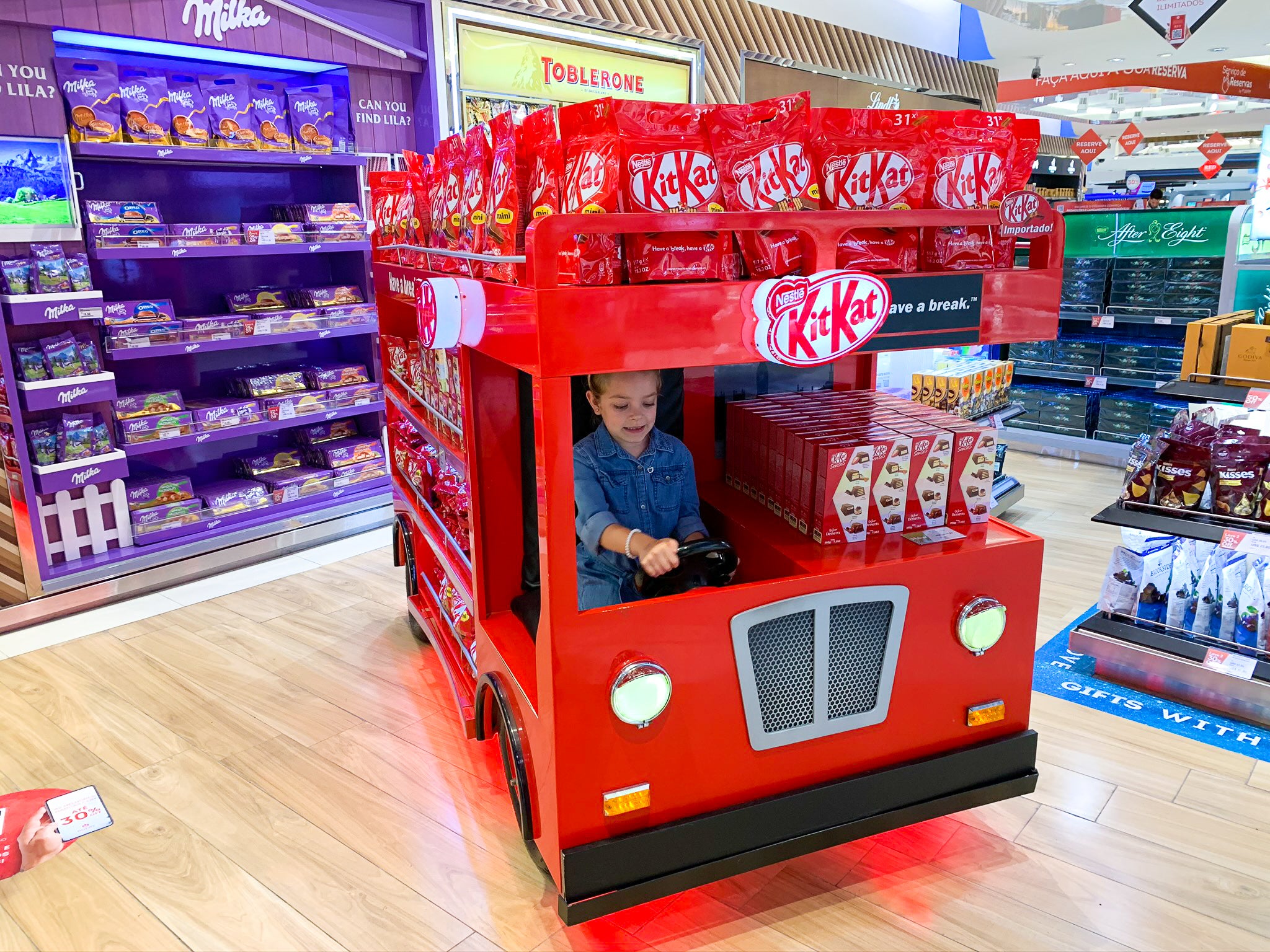 Once you make your way through all of the bureaucracy, you can put your passports away (until boarding time) and start checking out the beautiful new terminal.
Immediately after immigration you will be funneled through an enormous duty free shop and then past some nice stores before having the option to check out the lounge scene.
Lounge Options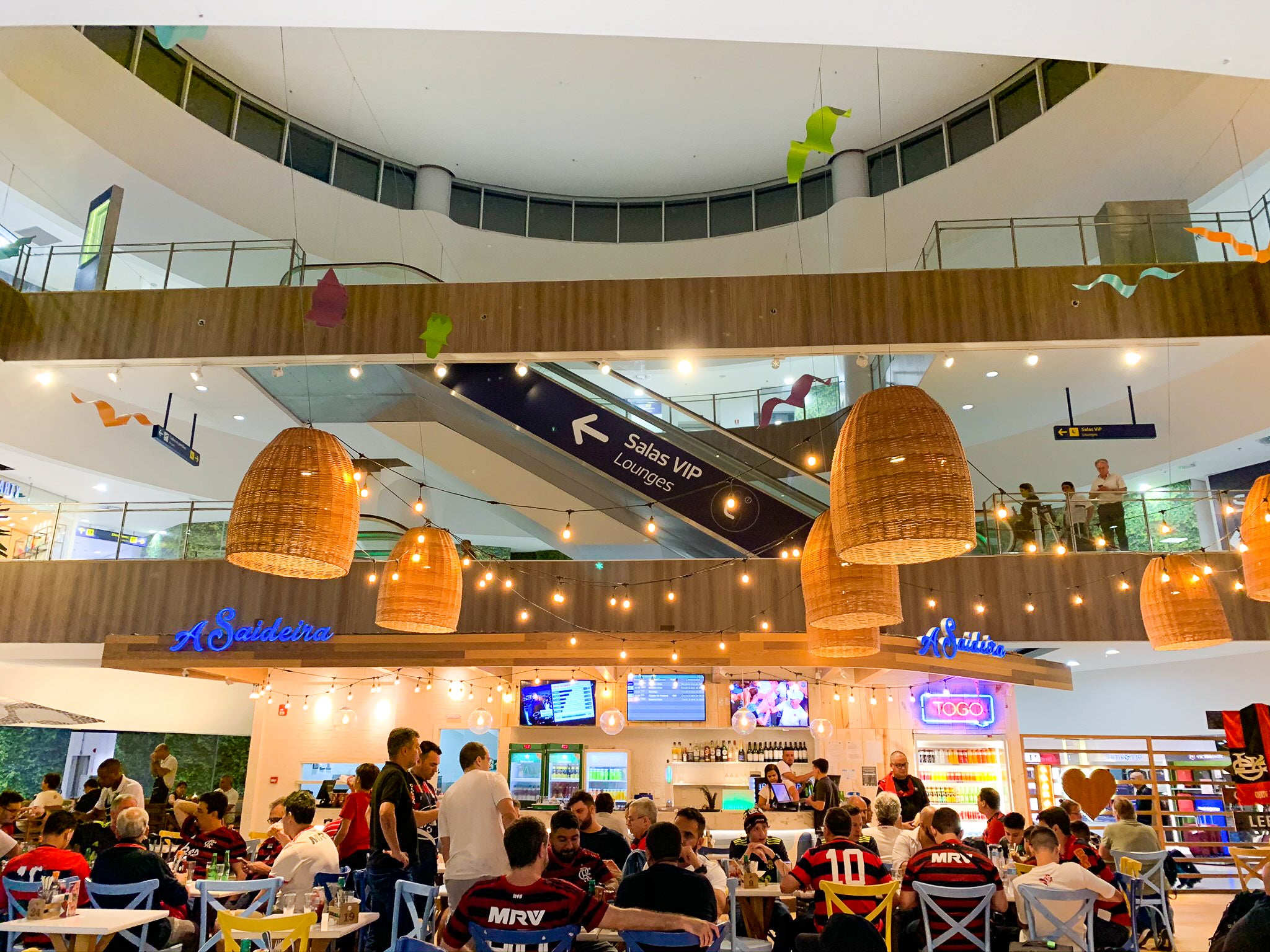 The lounges at Rio de Janeiro International Airport have come a long way in the past 5+ years.
Anyone that visited the previous version of the Admirals Club at GIG will remember its musty basement-like feel with fake wood paneling, faux leather, and very dim lighting (likely to hide the carpet stains).
Now, passengers traveling through GIG Terminal 2 have plenty of options including 4 brand new lounges after security and even a Priority Pass lounge in the parking garage for pre- and post-arrival visits!
Priority Pass Lounges
For those travelers with a Priority Pass membership (which should be all of our readers!), there are 4 lounges on-site to use. One was the aforementioned parking lot garage, which was a first for me, 2 post-security in Terminal 2, and 1 in Terminal 1.
The Plaza Premium Lounge located landside in the parking lot is located on the Premium floor of the garage and is the only option for arriving passengers. We have used it a handful of times just to grab a coffee and use the bathroom after landing.
Hot Tip: You don't even need to be using the airport to access this lounge, just pull into the garage and show your Priority Pass card to get in. We have used this lounge over a dozen times and have never been asked for a boarding pass, whether we have been with luggage or without. 
The other 2 options in Terminal 2 are located on the third floor after security and duty free. You will see the large escalator bank which will bring you up; just follow the signs for "Salas VIP."
If you are traveling with kids and strollers, you will probably be better off just taking the elevators which are located right behind the escalators.
Plaza Premium Lounge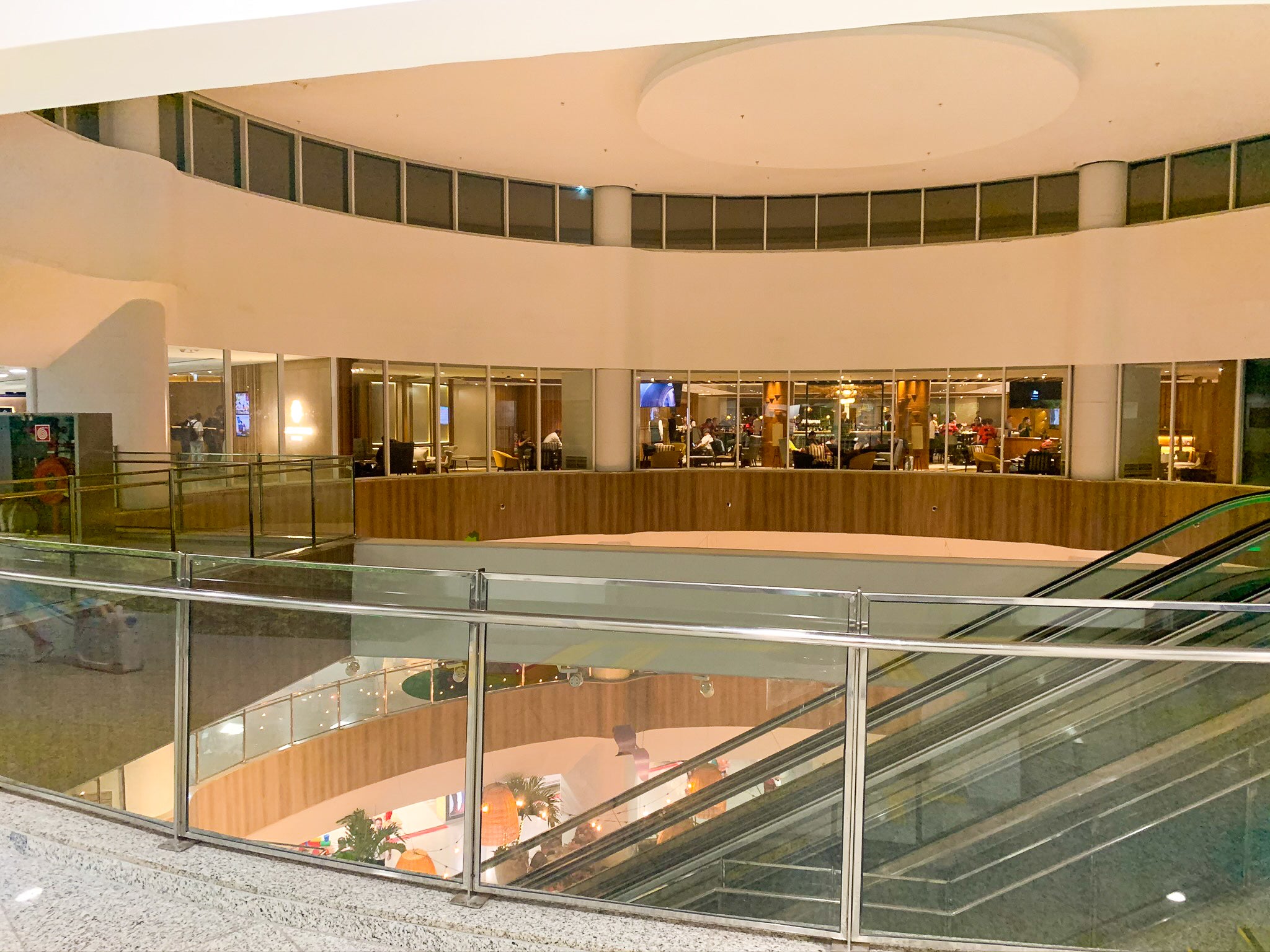 As soon as you get off the elevator or escalator on the third floor of Terminal 2, you will come face to face with the sprawling Plaza Premium Lounge and massive glass windows.
It is really a beautifully done lounge, especially by Brazilian lounge standards. There are plenty of sitting areas for individuals or groups as well as a nice bar in the middle of the lounge that pulls it all together.
We generally like to start our lounge crawl here as it tends to have better food than the Admirals Club. We don't stay because the drinks aren't as good and they don't have a kids' room.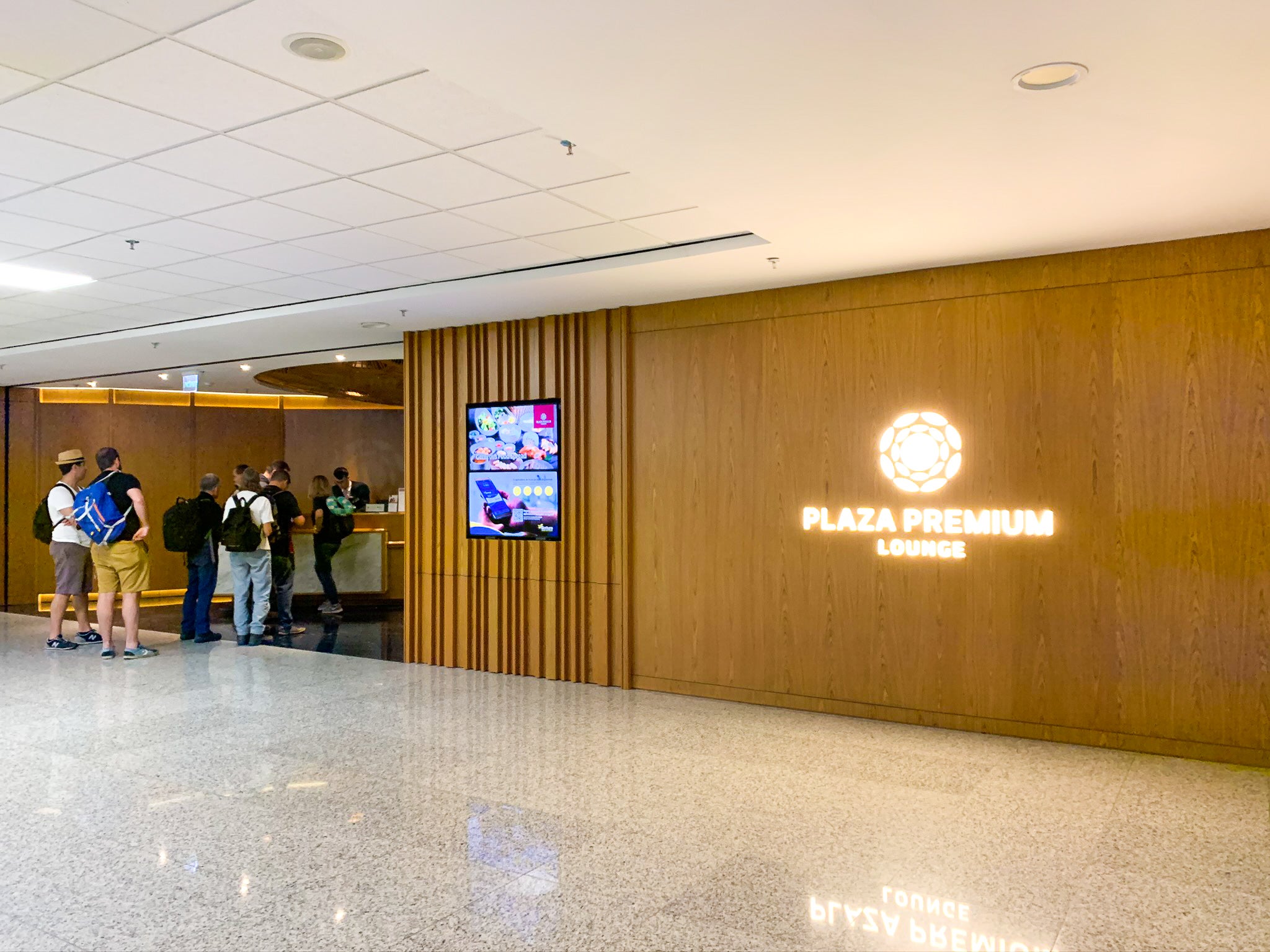 This time, however, we were short on time and didn't feel like waiting in the check-in line, so we headed straight for the Admirals Club down the hall and hoped that their food spread was going to be sufficient.
GOL Premium Lounge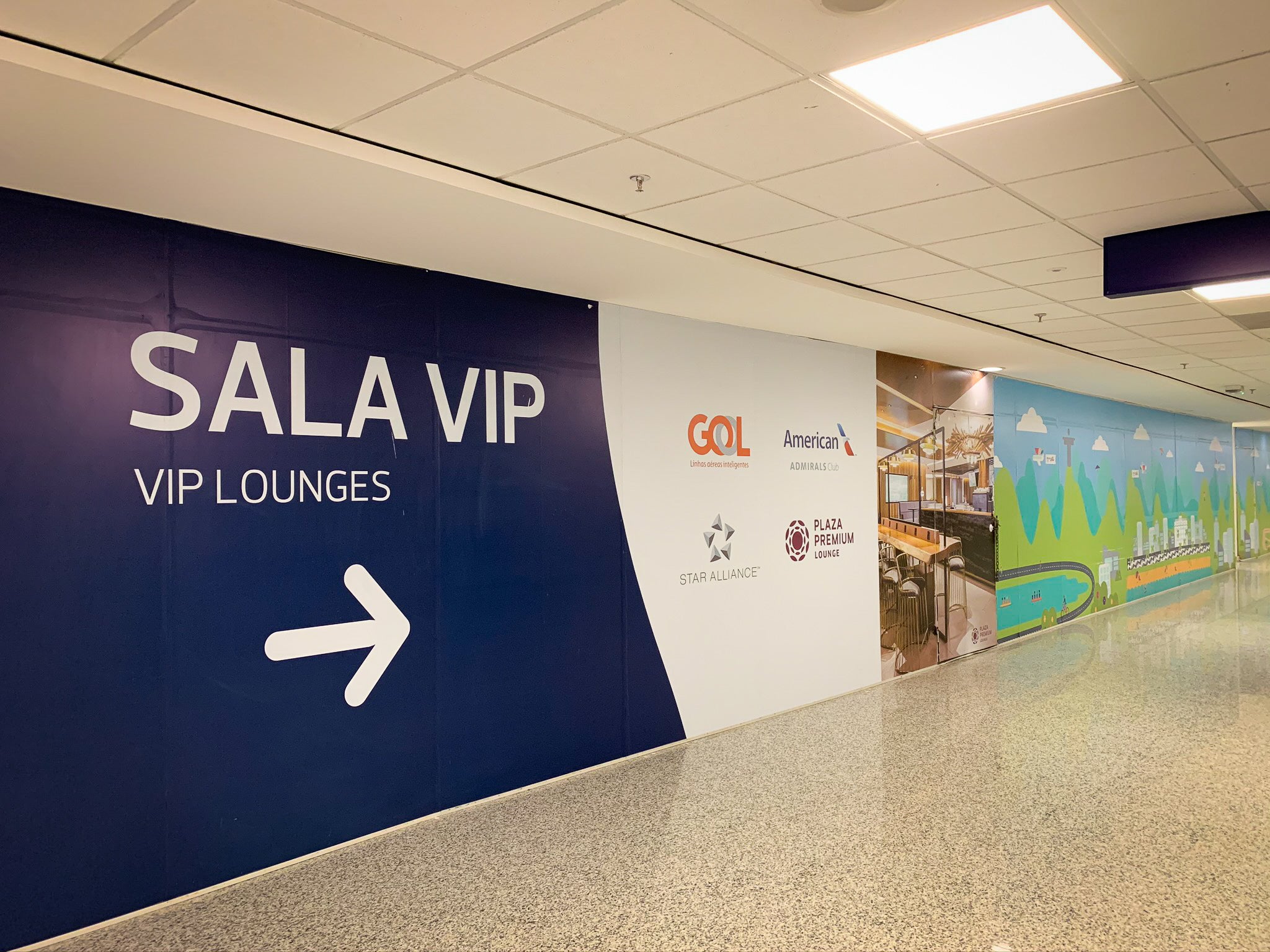 Further down the hall on the third floor, past the Admirals Club and Star Alliance Lounge (which we didn't have access to), is the GOL Premium Lounge.
With a brighter and more open feel than the Plaza Premium Lounge, you will find a decent array of finger foods and light snacks, as well as a full bar.
Although you will have less privacy than at the Plaza Premium Lounge, the food and beverage options are slightly better.
Admirals Club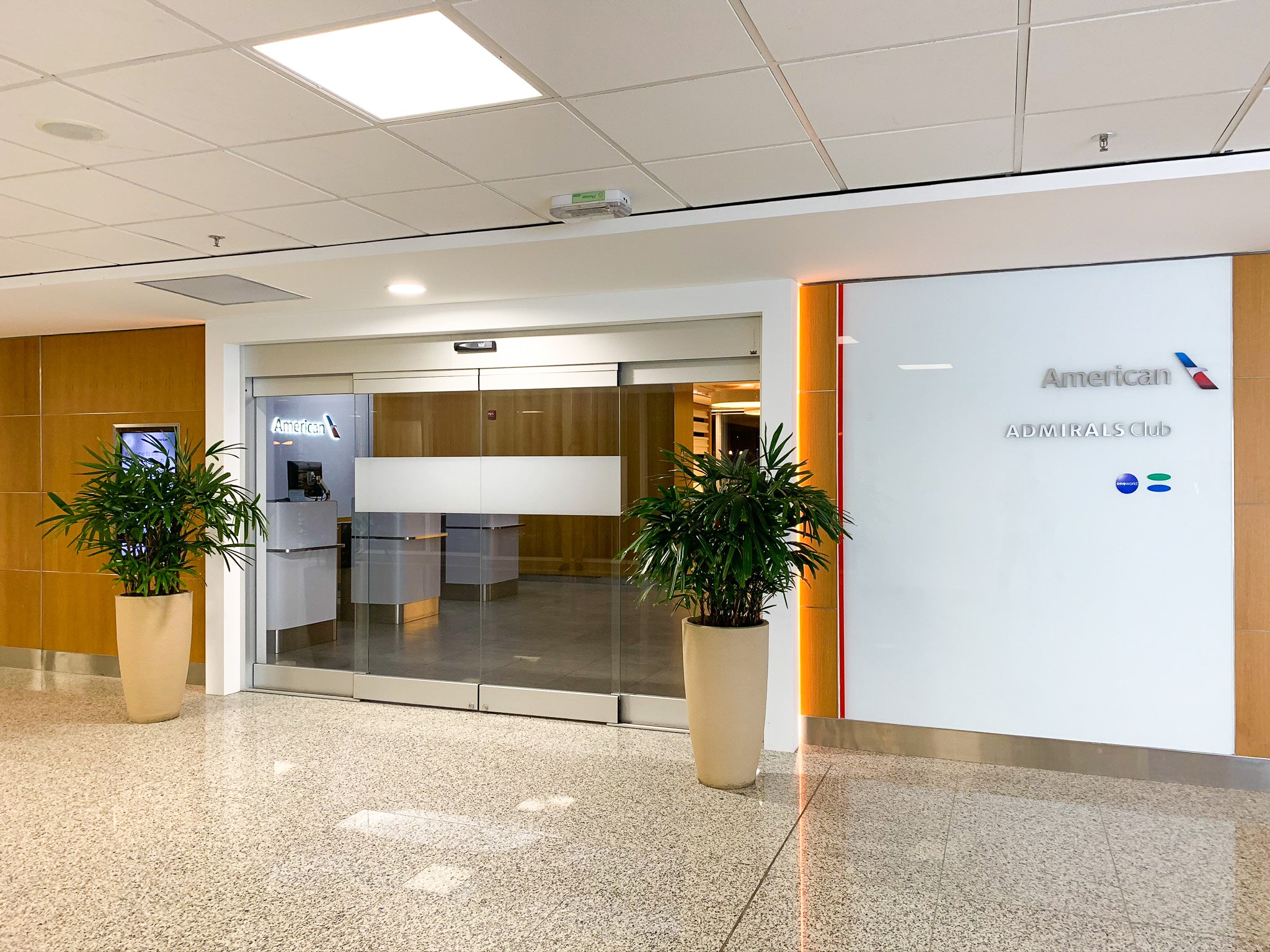 Since we were flying American Airlines it was only fitting that we settled in at the Admirals Club.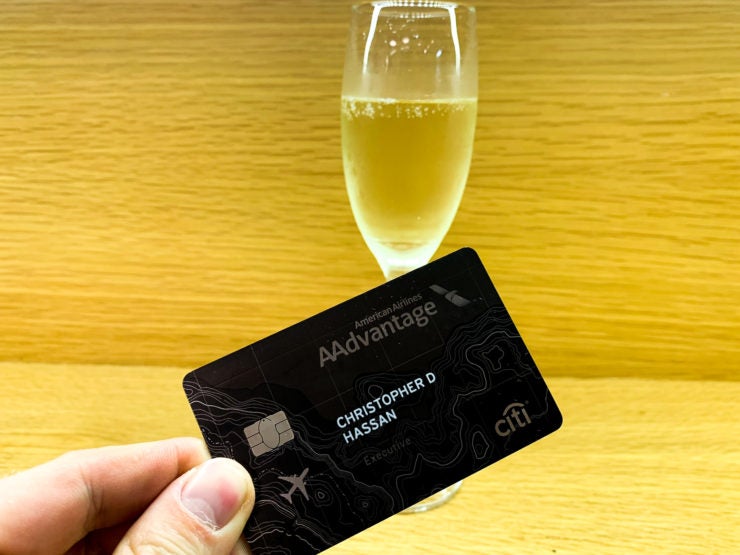 Although we were only traveling in economy class, and I lost my Platinum status this year, we still had access thanks to the AAdvantage Executive World Elite card.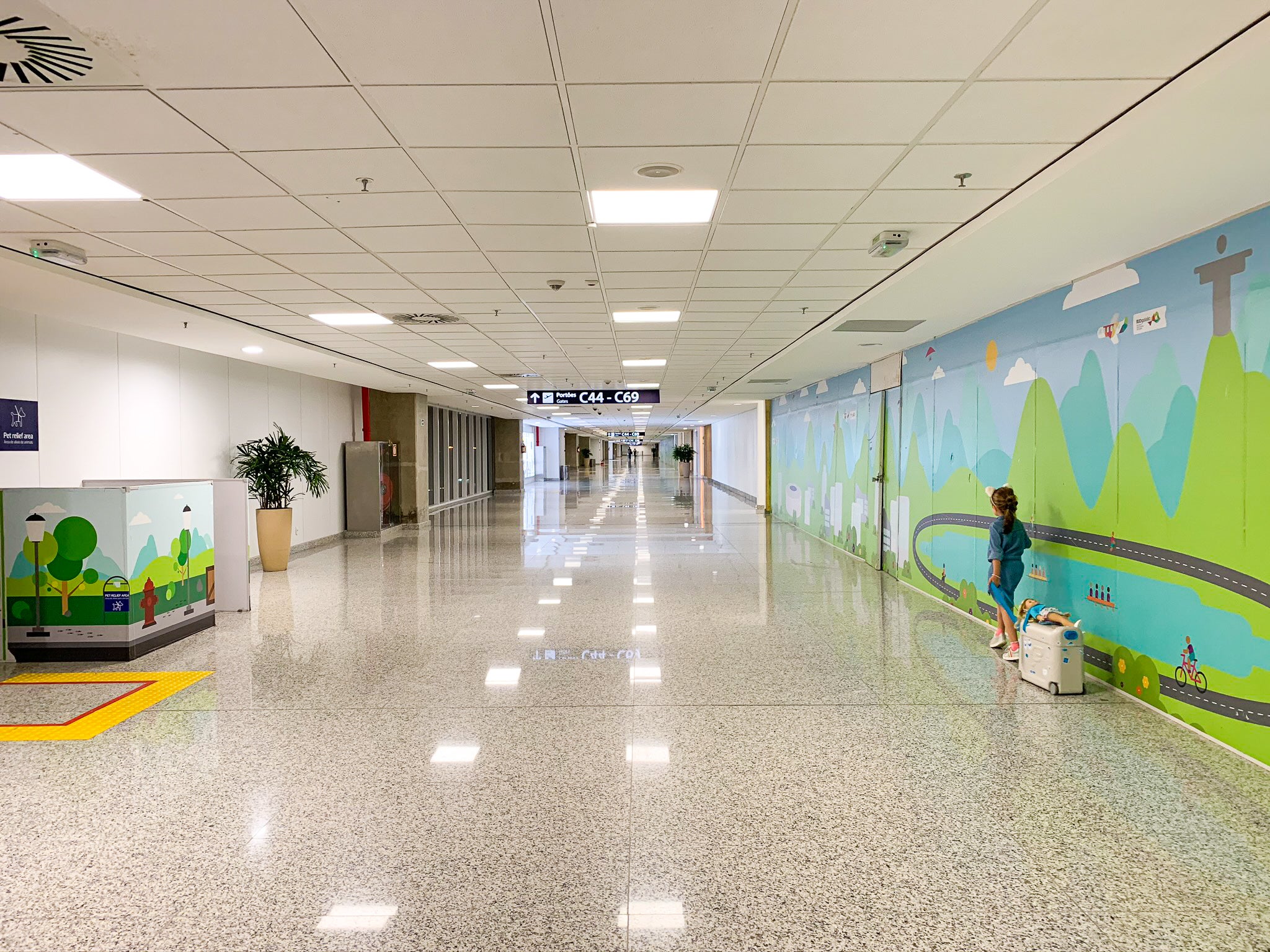 Located about halfway down the giant corridor on the third floor, the Admirals Club stands out with its big, white façade and glowing lights.
Kids' Room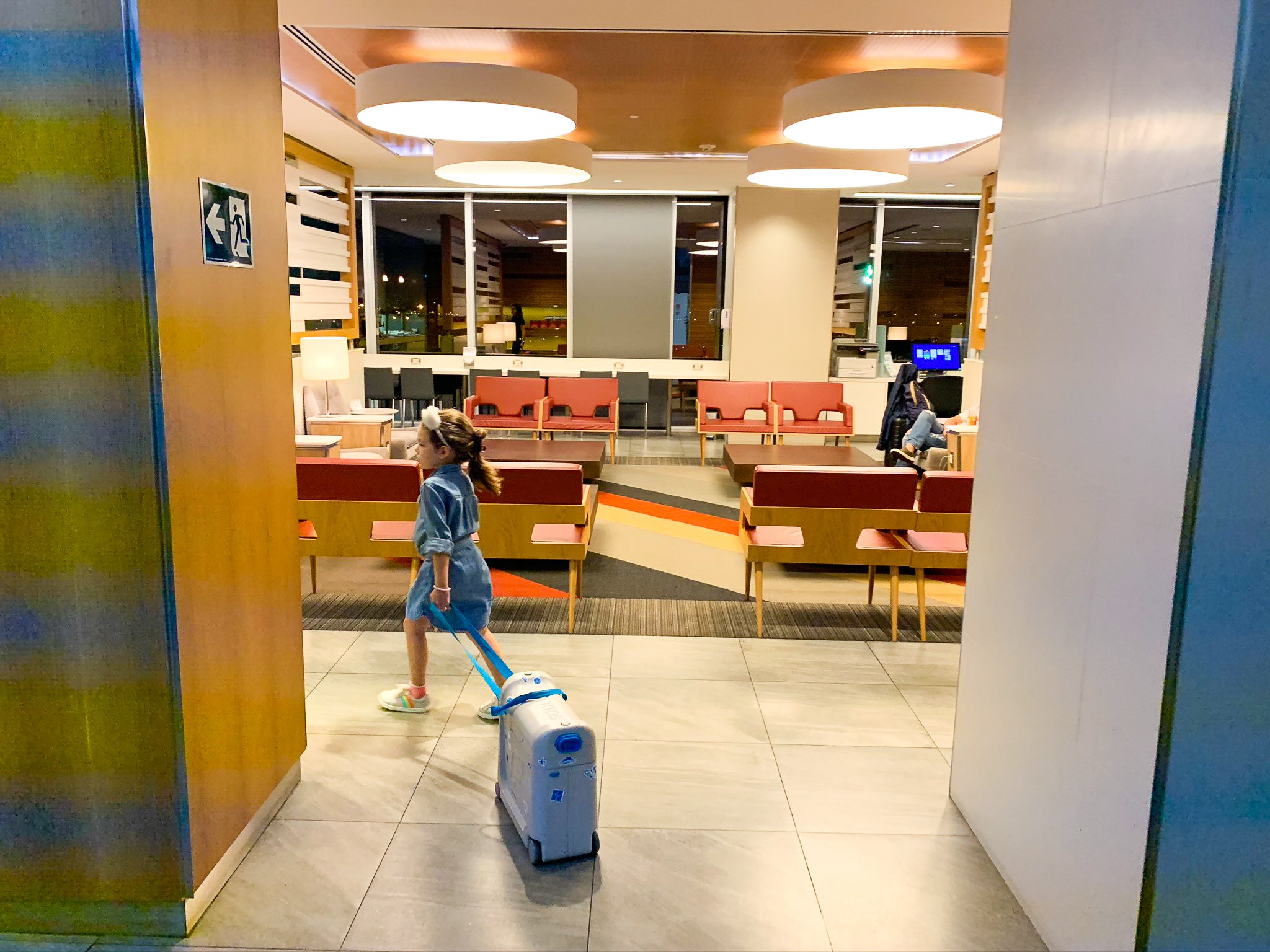 After checking in at the desk, our kids darted straight towards the kids' room (they have done this before!). This kids' room is great, and probably one of the best in an Admirals Club that we have seen.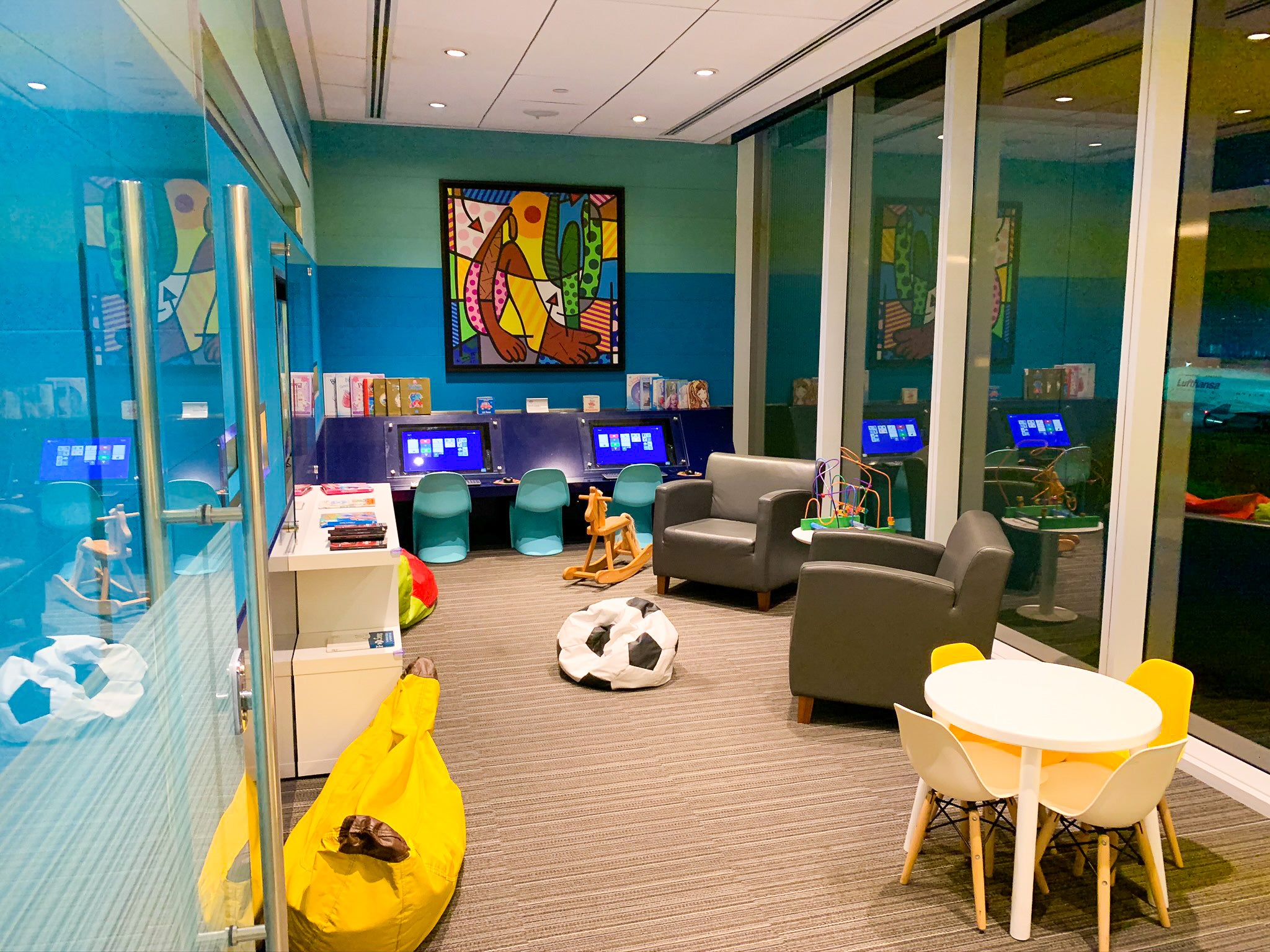 The glass doors can stay closed, and there is seating for the adults either inside or out in order to keep an eye on the little ones.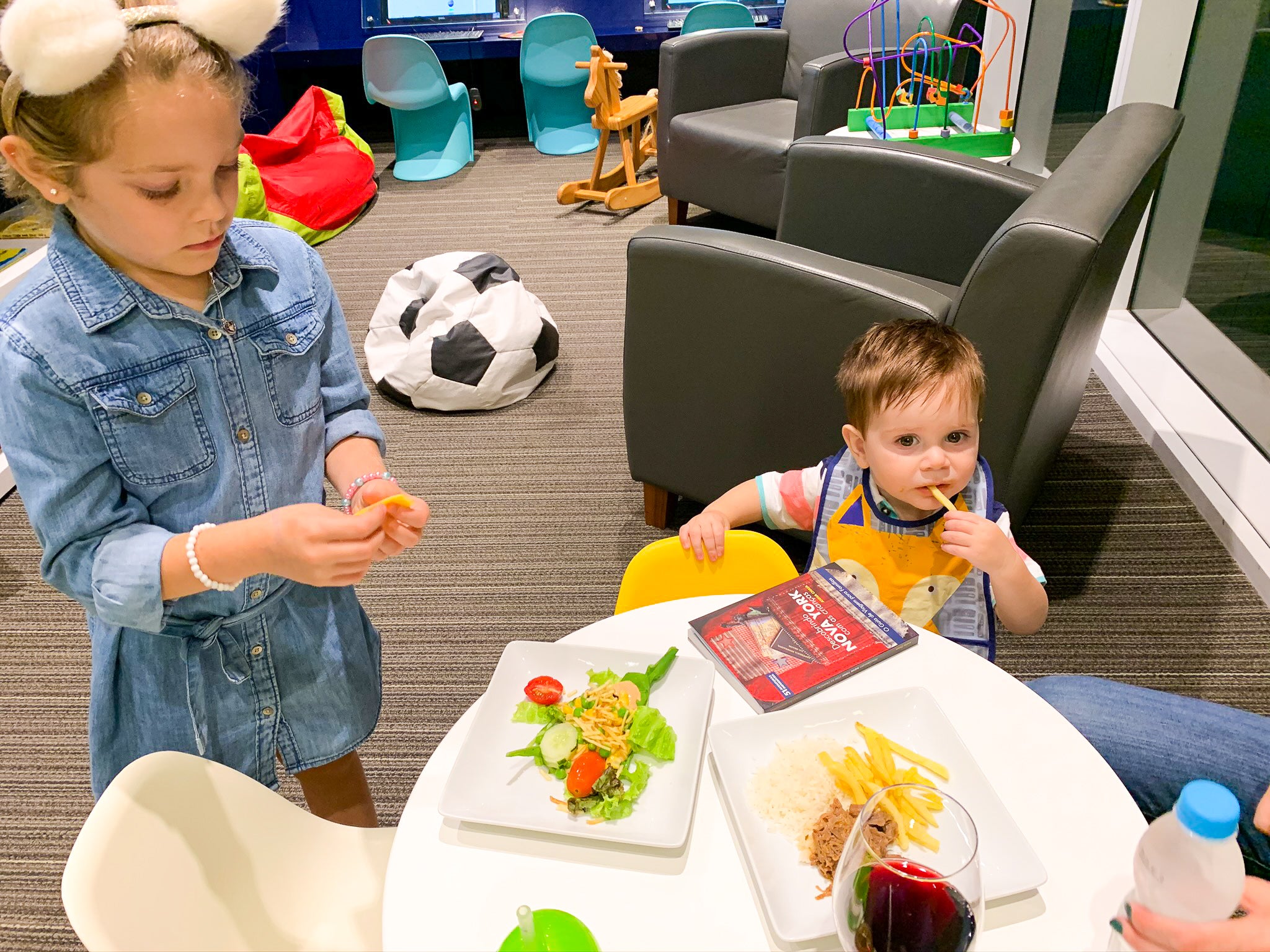 Inside the kid's room is a TV, 2 of the standard AA computers with the same 3 games, a few toys, and plenty of books. The best part is that an entire wall is glass, overlooking the planes pulling up to the gates.
Food
As I mentioned, we like to visit the Plaza Premium Lounge first to ensure that we get a decent meal before the flight (AA economy dinner is nothing to save your appetite for!) as the Admirals Club tends to have a weaker selection.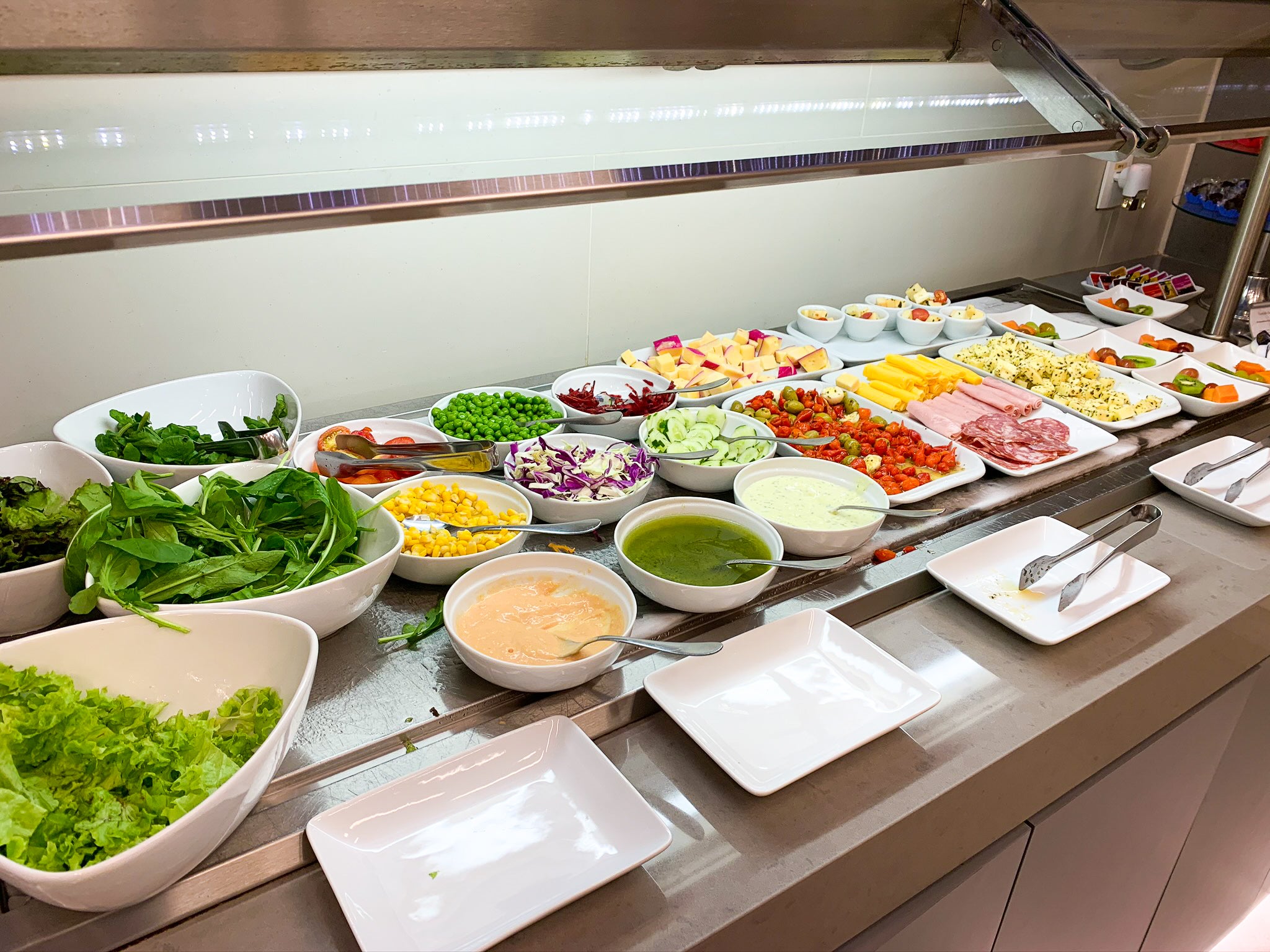 However, we appeared to get the catering crew on a good day as the food was better than normal. As usual, there was a pretty decent salad bar which was slightly fresher than the last time we were here.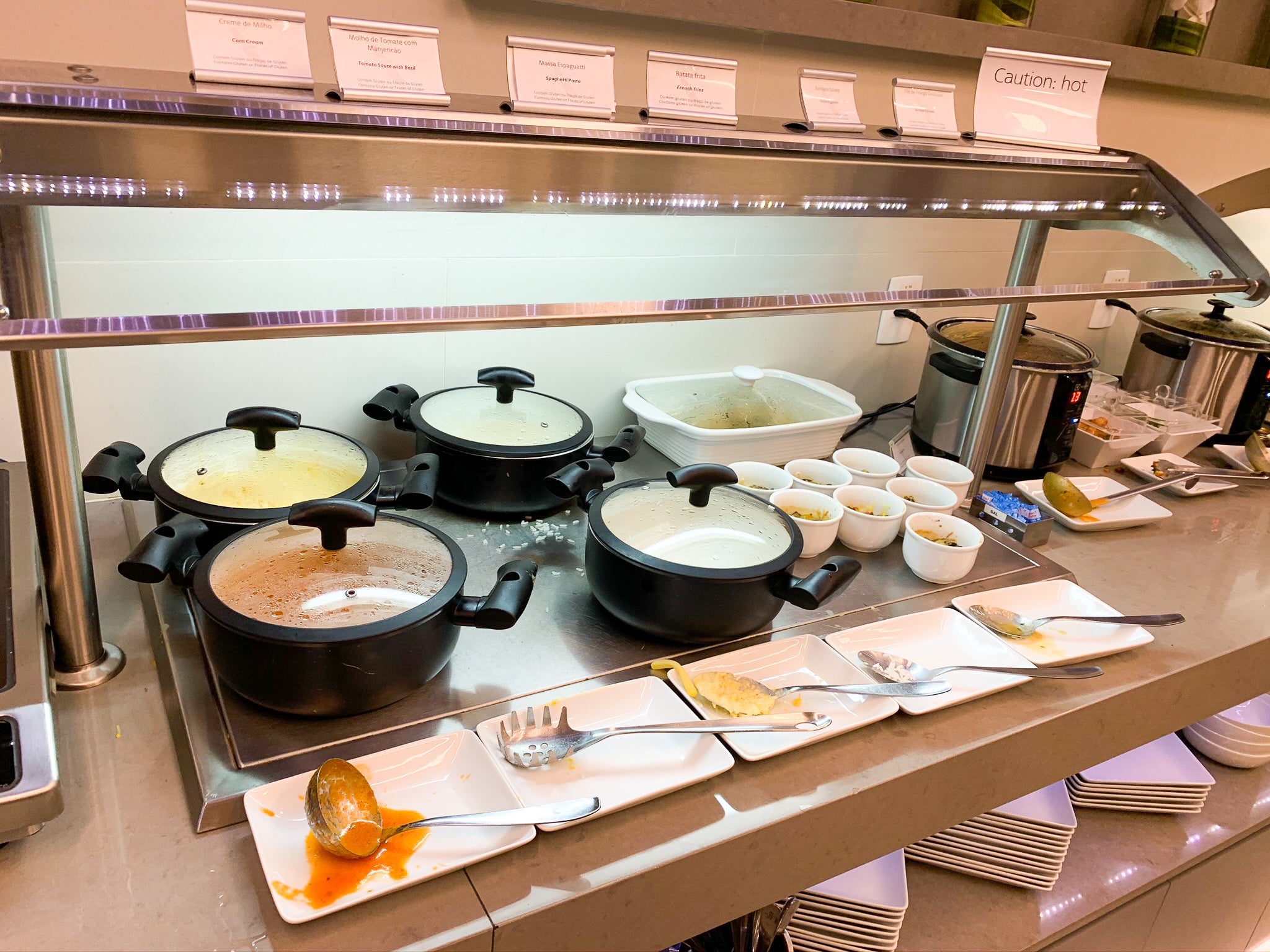 Right next to the salad were a few hot dishes which included grilled chicken breast, pasta with different sauce options, french fries, and soups. Again, nothing special, but a step up from our previous visits (you can see why we like to eat elsewhere!).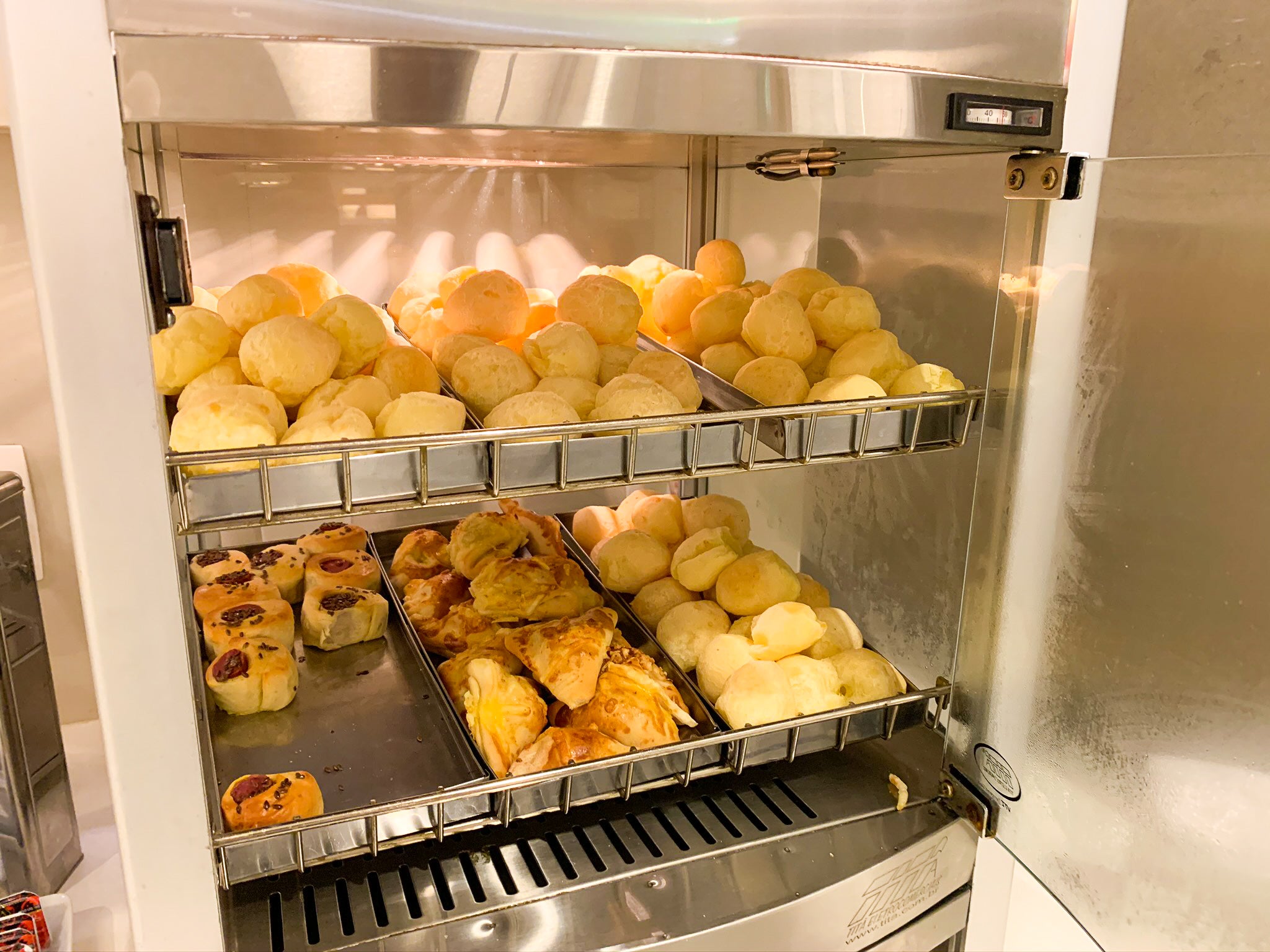 One thing that this lounge does well in the food and beverage department is their pão de queijo (cheese bread), always warm and available regularly. YUM!
Beverages
Aside from the excellent kids' room, another big advantage (AAdvantage?) of the Admirals Club over the Plaza Premium Lounge is the drink selection.
The Plaza Premium Lounge only serves 1 type of beer (a local draft beer which has been broken the last 2 times we visited), some wine, a rotating variety of spirits, and some soft drinks. These are all served at the bar, which, depending on what was ordered in front of you, can get crowded pretty quickly.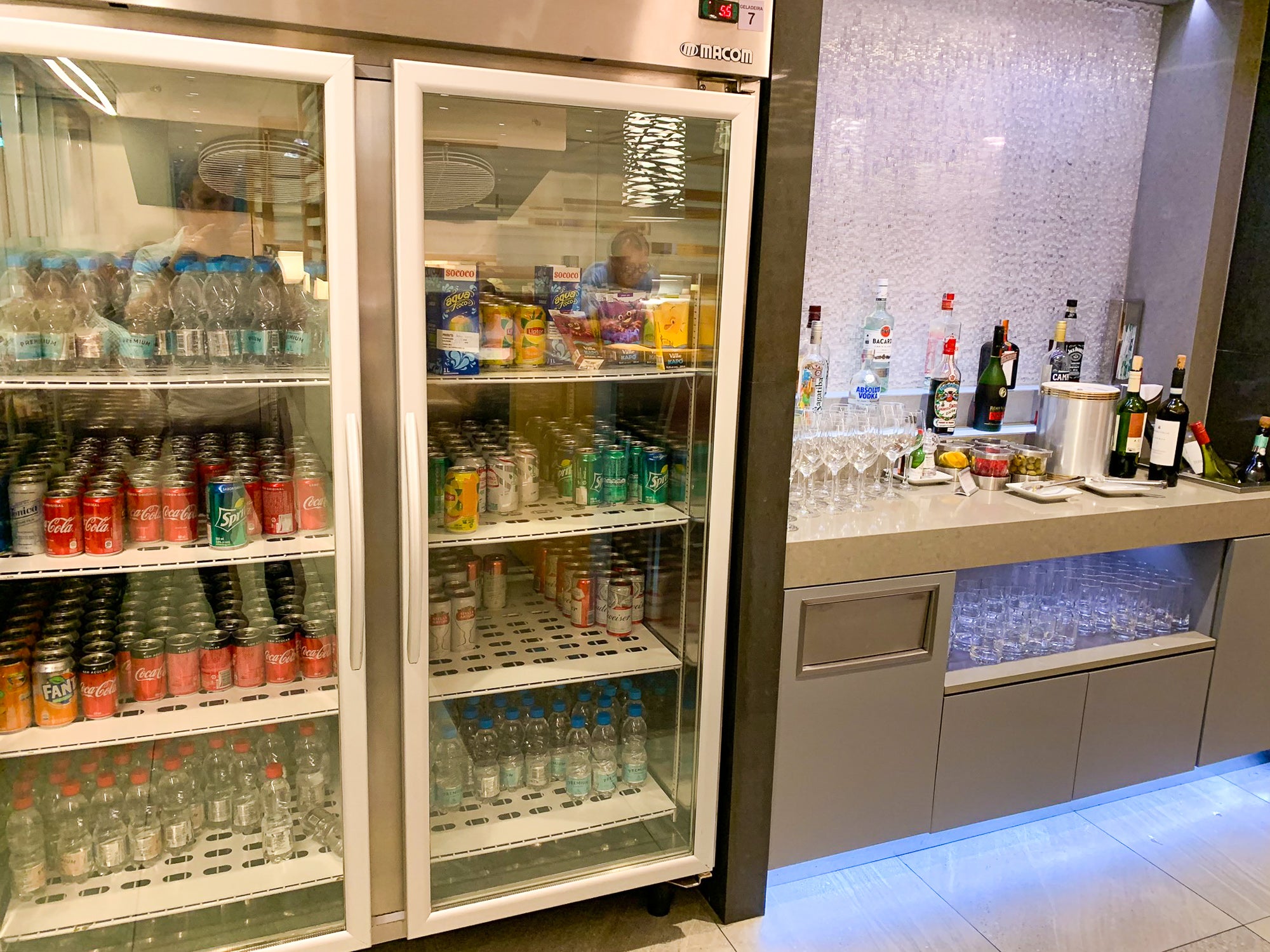 At the Admirals Club, you will find a pretty well-stocked self-service fridge with plenty of juices, sodas, waters, and at least 3 different types of beers (Budweiser, Stella Artois, etc.).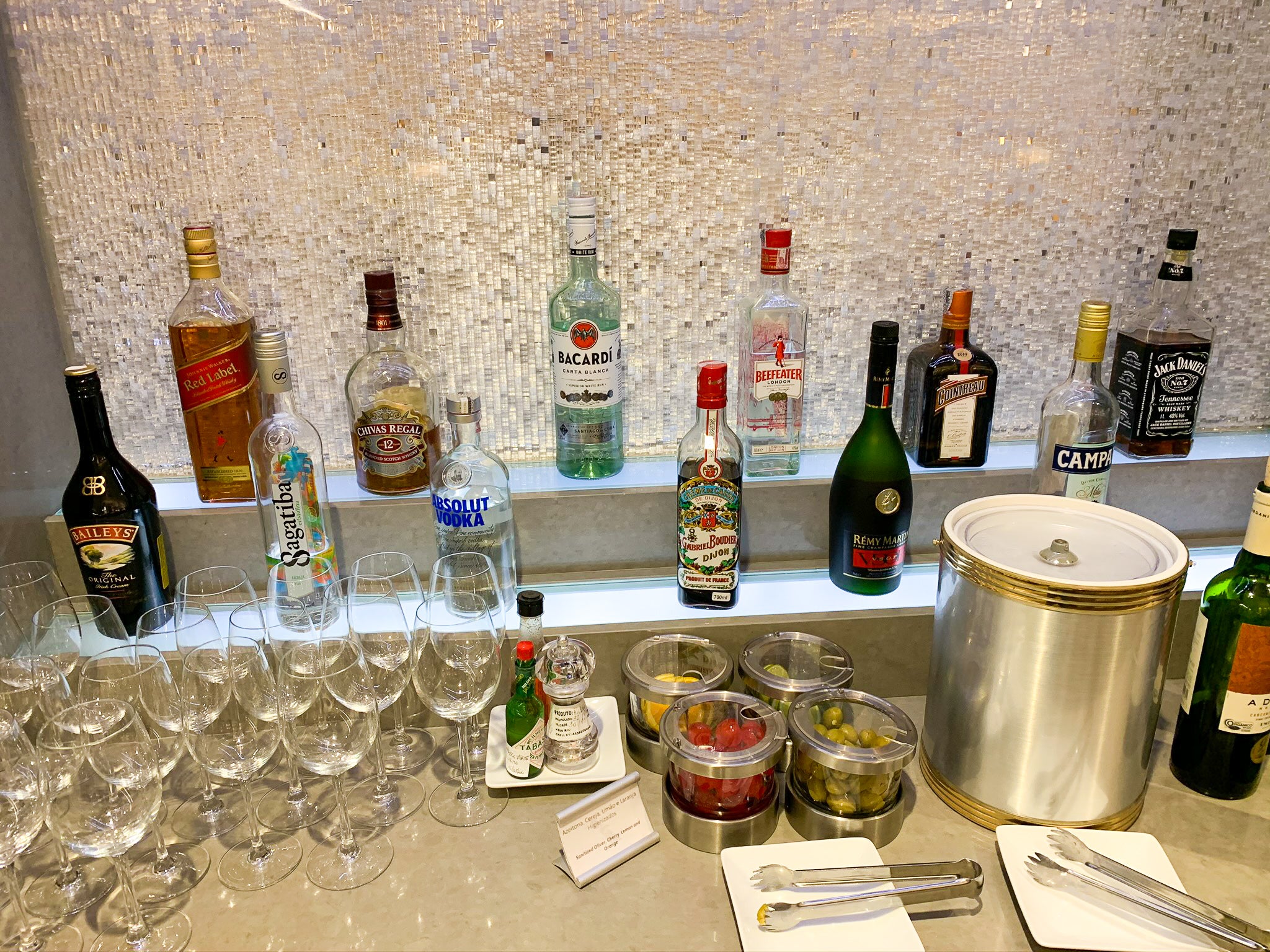 Alongside the fridge is a self-service bar with a rotating variety of red, white, and sparkling wines. You will also find a decent selection of spirits which may be a safer bet for a solid drink — at least for a gin and tonic!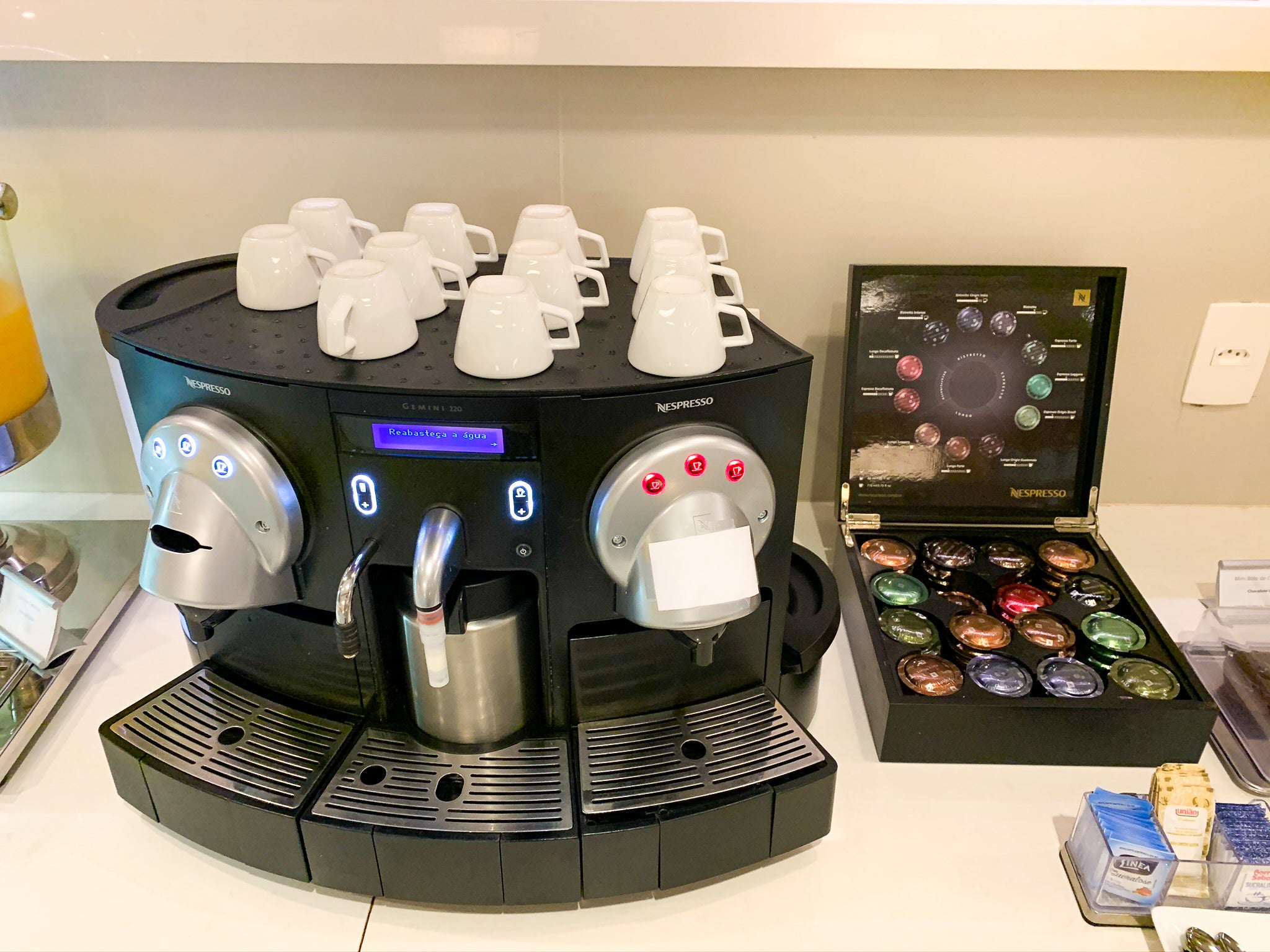 The beverage section of this review wouldn't be complete without a shoutout to the massive Nespresso machine!
Overall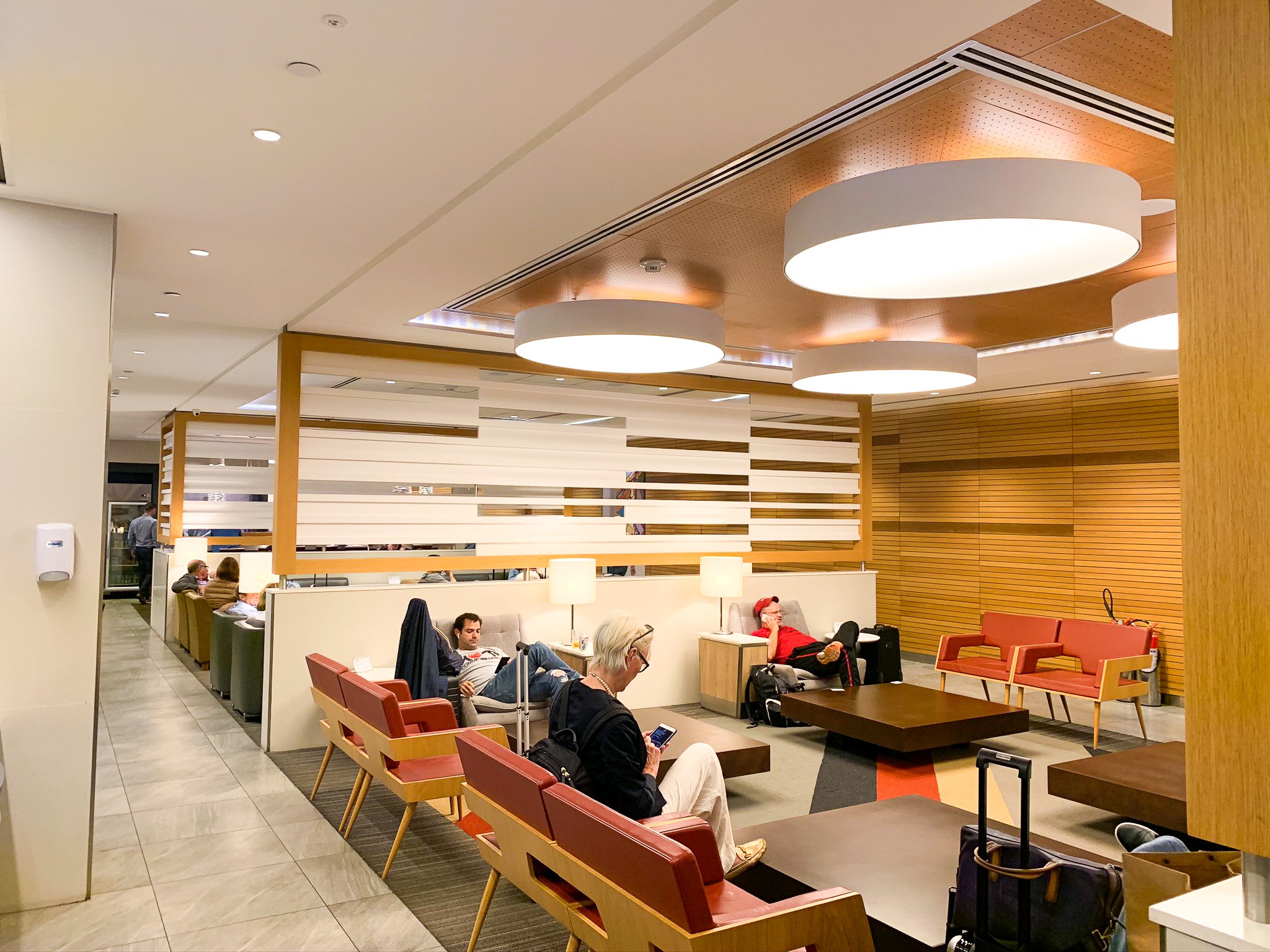 Overall the Admirals Club at GIG is very solid. There are multiple sitting areas to choose from, so even when it is crowded, it doesn't necessarily feel like it.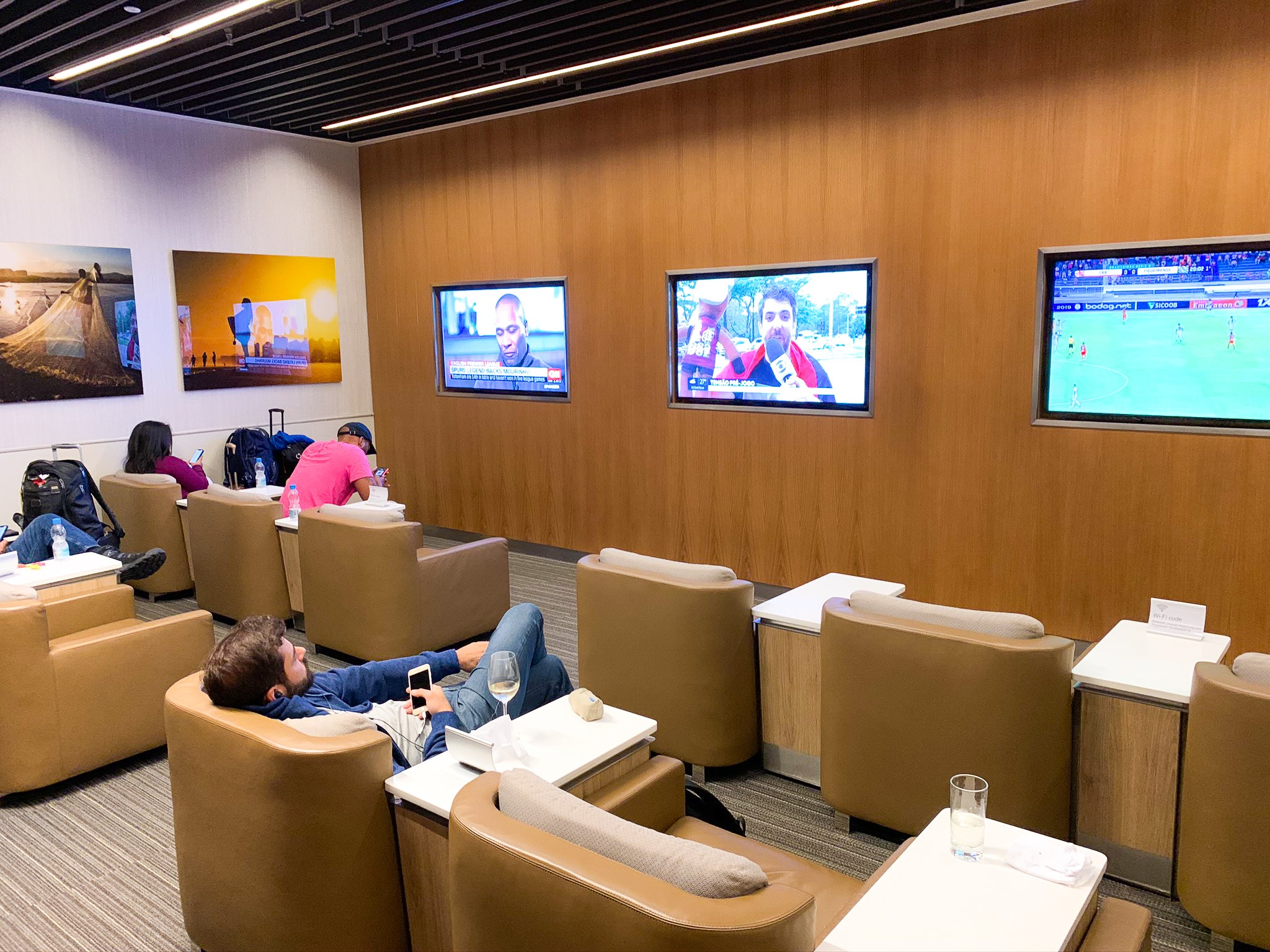 The food is decent, the drinks are good, there are showers available, and there is a kids' room! It checks off the boxes we were looking for during a 1-hour wait before boarding.
At boarding time, the staff will announce American Airlines and some OneWorld partner flights. But, since you are only about halfway through the terminal, you will still have about a 10-minute walk to get to your gate — another chance for the kids to burn some energy before the long flight!
Boarding
Boarding started around 9:15 p.m. for our scheduled 10:15 p.m. departure, but as is very common in Brazil, passengers started lining up at the gate long before that.
Recently, American Airlines has been following LATAM and GOL's lead by creating separate lines based on your boarding groups when leaving GIG (I wish they did this leaving MIA, too!). It is a nice touch, especially when arriving from the lounge to find a giant mass of people already at the gate.
Hot Tip: The higher group numbers tend to overflow and make it look like there is no space left, but if you have priority be sure to wiggle your way to the front and find your own line. Ours was empty, probably because nobody could see it. 
We boarded at gate C49 with group 4 due to my Gold status (no more chasing status for us), but this was still ahead of the majority of the other passengers as this route doesn't tend to have too many elites on it.
Boarding was quick because we didn't bring a stroller and car seats; normally I am stuck bagging them on the jet bridge, so that was a treat.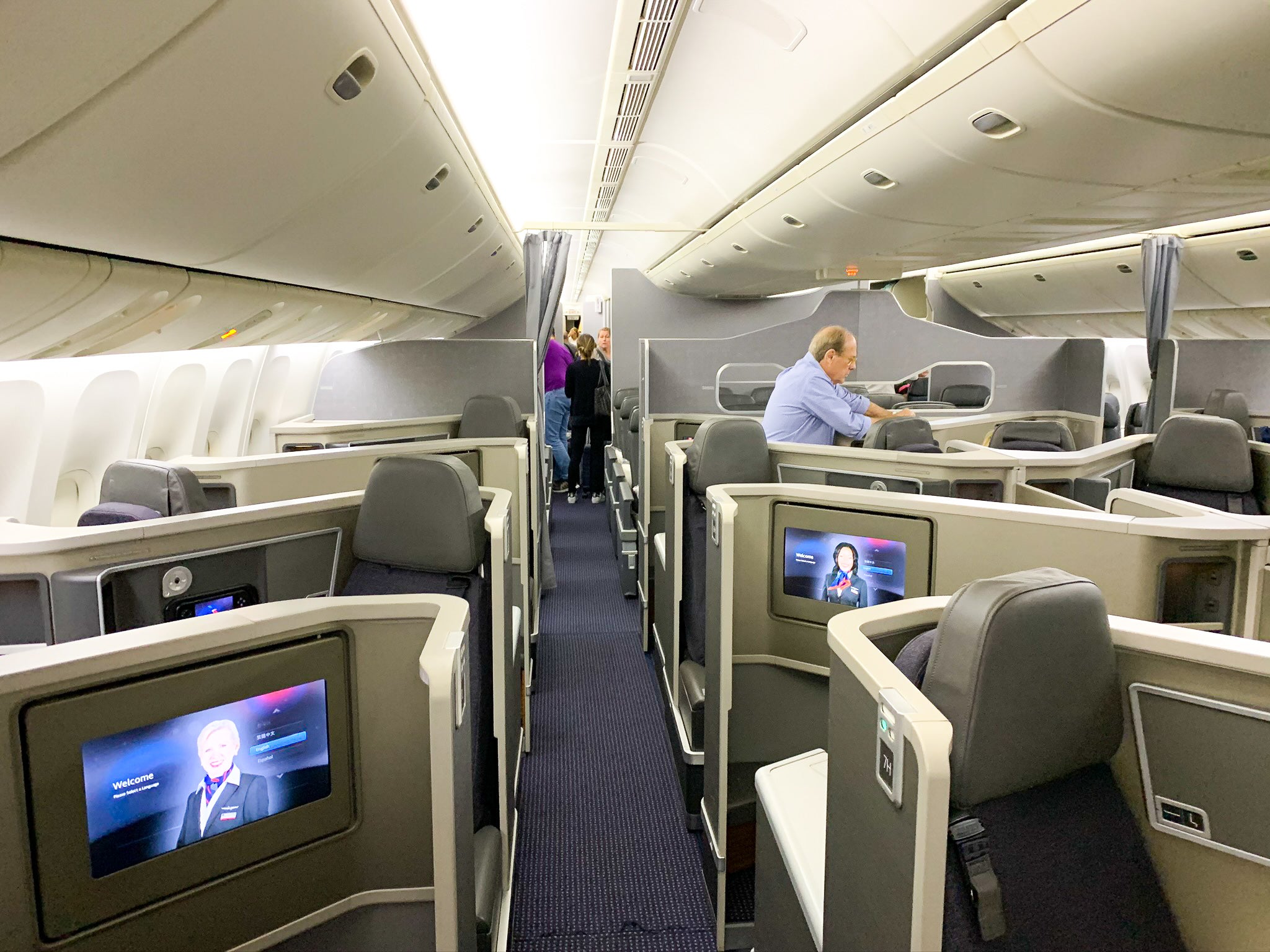 After getting on the 777, we passed Flagship Business which is a nice option for this route with the 1-2-1 setup.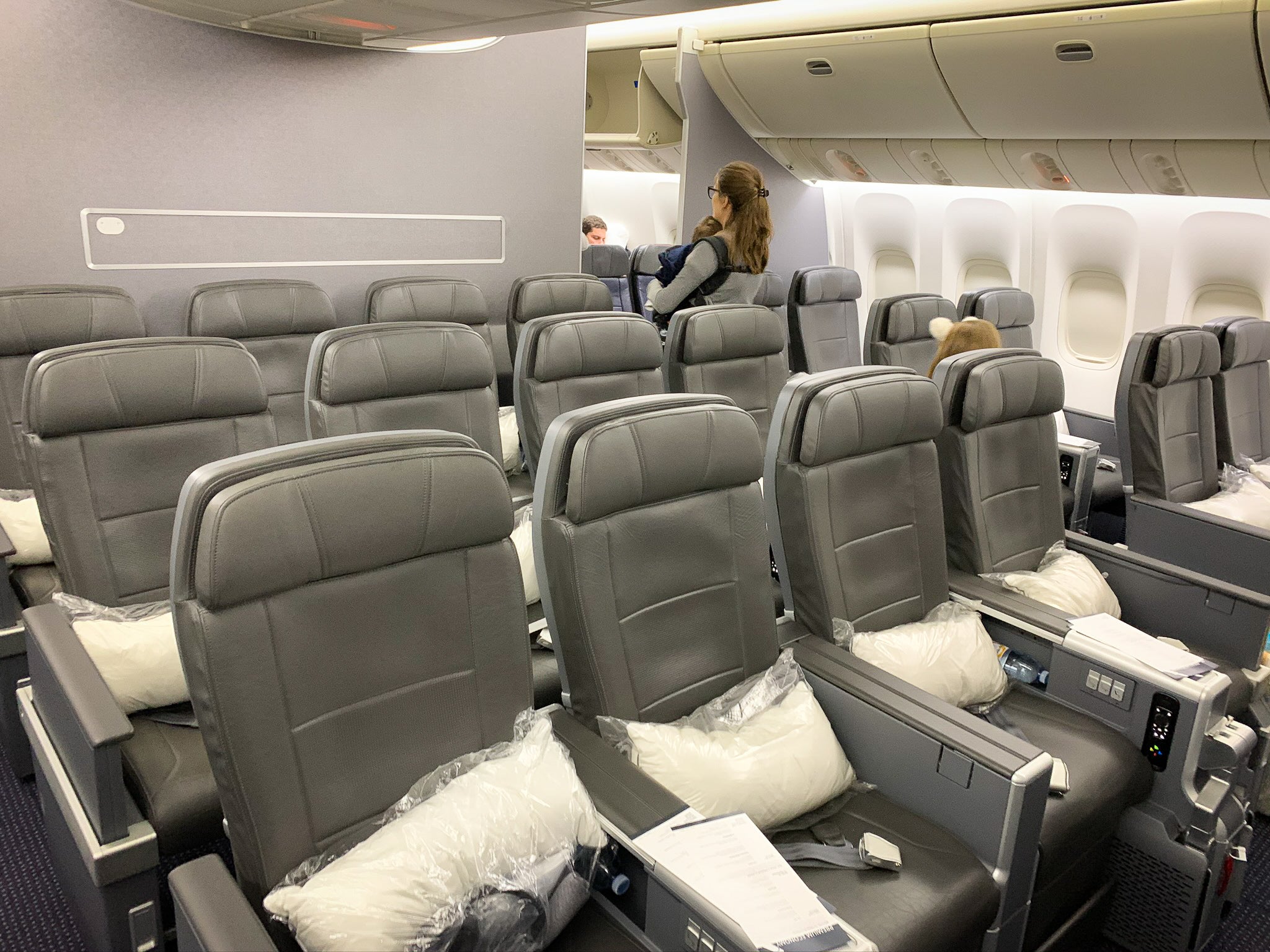 Immediately after business class is a mini-cabin of 3 rows for Premium Economy with a 2-4-2 setup. One would think that the 4 seats in the middle would be good for a family of 4, but since the armrests don't fold up it would prohibit the kids from laying down, so regular economy actually works better for us at the moment (not that Premium Economy was even an option for us on this flight).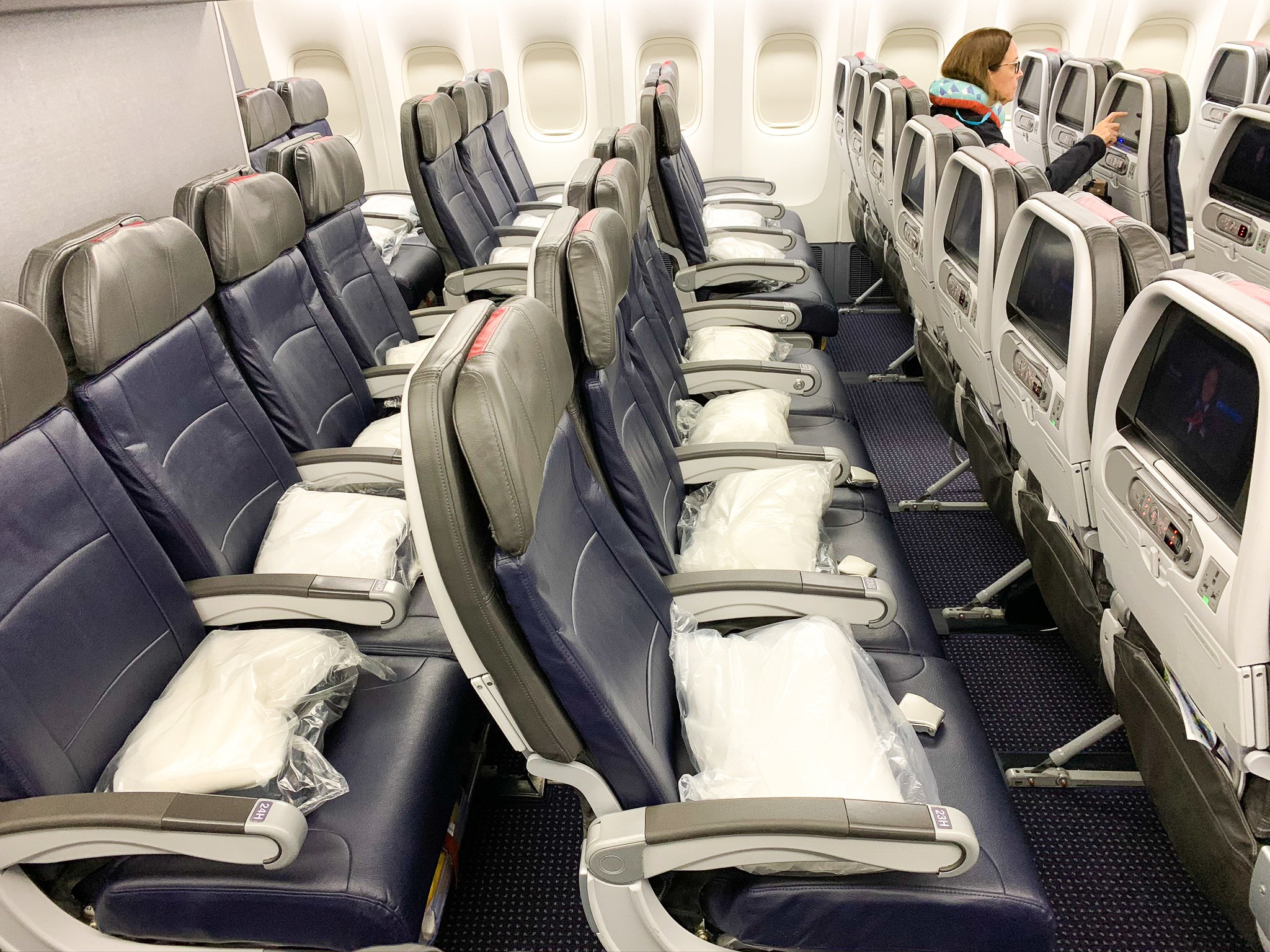 Following the Premium Economy cabin is the first section of Main Cabin (economy class). This first section of economy only has 8 rows of passengers, so it feels cozier and is quieter than the back of the plan which has 14 rows.
The first 4 rows in this cabin are Main Cabin Extra which has more legroom. As a Gold member, I have access to book these seats for free, 24 hours in advance. When we went to check, there was nothing available with 4 seats together and we didn't want to risk losing Tommy's blocked seat by moving things around at the last minute.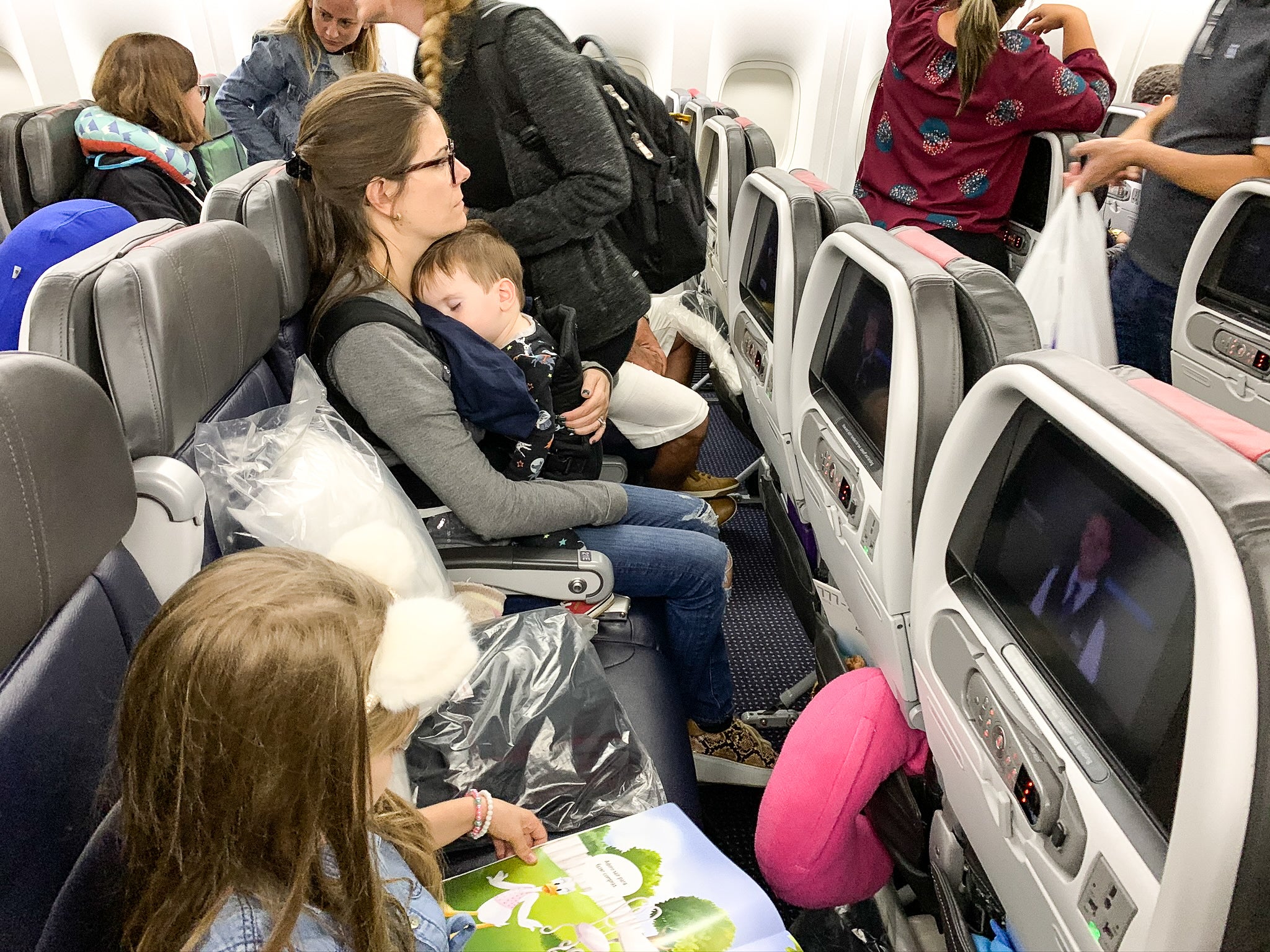 We finally arrived at row 21 and started to get settled in the 4 middle seats. Since we didn't officially know if we had the fourth seat yet, we kept it clear and left Tommy in the sling as long as possible.
Fortunately, the door closed and no more passengers boarded and we took a sigh of relief — we wouldn't need to keep our lap child on our lap!
Seat
All said and done, we had seats 21D, 21E, 21G, and 21H, which was the best possible outcome for us.
Despite boarding on time for a 10:15 p.m. departure, the plane didn't push back until 10:35 p.m. and we didn't take off until 10:52 p.m. This was somewhat stressful for us because every extra minute counts when you have little ones in tow!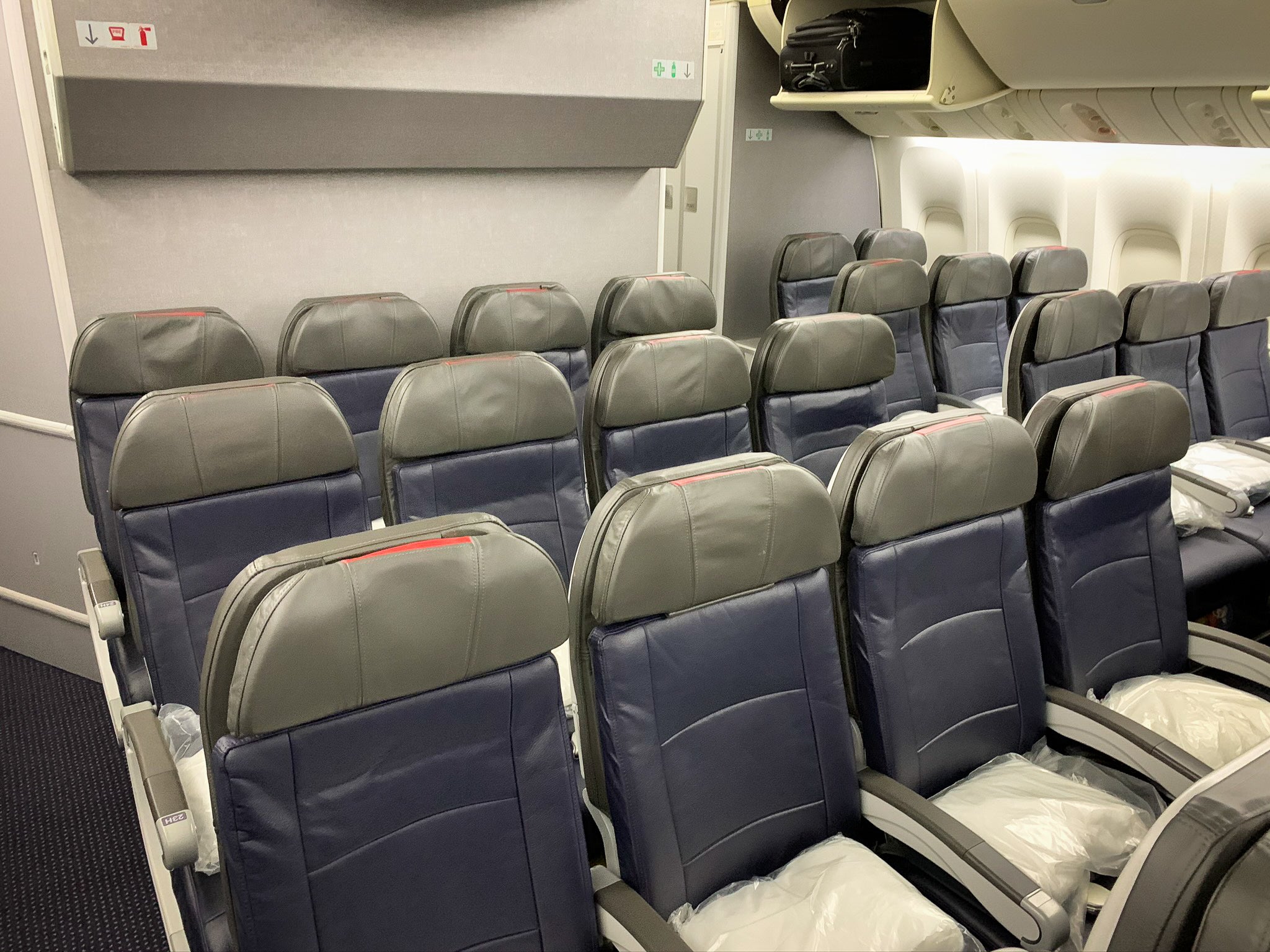 Although the plane was 19 years old, it had been reconfigured in 2016. We had flown the older version and now the updated fleet many times, and we are very happy with the new improvements.
For comparison, Delta is still serving Rio with an outdated 767 with no Delta One Suites, and you need to get lucky to find a United 767 with the new Polaris business class. So, regardless of which class you are flying with American out of Rio, you are almost guaranteed to have a newer or refreshed aircraft.
That being said, the standard economy seats on American are quite cozy (re: small)! We really felt the difference by not being able to secure Main Cabin Extra. Fortunately for us, our seat neighbors were a very well behaved 1- and 5-year-old.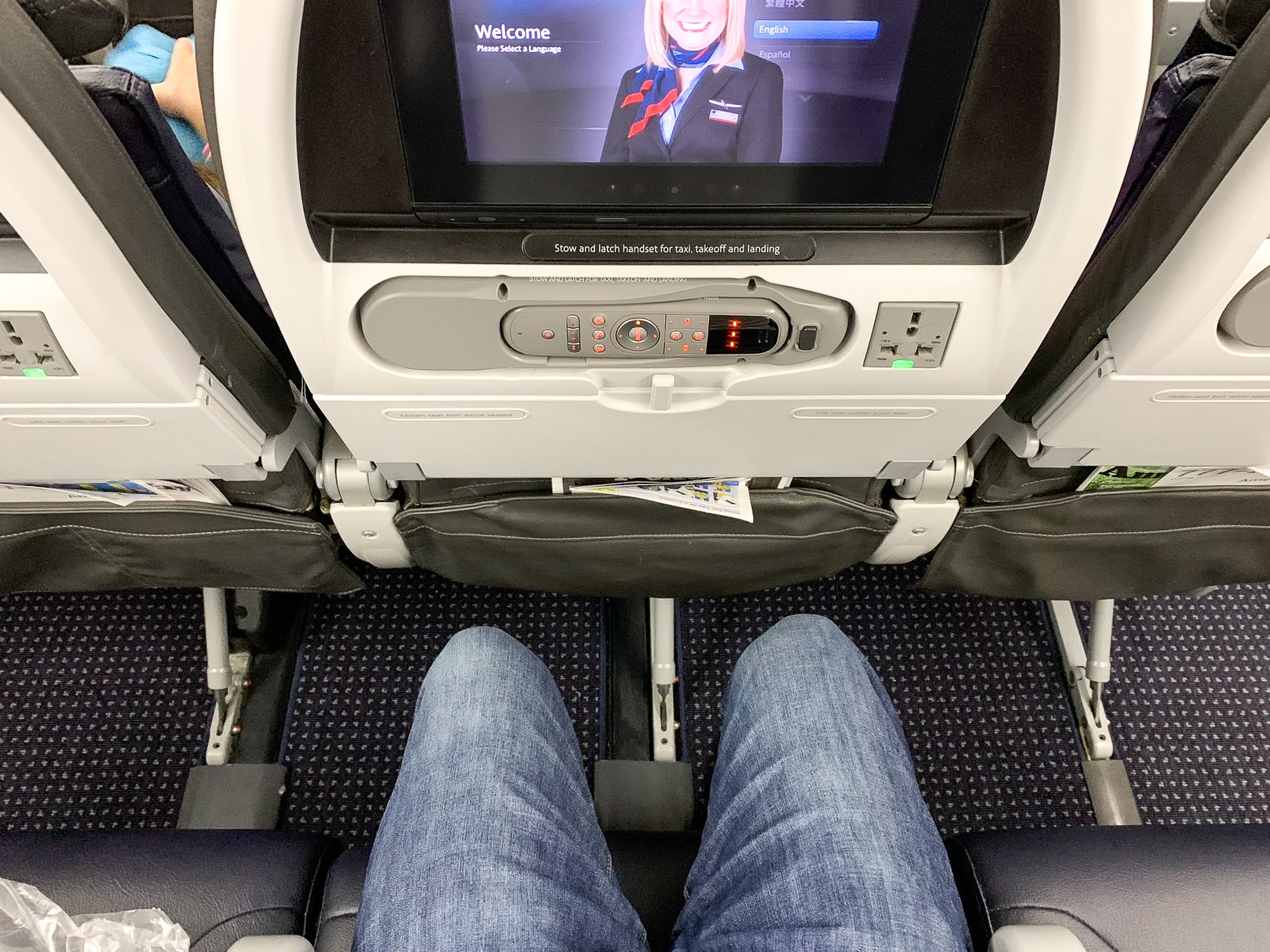 On American's website, they say these seats have 31-32 inches of pitch and are 17.1-18.1 inches wide. We aren't very big people, but it certainly felt tighter than that.
Amenities
There isn't much to report on amenities while flying coach on American Airlines, unfortunately.
A standard pillow and blanket were waiting on each seat, which certainly went to good use making some mini beds for the kids.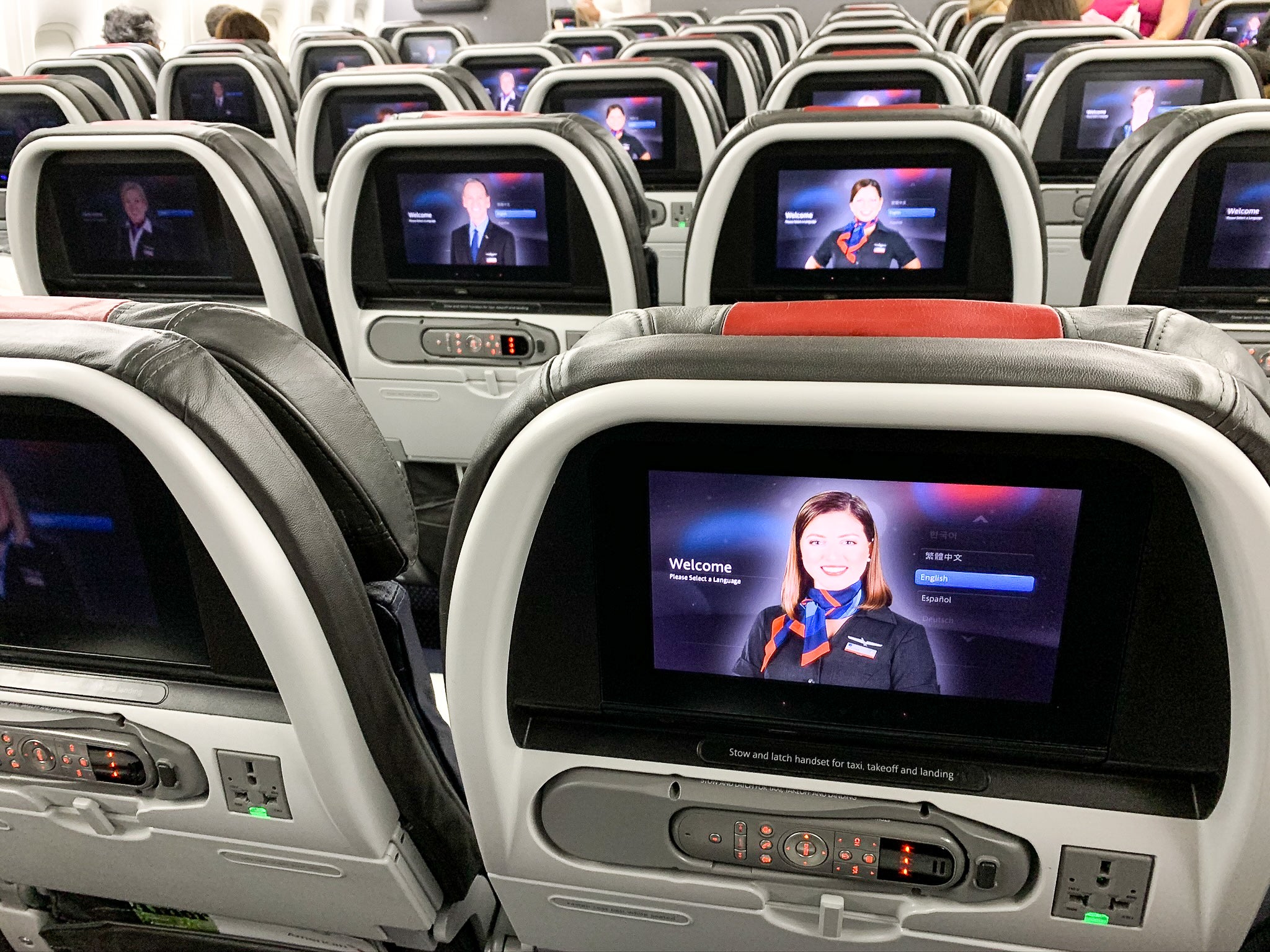 The inflight entertainment is a solid 8.9-inch HD touchscreen display with a generous selection of TV shows and movies. Along with games, audio, and meditation, there is also a live TV option that shows whichever major sporting event is happening during the flight, as well as a few options for news channels.
As a parent, I was quite impressed with the selection of content for kids, both movies and television shows.
Wi-Fi is technically an amenity offered on this route, however, I have never successfully been able to connect. To be fair, I don't try more than once since this is an overnight flight and I should be sleeping, but more for research purposes.
Additionally, on the seatback, underneath the touchscreen, are a USB and power outlet, which are great for charging devices. It is always nice when you don't have to try and find the plug underneath your seat.
Food and Beverage
After years of flying this route, we know that the economy class meals leaving GIG are often an unidentifiable adventure. If we can get a good meal in the lounge, we will often skip this meal. But since that wasn't the case, and I knew I would be writing this review, we ate.
Dinner
Dinner was served at 11:30 p.m., so we were all hungry and tired. As is standard, there were 2 options: beef or pasta. We ordered 1 of each, and to be honest, they were surprisingly good (relatively speaking)!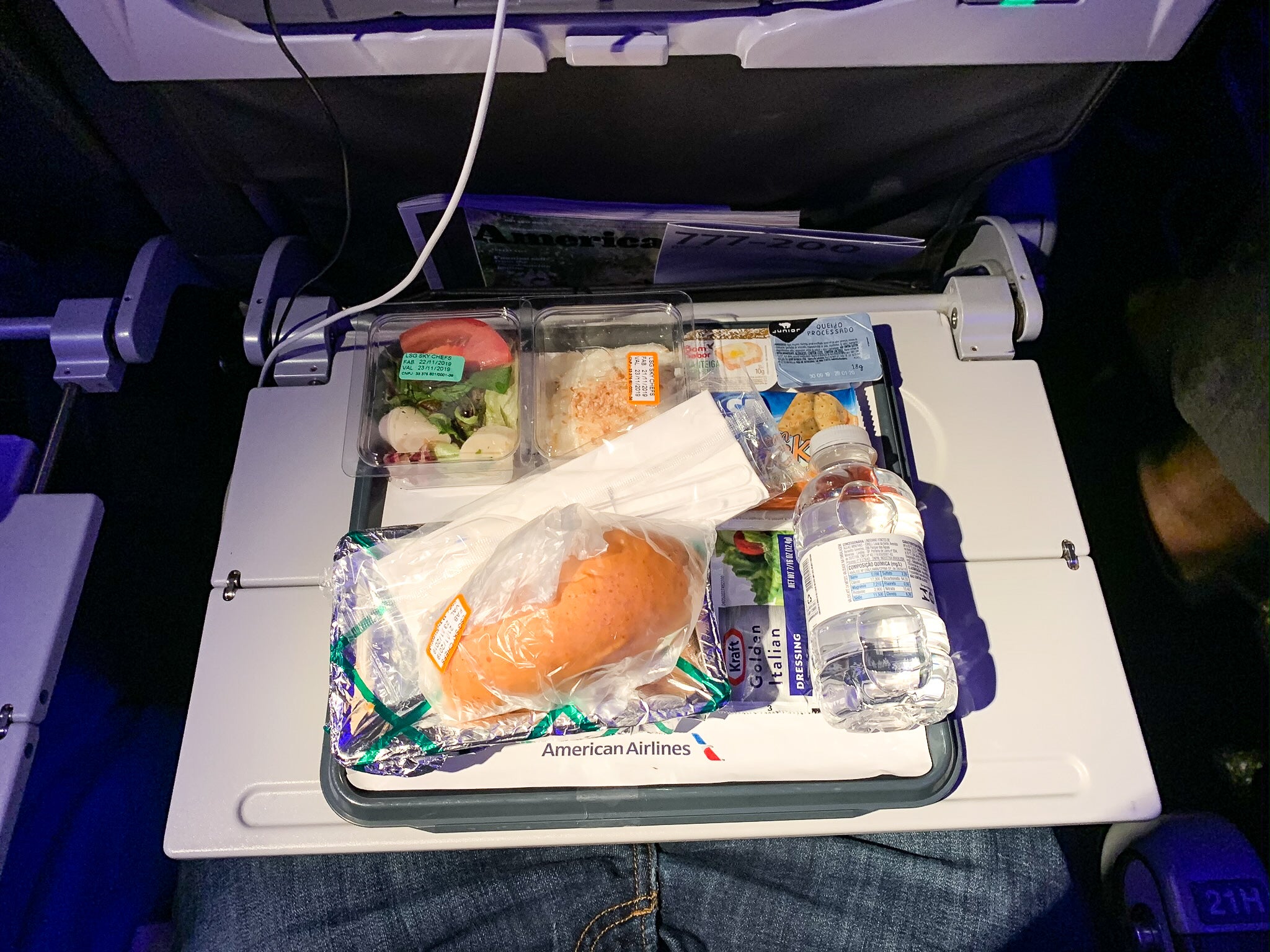 The economy tray comes with your choice of a hot meal, a salad, a very cold/stale roll, crackers, dessert, and a bottle of water.
Right after the food cart passes, the crew came through with a beverage cart offering everything like water, juice, tea, beer, wine, and liquor. Liquor is an extra charge, but I have seen the flight crew waive the charge multiple times on this route (probably to save the work of charging someone).
Since the wine is often "bottom shelf," I stuck with beer and was happy to see that they had a decent selection — I went with a Goose Island IPA (something I would happily order on the ground).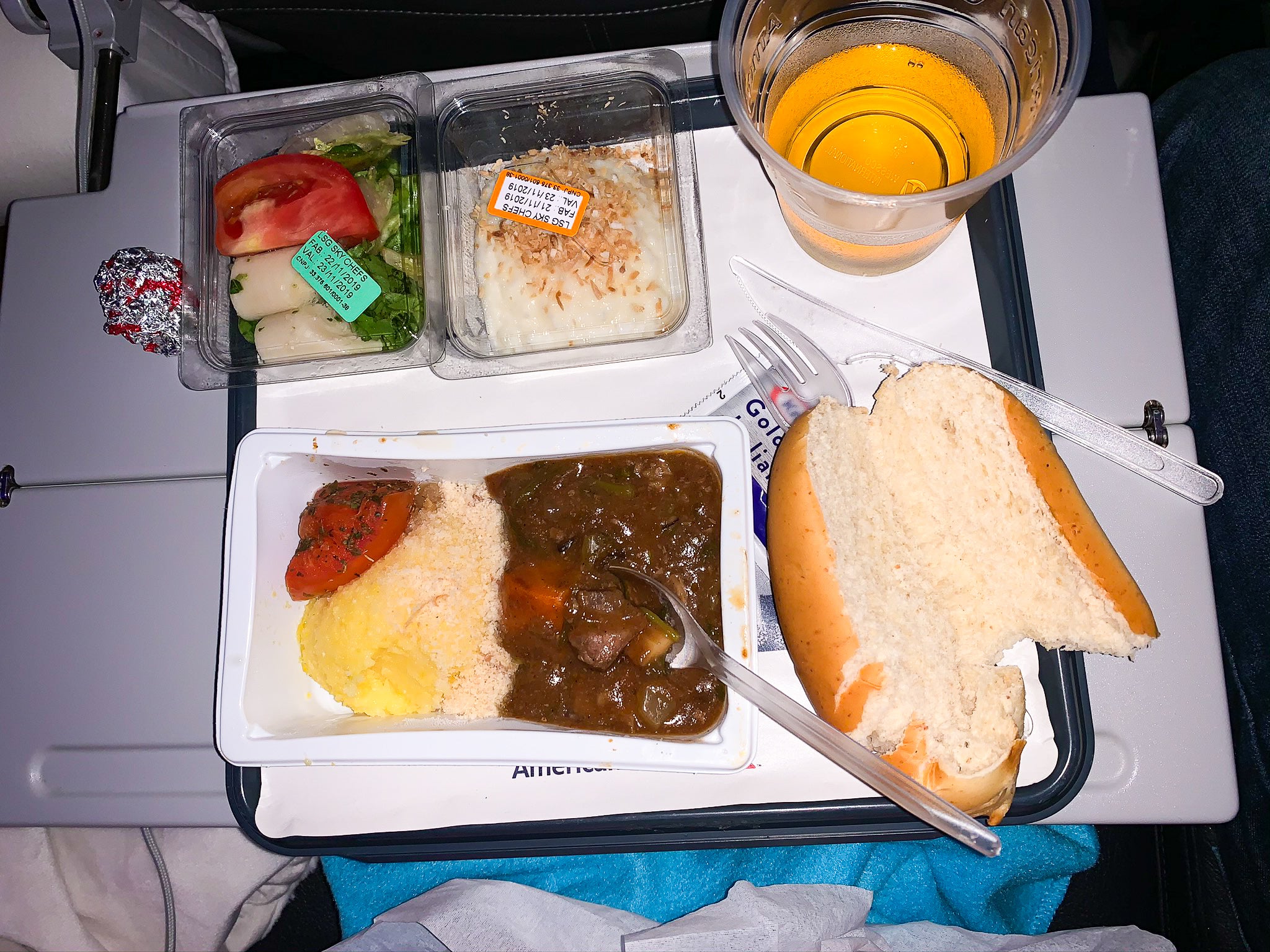 Getting back to our meal, the beef option was stroganoff with farofa (a common Brazilian side made of manioc/cassava flour) and potatoes. The beef was a bit tough but tasty enough to be approved by my 5-year-old.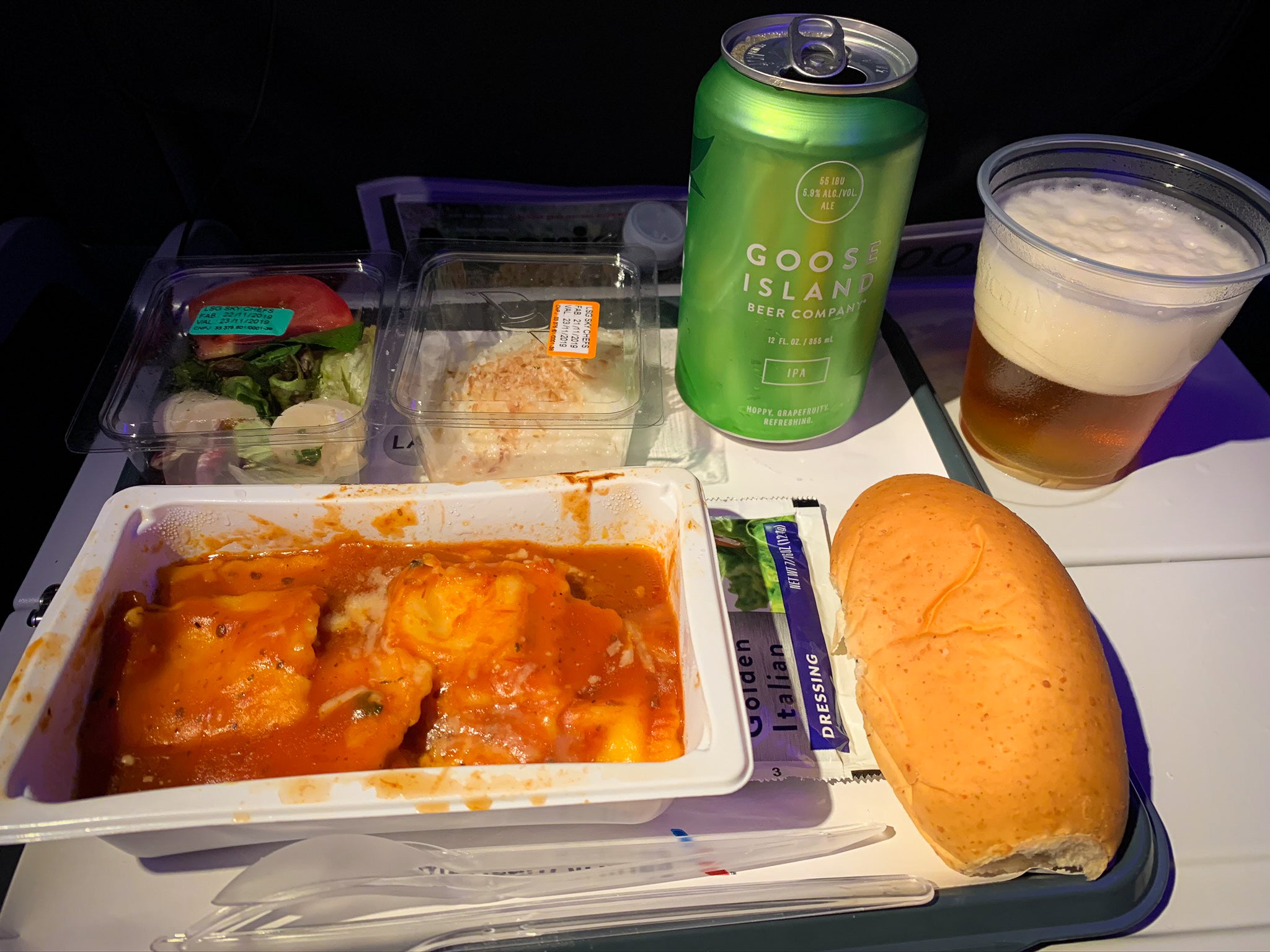 I ordered the pasta option which was cheese ravioli in tomato sauce; while it was a bit salty, it was surprisingly good and I ate my entire serving.
Dessert was a coconut pudding, which was also surprisingly good.
Breakfast
About an hour before arrival (somewhere around 4 a.m.), the lights in the cabin were turned on and the crew started to serve breakfast.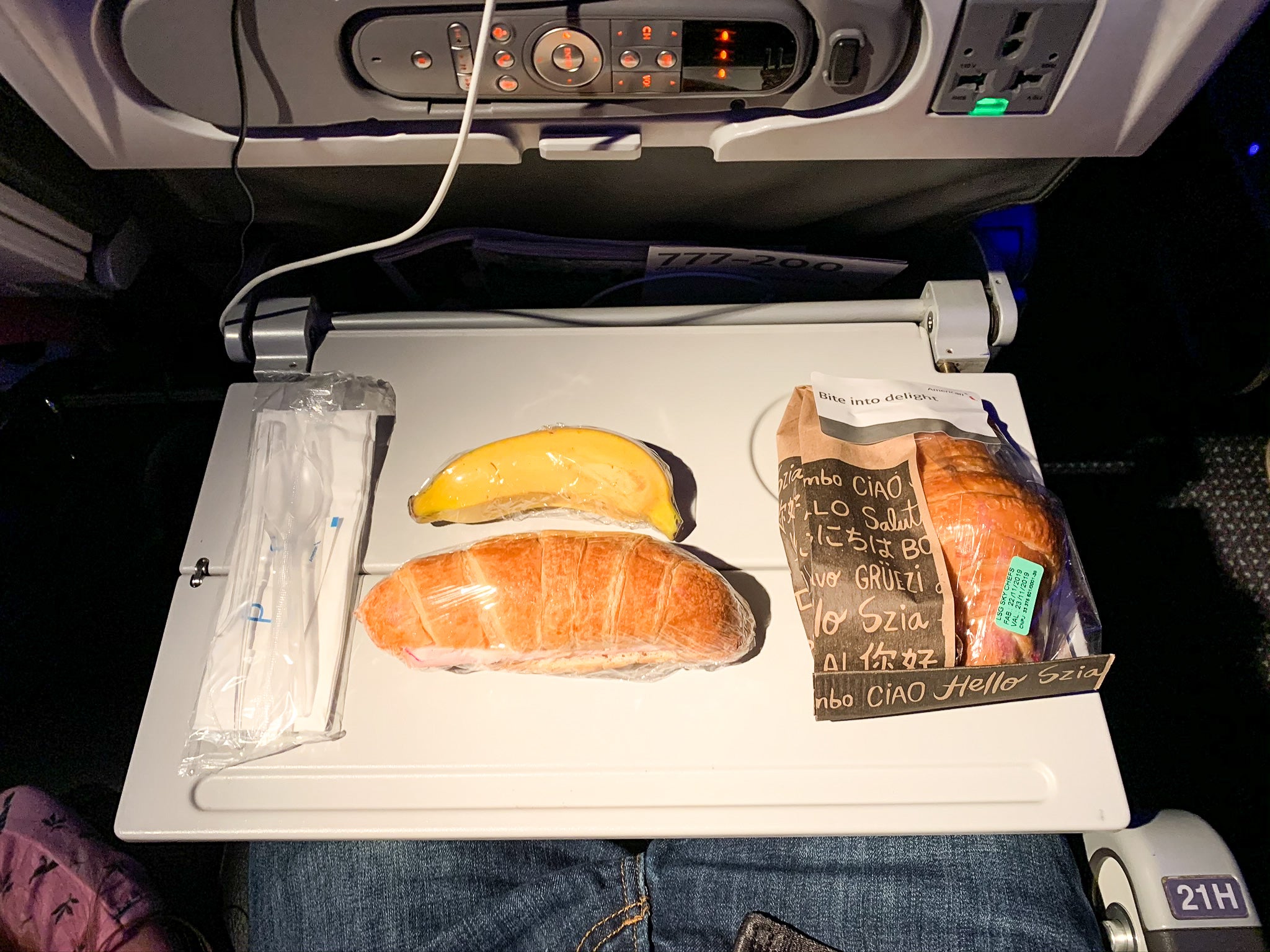 The breakfast in economy was a pre-packaged ham and cheese croissant sandwich — tasty, although a bit unhealthy. Fortunately, it also came with a banana.
I asked, fully expecting a "no," if there was any fruit that we could serve Tommy. The flight attendant handed me a nice fruit tray that was leftover from Premium Economy — a nice little surprise.
Entertainment and Service
As I touched on earlier, the IFE was very good. I certainly can't complain about the screen size, and since we were sitting so close to it, it felt even bigger!
Entertainment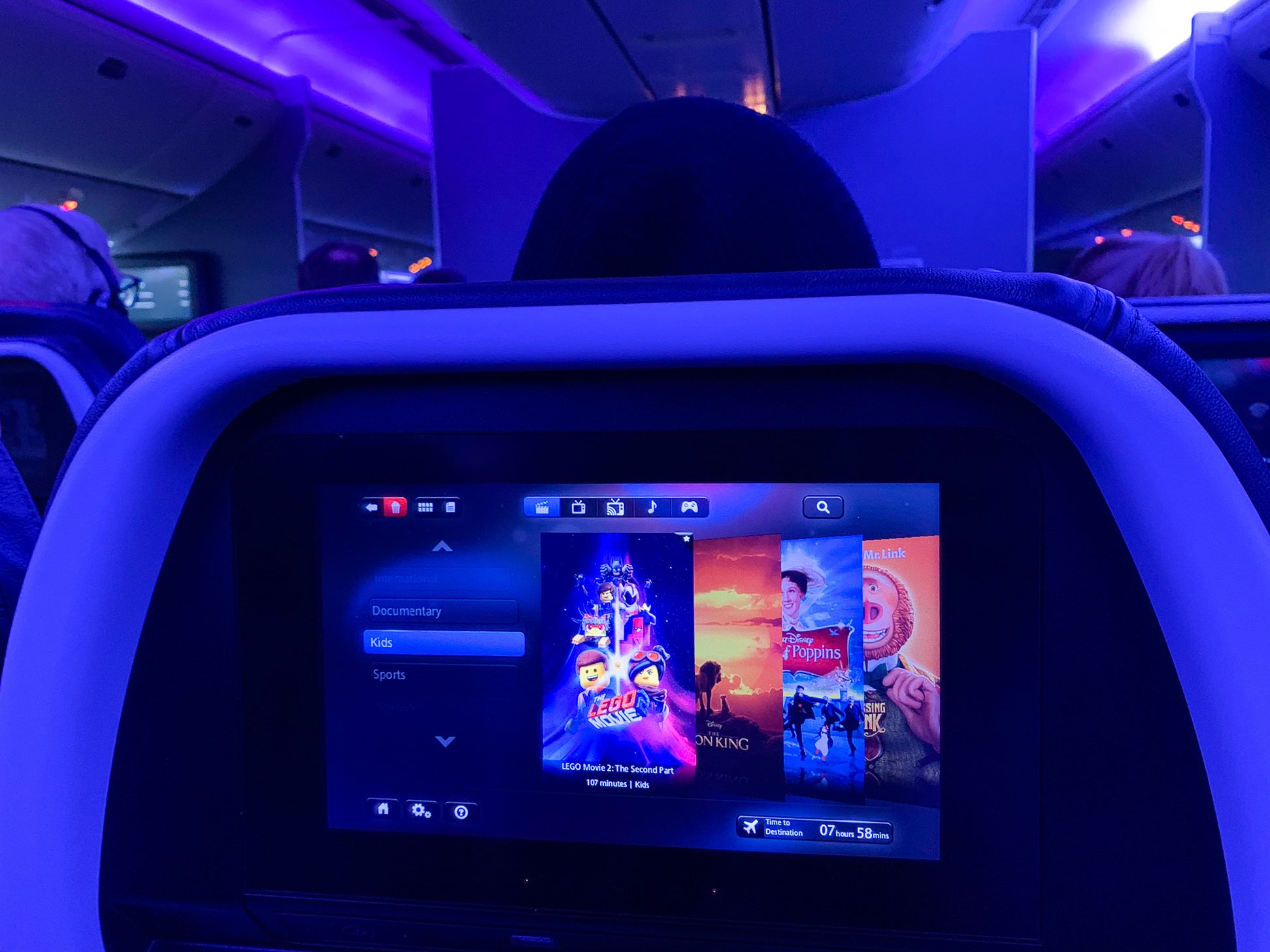 The movie selection had some good new releases and cartoons for kids. My wife and I each watched some of Once Upon a Time in Hollywood and our daughter watched The Lego Movie 2: The Second Part during dinner before we all fell asleep.
Service
Services throughout the flight were efficient and friendly (by AA's standards). We love the ground crew at GIG as we have gotten to know them over the years and they have watched our kids become little travelers.
However, the flight crew really shined as soon as we landed and needed help with a very messy cleanup!
We thought we had made it through an overnight, international flight with 2 kids unscathed, but Tommy brought us back to reality real quick!
As we were deplaning, I started putting Tommy on my chest in the carrier we were using since we didn't bring the stroller. As I was putting him in, my wife suggested that I face him towards me (instead of facing outwards) in case he wanted to sleep some more, which was a great idea.
As soon as I got him strapped in, essentially face-to-face with me, he started throwing up! Good thing he was facing me because if he wasn't he would have gotten the entire cabin quite messy!
Since it was our turn to get off the plane, there was nobody in front of us and I was able to sprint down the aisle towards the business class bathroom while simultaneously keeping all of my 1-year-olds "fluids" from spilling out from the nice little pool we had between me, him, and the sling. Welcome to Miami!
The flight attendants heard me coming and had the bathroom doors wide open so that I could make a clean entrance.
After what felt like 15 minutes, I finally had Tommy unstrapped, wiped down, changed, and then had to do the same to me and the bathroom.
Meanwhile, the crew was incredibly helpful, offering wipes, towels, plastic bags, etc. while also helping my wife who was outside the door pass along extra clothes and water. Keep in mind, this was after a 9-hour overnight flight, and they were ready to go home and get some sleep.
The crew's help and patience really turned around what was looking to be a stressful morning. I was sure to email a compliment via their website after we got settled.
Fortunately, Tommy and I each had some spare clothes, so we just threw everything in a plastic bag and headed to immigration.
Of course, the sling was also a mess and we didn't have a stroller, so now we had to carry Tommy all around MIA. But, that was OK, because he was feeling better but we couldn't help but laugh at how quickly we regretted not bringing the stroller!
Arrival
Once we finally made our way off the plane, and everyone was awake and feeling better, we made the long walk to immigration.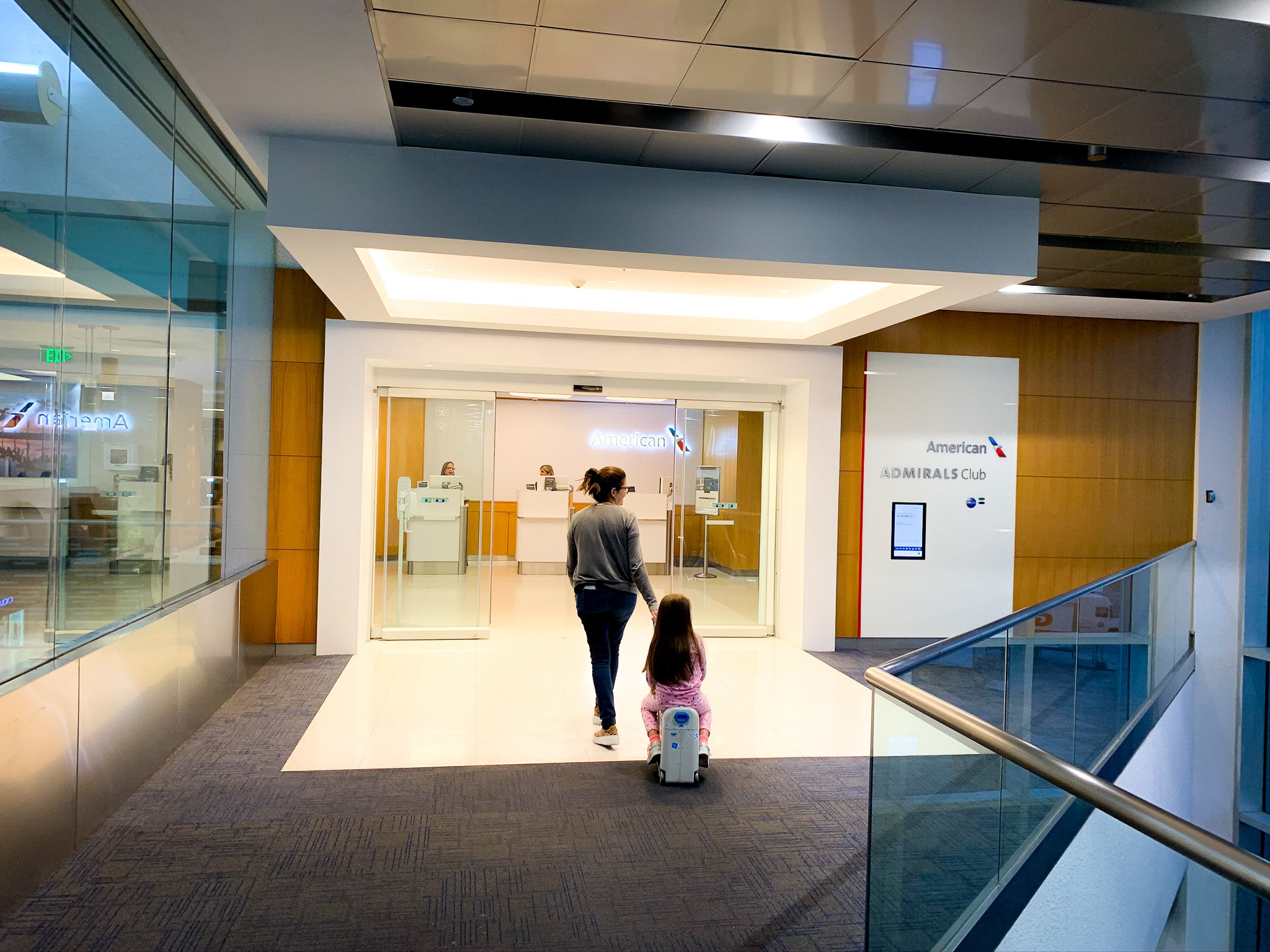 After grabbing our bags, rechecking them to Boston, and then passing security, we headed to the Admirals Club for some breakfast and a much-needed shower.
Final Thoughts
As long as the GIG-JFK route is only being flown seasonally by American Airlines, the GIG-MIA will continue to be our preferred connection when flying into the U.S.
Flying from Rio to Miami is also the quickest option to get into the U.S., which is something we certainly consider when flying with a 1-year-old. For example, United flies from Rio to Houston, which is a solid 11 hours. That is over 2 hours longer than Rio to Miami, and in an older 767 — no, thank you!
As far as competition goes, American currently has the most updated fleet leaving GIG out of the big 3 major US airlines. This is most felt when flying in economy.
Being able to redeem just 37,500 miles during peak travel times is another reason we have been flying more with American. Although we often book the same seats for only 30k (and I even just saw some web specials for 17,500!), the value is still quite good.
The ground experience at GIG is very solid (especially if you had ever seen the previous version of the airport) with some very good lounge options and nice little shops.
And finally, the IFE was above average and the food was better than expected. We even received above average service from the crew, which was a bonus!
As long as Delta and United take their time getting their updated planes to GIG, American will be our first choice when flying back home to the States.