Plastiq Review: Pay Your Bills and Earn More Points
Putting big purchases on a credit card can provide a number of benefits beyond just the ability to make immediate payment.
For instance, in addition to raising your credit score (provided you pay the balance by the due date), you can also earn points or other types of rewards for using the card.
But unfortunately, there are a number of large expenses — such as rent or mortgage payments, and some utility bills — that don't allow you to pay with a credit card, which can keep you from racking up additional reward points.
The good news is that there is an alternative that offers you the ability to pay just about any of your bills using a credit card, even if the lender or creditor doesn't allow you to do so directly.
Introducing, Plastiq!
What Is Plastiq?
Plastiq is a service that allows you to pay bills with credit cards, even where cards are not accepted by the lender, creditor, or vendor. This includes regular bills, such as your rent/mortgage payment and utilities, as well as other expenses like tuition, and even your income taxes!
If you own or operate a business, Plastiq can be used for paying expenses for your company, such as supplies, marketing materials, and just about anything else. You can also use Plastiq to accept credit card payments for your goods or services at no cost to your business.
The recipients of your payments will receive funds with your name, account, and invoice number on them. That way, the recipient knows the payment is coming from you or your company.
Hot Tip: By using Plastiq, you can continue to build up miles, points, or other rewards you're eligible for through your credit cards. In addition, you may be able to take advantage of early payment discounts with vendors and other creditors, as well as use your cash flow for other more pressing needs.
How Does Plastiq Work?
Using Plastiq to pay your bills is easy. Simply provide information about the recipient, including their name and address (or direct deposit details), as well as the payment amount.
Plastiq will then charge your credit card. Because this charge goes in as a purchase instead of a cash advance, you'll avoid the cash advance fees that may otherwise be charged by your credit card issuer.
However, Plastiq does charge a fee for each transaction.
The maximum fee per transaction when using the Plastiq service is 2.85%, which we'll discuss in more detail below.
In many cases, though, the points and/or other rewards you'll receive from your credit card company can more than offset this fee — especially if you're a business owner who can write it off on your taxes.
Your bill recipients can be paid via check, wire transfer, or ACH (Automated Clearing House) transfer. When the recipient receives their payment, you will receive an email notification. In addition, you can track all of your Plastiq transactions in your account.
If the recipient is paid by check, they will typically have their money in hand within 8 business days. Payments via wire transfer (domestic transactions within the U.S) will usually only take 1 day to clear — and in many cases, payment is received on the same day you initiate the transaction.
Likewise, by using the ACH bank transfer payment method, funds are generally deposited directly into the recipient's bank account within just 1 day. Note that for international wire transfers, it may take 1 to 3 business days for the payment to clear.
Business owners can even use Plastiq to make payroll payments. In fact, Plastiq works with all major payroll service providers, so you can fund your entire payroll on a credit card. This can really help you accumulate points or other rewards on your card(s)!
Hot Tip: As an added bonus, business owners may be able to write off Plastiq fees on their tax returns as a company expense.
For even more convenience, you can submit your payment(s) for either immediate or future processing. Just provide the payment data to Plastiq with a specific processing date in the future. This makes it easy to ensure your bills and other obligations are paid even when you're focused on doing other things.
If your payment cannot be processed for any reason, Plastiq will notify you.
How To Pay a Bill With Plastiq
The process of paying a bill with Plastiq couldn't be simpler. First, you'll need to add a recipient. You can type in whatever name you'd like, and if applicable, Plastiq will help auto-fill the name if the company is registered with Plastiq.
From there, you will select how you want the company to receive the payment. If you're paying via credit card, you most likely will want to select Paper Check.
Then, you can fill out all of the address details of where you would like the payment to be sent, like the leasing office for the building you rent with, for instance.
Lastly, you'll just need to choose a category that the payment would best be classified as from Plastiq's pre-selected options.
Once you've done that, the bill is ready to be paid and all you need to do is select which of the credit cards you have linked to your Plastiq account that you want to use to pay, and violà — you've completed payment using Plastiq. Of course, keep in mind that it might take a few days for the payment to be finalized depending on which payment option you chose.
Which Credit Cards Can Be Used With Plastiq?
Plastiq accepts all major credit cards, including:
American Express
Discover
Diners Club International
JCB
Mastercard
Visa
Plastiq will also support direct debit payments, where the recipient would prefer to debit a Plastiq bank account instead of receiving payments via a bank transfer or a physical check.
More Payment Options Through Plastiq
While paying bills and other obligations with credit cards can be a convenient way to make and track transactions, there are other options you can choose through Plastiq, too.
Plastiq added even more payment alternatives through its Accelerated Payments Suite. Here, you can send payments via expedited checks, U.S. domestic wires, and ACH bank transfers (standard and expedited).
There are a few stipulations you should be mindful of when using Plastiq's Accelerated Payments Suite. For example, in order to access any of the delivery methods, you must first have a verified Plastiq account.
Also, if you opt to use expedited checks or wires, these options are currently only available for sending and receiving payments within the U.S.
In addition, there are various charges and fees — so be sure you're aware of these before moving forward with any type of payment or funds transfer.
The table below outlines the different payment delivery methods, as well as the timeline and price associated with each service.
Description
Delivery Timeline
Pricing
Expedited U.S. Checks
Payment sent via FedEx Priority Overnight
ˆNote that FedEx Priority Overnight does not deliver to P.O. Boxes
2 business days
2.85% Plastiq fee + 0.5% base fee + $24.95 FedEx Priority Overnight fee + $10 handling fee*
Expedited ACH Bank Transfers
Electronic transfer to the bank
2 business days
2.85% Plastiq fee + 0.5% base fee + $5 bank fee + $10 handling fee*
Standard U.S. Domestic Wires
Electronic transfer to the bank in real-time
Same-day to 1 business day
2.85% Plastiq fee + $40 (bank and handling fee)
International Wires
Electronic transfer to recipient country and bank
2 to 4 business days
2.85% Plastiq fee + $60 (bank and handling fee)
U.S. Debit Cards (excludes online-only banks)
Check transfer to the recipient
Up to 8 business days
1%
*Handling fee waived on payments with a principal over $3,000
There are some other items to note if you use Plastiq's Accelerated Payment Suite options. For instance, because Plastiq uses a third-party partner for sending out expedited checks, it is not possible to provide you with a tracking number for the check.
Also, as with other types of Plastiq transactions, the recipient of your funds will be responsible for crediting the payment to your account. Because of this, the actual crediting date of your payment may differ from the date that it arrives at its destination.
Note that in order for any payment to be delivered within the quoted time frame, payments must be submitted to Plastiq prior to 4 p.m. PST.
As with any type of delivery transaction, you should confirm the address of the recipient, as FedEx cannot deliver expedited checks to addresses that are "undeliverable."
You can, however, confirm the deliverability of a payment recipient directly through Plastiq. Just log in to your Plastiq account and select Manage Recipients then View Recipient.
Once there, if you see a red notification that states, "This address is undeliverable," then FedEx cannot deliver your expedited check.
Bottom Line: If all the information you provided is correct, using Plastiq's expedited payment services could be a great way for you to get payments to recipients in a fast and convenient way.
Getting Your Plastiq Account Set Up
To get started, just create an account and enter information about the recipient(s) you are paying, as well as the amount. You can also choose which of your payment methods you want to use for paying the bill(s).
Registering for a Plastiq account will require you to provide your full name, phone number, and email address.
Once you have entered all the information, Plastiq will charge the payment method you have chosen, plus their transaction fee of up to 2.85% (but there are methods of reducing or eliminating this transaction fee, so read on!).
What Are Common Uses for Plastiq?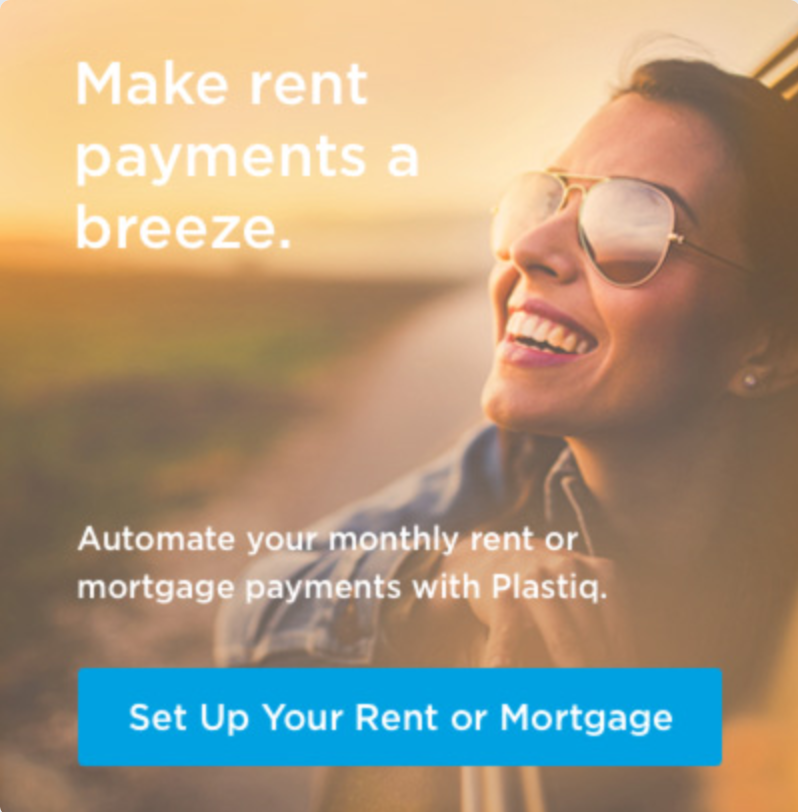 The sky's the limit when you think about how many goods or services you can purchase via Plastiq.
Here are some of the most common uses:
Insurance
Mortgage
Residential/commercial rent and HOA fees
Taxes and government fees
Tuition (including daycare and camp)
Utilities (electricity, cable, internet, telecom)
Unlike making purchases for items or services, you typically can't pay your rent or mortgage using a credit card. But given the amount most people spend on regular monthly expenses like housing and utilities, the ability to do so (and reap the benefit of more credit card points!) could make a tremendous difference.
One important distinction to keep in mind is that not all credit cards work for each payment option. For example, at this moment, you cannot use American Express cards for mortgage payments through Plastiq but Mastercard, Visa, or Discover cards work just fine. However, all of those card options can be used to make rent payments with Plastiq.
Hot Tip: If you're a renter, you could also consider using the Bilt Rewards program if you live at an eligible property. Bilt Rewards gives you points each month when you pay your rent through its platform, and the points are transferable at a 1:1 rate with popular airline and hotel programs like American Airlines, World of Hyatt, and Air Canada.

Which Credit Cards Work for Certain Purchases?
If there is a most commonly asked question when it comes to Plastiq, it is this one. If you're going to use it to earn points with your credit card, you need to know which cards are eligible for select purchases. So here is a list of some of the most common purchase items, along with each card you can use.
| | | | | |
| --- | --- | --- | --- | --- |
| Payment Type | American Express | Discover/Diners Club | Mastercard | Visa |
| Auto Lease/Auto Purchase | NO | YES | YES | YES |
| Tuition | YES | YES | YES | YES |
| Student Loans | NO | YES | YES | YES |
| Insurance Payments | NO | YES | YES | YES |
| Rent Payments | YES | YES | YES | YES |
| HOA/Condo Fees | YES | YES | YES | YES |
| Mortgage | NO | YES | YES | YES |
| Taxes | YES | YES | YES | YES |
| Utilities | YES | YES | YES | YES |
| Internet/Phone Services | NO | YES | YES | YES |
For more information on which cards are restricted from certain purchases, you should view the Plastiq terms and conditions.
Hot Tip: Keep in mind that, while these categories should not have any cash advance problems based on how they are coded, it's ultimately up to a card issuer to decide how to treat it. A credit card issuer can decide to self-define your payment as a cash advance, so monitor your transactions closely. 
When Should You Use Plastiq?
So when exactly should you consider using Plastiq? The opportunities are many! By using Plastiq and referring others to the service, you can earn valuable bonuses like:
Credit card sign-up bonuses
Credit card big-spend bonuses
Plastiq Fee-Free Dollars
Earn a Sign-up Bonus
First, there's the sign-up bonus. Let's say you've opened a new credit card or 2, which both have a sign-up bonus if you hit the minimum spending requirement in the stated time frame. If you are only able to use these cards for paying regular expenses, it may take a while to hit your minimum amount.
But for many of us, our rent or mortgage is where we spend a sizable chunk of money. Just think how much quicker you could reach the minimum spending requirement if you could pay your everyday expenses with your credit card(s).
With Plastiq, now you can!
For a small fee, you can put these large expenses on your new credit card to help you earn the sign-up bonus. When you consider the value of the points, you'll often see that the sign-up bonus far outweighs the Plastiq fee.
Hot Tip: Check out our featured credit cards list to see the great sign-up bonuses offered right now. Many of them are large enough to allow you to book a one-way or round-trip award flight!
Hit a Big-Spend Bonus
Many credit cards provide annual bonuses for hitting specific spending thresholds. From free hotel nights to bonus miles/points or elite status, using Plastiq to pay your everyday bills can help you earn these perks.
When doing so, you'll have to decide whether or not these perks outweigh the processing fee in your particular situation.
Here are some examples of the perks you could earn. Make sure to check with each card for their current offers:
| | | |
| --- | --- | --- |
| Credit Card | Spending Requirement | Big Spend Perks (Example) |
| British Airways Visa Signature® Card | $30,000 | Travel Together companion ticket |
| Citi®/AAdvantage® Executive World Elite™ Mastercard® | $40,000 | 10,000 EQMs |
| Delta SkyMiles® Reserve American Express Card | $30,000 | 15,000 SkyMiles and MQMs toward status at each benchmark |
| Hilton Honors American Express Surpass® Card | $40,000 | Diamond status |
| The JetBlue Plus Card | $50,000 | Mosaic status for the remainder of the calendar year and the following year |
| Marriott Bonvoy Boundless® Credit Card | $35,000 | Earn Gold Elite status |
| Marriott Bonvoy Business™ American Express® Card | $35,000 | Earn Gold Elite status |
| Southwest Rapid Rewards® Premier Credit Card | 125,000 Rapid Rewards points | Companion Pass for the remainder of the current year and the following year |
| World of Hyatt Credit Card | $5,000/$15,000 | Earn 2 elite night credits for every $5,000 spent on the card and a Category 1-4 Free Night Certificate after spending $15,000 |
Another perk for those who fly Delta regularly is the Medallion Qualification Dollar waiver that can be earned through one of Delta's co-branded American Express cards. If you spend $25,000 in a calendar year on one of these cards, it waives the requirement that you must hit spending thresholds with Delta to earn up to Platinum status. In order to receive a Medallion Qualifying Dollar waiver for Diamond status, you must spend $250,000.
United has a similar arrangement with the United℠ Explorer Card. With $25,000 in spending, the Premier Qualifying Dollar requirement is waived up to Premier Platinum status (earning Premier 1K status will still require you to spend $15,000 on United flights).
Points Outweigh the Fees
If you're not working on a minimum spend or an annual big-spend bonus, make sure you carefully consider which card you use when paying via Plastiq.
Since you'll be paying a 2.85% fee, you will want to use a card where the value you are accruing exceeds the fee you are paying to complete the transaction.
Additionally, it might be worth it for you to earn points this way if you want to fly business or first class since points are much more valuable when booking premium cabin travel.
Earning Plastiq Bonus Points
In addition to earning your sign-up and big-spend bonuses, there is a way that you could reduce (or even eliminate) the 2.85% fee that is charged for Plastiq transactions. This is by accumulating Fee-Free Dollars.
As the name implies, Fee-Free Dollars — also referred to as FFDs — are dollars that can be sent through Plastiq without you incurring any fees.
Here is how this might work: if you have $1,000 in Fee-Free Dollars and you pay a bill in the amount of $800, then no fees will be charged on that transaction. If you happen to have any FFDs left over, that amount can apply to the next payment you make through Plastiq.
Hot Tip: Plastiq will occasionally run promotions for lower fees, such as dropping their charge to 1.5% on Visa or Mastercard payments above a certain amount. Be sure to check the Plastiq website frequently for promos, especially if there are other rewards that can be accumulated on your credit card.
Plastiq Referral/Affiliate Program
To help earn more Fee-Free Dollars, you will definitely want to take part in the Plastiq Referral Program. So encourage your friends, family members, business associates, and others to use the service.
When a referral makes a payment or payments totaling $500 or more within 30 days of signing up, the referrer will earn 100 FFDs.
You can obtain a tracking link for referring others to the Plastiq service. Any contact who follows this link and also signs up for a Plastiq account within the same website session will be considered your referral and can trigger the referral program payouts.
Some Items To Consider Before Signing up With Plastiq
Even with all the great benefits you can get when using Plastiq, there are a few items to keep in mind before you dive in.
First, there are, of course, the potential fees. You'll need to make sure any rewards you earn are worth more to you than the fees incurred.
In addition, even if you have a substantial amount of Fee-Free Dollars in your Plastiq account, be mindful of when these rewards expire.
For example, these "dollars" will need to be used relatively quickly — typically within 90 days of earning them. Otherwise, they will expire. Using or earning any of your FFD points will "reset" the clock to 90 days.
There are also some restrictions on the type of services you can pay using Plastiq. For instance, Plastiq will not support transfers of money to yourself or to an entity in which you have control (such as a company that you own).
It also does not allow you to send money on behalf of another party, for a transaction that is not in conjunction with a direct exchange of a good or service, and for goods or services whose delivery or completion has not yet been confirmed.
You can view the Plastiq Terms of Service in their entirety here.
Final Thoughts
Nobody really relishes the idea of paying bills, especially big ones. But earning rewards for doing so can help to ease the financial pain (at least somewhat).
Being able to pay your bills early — even when you don't have the cash on hand to do so — can also provide you with added rewards, along with the peace of mind of knowing you won't be hit with a late fee from the creditor or lender.
With that in mind, using Plastiq can be a great way to pay just about any of your bills quickly and conveniently, along with getting some nice additional perks!
---
The information regarding Hilton Honors American Express Surpass® Card and The JetBlue Plus Card was independently collected by Upgraded Points and not provided nor reviewed by the issuer.