American Airlines: Economy vs. Basic Economy — What Are the Differences?
The infamous "Basic Economy" can be a daunting ticket purchase for some flyers who may not know what is or isn't included.
Introduced to combat against low-cost carriers, American Airlines' Basic Economy fare class does come with many restrictions — and knowing them is important to have a good experience on board.
Today we'll explore what Basic Economy is and how it differs from regular economy. We'll dive into the restrictions and benefits and see how it compares to other carriers.
What Is Basic Economy?
Basic Economy is the cheapest fare class onboard American Airlines — a no-frills experience that includes some standard onboard amenities, but with many restrictions that will tempt plenty of flyers to avoid this option.
On American, Basic Economy books into the "B" fare class, so it's pretty easy to remember. But B fares are not offered on every single itinerary, so Basic Economy might not be available on your specific flight. American routinely looks at pricing, destinations, and demand to determine where and when offering Basic Economy fares will make sense.
Some routes — particularly those to domestic leisure destinations — almost always have Basic Economy. Some routes never do, and some routes have limited B fare tickets. In some cases, you can find Basic Economy fares at the last minute, even on the same day of departure.
When booking on aa.com or with any online travel agency (like Orbitz or Kayak), passengers will see a notice that informs them of any restrictions on the ticket prior to payment. This warning is important and has been subject to debate — it's clearly cautioning travelers from booking a Basic Economy fare and enticing them to book a regular economy ticket that will come with more perks and benefits.
If you find a Basic Economy ticket, the price difference between regular economy can be variable (and surprising): you may see a difference of $10 or a difference of several hundred dollars! We've seen plenty of circumstances where the Basic Economy fare was in the $50 range, while the next lowest regular fare was in the $400s.
This can be confusing since one of the goals of Basic Economy is to encourage flyers to bump up their fare to regular economy, but such a high fare discrepancy would make it difficult for many travelers. We'll leave this strange pricing decision up to the airlines!
Bottom Line: Basic Economy books into the "B" fare class when you look for flights on aa.com, but it might not always be available. If you find a Basic Economy ticket, make sure you understand the restrictions and difference in cost between regular economy.

Why Was Basic Economy Introduced?
Most low-cost carriers segment their ticket offerings to reduce the ticket price displayed to the public — things like seat assignments, checked bags, onboard service, and upgrades will all come with separate fees. By removing these offerings from the economy fare, passengers can add them in as they see fit, resulting in a lower price appearing when a prospective passenger searches for a fare.
Many travelers may not want to pay extra for the ancillary services offered and are likely to stick with the most no-frills option to save some money. When they do need additional services or products, they pay for them, creating additional revenue for the airline.
American followed suit after Delta and United, who had already introduced their own Basic Economy products. Because American was in the midst of a merger, it wasn't practical to introduce the Basic Economy product any sooner than they did.
Bottom Line: Basic Economy gives passengers more pricing options while creating more revenue opportunities for the airline.
What Are the Restrictions of American Airlines Basic Economy?
Of course, with a cheaper fare comes more restrictions, so it's really important to understand the differences between a Basic Economy ticket and a regular economy ticket.
Baggage Allowance
First, with American Airlines' Basic Economy, carry-on bags ARE allowed on the plane: 1 in the overhead bin and 1 under the seat in front of you. This is the same as all other economy class fares. As long as you carry on what would be considered a normal bag that fits in the sizer, you should be fine.
That said, as you'll read below, your chances of available room on the plane decrease dramatically since you'll be boarding with Group 9 on a Basic Economy ticket — so while you do have the ability to take bags onboard, space availability may dictate otherwise.
On fares to Israel, India, Asia, and Oceania, you'll be allowed 1 checked bag for free.
Ticket Changes
Second, no flight change requests (changing your ticket to an entirely new ticket) or refunds will be allowed. You will be allowed to make a same-day change or try to standby for a flight, however, and pay any applicable fees.
When you book a Basic Economy fare, you're booking a fully inflexible ticket — so choose exactly the flight you want at exactly the right time, as your only option to change a ticket the same day will be to participate in a same day change program, which has limited inventory. This can especially be critical to business travelers who rely on ticket changes to survive on business trips (though the lack of changeability would probably be okay with most leisure travelers).

Boarding and Priority Access
Priority Access is not available for any Basic Economy passengers, even if you're willing to pay for it separately. The exceptions to this are AAdvantage elites who will still board in their respective groups: Executive Platinum in Group 1, Platinum Pro in Group 2, Platinum in Group 3, and Gold in Group 4. AAdvantage credit cardholders will still board in Group 5 after all elites.
All Basic Economy passengers will receive Group 9 boarding, which is the very last group to board the aircraft. There is a high likelihood that overhead bin space will be full by this point, forcing you to gate-check any bags to your final destination (at no cost other than your time picking it up when you arrive).
Outside of elite status or holding a designated AAdvantage credit card, there is no way to avoid this. Group 9 boarding really isn't for the faint of heart — you're forced to wait around the gate area until the very end, and when you board the plane, there simply won't be storage room for any bags.
Seat Selection
Seat selection for Basic Economy passengers is based on available space and will be assigned at check-in. Many Basic Economy passengers will likely sit in middle seats or undesirable "leftover" economy seats that others haven't chosen.
Hot Tip: Basic Economy passengers will be given the chance to purchase select seats 48 hours prior to departure, but this won't include options for "Preferred" or Main Cabin Extra sections.
Some passengers have reported success in waiting until the last minute to check in, after all economy seats in the back have filled. Because of this, they're assigned fairly decent seats in the front — in some cases even Main Cabin Extra seats — simply due to lack of availability elsewhere.
There is a risk, however: if you wait to check in without any seat assignment and there's truly no seat to assign you, you could be involuntary denied boarding if the aircraft is oversold. Don't wait if you really have to travel!
If you're an AAdvantage elite, you'll still be able to select Main Cabin Extra seats for free at your designated window.
Upgrades
As of October of 2020, AAdvantage elites get benefits on Basic Economy tickets. This includes upgrade privileges, free (or discounted) seats, including Preferred and Main Cabin Extra seating, and same-day confirmed flight benefits.

For more upgrade information, see our complete guide on how to get upgraded on American Airlines flights.
Rebooking
Should your plane experience any irregular operations — including because of weather or mechanical issues — you can be re-accommodated on American Airlines or joint-business partner airlines only. If you're an AAdvantage elite, you'll experience additional protection or rebooking options, including other alliance members (or other airlines in extreme cases).
If you book a Basic Economy ticket, be cautious: your rebooking options may be limited depending on flight loads and origin/destination cities, while other passengers will have priority. For example, in the case of severe mechanical disruptions, American may decide to put qualifying passengers on United to get to their final destination. As a Basic Economy customer, you won't have this option.
Elite Miles/Segments
Basic Economy no longer earns any elite qualifying miles, dollars, or segments as of September 1, 2020. If you're looking to earn elite status on American, you will want to ensure you're purchasing a non-Basic Economy fare.
What Does Regular American Airlines Economy Include?
Just to compare offerings, it's good to understand what the normal economy pricing includes so you can see both sides.
Baggage
Normal economy fares include a carry-on bag in the overhead bin and a personal item stored under the seat in front of you, the same as Basic Economy. Both Basic Economy and regular passengers, who don't have status or an AAdvantage credit card, will have to pay for checked baggage (we've covered AA baggage fees in-depth if you need more information).
Ticket Changes
However, normal economy fares DO include options for same-day flight changes (usually for a fee) and the option to change travel completely for just the difference in fare. Even with this difference in fare, you'll still have flexibility in cases where plans get disrupted — generally, businesspeople and large corporate accounts will book regular fares to have this option.
If you have a minor schedule irregularity or are seeking a fee waiver, you'd almost certainly need a regular fare to secure any changes. And note that many business travel accounts are programmed not to include Basic Economy fares in search results due to these restrictions — so if you are in a corporate travel environment, check with your travel coordinator for more information.
Economy Boarding and Priority Access
Priority Access is available for purchase on a regular economy ticket, and all elite levels will board with their respective groups: Executive Platinum in Group 1, Platinum Pro in Group 2, Platinum in Group 3, and Gold in Group 4. AAdvantage credit cardholders will board in Group 5 after all elites.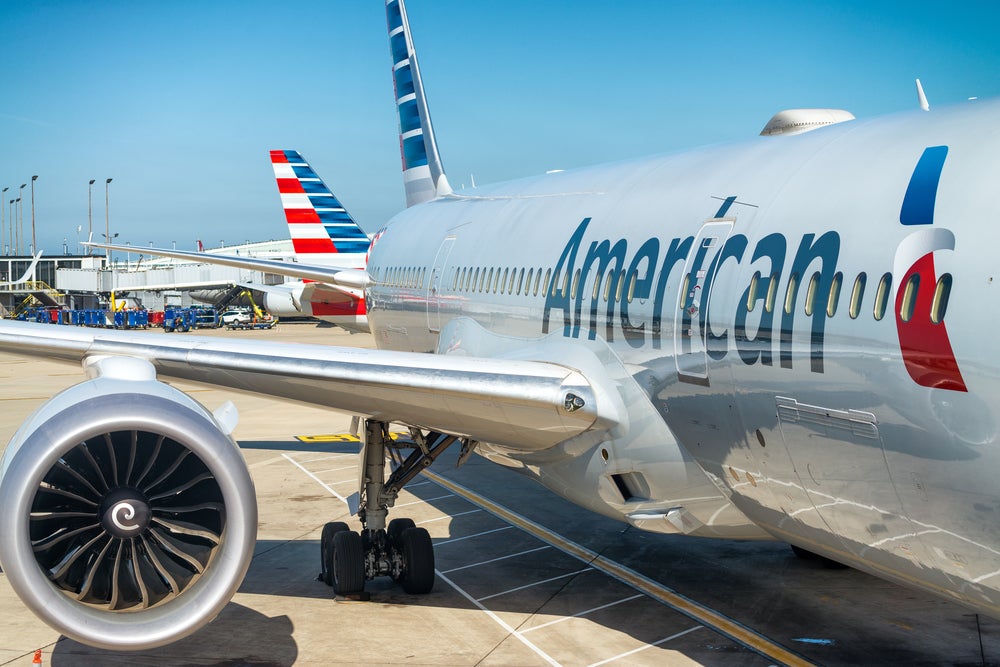 Economy Seat Selection
Seat selection is free to regular economy customers, but some preferred seats or Main Cabin Extra seats may come with an additional fee — in any case, all seats on the aircraft are available for selection/purchase at any time. Elites will be able to choose preferred or Main Cabin Extra seats at any time.
In our opinion, having access to these better seats is one of the reasons not to purchase Basic Economy fares, especially on longer flights where sitting in a middle seat would really be uncomfortable. Your assignment will depend on how full the flight is, but those who wait to get the auto seat assignments do receive undesirable middle seats (mostly at the rear of the cabin).
Regardless of ticket purchased, the actual seat types are the same — the physical seat won't change, though some seats are certainly preferred thanks to location on the plane or increased legroom, for example. There is no designated "Basic Economy" seat section.
Upgrades
Paid and complimentary upgrades are allowed in regular economy, including complimentary domestic upgrades, miles and copay upgrades, systemwide upgrades, or load factor-based upgrades (for elites and non-elites alike).
You can also pay to upgrade your fare from a regular economy ticket to a first class ticket without any additional change fee. However, there are some reports of up-faring a Basic Economy ticket to regular economy after purchase for those who didn't realize they were booking Basic Economy (or the restrictions it would come with).
In this scenario, if you need to change your ticket from Basic Economy to regular, call American reservations and they can assist in the process.
Rebooking
In case of irregular operations, there are several options available to regular economy or business/first passengers and those with elite status if delays exceed several hours:
All long-haul first class and transcontinental first class passengers can be put on non-partner airlines if it gets them to their destination faster than other options.
ConciergeKey, Executive Platinum, Oneworld Emerald, and Platinum Pro in all cabins can also be put on non-partner airlines if it will get them to their destination faster than other options.
Passengers in business and short-haul first class can be put on non-partner airlines if American and its partners can't get them to their destination within 5 hours of the original schedule.
Platinum, Oneworld Sapphire, Gold, and Ruby in all cabins can be put on non-partner airlines if American and its partners can't get them to their destination within 5 hours of the original schedule.
If you have no status and are in economy, you can't use partner airlines, but American will work to rebook you on their own flights.
As you can see, you're already somewhat behind on a regular ticket as far as rebooking priority — so a Basic Economy fare would be severely restricted in these circumstances.
Elite Miles/Segments
Regular economy tickets earn the full amount of Elite Qualifying Miles (EQMs) and Elite Qualifying Segments (EQSs), not the nothing rate Basic Economy customers earn. We've often seen regular fares just a few dollars more than Basic Economy fares, in which case it would definitely be better to purchase regular just for the full earning capability.
Bottom Line: If you want to earn elite status, you need to fly on a full Main Cabin fare and not any Basic Economy fare.
What About Basic Economy on Other Carriers?
In general, you can assume you'll see similar treatment and logistics on Alaska, Delta, and United when it comes to Basic Economy fares. All 3 carriers offer the ability to bring onboard carry-on bags, as well as the restriction to make changes to tickets, upgrade, or select any advance seat assignments without a fee.
For the most part, no airline wants to make their Basic Economy experience any worse than another airline, for fear that Basic Economy customers will book elsewhere. This happened in 2018 when American restricted carry-on bags. Customers started choosing United and Delta instead since they could see the difference when booking via online travel agencies.
Now, the carriers are essentially aligned in their benefits (or lack thereof), so their flights show up in all search results for these no-frill passengers. Let's go through a quick comparison to help you decide:
If you're concerned about selecting seats, both American and United auto-assign seats at check-in, while Delta allows you to choose your own seat at that time.
If you're concerned about elite qualifying credit, Delta awards this credit, while American and United do not.
All carriers offer award miles.
None of the carriers offer ticket changes, but American allows you to upgrade with your AAdvantage status.
In the end, there's really no "better" Basic Economy experience, so if you're in for the no-frills ticket, purchase the best one for your needs.
Final Thoughts
Don't let American's Basic Economy experience scare you off — it certainly is a great product for those who don't care about perks or amenities and are truly price-conscious. If this sounds like you, a Basic Economy fare will more than likely suit you fine.
However, if you're a business person, traveling in a corporate environment, or value additional extras like upgrades and seat selection, avoid the Basic Economy experience in favor of regular economy.