United Airlines Carry-On Bag Sizes, Rules and Restrictions
If you plan to bring a carry-on bag and personal item with you on a United Airlines flight, make sure you know the rules and restrictions ahead of time so you can plan accordingly.
Travelers already face plenty of hassles at the airport, from long check-in lines to even longer security lines (if you don't have TSA Precheck) to tiny cramped economy seats.
Today we're going to discuss how you can avoid some of these obstacles when flying United with a carry-on and personal item.
United Carry-on and Personal Item Requirements
Both carry-on bags and personal items are required to meet certain standards that are set by United. You may bring 1 of each with you when flying United (excluding Basic Economy on a non-transatlantic flight), but the requirements for each are different.
Carry-on Dimensions
When flying United, carry-on bags can be no larger than 9 inches X 14 inches X 22 inches (22 cm X 35 cm X 56 cm). These dimensions include wheels and handles, so make sure you include those in your measurements.
If your carry-on bag does not meet the dimension requirements, you could be forced to check your bag and pay United's standard checked baggage fee.
Hot Tip: Check out the best ways to avoid checked baggage fees on United.
Unlike checked baggage, carry-ons don't have to meet certain weight requirements to avoid an extra fee.
Personal Item Dimensions
Personal items must fit under the seat in front of you. Common items include backpacks, laptop bags, and purses. These bags can be no larger than 9 inches X 10 inches X 17 inches (22 cm X 25 cm X 43 cm).
Like carry-on bags, personal items do not have to meet a weight requirement.
Additional Items
In addition to a carry-on bag and a personal item, passengers are permitted to bring some other items on board. These items include:
Additional Items Allowed on Board
Jacket
Assistive devices (cane, crutches, etc.)
Umbrella
FAA-approved child restraint system or safety seat
Food from the airport
Diaper bag
Merchandise from the airport
Breast pump
Reading material
Pet carrier (service charges will apply)
Musical instruments such as guitars, violins, and other small instruments are permitted on board if the instrument is packed in a hard case and space is available in an overhead compartment or under the seat in front of you.
If you choose to bring a musical instrument with you, it will count as part of your carry-on allowance, so keep that in mind when you're packing.
What Items Are Allowed in Your Carry-on Bag?
The items allowed in your carry-on baggage are regulated by the Transportation Security Administration (TSA). The TSA allows liquids, gels, and aerosols to be packed in your carry-on bag, provided they are in containers no larger than 3.4 ounces (100 mL).
United Express Flights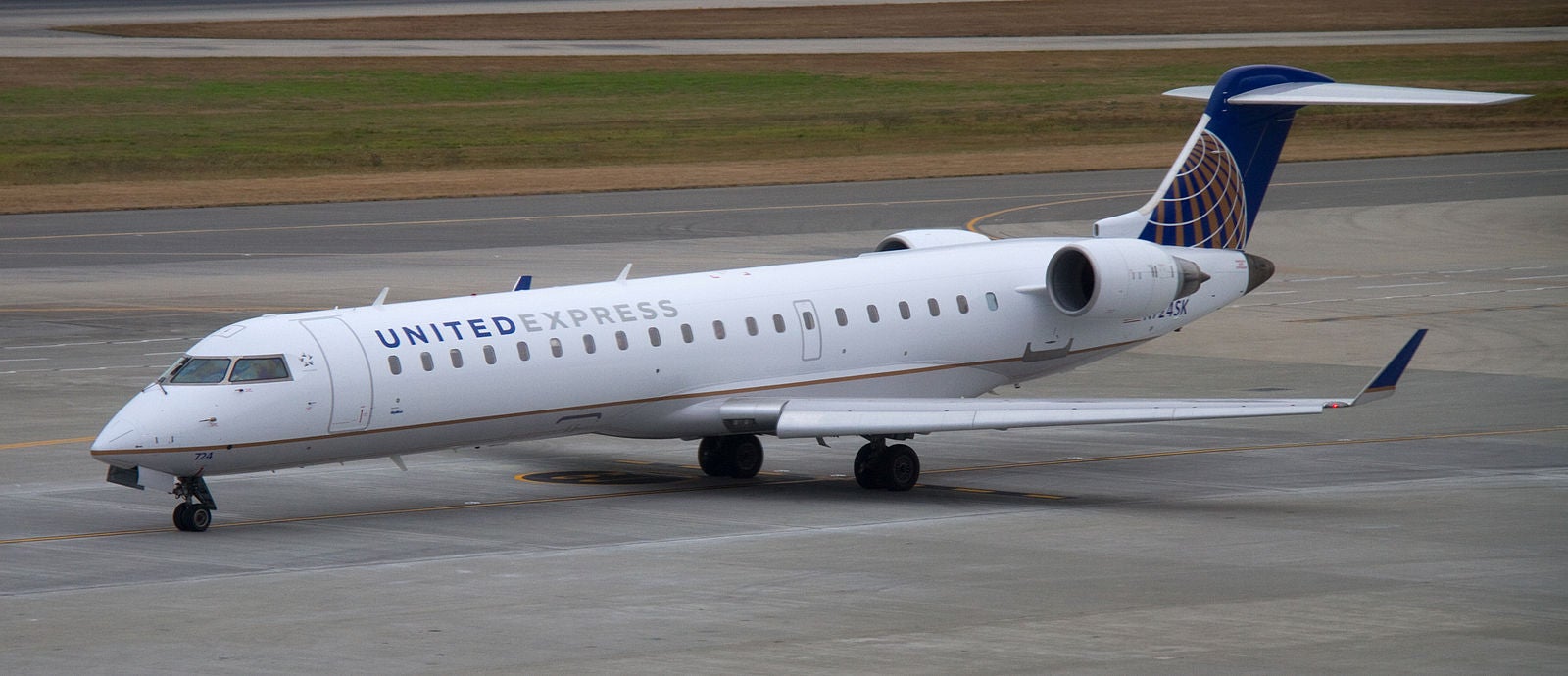 United Express flights are operated by regional airline partners that use smaller aircraft. As such, the overhead compartments have less space than on United's mainline aircraft. Roller bags and larger carry-on bags often won't fit in these overhead bins at all.
If this is the case, you may need to gate check your carry-on before boarding. These gate-checked bags will not be sent to the baggage claim area when exiting the airport. Instead, they will be brought to you just outside the aircraft, often in the jet bridge.
If you are forced to gate check your carry-on bag, any personal vaporizers and e-cigarettes should be removed and stored in your personal item onboard.
You will not incur a fee to gate check your carry-on in this case.
United Basic Economy Carry-on Rules
United has introduced basic economy fares to compete with low-cost carriers such as Spirit Airlines and Frontier Airlines.
during the booking process, you can pay extra for an economy ticket that comes with a few more benefits. If you choose to keep your basic economy ticket, you won't be allowed to bring a carry-on bag on board at all (unless you're flying on a Transatlantic route).
You will still have the option to bring a personal item with you that can be stored under the seat in front of you, but that's it.
If you go to the gate with a carry-on and you're sitting in basic economy, you will be required to check the bag and pay the applicable checked bag fees plus a $25 gate handling fee.
Avoiding Basic Economy Carry-on Fees
If you are stuck with a basic economy ticket, there are 2 ways to ensure you can bring a full-size carry-on bag on board with you. One is easy, while the other is expensive and time-consuming.
If you pay for your basic economy ticket using a co-branded United credit card, you can bring your carry-on bag with you at no extra charge.
CREDIT CARD
BENEFITS & INFO
UnitedSM Explorer Card


Learn More

(at Chase's secure site)

Earn 40,000 bonus miles after you spend $2,000 on purchases in the first 3 months your account is open.
Earn 2 miles per $1 spent at restaurants, on hotel stays, and on United purchases
Free first checked bag — save up to $140 per roundtrip
2 United Club one-time passes each anniversary
Annual Fee: $0 Intro for the first year, then $95

UnitedSM Business Card


Apply Now

(at Chase's secure site)

Earn 60,000 bonus miles after $3,000 in purchases within the first 3 months of account opening
Earn a 5,000-mile better-together anniversary bonus when you have the United Business Card and a personal United credit card.
Earn 2 miles per $1 spent on United purchases, at gas stations, office supply stores, restaurants - including eligible delivery services, and on local transit and commuting. Plus earn 1 mile per $1 spent on all other purchases.
Receive $100 United travel credit after qualifying purchases, 25% back on United in-flight purchases, priority boarding, and a free checked bag
Annual Fee: $0 Intro for the first year, then $99

United ClubSM Infinite Card Card


Apply Now

(at Chase's secure site)

Earn 4 miles per $1 spent on United purchases including tickets, Economy Plus, inflight food, beverages and Wi-Fi, and other United charges.
Earn 2 miles per $1 spent on all other travel and on dining at restaurants and eligible delivery services including GrubHub, Caviar, Seamless, and DoorDash. Earn 1 mile per $1 on all over purchases.
Up to $100 Global Entry or TSA PreCheckTM fee credit.
25% back as a statement credit on purchases of food, beverages, and Wi-Fi onboard United-operated flights when using your card.
Annual Fee: $0 intro annual fee, then $525
In addition to our two favorite cards above, a free carry-on bag is also included with these credit cards:
MileagePlus Club Card
MileagePlus Club Business Card
Presidential PlusSM Card
Presidential Plus Business Card
MileagePlus Awards Card
Ixe United Universe Card
Ixe United Card
The standard carry-on bag benefit also extends to your travel companions if they are traveling on the same reservation (and space permits).
The second way to avoid a fee is to have elite status with United or Star Alliance. If you hold MileagePlus Premier Silver, Premier Gold, Premier Platinum, Premier 1K, or are a Star Alliance™ Gold member, you are permitted to bring a standard carry-on bag.
Earning status requires a high level of spending, so this is mostly applicable to business travelers who work for companies that pay for their travel.
Hot Tip: Use a United MileagePlus credit card from Chase if you have to purchase basic economy tickets so you can bring a carry-on bag with you.
How to Handle Basic Economy Bag Issues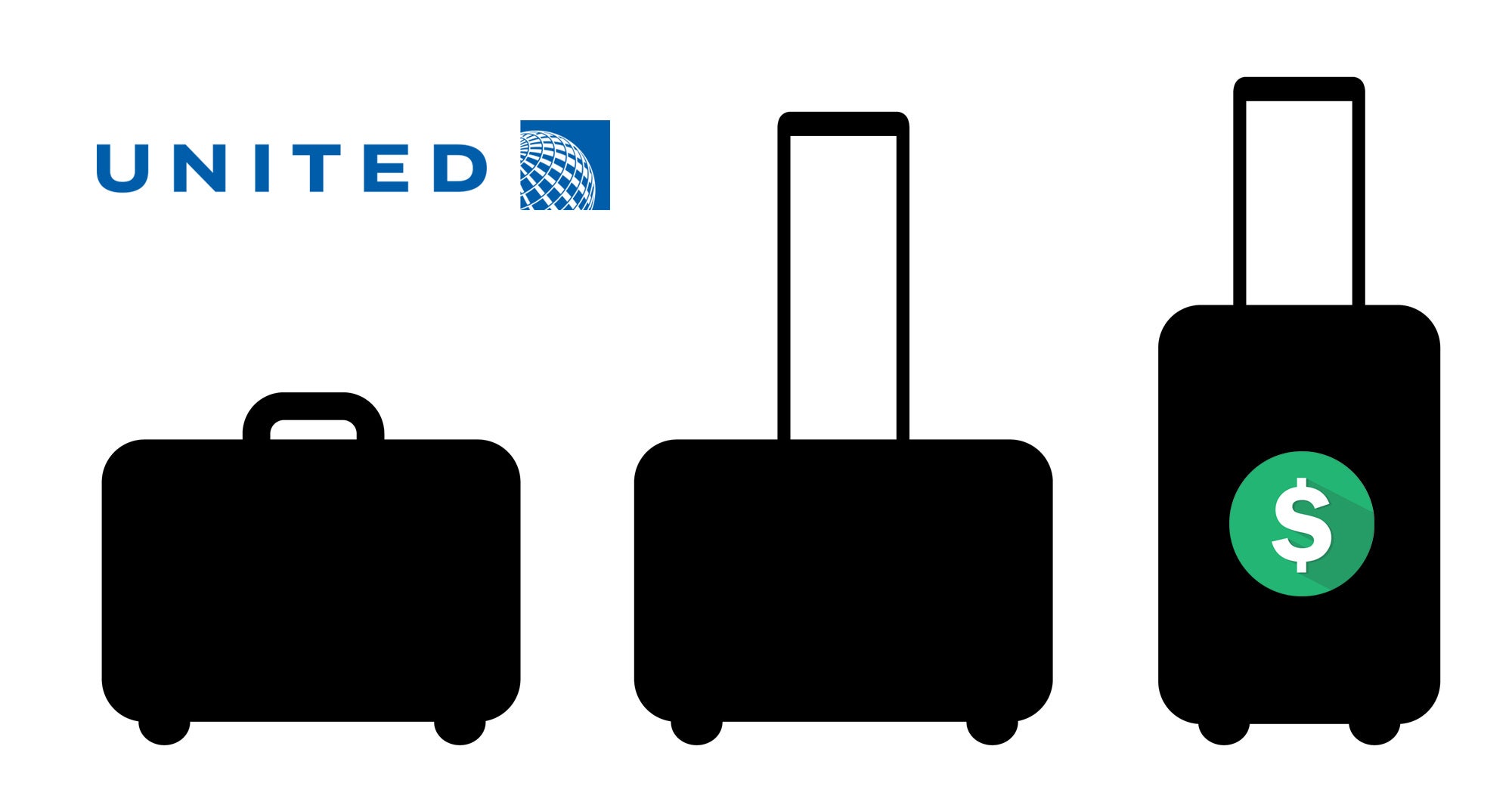 So if you don't hold elite status with United, what's the best way to ensure you can bring your carry-on bag for free?
First, if you really want a carry-on with you so you can jet off the plane to a meeting or catch a train, use one of the co-branded United cards to book your flight. This is the easiest way to ensure you can bring both your personal item and carry-on on board even with a basic economy ticket.
If you don't have one of the co-branded cards, don't try to sneak a carry-on bag onboard—it's unlikely to work. When they stop you, you'll be on the hook for the standard checked bag fee of $30 plus the additional $25 gate handling fee.
Rather than going through this hassle and paying double, plan ahead by putting everything you can in a checked bag and only keeping essentials such as medicines in your personal item. By checking the bag at the United check-in desk, you'll still have to cover the checked bag fee—but it will be half of what you'd pay at the gate.
Finally, if you're going to check a bag, pay for it with a credit card where you can use your points to pay for charges on your statement!
Capital One® VentureOne® Rewards Credit Card - This no annual fee card comes with a 20,000 bonus mile offer after spending $1,000 in the first 3 months. When you use your card for travel purchases (e.g. baggage fees), use your miles to pay off all, or part of, your statement balance! We've highlighted 30+ benefits of the card.
Capital One® Venture® Rewards Credit Card - The "big brother" card to the VentureOne with a 100,000 bonus miles offer when you spend $20,000 on purchases in the first 12 months from account opening, or still earn 50,000 miles if you spend $3,000 on purchases in the first 3 months. This card is full of benefits and perks and you can redeem your miles on travel or transfer your miles to over 10+ travel loyalty programs.
While you might have a carry-on bag, using one of these cards can offset any extra cost you will be charged. Keep in mind that to use an American Express airline fee credit on checked bags with United, you must designate United as your selected airline before making the purchase.
Final Thoughts
If you book a ticket in first class, business class, or economy class, carry-on baggage and personal items won't be much of a worry for you. Just make sure they fit the required dimensions.
It's when you're stuck in basic economy that you need to consider your needs. You're likely going to have to check a bag if you want to bring anything more than a personal item, so planning ahead is advisable. Fortunately, you can use any of several credit cards to offset the checked baggage fees.
This is just another hassle to flying basic economy, but with the right information in hand you can at least make the best of a frustrating situation.