The San Francisco (SFO) American Express Centurion Lounge – Location, Hours, Amenities, and More
It's amazing to see what American Express has done with its Centurion Lounges.
These well-appointed and comfortable airport lounges started in the Dallas Fort Worth International Airport (DFW) and have since expanded to many other lounges across the US and even abroad in Hong Kong with more sprouting up every year.
This post will explore the Centurion Lounge at SFO and give you all the important details like what to expect, how to access, what amenities are inside, and how to make the most of your visit.
Location of the Amex Centurion Lounge at SFO
The Centurion Lounge at SFO is located in Terminal 3, adjacent from Gate F1/F2. Take the elevator or stairs upstairs to the lounge entry. You can access the lounge after security from Terminal 3 at SFO, as well as from Terminal G. Remember that not all terminals are connected post-security when visiting SFO.
If you are departing from another terminal, you can still enter Terminal 3 through security, pending TSA agent approval. Agents may let you know you're entering security for the wrong terminal, so just politely acknowledge that fact and let them know why you'd like to go through. If asked, be honest and say you're going to the Centurion Lounge.
If you are departing from another terminal, keep in mind that you'll need to exit Terminal 3, and reenter security through your departing terminal once you've visited the lounge. Ensure that you allow enough time to exit security, walk or AirTrain to your terminal, reenter security, and get to your gate.
As a reminder, here are the locations of all the American Express Centurion Lounges around the world:
Hours of Operation
The Centurion Lounge at SFO is open from 5 a.m. until 11 p.m. every day. Peak hours generally run 7-10 a.m., then again from 4 p.m.-7 p.m. as these times tend to be when the majority of business travelers fly.
Access Policy
In order to access the Centurion lounge at SFO, all guests must be a cardmember of one of the following American Express cards:
The Centurion Card® from American Express
As a cardholder of one of these cards, access to the Centurion Lounge is complimentary. To gain access, cardmembers need to present the following to a Centurion agent upon arrival at the lounge:
A valid Platinum, Business Platinum, or Centurion card
A boarding pass that shows a confirmed same-day travel reservation on any airline.

 

A government-issued I.D.
Keep in mind, travelers with boarding passes without a confirmed seat assignment for non-rev travel or travelers whose boarding pass doesn't show a confirmed flight may be denied entry into the lounge.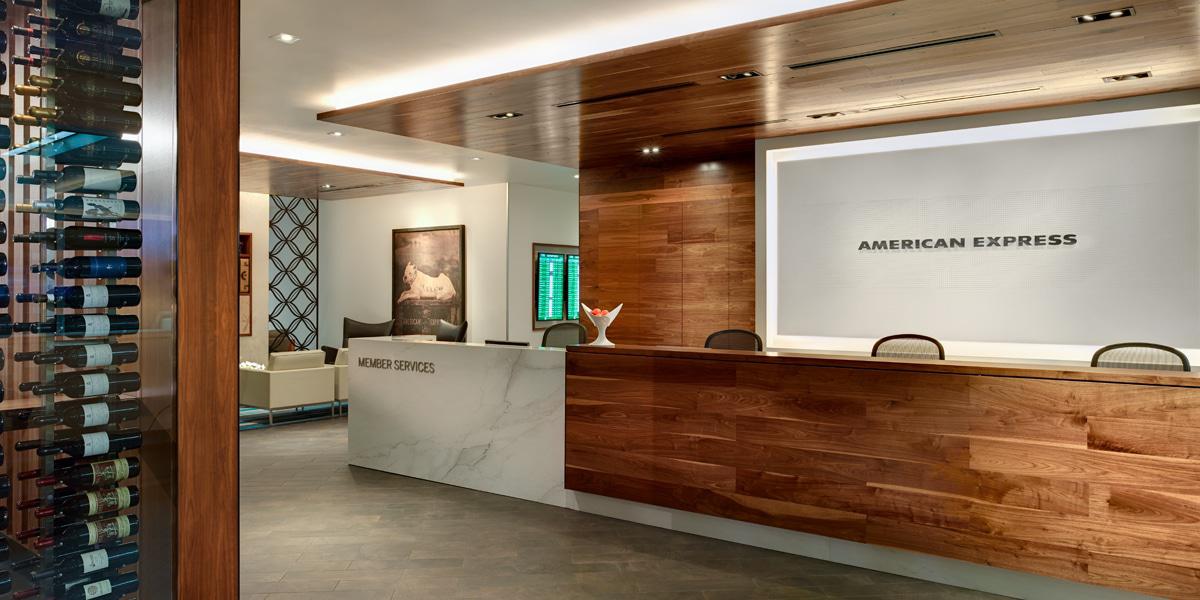 Centurion Guest Policy
Each cardmember is allowed to bring two travel companions or guests with them into the Centurion Lounge. In addition, children under the age of two are admitted free of charge. Children must be accompanied by a cardholder and a parent or guardian capable of producing either a proof-of-age or a "lap infant" boarding pass.
Additional Guests
In the event that you are bringing more than your two allotted guests with you to the Centurion Lounge at SFO, not a problem; you can buy a day pass for each additional individual at $50 per pass. A day pass is valid to all Centurion Lounges provided the cardmember is also in attendance.
Lastly, a day pass is only valid for the day the pass was issued.
Important Centurion Lounge Access Rules
There are 2 rules to remember regarding access to the Centurion Lounge and these rules apply to cardholders and guests:
Rule #1 – Three Hour Rule:
According to American Express, "depending on capacity, we may limit lounge access to within 3 hours of boarding pass departure time to ensure that all guests have an exceptional experience".
This means that you can be denied access to the lounge until it's within 3 hours of your departure time. While the policy seems to indicate that it's based on capacity, it appears to be enforced more times than not especially given how busy SFO is all times of the day. For this reason, don't plan on getting to the lounge more than 3 hours prior to your flight.
Rule #2 – Departure & Connecting Flights Only Rule:
You must have a departing flight or connecting flight out of SFO to access the lounge. Unfortunately, this means that if you are arriving into SFO without an outbound flight that day, you will not be granted access.
Bottom Line: You must be flying out of SFO on the day of the lounge visit, and you should limit your lounge time to 3 hours prior to your flight to ensure access to the Centurion Lounge at SFO. 
Food and Drinks
Food
The Centurion Lounge at SFO offers spectacular dining options, especially for an airport lounge. It's first class all the way. For starters, breakfast is served from 6 a.m. to 11 a.m. and includes such offerings as the Hippie Breakfast Bowl and everything from baked eggs to quiche, hash, muffins, and granola bars as well as bread, cereals, fresh fruit, and yogurt.
Lunch and dinner are served from 11 a.m. to 10:45 p.m. and includes items like miso soup, salads, grilled chicken, and braised tofu for vegetarian guests. The menu is from the brilliant mind of Chef Daniel Patterson, a James Beard Award winner.
What's so special about Daniel Patterson you might ask? He is the Oakland-based restaurateur/chef who started Alta Group, which includes the wildly popular San Francisco hotspot, Besharam, located in the Minnesota Street Project of Dogpatch. Besharam offers the global flavors of India just as nicely as his other restaurant, Kaya, does Jamaican.
In Oakland, he also has a Palestinian restaurant called Dyafa as well as the Plum Cocktail Bar. In Los Angeles, he has the Adams Coffee Shop and Alta Adams. If all that isn't enough, he also oversees his award-winning and highly acclaimed Bay Area restaurants, Coi and Aster. Patterson has been redefining California cuisine since the opening of Coi in 2006 and is now bringing some all-new voices to every local culinary conversation.
Patterson isn't lacking in culinary awards either. They include a James Beard award for Best Chef: West and a Food & Wine's Best New Chef award. He also co-founded "The Cooking Project", which is a non-profit that teaches cooking skills to both adults and young people.
He's quite the accomplished author with three cookbooks under his belt, including an August 2017 release called "The Art of Flavor" that was co-authored with the well-known perfumer, Mandy Aftel. There really aren't many airport lounges in the entire world that can boast such talent behind their culinary offerings for their lucky guests.
With all of that talent behind your food at the lounge, here is a sample of the breakfast menu items:
Hippie breakfast bowl
Lemon Verbena corn cakes
Baked eggs
Chard and pine nut quiche
Chicken sausage farro hash
Ginger muffins
S'more granola bars
Lunch and dinner offerings:
Eggplant miso soup
Little gem lettuce
Zucchini and burrata salad
Grilled chicken
Braised tofu
Roasted cauliflower
Strawberry rhubarb buckle
Just want a quick bite while you wait? In addition to all of those delicious meals and pleasing drink fare, an assortment of snacks, including cookies, fresh fruit, popcorn, and sandwiches are also available in the Centurion Lounge.
Bottom Line: Breakfast is available beginning at 6 a.m., with lunch and dinner running from 11 a.m. until 10:45 p.m. The food is plentiful and filling, so if you're hungry, the Centurion Lounge is a great place to grab a hearty, but healthy meal.
Drinks
Not to be outdone by a James Beard award-winning chef, the drink menu is brought to you by one of the top mixologists nationwide, Jim Meehan. Cocktails are served every day from 10:30 a.m. until 10:30 p.m. and a few of these before taking off could make even the longest flight more enjoyable.
Here's a brief look at some of the drinks offered:
Pisco Punch – Campo de Encanto Pisco, Small Hands Foods Pineapple Gum, lime juice, Red Wine, Angostura bitters, orange
Hebridean Hello – Bruichladdich Scottish Barley, Suze, lemon juice, Bon Maman Apricot preserves, Angostura bitters
Gin Basil Fizz – St. George Botanivore gin, lime juice, Aqua Perfecta Basil Eau de Vie, sparkling wine
Hot Tip: Try the Gin Basil Fizz; it's a favorite.
Prefer a glass of fine wine? Well, during your visit to the Centurion Lounge at SFO, you can relax while exploring some of the best Napa Valley wines handpicked by Anthony Giglio, who is a world-renowned authority on the subject of fine wines.
There's an enormous wine wall where you can walk up with a glass, hit a button, and have a pour within just a few seconds; it's functional just as it is fun. Seriously, this wine wall is truly a work of art. To use it, you'll ask the bartender for a card that will allow you 5 servings from the wall. You'll get a card or receipt, go to the wall, and scan the card for the wine to pour out. It's so nifty, you'll wish you had one of those at home.
Note: The wine tasting area is currently closed due to COVID-19.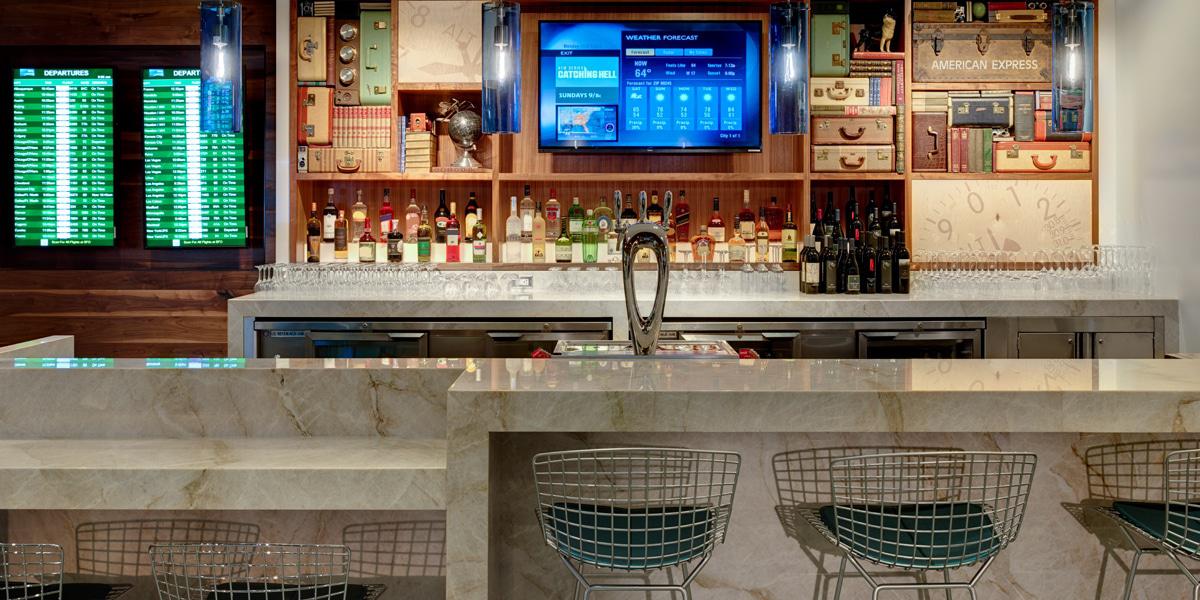 Amenities
Here's what you'll find at the Centurion Lounge at SFO according to American Express:
Fresh seasonal fare
Premium bar
Member services desk
Shower suite
Large, flat-screen television
Magazines and newspapers
Open kitchen
Wine-tasting area
Family room
Semi-private workspaces
High-speed Wi-Fi
Computer bar
Upon your arrival, you'll immediately notice that everything is a little bit different in San Francisco than anywhere else in the world. It is, after all, wine country so you're going to be pleased with some of the unexpected touches, including an area devoted to Napa Valley wine-tasting.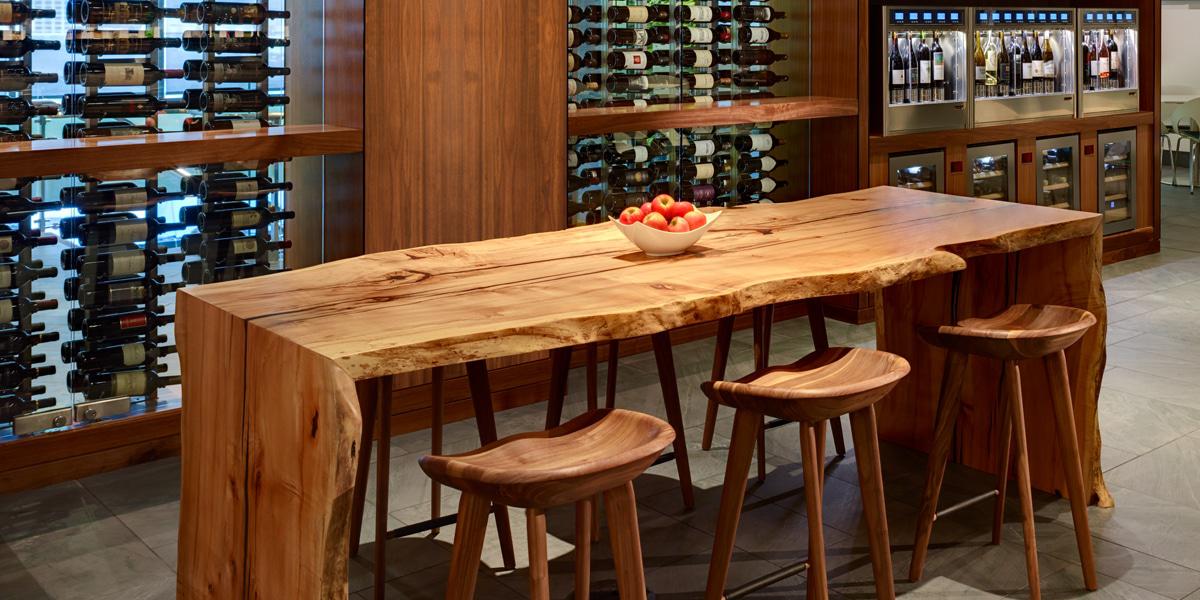 Workspaces & Seating
The Centurion Lounge at SFO offers complimentary high-speed Wi-Fi, a computer bar, and semi-private workspaces that can really prove productive if you're on a business trip or just happen to be a workaholic.
Seating in this lounge is plentiful, but due to the popularity of the airport, the lounge can get extremely crowded, no matter the time of day. The restrictions on not entering after a flight, or earlier than three hours before a flight should help reduce this crowding, but the SFO lounge is one of the worst for being overly crowded.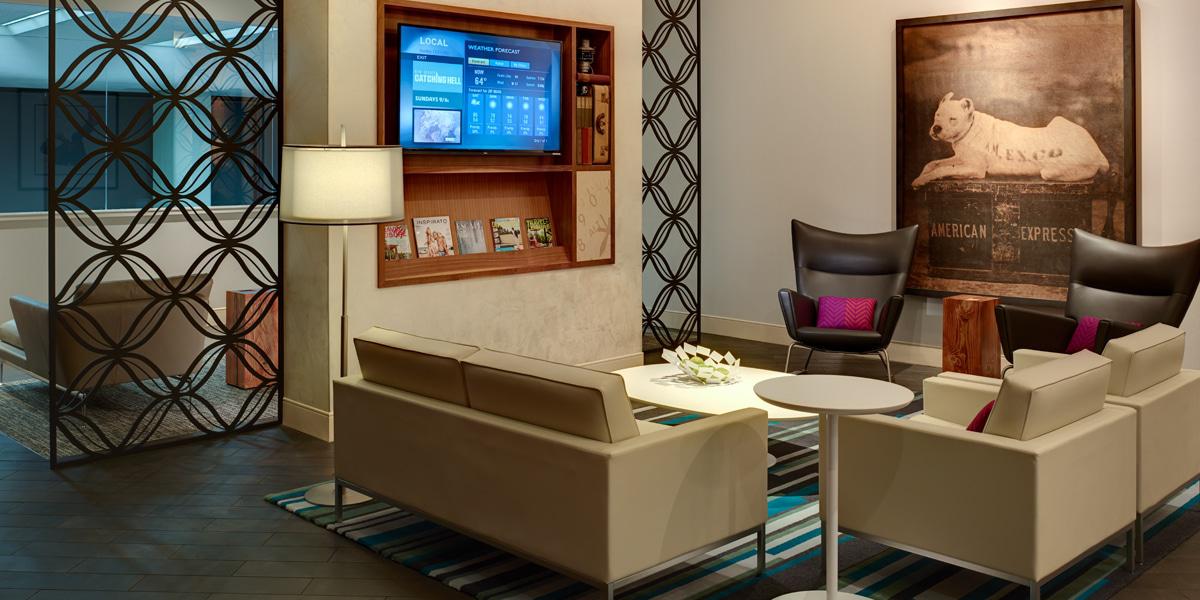 Shower Suite
In addition, there's a shower suite that is an oasis when you need to freshen up a bit. This is especially welcoming if you're waiting for a long-haul connecting flight. To reserve the shower facilities, you need to make a reservation at the front desk.
Depending on the wait, you may be placed on a waiting list and as folks finish up and the shower rooms are cleaned, you'll be called. You're asked not to take longer than a half hour in the shower rooms, so the wait doesn't seem to take too long.
Hot Tip: If you fancy a shower during your stay, make an appointment as soon as you enter the lounge so you can get on the waitlist if there is one.
Important Pet Guidelines
Your furry family members are always welcome when you visit a Centurion Lounge but they should stay in their carriers and/or by your side at all times. They're not allowed on any of the furniture in the lounge. The lounge also requests that you don't bring them into any food service areas, but hopefully, that's pretty common sense.
Pets be must be well-behaved, nice, and clean and under your complete control at all times. Any furry friends who growl or bark repeatedly, jump on other guests or bite them, or exhibit any other type of disruptive behavior will have to be returned to his or her pet carrier or get removed from the lounge area. The lounge also reserves the right to request that any pet owner remove their animal from the lounge.
Hot Tip: For other options, check out these additional lounges at SFO airport.
Final Thoughts
If you travel a lot, you know how important a comfortable well-appointed airport lounge can be, whether at the start of your trip or during a long layover.
Don't let the fact that this lounge is located in another terminal past security fool you; it can be accessed by anyone at the airport, and it isn't too much of a hassle. If you've got a long enough layover, it is worth the trip.
The American Express Centurion Lounge at SFO is one airport lounge that offers some of the best food, wine, and drinks available around for improving your departure or layover. You're sure to love everything from the wine-tasting and cocktail selection to the local food and free Wi-Fi.
The lounge is also expected to undergo a renovation to increase space to 16,000 square feet.