How to Cancel a Credit Card, and Is It Bad for Your Credit Score?
If you're in the process of simplifying your finances, then you may be wondering how to cancel a credit card that you don't use. Likewise, if you do cut ties with one (or more) of your credit cards, you might be curious whether doing so is bad for your credit score.
The good news is that you can easily cancel unwanted credit cards (without harmful long-term effects), as long as you go about it the right way.
Why Should You Cancel a Credit Card?
So, when does it make sense to cancel a credit card? One reason to part ways is if you aren't using it. In that case, there is no need to hang on to the card, even for emergency purposes.
If you're prone to impulse purchases, having an extra credit card on hand could become very tempting (especially if it carries an ample line of credit). In this situation, canceling the card could end up saving you a great deal of money.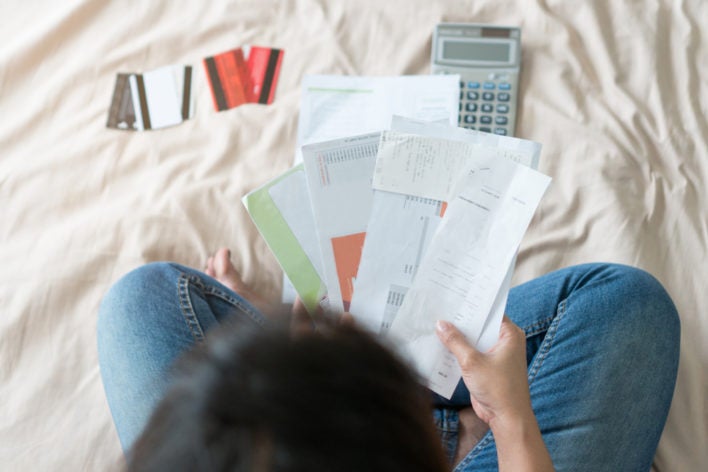 It could also be that your credit card (or cards) are costing you money to keep, like those that charge an annual fee. If you're benefiting from rewards — such as travel or points — it might still be worth it to hang on to the card(s). But if you're no longer using the rewards, it could make more sense to cancel it and save yourself the fee.
Is It Bad to Close a Credit Card?
Contrary to popular belief, canceling a credit card isn't necessarily a bad thing. But in some cases, doing so could have a negative impact on your credit score — particularly if you've had the card for a long time. So be cautious before you move forward with a credit card cancellation.
The Pros and Cons of Canceling a Credit Card
Given the many potential positives and negatives, you might be having an internal conversation with yourself about whether you should cancel an unwanted or unneeded credit card at all.
On the plus side, you would have one less financial vehicle to worry about. With the vast increase in identity theft crimes today, this also means one less piece of financial information for a criminal to get hold of — especially if its a card you aren't using or monitoring regularly.
If the credit card company is charging you an annual fee, you could also save a bit of money by canceling a card you don't use.
On the flip side, many people keep an extra credit card in place to use for emergencies, such as unexpected car or home repairs. A credit card can provide a method of paying these costs quickly without having to dip into your savings.
In addition, many credit cards today offer points or other types of rewards. These can be used for travel and hotel stays, along with a whole host of other items. So canceling a credit card may mean that you would forgo these perks.
Hot Tip: If you're not quite sure, call your credit card company to see if they'll extend a retention offer. That could make it worthwhile to keep your card.
Will Canceling a Credit Card Hurt My Credit Score?
There is also the possibility of your credit score dropping if you cancel a credit card — especially one that you've had for many years.
How Canceling a Credit Score Can Harm Your Credit Score
Canceling a credit card may harm your credit score because one of the key factors in determining your credit score is your credit history. So, by canceling a card that you've owned for many years, you could end up shortening your overall credit history, which in turn may knock some points off your score.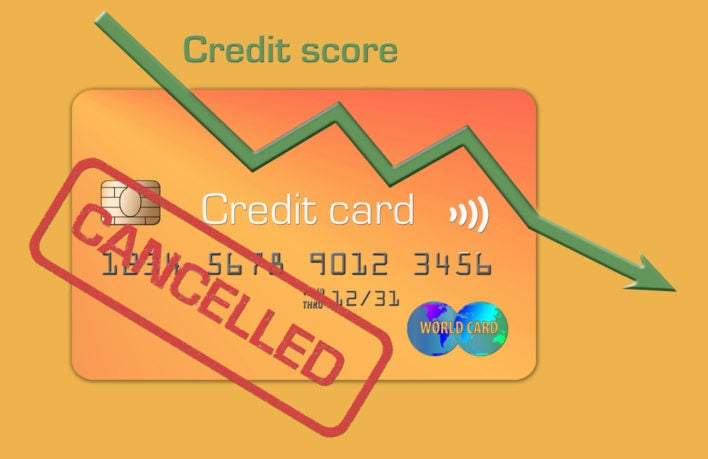 Your credit score may also drop if you cancel a card when you have high balances on other credit cards.
One of the other criteria in determining your credit score is the amount of credit you have in use as compared to your total available credit. When you cancel a credit card, the amount of your total credit available will drop…and it could decrease significantly if you had a high credit limit on the card you canceled
For example, if you have 5 credit cards each with a $10,000 credit limit, your total available credit would be $50,000. If you cancel 1 card, your credit limit will fall by 20% ($10,000/$50,000 = 20%).
If you have a total balance due on these cards of $20,000, you will have 40% of your available credit in use before you cancel ($20,000 balance/$50,000 total credit available = 40%).
But if you cancel one of the cards, you will be left with only $40,000 of available credit. So now your credit in use will rise to 50% ($20,000 balance/$40,000 available credit = 50%).
But don't fret! We have the answers below on how to cancel a card without hurting your score.
Hot Tip: Even if you have balances due, there are strategies you can use to cancel a credit card without it negatively affecting your credit score.
The Right Way to Cancel a Credit Card
Just like anything else, there is a right and wrong way to go about canceling a credit card. In this case, following the proper steps can help ensure that the process goes as planned.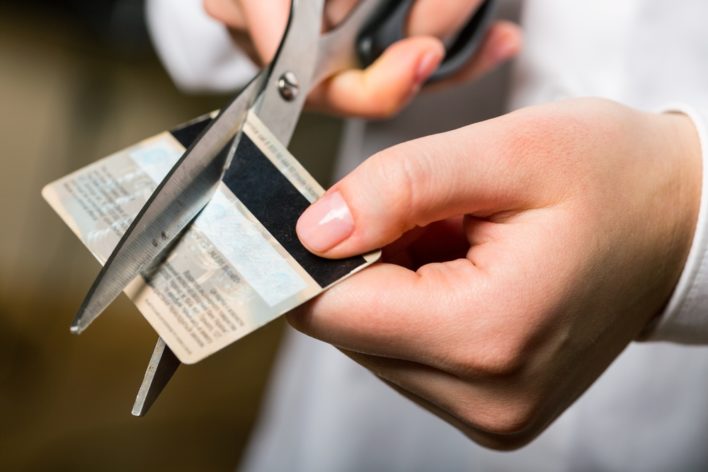 Steps to Follow for Canceling Credit Cards (including the best time to cancel)
Before you give yourself the green light for canceling your credit card, consider whether doing so could hinder you financially in other areas.
For instance, if you are planning to purchase a new car, home, or another item that will require obtaining a loan, you may want to wait until afterward to cancel your credit card. That way, if your credit score does get dinged because of the cancellation, it won't affect your purchase.
Once you've decided to go ahead with canceling your credit card, there are several key steps that you should follow.
First, if you have a balance on the credit card you plan to cancel, make sure that you pay it off. If you are unable to pay off the balance in full, you could consider transferring some or all of the amount to another credit card.
If you go this route, make sure you continue making payments on that balance. And be mindful of if or when the interest rate on that other card will go up.
For example, many credit cards will offer a 0% introductory interest rate — but this low rate won't last forever. So, before the interest rate goes back up into double digits, make sure you have a plan in place for reducing or eliminating the balance due.
Next, contact your credit card issuer directly to cancel your card. When you do, confirm with them that there is no balance on the card.
Major Credit Card Issuers and Phone Numbers
Credit Card Issuer
Customer Service Phone #
VISA
800-847-2911
MasterCard
800-627-8372 / 800-MASTERCARD
Chase
800-432-3117
American Express
336-393-1111
*Note: If you have a corporate American Express credit card, you may need to contact your employer's program administrator.
Discover
800-347-2683 / 800-DISCOVER
Citibank
800-950-5114
Capital One
800-227-4825 / 800-CAPITAL
If you have any rewards or points on a credit card you plan to cancel, be sure that you cash out or use them before the cancellation takes place. Otherwise, you'll likely lose these rewards for good.
When speaking with the credit card company's representative, it's possible that they will offer you something — such as a lower rate of interest — if you don't cancel your card. In some cases, this "counter offer" may be enough for you to change your mind.
Once you have spoken with the credit card company, it is recommended that you confirm the cancellation of your card in writing. You can do this by sending the card issuer a letter that includes the following:
Your name
Address
Credit card number
Date you officially canceled the card
For good measure, you may also want to send proof in writing that the balance on your canceled card is at $0. Make sure to send this letter via certified mail so you have verification of when the letter is received by the credit card company.
You should also be sure to check your credit report after you've canceled a card. This lets you verify that the card is not still listed as being open; it's also a good way to make sure all the other information on your credit report is up to date.
If you do find any incorrect information or mistakes on your credit report, be sure to notify the creditor and the credit card company right away. Getting incorrect information removed can help keep your credit score in check.
What NOT to Do
If you've decided to go ahead and cancel a credit card, there are also some things you should never do. For example, don't just throw away your card, even if it has been canceled. Identity thieves are smart; if they find a credit card still intact, they could reopen the account and start using it. This will obviously reflect badly on your credit score and pose a security risk.
Hot Tip: If you just want to cancel a credit card because you have too many, carefully consider which one it should be. For instance, canceling the card you've had the longest could impact your credit history more than choosing one you just opened.
Can You Remove a Canceled Card From Your Credit Report?
After you have canceled a credit card, it will be removed from your credit report. But this doesn't typically happen right away.
Will a Closed Account Be Automatically Deleted?
Closed credit card accounts (as well as other accounts) will be automatically deleted from your credit report after a certain period of time has elapsed. For instance, a closed account with late payments in its history will be deleted 7 years from the original delinquency date of the account.
If your closed credit card account has no negative information in its history, it will be deleted 10 years from the date it was closed. Since accounts that are in good standing will remain on your credit report longer, their positive history can actually help your credit score.
How to Remove Credit Cards From Your Credit Report
In some cases, you may be able to remove an old credit card from your credit report. This can be beneficial for you if the account has any delinquencies on it and it is negatively affecting your credit score.
The first step in this process is to verify how long the account has been on your credit report. While negative account information is supposed to be automatically deleted after 7 years, this doesn't always happen the way it's supposed to.
If you've checked all 3 of your credit reports (from Experian, Equifax, and TransUnion) and the information is still showing up, send a letter to the credit bureaus requesting that the account(s) be removed.
Sometimes, a collection agency will purchase old delinquent account balances — often, data from the agency will also show up on your credit report, even though it's the same debt. If this is the case, provide proof to the credit bureau that the debt is being listed more than once on your credit report. It can also be beneficial if you send a letter to the reporting creditor.
If none of these actions work, the next step may be to contact an attorney; there are legal professionals who specialize in consumer rights. Often, when a creditor or collection agency receives a letter from an attorney, it is enough for them to remove the data from your credit report.
What to Do After Your Credit Card Has Been Canceled
Once you have canceled a credit card, make sure to destroy it. Many paper shredders today can shred heavier items like credit and debit cards (though don't try to shred any of the newer cards that are made of metal yourself). Shredding a card can help ensure that it won't get into the wrong hands.
If you had the credit card linked to other accounts — for instance, as your payment method for purchases on Amazon — then you need to make sure to update your information. Otherwise, your payment method will be obsolete.
You should also continue to check your credit report to make sure the card shows up as closed, and that it's eventually removed from your credit report altogether.
What to Do Instead of Canceling a Card
If you are still on the fence about whether or not to cancel a credit card, there are some potential options for you.
One is to simply keep the card but not use it for making purchases. Here again, if you have owned the card for a long period of time, hanging on to it could actually be beneficial for your credit history.
You could even go so far as to put the card in a bank safety deposit box. That way it will still be available for emergencies, but not for your everyday or impulse spending.
If you do decide to go this route, make sure the card isn't one with an annual fee on it — especially since you won't likely be benefiting from any perks or rewards that it offers. Otherwise, it could be costing you $50 or $100 (or more) each year just to keep a credit card in your sock drawer!
Something else to keep in mind is that, typically, you are required to make at least 1 transaction per year on a credit card for it to remain open. So if you truly want to keep a card for emergency purposes, make sure that you're aware of this or any similar requirements.
Considerations Before Moving Forward With a Credit Card Cancellation
Canceling a credit card can be a big decision, especially if you've had the card for many years. With that in mind, there are some important factors to consider before you move forward with a credit card cancellation. These include:
Knowing how you will pay off or transfer the card's balance
Determining how (or if) canceling the card will impact your debt to credit ratio
Having another plan in place for potential emergency expenses
Considering whether the cancellation will reduce your credit score
Final Thoughts
There are definitely both positives and negatives to canceling a credit card. Before you do, make sure that you are getting rid of the card for the right reasons, and that it won't come back to haunt you by way of a lower credit score.
By following the steps to properly cancel a credit card, you can still maintain a solid credit score and move forward with your finances intact.