Visa vs. Amex vs. Mastercard [Differences, Acceptance & Perks]
You probably factor in a number of things when picking your next credit card, including the card's travel rewards, cash-back potential, interest rates, and more. But looking at a card's particular processing network? It's probably not even on your radar! But which network your card is backed by — Visa, Mastercard, or American Express — has implications for where and how you can use it.
These 3 credit card processors oversee every part of the purchase process, including approving or declining a transaction, protecting you from fraud, providing travel benefits or other protections, and finally, making sure that money flows to and from the correct accounts behind the scenes. Some networks are more widely accepted, some offer better customer service, and others might be the best choice if you have less than stellar credit.
Here's everything you need to know about these 3 credit card processors and the main differences between them.
Quick Facts Comparing Visa, MasterCard & American Express
Visa
Mastercard
American Express
Domestic Acceptance
10.7 million
10.7 million
10.6 million
International Acceptance
200+ countries and territories
210+ countries and territories
160+ countries and territories
Cards in Circulation in the U.S. in 2019
333.1 million
243 million
54.7 million
Purchase Volume (Debit/Credit) in 2019
8.945 trillion (4.890 credit, 4.055 debit)
4.767 trillion (3.015 credit, 1.752 debit)
1.225 trillion (credit only)
Card Transactions in 2019
185.5 trillion
108.4 trillion
8.8 trillion
Fraud Liability
Zero liability for:

Credit card transactions
Signature debit card transactions
PIN debit card transactions (if processed by Visa)

Zero liability for:

Credit card transactions
Signature debit card transactions
PIN debit card transactions (if processed by Mastercard)

Zero liability for:
Card Terms
Visa doesn't set APRs, fees, or rewards.
Mastercard doesn't set APRs, fees, or rewards
Refer to American Express's terms and conditions
Card Issuing
When comparing all 3 networks, there is 1 main difference between American Express and Mastercard/Visa. American Express is both a card issuer AND a payment network. Mastercard and Visa are only payment networks. So what does that mean for you?
Card Issuer
The card issuer is the one that actually extends credit to consumers. When you use your card, the card issuer pays for the transaction upfront and gets reimbursed once you pay off your bill each month.
When you are issued an American Express card, you will only deal with American Express.
With Mastercard and Visa, you will also have a card issuer — which is typically a bank. For example, Chase credit issues cards with Visa will have both the Chase and Visa logos on them.
Payment Network
A payment network processes transactions, meaning it transfers funds from the card issuer to the merchant.
In the example noted above, Chase is the credit card issuer and Visa is the payment network.
American Express processes transactions for both its own American Express cards and cards from other issuers that use the American Express network. Examples of other companies that use the American Express payment network include Bank of America, BBVA Compass, Citigroup, U.S. Bank, USAA, and Wells Fargo.
Network Acceptance Rates
Another important factor to consider when comparing networks is how widely accepted it is. In short, it won't do much good to have a credit card if it's not accepted at the retailers you plan to visit.
Domestic
To put it simply, the more merchants that accept your card, the better the card's network. Visa and Mastercard have traditionally been the main contenders with acceptance at 10.7 million U.S. retailers.
But in the February 2020 Nilson Report, it was reported that 99% of credit card-accepting merchants in the U.S. can now accept American Express, meaning 10.6 million retailers now accept American Express. This is a huge change from 5 years ago when American Express was only accepted at 3.7 million.
Hot Tip: Just in the last year, almost a million new U.S. locations began accepting American Express.
It seems likely that a huge reason for this increase is due to the fees between the networks becoming closer aligned. In February 2020, Nilson reported that Visa and Mastercard swipe fees had a weighted average of 2.26% compared to American Express's average fee of 2.3% — making this only a 0.04% difference.
International
Unfortunately, American Express's international acceptance is much lower than its competitors. For example, American Express cards are accepted in more than 160 countries worldwide, which lags behind Visa and Mastercard that are both accepted in more than 200 countries.
While it's easier to find places in countries like Canada or Australia that accept American Express, it is harder across Europe and Asia. Just to be safe, the best bet when traveling abroad is to have a Visa or Mastercard in your wallet.
Network Benefits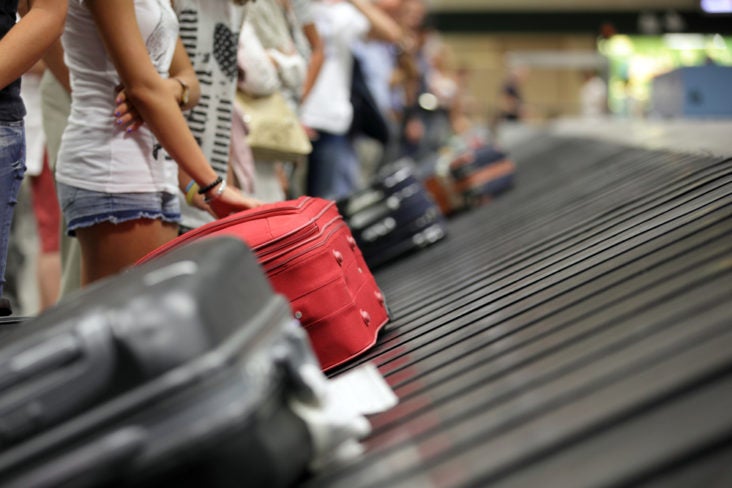 Your card's network offers benefits based on the service level of your card, though not every card is guaranteed to include every benefit by level and issuers could offer any combination of available benefits across levels. It is likely that your card will offer additional benefits in addition to these network benefits, but the following includes the minimum benefits that may be offered.
Visa
Visa offers 3 levels of benefits for its cards. These levels include the following benefits:
Zero liability for fraudulent charges
Cardholder inquiry service
Roadside dispatch
Emergency card replacement
Emergency cash disbursement
Auto rental collision damage waiver
Visa Signature offers all of the benefits of Visa Traditional plus:
Travel and emergency assistance services
Fine wine and food discounts
Golf discounts
Visa Signature Concierge
Visa Signature Luxury Hotel Collection
Lastly, Visa Infinite offers all of the perks of Traditional and Signature, in addition to:
Return protection
Visa Infinite Luxury Hotel Collection
Visa Infinite Concierge
Visa Infinite car rental privileges
Airline incidentals statement credit
3 free years of Shipt (enroll by December 31, 2024)
Mastercard
Mastercard also offers 3 levels with each offering different minimum benefits. Here are the primary benefits at each level.
Zero liability protection
Global Mastercard Service
Mastercard ID Theft Protection
Rental car insurance
Purchase assurance
Baggage delay insurance
Lost or damaged luggage insurance
MasterRental insurance
Mastercard Luxury Hotel & Resorts Portfolio
ShopRunner
onefinestay membership
Priceless Cities
Fuel Rewards Network
Extra levels of travel insurance
World Elite luxury travel benefits
Personal travel advisor
Mastercard Global Service Premium
Lyft credit
Boxed discount
Fandango discount
American Express
Specific benefits for American Express vary by card, but some common benefits offered include things like:
Extended warranty
Purchase protection
Return protection
Concierge service
Baggage insurance plan
Car rental loss and damage insurance
Trip cancellation and interruption insurance
Hot Tip: It is important to reference the benefits for your specific card to get a full picture of all of the benefits your card provides. These additional items might include things like Global Entry statement credits, additional travel insurance coverage, increased warranty protection, and access to special events, among others.
Eligibility
There are all sorts of credit cards on the market — including cash-back cards, rewards cards, business cards, etc. Each of these credit cards that you apply for has its own set of eligibility requirements related to credit score, credit history, and income levels.
In general, the more benefits a card provides, the harder it is to qualify for. But in terms of comparing eligibility requirements for Visa, Mastercard, and American Express, American Express may be the hardest issuer to qualify for as most cards require applicants to have a "good" credit score of at least 670 to qualify.
In contrast, many cards offered by Visa and Mastercard only require a "fair" credit rating of 630. This is because Visa and Mastercard aren't the issuers, thus they don't control the minimum requirements. Banks and other card issuers can set these levels independently and aren't as stringent with their requirements.
This means that if you are an applicant who has defaulted on a loan or has a limited credit history, you are more likely to get approved for a card in the Visa or Mastercard network.
Card Selection
There's just not as wide a selection of cards issued by American Express compared to the number of cards that hold the Visa or Mastercard logo. This is because, as the card issuer, it offers its own cards and only a limited selection of cards with other card issuers on the American Express payment network. 
If you want a wider selection of cards to choose from, you'd be better off picking a card in the Mastercard or Visa network.
Hot Tip: Check out our guides to the best Mastercard, Visa, and American Express cards for rewards, perks, and cash-back.
Customer Service
American Express has an excellent reputation when it comes to customer service. In the 2020 U.S. Credit Card Satisfaction Study by J.D. Power, American Express came in first in overall customer satisfaction. It has also done well consistently year over year.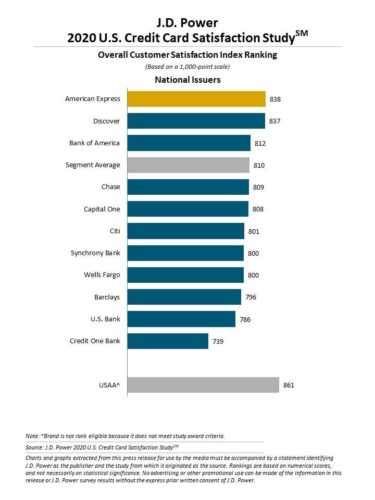 With Visa and Mastercard, you won't interact with Visa or Mastercard for customer service issues. Instead, you'd contact the credit card company that issued the card, like Bank of America, Chase, etc. There are many different companies that issue cards, so ultimately Visa and Mastercard don't have control over the quality of the customer service you receive. 
Card Features May Be More Important
Choosing a credit card based on the credit card issuer along with the features of the individual card is more important than choosing based on the credit card's network.
Hotel & Airline Partners
If you want a card specific to the hotel or airline you frequently use, you might be restricted to certain networks. For example, American Express is the only network that offers Delta and Hilton cards. United and Southwest cards are only offered on Visa. And if you want an IHG or Hawaiian Airlines card, this will be with Mastercard.
Transferable Point Currency Partners
For example, Chase Ultimate Rewards, Capital One Miles, Citi ThankYou Rewards, and Amex Membership Rewards each have different transfer partners. Transferable points currencies should be a huge factor when determining the best card for you. Racking up points that you can use for your next hotel stay or flight will surely be more valuable than points or miles that you will never use.
For example, if you're hoping to use your points to get a flight on AerLingus, you'd want to go with a card that can get you Amex Membership Rewards or Chase Ultimate Rewards. Check out our Transfer Partner Tool Calculator to help you easily sort through the best options.
Store-Branded Cards
If you want a store card, you may not have any say in what network you use. For example, the Capital One Walmart Rewards® card is a Mastercard, the Costco Anywhere Visa® Card by Citi is on the Visa network, and the Macy's Credit Card is processed by American Express.
Specific Card Benefits
We briefly discussed the benefits above, but you need to decide what you are looking to get back from a credit card. For example, are you looking for a card that can get you into airport lounges (like Priority Pass or Centurion), give you cash-back on certain spending categories, or offer 0% APR balance transfers?
Finding a card that matches your requirements might be more important than picking a card network.
How Do You Choose Between American Express, Visa & Mastercard?
Putting this all together, there are a few important items to consider when deciding between these 3 major credit card networks.
Credit Score — You should first check your credit and see which types of accounts you're likely to qualify for before you apply. If you have good to excellent credit, you have the ability to pick your favorite network and card. If your score is lower, you may need to apply for a Visa or Mastercard that will help increase your score.
Where You Spend Money — If you plan on using your credit card primarily in the U.S., you won't run into much trouble using a credit card from any of these 3 processing networks. However, if you plan to travel internationally, a Visa or Mastercard may be a better option since they are accepted more places. In addition, you should consider that some retailers only accept cards from certain networks (like Costco only accepting Visa).
Travel Rewards — As we discussed above, certain issuers have relationships with specific travel companies and travel rewards partners. If you have a preference for companies, you will want to pick the network that benefits you the most.
Diversification — You might want to consider carrying cards from multiple credit card networks/issuers. This would be a good idea if you have run into a retailer that only accepts certain networks or if you have a problem with a particular credit card issuer cutting your credit limits or closing your accounts.
Final Thoughts
If most of your transactions will be made in the U.S., you shouldn't really run into any issues with your card being accepted. However, if you plan to travel internationally, a Visa or Mastercard may be a better option for you. At a minimum, it might be a good idea to keep cards with different networks to cover you in all circumstances.
We know that choosing a credit card based on the credit card issuer and the features of the specific card is probably a bigger consideration than choosing based on the credit card processing network. But as you can see, each network offers different protections, levels of customer service, and even different types of rewards, so it's important to factor this into your decision as well.
---
The information regarding the Capital One Walmart Rewards® card, and Macy's Credit Card was independently collected by Upgraded Points and not provided nor reviewed by the issuer.