5 Best Ways To Repair Your Credit (Even After Bankruptcy)
If you've filed for bankruptcy, it's likely you've undergone substantial changes in your financial life. Although bankruptcy is often a last resort, you may feel you have no other options.
Even though bankruptcy can be tough, it typically offers a clean slate for future financial obligations and allows you to take charge of your finances going forward.
Because a bankruptcy will usually remain on your record between 7 to 10 years, it can cause your credit score to drop. This kind of drop could put you into a credit score category of fair, or even poor, which can make it difficult to obtain credit cards and loans in the future.
But the good news is you can repair your credit, even after bankruptcy. You can even bring your credit score into the good or excellent category within 1 to 3 years.
Types of Bankruptcy Filings
There are many different types of bankruptcy filing options. However, the 2 most common types filed by individuals are Chapter 13 and Chapter 7.
With Chapter 13, you are still responsible for some or all of your debts, but likely at a reduced rate. With this type of bankruptcy, you can keep your home, as well as some other personal items. You must earn income to file for Chapter 13 bankruptcy, which ensures you'll have money to pay off the reduced portion of your debts.
Chapter 13 bankruptcy could be a good choice if you have a regular income, but you are not able to pay your debts along with your ordinary living expenses such as housing and utilities.
When you file for a Chapter 13 bankruptcy, you'll set up a 3 to 5-year debt repayment plan. After you complete the plan, any remaining debts are more manageable. You are not required to sell off assets with a Chapter 13 bankruptcy.
With a Chapter 7 bankruptcy, most of your debts are forgiven without a repayment plan. You will liquidate your assets and use the proceeds to pay your debts. With this type of bankruptcy, you are at risk of losing non-exempt property. However, Chapter 7 bankruptcy can be a good choice if you have so much debt that you can't repay it now or in the future, even at a reduced rate.
Chapter 7 debt payments go toward secured debts first, then apply to unsecured debts if there is any money left. Typically for unsecured debts, credit card companies may receive very little – if any – repayment at all. Once you complete the distribution of the proceeds to your creditors, the judge will discharge your remaining debts.
Some debts can't be discharged. For example, taxes, child support, and criminal penalties can't be discharged in a Chapter 7 liquidation.
How Bankruptcy Affects Your Credit Score
Bankruptcy could cause your credit score to drop 130 to 220 points, depending on your beginning credit score. This can easily drop your score into the fair or poor credit category. In addition, you have multiple bankruptcies on your account, your score could be even further affected.
With a low credit score, it can be challenging to qualify for any type of loan or credit, as it signals a greater risk to creditors and lenders.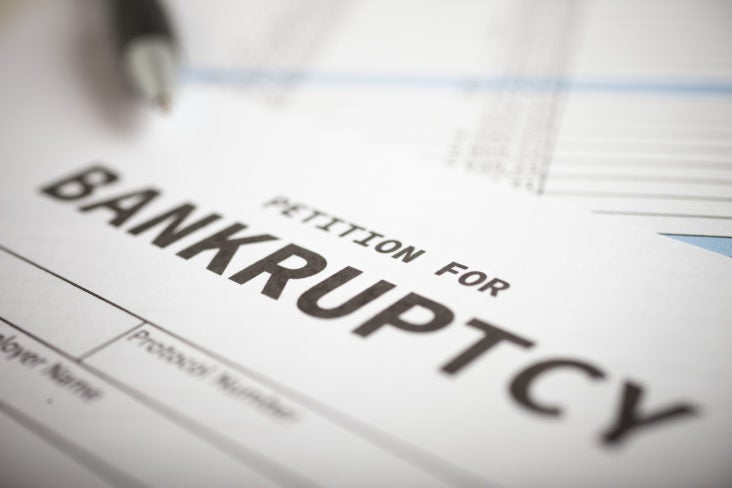 According to the U.S. Bankruptcy Code, certain debt categories may not be discharged, so you'll still be responsible for paying them. Some of these non-dischargeable debts include:
Alimony
Child support
Certain types of tax obligations, such as federal, state, and local taxes
Criminal fines, penalties, and restitution
Hot Tip: Bankruptcy's negative credit rating effect is one of the biggest reasons many people do not file for bankruptcy. But even though bankruptcy can severely impact your credit score and remain on your credit report for up to 10 years, avoiding bankruptcy and allowing your debts to go into collections can also have an adverse effect.
It's Not the End of the World, Just a Good Place To Make a Fresh Start
Although bankruptcy can negatively influence your finances, it can be a good way to make a fresh start. Regardless of your past financial situation, bankruptcy can provide you with a clean slate when it comes to your future debt obligations.
Even if your credit score is in the fair or poor category, you may be able to bring your score back up by taking specific steps. However, doing so will typically require that you have a plan in place and that you stick with it going forward.
5 Ways To Repair Your Credit
Some of the best strategies you can use to start fixing your credit score as soon as possible include:
1. Pay Off Remaining Balances
Paying off any remaining debt balances can be beneficial, as reducing the total amount of debt you owe is a crucial factor in increasing your credit score. In addition to lowering your overall debt-to-credit-limit ratio, paying down debt can also help with keeping high-interest charges from continuing to snowball out of control.
2. Pay All Bills on Time
Your payment history is one of the primary components of your credit score, and this includes paying your bills on time. Going forward, be sure to pay all of your bills on or before their due date. Setting up payment reminders on your smartphone or calendar can help ensure that you don't miss any payments.
3. Keep Unused Accounts Open
While it may sound counter-productive, keeping your credit accounts open can help raise your credit score even if you aren't using the accounts.
Your credit score is determined in part by your credit history, which factors in the age of your accounts. If you were required to close all of your credit card accounts as a part of your bankruptcy proceeding, open up 1 or 2 new accounts and use them to make small purchases and pay off your balances each month.
However, be mindful of the fact that opening up a large number of new credit card accounts can negatively affect your score. Don't go overboard when applying for new credit after bankruptcy.
4. Apply for a Secured Credit Card
With lower qualification requirements than other types of credit cards, secured cards can help you increase your credit score even when you don't qualify for others.
You'll pay an upfront security deposit (such as $500) to open your secured credit card account. Typically, credit card issuers will give you a credit limit equal to the amount of your security deposit.
There is no risk of non-payment for lenders with secured credit cards, so they are often easier to obtain than non-secured credit cards. Be sure to read over all of the fine print carefully before you commit, because secured credit cards may come with various fees.
5. Check Your Credit Report Regularly
While you should check your credit report at least once each year, it's even more important to do so if you've filed for bankruptcy in the past. You'll want to make sure discharged debts are appropriately reported as such.
For example, if you filed for Chapter 7 bankruptcy, your discharged debts should show a balance of $0 and no longer be listed as delinquent. File a dispute with the credit bureau, lender, or both if you find errors or missing information on your credit report.
Dispute Errors on Your Credit Report
You should make sure your credit report is accurate and up to date to improve your credit score. Missing or inaccurate information on your credit report can negatively affect your credit score. You should carefully review your credit report at least once per year to make sure all of your data is correct.
Every year, you are entitled to 1 free copy of your credit report from all 3 of the big credit bureaus: Equifax, Experian, and TransUnion. You can view your credit report at no charge if you are unemployed or on welfare, if your report is not accurate, or within 60 days of being denied for credit by a lender or a creditor. You can access your yearly free credit report by going to annualcreditreport.com.
Hot Tip: If you find any inaccurate information on your report (which is more common than you might think,) you can file a dispute with the credit bureau or the lender. For more information, check out our piece on how to fix (or dispute) errors and mistakes on your credit report.
Where To Find Credit Cards When Rebuilding or Repairing Your Credit
It can be challenging to qualify for loans and credit if you're rebuilding your credit after a bankruptcy filing. But some types of credit are easier to obtain. You can use these credit sources to more quickly reestablish your credit going forward. Responsibly using a secured credit card, store card, or gas credit card can help you rebuild your credit. Although these types of cards may have high interest rates, they have lower qualification requirements than many other credit cards.
Hot Tip: While you may want to rebuild your credit quickly after filing for bankruptcy, it is also essential that you find the right balance between establishing new credit accounts and applying for too many loans and credit cards.
Roughly 10% of your overall credit score is based on whether you have recently applied for new credit, so be sure that you don't apply for too many new accounts all at once. It can help if you spread out your new credit applications.
If you do need to apply for a loan (whether that's for a new home, car, etc.), try to get all your credit checks completed within a week or 2. Credit monitoring companies, such as Experian, know that you will be shopping around for the best rate and won't ding you for multiple credit checks during a short time frame.
Bankruptcy Alternatives
Although bankruptcy can be effective, there are alternatives. Although other options may still negatively impact your credit score, they may not remain on your credit report for quite as long as a bankruptcy would.
Bankruptcy alternatives include:
Negotiate With Your Creditors — You may be able to reduce your interest rate or total balance by negotiating directly with your creditors. Often, just trying to work with your creditors can result in a win-win solution for both parties.
Get Assistance From a Credit Counseling Agency — Many people aren't comfortable negotiating directly with creditors, but credit counseling agencies can help. These organizations will help you make a plan to repay your debts, create a debt management plan, or settle your debts.
Debt Management vs. Debt Settlement
Debt management and debt settlement companies sound like they offer similar services, but they have significant differences. You should know how each option works, and what to expect if you choose one of these options.
Debt management companies work with your creditors to lower or eliminate fees and other charges assessed by your creditors. These types of companies specialize in consolidating some or all of your debts into a more manageable single monthly payment.
There can be pros and cons to working with a debt management company. A single monthly payment can be easier to keep track of and reducing or waiving interest and penalty assessments can save you money. Debt management may stop phone calls from creditors and collection agencies.
Bottom Line: With a debt management company, your debt can be paid off in about 3 to 5 years and there is generally little to no damage to your credit report.
However, debt management companies may not be able to help with all of your debts. They generally only offer debt management services for unsecured debt, such as credit card balances. Most companies charge significant fees for debt management.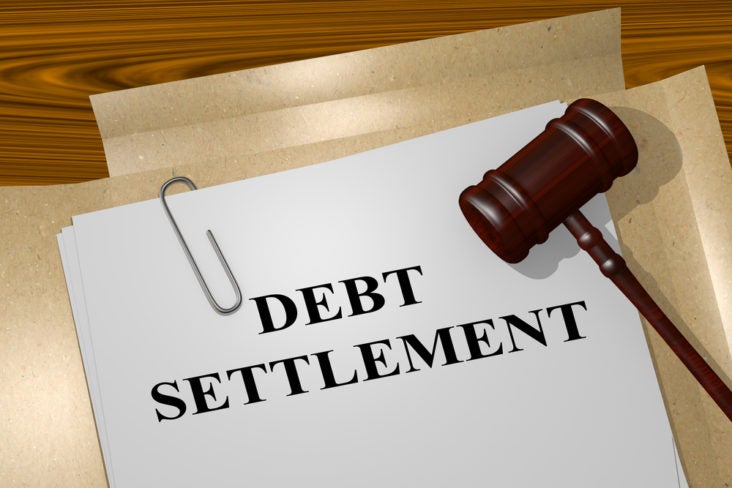 Although debt management and debt settlement sound similar, they have their differences.
A debt settlement company will negotiate with creditors on your behalf to reduce your debt. After reaching a settlement agreement, you'll make monthly payments.
The main difference between a debt management program and a debt settlement program is continued monthly payments to creditors with debt management. With debt settlement, you'll typically stop payments to creditors until you have a settlement agreement and you've built up enough funds to make payments on the agreement.
It usually takes 2 to 5 years to settle all of your accounts. Key factors include your amount of debt and the number of creditors. A debt settlement program can have a negative impact on your credit score.
Before Using a Credit Repair Service
Just as with any other type of financial transaction, there are some things you should know before you use a credit repair service such as debt management or debt settlement.
First and foremost, nothing is ever free. These companies are not just helping you out of the kindness of their hearts; they will expect payment for their services. Be sure you know exactly how, and how much, you will be charged. You may save money by directly negotiating with creditors.
You should carefully research the company's reputation, as debt settlement and debt management companies often have untrustworthy reputations. Search for a listing with the Better Business Bureau and read customer reviews and complaints. Doing so may keep you from making an expensive mistake.
Hot Tip: To find out more information about credit counseling agencies in your area, visit the U.S. Trustee Program's website. Here, you can find a list of approved debtor education providers, as well as other relevant information that you need to know before moving forward with debt management or debt settlement.
Final Thoughts
Filing for bankruptcy can affect your credit report and credit score. But doing so does not mean that you will never be able to obtain credit again. In fact, in many cases, bankruptcy can provide you with an excellent opportunity for turning around your financial situation.
Bottom Line: Bankruptcy can be a difficult process, but you can come out of it with stronger credit if you set up a manageable plan and make timely payments.
---
Like this post? Pin it on Pinterest!