Rakuten Review: How to Earn Cash Back or Amex Points by Shopping Online [Formerly Ebates]
If you have shopped through Ebates recently, you might have noticed that it looks a little different. That's because Ebates is now known as Rakuten.
In actuality, not much has changed; Ebates has been owned by Rakuten since 2014. The site still offers cash-back just by clicking through their portal, and the service is still free.
Here is what you need to know about Ebates/Rakuten including how it all works, how to earn cash-back, and some tips to supercharge your earnings.
Ebates/Rakuten History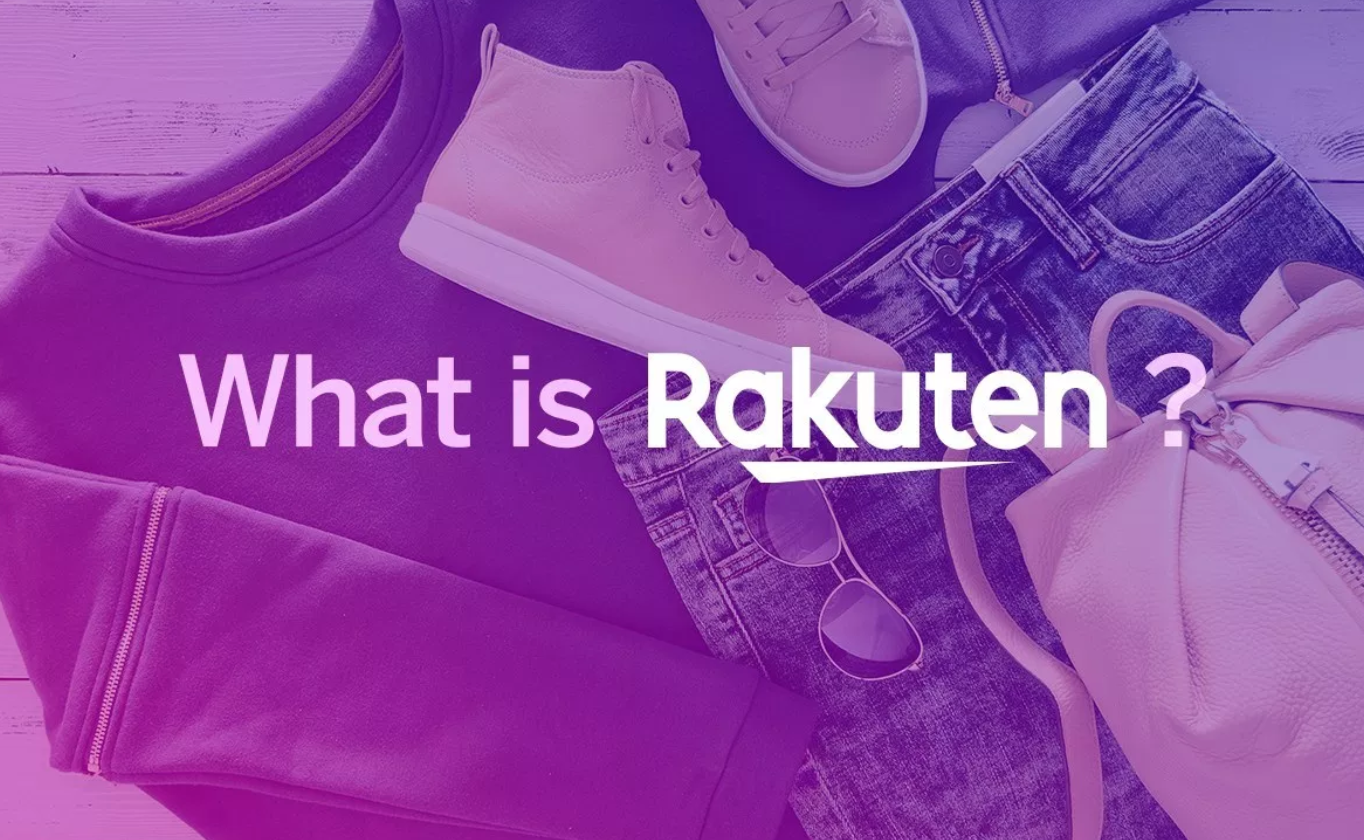 Ebates has been around since 1998 and is one of the biggest and most popular cash-back portals. Rakuten is a Japanese e-commerce and internet company based in Tokyo and has been around since 1997.
In 2014 Ebates was acquired by Rakuten, and in early 2019, the Ebates name was officially changed to Rakuten. If you have been using Ebates for a while, you shouldn't have noticed much of a change. Your account will remain exactly the same, so there is no need to update anything or make a new account.
How Does Rakuten Work?
Rakuten is a shopping portal that allows you to earn cash-back for shopping at your favorite stores. When you click from Rakuten's website to an online store, Rakuten earns a commission from that online store. Then Rakuten uses a portion of that commission to pay you.
While it might seem too good to be true if you aren't familiar with this type of website, it's totally on the up-and-up and a great way to help you save money.
How to Earn Cash-Back With Rakuten
If you are new to Ebates/Rakuten, here's how it works:
Visit Rakuten.com. Luckily, Ebates.com still works too, if you're still in the habit.
Find the store you want to shop. You can type a store's name into the search bar, search by category using the drop-down menu under All Stores, search all of the Double Cash-Back Stores, or click on one of the featured stores on the homepage.

Image Credit: Rakuten.com
Bottom Line: You must shop via the link through Rakuten.com to your chosen store right before you make your purchase. If you click through, then go back to the shopping site directly, you won't earn cash-back!
Rakuten Cash-Back Button [Chrome Extension]
If you think you might not remember to click through Rakuten each time you make a purchase, you need the Cash-Back Button. This button is a browser extension for Chrome that alerts you to cash-back opportunities at over 2,500 stores.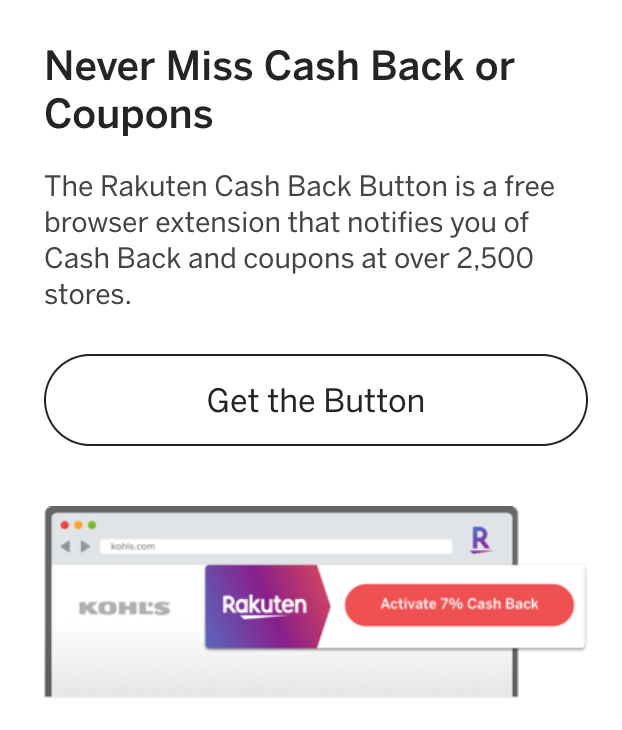 You may see a prompt to add the button at the bottom of your screen. If not, just go to any store's webpage and scroll down. On the bottom, left-hand side of your screen you'll see info about the button. Click Get the Button to install.
Hot Tip: As of March 20, 2020, you can no longer earn cash-back at Amazon. You can, however, still find Amazon coupons on Rakuten.
Double Cash-Back Stores

The amount of cash-back being offered by each store can vary day-to-day. Sometimes, stores will even offer double cash-back! You can find these great deals by clicking on Double Cash Back Stores in the main menu bar.
These double cash-back deals are usually featured on the home page as well.
Hot Tip: Before you use Rakuten to earn cash-back, be sure to check to see if that's the best deal you can get. CashBack Monitor is a free tool you can use to easily and quickly check which shopping portal is offering the most cash-back or bonus points.
Cash-Back on Travel and Vacations
Did you know that with Rakuten you can also earn cash-back on your next vacation?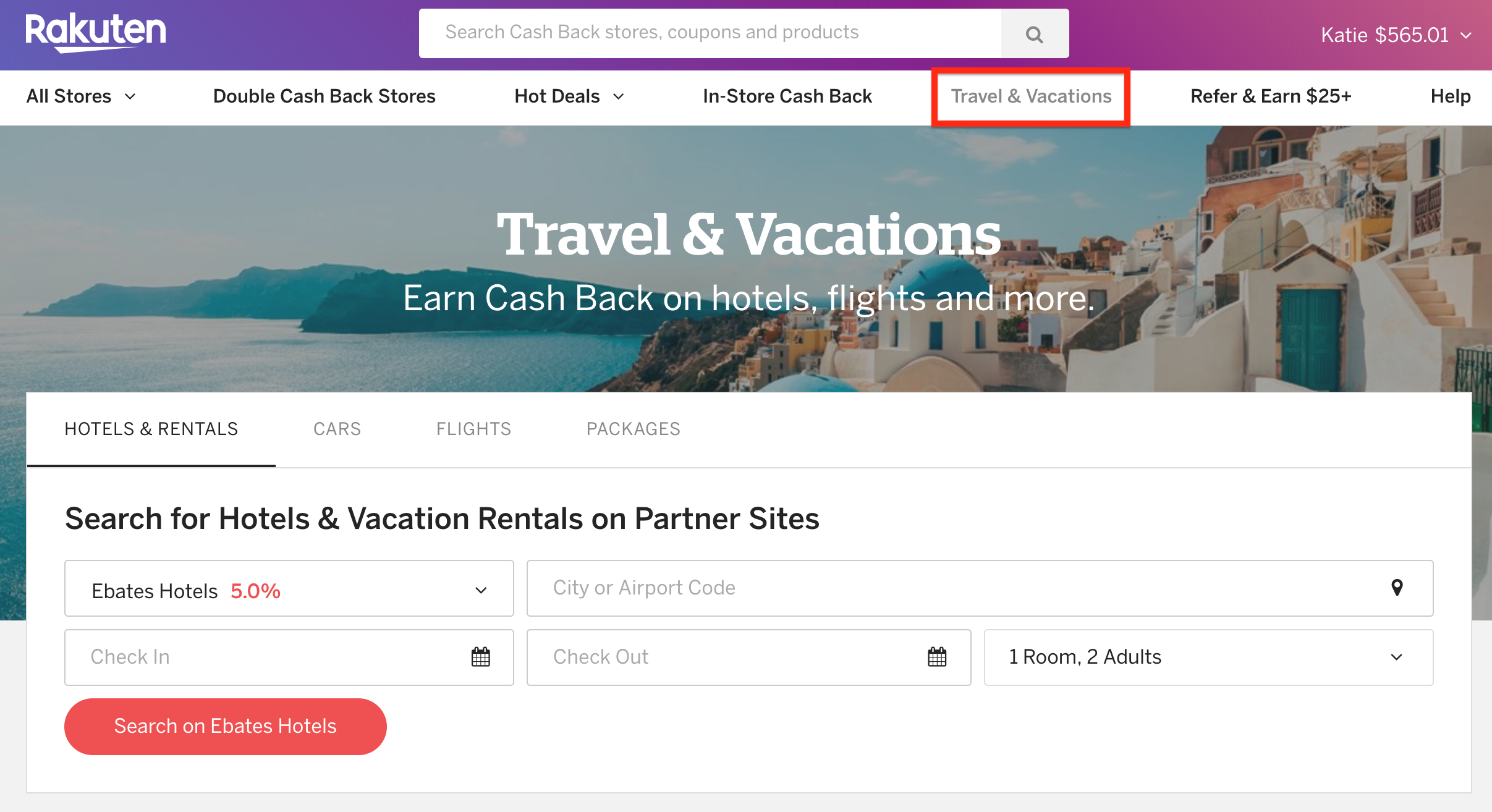 Rakuten offers cash-back on many travel sites that you already use. You'll find these under the "Travel & Vacations* tab:
Do note that the list above isn't all-inclusive. For all partners, check out Rakuten's website.
All you need to do is click through Ratuken to any of the travel sites listed and then complete your booking on the travel site.
You'll notice a search box that looks like one you would find on an online travel agency. While you can input your destination and travel dates, Rakuten will just transfer your search to your chosen website, so it's really unnecessary. Plus this search box doesn't list all of your available options, so it's probably best to just scroll down to the full list.
Right below the search box, you'll be able to see the day's featured deals. You can also search for travel companies by category or name.
Don't forget to use a great travel rewards credit card for your purchases so you can earn points on top of your cash-back!
Hot Tip: If you aren't sure which travel site is best, check out these guides to help you choose. Here's a list of the best websites for booking flights at the cheapest prices and a list of the best websites for booking hotels at the cheapest prices.
Rakuten Refer-a-Friend Program
If you love earning cash-back from Rakuten, you can share it with your friends to earn bonus cash.
When you refer a friend who joins Rakuten (or Ebates) for the first time and makes at least $25 in purchases through the site in the first year, you will receive a $25 bonus. Plus your friend will get a $10 bonus.
How To Refer a Friend to Rakuten
To invite friends to Rakuten, click on Refer & Earn link in the main menu. Then, you will be able to invite your friends in a few different ways:
Enter your friends' email addresses to send an invitation email
Share on Facebook
Share on Twitter
Copy your personalized link to send to friends
You can earn multiple bonuses if you refer multiple friends. If your friend already had an Ebates account, you can't earn a bonus by referring them to Rakuten since they'll already have a Rakuten account
Bottom Line: You can refer your friends and family to join Ratuken. When they make their first $25+ purchase, you will earn a $25 bonus and your friend will earn a $10 bonus!
In-Store Cash Back
If you prefer to shop in-store, Rakuten has got you covered. You can earn cash-back in stores, as well as online! Here's how it works:
Add a credit card to your Rakuten account. Go to your account and click on My Wallet. Then click on Add a New Card and input your credit card information.
Find in-store offers. On Rakuten.com, click on In-Store Cash Back in the main menu.
Link in-store offers to your credit card on file. Next, you'll see all of the available in-store cash-back offers that are available. You can sort this list alphabetically, by cash-back offer, or by using a map. Click on Link Offer to add the offer to your account.
Shop in-store. Simply use your linked card to make a purchase in your selected store to earn cash-back.
Hot Tip: Rakuten in-store cash-back offers are only available in the U.S.You can link as many American Express, Visa, or Mastercard credit cards as you wish. Rakuten encourages you to use the physical card and not a mobile payment service like Chase Pay, Apple Pay, or Android Pay because Rakuten doesn't always receive mobile wallet transaction details, so you may miss out on cash-back.
Be sure to look at each offer's details. Offers will have a limit to the number of times they can be used and will have an expiration date. Most links are only good for one redemption. So, if you want to use the offer again, you will most likely need to re-link the offer.
Hot Tip: You can double up your rewards; both online cash-back offers and in-store cash-back offers from Rakuten can be used along with any Amex Offers or Chase Offers you may have.
Rakuten Mobile App
Rakuten offers a mobile app so you can earn cash-back on the go. To download the app, go to the App Store, Google Play, or enter your mobile number on the Rakuten's sign-up page to receive a link.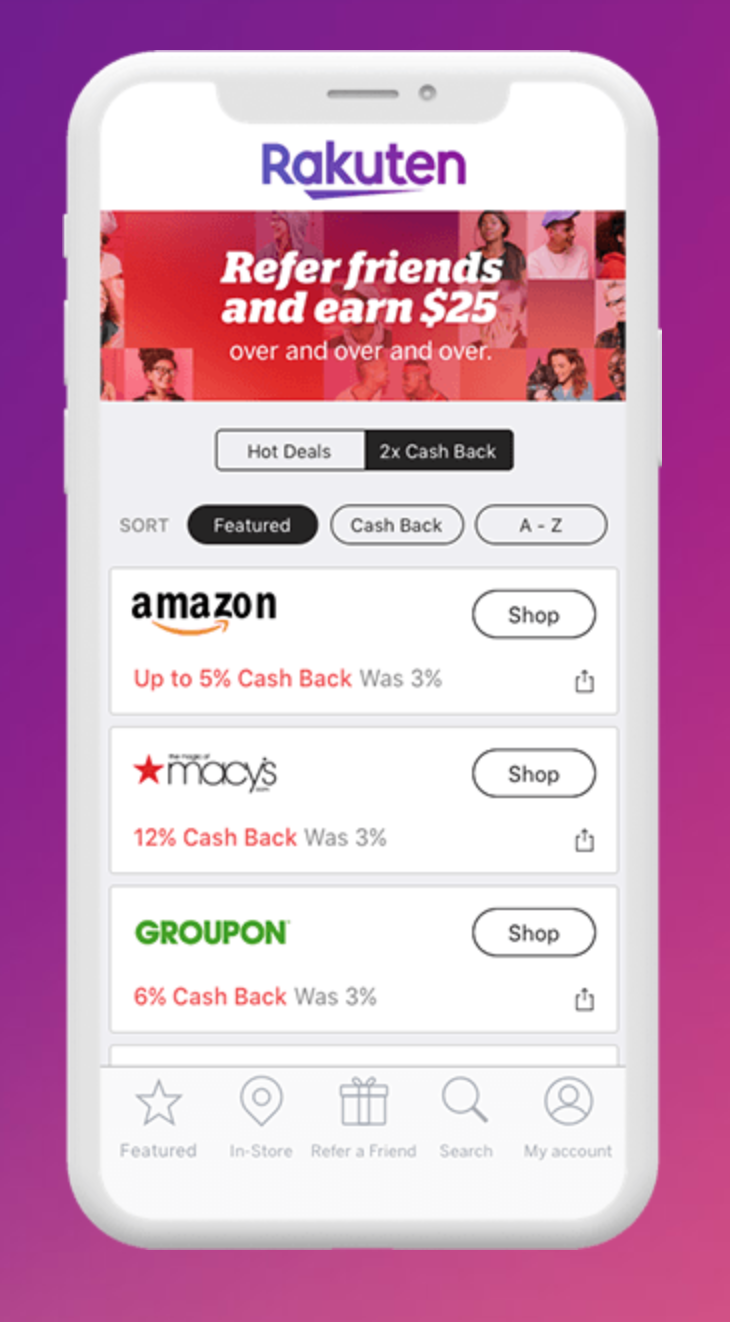 Once you download the app, you'll have access to Rakuten's mobile-only deals — look for these in your notifications. To access notifications, click on the bell icon in the upper right-hand corner of the app.
The Rakuten mobile app has the same functionality as the website. You'll be able to access cash-back offers online, in-store cash-back offers, and links to refer your friends.
If you click on My Account in the lower right-hand corner, you'll be able to see your transaction history, cash-back balance, add a credit card, or change your payment method.
Hot Tip: Look out for the new offer of 5% cash-back at restaurants — only available through the Rakuten mobile app!
Rakuten's Big Fat Check
If you are used to getting a Big Fat Check from Ebates, don't worry, you'll still be getting the same Big Fat Check from Rakuten. If you aren't familiar with the Big Fat Check, this is just the fun name that refers to your cash-back earnings.
You can choose to receive a physical check, or you can have your earnings deposited to your PayPal account. To set up your preferences, go to your account in the upper right-hand corner and click on Account Settings. From here, you can enter your mailing address or link your PayPal account.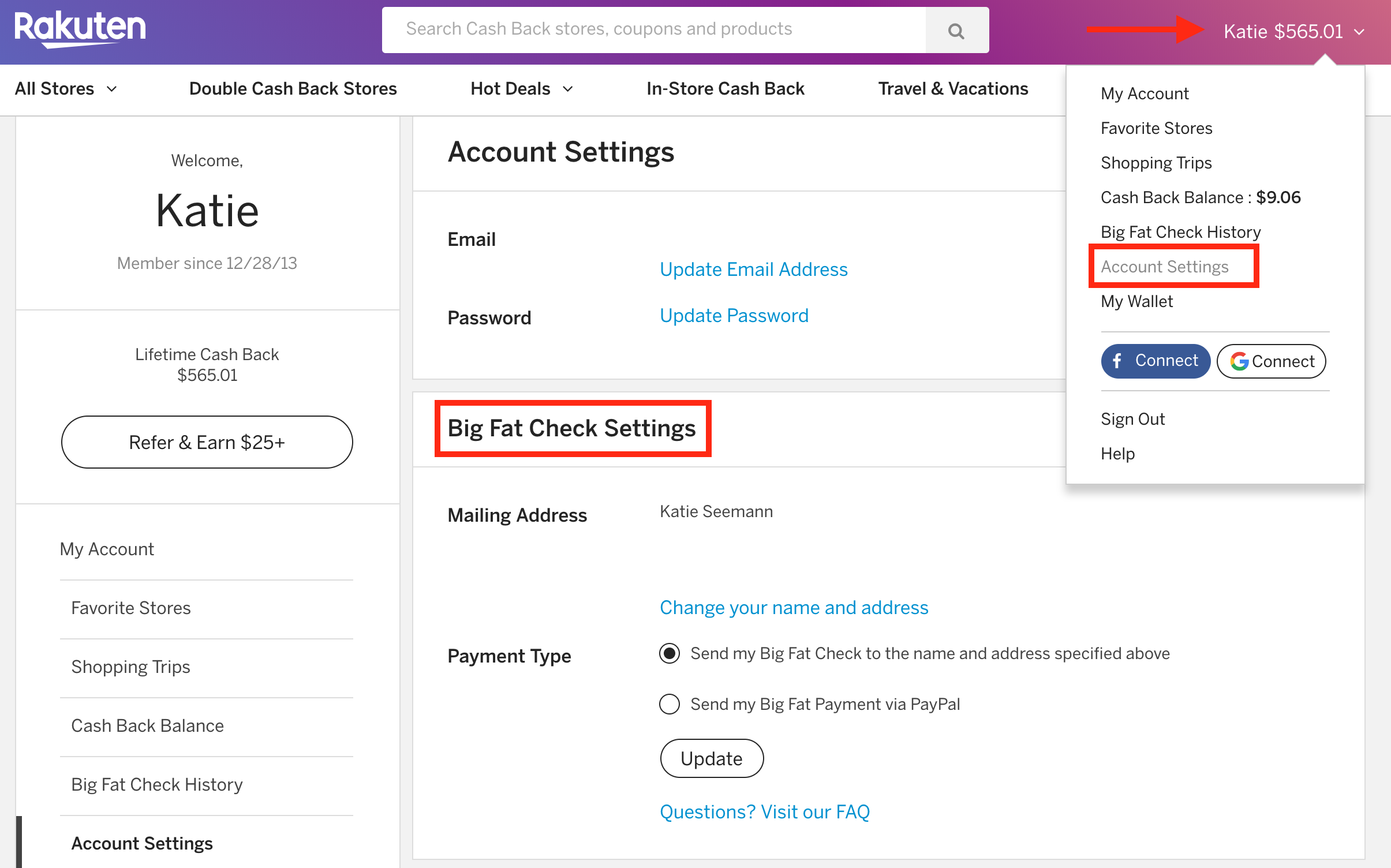 Payments are sent every 3 months.
| | |
| --- | --- |
| For Purchases Posted Between These Dates: | Your Big Fat Check Will Be Sent On: |
| January 1 – March 31 | May 15 |
| April 1 – June 30 | August 15 |
| July 1 – September 30 | November 15 |
| October 1 – December 31 | February 15 |
How to Earn Amex Membership Rewards Points on Rakuten
You can now earn American Express Membership Rewards points in lieu of cash-back through Rakuten. Here's how to do it:
Sign in to your Rakuten account and go to Account Settings.
Scroll down to the How would you like to get paid? section and select Switch to Membership Rewards points.
Then you'll be prompted to sign in to your American Express online account. Once you verify your account, you'll be all set up to earn Membership Rewards in lieu of cash-back.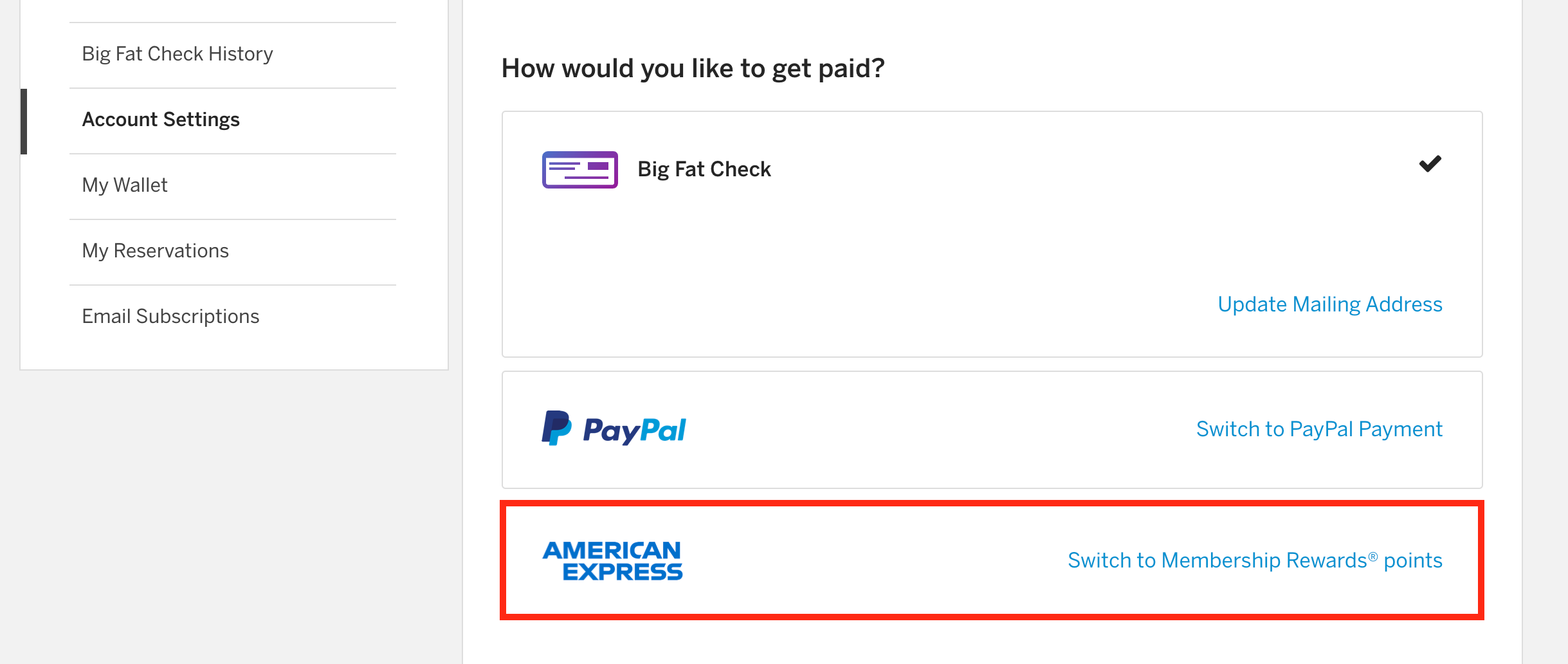 Once you've set up your account to earn Membership Rewards points, you'll earn 1 point per $1 for each 1% cash-back. So, if a store is offering 2% cash-back, you'll earn 2 Membership Rewards points for each $1 you spend.
Any cash-back you have earned at the time you switch to Membership Rewards will still be paid via check or PayPal.
Hot Tip: American Express Membership Rewards points are valued at about 2.2 cents each, so opting for points instead of cash-back more than doubles your return.
American Express Membership Rewards Transfer Schedule
In order to have your Membership Rewards points transferred from your Rakuten account, you need to have earned at least 500 points in an earning period. If you haven't earned at least 500 points, they will carry over to the following earning period.
Points are transferred every 3 months.
| | |
| --- | --- |
| Rakuten purchases posted | Points transferred to Amex account |
| January 1 – March 31 | May 15 |
| April 1 – June 30 | August 15 |
| July 1 – September 30 | November 15 |
| October 1 – December 31 | February 15 |
Bottom Line: You can now earn Membership Rewards points in lieu of cash-back for your purchases made through Rakuten. You'll need a valid Amex Membership Rewards earning credit card, and you'll need to switch your earning preferences to Membership Rewards in your Rakuten online account. 
Rakuten Cash Back Visa® Credit Card
You might be surprised to know that Rakuten has its own branded credit card. The Rakuten Cash Back Visa® Credit Card is the new version of the Ebates Cash Back Visa® Credit Card. It's a new name but the benefits are the same.

The Rakuten Cash Back card is issued through Synchrony Bank. If you're new to the miles and points world, don't even think about getting this card. There are simply so many better options out there! Start with at least 1 Chase credit card because these are harder to get once you have opened 5 or more cards. You can read more about Chase's 5/24 rule for details.
But, if you have been around the (credit card) block a few times, you might be wondering if this card has any useful benefits. Here's a look to see if the Rakuten Cash Back card should be in your wallet.
Benefits of the Rakuten Cash Back Card
$10 bonus after your first purchase
Extra 3% cash-back on qualifying Rakuten online and in-store purchases plus Rakuten Hotels and Rakuten travel purchases
1% cash-back on all other purchases
Price protection and return protection
No annual fee
Other Cash-Back Cards to Consider
So, while all of that sounds good, there are really so many better options out there. Even if you just want to maximize cash-back and don't really care about earning miles or credit card points, there are lots of better choices. Here are 2 that might be a better fit for you:
Credit Card
Benefits & Info
Chase Freedom Unlimited®

Earn $200 bonus after you spend $500 on purchases in your first 3 months. Unlimited 1.5% cash back on all purchases.
0% Intro APR for 15 months from account opening on purchases, then a variable APR of 14.99%-23.74%.
Annual Fee: $0
Amex Credit Card
Benefits & Info
Blue Cash Everyday® from American Express



Earn a $150 statement credit after you spend $1,000 in purchases on your new Card within the first 3 months.
3% cash-back at U.S. supermarkets (on up to $6,000 per year in purchases, then 1%).
Earn 2% cash-back at U.S. gas stations and select U.S. department stores. Earn 1% back on all other purchases.
Low Intro APR of 0% on purchases for 15 months; after that, then 13.99%-23.99% variable.
Terms Apply
Annual fee: $0
For rates and fees of the Blue Cash Everyday® Card from American Express, please click here.

➡️ Did you know that you may qualify for a higher offer? See which personalized offers you're eligible for by checking the CardMatch tool. There's no pull on your credit to check your offers.
Bottom Line: The Rakuten Cash Back card doesn't really offer anything that you can't get somewhere else. To check out all of your options, take a look at a list of other great cash-back cards.
Final Thoughts
Ebates is now known as Rakuten. Rakuten is a Japanese company that has actually owned Ebates since 2014. Because of this, nothing is really changing except the name.
Rakuten still offers cash-back deals online and in-store. All of the functionality of Ebates will remain the same and you will still be earning the same Big Fat Check. All of your account information will stay the same too.
Using Rakuten to earn bonus cash-back on purchases you were going to make anyway is a great way to maximize the value you get from every dollar you spend.
---
The information regarding the Chase Freedom Unlimited® was independently collected by Upgraded Points and not provided nor reviewed by the issuer. 
For rates and fees of the Blue Cash Everyday® Card from American Express, please click here.