How to Status Match With Delta Air Lines [In-Depth Guide]
Frequent travelers who have elite airline status can truly appreciate the perks and benefits that come with such a loyalty position.
Whether it's seat upgrades, change fee waivers, or VIP assistance when things go wrong — it's nice to have an edge up when traveling.
Those benefits are getting tougher to come by, though, because airline loyalty status has gotten more difficult to achieve.
Travelers have even abandoned the chase for status and become "free agents," buying premium tickets on whichever airline has the lowest fares.
Additionally, because it's so difficult to achieve elite status, travelers with elite status can become reluctant to change their airline loyalty, at a risk of losing all those privileges.
But what if you're forced to switch airlines due to a move from one hub city to another? Or what if you just want to change?
Delta is just one airline that offers customers a "status match", along with American Airlins, Alaska, & United, among others.
Whether you need to change or want to change airlines, if you have elite airline status, there is a shortcut to getting comparable elite status with a new airline. And all the information you need to complete this shortcut is right here in one place.
In this article, we'll guide you step by step to:
Understanding the Delta Air Lines status match program
Submitting your request and getting approved for a status match
Meeting the qualifications to continue your elite status
Let's get started and see if a status match with Delta is available to you.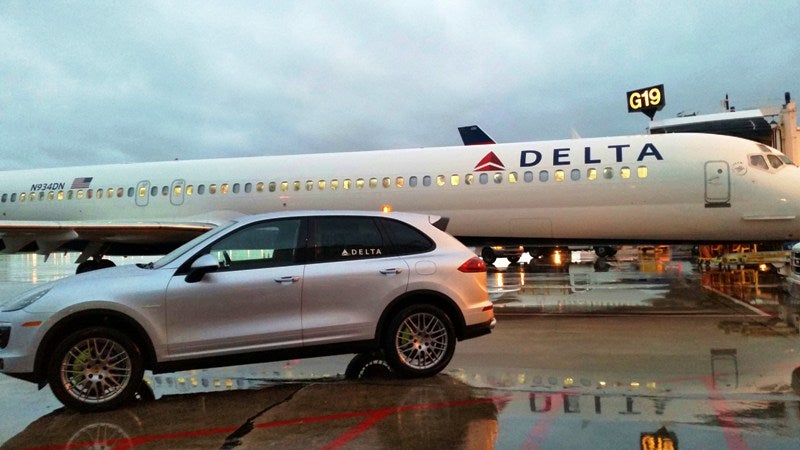 What Is a Status Match and How Does it Work?
If you currently have elite status with an airline, you may qualify to have that elite status matched by another airline, which would be happy to have your business!
You simply submit a request to the airline you want status with. If they approve your request, the new airline will grant you their corresponding elite status for a temporary period. They hope that you will like traveling with them and continue to become a loyal customer.
Once your request is approved, you may be offered a status match valid for a specified period of time with no conditions attached, a status challenge you will need to complete in order to gain status, or a combination of the two.
Here is what you can expect in response to your status match request:
Status Match – The new airline grants you equal status immediately with no conditions, other than the status expiring on a certain date.
Status Challenge – The new airline does not grant you status immediately, but agrees to do so after you complete a certain number of flight miles or segments.
Combination Status Match and Challenge – The new airline grants you immediate status and requires you to complete a certain number of flight miles/segments within a specific period of time (usually 90 days), and then extends your matched elite status until a certain date (commonly the following year).
When an airline approves a request for a status match, you'll keep your elite status with your current airline, giving you status with both airlines once the match/challenge is complete.
Delta Air Lines uses the combination of a status match and a challenge. Let's take a look at the process.
Bottom Line: Since Delta Air Lines grants elite status immediately, you can complete your 90-day flying challenge in comfort. 

Delta Air Lines Status Match Program
Some airlines that offer status match programs do not publish their requirements, or even which airline statuses they'll match.
Delta does a good job of publishing not only the requirements but a long list of airline status levels and the corresponding status match level with Delta.
| | | | |
| --- | --- | --- | --- |
| Delta SkyMiles Medallion Status | Silver | Gold | Platinum |
| Air Canada Aeroplan | Prestige 25K or Elite 25K | Elite 50K | Elite 75K or Super Elite 100K |
| Alaska Airlines Mileage Plan | MVP | MVP Gold | MVP Gold 75K |
| All Nippon Airways Mileage Club | Bronze | Platinum | Diamond |
| American Airlines AAdvantage | Gold | Platinum | Executive Platinum, Platinum Pro or Concierge Key |
| Asiana Airlines Asiana Club | Gold | Diamond | Diamond Plus or Platinum |
| British Airways Executive Club | Bronze | Silver | Gold |
| Copa Airlines ConnectMiles | Silver | Gold | Platinum or Presidential Platinum |
| Japan Airlines Mileage Bank Fly On | Crystal | Sapphire | Premier or Diamond |
| JetBlue TrueBlue | Mosaic | N/A | N/A |
| Lufthansa Miles & More | Frequent Traveler | N/A | Senator or HON Circle Members |
| Southwest Airlines Rapid Rewards | A-List | A-List Preferred | N/A |
| United Airlines MileagePlus | Premier Silver | Premier Gold | Premier Platinum, Platinum, 1K or Global Services |
Like most airlines that offer a status match, Delta only matches to a maximum of Platinum level — not to their highest elite status, Diamond Medallion.
If you have status with an airline other than those listed, you can still submit a request, and Delta will review it for consideration.
Hot Tip: Delta has offered a short-term status match with an additional challenge that would allow you to participate in a fast-track status challenge and qualify for up to top Diamond Medallion status. Completing the challenge could extend the granted status until the end of January 2022. 
How and When to Submit a Status Match Request
Who Is Eligible for a Delta Air Lines Status Match
Travelers eligible for a status match/challenge with Delta Air Lines should meet the following requirements:
You have not received in a status match with Delta Air Lines in the past 3 years.
You were not given complimentary Delta Medallion status in the past 3 years. (You are still eligible if you have received complimentary Medallion status as a result of reaching Million Miler status.)
You have elite status with an eligible airline that you earned through that airline's published requirements.
You must be able to provide current elite documents that show your earned elite status.

How to Complete a Status Match Request
Completing the request for a status match with Delta Air Lines is not complicated, and it can be done online in a few minutes.
You will need to gather a copy of your current membership card clearly showing your elite status level and the expiration date, as well as a copy of your current frequent flyer account statement.
Then, use this information to request a Delta Medallion SkyMiles® Status Match Challenge online by completing the Status Match form.
Within 3 weeks, you'll receive an email stating whether your request was approved or denied.
The Importance of Timing
If you have Delta flights booked, be sure to submit your status match request far enough in advance to receive approval prior to flying.
Don't have any Delta flights booked? You might want to time your challenge to maximize the amount of time you'll be granted elite status.
Here's an example of how Delta currently grants matched status based on the date you earn it (keep in mind that requirements can change!):
If you're approved for the status challenge and complete the requirements between July 1, 2018 and June 30, 2019, your Medallion Status will be extended through January 31, 2020.
If you would be approved and complete the status challenge on or after July 1, 2019, your Medallion Status would be extended through January 31, 2021 (based on current rules).
Bottom Line: To maximize the amount of time you will enjoy complimentary Medallion elite status, submit your request, receive approval, and complete your status match challenge July through September. 
Completing the Flying Requirements
Once you have been approved for an elite status challenge with Delta, you will be required to complete a specific number of Medallion Qualifying Miles (MQMs) or Medallion Qualifying Segments (MQSs) in order to extend your status.
You will also be required to make flight purchases and bring revenue to the airline in the form of Medallion Qualifying Dollars (MQDs). If you spend $25,000 on a qualifying Delta co-branded American Express credit card, however, the MQD revenue requirement will be waived.
Here are the requirements for completing the challenge for each level of granted elite status.
Let's keep in mind that you will have only 90 days to complete these requirements, so you'll want to plan carefully.
Bottom Line: The requirements you need to complete during the status challenge are far less than you'd normally need to earn status. For a complete list of qualifications for each level of elite status in a normal calendar year, visit the Medallion Elite area of Delta.com.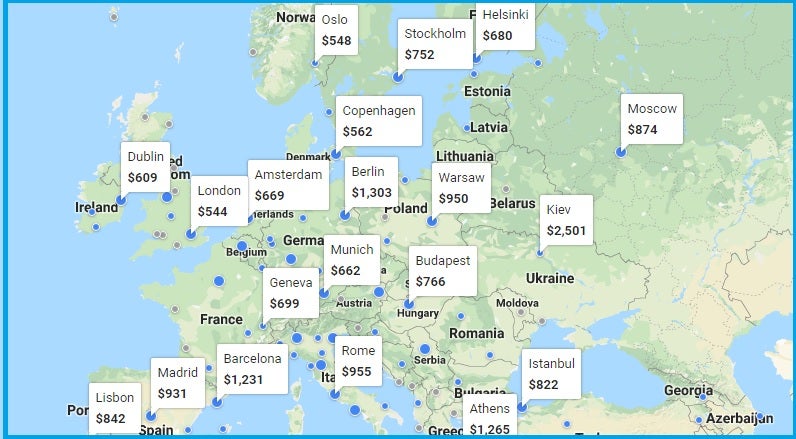 Creating a Status Match Challenge Itinerary
With only 90 days to complete your status match challenge, making sure your flights are completed and credited on time is critical. If you have Delta flights planned already, that's great — you're on your way to meeting the requirements!
If not, we'll share some sample itineraries that will help you meet the requirements of your challenge.
It's worth noting that you do not have to complete the challenge using only Delta-operated flights, since partner airline flights that earn MQMs, MQSs, and MQDs do count. Use the partners chart to determine the amount you will earn.
Use Google Flights and select Delta or SkyTeam (if you plan to use partner airlines) to begin your search. The Google Flights explore map will help find the cheapest fares for longest distances.
Your challenge could easily be completed with 1 flight, but it's important to pay close attention to the amount of MQMs and MQDs you're earning too. Fortunately, when you book a flight on Delta.com, the numbers are calculated for you.

Silver Medallion Challenge Example
John F. Kennedy International Airport (JFK) in New York to Dublin, Ireland round-trip in Economy Comfort+ on Delta in the example above would result in 7,324 MQMs and approximately $919 MQDs.
Gold Medallion Status Challenge Example
Chicago to Helsinki round-trip in Delta Business Class in the example below would generate 17,003 MQMs and $2,355 MQDs. Delta does not publish a detailed fare class chart, but the CWSI group has compiled a list of which classes earn extra MQMs and their descriptions.
In this example, F class receives a 100% MQM bonus, and Z class flights get a 50% bonus in addition to base MQMs.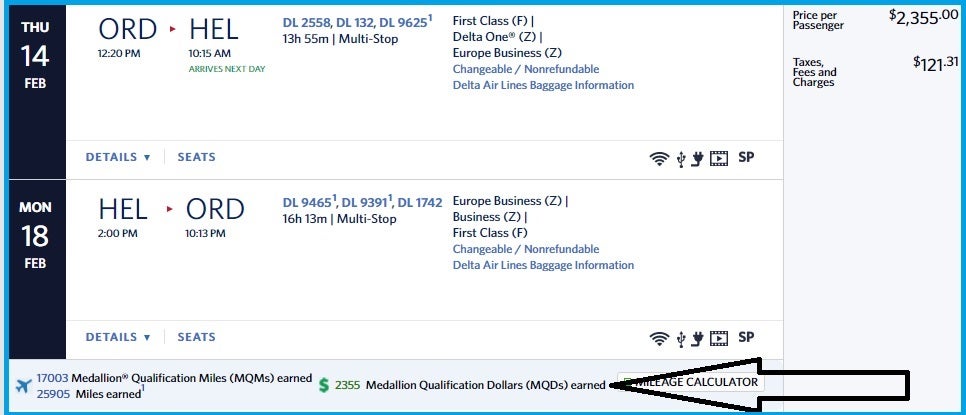 Platinum Medallion Status Challenge Example
A sample itinerary from Chicago to Beijing via JFK and Guangzhou in Premium Economy on China Airlines delivers 19,816 miles flown for $1,547.

While this itinerary more than exceeds the 18,750 MQMs you'll need to complete your Platinum challenge, the MQDs appear to fall short of the required $2,250.
However, because partner airline flight MQDs are calculated by a percentage of distance flown and fare class, you would receive at least $3,963 in MQDs on this itinerary (20% of 19,816). For a complete breakdown on how many MQMs and MQDs you'll earn on each partner airline flight, you can reference Delta's partner rules.
Note: This itinerary was originally constructed using a China Southern itinerary and China Southern has since exited SkyTeam. However, China Airlines and China Eastern itineraries will work just as well using the same process.
Hot Tip: Flying with partner airlines on premium economy/business/first class fares can earn more MQMs and MQDs toward completing a status match than flying on Delta marketed/ticketed flights! Economy flights on partner airlines typically earn fewer MQMs than flying on Delta marketed/ticketed flights. 
Enhancing Your New Elite Status
Once your status match challenge is approved and you have Delta Medallion Elite status, elevating that status with benefits beyond those you're receiving is a logical next step.
A Delta premium credit card such as the Delta SkyMiles® Reserve American Express Card offers greater mileage-earning potential, complimentary Sky Club and Centurion Lounge access, an ongoing faster path to earning elite status, and an annual companion ticket (plus much more).
Because you'll be earning 3 miles for every dollar spent on Delta, you may even want the Delta Reserve card in your pocket before you book your first Delta flight.
Cardholders receive additional unique benefits such as :
Additional MQMs toward elite status and redeemable miles. At $30,000 in spending annually, you'll receive 15,000 MQMs and 15,000 in redeemable miles, up to 4 times per year.
The benefit of paying for your flight with miles and still earning MQMs on that same flight!
Priority upgrades over other same-level elite members who do not have the Delta Reserve card.
For a complete comparison of Delta-branded credit cards, including the business versions of the cards and their benefits, access our expert guide. Also, check out our ideas on the best ways to maximize your Delta SkyMiles.
Bottom Line: Having a premium Delta-branded American Express credit card enhances your Medallion Elite status to include accelerated miles earning and benefits you don't receive with elite status alone. 
Everything Else You Need to Know
If you don't meet the requirements of your status challenge in the 90-period provided, your temporary status will expire.
You are not eligible for a Delta Air Lines status match challenge if you have participated in one within the past 3 years.
Final Thoughts
While the process for obtaining a status match challenge with Delta Air Lines is quite simple, completing the challenge can be more complicated than with other airlines.
Where there are complications, however, opportunities and sweet spots exist too: such as premium fares on partner airlines earning additional MQDs, making it easier to meet the requirements of the status match challenge.
Additionally, utilizing Delta premium fares can give you a boost toward earning MQMs.
If you currently have elite status with another airline and want or need to switch to Delta Air Lines, you'll find the status match process is straightforward. Though the flying challenge is, well, challenging, their Medallion Elite frequent flyer program is still very rewarding.