38 Benefits of the Amex Delta Reserve Credit Card
If you're a Delta flyer, there's a strong chance that you either have a Delta-branded credit card or have considered getting one. It's a logical option if you fly frequently on the airline and want access to inflight benefits, elevated SkyMiles earning, and expanded redemption options for Delta flights.
While having a Delta-branded credit card certainly has value, which card you select makes a difference in the benefits you receive, how quickly you earn miles, and whether you'll realize enough bottom-line value to offset any annual fee.
Since there are so many Delta-branded cards, selecting the card that perfectly aligns with your travel style might also present a challenge.
In this article, we'll focus on one of the best Delta-branded cards, the Delta SkyMiles® Reserve American Express Card.
The Delta Reserve card is packed with so many benefits for Delta flyers — it should be high on the list of consideration for a frequent Delta traveler.
In this article we'll cover:
Earning SkyMiles on the Delta Reserve card
Card benefits when traveling with Delta
Redeeming your SkyMiles
How the card provides a faster path to Delta Medallion elite status
Additional card benefits
Let's jump into the long list of reasons the Delta Reserve card stands out above the others and see if it's truly the right Delta-branded card for you.
Earning Delta SkyMiles
1. A Generous Welcome Bonus
Welcome bonuses change, but you can count on jump-starting your earnings with tens of thousands of SkyMiles after meeting minimum spending requirements in the first 3 months after card approval.
New cardholders can also qualify during this period for Medallion Qualifying Miles (MQM) that count toward SkyMiles Medallion elite status.
CREDIT CARD
CARD INFO

Delta SkyMiles® Reserve American Express Card


Learn More

(at Amex's secure site)

Limited Time Offer: Earn 80,000 Bonus Miles and 20,000 Medallion® Qualification Miles (MQMs) after you spend $5,000 in purchases on your new Card in your first 3 months and a $200 statement credit after you make a Delta purchase with your new Card within your first 3 months. Offer expires 7/28/2021.
Complimentary access into the Delta SkyClubs® for you when traveling on a Delta flight.
Enjoy complimentary access to The Centurion® Lounge when you book your Delta flight with your Reserve Card.
Fee Credit for Global Entry or TSA PreCheck®.
Enjoy your first checked bag free on Delta flights.
Earn 3X Miles on Delta purchases.
Earn 1X Mile on all other eligible purchases.
Good to Excellent Credit Recommended (670-850)
Annual Fee: $550
Terms Apply. For rates and fees of the Delta Reserve card, click here.

Must Reads: For more info on the Delta Reserve card, see our insights on its benefits and our full review.
2. Earn More on Delta Purchases
Every purchase you make with Delta earns 3x miles per dollar spent on the card. Qualifying purchases include flights purchased with Delta, upgrades, miles, seat selection, Delta Sky Club membership, and inflight Delta purchases of food, beverages, and headsets. Purchases made with Delta Vacations also qualify for 3x earnings.
3. Earn on Every Purchase You Make
Every purchase you make will earn 1 Delta SkyMile for every eligible dollar spent on the card.
4. No Limit on Earning Miles
There is no limit to how many miles you can earn by spending on your Delta Reserve card.
5. Earn for Referring a Friend
Referral bonuses vary, but you will usually earn 10,000 miles to 20,000 Delta SkyMiles when you refer a friend who is approved for the Delta Reserve card or other Delta-branded Amex card.
6. Additional Users
Add authorized users to your Delta Reserve card and you will earn miles when they spend on their card.
Authorized users do not enjoy most of the benefits that are offered by the card. However, they do enjoy complimentary access to the Delta Sky Club and the Centurion Lounges.
The Delta Reserve card charges $175 for each additional authorized user per year, far less than you would pay for an annual lounge membership.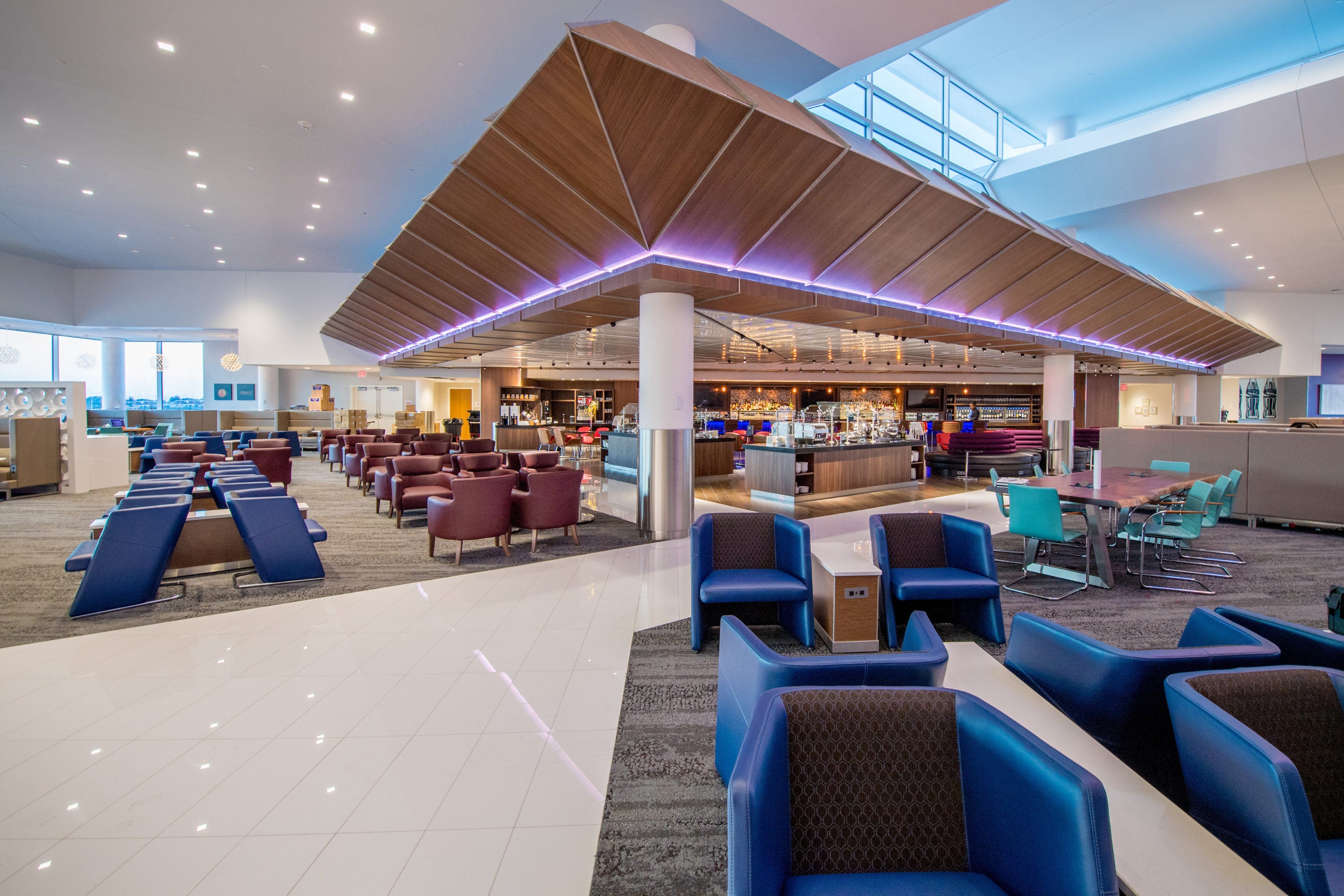 Delta Travel Benefits
The Delta Reserve card is loaded with benefits you can enjoy when traveling with Delta.
7. Access to Delta Sky Club Airport Lounges
Receive complimentary access to Delta Sky Clubs when flying the same day on a Delta-operated or marketed flight. You can bring up to 2 guests into the club with you for a discounted rate.
8. Access to Centurion Lounges
Cardholders traveling on a Delta operated or marketed flight can enjoy access to prestigious Centurion Lounges.
9. Complimentary Delta Sky Club Guest Passes
After card approval and at each card anniversary, the primary cardholder will receive 2 complimentary Delta Sky Club one-time use guest passes.
10. Priority Boarding
Make sure your Delta SkyMiles number is added to your reservation and enjoy Main Cabin 1 priority boarding for you and up to a maximum of 8 additional passengers traveling with you.
11. Free Checked Bag
You'll be saving plenty of travel dollars with the free checked bag benefit available to you and up to 8 additional travelers on the same Delta flight reservation.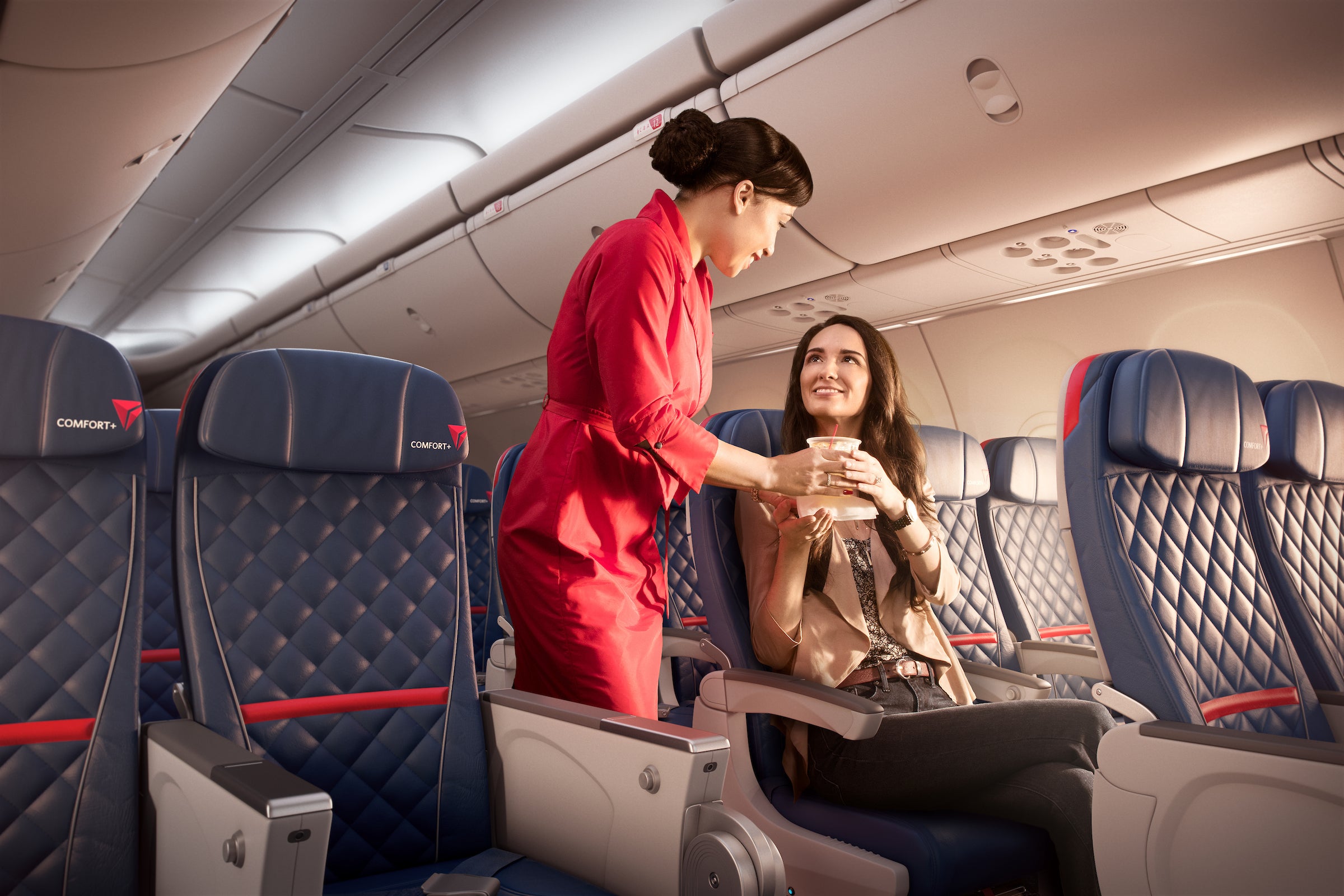 12. Delta SkyMiles Companion Certificate
At each card anniversary, you'll receive a First Class, Comfort+, or Main Cabin companion certificate for just the cost of the taxes/fees (which cannot exceed $75).
Tickets must be for travel within the 48 contiguous states. For details on how to use your Delta companion certificate, access our article with everything you need to know.
13. Upgrade Priority
Delta Reserve cardmembers who have Medallion elite status will have priority for complimentary upgrades over other passengers within the same Medallion tier and fare class grouping.
14. Upgrade Eligibility
Delta Reserve cardmembers who do not have Medallion elite status will be eligible for complimentary upgrades after Medallion members.
15. Inflight Discounts
Receive 20% back as a statement credit when using your card for in-flight Delta purchases such as food, beverages, and headsets.
16. Global Entry or TSA PreCheck Credit
Receive a statement credit up to $100 every 4 years for Global Entry or $85 every 4.5 years for TSA PreCheck.
17. Discounted CLEAR Membership
Breeze past TSA security screening with your CLEAR membership. Your pre-stored biometric information allows you to simply approach the CLEAR kiosk, check-in with your eyes or fingerprints and you're screened.
CLEAR membership costs $179 per year but Delta Reserve cardmembers receive a reduced price of just $109 per year.
Bottom Line: The frequent Delta traveler will receive a long list of Delta Reserve card benefits such as worldwide lounge access, free checked bags, priority boarding, upgrade eligibility, and discounted or reimbursed airport security fees. 
Redeeming Your Miles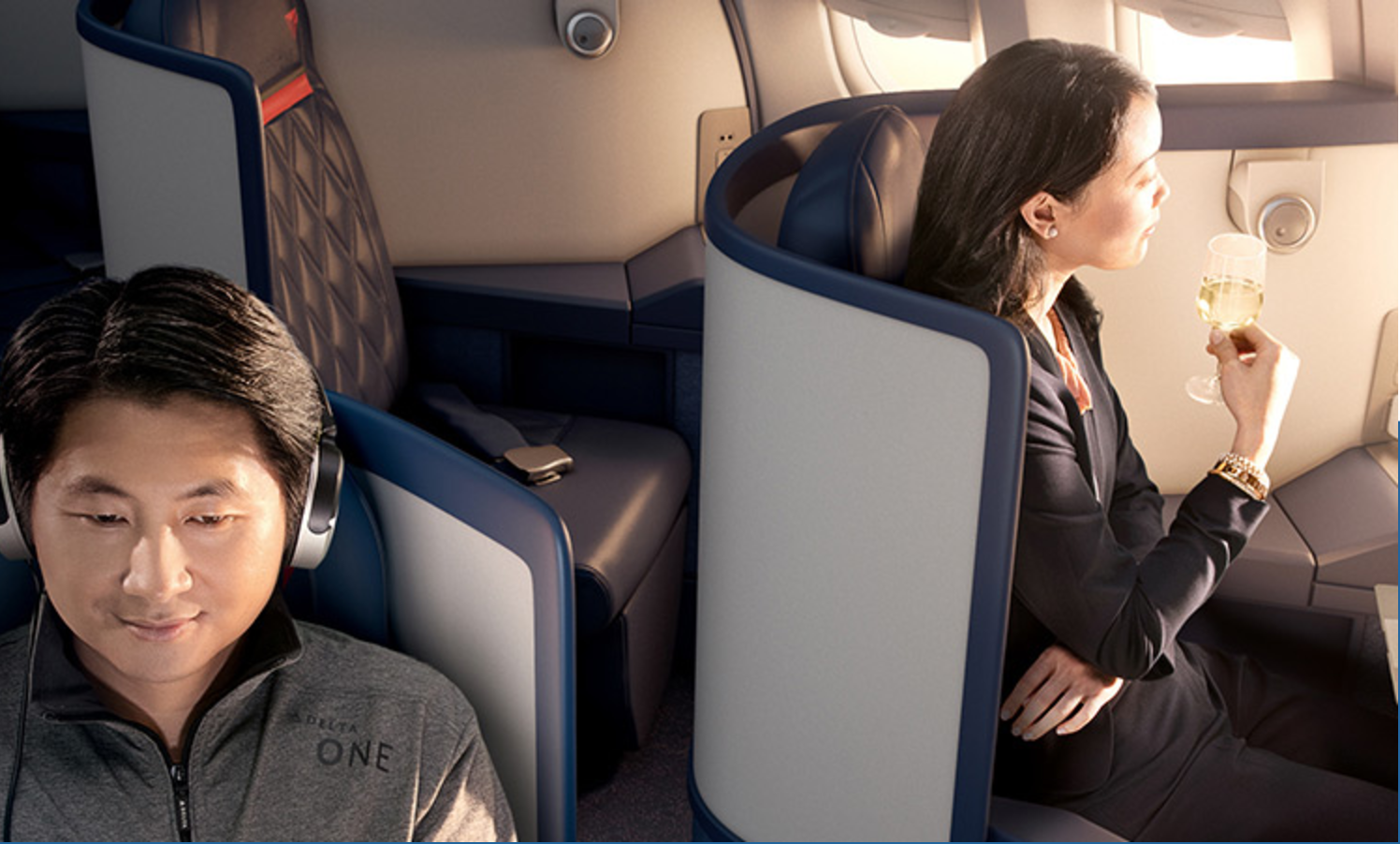 You won't have trouble using your SkyMiles as there are so many ways to redeem them. Having the Delta Reserve card allows you to earn more SkyMiles so we've included additional redemption options for using those miles, not just those limited to having the card.
18. Redeem Miles for Delta Award Flights
Delta doesn't publish an award chart but award flights generally start at 10,000 SkyMiles. They also run frequent flash sales where award flights are discounted.
19. Redeem Miles for Flights With SkyTeam Alliance Partner Airlines
You can use miles to book award flights on SkyTeam Alliance airlines and on other partner airlines.
For some of the best ways to redeem your SkyMiles, check out this article for our list of creative ideas for award redemptions.
20. Pay With Miles
Cardmembers can pay for all or a portion of their qualifying Delta flight with miles. A minimum of 5,000 miles is required and every 5,000 miles equates to $50 in value toward the cost of an eligible fare.
21. Redeem for Seat Upgrades and Ticket Fees
Use your SkyMiles to purchase an upgraded seat during the booking process or upgrade a qualifying existing reservation using miles.
In addition, you can use your miles to pay for ticket change fees, award redeposit fees, and same-day confirm fees. Learn all about how to upgrade to business and first class with Delta.
22. Redeem for Sky Club Membership and Premium Drinks
SkyMiles can be used to purchase an Executive Sky Club Membership, which allows complimentary access for the cardholder and 2 guests, for 84,500 miles.
An individual Sky Club membership which allows 2 additional guests for $29 per guest, per visit can be purchased for 54,500 miles. While standard alcoholic beverages are complimentary in the Sky Club, you can treat yourself and use your miles to purchase premium drinks.
23. Redeem Miles at the SkyMiles Marketplace and More
Redeem your miles at the SkyMiles Marketplace and select from over 6,000 items including hotel rooms, rental cars, appliances, electronics, apparel, accessories, and more.
Your miles can also be used to purchase gift cards, magazines, or for a charitable donation.
Bottom Line: There are dozens of ways to redeem your SkyMiles but the best value will generally be for Delta and SkyTeam partner award flights. 
A Faster Path to Delta Medallion Elite Status
In order to achieve elite status with Delta, each year you must fly the required miles or segments (Medallion Qualifying Miles (MQMs) or Medallion Qualifying Segments (MQSs)) and spend a specific level with Delta (Medallion Qualifying Dollars, or MQDs).

Delta Reserve cardholders have the opportunity to earn elite MQMs that count toward elite status, waive revenue requirements by spending on their card, and gift earned MQMs.
Hot Tip: Wondering about the value of status with Delta? We have you covered with our full guides on Silver Medallion, Gold Medallion, and Platinum Medallion status with Delta. 
24. Earn MQMs with Status Boost
Earn MQMs that count toward Medallion Elite status for spending on your card. When $30,000 is spent on the card in a calendar year, the cardholder earns 15,000 MQMs.
An additional 15,000 MQMs are earned when reaching $60,000 spent, another 15,000 MQMs at $90,000, and still an additional 15,000 MQMs at $120,000 spent in a calendar year. That's a total of 60,000 MQMs that can be earned by spending on your Delta Reserve card.
Update: Cardholders are also eligible for a 25% MQM Status Boost® bonus during 2021 (see terms). 
25. Waive the Medallion Elite Revenue MQD Requirement
When you spend $25,000 in a calendar year on your Delta Reserve card, you waive the MQD requirement for Silver, Gold, or Platinum Medallion elite status.
Spending $250,000 on your card in a calendar year will waive the MQD requirement for top Diamond Medallion status.
26. Gifting MQMs
As a Delta Reserve cardholder, you can gift the Medallion elite qualifying miles earned with Status Boost™ to another SkyMiles Medallion member.
Bottom Line: Spending on your Delta Reserve card can result in a faster path to elite status and the ability to gift MQMs to other SkyMiles Medallion members. 
Travel Protection and Benefits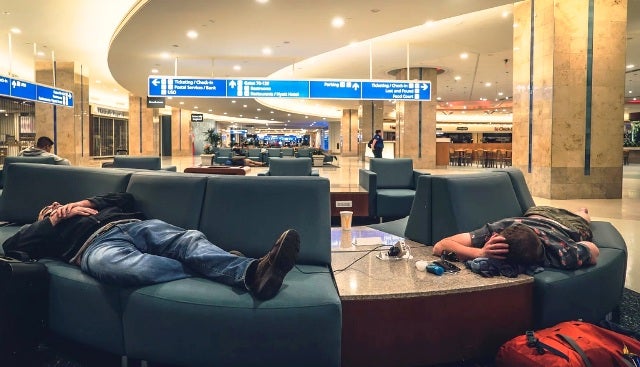 The Delta Reserve card comes with trip protections and benefits that can save you money and provide assistance when things go wrong during your travels.
27. Trip Cancellation and Interruption Coverage
Pay for your round-trip ticket with your Delta Reserve card and receive up to $10,000 per trip, $50,000 per year for a covered event. There are also a number of other cards that offer this type of insurance.
28. Trip Delay Coverage
If your trip is delayed 6 hours or more, you could receive up to $500 reimbursement for incidentals.
29. Baggage Insurance Plan
Receive up to $1,250 for carry-on baggage and $500 for checked baggage that is lost, stolen, or damaged.
30. Car Rental Loss and Damage Insurance
Reserve and pay for your rental car with your Delta Reserve card, decline the rental agency's collision damage coverage, and you could be covered for damage and theft of your rental car.
This coverage is secondary to any other car insurance covering such a loss.
31. Global Assist Hotline
Get help with emergency transportation, finding an English-speaking doctor, a legal referral, or assistance with other travel emergencies.
The referral service is free, however, the cardholder is responsible for any actual services provided.
32. Concierge Services
Receive 24/7 assistance with dinner reservations, tickets to events, and more.
33. No Foreign Transaction Fees
Take your card with you when you travel as no foreign transaction fees will be charged on your purchases.
Shopping Protections and Benefits
34. Return Protection
Purchase an eligible item with your card and if the merchant won't accept a return within 90 dates from the date of purchase, you could receive a return protection benefit of up to $300 per item, up to a maximum of $1,000 per cardmember account per year.
35. Purchase Protection
For purchase protection, receive up to $10,000 per eligible item purchased with your card if the item is damaged or stolen. Coverage is for 120 days (90 days for New York residents) from the date of purchase and the maximum benefit is $50,000 per year.
36. Extended Warranty
The manufacturer's warranty of 3 years or less on an eligible item (purchased with your card) will be extended for 1 additional year.
37. The American Express Auto Purchasing Program
Receive a discounted price on your new vehicle, up to $2,000 in post-purchase benefits, and be able to charge at least $2,000 of the purchase price on your card.
38. Cell Phone Protection
Cardholders receive up to $1,600 in cell phone protection (2 claims per year with up to $800 for each claim) against theft and damage, including cosmetic damage (like a cracked phone screen). Each claim has a $50 deductible and your monthly phone bill should be paid with your Delta Reserve card to receive coverage.
Final Thoughts
If you're a frequent Delta traveler, the benefits of having the Delta Reserve card are many, especially if you're currently paying for a Delta Sky Club membership.
An annual Executive Sky Club membership that includes 2 guests can cost far more than the annual fee on the card, making it a wise choice if you value lounge access and are paying for it.
The addition of access to Centurion Lounges is also valuable as this is a perk that cannot be purchased separately.
If you can use the companion certificate, free checked bag, and other Delta-related benefits that come with the card, it's a solid choice.
If you fly additional airlines frequently, you may consider the Platinum Card® from American Express which also offers complimentary Delta Sky Club and Centurion Lounge access plus a long list of premium benefits including hotel elite status and statement credits.
To help you decide which card is best for you, take a moment to review our comparison of The Amex Platinum vs. the Delta Reserve card.