The 10 Worst Ways To Use Your Points and Miles [2021]
When reading points and miles content, there is no shortage of guides teaching you all of the amazing ways you can use your points. From first class flights aboard the likes of Emirates or Singapore Airlines, to hotel stays at properties like the Waldorf Astoria Maldives, Park Hyatt Sydney, or St. Regis Hong Kong — the options can be dizzying!
But it is not often that you come across posts warning you against the common pitfalls when it comes to redeeming your points. When you're first getting started in the world of points and miles, any redemption feels like a good redemption. But as you quickly come to realize, not all travel rewards redemptions are created equal.
Of course, if you're someone who uses any of the redemption methods in this post, and you feel that redemption genuinely provides you the most value — then more power to you! But for those of you who want to get the maximum value possible for your travel rewards, and want to know what redemption options to avoid, this post is for you!
Let's jump in!
What Are My Points Worth?
In order to determine what is a bad redemption, we have to establish some sort of baseline value when it comes to various points and miles programs. It is also important to note that all points and miles are not created equally, as some are significantly more lucrative than others. Fortunately, we've already crunched all of these numbers and published them in our guide to travel points and miles valuations that we update monthly!
Of course, the tricky part here is that any sort of valuation is entirely subjective. What is good value for you, might not be great value for someone else, and so it goes. Our valuations are merely meant to serve as a baseline value that is both relatively easily attainable, and that we aim to shoot for when deciding whether or not to redeem our points on any given redemption.
For example, we value Amex Membership Rewards points at 2.2 cents per point because you can usually redeem them for business and first class award flights without too much difficulty — and the value of these flights can easily exceed 2.2 cents per point!
But if you feel our point valuations are off base, then you should determine whatever baseline values make the most sense for you and then keep those in mind when deciding what redemptions are best for you.
The 10 Worst Ways To Use Your Points and Miles
1. Letting Your Points Expire
Technically this one isn't redemption — it is the exact opposite. After all, there is no worse way to use your points than not using them at all!
If there is a cardinal sin of the points and miles community, it's this one. You wouldn't believe how many stories we have heard of people letting hundreds of thousands of airline and hotel points expire simply because they weren't sure how to redeem them, or worse, that they forgot they had them!
In many travel loyalty programs, your points do not last forever. Usually, if you haven't had some type of qualifying activity (usually earning new points or redeeming old points) in the last 24 months or so, your points will expire and you're less likely to get them back.
All of those potentially free flights or hotel stays, gone with the wind. So always keep tabs on your points and miles balances, and don't let this happen to you!
Hot Tip: If you're interested in the point expiration policies of nearly all major airline and hotel programs, we have a dedicated guide that covers just that. To stay on top of your points, consider registering your award programs with a tool like Award Wallet that will keep track of all of your point programs for you on 1 interface.
2. Gift Cards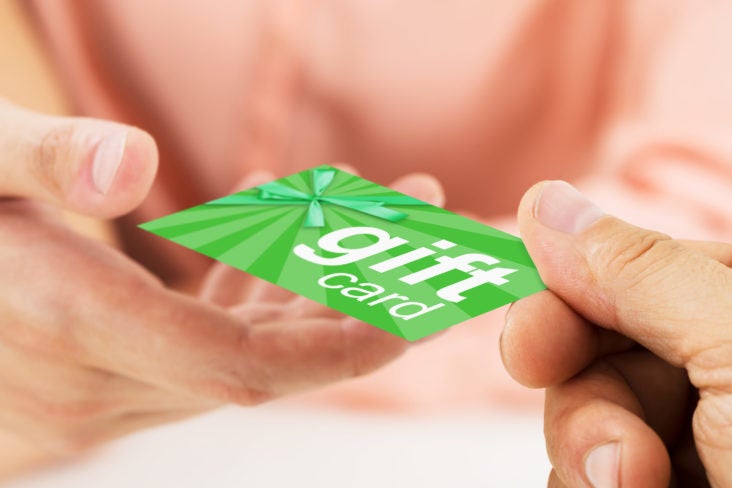 Almost every travel loyalty program out there offers the ability to purchase gift cards with your points as a redemption. In fact, companies usually try to steer customers towards these redemptions, often marketing them as a quick and convenient way to get value for your points.
While it may be quick and convenient, it is certainly not a great option from a value perspective. As oftentimes when redeeming your points towards gift cards you'll get a mere fraction from the value you could get from other redemption options.
Even with higher value programs like Chase Ultimate Rewards that often offers a value of 1 cent per point towards gift cards, it seldom makes sense to redeem points this way when you could also redeem them for cash-back at a rate of 1 cent per point. Which would you rather have, $100 in cash or a $100 Home Depot gift card?
3. Merchandise
Redeeming your points for merchandise is easily one of the worst options we will cover from a value perspective. While it might feel like you have endless options when redeeming your points this way, from new televisions to golf clubs to useful household items, whatever item you're looking for you are sure to find. Again, while this is certainly convenient, the value you're getting compared to other redemption options is egregiously lower.
In fact, many merchandise redemption options from popular loyalty programs offer values of just 0.3 to 0.5 cents per point — which is usually even less than you'd receive when redeeming cash-back! In that case, you're actually paying more for the item in points than you would have if you'd just redeemed for cash-back and used that cash to purchase the product.
4. Magazines
This redemption is a bit uncommon as most people don't find it to be a very exciting use of your points compared to other options. Surprisingly though, you can get a pretty spectacular cent per point value on certain redemptions.
For instance, a 54-issue People magazine subscription usually retails for $89, but through MagsForMiles, you could redeem 2,100 Delta SkyMiles or United MileagePlus miles, 2,600 Frontier Miles, or 3,200 Free Spirit points. This redemption would give you a value of between 2.8 to 4.2 cents per point depending on which program you booked through.
But herein lies the problem of strictly relying on a cent per point valuation to guide your redemptions. How much do you truly value a People magazine subscription? Would you actually read each new issue? If so, would you pay $89 for it? If not, then this likely is not a great redemption option for you.
Hot Tip: If you have a small number of miles with a certain program (say 500 to 2,000), and you aren't able to use them for anything else and don't plan to fly with that airline again, then it could make sense to redeem those miles for a magazine subscription. That way, you will get some value out of those miles as opposed to just letting them expire. 
5. Amazon (or Other Online Merchants)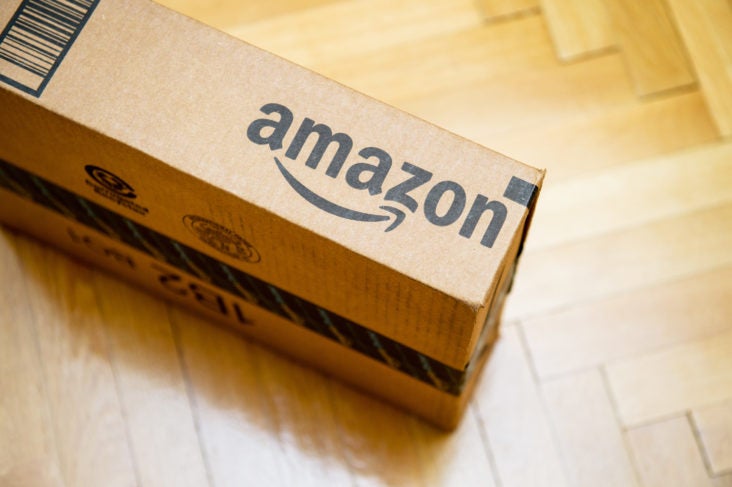 When you link certain credit cards, like those that earn Amex Membership Rewards points or Chase Ultimate Rewards points, to online merchants like Amazon (or others like Apple and Best Buy) you'll often be asked at checkout if you'd like to purchase your items using your points instead of charging the balance to your credit card.
Like the other options we mention, while this option is convenient, what you make up for in convenience you lose in overall point value. Further, this redemption option usually offers at best a 1 cent per point valuation, but often offers an even lower value, making it a worse option than simply redeeming your points for cash-back.
6. Lounge Club Memberships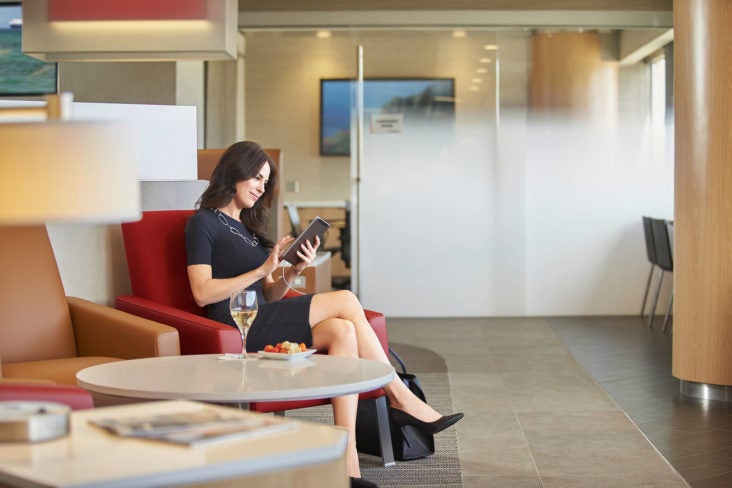 Many airline programs will allow you to redeem your miles towards an annual membership to the airline's lounge network, but this is usually a pretty poor use of your miles.
All 3 legacy airlines — American, Delta, and United — will allow you to redeem your miles towards a 1-year lounge membership. The base rates are as follows:
American Admirals Club: $650 / 65,000 AAdvantage miles — 1 cent per point
Delta Sky Club: $545 / 54,500 SkyMiles — 1 cent per point
United Club: $650 / 85,000 MileagePlus miles — 0.7 cent per point
With the exception of Delta SkyMiles, these rates are quite a bit lower than the values we usually aim for when redeeming our miles. But there is another reason why you should think twice before redeeming your miles this way, and that is because you can get a complimentary membership to each of these airline lounge networks simply by holding their premium credit card.
American flyers can get Admirals Club access when holding the Citi®/AAdvantage® Executive World Elite™ Mastercard®, Delta flyers receive Sky Club access with the Delta SkyMiles® Reserve American Express Card or The Platinum Card® from American Express, and United flyers can use the United Club℠ Infinite Card to access the United Club.
Plus, those cards offer tons of other valuable benefits to frequent flyers like priority boarding, extra luggage allowance, a discount on inflight purchases, and the ability to help you reach higher levels of elite status.
Hot Tip: Want airport lounge access? Get a credit card that offers lounge access as a benefit of the card and save your hard-earned miles for redemptions that give you the most value — like flights!
7. Inflight Wi-Fi
Most major airline programs will also allow you to redeem your miles towards inflight Wi-Fi passes, but the redemption rates are pretty terrible compared to what you can get elsewhere.
Take United, for example, which allows you to redeem your miles towards monthly North American Wi-Fi passes start for 7,500 miles ($49 savings) or 80,000 miles ($539 savings) for an entire year. You can also get monthly Global Wi-Fi passes starting at 10,500 miles ($69 savings) and 100,000 miles ($689 savings) for an entire year.
All of those options give you a value of just 0.6 cents per United mile. That is a full 1 cent per mile less than our valuation of United miles. When you redeem your miles for flights you will almost always get significantly more value than this, so you'd be much better off booking your flight with miles and paying cash should you decide to use Wi-Fi during the flight.
Hot Tip: There are many airline credit cards out there that actually offer a 20% to 25% discount off inflight Wi-Fi, like the United Quest℠ Card, making it an even better deal to save your miles and pay cash when purchasing a Wi-Fi pass.
8. Transferring Miles to Friends or Family
Depending on the airline program, you might have the option of transferring your miles to a friend or family member's account. On the face of it, this might seem like a great option, especially if you want to gift them a flight, or if you don't have enough miles in your own account for a specific booking.
But you should think twice before transferring miles because most airlines will actually charge you in order to transfer your miles from one account to another.
Take Southwest, which charges you $5 per 500 points you want to transfer, starting at a minimum of 2,000 points! You are effectively paying 1 cent per point just to move your points from one account to the other. When you consider that Southwest points are a fixed rewards currency, and can only be redeemed for around 1.3 to 1.4 cents per point, you're effectively throwing away most of their value just to transfer them!
Instead, if you want to book a flight for a friend or family member, just book the flight from your account and put the flight in their name. That way you get to give your loved one a gift while keeping the full value of your points.
9. Using Airline Miles for Hotel Stays or Rental Cars
If you thought it was a good idea to use your airline miles to book other trip expenses like hotel stays or rental cars, you might feel otherwise once you run the numbers.
As an example booking, let's look for a weekend hotel stay in NYC at a luxury hotel like The Beekman, A Thompson Hotel using our AAdvantage miles.

When we look at the cash rates for those same dates, we see that we can book the same room for $585.59 per night after taxes and fees, or $1,171.18 total for the 2-night stay.

This gives us a value of just 0.8 cents per mile when using our American miles to book this hotel stay, which is significantly below our 1.5 cent valuation of American miles.
To make matters worse, it is also worth noting that you could use 140,000 American miles to fly round-trip between NYC and Doha in Qatar Airlines' Qsuites, which is often regarded as the best business class in the world and regularly retails for over $10,000 per ticket.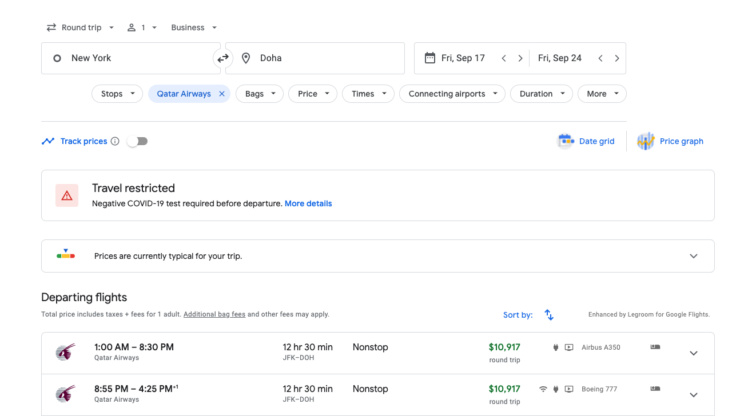 So which redemption would you rather make? A $10k round-trip business class ticket on one of the nicest airlines in the world with 4,000 miles left over? Or 2-nights at a hotel that retails for $580 per night? We know which one we'd choose!
10. Statement Credits
Of all of the worst ways to use your points, statement credits are certainly the most reasonable. After all, whether you're holiday shopping or receive an unexpected bill, sometimes you could really use some extra cash. In times like these, being able to redeem your points as a statement credit are a great option to have.
But if you have aspirations for using your points towards free travel, then you'll definitely don't want to redeem all of your points towards statement credits. Especially when you consider that the statement credit return can be much lower than you can get on other redemptions. Amex Membership Rewards are a great example of this, as you can redeem them as a statement credit at a rate 0f just 0.7 cents per point — which is over 3 times lower than our 2.2 cents per point valuation of Amex Membership Rewards points.
Chase Pay Yourself Back offers a higher return of up to 1.5 cents per point for purchases made at grocery stores, home improvement stores, and restaurants, which is the best value you can get without transferring Chase points to travel partners.
Hot Tip: If you're primarily interested in earning cash-back or redeeming points statement credits, then you'll want to focus on using credit cards that offer cash-back rewards — especially those that allow you to get at least 1 cent per point when redeeming. 
Final Thoughts
There you have it, our 10 worst ways to redeem your points and miles. But again, we'd like to reiterate that we have listed these options as the "worst" ways to use your points because they are usually the lowest value option from a cent per point perspective relative to what you could receive from another redemption.
Aside from letting your points expire, there is no true bad way to use your points as long as you have weighed all of your options and decided a specific redemption is the best fit for you. Not traveling anytime soon and prefer to use your points to purchase a few items on Amazon? Go for it! Holidays coming up and need some extra cash? Then redeem some points for a statement credit!
The whole point of earning points and miles is to use them, and to use them on the items that you actually want to use them on, whether that's trips, cash-back, merchandise, or anything in between. So if you're earning points and redeeming them on what you want, whenever you want, then you've already won!