The Ultimate Guide to "Cancel for Any Reason" (CFAR) Travel Insurance
If you travel even occasionally, you've probably purchased or at least considered purchasing travel insurance. And if you're like most consumers, you'd like to find the lowest price possible at the time of purchase, yet have the best coverage in the event of a claim.
Finding a balance between cost and coverage is the best solution, but it's not as simple as it sounds. It's difficult to read through coverage descriptions and interpret insurance jargon.
One way to ensure you're getting the best travel insurance coverage possible is to consider "Cancel for Any Reason" (CFAR) coverage. While there are certain conditions for purchasing this type of coverage, if it's available for your trip, it may be worth the extra cost in an environment of uncertainty.
Let's explore CFAR insurance: what it covers, what it doesn't cover, and some of the time-sensitive restrictions for purchasing the coverage. We'll also  show you how to find CFAR insurance and discuss which policies might apply to known COVID-19 virus-related events.
What is Cancel for Any Reason Travel Insurance?
Cancel for Any Reason insurance is not a stand-alone travel insurance policy but an add-on coverage that expands trip cancellation coverage to include canceling a trip for any reason.
CFAR coverage can be added to a comprehensive travel insurance policy at the time of purchase.
Normally, the trip cancellation insurance you purchase has limited covered reasons, such as illness or legal obligations, for canceling a scheduled trip and receiving any reimbursement. When you purchase CFAR add-on insurance, you can then cancel your trip for any reason — but there are some caveats.
Timing is a critical element in purchasing CFAR coverage as most policies require that you purchase the CFAR coverage within 14-21 days after you make the first initial trip deposit. There may be other requirements for purchasing CFAR insurance such as insuring your trip for 100% of its total cost.
Additionally, only a certain percentage of your trip costs are reimbursed should you have to cancel, typically around 75% but there can be options to purchase less expensive coverage that might cover just 50% of your trip costs.
CFAR insurance is obviously more expensive than just a standard travel insurance policy as it covers more situations and there is an increased likelihood of a claim. You could pay an additional 40% or more to add on the coverage.
Even with the added cost, if you're booking an expensive trip and there is a chance you may have to cancel, the extra premium can be worth the peace of mind.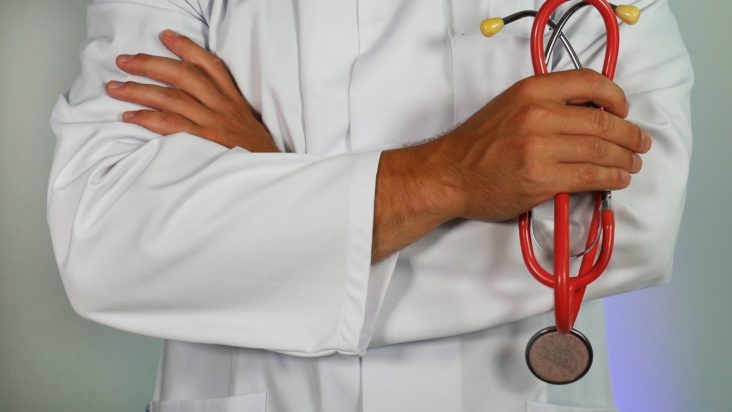 How CFAR Differs From Standard Trip Cancellation Insurance
You'll find trip cancellation as a core coverage on most travel insurance policies. The coverage protects you from unforeseen events that may cause you to have to cancel your trip.
Examples of potentially covered events include:
Jury duty or other legal obligation such as a subpoena for a court appearance
Weather or airline issues
Unexpected natural disasters
Unexpected illness or death of you or a traveling companion
Unexpected illness or death of a family member
Trip cancellation insurance reimburses for pre-paid, non-refundable trip costs lost due to cancellation of your trip for a covered reason.
CFAR insurance is also trip cancellation insurance, but it offers much broader coverage. The coverage allows you to cancel your trip for any reason, but you will also pay an additional amount for this protection, with restrictions.
Typical requirements for purchasing the coverage include:
Must purchase 14-21 days within the first deposit you make on your trip
Must insure the trip for 100% of its value
Depending on the plan you select, you must cancel with the travel provider more than 48 to 72 hours of departure
Reimbursement is not 100% of your total trip cost, more commonly just 50%-75%, depending on the plan you purchase
What Does CFAR Cover
CFAR coverage allows you to cancel your trip for reasons not listed as covered reasons on your travel insurance policy.
Some examples of reasons you might cancel and have coverage under CFAR versus standard trip cancellation insurance include:
Decided not to go — no specific reason
Work-related issues
Unable to secure a visa or passport in time
Travel fears
Weather
Unrest at your destination
What is Excluded
CFAR does not cover a trip you booked previously. Limitations vary, but requirements to purchase CFAR coverage can be as soon as within 24 hours of the first initial deposit you make on your trip or you may have as much as 21 days.
Coverage is excluded for trips that have already commenced. Once you have started traveling, however, you may have trip interruption coverage.
Additionally, you may find trip cancellation/interruption insurance on your credit card. This coverage is not CFAR insurance and only applies in the same type of situations you'd find in some trip cancellation policies. If you do not need CFAR insurance, the coverage on your credit card may be sufficient. Let's take a look at a few of the best cards that offer the coverage.
Bottom Line: Trip cancellation allows you to cancel your trip for specific reasons, including illness and legal obligations. CFAR coverage, when added to a comprehensive travel insurance policy, allows you to cancel your trip for any reason. 
The Best Credit Cards for Trip Cancellation/Interruption/Delay Coverage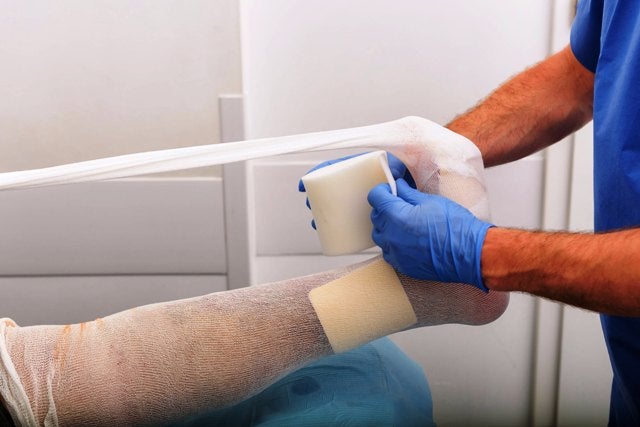 While the trip cancellation coverage that comes with your credit card does not include CFAR insurance, it may still be sufficient to cover your trip. Here are a couple of the best credit cards that offer trip cancellation and trip interruption coverage.
In addition to being one of the best travel rewards cards, the Amex Platinum's benefits include trip cancellation and interruption insurance that offers a benefit of up to $10,000 per trip, and $20,000 per 12 month period per account.
Credit Card
Benefits & Info

The Platinum Card® from American Express


Apply Now

(at Amex's secure site)

Earn 60,000 75,000 Membership Rewards® points after you use your new Card to make $5,000 in purchases in your first 6 months.
Earn 10x points on eligible purchases, in your first 6 months, on your new Card at U.S. Gas Stations and U.S. Supermarkets (on up to $15,000 in combined purchases).
Earn 5X Membership Rewards® points on flights booked directly with airlines or with American Express Travel. Starting January 1, 2021, earn 5X points on up to $500,000 on these purchases per calendar year
Access 1,300+ airport lounges across 140 countries, including the amazing Centurion lounges. (This is our favorite lounge access card.)
Up to $200 Uber Savings Annually.
Up to $200 Airline Fee Credit.
Up to $100 fee credit for Global Entry or TSA PreCheck.
Up to $100 annual Saks Fifth Avenue credit
Annual Fee: $550
Terms Apply. For rates and fees of the Amex Platinum Card, click here.


Must Reads: For more info on the Amex Platinum, see our thoughts on its benefits & perks, travel insurance coverage, and unbeatable airport lounge access. Take a look here for our full review.
You'll find plenty of premium travel benefits on the card, including worldwide access to over 1,200 airport lounge, such as Centurion Lounge network locations. You'll also receive hundreds of dollars in credits for Saks Fifth Avenue, Uber, and airline incidental fees.
Membership Rewards points earned on the card can be redeemed directly for travel with Amex Travel or transferred to airline and hotel partners for potentially greater value.
One of our favorite travel rewards cards also comes with trip cancellation and trip interruption coverage.
If your trip is canceled due to a covered reason, coverage is afforded up to $10,000 per incident. The benefit is limited to $20,000 per occurrence (more than 1 person could be covered) and $50,000 per 12-month period.
Credit Card
Benefits & Info
Chase Sapphire Preferred® Card


Apply Now

(at Chase's secure site)

Earn 60,000 bonus points after you spend $4,000 on purchases in the first 3 months from account opening.
Earn 2x points on travel and dining at restaurants worldwide, eligible delivery services, takeout and dining out
Earn 1 point per dollar spent on all other purchases.
Get unlimited DoorDash deliveries with a $0 delivery fee and reduced service fees on orders over $12 for a minimum of one year on qualifying food purchases with DashPass, DoorDash's subscription service. Activate by 12/31/21.
Good to Excellent Credit Recommended (670-850)
Annual Fee: $95


Must Reads: For more info on the Chase Sapphire Preferred, see our thoughts on its benefits, travel insurance coverage, and credit score requirements. Take a look here for our full review.
The Chase Sapphire Preferred card is packed with benefits and earns big on travel and dining. When it's time to redeem your Ultimate Rewards points, they're worth 25% more in value towards travel when redeemed through the Chase Travel Portal. You also have the flexibility to transfer your points to travel partners to redeem for award flights and/or free hotel nights.
Bottom Line: Several credit cards come with trip cancellation/interruption/delay coverage. While the coverage that is included on your card may still be sufficient to cover your trip, it is not CFAR insurance and will not allow you to cancel your trip for any reason. 
For more options, see our dedicated article on the best credit cards for travel insurance coverage.
Due to recent events, you may be looking for coverage that allows you to cancel a future trip if you make a decision not to go due to the coronavirus pandemic. Many existing policies cover trip cancellation due to your own illness, or the illness of other covered individuals, and the coronavirus can be included.
If you simply decide not to go due to fear of traveling or getting quarantined, however, these are not covered reasons under an existing travel insurance policy without CFAR.
Trip cancellation policies typically cover sudden and unexpected events. Since the virus is now a "known event," a term commonly used in the insurance industry, the only way to secure coverage for a voluntary trip cancellation is by purchasing CFAR coverage on a comprehensive travel insurance policy.
Also, not all travel insurance companies sell CFAR, and those that do have restrictions like the ones we mentioned previously. There is, however, plenty of availability for those who would like to purchase coverage for an upcoming trip or a very recently booked one.
Most travel insurance websites that have made statements addressing the virus offered information on how to purchase appropriate coverage and spoke candidly as to how existing policies apply to the COVID-19 virus.
Here's a sampling of what they're saying:
"Select a comprehensive travel policy with CFAR coverage."
The popular travel insurance search engine, Insure My Trip, informs consumers that if they are looking for policies that could cover COVID-19-related claims, they'll need to select a comprehensive policy with Cancel for Any Reason coverage.
Another popular site, representing dozens of travel insurance providers, offers a guide to purchasing travel insurance in light of the pandemic. It also posts a helpful list of statements issued by travel insurance companies explaining whether the virus is covered under their existing policies.
You'll find a wide selection of travel insurance policies that allow you to add CFAR coverage.
"World Nomads does not have an endemic or pandemic exclusion for policies which means that you may make claims arising from the COVID-19 for the benefits specified in your policy."
While World Nomads does not offer CFAR add-on coverage, it reminds its policyholders that the coronavirus is a covered illness on its policies just like other illnesses as they relate to trip cancellation and other related trip coverages.
"Many travelers are looking for the flexibility to change their travel plans and seek compensation — they want Travel Insurance Cancellation For Any Reason."
Aardy recommends Cancel for Any Reason insurance if you're booking an expensive trip and think you might need to cancel. Its site makes it easy to find and compare travel insurance policies that offer the coverage.
Bottom Line: Standard trip cancellation insurance does not allow you to cancel your trip due to fear of getting the COVID-19 virus. Only Cancel for Any Reason insurance, added to a comprehensive travel insurance policy, provides coverage for trips canceled for any reason. 
Where Can I Buy CFAR Insurance?
The primary reason to purchase CFAR insurance is to be able to cancel your trip for any reason you feel necessary. The enhanced ability to cancel your trip causes the premium you pay for CFAR coverage to be higher. It is estimated that the surcharge can be at least 40% added to the price of a travel insurance policy.
With that being said, you may be willing to pay the extra money to have peace of mind that you'll recoup most of your funds should you need/want to cancel.
So, where can you purchase CFAR insurance? Fortunately, it's readily available but you'll have to be diligent and read the fine print. Here are some examples of getting a quote for the coverage and making sure it's included.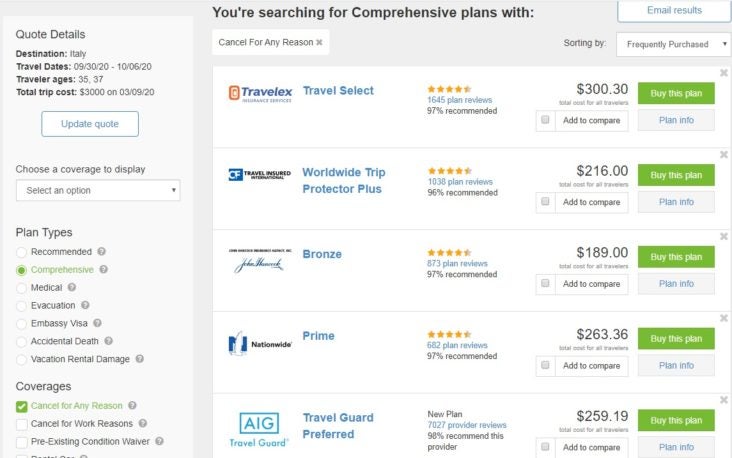 Insure My Trip recommends a comprehensive policy with Cancel for Any Reason coverage for consumers who are looking to select policies that would cover voluntary trip cancellations.
When searching for a comprehensive travel insurance policy for 2 travelers, ages 35 and 37, going to Italy on a $3,000 trip about 6 months in the future, the quotes ranged from $118 to $270. When adding CFAR insurance, the quotes increased to a range from $189 to $315, which includes both travelers.
The site also notes that these policies do not cover New York state residents for CFAR due to insurance regulations.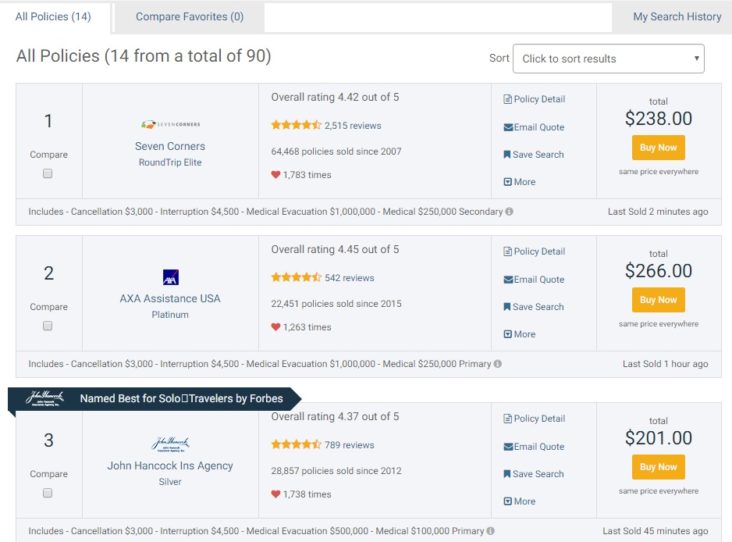 Squaremouth is a travel insurance search engine allowing you to search, compare, and purchase travel insurance for dozens of insurance companies offering travel insurance.
It's not difficult to find CFAR coverage on Squaremouth. Using the same criteria of 2 travelers, ages 35 and 37, traveling to Italy in 6 months, spending $3,000 for their trip, the site offered plenty of options.
To find policies with CFAR coverage, simply insert your information, and when the results appear, apply the Cancel for Any Reason filter by checking the box.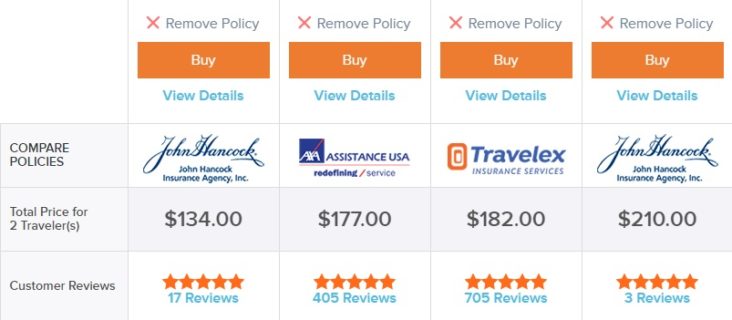 Searching for a policy with CFAR on TravelInsurance.com is easy. Using the same criteria as previous quote searches, the results looked really competitive. Note, however, that CFAR is an add-on at checkout.
Still, the ease of getting a quote and the comparison feature made it simple to find a policy with CFAR coverage and compare policy details between plans.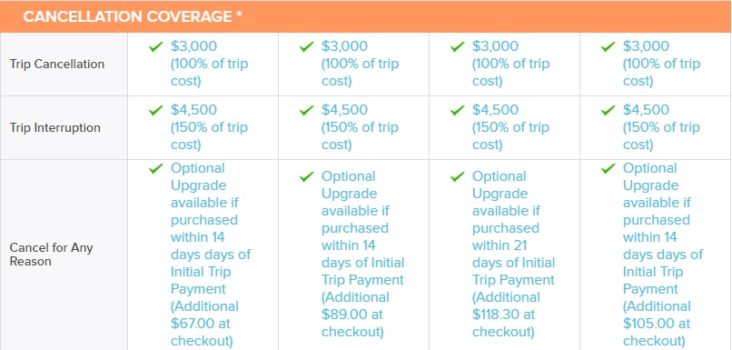 World Nomads
While we highly recommend World Nomads for its innovative and comprehensive travel insurance policies, it does not offer CFAR add-on coverage.
If you are an active traveler who participates in outdoor activities or sports, or you're involved in other adventure-related travel, chances are you'll find coverage that matches your travel profile with World Nomads.
Aardy
Aardy.com is a licensed insurance company that allows you to compare over 30 travel insurance providers online. It also has a staff of agents to assist you should you need help selecting a policy.
Once again, we used a scenario of 2 travelers ages 35 and 37 traveling to Italy on a $3,000 trip in October. Benefits listed are per person but total prices include all travelers.

AardvarkCompare is unique in that it also analyzes the travel insurance coverage that the airlines offer when you purchase a ticket. Its advice is to not limit yourself to the 1 option offered by the airline at the time of purchase but to compare several options and select the 1 with the most coverage for the best price.
Hot Tip: AardvarkCompare offers this tip for realizing big saving on airline tickets: if you're purchasing a refundable fare ticket because you're not sure of your exact schedule or think there is a chance you might have to cancel, purchase a non-refundable fare for a fraction of the cost and insure the flight with CFAR. A $450 non-refundable flight can be covered for as little as $40 on Aardy or for similar rates on the other sites we mentioned that offer CFAR.
Everything Else You Need to Know
Insurance is regulated by the individual states, so there are differences in policies and premiums depending on where you live. However, some regulations are consistent, such as the Free Look Period, which allows you to review a purchased policy for a specified number of days, usually 10-14 days. If you do decide not to keep the policy, you can cancel and receive a full refund.
Due to the state of New York's insurance regulations, CFAR insurance is not available for sale in that state.
You may not be able to purchase travel insurance or CFAR coverage for travel to some high-risk areas. If an area is restricted, it will not even be possible to secure a quote for a trip that includes such destinations within the itinerary.
While CFAR coverage may only reimburse 50%-75% of your trip costs, keep in mind that you may be able to recoup some costs from travel providers. For example, an airline might issue a refund minus any change/cancellation fees or a tour operator may issue a partial refund, depending on the situation.
Final Thoughts
Travel insurance can be a valuable resource should you need it, but it can also give you peace of mind before your trip, knowing you won't lose your entire investment should you not be able to go. With CFAR insurance, you can also simply decide not to go and still be protected for the majority of your trip expenses.
Purchasing CFAR insurance can make sense even when you're just purchasing a flight. Airlines offer insurance, but it's usually just 1 option and not the best price or coverage. Using one of the travel insurance sites that compares several providers can help you select a policy that may give you better value.
While it may not make sense to insure inexpensive trips, if you're booking flights, hotels, and activities that involve non-refundable deposits, having the added protection will ease your mind and come through for you if you should need to use the coverage.
For additional information on purchasing travel insurance, you'll want to access these related articles on the best travel insurance companies and our ultimate guide to buying travel insurance.
---
For rates and fees of the Platinum Card® from American Express, please click here.