American Express Travel Insurance Coverage Review – Is It Worth It?
We frequently discuss the travel insurance coverages that are offered complimentary on most credit cards. We do so because these benefits, especially the long list of travel insurance coverages on premium cards, can save you money, offer peace of mind during your travels, and provide help if something goes wrong.
These complimentary coverages are useful and can offer more than adequate coverage for most trips. However, if you're investing in an expensive trip or 1 that involves multiple travel providers, purchasing a comprehensive travel insurance policy is a prudent move. You'd also want a travel insurance policy if your trip has a complicated itinerary or if you're anxious about the possibility of having to cancel any portion of the journey.
Additionally, it's imperative that if you're worried about having medical coverage while traveling, you'd want to purchase a travel insurance policy that provides medical coverage.
Fortunately, travel insurance is widely available, reasonably affordable, and simple to secure. There are several reputable travel insurance companies, highly-rated by financial rating organizations such as AM Best, that offer nearly endless options from which to choose.
American Express Travel Insurance, underwritten by AMEX Assurance Company, is one of those highly-respected, highly-rated, established companies offering comprehensive travel insurance solutions.
Join us while we check out the types of policies the company offers, any limitations of which to be aware, and additional options for protecting your next trip appropriately.
Why Purchase Travel Insurance
Travel insurance can help you avoid losing the investment you made when booking your trip, reimburse you for covered expenses should your trip be disrupted due to a covered event, or pay for emergency medical services.
Policies are designed to cover disruption due to the reasons listed in the policy you purchased. These reasons consist of events that are unforeseen and unexpected.
Here are a few situations where travel insurance could cover your loss:
You or a covered family member become ill and you must cancel your trip. Trip insurance can cover prepaid non-reimbursable expenses.
You are injured in an accident during your trip and need to be evacuated to a hospital by air ambulance.
You become ill during your trip and must return home versus continuing on your journey.
Your flight is delayed or canceled and you must stay at a hotel and incur expenses for lodging and incidentals.
Whether you should purchase travel insurance or not is a personal decision. If losing your trip investment or having to pay for extra expenses if the trip is disrupted makes you uncomfortable or would present a financial burden, then you should purchase a comprehensive travel insurance policy.
If worrying about having to cancel your trip or having it disrupted during your journey is an issue, purchasing a travel insurance policy will definitely deliver some peace of mind, both prior to and during your trip.
For more tips on buying travel insurance in general, you'll find valuable information in our guide to buying the best travel insurance.
Bottom Line: The longer, more expensive, and more complicated your trip, the greater the need for a comprehensive travel insurance policy.
Travel Insurance and the COVID-19 Virus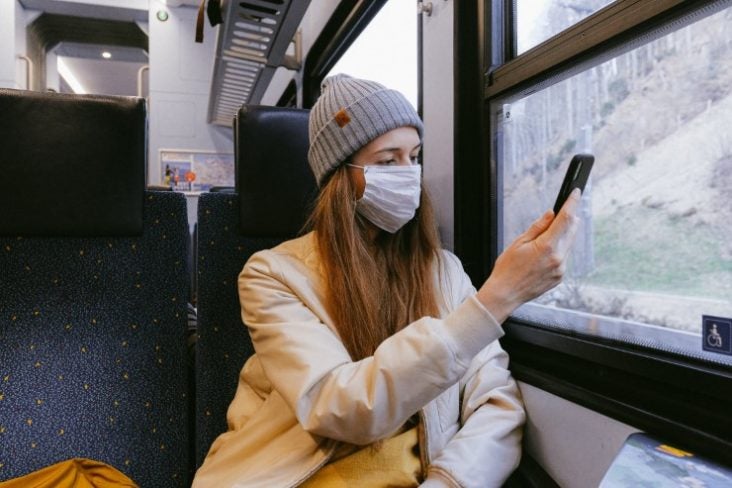 When you purchase travel insurance and your trip is canceled, you expect to have coverage. However, not all cancellations are covered — only those specifically listed in your policy.
Once COVID-19 was declared a pandemic, it became a known event and therefore is not covered on travel insurance policies. While it's reasonable to want to cancel your trip due to fear of COVID-19, canceling a trip due to the fear of any illness is not a covered reason on any travel insurance policy.
There is also no coverage for canceling a trip due to a U.S. State Department announcement warning of COVID-19 in a particular area.
In order to have coverage for voluntary trip cancellations, you would need to purchase "Cancel for Any Reason Insurance" (CFAR). CFAR is not a stand-alone insurance policy — it is an add-on coverage you select when you purchase a travel insurance policy or coverage you may be able to add to a travel insurance policy after purchase, within an initially specified timeframe.
CFAR insurance is expensive, does not cover the entire cost of your trip, and not all companies sell the coverage, including American Express Travel Insurance.
Additionally, there is a small window of time when you are able to purchase the coverage, including during your initial purchase or up to 10 to 21 days after the purchase, depending on the company.
While American Express Travel Insurance does not cover trip cancellation due to fear of contracting COVID-19, there may be coverage in certain circumstances. For example, if you become sick with the virus and have to cancel your trip as a result, you may have coverage under trip cancellation insurance.
Additionally, if you become ill with the virus during your travels, you may have coverage under Travel Medical Protection. Terms and conditions apply.
Bottom Line: Travel insurance does not cover canceled trips due to fear of getting COVID-19 or a government declaration that a specific destination is unsafe. Cancel for Any Reason Insurance must be purchased to cover these voluntary cancellations. 
American Express Travel Insurance Options
American Express offers you 2 options when it comes to purchasing travel insurance. You can select a package policy that includes several types of coverages in 1 plan or you can build your own travel insurance plan and select just the coverages that are important to you.
Coverage is worldwide except for where it would violate U.S. trade or economic sanctions. All permanent U.S. residents are eligible to purchase travel insurance with American Express.
Package Policy Options
American Express Travel Insurance offers 4 levels of travel insurance package policy plans — a Basic Plan, Silver Plan, Gold Plan, and Platinum Plan. Each has its own levels of coverage and associated premium cost.
Let's take a look at the package policy offerings and pricing. We chose a week-long trip for a 40-year old that cost $3,000. Prices ranged from $59 to $208 to cover the entire trip.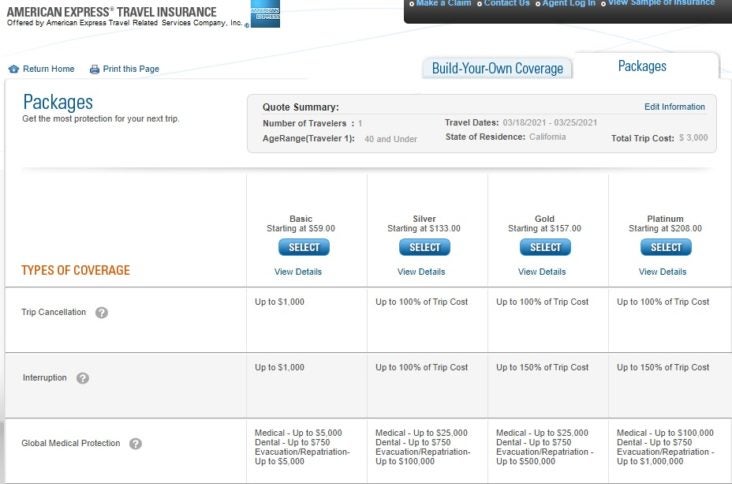 With package policies, you can expect to find the following coverages. The limits of coverage differ based on the policy plan you select.
Trip Cancellation/Interruption — Receive reimbursement for prepaid non-refundable expenses due to cancellation for covered reasons and additional costs if your trip is disrupted, also for covered reasons.
Global Medical Protection — Receive worldwide emergency medical and dental coverage for the first 60 days of your trip and access to emergency evacuation/repatriation services.
Travel Accident Protection — Receive coverage for accidental death/dismemberment from the time you leave on your trip until the time you arrive home.
Global Baggage Protection — Coverage varies from $250 to $2,500 for lost luggage depending on the level selected. Baggage delay coverage starts from 3- to over 24-hour delays, depending on the policy plan selected.
Global Trip Delay — Receive up to $300 per day, $1,000 per trip, depending on the level of coverage selected. Coverage is valid for delayed/canceled flights or involuntary-denied boarding.
24-Hour Travel Assistance — Have global access to planning and emergency assistance before and during your trip.
Bottom Line: American Express Travel Insurance offers 4 different levels of package policies, each comprising a collection of coverages most travelers look for. The plan you select and the level of coverage limits chosen determine the amount of the premium cost. 
Custom Select Coverage Options
If some of the coverages in the package plan are not important to you, you can select only the coverage(s) you want and pay accordingly. Perhaps, for example, you have a need for just medical coverage while traveling abroad. You have the option to select just that coverage.
This example shows the levels of coverage available and the associated premium costs. The Gold Plan selected offers up to $100,000 in emergency medical, up to $750 in emergency dental, and up to $100,000 in emergency evacuation/repatriation. The price of this plan would be $32 for the entire trip.
Bottom Line: Having the option to select only the coverages you want allows you to save money by not paying for coverages you don't need. This is a key benefit of purchasing travel insurance through American Express Travel Insurance. Few travel insurance companies offer the option to purchase stand-alone travel medical coverage. 
Additional Information — American Express Travel Insurance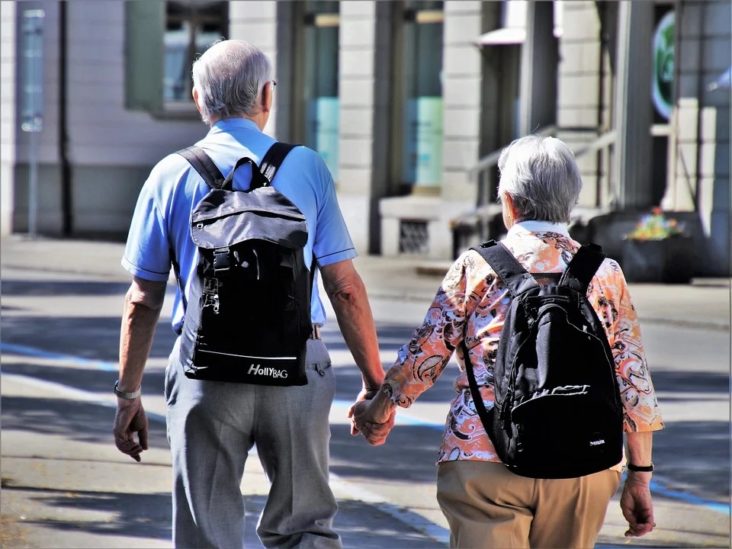 Pricing By Age
Like most travel insurance companies, American Express Travel Insurance prices its products within age brackets. The price for coverage is the same for everyone in that specific age bracket.
Based on dozens of quotes obtained, pricing brackets were determined to be as follows:
Age 17 to 40
Age 41 to 65
Age 66 to 70
Age 70 to 80
Age 81 or over
Knowing this upfront can help you determine if you're at the beginning of the highest price bracket or the end. For example, if you are 40 years old, you're going to pay less than a 41-year-old in the next pricing bracket but the same as a 17-year-old.
If you're a senior and want to learn more about purchasing travel insurance in your 60s, 70s, and beyond, the tips in our article will help guide you in the right direction.
Bottom Line: Knowing a travel insurance company's age pricing brackets can help you determine which company offers you the best value for your money.
Cancellations and Changes
Here is some information you should know about cancellations and changes to an American Express Travel Insurance policy.
You can change or modify your policy prior to your trip.
You can request a full refund within 14 days after receiving your policy documents. Some restrictions vary by state.
If you have purchased American Express Travel Insurance and your trip was canceled due to COVID-19, you may qualify for a policy refund. Contact AMEX Assurance Company for details at

[email protected]

Terms apply.
Once your trip is completed, you cannot request a refund.
Hot Tip: Due to the overall decrease in travel, many travel insurance companies now allow you to cancel your travel insurance and receive a full refund or extend your policy without extra charges. 
How Does American Express Travel Insurance Compare
To Other Travel Insurance Companies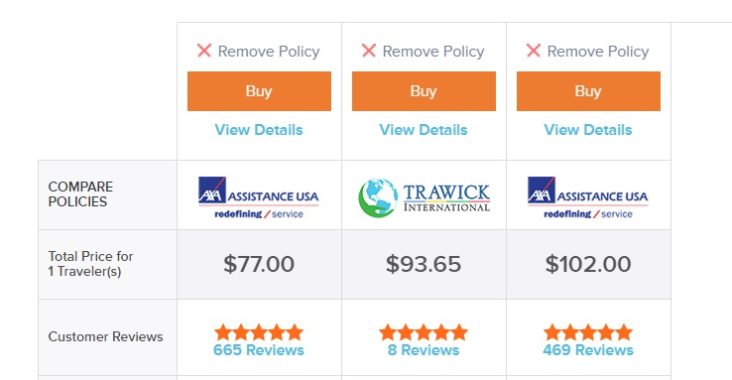 When comparing other package policies to American Express Travel Insurance, the company's premiums came up higher overall for this specific trip and traveler (1-week trip, 40-year-old, total value $3,000).
The first policy above with Assistance USA for $77, for example, has coverages similar to the Silver Amex plan which has a premium of $133. The coverage on the $102 Assistance USA plan above compares more with the Amex Gold plan at $157.
Prices will vary considerably based on the types of coverages selected, age, and limits of each coverage. We used policy comparison websites and found similar but not identical policies. With so many different coverage options, it's difficult to compare apples to apples.
This is a very limited comparison — your results will be different based on your specific details. The most important factors to consider are that you're purchasing from a highly-rated company, the coverages are a match for your needs, and the premium is one with which you're comfortable paying.
To Credit Card Travel Insurance
The travel insurance coverages that comes complimentary on your credit card can serve to provide coverage for some trips. For example, if you book a domestic round-trip flight, a hotel, and a rental car, you may have sufficient coverages on your credit card to cover that trip.
Credit card travel insurance coverage, however, is not a replacement for a comprehensive travel insurance policy, for these reasons:
Most credit card travel insurance coverage is secondary and in excess of other coverage you might have. You'll normally be working with 2 (or more) entities to get your claim resolved.
Credit card travel insurance is administered by a third party, not by the issuing financial institution, thus making the claims process potentially redundant and complicated.
You generally won't find medical coverage on a credit card. The Platinum Card® from American Express and the Chase Sapphire Reserve® Card offer emergency medical evacuation and there is a small medical benefit on the Chase Sapphire Reserve card.
Coverage limits are set on credit card travel insurance. Travel insurance policies can offer higher limit options.
Credit card travel insurances have requirements such as purchasing the trip with the associated credit card.
Additional coverages can be added to travel insurance policies such as CFAR insurance, a preexisting conditions waiver, and other benefits not available with credit cards.
Bottom Line: While the travel insurance coverages that come with credit cards may be sufficient to cover a simple trip where there is no large investment at stake, these coverages are by no means a replacement for a comprehensive travel insurance policy. 
The Value of Travel Insurance Comparison Sites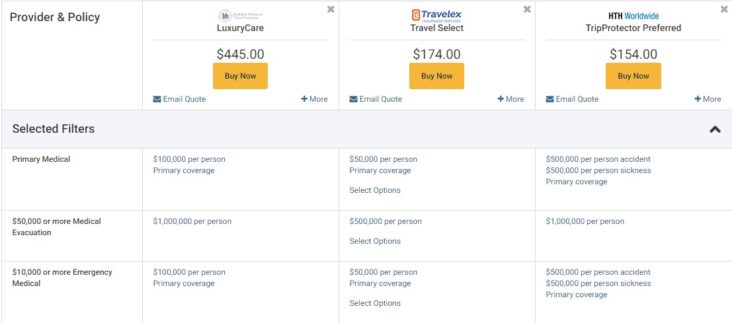 Because travel insurance is widely available and quite competitive, you may find drastic differences in the price you'll pay between companies and policy offerings. Selecting a company is not difficult as there are dozens of reputable, highly financially-rated, established companies, but comparing policies is essential for getting the best value for your money.
One way to easily compare pricing and coverages is to utilize a travel insurance comparison site to narrow down the appropriate options for your situation.
Here are some of the most popular, easy-to-use comparison sites that only feature highly financially-rated travel insurance companies.
Coverage is available instantly
The comparison tool is easy to use
The company has a "best price guarantee"
Calls are handled by licensed agents
The website contains educational information for understanding travel insurance coverages and policies
Features nearly 2 dozen companies
Compare 90 different policies from over 20 different companies
Customer service receives high accolades
Over 86,000 reviews
Bottom Line: Utilizing a travel insurance comparison website can help you quickly narrow your choices to policies that fit your needs and your budget. 
Final Thoughts
There is no doubt that American Express is a financially-stable, established, and well-respected travel insurance company.
One of the company's strengths is that it offers the consumer the ability to purchase needed coverages separately, such as medical insurance for an international trip. The premiums for such coverage are also very competitively priced. This could be a huge plus if you are not interested in duplicating credit card travel insurance coverages or in having just secondary or excess coverage.
One downside, especially in today's environment, is that American Express Travel Insurance does not sell CFAR insurance. If this is important to you, you should attempt to find the coverage elsewhere by using comparison sites.
Another downside that may or may not be important is that American Express Travel Insurance does not sell annual or multi-trip policies. You must purchase a new policy for each individual trip.
Also, like several other travel insurance companies, high-risk adventurous activities may not be covered with American Express Travel Insurance. You might look to a company specializing in insuring these activities such as World Nomads.
If you want to make sure you're purchasing from an established company and have specific coverages you're more interested in than others, American Express Travel Insurance is a solid decision. For package travel insurance policies, you might be able to realize modest savings by shopping around, but you won't go wrong with the company selection of choosing American Express Travel Insurance.
---
All information and content provided by Upgraded Points is intended as general information and for educational purposes only, and should not be interpreted as medical advice or legal advice. For more information, see our Medical & Legal Disclaimers.