How to Check Your Chase Credit Card Application Status [+ Reconsideration Line Tips]
When you apply for a new credit card and don't get an immediate approval, you might start to worry and wonder what you should do next. I've been there, and I know it can be stressful.
In this post, we will go over everything you need to know about your Chase credit card application status and what to do if you aren't immediately approved.
Reasons You Don't Get an Immediate Approval
Let's start by going over some of the reasons you might not get an immediate approval on your Chase credit card application.
You have applied for too many credit cards. This can be a problem for many of us who love the thrill of travel rewards credit cards (myself included). Chase is especially tough on this one since the implementation of the 5/24 rule; scroll down for more information about these restrictions.
You have a lot of credit with Chase already. If you already have a couple of Chase credit cards open, you might be nearing the top limit of credit they are willing to extend to you.
You are applying for a small business credit card. Small business applications can be trickier than those for personal credit cards. You might need to provide some additional documents to Chase to confirm the details of your business.
You made a mistake on the application. Sometimes, an application's pending status can be due to a simple typo or other unintentional errors.
Chase Credit Card Application Status
If the stars align, you'll receive a "Your Application Has Been Approved" message right away.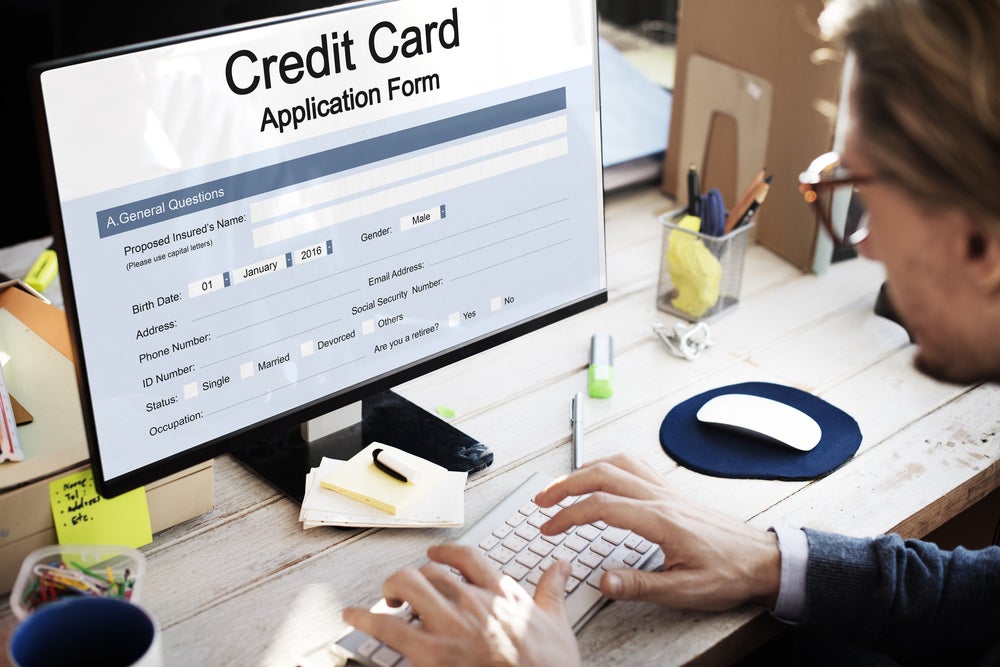 If you don't get immediately approved, don't fret; there's still hope. You might:
Get a letter in the mail confirming or denying your application. (This should arrive within 7-10 days, although in some cases it could take up to 30 days.)
Get a message stating you will have a decision within 2 weeks.
Applicants of the following credit cards will get an email confirming their approval, which will include your credit limit:
Southwest Airlines Rapid Rewards®Prestige
Check Your Status by Phone
To check your personal Chase credit card application status by phone, call the application status line at 1-800-432-3117. For business applications, call 1-800-453-9719.
Check Your Status Online
If you are already a Chase customer, you can check your application status online. After you log in to your account, click on the icon in the top left corner that looks like a column of lines.

A menu will pop up along the left side of your screen. Scroll all the way down to the bottom, and you will see a tab that says Application Status. Click on this to check the current status of your Chase credit card application.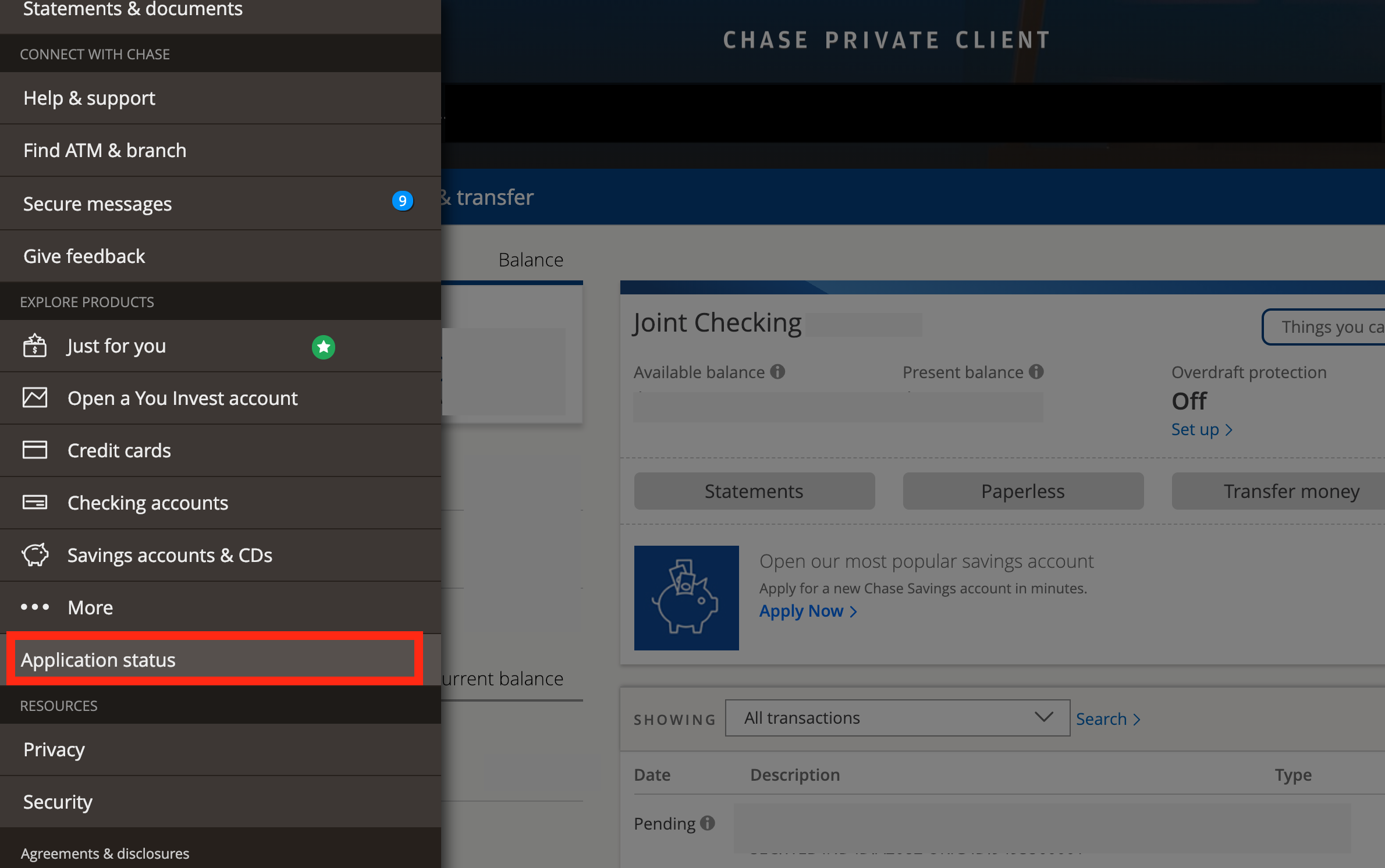 Chase Credit Card Application Rules
All banks have rules about how often you can apply for credit cards. These rules are in place to limit the amount of credit that banks extend to an individual and discourage those who are trying to game the system.
Chase is no exception to these rules, and they're known for having some of the strictest ones among card issuers. But with the strictest rules come some of the best travel rewards credit cards out there!

The Chase 5/24 Rule
The 5/24 rule is not a published rule, but it is very much alive and well. It says that to be approved for certain Chase credit cards (including some of the most popular, like the Chase Sapphire Preferred Card), you can't have opened 5 or more personal credit cards across ALL BANKS in the last 24 months (with a few exceptions).
So, what exactly counts toward 5/24?
New personal credit cards that you open at any bank. Even if you later close these accounts, they still are counted toward the 5/24 rule.
Retail credit cards like cards from stores like Victoria's Secret, Best Buy, and Amazon.
Being added as an authorized user to someone else's credit card account.
Business cards from Capital One, Discover, and some other banks. The good news is MOST business credit cards DO NOT count against you under the 5/24 rule.
Until November 2018, many personal Chase cards were not affected by the 5/24 rule. Unfortunately, as of November 2018, it seems the following cards ARE now impacted. (This information is crowdsourced, meaning it is not confirmed by Chase.)
The 2/30 Rule
This one is a bit less well-known than the 5/24 rule. According to this rule, you can't open more than 2 personal credit cards or 1 business credit card in a 30-day period.
Just as with the 5/24 rule, this is not a confirmed, published rule — but it is backed by tons of user-reported data.
Bottom Line: Trying to open too many cards in a short period is one reason you might not be immediately approved for a Chase credit card. If you've opened 5+ credit cards (from any bank) in the previous 24 months, you probably won't be approved. In addition, if you've opened 2+ personal Chase credit cards or 1 Chase business credit card in the previous 30 days, your new application is likely to be denied.
Chase Sapphire Rules
In 2018, Chase implemented some limitations for the Sapphire family of credit cards. This consists of the Chase Sapphire Preferred® Card and the Chase Sapphire Reserve® (plus a base Sapphire card that is no longer open to new applications).
These are some of the best travel rewards credit cards out there, so it's important to understand these rules.
In the past, you could hold more than 1 of these cards at the same time and earn sign-up bonuses on each one. Now, you are limited to 1 bonus every 4 years!
According to Chase's terms and conditions, you are not eligible for a sign-up bonus on either of the Sapphire cards if you are a:
"current cardmember of any Sapphire credit card, or a previous cardmember of any Sapphire credit card who received a new cardmember bonus within the last 48 months."
Chase Reconsideration Line
The Chase Reconsideration Line is a phone number you can call in hopes of having an application denial overturned. You can also call the reconsideration line while your application is pending to help speed up the approval process.
It's best to call within 30 days of denial, or you may have to submit a brand new application.
Hot Tip: The Chase reconsideration line for personal cards is 1-888-270-2127. The Chase reconsideration line for business cards is 1-800-453-9719.
Reconsideration Line Tips
Here are a few things to keep in mind when you call the Chase reconsideration line:
Application errors or typos: Be sure to mention any typos or errors you may have found in your application that could have contributed to your "pending application" status or denial.
Offer to move credit around: One reason you might have gotten a denial is that the bank has already extended a large amount of credit to you. If you don't mind keeping the same overall amount of credit, offer to reduce the credit limits on your other cards to make room for the new one.
Mention why you want the new card: If the card you are trying to get approved for offers specific benefits that you want to utilize, be sure to mention that to the representative. Explain to them how you plan to use the new card. Do not, however, mention the sign-up bonus. Credit card companies don't want to extend more credit to someone who just wants a card for the bonus, so it's best not to mention it at all.
Be friendly: Despite your level of frustration, keep a friendly attitude. The person on the other end of the line is just doing their job; being rude won't get you anywhere.
Chase Small Business Credit Card Application Tips
Applying for a small business credit card can be a bit trickier than applying for a personal card. While you don't have to have a registered business to apply for a card, you could have to show some proof of the legitimacy of your business.
You may be asked to provide documentation, including proof of the legal name or physical address of your business.
Hot Tip: If you don't have a registered business like an LLC, it might be best to use your own name as the business name. I ran into a problem trying to apply for a Chase business card with my blog as the business name (which I had no problem with at other banks). When I spoke to a Chase representative, they encouraged me to use my name as the business name to increase my likelihood of approval.
How to Contact Chase
Here are some commonly needed phone numbers for contacting Chase:
| | |
| --- | --- |
| Type of Credit Application | Chase Contact Number |
| Auto loan – Purchase New or Used Car | 1-866-804-6781 |
| Auto loan – Refinance | 1-866-481-4254 |
| Credit Card Customer Service – Business | 1-888-269-8690 |
| Credit Card Customer Service – Personal | 1-800-432-3117 |
| Home equity | 1-888-34CHASE (1-888-342-4273) |
| Mortgage | 1-800-873-6577 |
Final Thoughts
Applying for a new credit card can be stressful — especially if you don't get approved right away. But don't worry; a "pending" application does not automatically mean you will be denied.
It could be due to something as simple as a small typo on your application. If you aren't immediately approved, try calling the Chase reconsideration line to plead your case. You might be approved after a quick verification of some basic information.
Chase offers some of the best travel rewards credit cards out there. Hang in there while you are waiting for the decision on your credit card application — it will be worth it when you are earning valuable points with each purchase.