18 Benefits of Adding Authorized Users To the Amex Business Platinum Card
We frequently discuss the benefits of top premium travel rewards cards such as The Platinum Card® from American Express and The Business Platinum Card® from American Express.
These cards are known for earning valuable Membership Rewards points and for the associated flexible redemption options. In addition, the cards come with the best airport lounge access available, statement credits that offer direct economic value or bonus earnings, and a nice selection of travel/shopping benefits.
There are situations, however, when it makes sense to have some of these valuable card benefits extended to key employees within your business or even to members of your family.
Fortunately, American Express makes it easy to do just that.
Previously we covered the benefits of adding additional users to the Amex Platinum card, so today we're going to build on that information and discuss the benefits of adding authorized users to the Amex Business Platinum card.
While there are many similarities, the business version serves an entirely different purpose than the consumer Amex Platinum card.
Let's look at the core benefits of adding authorized users to the Amex Business Platinum card.
The Amex Business Platinum Card
Credit Card
Benefits & Info

The Business Platinum Card® from American Express


Learn More

(at Amex's secure site)

Welcome Offer: Earn 85,000 100,000 Membership Rewards® points after you spend $15,000 on eligible purchases with the Business Platinum Card within the first 3 months of Card Membership.
Get 5X Membership Rewards® points on flights and prepaid hotels on amextravel.com.
Get 50% more Membership Rewards® points. That's an extra half point per dollar, on each eligible purchase of $5,000 or more. You can get up to 1 million additional points per year.
35% Airline Bonus: Use Membership Rewards® Pay with Points for all or part of a flight with your selected qualifying airline, and you can get 35% of the points back, up to 500,000 bonus points per calendar year when you book on amextravel.com.
Breeze through security with CLEAR® where available and get up to $179 back per year on your membership when you use your Card.
Enroll to get up to $200 in statement credits annually by getting up to $100 semi-annually for U.S. purchases with Dell. Terms apply.
Good to Excellent Credit Recommended (670-850)
Annual Fee: $595
Terms Apply. For rates and fees of the Amex Business Platinum card, click here.


$2,200

Must Reads: For more info on the Amex Business Platinum, see our insights on its benefits, top card FAQ's and the best airport lounges you can access. Go here for our full review. This is one of several business credit cards from Amex.
Before we proceed, check out the key attributes of the Amex Business Platinum card in the snapshot above. Before applying for any card, you'll want to investigate the current welcome bonus, fees, rates, and any additional terms and conditions. Follow the links above to do just that.
What Is an Authorized User?
An authorized user is someone you add to your Amex Business Platinum card account, giving them permission to make purchases on your account. Additional card users do not actually have a separate card account with American Express, just this extended ability to make purchases using your account.
Here is some additional useful information regarding the addition of an authorized user:
You are responsible for paying the authorized users' charges
Authorized users will have access to their own accounts, as will you; their charges will show up separately on your statement
Authorized users do not have access to your account unless you designate them as an account manager
Once authorized users turn 18 years old their transactions are reported to the credit bureaus
You agree that purchases made by the authorized user will be for "the company's commercial or business purposes"
Now that we know the basics of adding an authorized user, let's talk about the benefits.
Select the Level of Authorized User Cards
The first benefit of adding additional users to your Amex Business Platinum card is that you can select the level of the card you want to be issued to the user. The ability to have options is important as the benefits and cost of each additional card vary widely.
1. Select Amex Business Platinum Cards for Extended Benefits
Adding an authorized user to your Amex Business Platinum card extends many of the benefits to the additional user that the primary cardholder receives. You'll pay dearly for the privilege, however, as each additional user will incur a fee of $300 each year (see rates and fees).
This option may be desirable for a key employee or spouse for the purpose of extending airport lounge access, utilizing Global Entry/TSA credits, or for the additional user to take advantage of travel benefits and protections.
This option can be of great value if the key benefits are utilized.
2. Select American Express® Gold Cards or American Express® Green Cards for Employee Expense Management
Additional user cards issued as an Amex Gold Card or Amex Green Card do not receive the extended benefits or level of earnings of Amex Business Platinum card additional users. The cost to add these authorized users, however, is much less. You'll pay $45 each year for each Amex Gold card, and no extra charge for Amex Green cards (see rates and fees).
Amex Gold cards and Amex Green cards earn 2x and 1x points, respectively, for travel via Amex Travel and 1x points on all other purchases.
One of the key benefits of adding these authorized user cards is to be able to manage and track their purchases. This feature also offers the convenience of having the employee make necessary purchases directly.
There is a limit of 99 additional users that can be added to the Amex Business Platinum card.
Earn Membership Rewards Points and Statement Credits Faster
Purchases made by both the primary cardholder and any authorized users count towards the initial welcome bonus, earn Membership Rewards points, and can trigger promotional offers.
3. Purchases Count Towards Minimum Spending Requirements
Once you've added an additional user, their purchases will count towards the minimum spending requirement to earn the initial welcome bonus. Authorized user purchases also earn the current introductory 5x bonus category points in the first 3 months after primary cardholder approval. Terms do apply.
4. Ongoing Authorized User Purchases Earn Membership Rewards Points
Every purchase your additional users make earns valuable Membership Rewards points, just as if the purchase was made by the primary cardholder. Authorized users will earn 5x points on flights purchased directly from the airline, on prepaid hotels and flights via Amex Travel, and 1x points on all other purchases.
Additionally, purchases of $5,000 or more earn 1.5x rewards.
5. Authorized User Purchases Trigger Statement Credits
While the authorized user does not receive statement credits, their purchases do trigger any statement credit offers on the primary cardmember's account.
You can expect these statement credits for specific purchases on the Amex Business Platinum card.
Authorized user purchases earn the same as the primary cardholder earnings categories, however, points and statement credits are only accumulated in the primary cardholder Membership Rewards account.
Bottom Line: Purchases made by authorized users earn Membership Rewards points at the same rate as the primary cardmember. Purchases also count toward minimum spending requirements for the card's initial welcome bonus. 
Earning More Means Faster Redemptions
The Amex Business Platinum card offers several flexible redemption options, including the ability to redeem points for travel via Amex Travel, transfer points to airline and hotel partners, and more.
One of the best redemption options is to redeem points for flights using the Pay with Points feature and receive a rebate. The Amex Business Platinum card issues a flight credit bonus rebate of 35% of the points redeemed when you use this option.
Qualifying flights include business or first class flights with any airline or any flight with your preselected airline (the same airline as for incidental fee statement credit).
While authorized users do not have access to redeem rewards, they would have this capability if designated as an account manager.
Extended Travel Protections and Benefits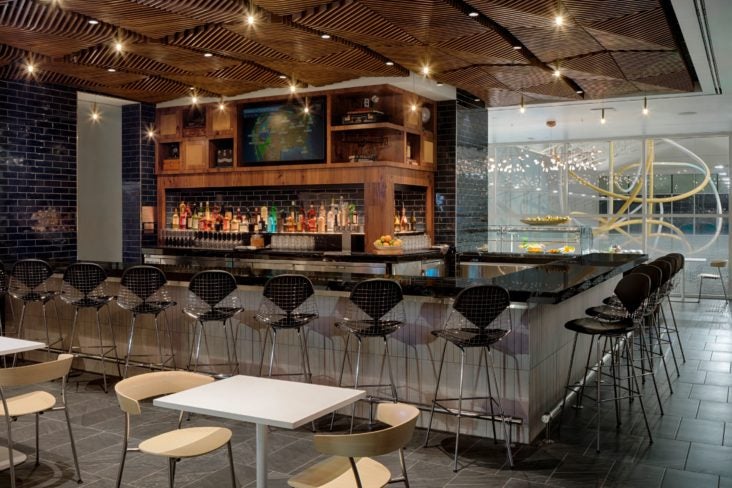 6. Complimentary Worldwide Lounge Access
This may be one of the most valuable benefits of adding an authorized user if your business involves traveling. Worldwide lounge access membership can cost hundreds, even thousands, of dollars each year.
The Amex Business Platinum card's authorized user receives the same worldwide lounge access as the primary cardholder and is able, in most cases, to bring in 2 additional guests.
Your authorized user will enjoy worldwide lounge access at the following properties:
Access requirements and the number of guests allowed can vary. Check each individual lounge network requirement prior to traveling.
7. Complimentary Hotel Program Status and Benefits
Additional users enjoy complimentary hotel program elite status and benefits:
Marriott Bonvoy Gold Elite Status — Enjoy upgraded rooms, late checkout, fifth-night free on award stays, and more
Hilton Honors Gold Elite Status — Receive benefits such as complimentary breakfast, preferred room upgrades, late checkout, bonus points, fifth-night free on award stays, and more
Fine Hotels & Resort Benefits — On 2-night or more stays receive complimentary breakfast for 2, upgraded room when available, late checkout/early check-in when available, a unique-to-the-property amenity worth at least $100, and more
8. Complimentary Car Rental Program Benefits
9. Global Entry and TSA PreCheck Fee Reimbursement
Authorized users on the Amex Business Platinum card and additional Amex Gold card users receive access to Global Entry or TSA PreCheck fee reimbursement, up to $100 every 5 years.
10. Extended Travel Insurance Coverage
Authorized users have access to travel insurance coverages when using their card to make a qualifying purchase:
Car Rental Insurance — Receive secondary car rental insurance with the option to purchase Premium Protection for 1 low fee that covers the entire rental period
Trip Cancellation and Trip Interruption — Receive up to $10,000 per trip, $20,000 maximum per card each 12-month period
Trip Delay — If your trip is delayed 6 hours or more you could receive up to $500 in reimbursement for qualifying expenses
Baggage Insurance — Receive up to $2,000 per checked bag, $3,000 per carry-on bag for lost, damaged, or stolen baggage
Premium Global Assist Hotline —Receive emergency transportation at no cost when utilizing the network; planning and emergency services are available 24/7 when traveling more than 100 miles from home
Check the card's Guide to Benefits for a complete list of travel insurance coverages and the terms and conditions for each one.
Bottom Line: The value received for adding an authorized user is demonstrated most in the travel benefits and protection category. Worldwide lounge access alone can exceed $1,000 annually if you had to purchase memberships. 
Extended Shopping Protections and Benefits

11. Purchases Qualify for Protection Coverages
Qualifying purchases, made by authorized users, qualify for extended coverage on items purchased with their card:
Extended Warranty — For manufacturer's warranties of 5 years or less, a qualifying item purchased with your card may receive 1 extra year of warranty
Purchase Protection — If a qualifying item is accidentally damaged or stolen within the first 90 days after the purchase date, you could receive up to $10,000 per item with a maximum of $50,000 per card account
Return Protection — If the merchant will not accept a return within 90 days of the purchase date, you may receive up to $300 per qualifying item, up to $1,000 per cardmember per calendar year
Cell-phone Protection — Cardholders now receive up to $1,600 in cell phone protection (2 claims per year with up to $800 for each claim) against theft and damage, including cosmetic damage (like a cracked phone screen). Each claim has a $50 deductible.
12. Save More and Earn More With Amex Offers
Amex Offers are an additional option for elevated earnings or statement credits. The authorized user can log in to their online Amex account and select offers that will trigger these extra earnings or savings when applicable purchases are made.
13. ShopRunner Membership
Receive free 2-day shipping and discounts at over 100 retailers with your complimentary ShopRunner membership. Authorized users can sign up for ShopRunner membership here.
Bottom Line: Authorized user purchases can qualify for additional protections, trigger Amex Offers savings and earnings, and receive free shipping with specific retailers. 
Business Management Tools
Manage your authorized user purchases, set up alerts that set spending boundaries, or utilize extended payment options on large purchases with these business management tools.
14. Keep Track of Additional User Purchases
Adding an authorized user allows you to manage that person's purchases. If you have a key person in your operation, for example, you could add this person as an authorized user and manage the purchases they make.
Keep in mind that you can also set maximum spending limits and set alerts for unusual transactions. Utilize the Amex Mobile app for additional account management.
15. Pay for Qualifying Purchases Over Time
Purchases of $100 or more, even those made by authorized users, qualify for the Pay Over Time feature that allows you to repay that purchase over time, with interest.
16. Authorized Users Can Access Their Own Account
Authorized users will receive their own physical Amex Business Platinum card and be able to login to their account online to manage and track transactions.
Additional Benefits of Adding Authorized Users
17. Additional Benefits Extended to Authorized Users
American Express Preferred Seating and Access — Enjoy presale access before the public and preferred seating for a variety of sport, concert, and theatrical events
Discount on Delta Private Jets — A 20% discount is offered on published fares
Access to Amex Business Platinum Card Concierge — Receive help with planning business meetings, booking transportation, making travel arrangements, securing event tickets, and more
Check the benefits guide for additional information and details on the terms and conditions.
18. Authorized Users are Building Credit
Authorized users 18 years of age and older will be building credit when added as an additional user to the Amex Business Platinum card. There is no hard pull on their credit report but card activity is reported to the credit bureaus.
Bottom Line: Managing the purchases of authorized users is made easy with several available business management tools. You can set up spending limits, set alerts for unusual spending, and elect to pay for authorized user purchases over time.
How To Add an Authorized User To the Amex Business Platinum Card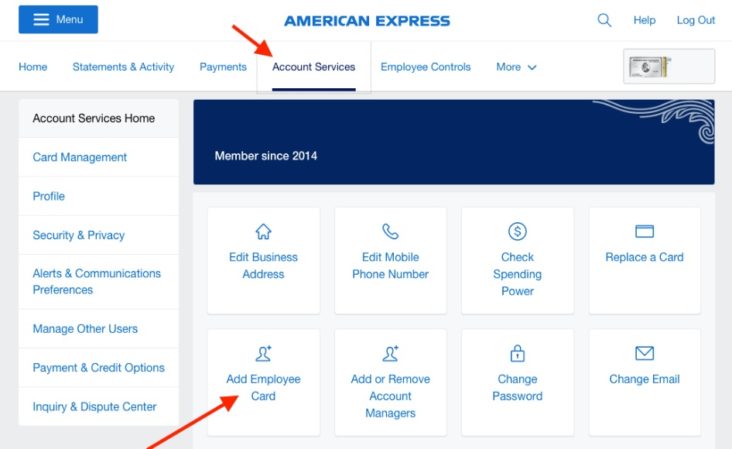 Adding an authorized user to your card is a simple process. You'll need the person's full name to initiate the process, then you'll have 60 days to add their Social Security number and date of birth. If you do not add this information within the allotted time period, the authorized user will be removed.
Login to your Amex Business Platinum card account online and select Account Services, then Add Employee Card. Next, select the type of card you want the authorized user to have.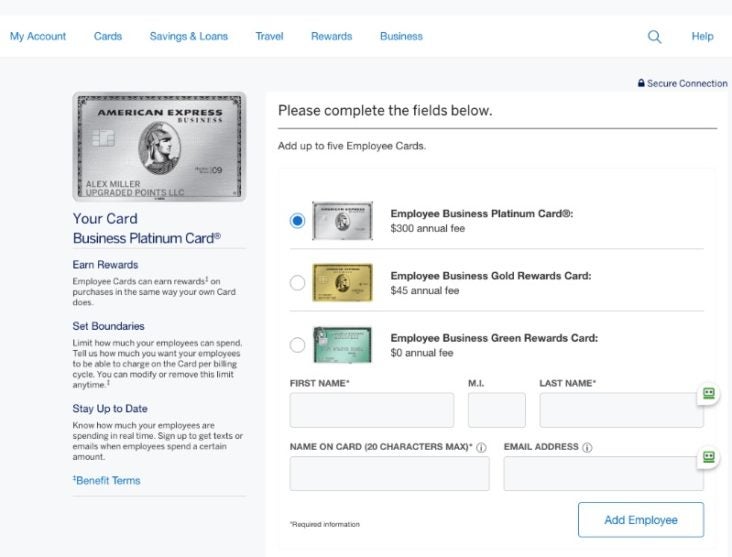 Enter the employee's name, how you want the name to appear on their card, and their email address — your authorized user will receive their card within 7 to 10 business days.
Final Thoughts
While it's easy to add an additional user to your Amex Business Platinum card, the decision is a serious one. You (and your business) are taking on the responsibility of repaying debt incurred by another individual's spending.
For this reason, you'll want to select your authorized user(s) wisely. There can be significant value-added if your authorized user is traveling and can utilize worldwide lounge access, hotel and car rental benefits, and travel benefits/protections.
If none of these benefits are useful but you have a need for employees to make purchases on a regular basis, you may select one of the other card options such as the additional Amex Gold card ($45 fee) or the Amex Green card ($0 fee) to accomplish the objective.
If you're in the process of making a decision between the personal consumer Amex Platinum card vs. the Amex Business Platinum card, our article comparing the 2 is a must-read.
---
The information regarding the American Express® Green Card was independently collected by Upgraded Points and not provided nor reviewed by the issuer. 
For rates and fees of The Business Platinum Card® from American Express, click here.