How to Visit Disney World for Cheap by Using Points & Miles
The Walt Disney World Resort in Orlando, Florida is one of the top destinations for family vacations in the United States. Toddlers, teens, parents, grandparents — everyone loves the magic of Disney.
But what everyone doesn't love is the price tag of a Disney vacation. Park tickets alone can cost hundreds of dollars for even a small family, and that's before you add in food, lodging, and transportation.
Many families just can't afford to take a Disney vacation. Many others save up for years just to be able to take their kids to meet Mickey once.
There has to be a better way, right?
Well, you're in luck. There is!
It involves a mix of miles, points, and cash-back to offset the costs, and almost anyone can take advantage of these savings. Even better for you, miles, points, and cash-back are 3 areas in which we at Upgraded Points are experts.
While we can't make your trip to Walt Disney World completely free, we can certainly show you a few ways to reduce the costs dramatically. By lowering the cost, you won't need to worry quite so much about your bank account, freeing you to have that magical family vacation your family has dreamed of.
Let's take a look at what you can do to make each main part of your Disney trip a little bit more affordable by using miles, points, and cash-back.
Flights to Orlando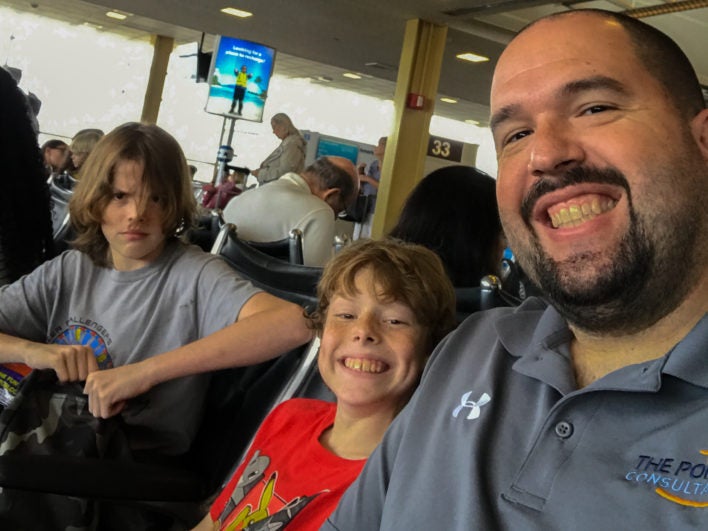 Flights to and from Orlando are probably one of the easiest things to redeem points for as practically every major U.S.-based airline flies there.
In total, 46 different airlines fly into Orlando International Airport (MCO), so you will have plenty of options for using your points.
When we say Orlando is one of the easiest awards to find, you do have to remember that it is a very popular destination, and those award seats will get significantly more difficult to find around holidays and school breaks.
Summer can also be a challenge at times — though it's often stiflingly hot in Orlando and the Disney parks are at their busiest then, so you might want to pick a different time to go anyway.
Let's take a look at a few different airline loyalty programs and find some of the best ways to get your family to Disney with points. Note that we are not, by any means, covering all of the mileage programs that can get you award flights to Orlando.
Instead, we are going to outline what it will cost you for an award seat with the most common programs used by Americans for these flights, and those with which we think you can find the best value and availability.
Fixed Award Charts
There are 2 main types of fixed award charts: one is based on regions and the other is based on distances.
Historically, all of the main U.S.-based carriers have used fixed region-based award charts. Things have changed a bit in the past few years (which we will go over in detail below), but United, American, and Delta still have fixed award pricing from anywhere in the region.
Some foreign carriers, however, use a distance-based award chart. This means that the longer the flight, the higher the cost in miles.
These programs are typically set up as a tiered award chart, depending on flight distance. If you live close to Orlando, a program like this may make more sense for you to use for your award flights to Disney.
United Airlines
United Airlines uses a regional award chart everywhere in the world, with 1 exception. Of course, that exception would apply to the flights we are looking at!
If a flight within North America is 700 miles or less and operated by United or United Express, the one-way award cost drops from 12,500 miles to 10,000 miles. This isn't a bad deal if you can fly from somewhere that is less than 700 miles from Orlando, but for most of the country, this lower rate won't apply.
Orlando is within the region that United calls Mainland US, Alaska, and Canada. As a result, the award chart below can be used to find the one-way flight costs to and from anywhere in that region. Even if you need to connect 2 or 3 times, the award prices remain the same.
United Airlines Award Chart
Class of Service
Distance
Miles
Economy
700 miles or less
10,000
Economy
Any
12,500
Business
Any
25,000
American Airlines
Like United, American Airlines uses a regional award chart with a distance-based discount. However, their chart is a bit more restrictive.
Their region is defined only as within the 48 Contiguous United States. To get lower prices on the American chart, the flight needs to be less than 500 miles in length. Connections are included as long as they are within the defined region.
American also regularly offers reduced mileage awards for travel between certain cities. These awards are available if you hold one of their co-branded credit cards, and they can save you up to 7,500 miles on round-trip awards.
Orlando is not usually listed as one of the cities for reduced mileage awards, but these award discounts are valid for flights to or from the cities listed — so if your home airport is on the list, you can get discounted awards to Disney.
The available cities for reduced mileage awards change monthly.
American Airlines Award Chart
Class of Service
Distance
Miles
Economy
500 miles or less
7,500
Economy
Any
12,500
Business
500 miles or less
15,000
Business
Any
25,000
Delta Air Lines
We included Delta Air Lines here since they are a mainline U.S.-based carrier and they don't really fit into either fixed award charts or variable award charts. This is because Delta did away with their award charts completely a couple of years ago.
Even though they don't have award charts anymore, Delta has not gone to completely variable award pricing either. They still have award levels…they just don't like to publish what they are. That way they can change them any time they want, and people won't know until they go to book a flight.
As it stands now, economy one-way award tickets within North America cost between 5,000 and 12,500 miles. Business class seems to be a fixed 25,000 miles. These prices are for their lowest level awards, so if you see something higher, that means there aren't any low-level awards available.
There is no way to tell where in that range of economy pricing you ticket will fall besides running a search. Lower prices tend to be for shorter flights, but that is not always the case.
It also doesn't seem to matter if a flight is direct or if it has a connection. Some connecting flights have even been found at 7,500 and 9,000 miles, while some direct flights price out at 12,500.
To make things even more complex, Delta has also recently been having several announced (and unannounced) award sales. For these sales, award pricing to certain regions or cities is reduced for a limited time. There are set dates to book your awards and set dates between which you can fly.
Bottom Line: Honestly, the best we can tell you for Delta is that when you do a search and find an award price you're happy with, book it. Who knows if it will be there the next time you look!
Frontier Airlines
The award chart for Frontier Airlines is pretty simple. They don't have a business or first class, so awards within the U.S. are a flat 10,000 miles each way. This award price includes connections, many of which will end up going through their main hub in Denver.
Frontier does charge redemption fees for booking award seats. The fees are applied as follows, based on how far in advance you book your tickets:
180+ days before travel: FREE
21-179 days before travel: $15
7-20 days before travel: $50
<6 days before travel: $75
Award redemption fees will be waived if you have elite status with Frontier or hold the Frontier Airlines World Mastercard.
Frontier Airlines has also recently redesigned their frequent flyer program and co-branded credit card to make them more family-friendly. That seems just right for a family trip to Disney World!
British Airways
British Airways is an example of a fixed award chart that is based on flight distance instead of region. British Airways Avios can be used in the U.S. to fly on American Airlines-operated flights.
Since Orlando can be reached with a fairly short flight from several major cities in the U.S., Avios can be a great type of points to use for your flight.
Hot Tip: Rather than paying 12,500 miles for a 1,100-mile one-way trip using American Airlines miles, you can book that exact same flight through British Airways for only 7,500 Avios.
The difference is even more obvious when you look at a round-trip flight. With Avios, you can pay just 15,000 — with AA miles, you would pay 25,000.
We should note that British Airways charges for each leg of a flight. So if you have a connection (even if it is less than 1,151 miles total), you will end up paying 7,500 Avios for the first leg plus 7,500 Avios for the second leg.
This makes the one-way flight with a connection cost 15,000 Avios total, and it is no longer a very good deal — meaning British Airways Avios are only really a good value for shorter direct flights. Once you get into connections or longer distance flights, the award prices go up quickly.
British Airways Award Chart
Zone
Distance
Economy
Business
1*
1-650 miles
4,500
9,000
2
651-1,151 miles
7,500
15,000
3
1,152-2,000 miles
10,000
20,000
4
2,001-3,000 miles
12,500
37,500
5
3,001-4,000 miles
20,000
60,000
*Zone 1 awards are not available within the United States. Even if a flight is less than 650 miles, you will still need to pay for a Zone 2 award when booking with British Airways Avios.
Variable Award Redemptions to Orlando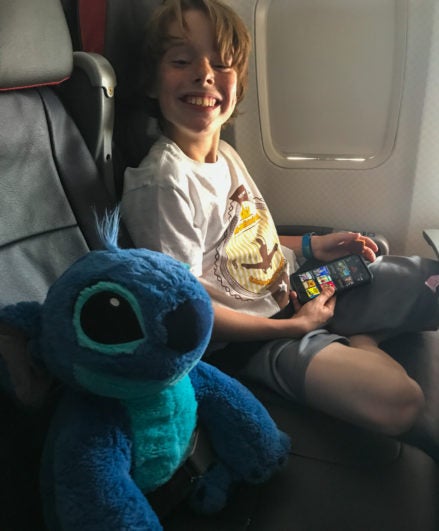 Some U.S.-based carriers have moved to variable award redemptions. This means that their award prices are tied directly to the cash price for a seat on a flight at any given time.
As cash prices go up or down for a flight, the number of miles needed for an award seat on that flight will go up or down in the same way. This can present a great value if you are booking a route that has low fares, or if you are booking in advance before the fares go up for the flights that you need.
However, if you are booking last-minute or for very popular travel days, the cash fares (and therefore the number of miles needed) for a flight can get quite high.
Southwest Airlines
Southwest Airlines' award flight prices are tied directly to the fare for the flight you are looking at, and are redeemable at approximately 78 points per dollar.
With Southwest's regular fare sales and often low Wanna Get Away fares, this can lead to some very low-priced awards. A $69 one-way, for example, would only cost around 5,382 points for a redemption. Lower fares lead to even lower prices.
Even better, when you book an award flight with Southwest Rapid Rewards points, you can cancel the flight for free. That means if the flight price goes down before your trip, (meaning the award price also goes down), you can simply cancel and re-book your flight at the lower rate.
By paying attention to fare sales and checking your flights when the sales are advertised, you can potentially reduce your flight costs even further.
JetBlue
For the flights we are looking for, JetBlue uses variable award pricing. The number of TrueBlue points required for a redemption is based on the cash price of the ticket as well as a few other factors.
Due to these other factors, TrueBlue points have a variable value. The minimum value you should be able to get when redeeming is .97 cents per point. Depending on where and when you are flying, that value can go up as high as 1.89 cents per point (or even higher for some international flights).
As with Southwest, the lowest points redemptions for JetBlue TrueBlue award flights to Disney are going to be the lowest priced fares. Keep an eye out for JetBlue's advertised fare sales, and check award pricing when you see a deal to your city.
Sidenote: JetBlue does offer a fixed redemption chart for travel on Hawaiian Airlines flights, but that doesn't really apply here since Disney World isn't in Hawaii.
Check Cash Prices
Flights to Orlando can often be quite inexpensive because all the domestic airlines fly there. This can be especially true if you are coming from the East Coast. A quick search when writing this showed me one-way flights from as low as $59 for the Washington, D.C. area.
As always, when using points, be sure to check the cash price of your airfare before booking an award ticket. You don't want to spend 12,500 points each way, and later find out you could have bought a seat on those same flights for under $100.
Of course, this is only a concern with a traditional award chart-based loyalty programs. If you're looking at tickets on an airline like Southwest or JetBlue (where the points cost is directly tied to the cash price), lower priced tickets will just mean you have to use fewer points. As we detailed above, sometimes that can make it a really great points deal!
Hot Tip: Before your trip, be sure to check out our best tips to make your trip to Disney as stress-free as possible.
Hotels in Orlando
Once you have your flights booked, you need somewhere to stay.
You can find pretty much every type of hotel and every kind of room available in the areas around the Disney parks in Orlando, but our goal is to use points to reduce our vacation costs.
That means we want to look at the major loyalty program brands and at some of the other lower priced hotels where we might be able to use our fixed value points.
Instead of giving you specific properties to use your points at (honestly, there are just too many options!), we're going to concentrate on showing you how to find what you're looking for and get the best value from your points.
Disney Properties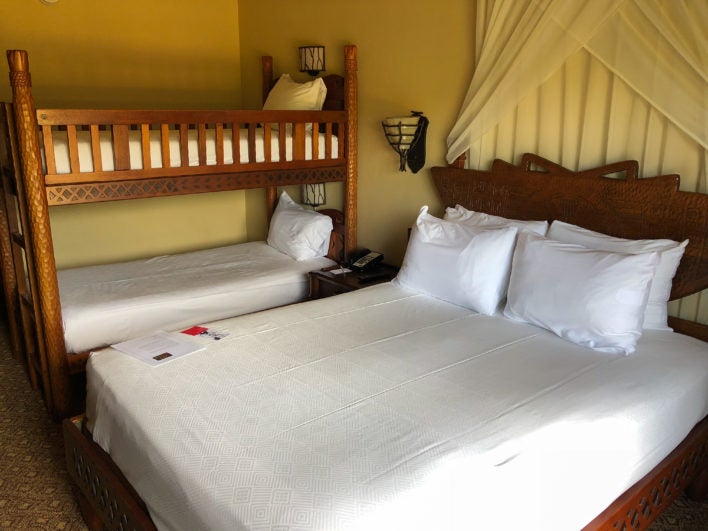 When we say Disney properties, we mean those specific hotels and resorts that are operated by Disney and are on Disney property. These hotels and resorts are generally not available for redemption of award nights through any traditional loyalty program.
Hot Tip: The 2 main benefits of staying at Disney properties are that you have access to your Fastpass selections at 60 days out rather than the 30 days given to other park guests, and you can visit the parks during Extra Magic Hours.
Extra Magic Hours happen at 1 park each day and allow those with access to either enter the park before it opens or remain inside after it closes.
Since almost all Disney Hotels and Resorts do not belong to a loyalty program, your only options for using points to stay at them would be using some of your fixed redemption value points.
The main type of these miles would be those accrued with a card like the Capital One® VentureOne® Rewards Credit Card.
Capital One miles work as sort of a "charge eraser" from your credit card statement. You charge your travel expenses to the card, and then redeem your miles to pay for the charges within a certain timeframe.
Hot Tip: You can find out more about the VentureOne Card in this dedicated post: Benefits of the Capital One® VentureOne® Rewards Credit Card.

Hotels fall under one of the travel categories that can be erased with this miles program. Miles are earned with Capital One at a rate of 1.25x miles per dollar and redeemed at a rate of 1 penny per mile.
Many Disney Resorts are extravagantly themed and quite expensive, so it will take a lot of fixed redemption points to erase the charges for your stay.
The good news is that this program will let you redeem for part of a charge, so you can pay for your Disney hotel with a mix of points and cash if you don't have enough points for your whole stay.
Bottom Line: Extra Magic Hours and 60-day early access to Fastpasses make it really tempting to stay at Disney hotels and resorts. Although it is possible with certain types of points, make sure you consider all of your lodging options for the Orlando area, as there may be better value options for your points.
Dolphin and Swan
The 2 Disney properties that are exceptions to the above information are the Dolphin and Swan resorts.
The Dolphin and Swan are Marriott Bonvoy program members. You can use your points to stay at either one, though award nights cost a hefty 50,000 points per night and availability is scarce. Award stays at these 2 hotels do not waive the resort fees, and there is no free breakfast for elite members.
Overall, using your Marriott points for free nights at the Dolphin and Swan is not a very good value. (In fact, it's so bad that you're often able to use a fixed rewards currency like Capital One® Venture Rewards to get a better redemption value at these properties.)
As a bonus, when you erase the charges from your statement with these fixed points currencies, it will include the resort fees!
Hot Tip: As of October 2020, the Swan and Dolphin began using a third-party coach service instead of the Disney buses for transportation, adding to commute times.
Disney Springs Hotels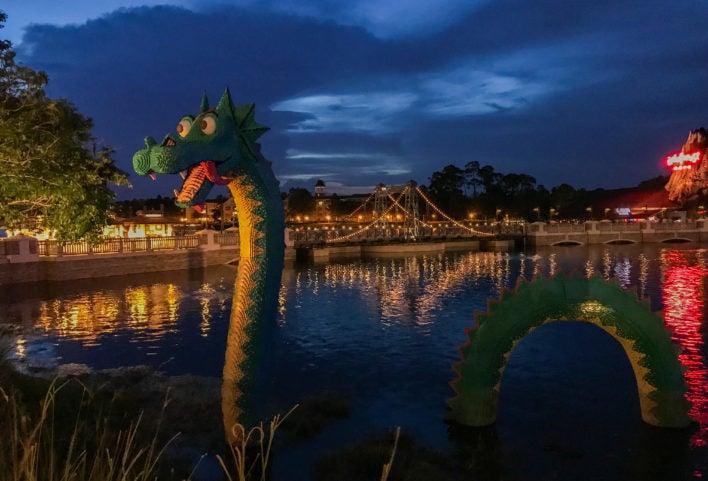 Although not officially one of the theme parks, Disney Springs is a large entertainment area near the other Disney properties. It used to be known as Pleasure Island and Downtown Disney, but it's since been rebranded and expanded in a big way.
There are restaurants of every type, from fast food to high-end dining. Shopping ranges from Disney souvenirs to top brands in clothing and home goods. You'll also find virtual reality experiences, dancing clubs, and music in many venues, as well as plenty of area hotels.
The great part about the Disney Springs hotels is that many are part of the main hotel loyalty programs. Hilton, Wyndham, Marriott, and more all have hotels in the area, and you can use your points at all of them. Even better, many of these loyalty program hotels are Disney partner hotels.
Again, we aren't going to get into specific properties because there are too many options — but if you look at the property details, you can find some amazing pools and other amenities, like Disney park shuttle buses and free or discounted dining for kids.
This is HUGE!
You can get the benefits of staying at a Disney property without the high price tag, and you can even use your points.
Non-Chain Options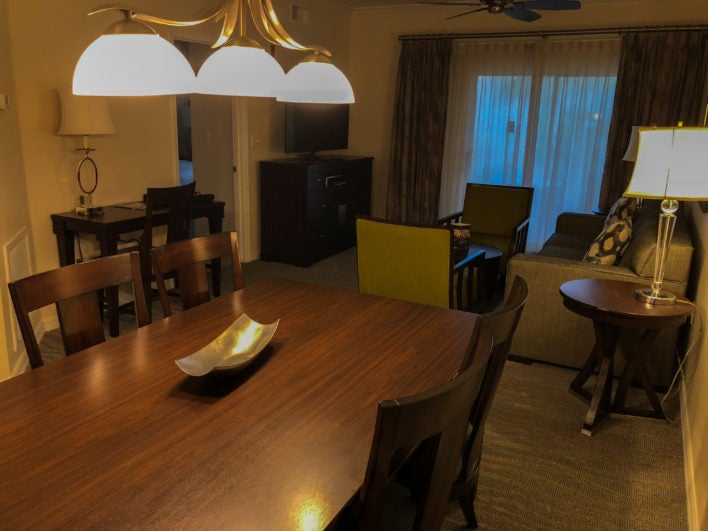 You have 2 main types of non-chain properties around the Disney Area that you can stay at using your points: independent hotels and home sharing options like Airbnb or VRBO. Within these non-chain options are a ton of properties!
If you are looking for a more boutique experience, a small independent run hotel or bed and breakfast might be what you want to book. If you want to have more space to relax and a kitchen to prepare meals and snacks for the day, you should probably look at renting an apartment or an entire home.
Both of these options would require you to use your fixed redemption points from your Barclays or Capital One cards if you want to pay for the stay. Again, these are points that will allow you to erase charges on your statement at 1 penny per point, so you would book the stay and then redeem points to pay for the charges.
Tickets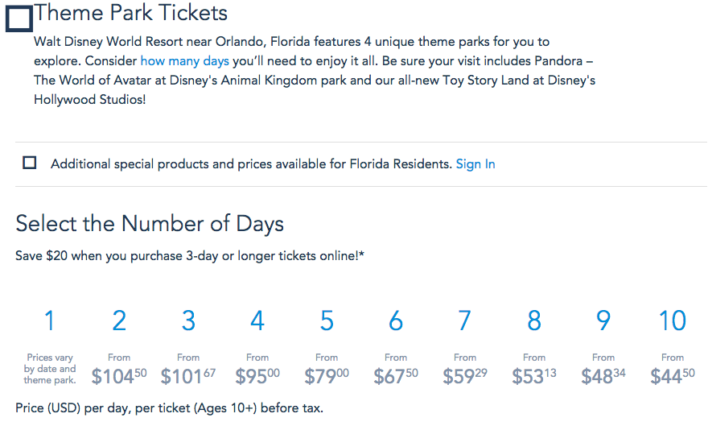 Even if you have your flights and hotels covered with points, that won't do you much good unless you also have tickets to actually get into Walt Disney World!
Park tickets can easily be one of the most expensive parts of a Disney World Vacation. Single day tickets start at $100+, and prices per day go down as you add on more days to your tickets.
You can actually get your per day cost down to under $50 if you do 9- or 10-day tickets…but you'll still be shelling out almost $500 each for those tickets. And 10 days at Disney might be a little too exhausting for your family too.
So let's assume you don't want to spend all of your money on park tickets, and see what we can do to make their purchase hurt a little less.
Unfortunately, Disney doesn't have a points program that's useful for redeeming for park tickets, which means we have to look at other options.
Luckily, there are several credit cards that will let you refund Disney ticket charges with the points or cash-back you have earned.
Cash-Back Cards
The simplest way to buy tickets for Disney World is to use cash, so it follows that the simplest way to redeem for tickets with a credit card would be using a cash-back card.
Most cash-back credit cards on the market today range from .5% to 3% cash-back, so you want to make sure you pick the right card to maximize your rewards. Here are a couple of the best options.
Alliant Credit Union Visa Signature
Although not from one of the major banks, this card from Alliant Credit Union offers one of the best cash-back rates available. For the first year that you have the card, you earn 3% cash-back, and if you keep it after that, you continue to earn 2.5%.
By putting $16,667 of your daily spending on this card throughout the first year, you would earn $500 in cash-back. With that much, you could even buy that 10-day park ticket we mentioned above!
Of course, we would recommend buying some tickets for your family too…so you may need to spend a bit more throughout the year to earn enough!
Other Cash-Back Cards
There are several other cash-back cards available that earn at a lower rate than the 2 we mentioned, often 1.5% or 2%.
Depending on your situation, these can still present a good value for earning enough cash-back to pay for your Disney tickets.
If you already have a 2% cash-back card, for example, and don't want to apply for a new card at this time, you can still earn enough for your tickets — it will just take a little bit more spending to get there.
Transferable Points Cards
When it comes to miles and points, one of the first recommendations we make is to collect transferable points. These points can be used in a variety of ways, which allows you to collect them without having a set redemption in mind. It keeps your options open.
Unfortunately, when it comes to the big transferable points programs, there isn't much help for Disney World tickets.
Chase Ultimate Rewards
Previously, you could use Chase Ultimate Rewards points to purchase tickets through their online portal, but that was removed in September 2018. At this time, it doesn't look like this option will be coming back any time soon.
Amex Membership Rewards
American Express will allow you to purchase travel packages that include Disney tickets through their online portal. Sadly, not only is this a bad value for redemption (less than 1 cent each), but it also requires that you redeem points for the whole travel package.
These packages often include hotel, airfare, or both. Since we want to use other points at much better values for those parts of the trip, American Express Membership Rewards points just aren't a great option for Disney tickets.
Citi ThankYou Points
Citi ThankYou is the only program that will still let you buy your park tickets at a decent value, and even they don't make it easy.
You also need to remember that when you redeem your ThankYou points for tickets, you're doing so at a fixed value — missing out on higher values you may be able to get if you were to transfer your points for use with a hotel or airline program directly.
Bottom Line: This means that redeeming your transferable points for park tickets really only makes sense if you are ThankYou point-rich or you don't have any better options.
Citi Premier℠ Card
CREDIT CARD
CARD INFO
Citi Premier℠ Card


Learn More

(at our partner's secure site)

Earn 60,000 bonus points after you spend $4,000 in purchases within the first 3 months.
Earn 3x at restaurants, supermarkets, gas stations, air travel, and hotels; plus, 1x on all other purchases.
Annual Fee: $95
The Citi Premier Card allows you to redeem your ThankYou points for a value of 1.25 cents each. You can't purchase Disney park tickets online with your points, but if you call in and talk to one of their travel agents, they will be able to redeem your points for the tickets you need.
Ticket prices are typically the same as you would find when buying directly from Disney, but you should always double check to make sure you aren't paying a premium for purchasing with your ThankYou points.
Fixed Redemption Cards
Along with the cash-back cards we discussed above, fixed redemption credit cards are some of your best options for redeeming rewards points for Disney World tickets.
The points from these programs are earned at a fixed rate and can only be redeemed at a fixed rate. Whether you redeem them for flights, hotels, or Disney park tickets, you'll be getting the same value out of the redemption. The key here is making sure you're earning points at the best rate available.
Barclaycard Arrival Plus® World Elite Mastercard®
Miles are earned at a rate of 2 per dollar with the Barclaycard Arrival Plus® World Elite Mastercard®. When redeeming, miles are worth 1 penny per point and can be used to remove travel charges from your card statement, as long as those charges are $100 or higher.
After redeeming miles, you get a rebate of 5% of your miles back, so that makes the redemption rate of this card effectively 2.1%. That's not a bad rate — but of course Barclays can't make it that easy.
Disney tickets purchased from Disney directly do not code as travel, so they will not be available for redemption. In order to use your miles for Disney tickets, you need to buy the tickets from an agency that codes as travel.
Undercover Tourist is the best-known agency for Disney Tickets. This company has been confirmed by many people that purchases from Undercover Tourist will code as travel —and be eligible for your Barclaycard Arrival Plus® World Elite Mastercard® miles redemption.
Park tickets can also be purchased from Expedia or Orbitz and will be eligible for redemption.
Hot Tip: Make sure to buy your Disney tickets through Undercover Tourist so the purchase will code as travel and you can redeem your Barclays Arrival miles. As a bonus, Undercover Tourist often has slightly discounted Disney parks tickets or deals that add value to your park ticket purchases.
Capital One® Venture® Rewards
The Capital One® Venture® Rewards Credit Card also earns miles at a rate of 2 miles per dollar spent. When you redeem your miles for travel purchases, they will remove charges from your statement at a rate of 1 cent per mile.
With Capital One (as with Barclays above), purchasing park tickets directly from Disney will not code as a travel expense. In order to redeem your points for the purchase, your Disney tickets will need to be purchased from an agency that will code as travel on your statement.
Undercover Tourist, Expedia, and Orbitz are all confirmed outlets that will code as travel and allow you to redeem your Venture Rewards points for the purchase.
Hot Tip: More more credit card suggestions, check out this guide to the best credit cards for family travel.
Ground Transportation
Once you've made it to Orlando, you need a way to get around.
Disney makes this pretty easy if you stay at one of their properties, with the Magical Express taking you to and from the airport plus shuttle buses, ferries, or monorails taking you from the hotel to each of the parks.
The downside of Disney's transportation network is that it can be quite slow, especially when they are busy. The other downside is that to use their transportation, you need to be staying at a Disney hotel — those are the only places they go.
As we saw above, most of those properties aren't available with points, so we need to look at another way of getting around Orlando.
Hot Tip: In addition to the rental car options we will discuss below, ride shares like Uber and Lyft can be a great way to get from park to park.
Rental Cars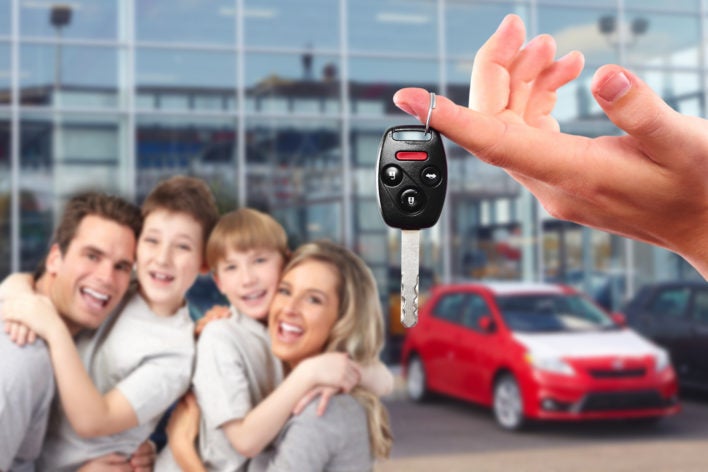 Renting a car is one of the easiest options for getting around in Orlando, and using a few free days that you have accumulated in a rental car loyalty program can make it even better.
Most programs either allow you to build up free days after a certain number of rentals, or earn points for each rental and provide an award chart for redeeming those points.
National is one of the best car rental companies for building up free days, especially when they run their One-Two-Free promo. During that promo (which usually runs a couple of times per year), you get 1 free rental day for every 2 car rentals you make.
If you need to rent a car several times a year, you can easily build up a few days to lower the cost of your Disney vacation.
Hot Tip: Free rental days from a loyalty program are the best way to get around Orlando on your own for less.
However, even if you have free car rental days available, you should still look at the total cost to have the car for the time you will be there. In addition to the rental price and gas, you will need to think about parking.
Most hotels will charge for overnight parking, and you will certainly have to pay for parking at each of the parks if you choose to drive there each day.
Disney hotels charge $13-$24 per night for parking, depending on the level of resort you are staying at. Higher end resorts also offer valet parking for $33 a night. Parking at the Disney parks costs $22 a day for regular spots and $45 a day for preferred spots.
You can see how just the parking charges will really add up quickly. Even if you stay at a value resort and drive to the park each day, that adds $35 a day on to the cost of having a rental car.
Here are a couple tips to help you save:
If you stay at an off-property hotel that doesn't charge for parking (or gives you free parking with your elite status), then you only have to worry about parking if you drive to the park each day.
If you stay at a Disney Resort and plan to take Disney transportation to the parks but want a car for other activities, then you only have to pay the nightly parking rate at your hotel.
As always, if you are renting a car with a new company, be sure to sign up for their loyalty program and pay with a credit card that gives you extra points for travel. If you have to spend money, you might as well be earning points!
Hot Tip: With the huge amount of tourist traffic to Florida, car rental companies often need to move cars around in spring and fall. You can get a great deal on a rental car — sometimes as low as $5 a day — if you are willing to drive it one-way into or out of Florida, depending on the time of year. Check Expedia for deals when you want to go. 
Other Park Options
In this article, we've concentrated mainly on visiting Walt Disney World and how to get to Orlando from the United States. Although this is the most popular option for Americans, we want to make sure that you understand it is not the only way for you and your family to experience amazing theme parks.
There are plenty of other Disney parks that you can visit, and there are even more non-Disney options that your family will love.
We hope to do some more posts with further details for these other options, but for now, here's a hint of what is out there.
Disney Parks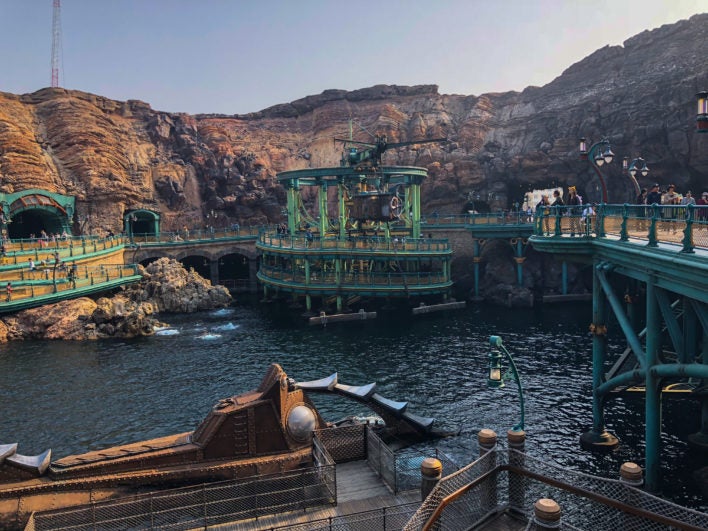 Walt Disney World is not the only place you can experience the Disney magic! There are Disney parks in several locations around the world:
Although some of these parks may be significantly farther away, if you are planning to travel to Asia anyway, spending a day or 2 at a Disney park might not be that expensive.
Our family has recently visited both Hong Kong Disneyland and Tokyo DisneySea on trips we were already planning to those cities, and the park tickets were significantly cheaper than they are at the U.S. parks.
Disneyland Paris is going through a major renovation over the next few years (with a price tag of 2 billion Euro!), and it will be exciting to see the improvements and updates once this is done. The last time I was there was around 20 years ago, so I'm sure there will be plenty that is new to me.
Most of the overseas Disney parks are a lot smaller than Walt Disney World. That means you can see them in a day or 2, and you don't need to make that the main part of your vacation.
Instead, you can do something like what we did: explore Hong Kong, visit Disney, then move on to see Chang Mai and Siem Reap. Having a day to relax and play at Disney can be a great way to reset in the middle of a long trip.
Bottom Line: Adding a little Disney magic when you travel can be a great way to give the whole family something comfortable and familiar before you head back into another new place.
Universal Orlando Resort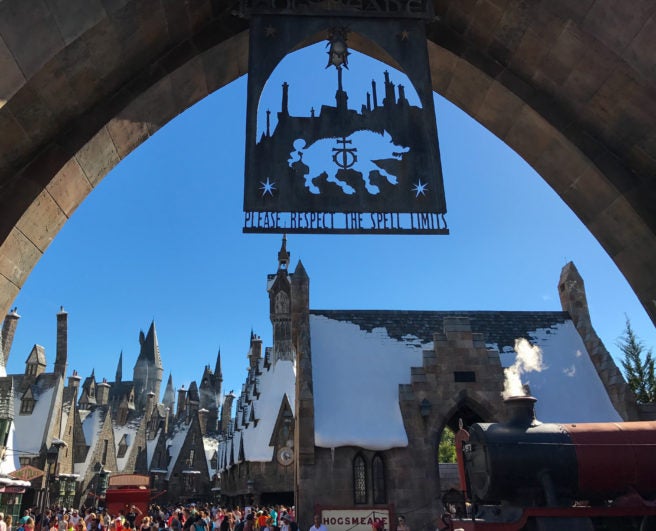 As we said before, this article is all about Walt Disney World. But do you know what else is in Orlando and can be a destination on its own?
Universal parks in Orlando include all of the following:
Universal parks tend to skew toward a little older age group, so this may be an option that your older kids (and you as parents) will enjoy more.
The roller coasters and other rides can be a bit more extreme and kids need to be taller to go on a lot of them, so Disney is still better if you have little ones.
The main thing Universal has that Disney doesn't is Harry Potter. There are Harry Potter sections of both Universal Studios Florida and Islands of Adventure, and you can even take the Hogwarts Express between the 2 parks.
The best part about Universal? You can use nearly everything we talked about in this article and apply it to a trip to Universal instead!
Flights and rental cars will be the same. For hotels, you'll just want to stay at the Universal-affiliated properties instead of Disney ones. You can even use some of the same techniques to get park tickets.
If you have a few days of extra vacation time, take some of the money you saved by using miles and points for your Disney vacation and extend your trip.
Hot Tip: See Disney for a few days, and then spend a couple more at Universal. Get your fill of Orlando theme parks all in one shot, and save as much as you can with miles and points!
Final Thoughts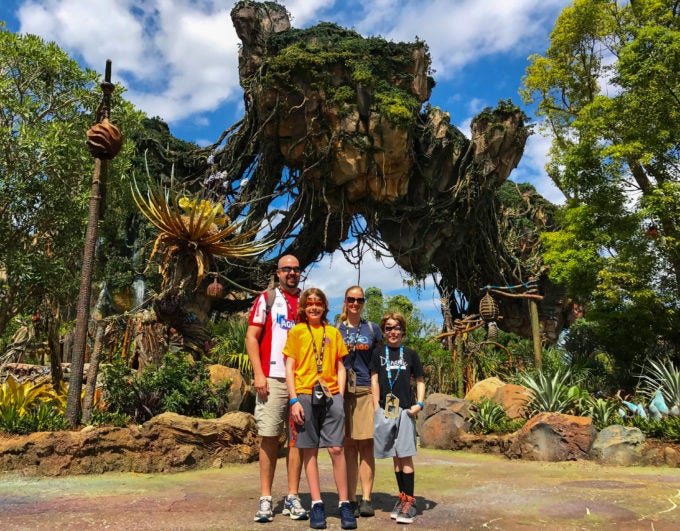 Walt Disney World bills themselves as "the most magical place on Earth," and most people who have visited the parks would tend to agree.
From the amazing theming of the rides, parks, and hotels to the friendly cast members and glimpses of your favorite Disney characters, this group of 4 parks in Orlando really is a sight to behold.
What Disney doesn't mention, however, is that visiting "the most magical place on Earth" can put a serious dent in your bank account.
Here at Upgraded Points, we show you how to use miles and points to see every corner of the world for pennies on the dollar. Why wouldn't we be able to do the same for Disney?
Follow the tips above and you'll be able to save big on your next trip to Walt Disney World. You'll be enjoying the Disney magic before you know it — and who knows, we might just see you there!