The Best Credit Cards for Complimentary Airport Lounge Access [2021]
Anticipating the sanctuary of an airport lounge before or after a long-haul flight for a drink and a light meal may border on bliss — until you're hit with a $50 entry fee.
If you're a frequent traveler, consider a premium credit card that offers complimentary airport lounge access. You'll not only receive lounge access with these cards but a whole treasury of travel benefits.
Premium credit cards offer generous sign-up bonuses, travel purchase credits, free internet access, the ability to earn travel rewards, luxury perks and benefits, assistance when things go wrong, and travel and purchase protections.
Don't buy a lounge membership or even a day pass until you've reviewed our collection of credit cards to consider for complimentary lounge access, which cards provide this perk to authorized users, which cards offer discounted lounge access, and our breakdown on how much complimentary lounge access is worth.
The Best Personal Credit Cards for Complimentary Lounge Access
Personal consumer credit cards are the go-to cards for securing complimentary lounge access, as you'll find a wider selection than with business credit cards.
Here are the best personal credit cards for airport lounge access:
It's difficult to compare credit cards on lounge access benefits alone, as a card with a high annual fee might offer other perks or rewards that more than offset that annual fee. You'll have to investigate further to see if a card is right for your situation overall and not just a perfect fit from a lounge access perspective.
For example, the Chase Sapphire Reserve card offers 50% more redemption value when you use Ultimate Rewards points earned on the card to purchase travel via the Chase travel portal, and it has an annual $300 travel credit.
The Amex Platinum card comes with a multitude of perks and benefits, including $200 in airline fee statement credits, $200 in prepaid hotel credits, and earns 5x Membership Rewards Points on eligible flight and prepaid hotel purchases via Amex Travel. If you're lucky, you might even kick off with a 100k or 125k welcome bonus for the Amex Platinum card!
Most credit cards that have global lounge access, including Priority Pass Select membership, allow 2 additional guests at no cost.
The number of guests you can bring and the amount you will be charged for guests beyond the allotted maximum differs by card.
You can review the guest details in the offer information before you select a card or check the terms and conditions in the card benefits guide when you receive your card for current rates.
Bottom Line: Although lounge access may be a primary reason you're considering a credit card, you'll want to review the other perks, benefits, credits, and rewards that come with the card to see it's a fit overall. 
The Best Business Credit Cards for Complimentary Lounge Access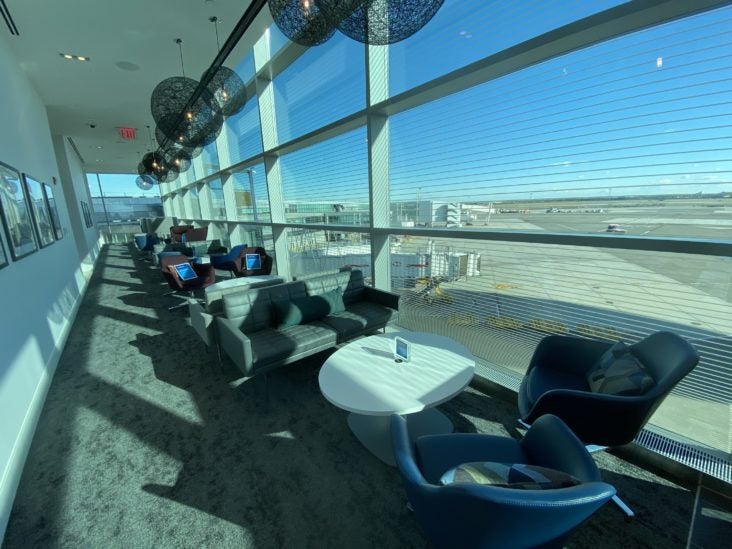 When it comes to business cards, there are significantly fewer options that offer airport lounge access, but there are still a few compelling options. So for any business owner looking for a great card that also provides lounge access, here are the top options:
The Business Platinum Card® from American Express (accesses the most lounges)
Similar to our personal card list, the Amex Business Platinum card takes the top spot thanks to it providing access to 6 different airport lounge networks including Priority Pass lounges, Amex Centurion lounges, Delta Sky Clubs, Escape lounges, Airspace lounges, and Plaza Premium lounges.
Bottom Line: There aren't many business credit cards offering complimentary lounge access, so you may want to look for lounge access benefits on a personal consumer credit card, as there are more choices available.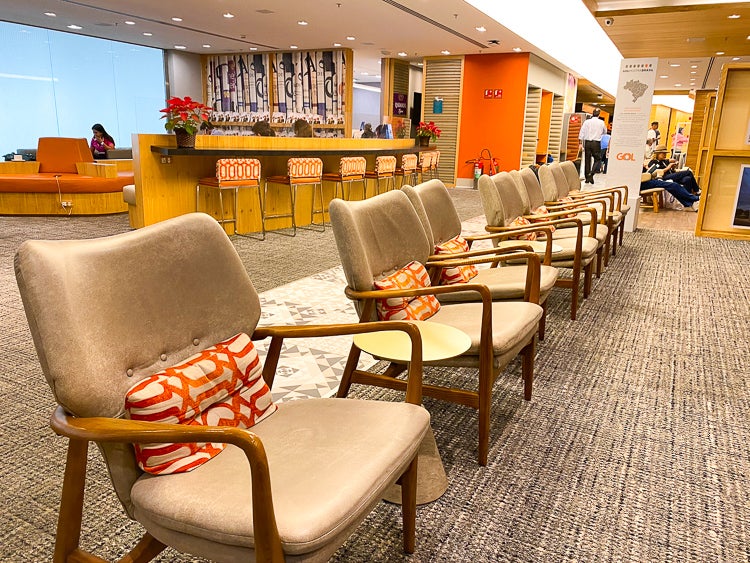 The Best Credit Cards With Lounge Access for Authorized Users
When you're traveling, complimentary lounge access for you and your family or other travel companions is a great perk.
There are times, however, when others may be traveling without you and would greatly benefit from complimentary lounge access. Simply adding an authorized user can allow them to enjoy some of the same travel benefits with the credit card, including complimentary lounge access.
These are some of the cards that grant lounge access for authorized users and a breakdown of the associated fees.
Bottom Line: While adding an authorized user can be a cost-effective way to secure lounge access and other card benefits, keep in mind that with Chase, there could be 5/24 rule implications for the authorized user. Remember that you're responsible for all charges made to the credit card, including those made by an authorized user.
Credit Cards With Discounted Lounge Access
Not all credit cards with a lounge access benefit offer it for free. Some include a basic lounge membership (normally worth about $99) and then discount the access fee. Your complimentary membership might be with Lounge Club, Priority Pass, or LoungeKey, all similar or related global lounge networks.
A credit card with this benefit includes the Hilton Surpass card that includes Free Priority Pass membership with 10 free visits per year, then $32 per visit.
If you have a World Elite Mastercard, you have discounted lounge access through the Mastercard Airport Experiences provided by LoungeKey. Other credit cards, like the Hilton Surpass card, may offer free standard Priority Pass membership, but may or may not include free passes per year, then offer discounted access for $32.
Hot Tip: Discounted lounge access is not a stand-alone reason to select a credit card, but you may want to check if any of your current cards have this valuable benefit. You could be enjoying some of the most luxurious lounges in the world for just a $32 entrance fee.
Just call the number on the back of your card or check your cardholder agreement to see if you have free lounge network membership and discounted lounge access.

The Real Value of Airport Lounge Access
You don't need to have a premium credit card to enjoy access to airport lounges, but you will need to secure a potentially pricey lounge membership or a day pass. And remember, not all lounges can be accessed with a card, like PS LAX.
This breakdown of membership costs illustrates the approximate value of the complimentary lounge access you can receive with premium cards.
| | | | |
| --- | --- | --- | --- |
| Lounge Network or Service | Single 1-Year Membership Cost | Cost To Add a Spouse, Partner, or Guest To Membership | Single-Day Pass for 1 Person |
| | $550 to $650 depending on elite status | $600 additional for household membership depending on elite status | |
| | | $300 additional for Executive Membership which includes access for up to 2 additional guests | $39 (for Delta SkyMiles® Platinum American Express cardholders) |
| | $550 to $650 depending on elite status | $650 additional for spouse or partner | |
| | | N/A; annual membership covers only cardholder, additional guest $32 per visit | $32 per visit for cardholder with basic $99 annual standard membership |
| | | | |
| | | | |
| | | | $35 to $65 for a 2- to 6-hour pass |
| | | | |
| | | | |
If you're a frequent traveler who purchases several single-lounge access passes per year or an annual lounge membership, you may fare better by selecting a premium credit card that includes complimentary lounge access.
The added value of a sign-up bonus, additional travel perks, rewards, credits for travel purchases, and travel and purchase protections can make securing a premium travel credit card a wise economic decision.
Bottom Line: While premium credit cards that include complimentary airport lounge access may come with high annual fees, these cards provide excellent value that goes beyond what you'd receive with an annual lounge membership.
Final Thoughts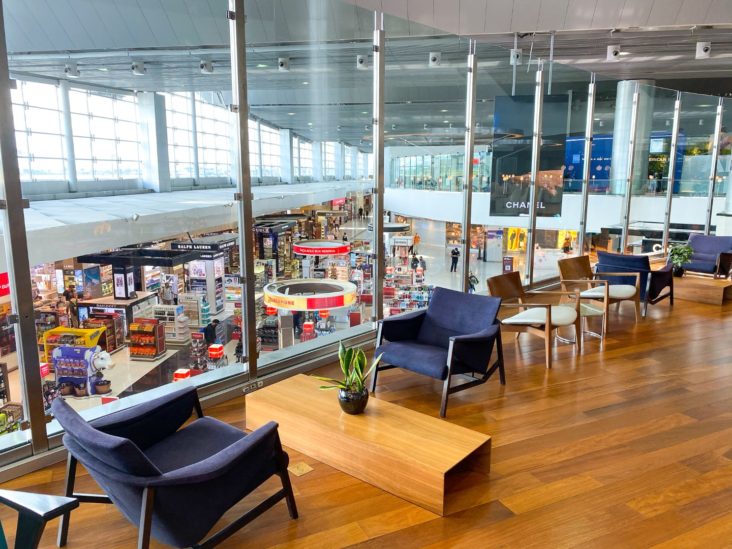 Lounge access is one of the most valuable travel perks, so having this benefit included on a premium credit card makes sense for serious travelers. Plus, if you're purchasing a lounge access membership elsewhere, it's a simple economic decision to consider a premium credit card that includes this perk.
And while lounge access may be important, you'll want to consider the whole package of benefits that come with each card as lounge access will be just one of many valuable benefits available on a premium travel card.
---
The information regarding the Hilton Honors American Express Surpass® Card, United Club℠ Card , Citi Prestige® Card, Hilton Honors American Express Aspire Card, and United℠ Explorer Business Card was independently collected by Upgraded Points and not provided nor reviewed by the issuer. 
For rates and fees for The Platinum Card from American Express, click here.
For rates and fees for The Business Platinum Card® from American Express, click here.
For rates and fees for the Delta SkyMiles® Reserve Business American Express Card, click here.
For rates and fees for The Hilton Honors American Express Business Card, click here.
---
Like this post? Pin it on Pinterest!